Archive for the 'Prison Struggle' Category
Friday, April 29th, 2016
Blaze last night at Korydallos prison to threaten the Golden Dawn neo-nazi prisoners, disturb the order, humiliate the warden Vassilis Lambrakis and solidarity to Fabio and Tony in solitary confinement. Fire started in the women's section where political prisoners in isolation are held.
Riot cops and special forces were summoned and the two imprisoned comrades taken.

Fire to the Prisons
Tags: Arson, Athens, Fabio Dusco, Greece, Korydallos Prison
Posted in Prison Struggle
Wednesday, April 27th, 2016
Tags: Athens, Banner drop, Conspiracy of Cells of Fire : Imprisoned Members Cell, Greece, Network of Fighting Prisoners (NFP), Revolutionary Struggle
Posted in Prison Struggle
Tuesday, April 26th, 2016
We learn that Gianluca Iacovacci, who had been under house arrest since 16th June 2015, is at last free without any restrictions. The comrade was arrested along with Adriano Antonacci following a string of sabotages in the Castelli Romani area, and had claimed responsibility for the actions. The first-grade sentence of 6 years was reduced to 3 years at the appeal trial, after the charge of terrorism was dropped.
Translated by actforfree from CNA Italia
Tags: Adriano Antonacci, Gianluca Iacovacci, Italy
Posted in Prison Struggle
Monday, April 25th, 2016
On the 20th of April starts the second grade trial not only for the C.C.F. Case and some of its actions, but also for some other different cases of anarchists accused for actions of revolutionary violence. All these cases were attached to each other in a single trial, in order to serve many different and parallel judiciary manipulations against all those accused.
Regarding ourselves, we make it clear that towards the legal processes of this court, as well as any of its issues, we are completely indifferent. But even if the legal dimension is not one of our concerns, we're interested in taking advantage of this opportunity to defend once more the action of the Conspiracy of Cells of Fire, to convert one more court-trial into an arena where anarchy stands against the enemies of freedom. A chance to confront again the technocrat servants of Justice and show that they are responsible for the misery that their existence carries.
The starting point of the state's repression, the raid and invasion at the house in Halandri on 23/09/2009 and the arrest of Haris Hadzimihelakis – a member of the Conspiracy as well as that of others related to the case or not, and the barrage of persecutions that followed was a strong surprise for an important part of anarchy. It is a fact that a great shadow of fear spread causing a generalized numbness which contributed to the halting of the aggressive polymorphy that occurred during the period 2008-2009, as direct action decreased steeply.
At the upcoming trial inside the courtroom, a section of the history of the Conspiracy of Cells of Fire, which the state seeks to punish through the dead letters of the pages of the penal code which constitutes the peak of repression against the anarchist prisoners, will live again.
The dozens of arson attacks against state and capitalist targets, the bombings of politicians' homes, the arrest warrants, captivity, illegality, the upgraded explosive devices in courts, prisons, banks, homes of fascists and other enemies of the revolutionary cause, are our own subversive experience as it proceeded through the Conspiracy, and we will defend it as such.
By defending politically our actions, we want to make it clear that we remain impenitent for our choices and actions through the Conspiracy of Cells of Fire, and we aim to abolish the mapping of our history with the laws and the "wooden" language of the judges and instead impart to it its real characteristics, those of the decision of an anarchist group to arm themselves and carry out attacks against the system and its servants.
The fact that after so many years in prison we continue consistently supporting anarchy, the urban guerrilla and the option of all-out attack against the existent is our way to remain deniers of this society and its civilization.
Seven years later therefore, we don't regret anything. The Conspiracy of Cells of Fire is more than a simple tool. It's part of our own life and we're never going to renounce it.
Because if time could turn back we would still walk the same path, because the fire of anarchist revolt still burns in our hearts.
Today more than ever there is a need to coordinate our passion to destroy the authoritative structures that surround us and to throw ourselves into a battle seeking freedom through thousands of acts that tries to disrupt the normality of the social machine.
The nuclei of the Informal Anarchist Federation, anonymous comrades who disturb the peace of the capitalist metropoles with their attacks, the polymorphous anarchist action trimming the function of sovereignty, the Black December project, the Insurrectionary Association of Theory and Action, is nothing but pieces of a mosaic of actions that build again an anarchy that is a real danger for power and its civilization.
Let's turn these plans into an everyday war against the state and let's venture into the ceaseless battle for the resurgence of the constant anarchist insurrection.

The bet is still open…
Everything continues…
The members of the Conspiracy of Cells of Fire – FAI / IRF
Damianos Bolano
Giorgos Nikolopoulos
Michalis Nikolopoulos
Theofilos Mavropoulos
Panagiotis Argyros
Harris Hatzimichelakis

Tags: Athens, Conspiracy of Cells of Fire, Conspiracy of Cells of Fire : Imprisoned Members Cell, Damiano Bolano, Giorgos Nikolopoulos, Greece, Harris Hatzimichelakis, Informal Anarchist Federation (FAI), International Revolutionary Front, Korydallos Prison, Michalis Nikolopoulos, Panagiotis Argyrou, Theofilos Mavropoulos, Trial
Posted in Prison Struggle
Saturday, April 23rd, 2016
(For the April 20th court of appeal).
"The distance that separates freedom from slavery… is boldness…"
On April 20th, at Korydallos prison, the Court of Appeal for the Conspiracy of Cells of Fire begins.
We're on trial for the explosive device found at the house in Halandri ("Halandri" case), for the bombings of the former Interior Minister P. Hinofotis's house (he worked in the army during the years of the Junta), of the home of the ex-deputy and current president of the Bank of Greece L.Katseli and the bombing of the Macedonia-Thrace Ministry, on the eve of the Thessaloniki International Fair.
We are also accused of sending parcel bombs to embassies, international police-judicial institutions (Eurojust-Europol), as well as to Chancellor [Angela] Merkel, to the Prime Minister of Italy (at that time) media mogul Berlusconi and to racist ex-French President Sarkozy.

Finally, we're on trial for aggravated gun possession and for the scuffle with cops in Pefki.
All these are some snapshots of the action of the Conspiracy of Cells of Fire. We've openly claimed responsibility and defend all of our actions, as we are convinced that one cannot gain the world neither with prayers nor with curses.
It's not only the members of the Conspiracy of Cells of Fire and other anarchists for other cases that go on trial on April 20th, BUT the option of the urban guerrilla in total.
In fact, what's on trial is the option of armed struggle against the murderous machine of power.
Today, anyone who does not understand the necessity of armed anarchist action against the tyrants of our life, is either extremely naive or a cop.
All those who roll the dice with our lives in the stock markets, the central banks, the international meetings of power, are not going to give up their offices and their wealth because we politely ask them to do so… The only language they understand is fear.
Our voices and ideas are more powerful when they come from the barrel of a gun…
Enough with tolerating the scarecrows of the power mocking us as they speak of "democracy", "freedom" and "rights."
If you want to understand what all of them think do not listen to their words… just look at their pockets…
They are the same ones who have imposed a murderous financial dictatorship strangling our life every day, pushing some people to resignment and others to suicide.
They are the same ones who send armies and turn whole countries into mass graves favoring the interests of oil and multinational corporations.
They are the same ones who run the propaganda and the spectacle which is turning lies into the truth, life as digital fakeness and happiness in mobile phone accessories.
No peaceful protest, no left wing illusion is going to overturn power from its throne.
The question that often sounds like a dirge "and how is the world going to change?" is crappy, defeatist and cowardly… Anyone who wants to change her life and the world, gets armed and becomes the answer.
On April 20th the judicial Inquisition wants to elicit from us, a sign of remorse, a sign of truce…
We were locked in cells, they moved us into the isolation section, they arrested and imprisoned our relatives, we are being on trial inside the prisons BUT we're not going to be at peace with death and subjugation…
The Conspiracy of Cells of Fire will be reconstructed and will be back on the attack…
"The ugliness of power has been analyzed and interpreted by every generation and every aspect… What is happening today does not need further analysis, it needs actions…"
LONG LIVE THE CONSPIRACY OF CELLS OF FIRE
LONG LIVE THE INFORMAL ANARCHIST FEDERATION (F.A.I.)
LONG LIVE THE ANARCHIST URBAN GUERRILLA
The members of the Conspiracy of Cells of Fire – FAI / IRF
Olga Economidou
Giorgos Polydoros
Christos Tsakalos
Gerasimos Tsakalos
*Translated by A-politiko as a minimal form of solidarity to our comrades, for the solidarity day on April 23rd.
Tags: Athens, Christos Tsakalos, Conspiracy of Cells of Fire, Gerasimos Tsakalos, Giorgos Polydoros, Greece, Informal Anarchist Federation (FAI), International Revolutionary Front, Olga Economidou, Trial
Posted in Prison Struggle
Monday, April 18th, 2016
From a comrade of ABC Brighton:
March 17
A secret world exists within the high security prison estate in England, known as the Close Supervision Centre (CSC) system. It is notorious amongst the few who know of it, a place only the most unfortunate men ever see. Reports of serious mistreatment and torture are routine from the victims detained within the CSC, but almost nothing is ever done about the biggest demonstration of inhumanity to take place in this country.
In order to excuse this torture chamber, the dehumanization of CSC prisoners begins at a very early stage of official justifications for the creation of the CSC system, which focus on the need to contain a new breed of unmanageable and unpredictable risks. It continues with the creation of classificatory categories of 'dangerousness' which objectify prisoners and make more of the category and less of the human in them, and it is reinforced by the tightly controlled and highly regulated routines in CSC's, treating prisoners as highly dangerous creatures, capable of superhuman acts of violence – not quite human and in need of the extreme oppression the CSC provides.
When it comes to the 'worst of the worst', isolation is wrongly seen as a necessity but insufficient measure by prison management. In addition to isolation and extremely restricted movements, prisoner in-cell provisions and their belongings are carefully regulated and subjected to relentless scrutiny and inspection. (more…)
Tags: Close Supervision Centre CSC, Demo, Isolation, Kevan Thakrar, UK
Posted in Prison Struggle
Monday, April 18th, 2016
The very first court hearing since the [Operation] Fenix started will take a place in Czech Republic Prague city court on April 26-27th. The court is about the case of Igor Shevcov. An anarchist accused of fabricated attack on the house of the Minister of Defense.
During this so called attack nothing was damaged and no one got hurt. In the time of incident – which the ministers' son mentioned in his first testimony – Igor could not be physically near by the house.
Igor already had spent 3 months in remand and since September 2015 he has been out on probation. Part of the "deal" is that Igor could have not leave the Czech Republic at all and once a week he must go to visit the probation office. He can be sentenced up to 15 years. Take friends and come to support a comrade, anarchist and great friend Igor in the court room!

The solidarity is our strongest weapon!
Tags: Czech Republic, Igor Shevcov, Trial
Posted in Prison Struggle
Monday, April 18th, 2016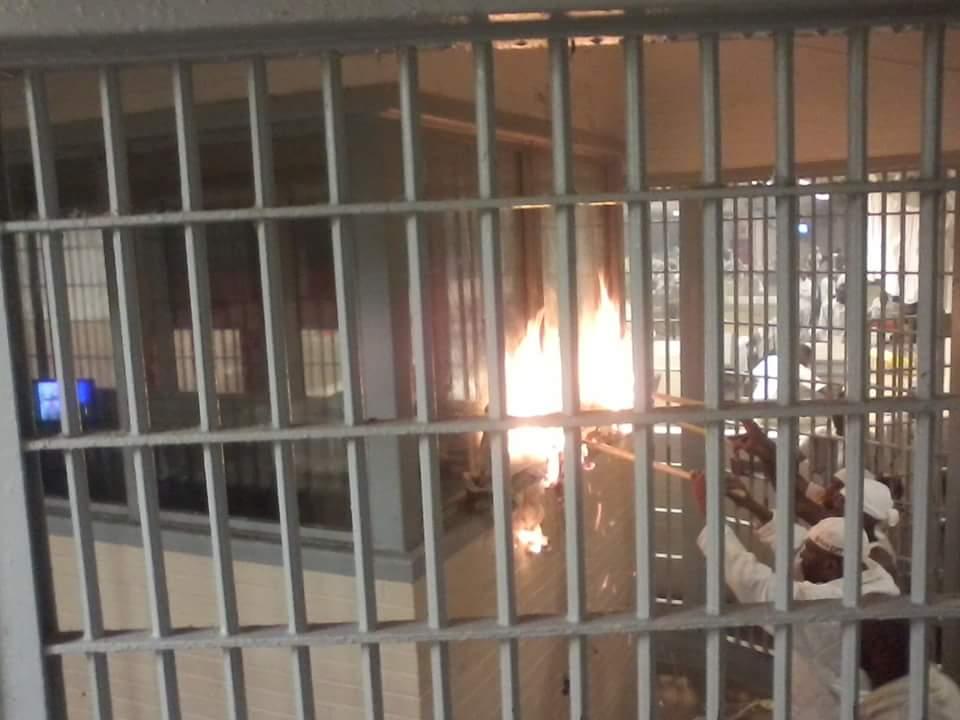 Friday, Feb. 12, 2016 – Monday, Feb. 15, 2016
What began as a confrontation between prisoners from different regions of Alabama – namely, B'ham and Montgomery, with B'ham being the largest – escalated into two short riots against the pigs. After the prisoners squashed the beef among themselves without any violence, two pigs ran into C-dorm, which houses 114 prisoners and was informed that there was no problem and everything was under control.
One pig (Tate) tried to bogart his way through a crowd of prisoners and was immediately stabbed a number of times. After the two pigs ran out the dorm, one bloodied the warden, Carter Davenport, who has a reputation as an extremely sadistic, disrespectful, and nasty scumfuck fascist, who was recently removed from his post as warden at St. Clair maximum security prison for assaulting a prisoner, and reassigned as warden at Holman in 2015. He was stabbed after entering C-dorm like some kind of god. (more…)
Tags: Alabama, Letter, Michael Kimble, Prison Riots, USA
Posted in Prison Struggle
Friday, April 8th, 2016
Apr 11 at 9 AM to Apr 15 at 5 PM in CDT
Cook County Criminal Courthouse
2600 S California Ave, Chicago, Illinois 60623
The day is here. Our friend and comrade Jared 'Jay' Chase goes on trial starting Monday. Will you stand with him?
Jay is supposed to be coming home on May 6th but this trial is creating a situation where he may not. We need you to PACK THE COURT. The attendance at previous hearings has been small at best. Jay is in prison on entrapment charges from the NATO 3 case and these charges stem from his time in solitary confinement at Cook County Jail.
Anita Alvarez is prosecuting Jay. Yes, the same Anita whose events you disrupted and who you voted out of office. The same fascist who prosecuted the NATO 5 cases, the Tinley Park 5 and Jason Hammond, the same monster who is finally leaving office. This is her legacy though. It does not matter that she lost -her office is prosecuting Jay for alleged assault charges. It is great that people disrupted her campaign events but will they show up for his trial?
Jay was diagnosed with Huntington's disease while in captivity in Cook County Jail and the ongoing brutalization and isolation he has faced has contributed to a noticeable and alarming deterioration in his health.
This trial is not just about a few extra years being tacked on to his current sentence which is coming to an end in May. The State has made it very clear through this obviously vindictive prosecution that they want to ensure Jay lives out his days in their cage.
Jay needs your support and solidarity. Everyone needs to see that Chicago stands with him and we have his back.
NATO 3 Defense Committee
freethenato3.wordpress.com
Tags: Jared Chase, Trial, USA
Posted in Prison Struggle
Friday, April 8th, 2016
On 21 March imprisoned anarchist comrade Gabriel Pombo da Silva was transferred from module 5 to module 7 in the same jail (La Moraleja – Duenas), where he is now after having been moved last January from Topas prison (Salamanca). The transfer is the old strategy of internal dispersion used on dignified and rebellious prisoners, because Gabriel laughed in the face of the prison director during him being notified of a disciplinary sanction. We recall that Gabriel lives in captivity for 31 years and is paying dearly for his determination and rejection of submission.
Gabriel is not alone! Write to the compa:
Gabriel Pombo da Silva
C.P. "La Maraleja" – Módulo 7 –
P.C.: 34210 Dueñas
Palencia
Spain
-info via publicacion refractario
Tags: Gabriel Pombo da Silva, Prison Transfer, Spain
Posted in Prison Struggle