Archive for the 'Prison Struggle' Category
Wednesday, May 22nd, 2013
It is late, but I still want to congratulate all the comrades and friends with May Day and the Day of Liberation of the world from the Nazi threat in the memorable days of 1945. The symbolism of the holidays for me is still an important part of those ideas that I live for, although already the second year in a row I am unable to take part in their celebrations. But even in prison, they are life-affirming, as most of the people who surround me here could stand with me in the same column in freedom, shoulder to shoulder. (more…)
Tags: Alexei Sutuga, Letter, Russia
Posted in Prison Struggle
Sunday, May 19th, 2013
Welcome to Against prison system -festival in Helsinki 7th – 9th of June 2013

Short program summary
Friday 7th of June
-Pre-party 4PM-8PM
Saturday 8th of June
-Short introduction and discussion about Prisonless utopia – anarchist solutions to criminality at 5 pm. (more…)
Tags: ABC Helsinki, Against prison system -festival, Finland
Posted in Prison Struggle
Sunday, May 19th, 2013
In August 2008, Thessaloniki anarchists Vangelis Chrysochoidis and Polykarpos Georgiadis were arrested alongside infamous bank robber—and "the most wanted man in Greece" —Vassilis Palaiocostas. The authorities charged them and others with the kidnapping of powerful industrialist Giorgos Mylonas, which took place that summer and ended with Mylonas' "release" in exchange for a ransom of 5 million euros. Georgiadis has written a number of open letters (here, here, and here), but Chrysochoidis hasn't because—like Simos Seisidis, for example—he has no interest in doing so and doesn't really consider himself a "man of letters."
The trial for the kidnapping began on February 2, 2010 and ended with sentences of 22 years and 3 months in prison for both Chrysochoidis and Georgiadis, which sentences took into account a number of robberies they were also charged with. A brief summary of the trial can be read (in Spanish) here, while Palaiocostas' open letter in support of the two comrades is here.
Chrysochoidis statement to the court has already been translated into English here, but Georgiadis' statement hasn't yet appeared anywhere in English. More recently, the comrades' appeal hearing (summaries of which can be read here and here, ran from April 24 to May 16, 2012, and ended with each of their sentences being reduced to 12 years and 10 months.
Georgiadis: Even if you think I'm making an apologia, and while the word "apologia" has a specific connotation, I consider my words to be a kind of defense—not just regarding the legal aspect, but also concerning my political identity and political positions, which I believe are playing a decisive role in my situation. That I now find myself in the dock is a function of my political discourse and political positions of approximately the past 15 years of belonging to this milieu. Therefore, I first want to touch on some things that have already been mentioned here by witnesses, the plaintiff, and you. I'll also comment on two or three other things beyond the legal aspect of the case. (more…)
Tags: Athens, Giorgos Mylonas, Greece, Polykarpos Georgiadis, Trial, Vangelis Chrysochoidis, Vassilis Palaiokostas
Posted in Prison Struggle
Sunday, May 12th, 2013
Right-wing Tory Justice Minister Chris Grayling's declaration in late April that prisoners would now be made to "earn" basic privileges by "working harder" probably wasn't just the usual "popularist" promise to stick the boot into one of the most powerless and demoralised social groups. During times of economic austerity and potential social unrest scapegoating marginalised and outcast groups like prisoners, is always useful as a means of deflecting and re-focusing public anger away from the true culprits of the country's economic ruination, in this case Grayling's pals in the city of London. Behind the rhetoric and the guise of "getting tough" on prisoners is the actual purpose of the prison industrial complex: to turn prisons into privatised forced-labour factories. (more…)
Tags: Chris Grayling, John Bowden, Letter, Prison Labour, UK
Posted in Prison Struggle
Thursday, May 9th, 2013
from materialanarquista, transl waronsociety:
Remember that he was already in Villena and was transferred to Valdemoro to bring him to the National Hearing to give testimony in relation to the events in Italy (Operation Ardire). After Gabriel's refusal to give any statement, he was again transferred to Villena, again to keep him distant from his environment of family and friends.
His address is:

Gabriel Pombo da Silva
Centro Penitenciario Alicante II,
Ctra. N-330, km. 66,
03400 Villena (Alicante)
Spain
Tags: Gabriel Pombo da Silva, Operation Ardire, Prison Transfer, Spain, Villena
Posted in Prison Struggle
Thursday, May 2nd, 2013
585 inmates at the Larissa penitentiary went on hunger strike in protest of the detention conditions they face, asserting satisfaction of their demands.
They already had stopped accepting common prison meals last week,demanding the food to be redistributed to people in need of it.
As the prisoners themselves have announced with an open letter, their demands and allegations are the following:
– better health care
– no reference or mention of any statute-barred disciplinary offense.
– inadequacy of social workers
– legal detention of immigrant inmates for an excessive period of 2 months in Larissa penitentiary, despite their entitlement for conditional release.
We demand these conditions to be changed and for those who are responsible to be replaced also.
The participation in this movement is massive according to the prisoners themselves, they say that the majority of the inmates in the penitentiary are on a strike. This includes all inmates from section B and C, one hundred inmates from section A and, as of today, 25 more from section E.
Lately, the government has shown it's lack of tolerance by using special forces operations, that resulted in the beating of several inmates in most prisons in Greece.
But the hunger strikes in Larissa penitentiary that started at 29 of April, are but one of the few but efficient ways to resist, that the inmates can use.
Our support/solidarity with their fight is self-evident.
White Cells imposed by left winger Mr Roupakiotis ["justice minister"] won't make us give in.
Our thoughts are with those who fight for dignity.
Tags: Greece, Hungerstrike, Larissa
Posted in Prison Struggle
Tuesday, April 30th, 2013
Translated by bourbourAs/actforfree
5th April 2013: 4th trial for the Conspiracy Cells of Fire case.
One more trial for the actions of the CCF began at Koridallos prisons.
Besides the members of the Conspiracy accused in the same case are also Dimitris Politis, Giannis Mihailidis, Giorgos Karagiannidis, Alexandros Mitrousias, Kostas Sakkas and Stella Antoniou (who are also accused in the third trial which is taking place as well) and Kostandina Karakatsani and Panagiotis Masouras.
Theofilos Mavropoulos read a common statement of the now ten members of the CCF, after which all members of the organization left the room.
"As I have stated in a previous court and in older public texts, I have been next to the comrades of the CCF as a solidarian anarchist, without however being a member of the Conspiracy. From the first moment of my arrest after the shoot out with the cops in Pefki, the comrades of the Conspiracy stood next to me like brothers. Inside prison we shared common worries, tensions and forged our steel passion for liberation through our common escape attempt in December 2011. Today for me the CCF is an inseparable piece of my thought, my desires and my personal mutiny for anarchy.
This is why as of today, here in your court, I state that I join the CCF and share together with the imprisoned and non arrested members the endless course to the anarchist insurrection. Participating now in the Conspiracy, I will read a collective statement for this trial. All of us, the members of the CCF, want to clarify some things.
In this trial, besides us who have taken the responsibility for our participation and support of the Conspiracy, all other accused do not have, neither have any relation with the charges attributed to them.
They never were, neither could ever be members of the Conspiracy.
An ocean of disagreements, perceptions and choices divides us…
The CCF and FAI is an international network of anarchists of praxis
who stand against the enemy with the certainty of those who play it all or nothing and refuse the proof of innocence and legal mitigations.
The Conspiracy and the Informal Anarchist Federation through their hundreds of attacks express the black anarchy which sets fire to the silence of the many and cowardice of the reformists.
All the charges in your indictments are a piece of the anarchist history and the armed course of the Conspiracy through the social desert of mass subjugation.
It is our compass in the unmapped unknown of the anarchist insurrection.
It is the unique moment where theory meets practice.
It is there where the law dies and anarchy is born.
It is there where the sounds of the explosions and the gun shots break the calmness of the crowd.
These moments are our moments. These history is our history.
A history which cannot be put on trial, neither finishes inside the court room.
We are the gasoline, the gun powder, the detonator, the bullet, the gun.
The only thing you will get from us is war.
The Conspiracy is, was, itself.
This is our Anarchy".
G.Mihailidis read a common statement of his and D.Politis and then left the procedure.
"Give us a copy", asked the chairman, "this statement is not for you", answered D.Politis, while the cops were cuffing them.
The statement:
"We state that: We refuse to participate in the procedure of the court, not only because it is a mean of the state to demean and bend the anarchist struggle, not only because its function aims at the respite of anarchist action,but mainly because we do not recognize any institutional representative of the bourgeois democracy to judge people.
As anarchist revolutionaries we stand hostile against the bourgeios justice which sends people to the rot of imprisonment in order to defend the criminal lawful order of capitalism. Also, we support the anarchist revolutionary war in every of its forms.
We are part of the violent and guerilla action and will defend it as an inseparable part of the struggle."
The trial continued on April 15th.
Tags: Alexandros Mitrousias, Athens, Conspiracy of Cells of Fire, Conspiracy of Cells of Fire : Imprisoned Members Cell, Dimitris Politis, Giannis Mihailidis, Giorgos Karagiannidis, Greece, Informal Anarchist Federation (FAI), International Revolutionary Front, Kostandina Karakatsani, Kostas Sakkas, Panagiotis Masouras, Stella Antoniou, Theofilos Mavropoulos, Trial
Posted in Prison Struggle
Sunday, April 28th, 2013
We are calling on comrades around the world to help raise awareness of the NATO 5 cases and support funds for the defendants on the one-year anniversary of their preemptive arrests. Between May 16 – 21, the one year anniversary of their arrests, plan a fundraiser, solidarity action, or just help spread the word in support of the NATO 5!
If you are unable to plan an entire event, you could always pass the hat at a meeting, or even help us promote our WePay.
While their lawyers are working pro bono, the NATO 5 require upwards of $30,000 for expert legal costs, court costs, data retrieval, etc. Any donation amount helps!
For more information, check out the information on the Week of Solidarity on our website: http://nato5support.wordpress.com/international-week-of-solidarity-with-the-nato-5/
Or go to our WePay: https://www.wepay.com/donations/nato-5-defense
In solidarity,
NATO 5 Defense Committee
Tags: International Solidarity, NATO 5, Repression, USA
Posted in Prison Struggle
Friday, April 26th, 2013
June 11th is the international day of solidarity with Eric McDavid, Marie Mason, and other longterm anarchist prisoners.
The state stole Eric McDavid and Marie Mason from us in 2006 and 2008 respectively. In the years since their arrests, repression has come to feel less like a specific event and more like an inescapable, ongoing nightmare. Sentenced to 22 years and 20 years, respectively, Marie and Eric remain in cages to this day, and know this nightmare more intimately than most.
Lately, we hear lots of talk about the end times, and total environmental collapse seems imminent. But what do these forces mean to those inside prison cells? And what do they mean for us on the outside? We are trying to save both each other and some shred of wildness on this earth. Our task is difficult, and sometimes seems impossible, because the harder we fight, the more repression we face. Every day we lose more species, more land, more friends… and this process shows no signs of slowing. How do we survive and continue to struggle in the face of this reality? (more…)
Tags: Eric McDavid, International Solidarity, June 11, June 11th Solidarity, Marie Mason, Repression
Posted in Prison Struggle
Friday, April 26th, 2013
From RadioAzione via Actforfree/B.pd
24th April 2013 – As preliminary investigations (415bis) came to an end on March 11 2013, Nicola and Alfredo will go on trial for 280bis (attack with purposes of terrorism), a proceeding also linked to the wounding of Ansaldo Nucleare manager Adinolfi, whose case (270bis) remains open for the two comrades plus another one.
No date has been fixed for the preliminary hearing for 280bis, as the prosecution has not yet submitted the transcripts of the missing environment bugging. After two delays requested by the court, these transcripts should be ready by June 5 (it seems that the experts can't understand or transcribe Neapolitan dialect, which had sounded so clear to the judges from Genoa when it was used to corroborate the charges, according to the arrogant methods always employed to interpret environment bugging.) (more…)
Tags: Alfredo Cospito, Ansaldo Nucleare, Italy, Nicola Gai, Roberto Adinolfi
Posted in Prison Struggle
Monday, April 22nd, 2013
John is now back at Shotts prison recovering from an operation to have a disc removed from his back, after being laid up in bed for two weeks with severe back pain. He's still feeling quite weak and unsteady on his feet but hopefully he's now on the mend. His recent hospitalisation meant he had a pile of mail waiting for him when he returned on Saturday 20th April. He thanks people for their letters and says he will answer them in due course.
You can send your wishes for a quick recovery to:
John Bowden
6729
HMP Shotts
Shotts
Lanarkshire
ML7 4LE
Tags: John Bowden, UK
Posted in Prison Struggle
Friday, April 19th, 2013
An open letter of solidarity with all imprisoned freedom fighters and those under trial!
I'm long past disappointment with black flags, books on theory in red covers and ideal utopias that never age. I've been asking "what next?" for quite some time now.
Everybody gets older, quits, sells his ideals of youth for comfort within the system. Nobody is ready to sacrifice his feeble status for freedom and utopian dreams. I don't believe in anything anymore.
Belief won't get us closer to freedom. What inspires me are your letters, comrades. Letters from those who had been violently put to cages of stone. You await letters from "outside" just as we wait for another letter from the "inside". You are so many. Your dignified and uncompromised stance warms our hearts. That is why I dedicate these lines to you. (more…)
Tags: International Solidarity, Letter, MY, Prison Letter
Posted in Prison Struggle
Sunday, April 14th, 2013
via contrainfo:
Anarchist Kostas Gournas, member of the Revolutionary Struggle, as well as anarchists Vaggelis Stathopoulos and Christoforos Kortesis are being held in Koridallos prison.
They currently receive letters at the following address:
Kostas Gournas
Vaggelis Stathopoulos
Christoforos Kortesis
Dikastiki Filaki Koridallou, Parartima Gynaikeion Filakon Koridallou (Π.Γ.Φ.Κ.), Solomou 3-5, 18110 Koridallos, Athens, Greece
Solidarity is our weapon – No comrade will be left alone
Freedom for all imprisoned fighters
Tags: Athens, Christoforos Kortesis, Greece, Korydallos Prison, Kostas Gournas, Revolutionary Struggle, Vaggelis Stathopoulos
Posted in Prison Struggle
Saturday, April 13th, 2013
Also read this: Letter from José Miguel after reading "Mapping the Fire" in the Colina II Prison, Chile
To the conscious minds who fight in the struggle in the street around the globe…
It is so naive to think about a generalized rebellion when what the poor people have done for centuries has been to submit themselves to norms and be passive waged slaves, with passive bodies, making the dominant class as well-stocked as ever, dictating norms and laws made for it to keep enriching itself with the consent of a people used to being submissive to the point of stupidity, always hoping for a crumb for their submissiveness.
Where are the insurgents? … In communities, neighborhoods, universities, high schools, etc. How many ready to take up the struggle in all of its aspects? … always very few. What is needed is to grow in determination and conviction, since we know that the bourgeoisie is and will be a strong and powerful enemy. In the class struggle we are many more, but they can count on the authorization and protection of the State, therefore they possess state of the art technology, with the servile protection of the police minions and with everything at their disposal. They guard and protect their possessions with tooth and nail, but we should use everything to demolish them. (more…)
Tags: Chile, José Miguel Sánchez, Letter
Posted in Prison Struggle
Wednesday, April 10th, 2013
Friday May 10th
Anarchist Black Cross – Lausanne
Benefit party
In solidarity with prisoners and repressed from here and elsewhere. In solidarity of the anti-prison struggles inside and out.
Solidarity in the fight
Against the repression of the capitalist system in all its facets
Against all forms of confinement and obstruction of the individual and collective freedoms.
Total rejection of justice and laws, established by the ruling class.
FIRE TO PRISONS AND CAPITALIST SYSTEM !
Infoshop, screen printing, food, concerts
all free price, start 8pm
FR

Vendredi 10 Mai
Anarchist Black Cross – Lausanne
Benefit party
En soutien aux prisonnier-e-s et aux réprimé-e-s d'içi et d'ailleurs En soutien aux luttes anti-carcérales, dedans comme dehors.
Solidarité dans la lutte
Contre la répression du systeme capitaliste sous toute ses facettes
Contre toutes formes d'enfermement et d'entrave aux libertés individuelles et collectives.
Refus total de la justice et de ses lois, édictées par la classe dominante.
FEUX AUX PRISONS ET AU SYSTEME CAPITALISTE !
Infokiosque, sérigraphies, Bouffe pop,
Concerts à prix libre, dés 20h
—————————–
GERANIÜM
Crust – strashbourg – fr
LINK
Epic/Crust – hellgium
droZera
Stoner/Crust – kampush connection
i Hate Them All
Drum and Bass/Techstep – kampush connection
———————————–
Friday May 10th – Espace Autogéré, césar roux 30,
Lausanne, switzerland
Contact : croixnoire@tormail.org
Infos : http://kampushconnection.tk
Tags: ABC Lausanne, Lausanne, Switzerland
Posted in Prison Struggle
Monday, April 8th, 2013
Received from This is our Job:
"As I've already stated during the previous trial and in the texts I've released over time, I stood beside my comrades in the Fire Cells Conspiracy as anarchist in solidarity, but without being a member of the Conspiracy.
From the first moment of my arrest, after exchanging gunshots with the pigs in Pefki, my comrades in the Conspiracy stood beside me as brothers and sisters. Inside prison, we have shared concerns, anxieties, and tensions. We forged our passion from steel—a passion for freedom—after the escape we attempted together in December 2011.
For me, right now the Fire Cells Conspiracy is already an inseparable part of my thinking, my desires, and my personal rebellion for anarchy. Therefore, here in these courts of yours, I declare that as of today I am joining the Fire Cells Conspiracy, and I share the endless path of anarchist insurrection together with the imprisoned members and those who haven't been arrested…."
Tags: Athens, Conspiracy of Cells of Fire, Conspiracy of Cells of Fire : Imprisoned Members Cell, Greece, Theofilos Mavropoulos, Trial
Posted in Prison Struggle
Saturday, April 6th, 2013
Translated by Actforfreedomnow/boubourAs
Session 34, March 21st.
In this session appeared again the head of the Anti-terrorist force who had organized most of the oppressive operations against the CCF. At some point of his testimony he mentioned there are publications which target him and members of his family, this is why he asked for the trial minutes in order to file lawsuits. Also, he mentioned once more that the CCF is a network of autonomous cells of direct action. More specifically he said that each cell can consist of 4-5 people, while he referred to a recent hit (the blowing up of an atm in order to expropriate it), the responsibility of which was claimed by the cell of FAI "lone wolf".
Session 35, March 22nd.
In this session the head of the anti-terrorists testified about the arrests in Pireus, Nea smirni and Kallithea, about weapons and explosives.
Session 36, March 27th.
In this session continued the testimony of the head of the anti-terrorist concerning the weapons and explosives found in Nea Smirni and the arrests which took place there, in Pireus and in Kallithea. At some point he even mentioned in the court that the minister of protection of the citizen (public order) was informed of he operation by the anti-terrorists, and it was he who gave the order for the arrests. The head of the anti-terrorists also confirmed that during the first oppressive operation against the CCF (halandri case 2009) an arrest warrant had gone out for a non-existing person, a fact that proves the witch-hunt set up against people who had nothing to do with the CCF. Besides, in the frames of the arrests that took place for the CCF, not only the comrades of the Conspiracy have been arrested but also dozens of irrelevant people.
Session 37, March 29th.
In this session the comrades of the Conspiracy did not appear in the court and sent a statement in which they refused to appear as a minimal act of reaction to the military style raid of the EKAM (special forces) the night before in the cells of Koridallos prisons. We must point out here that the night before there was a raid by the armed EKAM in the prisons and more specifically in the 1st wing where the comrades of the Conspiracy are being held. All cells were open and cops came in with their bulletproof shield and pointing their guns, led the prisoners out in the hall with their hands over their heads and then cuffed them. The hooded ones of the EKAM showed special treatment to the comrades of the Conspiracy, who they separated from the other prisoners and held alone. Also, the search in the cells of the CCF was done by the EKAM, contrary to the others who were searched by regular prison guards.
The next day (the day of the court) the comrades together with the other prisoners refused to return to their cells in the afternoon as a reaction to the cops raid. The continuous raids being carried out in the prisons are because of the noise caused by the recent escape of the 11 from Trikala prisons. Also, about a month ago the Media had made an extensive report about escape plans with a helicopter, which according to the journalists was being organized by the members of the CCF from inside prison.

Solidarians to the CCF
Tags: Athens, Conspiracy of Cells of Fire, Conspiracy of Cells of Fire : Imprisoned Members Cell, Greece, Trial
Posted in Prison Struggle
Saturday, April 6th, 2013
Received from 'This is our Job'.
All decisions, when it's a question of freedom, contain death within them. We, through this death, must attain life: a deep breath before the endless journey.
An armed clash took place in Pefki between two anarchists and the police force.
Two of their dogs, Leontopoulos and Drosos, tried to arrest me and my comrade. Our response was armed resistance and the rejection of surrender, with the goal of preserving our freedom, which—as anarchists—we value so much.
The results are well-known: my comrade escaped by stealing a patrol car, while I was wounded and arrested. Also wounded were the two police officers, whom I fired at first, managing to catch them by surprise. Without any doubt, if the pigs had died and the two of us—my comrade and I—had remained unharmed, we would have gotten away.
Additionally—regardless of the fact that my operational priority was to disengage and escape—it would be an honor for me if at the same time I had the blood of two police officers on my hands, not just because they were going to arrest me, but simply and solely because they were police officers. (more…)
Tags: Conspiracy of Cells of Fire, Fuck the Law, Informal Anarchist Federation (FAI), International Revolutionary Front, Theofilos Mavropoulos
Posted in Prison Struggle
Tuesday, April 2nd, 2013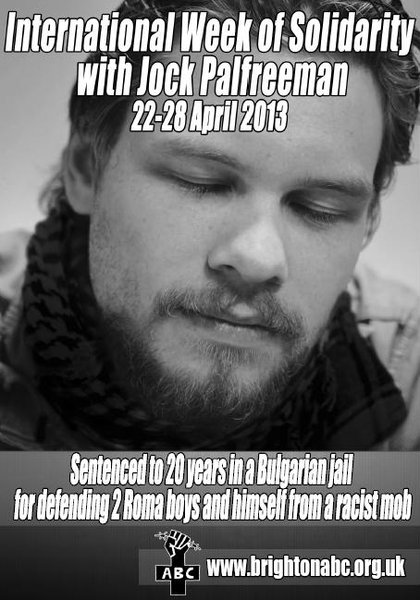 More details via ABC Brighton.
Tags: ABC Brighton, Ant-Facism, Bulgaria, International Solidarity, Jock Palfreeman, Racism
Posted in Prison Struggle
Sunday, March 24th, 2013
Dear comrades, your letter gave me strength and joy. I have many things to say but I will limit myself to a few of those. The role of the comrades held hostage cannot be but that of analysis, the supplying of the comrades outside the walls with further tools. Beyond the obvious of insurrection and non-subjugation inside the prisons, the struggle continues, and you gave us an example with your resistance. Communication cannot but be carried out through action and this is why we do not have to assign it in some way to the professionals of speech. It is vital, of course, that the news and ideas go around the world. It is necessary however that we avoid in any way the transformation into bureaucracy of a procedure that must remain free from the elite of those who specialize in information. The ability of planning must be the fruit of the action of comrades outside the wall and the analysis of the hostage comrades.
The public dialogue which will take place in Thessaloniki in the frames of counter-information is important, and I am sure that during your intervention you will mention my objection. (more…)
Tags: Alfredo Cospito, Conspiracy of Cells of Fire, Conspiracy of Cells of Fire : Imprisoned Members Cell, Counter-info, Italy, Letter, Olga Economidou
Posted in Prison Struggle