Archive for the 'Prison Struggle' Category
Friday, January 23rd, 2015
From a comrade of ABC Brighton:
The abuse of psychiatry in pathologizing and punishing "difficult" prisoners has a long and disturbing history in the British prison system and is probably the worst example of human rights abuse suffered by some prisoners labelled "challenging" and "unmanageable".
Throughout the 1960s and 1970s, especially, the role of prison system-hired psychiatrists in assisting in tFrom a comrade of ABC Brighton:he suppression of rebellious prisoners became an established one and often an unlawful one too such as when administering tranquillizing drugs by force purely to assist guards in subduing "troublemakers". The practice became known as the "liquid cosh". For particularly determined prisoner "troublemakers" the spectre of maximum-security psychiatric hospitals such as Broadmoor and Rampton could quite easily become a reality and often did when psychiatrists were recruited to apply the necessary pathological labels and facilitate the "nutting-off", or sectioning under the mental health act, of sane but "difficult" prisoners, Rampton, especially, acquired a notorious reputation for it's brutal and inhuman treatment of prisoners, administered by prison officer "nurses" and punitive-minded psychiatrists, and was considered amongst long-term prisoners as the worst and most deadly weapon of all in the prison system's armourer of control and punishment. (more…)
Tags: Anti-Psychiatry, Close Supervision Centre CSC, John Bowden, Kevan Thakrar, UK
Posted in Prison Struggle
Monday, January 19th, 2015
On January 16th, 2015, an invasion of the EKAM group [anti-terrorist unit] took place in the men's prison of Korydallos, keeping the whole prison closed from midday till the next morning, blocking the prisoners' right to have yard time and general activities. Not long ago, on December 12th and on New Year's Eve, prisoners' transfers were ordered to Domokos prison, so that the C' Type prisons are put into action. This is the modern Guantanamo bay. In the very next days, new transfers took place, and specifically there was the transfer of the two members of the Conspiracy of Cells of Fire to the white cells of Korydallos' women prison.
In this electoral game played against prisoners, women prisoners have turned for a long time now into sacks of potatoes squeezed and crowded together in a warehouse of souls, without anyone giving a shit. While the women's prison has three wings with 150 people capacity in each, right now 120 women have been crammed into the floor of one single wing, as the other rooms were given over for other uses or are empty.
We're not going to analyze the data further, but not so long ago we made demonstrations denouncing all the problems we are experiencing today and the promises given by the representatives of the Ministry before our eyes, which were never put in place. Since we're not going to stand for living like animals anymore, and, of course, no animal deserves to live like we do; since the C' Type prisons today deal with the male prisoners, but tomorrow another one will be built for us; and, lastly, since we're not going to put up with political games being played on our backs, as from today January 18th, 2015, to January 21st, 2015, we refuse to go back to our cells during the midday lockdown, as an act of solidarity with the demands of the male prisoners in Korydallos prison.
WOMEN PRISON OF KORYDALLOS
Translated by VbD
Tags: Athens, Greece, Korydallos Prison, Solidarity Action, Type C prisons
Posted in Prison Struggle
Monday, January 19th, 2015
On January 16th 2015, an invasion of EKAM police officers [anti-terrorist unit] and other repressive forces took place and they carried out searches in our fellow prisoners' cells. This is why our midday yard time did not happen and we remained locked all day. A few days ago, during the lunch time on New Year's Eve, the initial transfer of prisoners was ordered so that the Greek Guantanamo bay of Domokos could be be inaugurated (although on this specific day transfers don't regularly take place), playing this way their dirty electoral game on our backs. On Saturday January 3rd, after an invasion and investigation by the EKAM, our fellow prisoners and members of the Conspiracy of Cells of Fire, Christos Tsakalos and Gerasimos Tsakalos, were kidnapped in the night and transferred to the isolation-basement of the women's Korydallos prison. After all this, we decided to mobilize and as a first reaction we refused to be locked back in our cells in the midday, until Saturday January 24th 2015. In the following days, we are going to escalate our actions if necessary. We are going for:
1) The abolition of the 'C' type prisons.
2)The return of all those already transferred to the 'C' type prison in Domokos, and the return of our fellow prisoners Gerasimos Tsakalos and Christos Tsakalos from the isolation wing of the women's prison of Korydallos, back to the prison they were in.
3) During this rebellion, we're not going to accept any more transfers to the 'C' type prisons. We will consider every such act as revenge against our struggle and we are going to react accordingly.
When will Koutsimichali, the Director of Korydallos prison, and the prosecutors Poimenidis and Marsioni stop allowing these unlawful criminal acts? Are they ignorant of the prisoners torture or are they aiming for it?
Let everyone take their responsibilities.
Prisoners of the A, B, C, D, E wings of Korydallos prison
Isolation wing of women's prison of Korydallos
Translated by VbD
Tags: Athens, Christos Tsakalos, Conspiracy of Cells of Fire, Domokos, Gerasimos Tsakalos, Greece, Korydallos Prison, Type C prisons
Posted in Prison Struggle
Sunday, January 18th, 2015
Inter Arma received and translated:
Since recently, we watch the two candidate governmental poles engaging in a communicative conflict in the face of the parliamentary elections about the future management of the Greek State. On the one hand are the managers of fear that roam from TV channel to TV channel talking about imminent disasters and on the other hand the vendors of hope that sell their merchandise to all those desperate and gullible people that envision a welfare state like the ones other European countries have, where exploitation is masked with social benefits.
In this political context, the State has unleashed a new anti-terrorist campaign that is presented through the media as a well-directed action movie where the cops come out as the winners. The final act of this poorly set scenario took place yesterday. On Friday morning, the cops barged into a wing of Avlona prison, searched only the cells of some of my former fellow prisoners and very good friends and confiscated telephone books, phone cards, personal notes and other personal things. (more…)
Tags: Athens, Dimitris Ch., Greece, Korydallos Prison, Nikos Romanos
Posted in Prison Struggle
Sunday, January 18th, 2015
via InterArma:
Friday, January 16th 2015, police officers of the Blackmail Department accompanied by EKAM [anti-terrorist agency], invade the cells where the members of the Conspiracy of Cells of Fire are held, both in A' wing, and the basement of the isolation wings (for the 2nd time within 10 days, after the 1st invasion of the same agency). During the searches that followed, they seized phone agendas, calling cards, USB sticks and personal handwritten political notes. The proposition was the ridiculous police–media fabrication which presents our organization to have connections with the so-called 'night circles' of extortion. These myths aim to depoliticize and smear the Conspiracy of Cells of Fire and the circles of Black Anarchy. We shall clear up the obvious. Our code of values and our rebellious anarchist consciousness are opposed and hostile to that of organized crime and Mafia practices. Besides, the real organized crime rests in the centers of the State and the police. Beyond that, we neither apologize, nor regret our friendships. For days now, journalists, at the behest of the police, use our friendly relations, targeting our friend Vasilis Stefanakos [i], in order to present the fabrication of the "terrorists-criminals" osmosis and create new case files. We are going to defend this friendship of ours in every way, because it doesn't fit into labels of "terrorists" nor "criminals", which are given to us by the courts and the reports. This specific friend, like other long-term convicts who are mentioned in the news as so-called collaborators of ours, have NOTHING to do with the planned escape attempt. These ridiculous scenarios about the connection of the Cells of Fire with organized crime are trying to soil the obvious beauty of the comrades' attempt to break the shackles of captivity.
What's more beautiful than a prison exploding…
What's uglier than a lie which is believed not even by its instigators…
What's more obvious than vengeance…
IF FREEDOM IS A CRIME, LET'S ALL TURN INTO CRIMINALS
January 17th , 2014
Conspiracy of Cells of Fire – Imprisoned Members Cell
[i] Translator's note: The long-term convict Vasilis Stefanakos is serving a prison sentence as a leading member of the Syndicate of organized crime in Greece.

Translated by The Circle of Individualist Anarchists
Tags: Athens, Conspiracy of Cells of Fire, Conspiracy of Cells of Fire : Imprisoned Members Cell, Greece, Korydallos Prison
Posted in Prison Struggle
Saturday, January 17th, 2015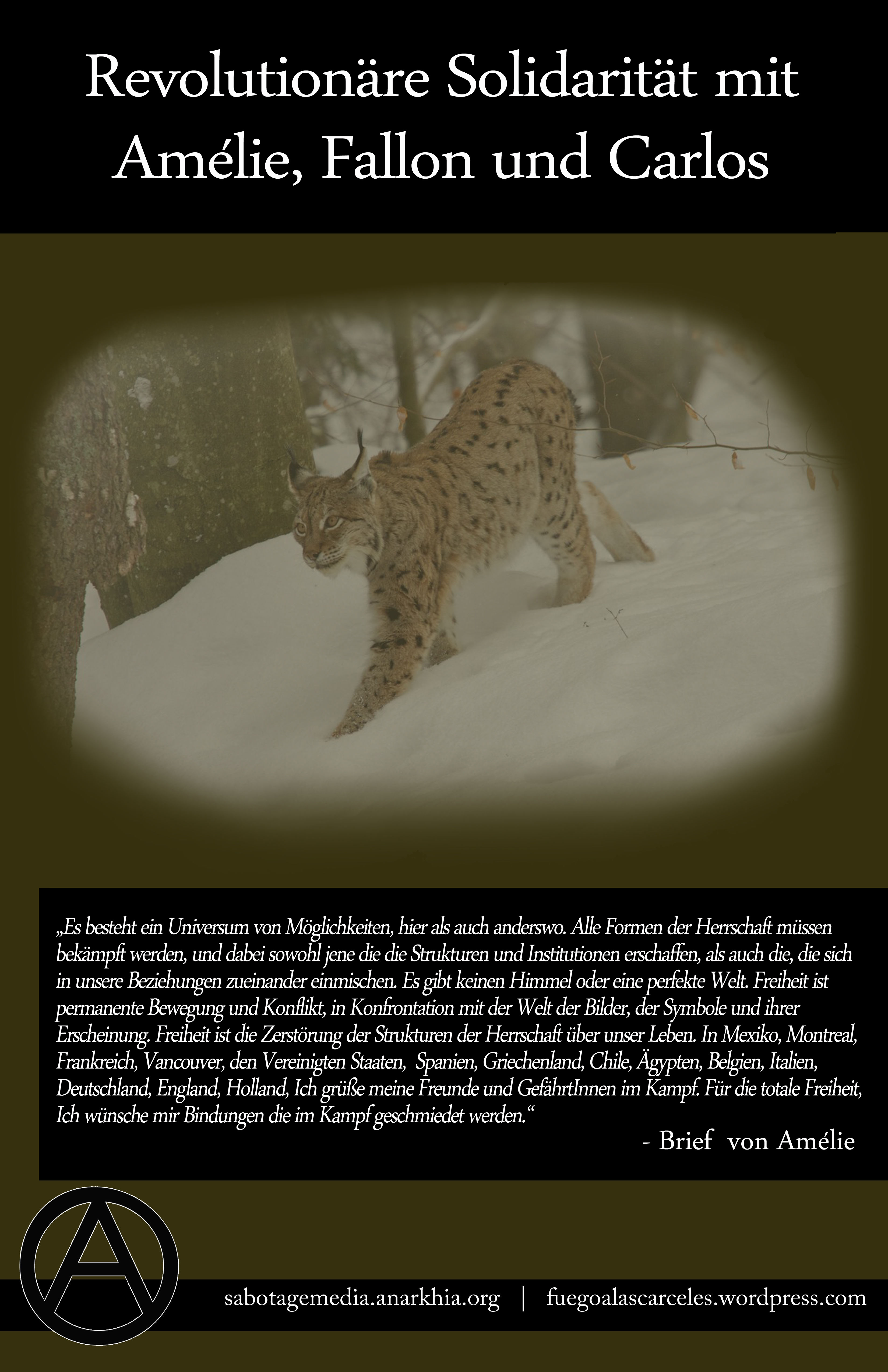 http://www.abc-wien.net/?p=1773
Tags: ABC Wien, Amélie Trudeau Pelletier, Austria, Carlos López Martin, Fallon Poisson, Flyposters, International Solidarity, Vienna
Posted in Prison Struggle
Saturday, January 17th, 2015
via actforfree:
After a phone communication with the comrades they have informed us about their new addresses in Domokos C' Type high security prisons and that they are together in the same cell in wing E'1. Comrade G.Sarafoudis was transferred back to Koridallos prisons last week for the upcoming trial of the case of the bank robbery in Filota, which begins on January 14th.
Their morale and spirits are high.
Giannis Naxakis
Grigoris Sarafoudis
Geniko Katastima Kratisis Domokou,
Ε Pteryga,
35010 Domokos,
Fthiotida,
Greece
Tags: Domokos, Giannis Naxakis, Greece, Grigoris Sarafoudis, Type C prisons
Posted in Prison Struggle
Saturday, January 17th, 2015
via InterArma:
On Monday, 19th of January around 6 o'clock, there will be a phone interview with anarchist comrade Christos Tsakalos, member of the anarchist group the Conspiracy of Cells of Fire about the prison escape, maximum security prison (type C) and other things.
You can listen to the show on the web or tune to 93,8 fm on the radio.
Radio-zones of Subversive Tension – 93,8fm
Tags: Athens, CCF Escape case, Christos Tsakalos, Greece, Korydallos Prison, Type C prisons
Posted in Prison Struggle
Friday, January 16th, 2015
It was 3rd of January when after a wide operation of anti-terrorist police, the wanted comrade Ch.Xiros was arrested in the region of Anavissos. At the same time, there was detected a hideout in the same region. After a stake-out of this property cops discovered a large amount of ammunition and firearms (8 Kalashnikovs, 1 RPG, 3 rockets, hundreds of bullets, more than 150 kilos of explosives etc.), drawings regarding an escape plan of Conspiracy of Cells of Fire members and a fake ID of comrade Angeliki. (who was visiting members of CCF in prison). The very same night EKAM (special forces of anti-terrorist police) and officers of anti-terrorist police raided all the cells of CCF members in prison, and the comrades Christos Tsakalos and Gerasimos Tsakalos, as well as the comrades Spiros Mandilas and Andreas Tsavdaridis, were transferred to a solitary confinement wing in a dungeon under Korydallos prison where there are no other prisoners.
In the next days, the anti-terrorist police declares comrade Angeliki is a fugitive and starts an intense man-hunt for her arrest (after giving her photo in publicity through all TV channels), and they discover another safehouse in the region of Loutraki where they found dozens of ready-made bombs, a gun, and two stolen vehicles (1 jeep and 1 van).
The Minister of Public Order and the Chief of Police are making official statements announcing that police managed to prevent an escape plan of the members of Conspiracy of Cells of Fire. According to this announcement, some comrades would attack and blow up the outside wall of the prison wing that members of CCF were held in, with a mega-bomb of 150 kilos of explosives put in a trapped vehicle (stolen van) and with the Kalashnikovs and the RPG would strike armed guards at the guard-houses of the prison.
After that, they would escape with CCF members in stolen vans which they intended to change with other stolen vehicles during the route of escape with the safehouses as destinations.
The imprisoned members of CCF published two texts ("It was worth a try", "Communique of War") in which they express their solidarity with comrade Angeliki and they closed with the phrase "Nothing is over…. Everything continues."

Freedom to the imprisoned members of Conspiracy of Cells of Fire
Solidarity with the fugitive comrade Angeliki
Comrades in solidarity
Tags: Andreas Tsavdaridis, Athens, CCF Escape case, Christodoulos Xiros, Christos Tsakalos, Conspiracy of Cells of Fire, Conspiracy of Cells of Fire : Imprisoned Members Cell, Gerasimos Tsakalos, Greece, Raids, Spyros Mandylas
Posted in Prison Struggle
Thursday, January 15th, 2015
From actforfree:
THE POLITICAL STATEMENT OF COMRADE KOSTAS SAKKAS READ OUT AT THE TERROR-TRIAL OF KORIDALLOS PRISONS.
I am sending the following text to Athens lawyer Dimitrios Katsaris in order for him to deliver it to his client and my co-accused Giorgos Karagiannidis, in order to read it out in the courtroom during the testimony procedure.
I realize absolutely that what a relative of mine testified during the witnesses' testimonies was done with the best of intentions. However I must clarify that a large part of it does not reflect reality and does not express me as an individual.
Unfortunately the conditions in which I find myself in, my inability to communicate and the restrictions that this implies, led to the misinterpretation of this specific witness on what their role was, as such.
In my following statement my political opinions and positions are analysed to a large degree as well as what my implication is in the case examined in the court.
On December 4th 2010, two days before the anniversary of the murder of Alexandros Grigoropoulos by the forces of repression, I was arrested along with my comrade and friend A.Mitrousias, outside a place in which we were hiding weapons. From the start we clarified that the weapons belonged to us and no one but us. They were not intended to supply any organization and could obviously not be a product for trading. (more…)
Tags: Greece, Kostas Sakkas, Trial
Posted in Prison Struggle
Thursday, January 15th, 2015
English translation via War on Society
Un Paleógrafo es un paleógrafo…pero es más que un trozo de papel cuando
viene enmarcado en una forma de ver y entender el combate desde la
multiformidad permanente.
Es un mínimo gesto de respuesta, un guiño cómplice a nuestrxs compañerxs
secuestradxs por el Estado Español, nuestras complicidades se extienden
mas allá de cualquier frontera.
La complicidad entre el Estado chileno y Español se hizo evidente en el
coqueteo publico entre sus organismos represivos, materializándose con el
encuentro entre sus autoridades con diversos viajes entre ambos
territorios durante los últimos meses.
La operación Pandora no es simplemente la re-edición ciega de un modelo
represivo, sino que además incluye un movimiento de avanzada, contemplando
la falsificación de la realidad al apuntar a los GAC como una célula de
acción directa (tal como aquí las casas okupas fueron señaladas como
fachadas de una "organización terrorista"). Pero además el salto represivo
esta dado en la fantasiosa trampa de acusar a lxs compañerxs de conformar
una "organización terrorista" que no ha cometido ningún ataque conocido.
Esto es la Democracia, el absurdo que se autoafirma para perpetuarse en el
poder. Como antiautoritarixs no tenemos nada que mendigar, solo declarar
nuestro desprecio.
Desde las diferentes latitudes y territorios aprendamos de la maniobra
represiva en España, entendiendo que la Guerra Social se vive a nivel
global. Los Estados se comparten información y estrategias. Nosotrxs no
solo contemplamos, sino que somos parte de la misma marea contra el poder.
No olvidamos a nuestrxs hermanxs Francisco y Mónica, nuestros corazones
han estado y estarán con ustedes.
Solidaridad y lucha con lxs compañerxs secuestradxs por la Operación
Pandora y con nuestrxs entrañables compañerxs de la Conspiración de
Células del Fuego y Christodoulos Xiros recientemente
encarcelado:¡Guerrillero una vez, Guerrillero Siempre!
Algunos Anarquistas
$tgo-Chile. Enero 2015.
Tags: Banner drop, Chile, Christodoulos Xiros, Conspiracy of Cells of Fire, Francisco Solar, International Solidarity, Monica Caballero, Operation Pandora, Santiago, Solidarity Action
Posted in Prison Struggle
Monday, January 12th, 2015
On Monday, 12/01, in the afternoon, anarchist comrades Spyros Mandylas and Andreas Tsavdaridis were released as the 18-months pre-trial detention that was imposed on them has finally ended. We remind that the comrades were arrested on 12/07/2013 and are accused of being members of the anarchist guerrilla group the Conspiracy of Cells of Fire and for the shipping of a parcel bomb to the former commander of anti-terrorist agency, Dimitris Xorianopoulos, which took place in July 2013 and was carried out by Commando "Mauricio Morales"-FAI/IRF, as part of the "Phoenix" project (act 4), an attack which Andreas has claimed responsibility for. We welcome with great joy our comrades back to the streets of continuous insurrection.
Strength to the comrades of the Conspiracy of Cells of Fire
Freedom to anarchist prisoners of war
Fury and Conscience
———-
Inter Arma
Tags: Andreas Tsavdaridis, Conspiracy of Cells of Fire, Greece, Informal Anarchist Federation (FAI), Phoenix Project, Spyros Mandylas
Posted in Prison Struggle
Sunday, January 11th, 2015
Friday 09/01/15 – Unrepentant comrade Christodoulos Xiros, of the R.O – 17 November, who was captured by anti-terrorist police after a stake-out of a property in Anavyssos, has been transferred from Korydallos prison, Athens, to Domokos. This prison has been converted into a new high security maximum isolation 'Type C prison' for the annihilation of the imprisoned urban guerrillas and the nonconforming prisoners. The comrade remains strong, as can be evidenced by his words and in the photos of his appearances in public before the prosecutor-rat who gave him his charges. Christodoulos refuses to cooperate in any way with the judicial authorities and maintains his armed revolutionary principles and irreducible stance against oppression and the capitalist system.
Amongst other charges, Christodoulos is accused of forming and leading an 'unnamed terrorist organisation', which had gathered explosives and firearms for an assault against Korydallos prison to free the Conspiracy of Cells of Fire / FAI-IRF – Imprisoned Members Cell. Since the last report published here, another safe-house has been announced found by anti-terrorist police in Loutraki where they seized 2 stolen vehicles, many kilos of explosive materials and other items. No comrades were inside when the hideout was raided. From data recovered by the pigs they believe the breakout of the comrades would have lead to a new wave of organised attacks against all institutions and structures of the Type C prisons and those responsible for them. Judges, politicians, prison guards and managers, industrialists and bankers… all those responsible for the misery of the existent.
The pigs are now looking for a third safe-house they believe to exist in an urban area, and are making an Explosive Ordinance Disposal (EOD) and forensic investigation of the Loutraki property whilst processing the results of the DNA and fingerprint evidence found in the first house in Anavyssos. The pigs declare that the Kalashnikovs and the pistols found in Anavyssos were 'clean' and had not been used in any of the recent armed actions in Athens, mentioning the armed attack which took place against the Israeli Embassy on 12 December 2014 by Popular Fighters Group and the armed attack on the German ambassador's residence in 2013 that the same group took responsibility for. Also found on Mount Egaleo was a stolen vehicle that police claim was to be used in the Korydallos breakout as a getaway vehicle.
Also in connection to the case, Gerasimos Tsakalos, Christos Tsakalos (imprisoned members of the CCF), Andreas Tsavdaridis (Member of FAI) and anarchist Spyros Mandylas, who remain held hostage in Korydallos prison, have been removed from A-Wing, and put in the dungeon under the Women's Wing, which was formally used to detain members of 17 November. It's been reported that this was because of their closeness to comrade Angeliki who is clandestine. It is expected that the imprisoned comrades will soon be transferred to Domokos and the authorities are scared of reprisals or sudden retributions.
2 comrades are fugitives after having been named in the mainstream media as being intensely hunted in connection to the CCF escape plan, and naturally the mainstream media slime, guided by the anti-terrorist unit, are printing filthy propaganda through speculative tabloid hypothesis and leering about the case, feeding their hunger for sensationalist delirium at the election period. Alongside, the journalists compare the attempted escape to the terrorism spectacular conjured by a cell of Islamic-fascists at the Charlie Hebdo office in Paris. In this way, they smear the clear objectives of the new combatants and those who joined them from the last generation of armed struggle for freedom. This is what the media industry is for. To keep people distracted and smug in a drivel of banality, tits, terror, consumerism and fantasy.
Charlie Hebdo's editor-in-chief Gerard Biard has told France Inter, "A newspaper is not a weapon of war", but he could not be further from the truth. The Press has always been a weapon of war owned by incredibly powerful individuals, who with their editors and corporate allies form cartels who control and manipulate the flow of information and opinion in order to maintain a system of privilege over the masses of people and all those who fight against that corrupt and parasitic system. Without needing to repeat more or reference the content of such hysteria and at a time of widespread nationalistic-liberal delirium, spell-binding illusions are only of benefit to Power, which weeps crocodile tears for the victims of the massacre in Paris, and we remind that all journalists are not actually fighters for freedom or humour, many are the same disgusting pieces of shit that they have always been. We remember the deserved fate of lackeys to industry, like "Journalist" Sokratis Giolias. In many offices across Europe and beyond, a more fitting end couldn't come to them.
The imprisoned comrades must get out of the prisons by any means and the Type C prisons and the regime which implements them must be attacked. Several generations of combatants cannot be left alone to become the trophies of Power. Solidarity means to keep things together, to keep things solid. Attacks keep the struggle solid. They prevent the fire being lost in the stagnation of modern life. Armed struggle is a valid choice in the revolutionary and insurrectional war against the existent. The criminals and the terrorists are those of the State and Capital, who have polluted the environment and ruined the earth, impoverished billions of people and who plan unparalleled domination and rule by the elite.
Nothing is over – Everything continues…
Solidarity to Christodoulos Xiros and all wanted comrades in connection to the case
War against the existent
Tags: 17 November, Andreas Tsavdaridis, Christodoulos Xiros, Christos Tsakalos, Conspiracy of Cells of Fire, Conspiracy of Cells of Fire : Imprisoned Members Cell, Domokos, Gerasimos Tsakalos, Greece, Prison Transfer, Repression, Spyros Mandylas, Type C prisons
Posted in Prison Struggle
Friday, January 9th, 2015
A year has passed since police stormed our flat yelling: 'Have you got something hot?' I was surprised and at the same time it made me laugh. Then we realized that they meant a trap using an explosive device, which made us laugh even more.
For a year I've been held hundreds of kilometres away from my companion and during this time I have only been able to hear her voice for 5 minutes every 2 weeks.
For a year I've been locked up in solitary confinement in 3 different prisons of the kingdom of Spain. Prisons that base their management on psychiatry and cure prisoners to the point of annihilation, implementing total control of communication and contact with the outside. In these prisons of the developed world priority is given to impersonal contact with the outside as any physical contact is strictly limited, contrary to my experience in the Chilean prisons. The possibility of being with your people is out of the question in places like this.
For a year solidarity has always been there, in particular from the anarchists of Barcelona, who have destroyed separation and isolation with their determination and initiative. They have demonstrated that solidarity is not an empty word, that it is inseparable from all our practices of struggle for total liberation.
And in the face of this, power has once again distinguished itself; it doesn't have the faintest idea of what keeps us together. The hardships they inflict on us make us stronger, we know each other better in difficult times and learn to know each other even more, and we laugh more at what we thought was insurmountable. If we decide to confront the State it is because we decided to stop living on our knees a long time ago.
Francisco Solar
13th November 2014
From RadioAzione
Translated by act for freedom now
Tags: Francisco Solar, Letter, Spain
Posted in Prison Struggle
Friday, January 9th, 2015
A few hours after Samaras's government collapsed, because it was not possible to elect a president of democracy on December 29th resulting in the announcement of elections, my transfer to the C' type high security prisons in Domokos was carried out. The transfer to the C' type prisons is the final act of a government which could not take on, like the previous ones, the weight of political social genocide it has been enforcing for the last 2,5 years under the orders of the Troika [IMF-ECB-EC] and the transnational economic elite.
It is the final act of a government that proved that the regime that led thousands of people to death, sunk millions into poverty, wretchedness, hunger and a whole population to humiliation, is afraid of revolutionaries and armed fighters. They fear the armed revolutionary struggle and this is why they want to bury us alive in the isolation of the high security prisons. My transfer to Domokos was their main intention after the shoot-out in Monastiraki on July 16th when I was arrested while injured and they had pre-announced that I would be the first prisoner to be moved there.
C' type prisons are the natural continuation and consequence of the oppressive policy of the State against armed fighters and the guerrilla warfare. Just like the anti-terrorist laws, the legislation of high security prisons and the recent changes in the penal code by priority aims at armed revolutionary actions. Especially in today's conditions that the regime is de-legitimized and has lost the social consensus because of the crisis and the storm it has unleashed, dealing with armed struggle or the threat of it, is a high priority for authority since as they themselves have confessed because of my arrest, -for which they also received congratulations from the USA-, security is linked with stability, investment and the continuation of the rescuing program.
I have no illusion on the position of a possible SYRIZA government on C' type prisons, which they will never abolish, nor will they reverse the transfers, just like they will not abolish the memorandum
conventions.
NO TRUCE WITH THE STATE
NO TO THE ELECTION ILLUSIONS
THE SOLUTION WILL ONLY BE GIVEN BY ARMED PEOPLE
Nikos Maziotis member of the Revolutionary Struggle
Domokos prisons
Translated by Act for freedom now!
Tags: Domokos, Greece, Letter, Nikos Maziotis, Revolutionary Struggle, Type C prisons
Posted in Prison Struggle
Friday, January 9th, 2015
The coalition government New Democracy-PASOK [right and left political parties] did not only flirt with the extreme neo-liberalism imposed by the Troika [IMF-ECB-EC], it was the biggest supporter and helped in the shaping of the memorandum policies. It not only flirted with the far-right agenda of the Golden Dawn [fascists political gang], it was itself the political and institutional expression of the deeply far-right state that promotes the transformation of society into a fascist one.

C' type prisons and the legal framework that defines a regime of exclusion for the prisoners is part of the memorandum policies that have messed up the lives of thousands of proletarians. A living prison inside the prison that aims for the political isolation and de-politicization of the political prisoners and their actions, vengeful treatment of the disobedient and is a means of dissuasion for all prisoners.
During its swan song, the government has transferred social and political prisoners to the new C' type wing in Domokos. Just a few days before the premature elections that were sped up when the government lost the trust of the Troika, the opening of the special wing in Domokos marks the re-ascertainment of the "law and order" dogma with the establishment of its crown. A few days after the partial regression in the Romanos case, the government raises the stakes by imposing its injured power.
The confrontation with the regime of exclusion in the C'type prisons is not simply a confrontation between the prisoners, the solidarity movement and society against the government that is going or the one that will come after the elections. It is a battle we all ought to spread/fight with the deep state in its core and against its indispensable identification with the neo-conservative "antiterrorist" dogmas of imperialism. It is a battle that concerns all of society which is hurting today by the brutal policies of Capital, a battle against the transformation of society into a fascist one.
Against the terrorism of State and Capital
Ahead comrades, for the structuring of the social revolution
4/1/2015
Kostas Gournas
C'type prisons of Domokos
Translated by Act for freedom now!
Slightly edited for clarity by 325
Tags: Domokos, Greece, Kostas Gournas, Letter, Revolutionary Struggle, Type C prisons
Posted in Prison Struggle
Friday, January 9th, 2015
Dear friends and comrades,
It is with bursting hearts that we write to tell you some amazing news. Today, January 8, Eric was ordered released from prison. It has been almost 9 years exactly since he was arrested in Auburn, CA, on January 13, 2006.
Eric's release came about because of the habeas petition that he and his legal team filed in May 2012. Because the government withheld important documents from the defense at trial, Eric's original judgment and sentencing were vacated and he pleaded guilty to a lesser charge that carried a five year maximum sentence. This means Eric has already spent four years longer in prison than could have been required under the statute for the charge he pleaded guilty to. He received credit for time served and was ordered released.
Eric's projected release date – until today – was February of 2023. (more…)
Tags: Eric McDavid, USA
Posted in Prison Struggle
Friday, January 9th, 2015
"First I shot him in the mouth to stop him talking crap;
then I shot him in the arm to stop him writing crap"
Jacques Mesrine on the kidnapping of a French journalist
The dirty war and the vulgarity of the journalists in regards to the case of the attempted escape of Conspiracy of Cells of Fire has no end. Targeting comrade Angeliki, emotionally blackmailing her parents, and spreading vile lies about her alleged relationship as a girlfriend of the one who has been arrested.
Angeliki is a friend of rebellion, anarchy, freedom.
If there were more people like Angeliki, struggle and anarchy would be the only possible reality.

SCUMBAGS SNITCHES JOURNALISTS – WE WILL TAKE REVENGE.
SOLIDARITY AND POWER by any means possible to comrade Angeliki and to all those wanted in connection to the same case.

The Cells will always stand by you…
Conspiracy of Cells of Fire – Imprisoned Members Cell
Panagiotis Argyrou
Giorgos Polydoros
Olga Ekonomidou
Gerasimos Tsakalos
Christos Tsakalos
Haris Hatzimixelakis
Theofilos Mavropoulos
Giorgos Nikolopoulos
Mihalis Nikolopoulos
Damiano Bolano
-
From Asirmatista

Tags: Athens, Christos Tsakalos, Conspiracy of Cells of Fire, Conspiracy of Cells of Fire : Imprisoned Members Cell, Damiano Bolano, Gerasimos Tsakalos, Giorgos Nikolopoulos, Giorgos Polydoros, Greece, Haris Hatzimixelakis, Informal Anarchist Federation (FAI), International Revolutionary Front, Korydallos Prison, Mihalis Nikolopoulos, Olga Ekonomidou, Panagiotis Argyrou, Theofilos Mavropoulos
Posted in Prison Struggle
Thursday, January 8th, 2015
Chiara, Claudio, Mattia and Niccolò were convicted in the first degree for the specific crimes, that they claim as an action of resistance to the TAV high speed train, 3 years and 6 months, against the request of nine years for the aggravating circumstance of terrorism. Now they are on house arrest.
—
Also for Francesco, Graziano and Lucio the crime of terrorism doesn't exist. The charges remain of possession and manufacture of molotovs and resisting a public officer, accusations that keep them in precautionary detention. They have been transferred in the High Security prison Ferrara.
Graziano Mazzarelli
Lucio Alberti
Francesco Sala
C.C. via Arginone, 327 – 44122 Ferrara (FE)
Italia
-

Cassa di Solidarietà Aracnide
Tags: Chiara Zenobi, Claudio Alberto, Francesco Sala, Graziano Mazzarelli, Italy, Lucio Alberti, Mattia Zanotti, Niccolò Blasi, TAV
Posted in Prison Struggle
Monday, January 5th, 2015
On 03/01/2015, at night, the members of the Conspiracy of Cells of Fire Christos Tsakalos and Gerasimos Tsakalos, the member of FAI Andreas Tsavdaridis and the anarchist Spyros Mandylas were transferred to the special wing[*], in the basement of the womens' section of Korydallos prison. The four comrades are well and high-spirited, they are able to communicate and their psychology is good. At the moment, there is no information about the rest of the comrades of C.C.F. concerning if and when they are going to be transferred as well.
The post will be updated as the situation develops.
Inter Arma
-
[*] The 'special wing' is a dungeon.
Tags: Andreas Tsavdaridis, Athens, Conspiracy of Cells of Fire, Conspiracy of Cells of Fire : Imprisoned Members Cell, Domokos, Greece, Informal Anarchist Federation (FAI), Prison Transfer, Spyros Mandylas, Type C prisons
Posted in Prison Struggle