Archive for the 'Prison Struggle' Category
Thursday, October 8th, 2015
Once you are released from prison, the first thing you realise is that your glance doesn't stumble into walls, bars or dividers. It can wander and face the sky, without staring through barbed wire. Then, your footsteps are no longer numbered—twenty walking towards the wall of the prison yard, and twenty going back to your cell. Certainly, in my case, the prison yard walls have expanded by one kilometer distance from my home, without even being able to have contact with my companion…
But be that as it may, for me my release from prison feels like a first victory against fear and injustice they want to impose on us as a restrictive condition of living…
Nothing of this would have happened if it weren't for a dynamic polymorphous movement of solidarity, who conveyed to me from every corner of Greece the strength and optimism that history is not only written by the authoritarians but also the insurgents…
A big thank you goes out to all of the known and unknown comrades who broke the terror of the Power's omnipotence.
A big thank you also goes to the doctors at the General State Hospital of Nikaia, and even more to the physicians Spyros Sakkas and Olga Kosmopoulou, who supported me with warmth and self-abnegation from the very first moment.
Of course, I do not forget those left behind, in prisons and frigid cells… I'll always stand beside them and hold on to all the moments we shared, until we meet again…
Because as long as there are prisons, no one will be free…

Freedom for political prisoners
Freedom for those who are in prison cells

Evi Statiri

- via contrainfo
-
Also: "About Evi's struggle" by Gerasimos Tsakalos via InterArma
Tags: Athens, CCF Escape case, Conspiracy of Cells of Fire, Evi Statiri, Greece, Hunger Strike
Posted in Prison Struggle
Thursday, October 8th, 2015
28. September 2015: 7. Update Nichtfreilassung Marco Camenisch
Nach dem x-ten Wechsel des "Fallverantwortlichen" fand im Rahmen der "Vollzugskoordinationssitzung III" am 27. Juli 2015 die Anhörung des Unterzeichnenden statt. Anwesend waren: der "Fallverantwortliche" und eine Protokollführerin vom Amt für Justizvollzug (AJV) ZH; der Sozialarbeiter, seine Praktikantin und die Vollzugsverantwortliche (in etwa Vizedirektorin) vom Knast Bostadel; mein Anwalt. Ich nahm teil, weil meine Voraussetzungen, bzw. Vorschläge zu realen "Öffnungsschritten" abgesehen von den irren "ROS-Empfehlungen" des forensisch-psychiatrischen Dienstes des AJV soweit erfüllt schienen. Tatsächlich hatte das AJV den "halboffenen" Knast Saxerriet im Kanton Sankt Gallen angefragt, ob man mich für "Vollzugsöffnungen" aufnehmen wolle und mir wurde die Kopie der ± positiven Antwort vom Saxerriet präsentiert. (more…)
Tags: Marco Camenisch, Switzerland
Posted in Prison Struggle
Tuesday, September 29th, 2015
Anarchist gathering in solidarity with Evi Statiri, who has undertaken hunger strike since September 14th against fear and injustice: Wednesday, September 30th 2015, at 18:00 outside the General State Hospital of Nikaia in Piraeus. — Assembly in solidarity with Evi Statiri (in Athens).
In the early hours of Sunday, September 27th 2015, when Evi Statiri entered the 14th day of her hunger strike, she suffered severe hypoglycemia and presented with symptoms such as intense pallor, orthostatic hypotension and tachycardia on exertion. Additionally, she has experienced malaise, palpitations when making the slightest effort and when standing, and cold intolerance, often accompanied by chills. Later that day, she was urgently transferred from Koridallos prison to the General State Hospital of Nikaia in Piraeus, having lost 11% of her initial body weight.
Evi Statiri is now awaiting response from a judicial council, having filed a new request for her release three weeks ago.
-

via contrainfo.
Tags: Athens, Evi Statiri, Greece, Hunger Strike, Piraeus
Posted in Prison Struggle
Tuesday, September 29th, 2015
Vlad Lenko is an anti-fascist from Ivatsevichy. On December 27, 2014 he
was arrested for a fight with neo-nazis, which occurred on the 23rd of
December of the same year. He is charged under Art. 339.2 (hooliganism
in a group of people) and 147.2 (causing grievous bodily harm). The
court sentenced Vlad to a six-year period of imprisonment in a maximum
security colony. It is necessary to collect a large sum to appeal the
verdict, as well as to pay the victim a compensation ordered by a court
in the amount of 1000 euro. There is the hope to reduce the period by
half. Please, everyone, do not stay on the sidelines, help our mate in a
difficult moment, only together we can help him. Also Vlad needs moral
support, and later we'll publish a postal address of the correctional
institution.
Fundraising WebMoney:
$ Z418615316084
€ E146518161935
Paypal: belarus_abc[at]riseup[dot]net
European bank account: ask
Tags: Anti-Fascist, Belarus, Ivatsevichy, Neo-Nazis, Vlad Lenko
Posted in Prison Struggle
Monday, September 28th, 2015
It is a longstanding as well as an infamous tactic of the State — particularly of the police-judicial mechanism — to use fabricated charges against relatives so as to hold them hostage and put pressure on fighters and political prisoners. It was done in 2002 [against Angeliki Sotiropoulou, wife of 17N prisoner Dimitris Koufontinas], it was done in 2010 [against Marie Beraha, wife of Revolutionary Struggle prisoner Kostas Gournas], and it was done again in March 2015 [against Evi Statiri, wife of CCF prisoner Gerasimos Tsakalos, but also against Athena Tsakalou, mother of the Tsakalos brothers]. This is because the repressive policy applied against imprisoned members of armed organisations is an ongoing process of political extermination by any means.
After its capitulation on February 20th, the SYRIZA-led government was faced with the first class confrontation — that is, the hunger strike of political prisoners during Spring — and was compelled to vote favorably — among others – on an amendment that theoretically opened the way for the relatives of CCF members to be released. Today, after being refused her liberation six times by judicial councils, Evi Statiri, companion of an imprisoned member of the organisation, is still in prison. Her case is the clearest proof, not only of the acceptance of a state of emergency surrounding the memorandum by the government of the Left, but also of the strict application of a state of exception for political prisoners.
For those in society who had the clarity and determination to approach the 'no' vote in the referendum in a class manner and to oppose every memorandum, though without being able to take the next step forward, the question of an alternative way other than the one of delegation or relinquishment, which all the bourgeois parliamentary forces are charting, is more pressing than ever. And this is no other way than struggle and solidarity. Evi's way…
SOLIDARITY WITH EVI STATIRI
on hunger strike since September 14th 2015
Kostas Gournas
September 15th 2015
-

via contrainfo
Tags: Athens, Evi Statiri, Greece, Hunger Strike, Korydallos Prison, Kostas Gournas, Letter, Revolutionary Struggle, SY.RIZ.A.
Posted in Prison Struggle
Sunday, September 27th, 2015
No Prison – No State!
Anti-Authoritarian days against the prison society in Hamburg
8th-11th October, 2015
Whilst we are working, consuming, functioning… they hold the cage we`re
living in!
Life under democratic regimes are dominated by a continuous process of
adaption to the problems and developments of the system.
The state permanently reflects and improves itself, trying to keep up a
civic discourse through offering so-called alternatives and reforms.
This is supposed to destroy the basis for unrest and resistance and to
many it legitimates strong repressive answers to such rebellious
behavior.
This phenomenon can be found in almost every aspect of modern life. The
illusion of participation is one of their strongest weapons, and
together with the ongoing expansion of so called rights, democracy is
developing towards a system, in which the ruled are actively
participating in their own oppression.
(more…)
Tags: Anarchist Gatherings, Anti-Prison, Germany, Hamburg, Prison Society
Posted in Prison Struggle
Wednesday, September 23rd, 2015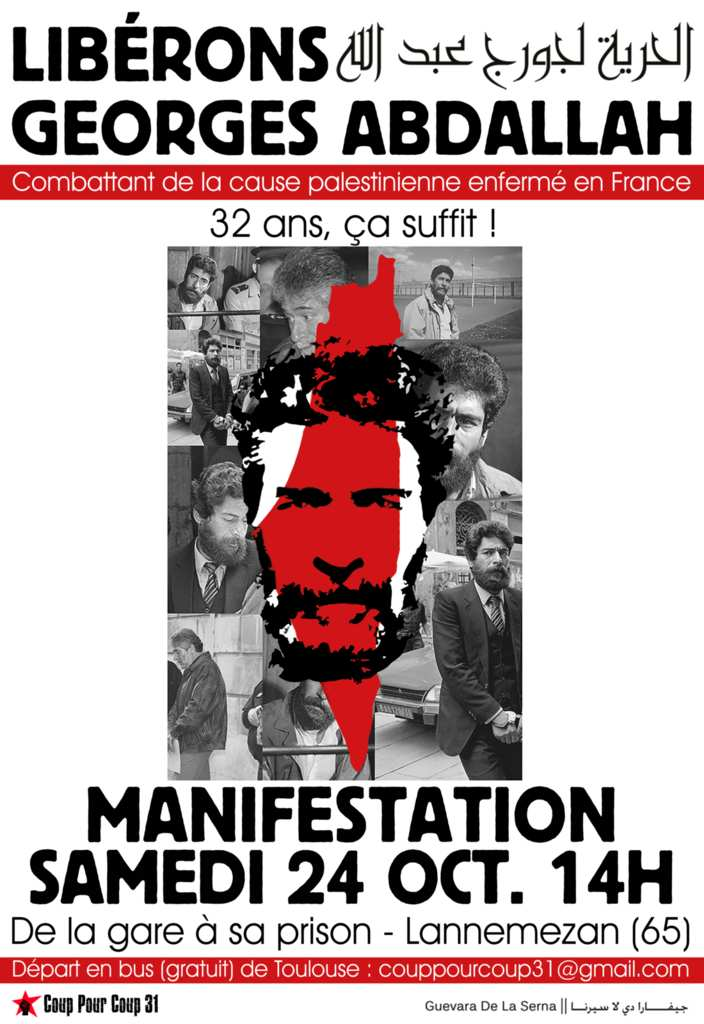 Georges Ibrahim Abdallah, a 64 year-old Lebanese communist, was arrested in Lyon (France) on 24 October 1984 and sentenced to life imprisonment for actions for which the Lebanese Armed Revolutionary Factions (LARF) claimed responsibility.
In 1978 he fought with the Popular Front for the Liberation of Palestine (PFLP) to push back the Israeli invasion of the Lebanon.
He was due for release in 1999, and keeping him in jail responds to a political decision on the part of the French State, with the backing of Israel and the United States. The latest request for parole for Georges Ibrahim Abdallah filed in 2014 was once again turned down. But we will not be deterred by this decision; it will only make us all the more determined! We will not be silenced by this decision; we will make our voice heard! (more…)
Tags: Demo, Factions Armés Révolutionnaires Libanaises (FARL), France, Georges Ibrahim Abdallah, Popular Front for the Liberation of Palestine (PFLP)
Posted in Prison Struggle
Wednesday, September 23rd, 2015
From a comrade of ABC Brighton:
Either as a political issue or personal experience prison repression isn't something the radical left in Britain is particularly familiar with or much inclined to mobilise against. Prison remains largely a working class experience targeted against the poorest and most marginalised of that class. However in a society increasingly polarised and divided between rich and poor in a political climate of growing repression and authoritarianism prisons are being refashioned more and more into instruments of political as well as social control. This will eventually find reflection in the nature and composition of the prisoner population as political activists increasingly supplement the imprisoned poor.
What should characterise the behaviour and attitude of imprisoned political activists towards the prison system? How should those imprisoned for political offences against the system in the "free world" behave and respond once incarcerated in the Belly of the Beast, the steel and concrete innards of the state? (more…)
Tags: ABC Brighton, HMP Barlinnie, Irish Republican Prisoners, John Bowden, UK
Posted in Prison Struggle
Thursday, September 17th, 2015
Inter Arma received and translated:
Once again the system has shown its real face and its vindictiveness took shape with the illegal (according to their own laws) detention of the partner of Gerasimos Tsakalos, Evi Statiri. Her only "crime" is the human relationship she has with comrade Gerasimos Tsakalos.
You see, the system wants to turn to snitches those that not even the Nazis did not dare to. Their comrades, their girlfriends, their mothers, their friends and relatives. And also the people who fight for individual freedom, personal independence, joy and anarchy.
Of course, their goal is twofold. To avenge those who do not bow their head and also to intimidate anyone who wants to show solidarity and support to the imprisoned fighters. And of course to terrorize anyone thinking of taking the hard path of anarchy and destruction of the system.
We shout at the puppets of system sending a message: "You do not scare us, you infuriate us and strengthen our will for your destruction".
NOTHING IS OVER EVERYTHING CONTINUES
IMMEDIATE RELEASE OF EVI STATIRI
Anarchist Panos Mihalakoglou
Nigrita prison (Serres)
Wednesday, 16 September 2015
Tags: Evi Statiri, Gerasimos Tsakalos, Greece, Panagiotis Mihalakoglou
Posted in Prison Struggle
Wednesday, September 16th, 2015
HUNGER STRIKE
Against fear and injustice
From today, September 14, the calendar on my cell wall will not change page. This date will remain stuck there until the day of freedom.
Today, September 14, I begin a HUNGER STRIKE for my release; against the fear of power, against the lies of journalists, against apathy, against silence…
Cops, judges and politicians caged my days within the walls of this prison but they cannot cage my dignity or my desire for freedom…
This is my refusal to accept the omnipotence of power that crushes our lives by storing them inside folders filled with police records inside investigative offices, this is the legacy of collective history – the struggles of the oppressed who resisted, who revolted, who bled and still seek justice.
It is the return of the memory of the insurgents, the suppressed and the imprisoned who do not forget that freedom is not given away… but won via struggle…
"You only have power over people as long as you don't take everything away from them. But when you've robbed a man of everything, he's no longer in your power – he's free again." – A. Solzhenitsyn
Evi Statiri
Korydallos Women's Prison
14.09.15
Tags: Athens, Evi Statiri, Greece, Hunger Strike, Korydallos Prison
Posted in Prison Struggle
Tuesday, September 15th, 2015
The CCA Leavenworth mailroom has been blocking some of Eric's incoming
mail, censoring publications for ridiculous reasons (or for no stated
reason at all), and even blocking some of his outgoing mail.
Recently, a book about the Black Panthers was rejected because the prison
evidently considers them a "hate group." Around that same time, right­wing
Christian literature with homophobic rhetoric made it through to another
prisoner. Eric is clearly being targeted for his political beliefs and
interests.
If you have been writing to Eric and have not heard back from him, it is
very possible that he has not received your letters or you have not
received his. (more…)
Tags: Eric G. King, Repression, USA
Posted in Prison Struggle
Friday, September 11th, 2015


Inter Arma received and translated:
The condition of captivity in which I find myself in for 4,5 years now as a vindictive and exemplary punishment has created a distance between me and outside reality, action. Besides, the purpose of imprisonment for those who fight against the existent is separation, deprivation, political isolation, moral annihilation. But there are always bars to break, either you walk in the monotonous sterile corridors of a "penitentiary" or you cross the decorated streets of consumption of prison-society. Now, within the prison cells of democracy, my need for freedom continues to give breath to each of my days. It's my moving force, to think, to imagine, to organize, to act. The decision of total conflict with the existent, the power of individual choice enriched by experiences of collective action, are the ingredients that can penetrate the prison bars and high walls. Why in prison you don't give up… you go on. You reorganize yourself and you fight. For 4,5 years I wake up in a bed in prison always a little after sunrise, although many times I liked sleeping more when I was out, I organize my every move, although outside the spontaneous often moved me, I analyze and judge the data (political and personal) of yesterday's day alone, although outside I always shared them with comrades. For 4,5 years I wake up every morning feeling sure that I alone defined my participation in the war against any form of authority and that freedom is not given away… you conquer it yourself. (more…)
Tags: Aggeliki Spyropoulou, Athena Tsakalou, Athens, CCF Escape case, Conspiracy of Cells of Fire, Conspiracy of Cells of Fire : Imprisoned Members Cell, Evi Statiri, Greece, Informal Anarchist Federation (FAI), International Revolutionary Front, Korydallos Prison, Natalia Collao, Olga Economidou, Tamara Sol
Posted in Prison Struggle
Wednesday, September 9th, 2015
Evi Statiri, held hostage by the Greek state at Korydallos Prison for no other reason than being the life companion of imprisoned Conspiracy of Cells of Fire (CCF) member Gerasimos Tsakalos, has announced that she will commence a hunger strike on September 14th.
The announcement came not long after Evi's latest appeal to be released was rejected by the judicial council.
Here are some roughly translated excerpts from a text by Evi announcing her hunger strike that was posted on Athens Indymedia website…
"The latest refusal from the judicial council in consideration of my release has only confirmed what I already knew from the first day that I found myself in the cells of counter-terrorism. My imprisonment is not just a personal matter. My imprisonment is the reflection of an overall repressive strategy aiming to dominate via fear and to satisfy the vengeful fury of law enforcement against political prisoners and all those whose values are not consistent with the culture of power."
"I still find myself in prison for the unique 'incriminating' element that I am the wife of political prisoner and member of the CCF, Gerasimos Tsakalos. I am still in prison because I refused to sign their 'certificate of social conscience' and refuse to disown my partner and our relationship."
"Anybody standing beside political prisoners may find themselves in the adjacent cell… Anybody who refuses to bow their head, silence their voice or lower their gaze towards the idols of power can be dragged in handcuffs and detained by the courts and their investigation offices. But the solidarity actions carried out last week showed that fear can rule, but it cannot reign in the hearts and minds of free men and women. I send a big thank you to all those who by their actions expose the dictatorship of lies and hypocrisy of justice that keeps me locked in it's cells. Now a new battle begins… The dismissive ultimatum of the judges leaves me only one answer – the last resort of the captive human – a hunger strike for my release."
"Monday September 14 I begin a HUNGER STRIKE against fear and injustice."
SOLIDARITY AND STRENGTH TO COMRADE EVI STATIRI!
Tags: Conspiracy of Cells of Fire, Conspiracy of Cells of Fire : Imprisoned Members Cell, Evi Statiri, Gerasimos Tsakalos, Hunger Strike, Korydallos Prison, Natalia Collao, Olga Economidou, Tamara Sol
Posted in Prison Struggle
Monday, September 7th, 2015
On August 22, the Belarusian president Lukashenko signed papers to release all official political prisoners in the country. This includes the three anarchists that were still imprisoned. As Anarchist Radio Berlin, we talked with Anarchist Black Cross Belarus about their release and the upcoming elections among other things.
For security reasons, this interview has been re-recorded using our own voices.
You'll find the audio (to listen online or download in different sizes) here.
Length: 5:18 min
You can find other English and Spanish language audios here:
http://aradio.blogsport.de/englishcastellano/.
Tags: ABC Belarus, Anarchistisches Radio Berlin, Belarus, Germany
Posted in Prison Struggle
Monday, September 7th, 2015
International anarchist prisoner week: London Solidarity
To mark International Anarchist prisoner week last Saturday London ABC & friends visited two prisons in north London Holloway & Pentonville.
Pentonville-
Holloway-
Tags: ABC London, International Week for Anarchist Prisoners, London, Solidarity Action, UK
Posted in Prison Struggle
Monday, September 7th, 2015
6 weeks ago our comrade Jus got taken from us at the eviction of Remi's Tower, a huge barricade built in honour of Remi Fraisse, who got killed by the freakin cops.
The first 3 weeks Jus was on hunger strike and as a reaction to that the cops told him he did not have a lawyer registered (which he had) and put him in a isolation cell, where it is hard to sleep because they check every 15 minutes if you are not dead yet by turning the lights on and off. All the letters he receives now get checked and it takes about 2 to 4 weeks for them to get to him. He is in prison for 6 weeks and only had two visits. It is extremely difficult to arrange visits, because there has to be an interpreter at all times, and they want audio-visual surveillance. Also his phone privileges are restricted to only his lawyer (even though everyone else can call whoever the fuck they want) and even about that they are being assholes. (more…)
Tags: Dariusz 'Jus' Brzeski, Forest Struggle, Germany, Hambach Forest, Rémi Fraisse, Repression
Posted in Prison Struggle
Wednesday, September 2nd, 2015
Inter Arma received and translated:
In the morning of 02/09, we did the least we could do by hanging two banners in the city streets, seeking to send a sign of solidarity to the imprisoned Evi Statiri but also a sign of complicity in the face of the impending struggle about her release in case the six-month pre-trial detention is extended by the Court of Appeals on 03/09.
Evi Statiri is held hostage for six months now, accused of being a member of the Conspiracy of Cells of Fire only because of her relationship with G.Tsakalos and the emotional blow her imprisonment can inflict on CCF's morale, which was not bent from the discovery of the escape plan and the arrest of anarchist A.Spyropoulou, trying to make them repent. The vengeful fury of the judicial mechanisms and particularly of the appellate magistrate E.Nikopoulos, who constantly rejects the bail applications of Evi despite the provision passed after the recent hunger strike of the CCF, does not stop there, as even after her release, the mother of G. and Ch.Tsakalos, A.Tsakalou, who was arrested along with Evi, finds herself in a special form of exile in Salamina, from where she is not allowed to leave.
Strength to E.Statiri, A.Tsakalou, the comrades of the Cell of imprisoned members of CCF and A.Spyropoulou
Zero tolerance for the judicial mafia and every form of authority
The war rages on…
Until the total destruction of every prison
Until total liberation
Tags: Aggeliki Spyropoulou, Athena Tsakalou, Banner drop, CCF Escape case, Conspiracy of Cells of Fire, Conspiracy of Cells of Fire : Imprisoned Members Cell, Evi Statiri, Greece, Solidarity Action, Volos
Posted in Prison Struggle
Monday, August 31st, 2015
Inter Arma received and translated:
On September 3, the Judicial Council is going to decide on the extension of the pre-trial detention of Evi Statiri.
In the context of the nationwide call for action and solidarity which has been organized by comrades for the 2nd of September, we invite all anarchist individualities, direct action cells and comrades to sabotage normality and to destroy the clock of power. To brake the silence with counter-info actions (posters, flyers, banners, slogans) and to end the immobility of passivity with actions and sabotage.
On September 2, let us challenge the world of organized apathy with hostile gestures of insubordination.
NO REGRET
NO DEFEAT
IMMEDIATE RELEASE OF EVI STATIRI
2 SEPTEMBER NATIONWIDE DAY OF ACTION

individualities tending towards chaos
Tags: Athens, CCF Escape case, Conspiracy of Cells of Fire, Evi Statiri, Greece, International Solidarity, Korydallos Prison
Posted in Prison Struggle
Monday, August 31st, 2015
Melbourne, Australia: In the early hours of Sunday, August 30th we attached a banner to a fence outside the Richmond railway station in inner-city Melbourne as a minimum expression of our participation in this year's International Week of Solidarity with Anarchist Prisoners.
INSURGENT SOLIDARITY WITH ANARCHIST PRISONERS!
FIRE TO THE PRISONS AND THE SOCIETY THAT KEEPS BUILDING THEM!
- some anarchists
Tags: Australia, Banner drop, International Week for Anarchist Prisoners, Melbourne
Posted in Prison Struggle
Friday, August 28th, 2015
Inter Arma received:
Call for international solidarity with anarchist prisoners of war!
Fire to the prisons!
Honor to the Prison Cells!
Honor for all anarchistic freedom fighters in custody!
For the world without cages for all living beings!
Freedom is an revolutionary act! Act of strike!
Long live Black Praxis!
Kielce, Poland 27.08.2015
Tags: Banner drop, International Week for Anarchist Prisoners, Kielce, Poland
Posted in Prison Struggle