Archive for the 'Prison Struggle' Category
Sunday, February 7th, 2016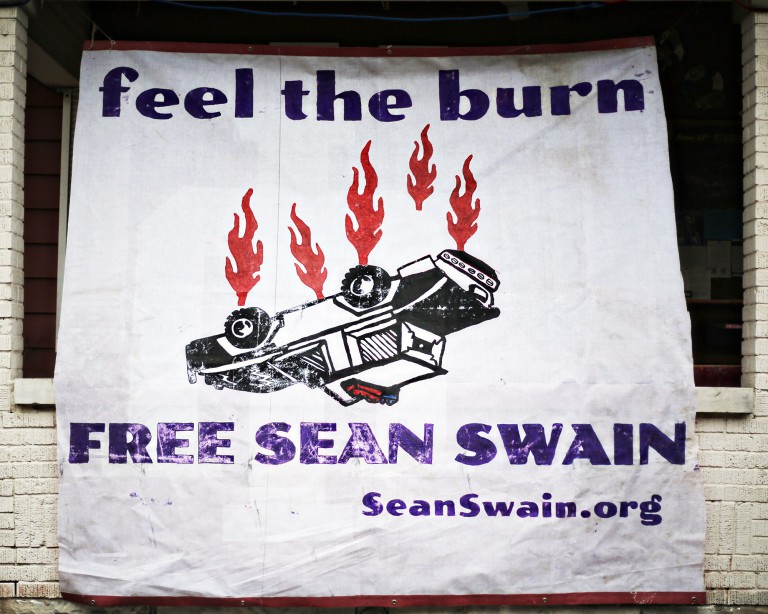 Warren Correctional Institution, not content with merely restricting Sean's communications with the outside world, has now assigned a lieutenant to read through all printed materials sent to Sean.
Please take a minute to send Sean some reading material. That stack of zines in the bathroom? That one book you've had for years but will never read? All those fancy new publications you designed? Send them all! Let's help Sean (and the fuckweasels who intercept his mail) something to pass the time.
Send reading material to:
Sean Swain #243-205
Warren CI
P.O. Box 120
Lebanon, Ohio 45036
USA
-
We receive & transmit:

Bloomington, Indiana (USA): Banner hung in solidarity with Sean Swain
We hung a banner in solidarity with Sean Swain's struggles against the prison system in Ohio. Despite repeatedly being transferred and having his communications cut off, Sean remains uncompromising in his pursuit of freedom, putting his life on the line in struggle against the state. We keep his words and deeds with us as we carry out our own struggles against prison society.
Fundraising, letters, demonstrations, banners, graffiti, and direct attacks form a bright tapestry of revolutionary solidarity. Let's always be searching for new ways to break down the isolation of imprisonment and build complicity through the prison walls.
Tags: Banner drop, Bloomington, Indiana, Sean Swain, USA
Posted in Prison Struggle
Sunday, February 7th, 2016
1. Aspiotis' lawyer comments on the torture his client endured in prison
2. Tameio-Athens statement on the assault of Panayotis Aspiotis
Today, Saturday Feb 6th, at 6:30 in the morning, counter-terrorism units intruded the D section of Korydallos prison, in order to remove our fellow prisoner Fabio Dusco, who was brought here the day before from Trikala Prison in order to be present at his trial which commences on the 15th of February. Fabio faces charges as a member of the Conspiracy of Cells of Fire for an attempt to escape from prison.
After his kidnap by the counter-terrorism officers he was taken to the Removal Centre on Petrou Ralli street where he is expected to remain for as long as the trial lasts, which could take months. All of these have happened during an ongoing organizing in Korydallos prison against the authoritarian regime of the prison management and the squalid conditions of detention. (more…)
Tags: Athens, CCF Escape case, Conspiracy of Cells of Fire, Fabio Dusco, Greece, Korydallos Prison, Panayotis Aspiotos
Posted in Prison Struggle
Saturday, January 30th, 2016
Since my arrival at Wakefields Close Supervision Centre (CSC), I have experienced something unlike any other prison in the pure extent of the blatant racism which is encouraged by prison officers. Benefits and bonuses are given to racist prisoners, whilst others are kept in total isolation from each other and there is little action which can be taken against the culprits.
For several weeks now the racist Islamaphobic prisoner Nathan Livesy from Manchester has been the main perpetrator of these attacks. Currently undergoing an assessment for his suitability for selection onto the CSC system following slashing another prisoners face at HMP Manchester, and expulsion from Ashworth High security hospital due to his predatory behaviour, Livesy is looking for any way possible to please his captors. He has taken to squirting urine and spitting out of the window onto the ethnic minorities which the officers deliberately place in the exercise cage directly adjacent to his cell, as well as continuously abusing them whilst the officers stand by laughing. Having made open threats to "kill the first Muslim" he sees, Livesy believes he will be returned to normal location in order to carry out his plan.
(more…)
Tags: Close Supervision Centre CSC, HMP Wakefield, HMP Woodhill, Kevan Thakrar, Letter, Racism, UK
Posted in Prison Struggle
Friday, January 22nd, 2016
Yesterday on the 20th of January another sudden search was once again conducted inside the cells housing imprisoned members of the anarchist organization Conspiracy of Cells of Fire (CCF) as well as anarchist prisoner Nikos Romanos at Section A of Korydallos Prison.
The search was coordinated by prison official Victoria Marsioni who had previously made threats against CCF members involving disciplinary transfers to other facilities after they hung a banner in solidarity with the hunger strike of anarchist Evi Statiri.
It is most certain that Marsioni is not acting independently but receives orders from above and this recent search is merely another addition to a systematic exercise of pressure against the imprisoned members of the CCF, which is orchestrated by high ranking officials of the 'leftist' Ministry of Justice and Counter-Terrorism Police.
(via Athens Indymedia, Insurrection News, translated by BlackCat)
Tags: Athens, Conspiracy of Cells of Fire, Conspiracy of Cells of Fire : Imprisoned Members Cell, Greece, Korydallos Prison, Nikos Romanos, Raids, Repression
Posted in Prison Struggle
Thursday, January 21st, 2016
Happy New Year, Family and Friends! Many, many thanks for so much support and care over this year from both long-standing friends and new pen pals. I feel very grateful and am always humbled by the encouragement and resources sent my way by folks who are doing so much already to increase our collective chances for survival. The news has been full of stories about someone winning the big money pool that has accumulated for the US Lotto – but the most important "win" has nothing to do with money. I am betting on the movement to win big this year: in getting more control over their communities and defending against police brutality and racial inequality, in winning more victories for animal and in the defense of wild spaces, in creating social relations based on respect, dignity and compassion for all people… irregardless of their race, orientation, creed or gender presentation. (more…)
Tags: Earth Liberation Front, Letter, Marius Mason, Trans Prisoner Day of Action
Posted in Prison Struggle
Wednesday, January 20th, 2016
The booking for the ABC FESTIVAL 2016 started and the date is set 28.04.-01.05.2016! We will keep you updated about the Lineup!
http://abcfestvienna.noblogs.org/
This year again it will be a cooperation with the diy fest in Nijmegen!
http://diyfestnijmegen.wordpress.com/

Spread the word!
Tags: ABC Wien, Anarchist Gatherings, Austria, DIY Fest Nijmegen, Holland, Nijmegen, Vienna
Posted in Prison Struggle
Wednesday, January 20th, 2016
MP3 Download: Solidarity to Gabriel and Juankar
Pirate radio spot for Solidarity to Gabriel and Juankar by Radio Fragmata.
http://radiofragmata.espivblogs.net/
Tags: Gabriel Pombo da Silva, Greece, Hunger Strike, Juankar Santana Martín, Radio Fragmata, Spain
Posted in Prison Struggle
Wednesday, January 20th, 2016
Yesterday, 19 January, imprisoned anarchist Gabriel Pombo da Silva came off his hunger strike which he started on the 17 January with the demand to get a single cell. The comrade won his demand and stopped the hunger strike. Companion Juankar Santana Martín, who started a hunger strike in solidarity also stopped his hunger strike. The move by the prison lackies of Dueñas to mess around with Gabriel is a typical act to provoke him during his regular prison transfers.
The victory for his demand shows that each attempt by the authorities to harass our imprisoned comrades should be met with resistance and agitation. Solidarity to those who fight.
Tags: Gabriel Pombo da Silva, Hunger Strike, Juankar Santana Martín, Spain
Posted in Prison Struggle
Tuesday, January 19th, 2016
Anarchist comrade Gabriel Pombo da Silva who is held hostage by the Spanish state and has recently been 'ghosted' (transferred suddenly to another prison) from Topas, Salamanca, to Dueñas, Palencia, has started a hunger strike. The hunger strike is to demand a single cell, as the Spanish authorities always try to revenge Gabriel by putting him in cells with junkies, snitches and other scum, like rapists. By censoring, monitoring and interfering with his correspondence and visits in direct provocations and keeping placing him with the scum, the authorities want to make Gabriel pliant to the new incentives and privileges scheme that they are using across Spain to keep the prisoners heads down. Gabriel has already been forced to endure over 30 years of imprisonment at the hands of the Spanish State, in some of the worst conditions of annihilation. Gabriel started the hunger strike on 17th January, and he is joined by another companion, Juankar Santana Martín, also in the prison of Dueñas.
Solidarity to Gabriel and Juankar!
Tags: FIES, Gabriel Pombo da Silva, Hunger Strike, Juankar Santana Martín, Spain
Posted in Prison Struggle
Tuesday, January 19th, 2016
Investigating division and conflict amongst the poorest and most oppressed as a means of control has always been a favoured strategy of the ruling class and within it's prisons (the laboratories of oppression) where the most disempowered experience naked repression the weapon of divide and conquer is sometimes used with murderous effect.
Within the British prison system there exist prisons within prisons, places of concentrated repression where "troublemakers" and those who fight back are sent to be broken, and where those who inflict the repression encourage prisoners to take the rage created by that repression out on each other, thereby generating an unending cycle of violence, which is used to justify the use of even greater repression. (more…)
Tags: Close Supervision Centre CSC, HMP Wakefield, HMP Woodhill, John Bowden, Kevan Thakrar, Letter, UK
Posted in Prison Struggle