Archive for the 'Social Control' Category
Wednesday, May 6th, 2015
Police have just announced that 3 people being held in custody were accused of terrorism. According to Czech law the minimum penalty for this crime is 12 years and it is one of the very few crimes with possible life sentence. Two other people are accused of not reporting this crime and the last two of illegal arms (police reported they found an explosive timed device made of a steel tube). The case is apparently very serious. Terrorism charge gives the police some extra power and rights.
Other people arrested are being investigated for "supporting the movement seeking to violate human rights and freedom", which is a crime designated for use against hate movements [racist/far-right].
Police released this story to the public: those accused planned an attack with Molotovs on a train transporting Hyundai cars. Two of them should have obtained
the "explosives", two others should actually attack the train, the last three should work as scouts. The attack should have taken place last November but never happened for an unknown reason, it is possible it was just delayed.
The police say that all of them belong to "Conspiracy of Cells Of Fire". All people were under surveillance at least since last September.

From ABC.
Tags: Conspiracy of Cells of Fire, Czech Republic, Prague, Raids, Repression
Posted in Social Control
Wednesday, May 6th, 2015
Today police evicted the only squatted place in Prague, Cibulka. In a massive raid 200 cops with water-cannon and even a helicopter arrested at least 12 people, at least 4 people were injured. There were around 50 people present in the place when the police came, most of them left the premises voluntarily. Four people occupied the roof but were forcibly removed. It is still unclear what exactly happened as police closed off the whole surrounding area. At least four people are in hospital now. At least 12 people are being held.
Cibulka was occupied by squatters two years ago. Soon they managed to sign an agreement with the owner, semi-public company Autoklub. For two years it was used legally, but that did not prevent police from raiding the place several times. Last month the contract was recalled by the owner. Yesterday evening the owner made a formal complain to police, today the place was evicted. It is an unprecedent speed of police work in the country where it is usual to wait 8 or more years for a court verdict and generally the justice system is very slow and ineffective…
From ABC.
Tags: Cibulka, Czech Republic, Eviction, Prague, Repression
Posted in Social Control
Saturday, May 2nd, 2015
Following massive raid on anarchists on Tuesday night, three people were
charged with terrorism and taken into custody. Whole operation police
called "Phoenix" started in early morning with house search in dozens of
private flats and social center "Ateneo" in the town of Most. Around 20
people were arrested, part of them only questioned and immediately
released.
Three people were charged of attempted terrorism (12-20 years of
prison), some others are officially investigated of the same crime but
were released. Even others were charged of not reporting this serious
crime. Three people were taken into custody. As some servers were
confiscated most of Czech anarchists websites are down.
(more…)
Tags: Czech Republic, Fuck the Police, Most, Repression
Posted in Social Control
Tuesday, April 21st, 2015
Monday 20 April: Last night in the early morning hours, police raided a house squatted by activists in Mariacka street, Katowice. The police used rubber bullets, smoke, and stun grenades. 21 people were beaten up and arrested. (At least 3 people were taken to hospital) The people imminently stated that they are starting a hunger strike against their detention. According to the police, the people are accused of breaching domestic peace (in an empty building!). Solidarity picket took place at 13:00 in front of the cop station at Lompy 19, Katowice. In Poznan at 14:00 solidarity picket in front of the Regional Police station, Kochanowskiego 2a.
—
Solidarity communique:
European Economic Congress in Katowice: full hotels, empty houses – Antiterrorists fighting social change
Katowice. Another day of meetings for the European elites. The subject is TTIP and hundreds of other anti-social programs, forced on people against their will. A group of anarchists and trade unionists who organize Anticongress, together with the people that need a roof above their head, have squatted one of the thousands of empty buildings, which after being 'cleaned' of the tenants awaits its demolition and transformation into an office building. On the front wall, a huge banner is hung, saying 'human capital resists!'. In the newly opened space, the 'Alternative Economical Forum' took place. The debates started on a different kind of economic politics, the kind that could reverse the trend of radical accumulation of wealth into the hands of the elites in Europe and the world. (more…)
Tags: European Economical Congress, Katowice, Poland, Police Brutality, Raids, Repression, Squatting
Posted in Social Control
Wednesday, April 15th, 2015
Inter Arma received and translated:
With new reports by snitching cop journalists, an effort is being made to target comrades who come occasionally in contact with the imprisoned members of the Conspiracy of Cells of Fire. In this case, they try to locate comrades from the UK who, as reported by the cops, publish an insurrectionary anarchist magazine there. They want to investigate what comrades from abroad traveled to Greece on specific dates. Also, they take into account the importance of the presence of FAI cells in the country and report that a group of Greek cops will travel there to inform their colleagues. This is a witch hunt which now targets comrades abroad as well. The case of the escape of the members of CCF becomes the perfect alibi, after several months of media propaganda, for cleaning up and hunting comrades which the cops already have in target.
Solidarians
Tags: CCF Escape case, Conspiracy of Cells of Fire, Greece, Informal Anarchist Federation (FAI), International Revolutionary Front, Repression, UK
Posted in Social Control
Sunday, April 12th, 2015
[Translated by Sin Banderas Ni Fronteras from Refractario]
On April 7, 2015, a bus was set on fire. Near the action, the bastards of police arrested comrades Natalia Collao (24) and Javier Pino (22).
When the journalistic carrion arrived to police station, both Natalia and Javier walked with head up. Javier shouted out loud: Down with the patriarchal and anthropocentric society!

On Friday 10, the judge decreed three months of preventive detention on charges of incendiary device installation in a public transport bus. Outside the Tribunal, comrades in solidarity stayed with banners and slogans.
Javier is now detained in Santiago 1 prison, and Natalia is in San Miguel prison.
All our solidarity with the comrades!
Tags: Chile, Javier Pino, Natalia Collao, Repression, Santiago, Santiago 1
Posted in Social Control
Sunday, April 12th, 2015
From Pubblicacion Refractario:
'Are we persecuted? Well, it's logical that we are persecuted because we are a constant threat for who represents the system. In order not to be prosecuted we would have to adapt to their laws, comply with them, integrate into the system, let bureaucracy penetrate our spinal cord and become perfect traitors… but is that what we want? No. So our everyday actions have to be nourished with our creative imagination. Our strength is our ability to resist. We can fail but must never bow down to anyone.' Buenaventura Durruti.
There can be many and varied explanations for the repressive blow of December 16th, just as the general and specific causes that intertwined to create a delirious net of power leading to the arrest of our friends and comrades are many.
Perhaps one of the general causes could be the introduction of the Law on Citizens Security, known as the 'Gag law'; this, along with the exacerbation of the penal code, which has re-introduced life sentences, creates a pattern whereby the control exercised by power is more efficient and strengthened by constant paranoia. Sentences for attacks on authorities, public disorder and disobedience have been exacerbated; at the same time social protests like those of 15M [blockade of parliament] and of PAH (a group against housing taxes) are being punished. Progressives and social-democrats say that the State is 'leaving less space for freedom' and that 'the struggle for rights is being criminalized'. As you can see, the turn of the screw by the repressive-judicial apparatus is striking citizens, that is to say those who struggle for more and better laws, more and better democracy, for more participation in the management of misery. Freedom and law is inconsistent with one another. As anarchists we are aware that the more rights are granted the stronger the State becomes and as a consequence our submission grows. Not because it will cease to be such with a subtle, more democratic oppression, but quite the opposite it becomes more natural and firm in its being invisible. (more…)
Tags: FIES, Francisco Solar, Letter, Operation Pandora, Repression, Spain
Posted in Social Control
Monday, March 30th, 2015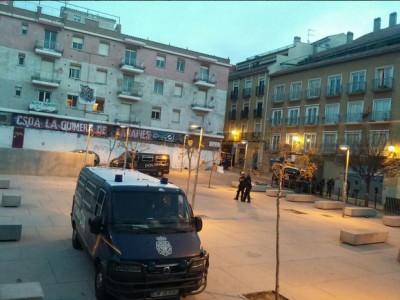 UPDATE: Operation Piñata – Five comrades imprisoned, ten conditionally bailed, address for three of the prisoners
Via squat.net:
This morning in Operation Piñata (following Pandora in December) cops have raided social centres and arrested people (at least 26) in Barcelona, Madrid, Palencia and Granada.
La 13-14 in Madrid announced it was being raided this morning.
CSOA La Redonda in Granada released a communique condemning the raids, which they said occurred without a warrant.
Centro Social (re)Okupado La Quimera in Lavapies, Madrid was evicted. It also stated no warrant was shown after its doors were smashed at 06:30 and added:

"This is just another attack on the anarchist movement with intent to criminalize and victimize our struggle."
Other raided social centres were la Magdalena and La Enredadera de Tetuán.
In solidarity!
On squat.net:
Estado español: Zarpazo represivo, al menos 26 detenciones. Desalojan el CSOA La Quimera

La policia espanyola deté 27 persones en una operació contra col·lectius anarquistes
Tags: Barcelona, Catalunya, Granada, Madrid, Operation Pandora, Operation Piñata, Palencia, Raids, Repression, Spain, Squatting
Posted in Social Control
Monday, March 16th, 2015
From RabbleLDN:
Shilan (Silhan) Ozcelik, an 18 year-old Kurdish comrade from London, has been held on remand in Holloway prison charged with preparing to commit acts of terrorism. Her charge relates to allegedly trying to join the fight against Daesh (ISIS) in Syria.
Shilan was arrested at Stansted airport in January after returning from a trip to mainland Europe, but appeared in court only last week charged with the offence under section 5 (1)(a) of the Terrorism Act 2006. She is accused of trying to join fighters from the Kurdistan Workers' Party (PKK), which is banned as a terrorist organisation in the UK. It's the first known prosecution in relation to people in the UK joining the fight against Daesh.
An emergency demo was held outside Holloway on Friday to support her. Shilhan is due to appear at the Old Bailey on 1st April – updates will be shared here if further demos are called.
Write to Shilan at:
Silan Ozcelik
Prison No: A8733DK
HMP Holloway
Parkhurst Road
London N7 0NU
UK
Tags: Iraq, Islamic State in Iraq and Syria (ISIS), Kurdistan, London, PKK (Kurdish People's Party), Repression, Rojava, Shilan Ozcelik, Syria, UK, War
Posted in Social Control
Thursday, March 12th, 2015
6pm @Cardiff Central Police Station on the 24th of March 2015
It has been over five years since we learned that Mark "Marco" Jacobs was not just another anarchist in the south Wales activist scene, but was actually an undercover police officer.
Since then a number of people who were directly effected by his use of sexual relations as an infiltration tactic have taken legal action to attempt to hold the system to account.
Sickeningly South Wales Police and the Metropolitan Police have maintained a "Neither Confirm Nor Deny" defence of all aspects of Officer Jacobs deployment. (more…)
Tags: Cardiff, Demo, Fuck the Police, Mark 'Marco' Jacobs (Undercover Cop), Police Bastards, Rapist abusers, Repression, Wales
Posted in Social Control
Thursday, March 12th, 2015
UPDATE: Text by anarchist prisoner Spiros Mandylas about his new arrest and his hunger strike

Inter Arma received and translated:
Comrade Spiros Mandylas was arrested today [10 March] in the afternoon and he will be presented tomorrow before the persecutor, who will decide whether he will be detained or not. He is held in the General Police Agency of Thessaloniki and he refused to be subjected to body control, something that infuriated the cops. He is strong and in high spirits.
The reason for his arrest is the fact that he didn't pay the 5.000 fine he was sentenced to by the trial that ended last Thursday 05/03, a trial that took place without the presence of the comrade and his lawyer, while his co-defendants, except one, legitimized the trial, thus his sentence, with their presence there.
A text written by the comrade will be published in the following days.

A previous text written by the comrade about this case
Tags: Greece, Spyros Mandylas, Thessaloniki
Posted in Social Control
Saturday, February 28th, 2015
Inter Arma received and translated:
In the ongoing reality, the global economic crisis, having eroded the political and economic stability of states, reshapes the political map, where new correletions are created, in an effort to find the policies to address and manage the crisis and to restore stability. In Greece, the change of the political correlations were reflected with the election of SY.RIZ.A. in the government office. This political fluidity and mobility fits into the general European level, where countries most affected by the crisis, such as the European south, are in the process of changing governments. In response to the general frustration of the masses, as they have lost their privileges because of the harsh neo-liberal policies, social-democrats promise to restore these privileges through an interventionist policy in support of the people. This obviously is not possible within the European context, especially when the financial liquidity of the economy of a state depends on funding programs whose terms and conditions are determined by third capitalist institutions. In this case, there are no more than two options: The continuation of the previous policy, with some ostensible relief measures in order for the government to maintain its profile as long as it can or a potential bankruptcy. (more…)
Tags: Analysis, Anarchist Group "Chaos Symphony", Economic Crisis, Greece, SY.RIZ.A., Type C prisons
Posted in Social Control
Friday, February 27th, 2015
From CNA Rio:
* Rio de Janeiro *
- The collective trial of the 23 indicted are entering it's final stages, the judges decision should be known in the next month or so. Three of these activists Elisa Quadros (Tinkerbell), Karlayne Moraes (Moa) and Igor Mendes were accused of not complying with the court order and Igor got arrested while Tinkerbell and Moa went underground.
- Besides that, another two of the 23 are still arrested: Caio Silva and Fábio Fox. Accused of murdering a journalist for using fireworks to defends themselves and the protesters from police brutality. (more…)
Tags: Brazil, CNA Rio, Repression
Posted in Social Control
Wednesday, February 25th, 2015
Faschistischer Angriff auf die Ege Universität: 1 Faschist tot
Eine faschistische Rotte von ca. 200 Personen griff progressive und
revolutionäre Studenten an, auf dem Gelände der Literatur Fakultät,
befindlich auf dem Campus der Ege Üniversitesi. Der Mob griff mit
Stangen, Messer, Äxten und Schusswaffen an, während ein Faschist starb,
wurde drei Studenten schwer verletzt. (more…)
Tags: Anti-Fascist, Prison Riots, Texas, Turkey, USA
Posted in Social Control
Wednesday, February 25th, 2015
[Noticias de la Guerra Social]
Durante la mañana del 16 de Diciembre del 2014, un aparente artefacto
explosivo es encontrado entre el Subcentro y la Escuela Militar,
generando un amplio dispositivo policial y mediático.
Hace un par de meses atrás, más precisamente en Septiembre, un artefacto
explosivo detona en un basurero del Subcentro en pleno horario de
almuerzo hiriendo a varios transeúntes. La acción es reivindicada por
"Conspiración de Células del Fuego –Chi" quienes señalan haber dado un
tiempo de 10 minutos para evacuar el sector, alerta que no fue creída
por la policía e insuficiente para despejar dicha área altamente
transitada. (more…)
Tags: Chile
Posted in Social Control
Monday, February 9th, 2015


Breaking: Comrade Diego Ríos arrested after 5.5 years on the run

"Para mí la libertad no es un lugar, ni un permiso, es acción, es el sentido antiautoritario que colma cada acto, es el nerviosismo que precede al ataque, es la expresión incontrolada por un/a compañerx, es sentirse vivo, porque sabes que tu vida ya no le pertenece al capital, sino que lo enfrenta."
- Diego Ríos -
Cuando hablamos de una lucha multiforme entendemos que cada acto aporta desde su debida magnitud, y desde la sinceridad con que es realizado, por ello, éste es un mínimo pero necesario gesto de solidaridad ante la detención del compañero Diego Rios durante la tarde del día 07 de febrero de 2015. Envíamos un fraterno abrazo al compañero que en este momento se encuentra en las garras del Poder.
Ante los movimientos represivos desatados por el Estado-Policial nuestras acciones se agudizan y transitan irremediablemente dentro del conflicto. La Guerra Social no se detiene, se propaga en cada paso y acto revolucionario.

09|02|2015
Tags: Chile, Diego Ros, Flyposters
Posted in Social Control
Monday, February 9th, 2015
The forth presidential term of Alexander Lukashenko will expire in 2015. In 21 years Lukashenko has managed to suppress almost all social struggles in the country, kill several political opponents in the 90s, and eradicate nearly all of the official opposition. Lukashenko didn't allow Belarusian society to transcend the limits of Soviet mentality. Any complaint or criticism of the government are met with repression from the police or the KGB. Any attempts of organizing face with prosecution and hysteria from the state. The policy of the government can be described simply as follows: "Everything that cannot be controlled must be destroyed". At this moment Belarusian state is slowly but steadily getting to the extermination of any dissent or independent thinking.
With the elections planned for November this year the pressure on social movements is increasing. Authorities are afraid of the Ukrainian scenario occurring in Belarus and do everything to fight "extremists": all the people who are calling for the change of the current regime. (more…)
Tags: ABC Belarus, Belarus, Ihar Alinevich, Mikalai Dziadok, Minsk, Repression
Posted in Social Control
Saturday, February 7th, 2015
Vegan food, liberated price
For the address: blancarde2015@riseup.net
*The film is in Spanish but the subtitles are in English
International solidarity with those implicated in Operation Pandora

"For those who struggle, the sense of solidarity intends to dismantle
the loneliness of incarceration, waging a battle against forgetting our
comrades abducted by states, bringing to light the logic of domination
that seeks to condemn them to surrender."
– anarchists of Pandora
A year after the end of the "Caso Bombas" farce, the Spanish and Chilean
ministries, judges and cops are working together on a new case, this
time on this side of the ocean. Mónica Caballero and Francisco Solar,
both ex-suspects in the "Caso Bombas" case, are arrested in Barcelona,
suspected of placing an explosive at the Basílica del Pilar in Zaragoza,
planning a similar action and belonging to an alleged terrorist
organisation. (more…)
Tags: 14/14, Chile, France, International Solidarity, Marseille, Operation Pandora
Posted in Social Control
Thursday, February 5th, 2015
In the night of January 30th, 2015, the 7 comrades who were still imprisoned following the arrests on the 16th of December 2014 as part of Operation Pandora were released.
One day before, the instructing judge of the Audiencia Nacional (Madrid) permitted access to the investigative file, and what we know at the moment is what has been circulated through the website of Mossos d'Esquadra in a press communiqué. They are facing charges such as membership in GAC (Coordinated Anarchist Groups), attacks against banks, posting parcel bombs (one to the Archbishop of Pamplona, one to a member of the fascist congregation Legionaries of Christ, and others to Italian companies), while "they are linked"—always according to the police—with the explosive attacks against the Cathedral of Almudena in Madrid (February 7th, 2013) and the Basilica of the Pillar in Zaragoza (October 2nd, 2013), the latter having led to the indictment and pretrial detention of our comrades Mónica and Francisco. (more…)
Tags: Francisco Solar, GAC (coordinated anarchist groups), Informal Anarchist Federation (FAI), International Revolutionary Front, Monica Caballero, Operation Pandora, Repression, Spain
Posted in Social Control
Thursday, February 5th, 2015
Last week, Nicanor Cortez was arrested for his alleged participation in property destruction in the anti-police riots in Oakland, California, during late November and December. He faces seven counts of felony vandalism and a misdemeanor charge for concealing his face with a mask. Specifically, he is accused of smashing the windows of the Oakland Tribune [newspaper], the police internal affairs division, as well as other businesses.
This is a call for action in solidarity with our captured comrade. When the state captures our comrades we must answer that aggression with unrelenting fire and attack on the bastions of capitalist power. Strike hard wherever you are. Don't let them take one of us without fury and destruction.
Harness the flame while you still have breath.
Wildfirecell
Tags: Fuck the Police, International Solidarity, Nicanor Cortez, Oakland, Repression, USA
Posted in Social Control