Archive for the 'Social Control' Category
Saturday, November 16th, 2013
325 receives and transmits this message from anonymous anarchist hackers in the ongoing information war:
Hello comrades!
Due to the 10 year sentence handed down to anarchist hacker Jeremy Hammond in NYC yesterday Wikileaks decided to release the remaining Stratfor emails they had been sitting on for some time. Stratfor is a company that posed outwardly as a global intelligence information publisher but were in fact providing confidential intelligence services to many fucked up corporations, government and law enforcement agencies.
There are MANY emails – millions of them, but already we have found some emails of interest to the global anarchist movement, they are as follows… (more…)
Tags: #anonymous, Hacking, Jeremy Hammond, Repression, Stratfor, teh internets, USA, Wikileaks
Posted in Social Control
Saturday, November 16th, 2013
Distributed by: The Women's Coordinating Committee for a Free Wallmapu (Toronto)
Also read this article on multi-language anarchist website Contra-info.
On November 13th, our comrades Monica and Francisco were arrested by the repressive forces of the Spanish State, accused of the explosive bomb attack on the Pillar Basilica in Spain. A hurricane of grandiloquent statements have been unleashed unto this situation between representatives of both [Chilean and Spanish] governments; congratulations of resurrected prosecutors and recycled Interior Ministers as well. Monica and Francisco were arrested in August 2010 in the so-called Chilean Bombs Case. Both confronted the trial against them with dignity and rebellion; more than 9 months in medium and maximum pre-trial prison, rejected the prosecutor's blackmail, carried out a 65 day hunger strike and confronted one of the longest trials [in Chilean history], and had all their charges dropped by the Court with their convictions in tact. (more…)
Tags: 14/14, Barcelona, Catalunya, Chile, Monica Caballero, Spain, Zaragoza
Posted in Social Control
Thursday, November 14th, 2013
325 receives and transmits this article containing hostile links. Use Tor to view them. For a revolutionary insurrectional project against information control and the prison world.
Here is one article about true public enemies, not enemies of the state but enemies of society. Companies and people and their products that are created to build totalitarianism in the time of global capitalism. Their aim is to control people and companies and politicians globally, everything with aim to make bigger profit for rich Americans. So, yes, on the top of the list should be billionaires (owners of Shell, Chevron and similar) but this article is more about their servants (political, military, security system) that hunt people and disturb our life. (more…)
Tags: National Security Agency (NSA), Repression, teh internets, USA
Posted in Social Control
Tuesday, October 15th, 2013
Via informa-azione, BPD
Dear comrades,
as many of you already know the anarchist blog Culmine was released from prison on September 7 because the period of pre-trail detention had expired.
However it cannot be said that we were freed because they have inflicted restrictions on us: we can't travel abroad, are compelled to live in our towns and have to report to the police station twice a day. (more…)
Tags: Counter-info, Culmine, Elisa Di Bernardo, Italy, Letter, Operation Ardire, Repression, Stefano Gabriele Fosco
Posted in Social Control
Friday, October 4th, 2013
This is info about the arrest and release of a comrade in the anti-MAT struggle in Catalonia, on the 16th of September…….
more info: http://torresmasaltashancaido.espivblogs.net/
Statement.

I was stopped by the police on the path to the gas station. What started as what I thought was a random ID check turned into me being arrested due to false allegations by the police, a night in custody and me now facing a trial. The fact that I was not from this area played a big role throughout the confrontation, and resulted in fascist remarks and police violence.
I can only assume that the reason behind this repression is to divided us and to keep the protest local. But it isn´t local, it is a global struggle that affects us all and there for shouldn't be left to address by a small group of people that feels responsible, but by anyone with a social and environmental conscience. (more…)
Tags: Anti-Nuclear, Catalunya, Endesa, M.A.T., Mossos d'Escuadra, Police Brutality, Repression, Vinci
Posted in Social Control
Sunday, September 29th, 2013
From rete-evasioni via informa-azione.info
Translation act for freedom now/B.pd
In the afternoon of Wednesday 18th September the Carabinieri [paramilitary police] of the special squad ROS [Special Operations Unit] raided the houses of four comrades in the Castelli Romani area. Searches were carried out and personal belongings seized. Two comrades were arrested and accused of belonging to an association with purposes of terrorism: they are Adriano and Gianluca, currently in solitary confinement in a prison in Rome and accused of carrying out a number of actions claimed by different names. The article used this time is 270bis of the penal code, which states: 'association with purposes of terrorism and subversion of the democratic order'. (more…)
Tags: Castelli Romani, Italy, Repression, Rome
Posted in Social Control
Friday, September 27th, 2013
Tags: Bristol, Flyposters, International Solidarity, Poster, Repression
Posted in Social Control
Monday, September 23rd, 2013
In mid-July 2013 ten members of the CCF-FAI/FRI (Olga Ekonomidou, Damianos Bolano, Charis Chatzimichelakis, Giorgos Polydoros, Panagiotis Argirou, Theofilos Mavropoulos, Christos Tsakalos, Gerasimos Tsakalos, Giorgos Nikolopoulos, Michalis Nikolopoulos), accused of 'instigation' following 4 attacks carried out in the context of the 'Phoenix Project', were summoned to testify before the judges.
The 'Phoenix Project' is a campaign of guerrilla attacks, which started off with the explosion of the car of the governor of Koridallos prison carried out by the CCF. The action was later followed by another 3 actions carried out by FAI/FRI nuclei in Greece and Indonesia. (more…)
Tags: Athens, Conspiracy of Cells of Fire, Conspiracy of Cells of Fire : Imprisoned Members Cell, Greece, Informal Anarchist Federation (FAI), International Revolutionary Front, Trial
Posted in Social Control
Monday, September 23rd, 2013
A statement from Bristol Anarchist Black Cross on the recent revelation by The Post and Avon & Somerset Police that they plan on "cracking down" on anarchist, rioters and extremists
When the flames were lit that engulfed the Police Firearms Training Centre in Portishead, near Bristol it shocked the country. Never before in living memory had such a blazen act of insurrection taken place on British soil and aimed at such a high-profile target. The mass media went hysterical with talk of a "anarchist terror network". The communique, originally published on Bristol Indymedia, was quoted around the world and quickly dubious links were made between the arson at Portishead and other attacks across the UK. (more…)
Tags: ABC Bristol, Angry Foxes Cell, Angry Foxes Cell in collaboration with ACAB, Arson, Repression, Sabotage, UK
Posted in Social Control
Tuesday, September 3rd, 2013
Did you know that Turkish Airlines sacked 305 workers who struggles for the right to strike; and hired more than one thousand inexperienced and untutored personnel? Do you love your loved ones?
ITF affiliate Turkish Civil Aviation Unions (Hava-Is) began an indefinite strike on 15 May against Turkish Airlines (THY) over the company's alleged failure to accept any of its proposals regarding collective bargaining and its refusal to reinstate 305 sacked workers.
See link: Reinstate the 305 at Turkish Airlines
Tags: Strikes, Turkey, Turkish Airlines
Posted in Social Control
Tuesday, September 3rd, 2013
From Contra-info:
In the morning hours of September 2nd, 2013 the Greek police conducted another anti-squatting operation, this time against the Orfanotrofio squat, a former orphanage in the district of Toumba, Thessaloniki.
Seven squatters were arrested inside the building and charged with violating the law regarding occupation of public buildings, as well as weapon possession (an air pistol was allegedly found at the squatted house). All comrades were held in custody, scheduled to appear in the Thessaloniki courts.
Last year, it was announced that the ministry of Health handed over the squatted Orfanotrofio to the Holy Metropolis of Thessaloniki.
Fuck the State and the Church!
Immediate release of our comrades!
Tags: Eviction, Fuck the Church, Greece, Orfanotrofio squat, Repression, Thessaloniki
Posted in Social Control
Monday, September 2nd, 2013
From ABC Moscow:
Aleksey "Raskhod" Raskhodchikov, anarchist, antifascist and musician was beaten and arrested by police at night of 23 of July 2013 in the center of Murmansk city. On the main square policemen surrounded a group of punk-rockers and without any reason asked for IDs. Raskhod tried to ask for documents of police officers, but he was beaten and arrested.
The police violence continued in the police station. As a result anarchist was taken to the hospital by ambulance, there he contacted with Regional Youth Human Right Board and Public monitoring committee (PMC) of compliance of human rights in places of detention and asked for help. (more…)
Tags: Aleksey "Raskhod" Raskhodchikov, Murmansk city, Police Brutality, Repression, Russia
Posted in Social Control
Tuesday, August 27th, 2013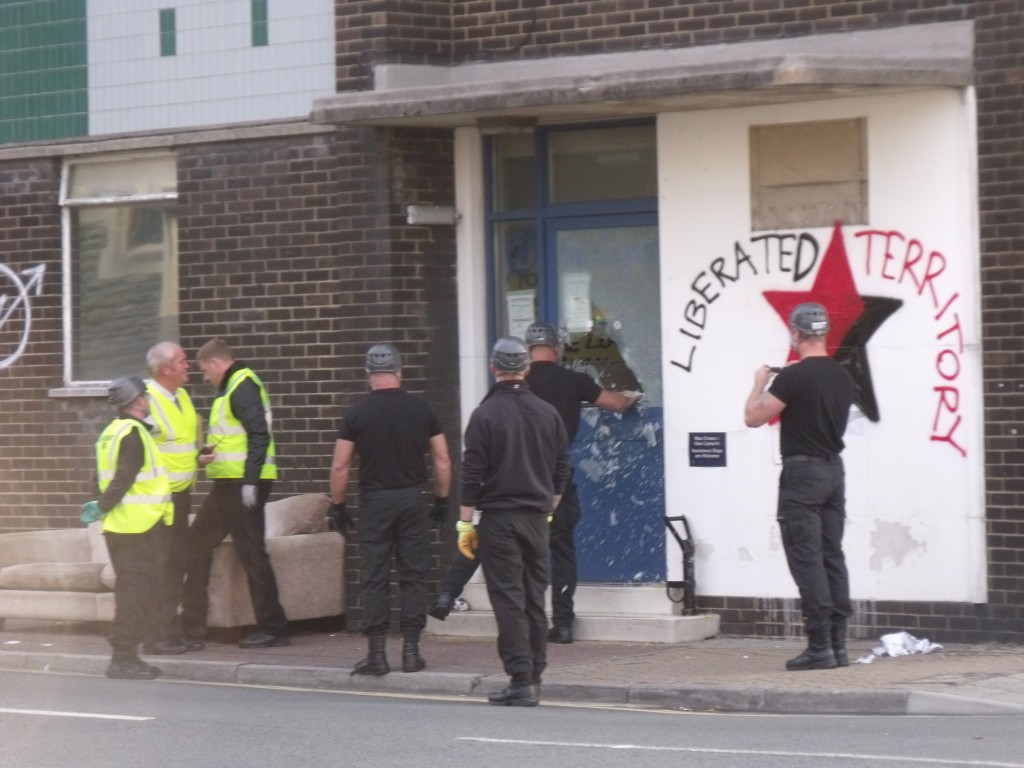 Tags: Cardiff, Eviction, Wales
Posted in Social Control
Friday, August 23rd, 2013
Rough english translation follows below:
Mortevideo, Uruguay, 21 de agosto
Mi detención se da en el contexto represivo de la manifestación del 14 de agosto en conmemoración del estudiante Liber Arce asesinado hace 45 años por las balas policiales financiadas en esta ocasión por el estado uruguayo.
Debido al creciente descontento social es que en los últimos meses por esta región se han producido incidentes y enfrentamientos en las variadas manifestaciones, lanzando pedradas, bombas de estruendo y molotovs, a la
policía y a los íconos del capitalismo, por eso necesitaban atrapar y mostrar públicamente algún responsable de estos desmanes, para ejemplificar el castigo en contra de los que no se mantengan obedientes. (more…)
Tags: Letter, Montevideo, Repression, Uruguay
Posted in Social Control
Wednesday, August 21st, 2013
Yesterday, Tuesday August 20th, there was a demonstration in solidarity with our comrade Hans Niemeyer, at the Chilean Embassy. After the protest, as our comrades were getting ready to leave, they were followed and arrested by the police; Jaime Alberto Aguilar Marroquin (member of the Anarchist Black Cross DF), Guarneros Tonatiuh Garcia, Jair Juarez Victorino and Mario Alberto Lopez Gutierrez. (more…)
Tags: ABC Mexico, Chile, Hans Niemeyer, Mexico, Repression, Solidarity Action
Posted in Social Control
Friday, August 16th, 2013
On 22 August 2012, the anti-fascist Pyotr Silaev was arrested in Grenada. He is an activist in anti-governmental protests, and the author of the book "Exodus" (published in Finland, Greece, Italy and Germany), under the pseudonym DJ Stalingrad. Pyotr took part in the infamous protests in Khimki, which for some protestors ended in jail or hospital (as it did for the renowned journalist Oleg Kashin, who was attacked with baseball bats near his home). Around 400 young people threw stones and flares at the administrative office of the town in protest against the construction of the Moscow – St. Petersburg highway through the Khimki forest – one of the few remaining green oases around Moscow. The situation bore some similarity to the recent events in Istanbul. (more…)
Tags: Commission for the Control of Interpol's Files (CCF), Fair Trials International, Finland, Forest Struggle, Grenada, Interpol, Khimki, Pyotr Silaev, Repression, Russia, Spain
Posted in Social Control
Thursday, August 15th, 2013
According to first reports, there were huge police raids on eight house projects and apartments in Berlin, including the Rigaer 94, this morning (14/8). The cops are supposedly looking for people responsible for attacks on various job centers ('welfare offices') as well as a recent molotov attack against police, who were conducting a drug raid in Köttbusser Tor during a solidarity demonstration for the revolt in Turkey. More news as it comes…Below is a call for spontaneous demonstration in response to the raids:
This morning, August 14th, 2013, cops raided several apartments in the Mitte, Kreuzberg and Neukölln neighbourhoods of Berlin.
In Friedrichshain the police deployed a riot squad, along with special task force troops to invade the house project Rigaer Straße 94 [whose front building was already stormed by cops on August 2nd].
The pretext for these raids were actions against several branches of the Job Center that took place in Berlin on May 2nd, as well as a solidarity action with the people revolting in Turkey after the eviction of Gezi Park in Istanbul. (more…)
Tags: Berlin, Germany, Repression, Rigaer 94
Posted in Social Control
Saturday, August 10th, 2013
In Sevastopol, the Russian Army raided without any warning the local squatted social center "Autumn ball". Russian army considers the squatted center to be their property.
Video documents the events.
Autumn 10th of August there will be protest action against the raid in Sevastopol 2 PM, there will also be protest action in other cities of Ukraine. You are welcomed to join.
More info about the social center http://we.riseup.net/skc
Facebook community of the social center:
https://www.facebook.com/groups/304254123014054/406169672822498/
Video of the raid: http://www.youtube.com/watch?v=p8VedvgSxTE
Tags: Autumn ball, Repression, Sevastopol, Ukraine
Posted in Social Control
Saturday, August 10th, 2013
On Thursday 8th August, at approximately 10am, High Court bailiffs showed up to join United Welsh representatives, police and contractors booked to secure buildings, in an attempt to evict Rumpoles, Moira Terrace, Cardiff, CF24 0NE (aka: prison squat / 0ne squat). By 12pm, without even attempting to enter, they left the occupiers in possession of the building. (more…)
Tags: Adamsdown, Cardiff, Prison squat / 0ne squat, United Welsh Housing Association, Wales
Posted in Social Control
Saturday, July 20th, 2013
Solidarity with the anarchists of the Temuco 'Bombs Case'
Starting August 1 and lasting at least until September 11, a dozen Mapuche who have been longtime fighters for total independence will be brought to trial, accused under the Chilean state's antiterrorism laws. On June 28, 2009, Mapuche community members used fallen trees to block five highways in the area of Temuco. At the Temuco bypass, a Tur-bus (similar to Greyhound) and three trucks trying to cross the blockades were stoned by masked Mapuche warriors, who spraypainted 'Return Mapuche lands' on the side of the bus. (more…)
Tags: Chile, Indigenous Struggle, Mapuche, Repression, Temuco, Wallmapu
Posted in Social Control