Archive for the 'Direct Action' Category
Thursday, October 23rd, 2014
Sept 24, 2014, Buenos Aires, Argentina.
In connection to the 2nd Congress II of the International Federation of Sudamerican Societies of Animal Laboratory sciences (FESSACAL)
Explosives were put in place successfully in the bathrooms of the building, and a 'Manifesto' that says: 'POR CADA BIOTERIO UNA BOMBA – POR CADA CONGRESO UN ATENTADO – ANIMALES LIBRES' / 'FOR EACH LAB ANIMAL CENTER A BOMB – FOR EACH CONGRESS AN ATTACK – FREE ANIMALS!'
-
Source: Bite Back
Tags: Animal Liberation, Argentina, Buenos Aires, Congress II of the International Federation of Sudamerican Societies of Animal Laboratory sciences
Posted in Direct Action
Tuesday, October 21st, 2014
From contra-info:
A gesture of solidarity…
On the night of October 12th we used stones, slingshots and Molotov cocktails to sabotage two banking entities in Iztapalapa delegation of Mexico City.
Revolutionary solidarity is how we also show our support to the imprisoned comrades on hunger strike since the 1st [until the 17th] of October by attacking those responsible for this miserable everyday living. It is our response to the harassment of the comrades by guards, physicians and the staff of penitentiary institutions. So ours is a target easily identifiable and relatable to domination.
The insurrectionary anarchist perspective goes beyond the fetishism of fire or weapons. Our approach to anarchy is a struggle that has no interest in being a televised spectacle, nor need for "self-promotion" due to lack of promotion by the State. So ours is a simple and direct communication that corresponds to the requirement of the moment concerning the striking comrades; a simple and easily reproducible means.
The insurrectionary anarchist perspective is a method, often suitable for the generalization of individual and social conflict that subverts the normalcy. For insurrection as many other forms (and in their entirety) open up possibilities for a veritable revolution. An anarchist method for radical and profound change.
No mediation or dialogues with the State and the Capital!
For the struggle against all kinds of power, including the so-called Popular Power that is being sold to us as autonomy!
Tags: Hunger Strike, Mexico, Mexico City, Sabotage, Solidarity Action
Posted in Direct Action
Tuesday, October 21st, 2014
Armed militants appeared on the streets of Diyarbakır, Southeastern Turkey tonight (20/10/2014) in a demonstration of combative solidarity with Kobane and in complete defiance of the fascist Turkish government.
The comrades expressed their anger by setting up burning barricades, throwing many molotovs and firing shots in the air. Messages of support for Kobane and denouncing the fascist Turkish state were broadcast via megaphone so all the people could hear. The comrades escaped into the night avoiding capture by Turkish security forces, all in all, a successful display of militant solidarity from deep within the Turkish state that gave hope to many Turkish people living under AKP tyranny and reminds Kobane & whole world that not all Turkish people support the barbaric actions of the criminal Erdogan regime!
Kobane Solidarity Front UK
Tags: Anti-Fascist, Burning Barricades, Demo, Diyarbakır, International Solidarity, Islamic State in Iraq and Syria (ISIS), Kubani, Kurdistan, Molotovs, Rojava, Solidarity Action, Turkey
Posted in Direct Action
Sunday, October 19th, 2014
Please note, this operation is now called #Op4Kobane, not #OpKobane anymore.
18/10/2014
Once again the comrades from Kurdish hacking collective ColdHackers have gone into action and attacked the online presence of the murderous and cowardly Turkish regime in solidarity with their YPG / YPJ brothers & sisters who are fighting for Rojava and the total liberation of Kobane.
In this latest co-ordinated wave of precision cyber attacks code-named #Op4Kobane, 6 Turkish regime-linked websites were skilfully defaced and 4 Turkish regime-linked Facebook accounts were completely hacked and at the time of this report were still in complete rebel control displaying YPG / YPJ solidarity messages and images.
On the 6 websites, a message was broadcast in Kurdish, English, French & Turkish languages. The message is as follows :
"MASSACRE IN ROJAVA WILL BE BROUGHT TO THE ACCOUNT. We will call a stop to bloodthirsty massacre of Kurdish people in Rojava. We will defy and will not remit to those who commits and supports this merciless massacre. We will take revenge on those uncivilized who slaughter the children and civilian population. O
barbarians we will breathe down your neck both in cyber and in real media, You and your brutal supporters will account for this horrible massacre. Our folk, for their freedom and liberty will fight for the last drop of their blood. Hooray freedom, Hooray Kurdistan, Hooray hero APO! Hacked By ColdHackers (KurdishHackers)!".
For more info on the websites & FB accounts attacked & image proofs, please visit @ColdHackers on Twitter.
Tags: #Op4Kobane, #OpKobane, ColdHackers, Hacking, Kubani, Kurdistan, Rojava, Solidarity Action, teh internets, Turkey
Posted in Direct Action
Saturday, October 18th, 2014
On the morning of October 17th, the National Guard Armory in Durham was the target of vandalism intended to disrupt weekend operations at the facility.
We glued five different sets of locks in order to prevent the entry or exit of
vehicles from the fenced lot, chained the front doors shut, and left a message on the brick wall on the front of the building reading, "Disobey orders. Solidarity with Missouri Rebels. Fuck the Police."
This simple act was done in solidarity with all who struggle against police
harassment and occupation of their neighborhoods, and in particular with those
insurgents in St. Louis and Ferguson, whose historic rebellion resulted in a
National Guard occupation of their town. They remind us that when police murder the poor and people of color, the proper reaction is to riot.
We're aware that our act is unlikely to cause major disruption at this facility. It is not a substitute for other kinds of antagonism and combative struggle.
Nonetheless, we see it as a gesture towards that time when such a facility provides crucial vehicles and arms to crush popular uprisings. If the future looks like civil war, let's learn the terrain now rather than later.
To those who train at this facility, we would encourage you to think now about what it would mean to fire on your own neighbors and community members. Some of the most courageous soldiers in history have been those who disobeyed orders and refused to squash a popular rebellion. How will you be remembered when that time comes? Which side are you on? If it was your son or daughter murdered by the cops, what side then?

In defiance and fury,
- Some bull city anarchists
Tags: Durham, Fuck the Law, Sabotage, Solidarity Action, USA, Vandals
Posted in Direct Action
Friday, October 17th, 2014
16/10/2014 : Comrades from the Kurdish hacking collective ColdHackers have hijacked & defaced 12 websites linked to the fascist Turkish state.
The news was announced via their Twitter account with the simple message : "Calakiyen Me ji bo Kobane" (our Action For Kobane).
The 12 websites were all defaced with images of the Rojava Revolution, solidarity messages to the heroic Resistance of Kobane & "Freedom For Ocalan" (imprisoned Kurdish Resistance figure Abdullah Öcalan). For more information & links to the sites (as well as mirrors in case they are taken down by
authorities later), please visit ColdHackers Twitter account : @ColdHackers.
Kobane Will Not Fall! Smash ISIS!
Smash The Turkish State!
Long Live The Rojava Revolution!!
Tags: #OpKobane, ColdHackers, Hacking, Kubani, Kurdistan, Rojava, Solidarity Action, teh internets, Turkey
Posted in Direct Action
Saturday, October 11th, 2014
http://voiceofanarchopacifism.noblogs.org/post/2014/10/08/3586/
Tags: Czech Republic, Elections, Fuck the Law, Sabotage, Vandals
Posted in Direct Action
Monday, October 6th, 2014
received anonymously (translation):
"ON AUGUST 23 WE OPENED THE CAGES AT THE MINK FARM ON VIA TOSATTI IN SCORZE' (VE) – ITALY
THERE WERE THREE STRUCTURES AT THE FARM FOR THE KEEPING OF ANIMALS, ONE WAS EMPTY, SO WE WERE BUSY IN THE OTHER TWO WHERE HUNDREDS OF MINK WERE LOCKED IN CAGES. WE REMOVED ALL IDENTIFICATION TAGS, MAKING IT IMPOSSIBLE TO IDENTIFY OR CLASSIFY ANY ANIMAL WHO WAS RECAPTURED.
WE DAMAGED SEVERAL CAGES AND DESTROYED DOZENS OF METERS OF FENCE AT THE BACK OF THE FARM TO ALLOW THE MINK TO ESCAPE INTO THE FIELDS BETWEEN THICK CROPS AND STREAMS.
SOON FARMS WILL START KILLING THOUSANDS OF MINK FOR THE PRODUCTION OF FUR.
FOR THESE ANIMALS WHO WILL BE SKINNED THERE IS NO OTHER POSSIBILITY THAN TO OPEN THE CAGES. ANIMAL LIBERATION IS NOT EMPTY WORDS BUT A REALITY WHERE THERE IS OPPRESSION.
WE DEDICATE THIS LIBERATION ACTION TO THE ANARCHIST PRISONERS GIANLUCA AND ADRIANO.
ALF" (more…)
Tags: Adriano Antonacci, ALF, Animal Liberation, Gianluca Iacovacci, Italy, Scorzè, Solidarity Action
Posted in Direct Action
Sunday, October 5th, 2014
Translated from linksunten.indymedia.org by anarchist comrade Marco Camenisch. Translated from Italian by act for freedom now.
In the night between 26th and 27th July 2014 we tossed molotov bottles at several 'Bayer AG' vehicles – and with this action we started off our Tendency of Eco Struggle.
Poisoning and exploiting
During the first world war 'Friedr. Bayer & Co' (which later became 'Bayer AG') produced explosives and chemicals for war purposes. Their troubles in getting supplies were not due to humanitarian scruples but to security risks and lack of labour force. As soon as the war turned into trench warfare gas begun to be strategically used as a weapon, and Bayer begun to supply the army with tens of thousands of tons of various types of gas.
Not content with their turnover, 'Friedr. Bayer & Co' also formed alliances with other chemical companies in a 'community of interest' following the example of the American Trusts of the time.
The economic crisis that followed the war didn't last long, and in 1925 nine chemical companies led by 'BASF' formed 'JG Farben'.
At the beginning (1926), 'JG Farben' didn't embrace the aspirations of the national-socialist party, but then they realized that their production of synthetic petrol couldn't function without funding. Back in 1932, a year before the electoral victory of NSDAP (German National-Socialist Workers' Party), the company made contact with Hitler and obtained his support. In order to guarantee stability in their profits, 'JG Farben' thought it useful to contribute to the electoral expenses of the NSDAP with about 400,000 Reichsmark (German marks). Since then their cooperation with the Nazi regime flourished almost without frictions.
Almost the entire board of directors of the company became members of the NSDAP, while monopolization made 'JG Farben' the fourth most important company in the world.
During the Spanish Civil war, the company provided financial support to Franco's troops, while in Guernica the Luftwaffe had the chance to test an incendiary bomb produced by 'JG Farben' on civilians. During the second world war 'JG Farben' was committed to the production of war weaponry and was one of the responsible for the murder and exploitation of prisoners in concentration camps.
As soon as 'JG Farben' discovered a suitable site for production near Auschwitz, they started to seek for a hard labour force. In February 1941 Carl Krauch, an important member of 'BASF'/'JG Farben', wrote a letter to Hermann Goring asking him to convince Himmler to use prisoners in concentration camps as slave-workers in the plant of Buna. From the collaboration with 'JG Farben' Himmler expected the supply of materials necessary to expand the concentration camp in Auschwitz. In this regard he ordered Karl Wolff to forge a strict alliance with 'JG Farben'. (more…)
Tags: Arson, Bayer AG, Biotechnology, Germany, Molotovs
Posted in Direct Action
Sunday, October 5th, 2014
People of Kobane, hear us. In this bitter hour of the inhuman threat, we see you freedom lovers in the world and we call to you: take courage. The city of Kobane is surrounded by the ISIS-murderers. On three sides ISIS confronts the city. If they take the city. it will inevitably lead to a massacre of the remaining Kurdish people on site. They have no way to flee to the north, because there already waiting are the Turkish army …
Turkey will decide at the present day on the extension of the 'anti-terrorist' struggle. This will mainly affect Kurdish people in Syria, which they as well as the PKK (Kurdish Peoples Party) stand on the Turkish terror list. Turkey's fear of the Kurdish people is greater than of the ISIS-fighters. For example, Turkey supports the ISIS-fighters to their best of their will, for example, at border crossings to Syria or arms shipments that were observed by Kurdish people, or the medical care of injured ISIS-fighters in Turkish territory. On the Turkish side of the border, the Turkish army is using force of arms against all those Kurdish people trying to come to Kobane to oppose the corruption. Clashes occur daily there between Turkish security forces and Kurdish people who come from all over Turkey to help the trapped fighters of YPG in Kobane.
Tonight we have attacked the Turkish State in the NATO hinterland to brand it as an inhuman actor in this conflict. Two vehicles of the Turkish State – representatives of the Embassy are burned … At the same time, we appeal to everyone, not to stand idly by, ignite the solidarity for our brothers and sisters.
We tremble with the combatants, but their determination is our courage. We will not abandon the ideals and freedom. Maximum global solidarity!
Long live freedom!
In Memory of Berivan Sason, fallen but never dead!
Commando Berivan Sason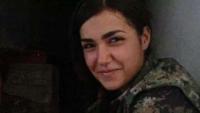 NB: Ceylan Ozalp (Code Name: Berivan Sason) was an active fighter and leader with several comrades in the northern Syrian Kurdish city Kobanê in armed resistance against the ISIS/Daesh.
Tags: Arson, Berlin, Car Burning, Commando Berivan Sason, Germany, International Solidarity, Islamic State in Iraq and Syria (ISIS), Sabotage, Turkey
Posted in Direct Action
Thursday, October 2nd, 2014
via antidev:
'We retransmit this message sent to us from visitors… On retransmet ce message qui nous a été envoyé par des lecteurs-rices…'
So the other night on September 21, we've set fire to a railroad telecomm cable linking Brigham to Sherbrooke (Qc) to the US, thinking about the Algonquins people recently evicted from a resistance camp and detained in Gatineau. We took the time to select a railway bridge in the middle of nowhere near Waterloo, so we'd not have to dig to get to the cables or attract too much attention. Some fuel was dropped through an opening in the steel casing of the cables, then set on fire. Nothing fancy. It worked better than we'd guessed, as a few seconds later it already smelled of burning rubber a few meters away. The enclosed air in the conduit apparently turned the fire into something like a blow torch. Kind of an easy game to be reproduced elsewhere by others, we told ourselves… so that's a reason to let others know.
Of course it didn't cause the whole techno-industrial system to collapse! Society is still pretty much functional today. But you gotta start attacking it somewhere. Though it did feel as if an important nerve deep below society had been severed. And this felt good getting off our asses in the middle of the night for this. (more…)
Tags: Amélie Trudeau Pelletier, Carlos López Martin, Communique, Earth Liberation Front, Fallon Poisson, King Ludd and his army of Fenians, Quebec, Sabotage, Solidarity Action
Posted in Direct Action
Monday, September 29th, 2014
via interarma.info:
Secret animal testing lab revealed!
- Claim of responsibility -
The company BIOMEDVET RESEARCH GMBH operates an animal testing laboratory at:
SÜDKAMPEN 31
29664 Walsrode
Lower Saxony
They are conducting tests on beagles. The laboratory is located at the spot where the infamous animal testing company HARLAN operated a lab. HARLAN left Walsrode at the end of 2009. BIOMEDVET has been there since the beginning of 2010. The animal murder continued, only with other perpetrators. The laboratory is small but for the animals who are dying it does not matter. Murder is murder.
The laboratory is totally secluded in a wooded area. It is well hidden and hardly anyone knows about it. The company has no website. They probably thought they would go undetected. Even in the animal rights scene, the lab may be unknown. Unfortunately it was not possible to liberate the dogs. But we attacked an expensive car on the premises: Paint stripped and glass etched.
Companies like BIOMEDVET must be pulled from anonymity. Our motto: Animal killers, you can not hide! We will find you sooner or later!
Our message to the animal rights scene: Make something out of this! The underground has done its part.
Animal testing is murder. We will resist animal testing and all forms of animal exploitation.
No rest for the animal murderers!
Animal Liberation Front
———

Source: Bite Back
Tags: ALF, BioMedVet Research GmbH, Germany, Harlan, Sabotage, Walsrode
Posted in Direct Action
Sunday, September 28th, 2014
via biteback:
We claim responsibility for the attack on the National Parks and Wildlife Service on the morning of Thursday 18th September.
NPWS were targeted for their part in the war on wildlife, with an extended history, and a continuing habit of dumping 1080 poison (sodium fluoroacetate) into wild places, all under the public guise of 'conservation'. Killing and destroying indiscriminately, how many more lives and lands must be destroyed by this groups insane, ecocidal visions and experiments?
To express our outrage, under the cover of night, we entered their depot on Darug/Gundungurra Country (Blackheath, NSW). During our short visit, two vehicles were set upon leaving tyres slashed, windscreens smashed and a little additive into the fuel, just to sweeten the deal.
If you choose to continue to use this land as your dumping ground, you will encounter us again. Our rage will only burn bigger and stronger.

In defense of predators. In defense of wildness.
- ELF
Tags: Australia, Blackheath, Earth Liberation Front, National Parks and Wildlife Service - Australia, Sabotage
Posted in Direct Action
Saturday, September 27th, 2014
via contrainfo:
Various cells have initiated a series of small acts of sabotage in Costa Rica for months now, yet we really didn't expect that our action would have such a strong impact. It is the first action of this type in this filthy country in many, many years…
For this reason we saw the need to claim responsibility for this action, thinking that many more people would gain strength and shake off the fear that torments us every day, this fear that doesn't let us go any farther…
The technological control is steadily increasing, that's why we decided to take control of our lives for a few moments and carry out this action, which is not an end in itself but the means by which we get revenge for our slavery. On Thursday, June 19th, 2014 we particularly attacked a butcher shop in Cartago with an incendiary device. The fire exceeded our expectations, and according to reports in the Press the total damages were more than 40,000 dollars. The meat industry is a clear reflection of this society: domestication, minimum respect toward nature, and money as a sacred god behind every move. (more…)
Tags: ALF, Animal Liberation, Arson, Cartago, Costa Rica, Earth Liberation Front, Informal Anarchist Federation (FAI), International Revolutionary Front, Sabotage, Savages of the Earth - ELF/ALF/FAI/FRI
Posted in Direct Action
Wednesday, September 24th, 2014
During the course of the week of action against the NATO summit a diverse range of actions were taken by many different groups and individuals. Here is a summary of what happened:
Friday 29th August
- Stop NATO camp set up at Tredelgar park in Newport
- BAE systems attacked with fire in Filton and vehicles torched at army cadet base in Bristol as acts of resistance against NATO
Saturday 30th August
- Mass march and radical bloc against NATO in Newport
- Effigy of Obama burned in Cardiff
Sunday 31st August – Action against securitisation and repression at the 'fence' in Cardiff
Monday 1st September – Sabcats anti-austerity action at Newport jobcentre and army recruitment centre.
Tuesday 2nd September
– No borders noise demo at UK Borders Agency in Cardiff
- Activist locks himself inside Cardiff Keep in Cardiff Castle where the NATO dinner is due to be held
Wednesday 3rd September – Activists hand in a demand for the arrest of NATO leaders to police in Newport, based on evidence leaked by Chelsea Manning of war crimes.
Thursday 4th September
– No to NATO March on Celtic Manor from centre of Newport and mass demo against the NATO dinner at Cardiff Castle
- Activists chalk out the connections between NATO and arms companies in Newport
Friday 5th September
- Activists again try to present evidence of war crimes at Newport police station
- Occupation of Barclays Bank in Newport calling for Barclays to ditch their shares in Israeli arms company, Elbit. Four activists glue themselves inside the bank
Saturday 6th September – Solidarity demonstrations outside Newport Magistrates Court in support of Barclays occupiers.
-
The struggle continues
Last week we saw a diverse struggle against NATO in Cymru. Marches against NATO in the streets of Newport and Cardiff; actions against the forces driving war in the banks and the securitised zones; workshops and discussions at the camp about connected issues from Gaza to police repression at the camp; people spreading the word in a hundred different ways, from conversations with locals, to the camp, to the web. But the struggles against capitalism and militarism are not a one-day, or even a one-week, event. The actions taken this week by Stop NATO Cymru, the Anarchist Action Network and other organisations are a small part of building up a movement capable of bringing about radical change.
So, when we look back, does it make sense to ask whether we "succeeded" in the week of action? We think it does. If one more mind went beyond the distortions of the mainstream media because of what we did, then yes we 'succeeded'. If one more pair of feet was spurred onto the streets by what we did, then we succeeded. And if one more pair of hands joined with ours, yes, we succeeded. In the coming struggles, those hands will again pick up the tools to take action, until the last drone is smashed. We hope to see you there.
Tags: BAE Systems, Barclays bank, Cardiff, Chelsea Manning, Demo, Elbit, NATO, Newport, Sabotage, UK, UKBA, Wales
Posted in Direct Action
Wednesday, September 24th, 2014
From StopNatoCymru:

8.30 am at Cardiff Motorpoint Arena. Wednesday, the 8th of October

"When the rich wage war, it's the poor who die." – Jean-Paul Sartre
On the 8th of October Cardiff will host one of the UK's biggest arms fairs at the Motorpoint Arena. Let's show them what we think of their dirty business! We call on people from south Wales and beyond to come and picket outside the arena that day from the time they open for registration at 8.30 am.
DPRTE this year will be attended by some of the UK's biggest arms companies, as their exhibitor list shows. They also host a conference, with keynote speakers from industry and government.
The arms fair was previously held in Bristol, but was forced out by protests.
We hope to see you there. If you would like to be a legal observer contact us at stopnatocymru@riseup.net . You can also contact us by that email address for any additional information regarding the demonstration.
Tags: Anti-Militarism, Cardiff, Demo, DPRTE Arms Fair, Motorpoint Arena, UK, Wales
Posted in Direct Action
Sunday, September 21st, 2014
from contrainformate transl. waronsociety:
On August 11 we carried out an attack on the 39° Bosque and 1° police stations in Santiago. We wanted to show that it is possible to hit the police right in the nose. It ended up as we would have liked as some bastion of law was injured.
/"they are mortal and their laws are destructible"/
We love to see wounded or dead cops whether in conflictual clashes or acts of sabotage.They should know that anyone of them could face the same fate as the pigs Moyano, Vera, or Bobadilla; they are all responsible (and volunteers) of belonging to a military institution that represses the population on a daily basis and orders us to comply to the laws imposed by the powerful.
It should be clear to them that each aggression that has been committed by the pigs of power is not forgotten, that their condition of impunity will not last long, they are human beings, mortal like any other.
Let us dare to confront them, there is every reason to detest the existence of the police, ratis, repressive forces, and/or guardians of the rich. They are the military force of the bourgeoisie in charge of suppressing and punishing every attempt to recuperate that which has been accumulated for centuries thanks to exploitation.
Whether in robberies or protests, they are those in charge of exerting fear on the population. Their essence is the defense of the system making us submit to its miseries. They and their bosses should be beaten and attacked with every means and all their manifestations.
We remember each blow given and yearn for the multiplication of direct attacks against their repulsive authority, as the preparation of material needed in order to cause the desired damage is minimal.
We remember and align ourselves with the compañerxs who carried out the failed attack on January 1, 2014 on the 14° station in ñuñoa, we also would have liked to see how this powerful device detonated and we celebrate the attack on the Lo Prado station!!
We send our fraternal greetings to all the families and loved ones of those fallen at the hands of the police.
Present in our minds are Matias Catrileo, Jhonny Cariqueo, Claudia Lopez, Daniel Melinao, Javier Mendoza Collio, all are present, dead here or in whichever part of the world they are part of the social war.
We are adding to the initiative of the compas in Indonesia and we make up part of:
C.I.V (Conspiración Internacional por la Venganza)

International Conspiracy for Revenge
Tags: Chile, Fuck the Law, International Conspiracy for Revenge, Santiago
Posted in Direct Action
Tuesday, September 16th, 2014
DOWNLOAD FLV VIDEO: Police car burned
In solidarity with anarchist prisoners all over the world, in the morning of Saturday 30th August 2014, we made an arson attack on a police car, which stood in the street in front of the station Truhlářova in Ústí nad Labem. The event has become a fragment of a mosaic of solidarity activities during the International Week of Anarchist Prisoners. It was announced for 23 to 30 August 2014.
Francesco Puglisi, André Mazurek, Yiannis Dimitrakis, Olegovich Igor Kharchenko, Rebecca Rubin, Bill Dunne, Nikos Maziotis and many others, known and unknown. They were imprisoned for their anarchist attitudes and actions. Our arson attack against the police is a solidarity message sent to all of them. The communication of this direct action is simple. In the ongoing class war the State puts in jail the people when they actively resist. A good sign of solidarity with the imprisoned comrades is therefore continuing the resistance. In opposition to the same goals with the same means that our friends often chose before being placing in the cells of the State.
There is no doubt that the purpose of prison is not only isolation and the subjection of detainees. In a broader sense, it is their task to influence those who survive outside of a prison cell. They intimidate every resisting person and try to break his/her will to fight. Anarchist groups around the world show that to achieve this goal is virtually impossible. While the States imprison many anarchists, others -despite the risks- continue to practice rebellion. Our arson attack in Ústí nad Labem is a powerful reminder that suffocating our friends behind the prison walls will not smother our libertarian will to resist. On the contrary, every act of State repression against the anarchist movement recreates other rebellious passions. They manifest themselves in a variety of direct actions and will continue until all the comrades leave prison.
Proletarian Solidarity Cell / Network Revolutionary Cells – 30th August 2014
Tags: Arson, Czech Republic, Fuck the Law, International Solidarity, International Week for Anarchist Prisoners, Network Revolutionary Cells, Proletarian Solidarity Cell / Network Revolutionary Cells, Ústí nad Labem
Posted in Direct Action
Monday, September 15th, 2014
From Actforfree, via an Italian translation by imprisoned eco-anarchist Marco Camenisch:
For almost 20 years company Sodexo has been the target of people like us, who are struggling against the racist and neo-colonialist system. It started in 1997, when Sodexo offered to take on catering and other services destined to refugees in the knowledge this would result in a huge turnover. Since then Sodexo has been internationally known as a company who became a big multinational operating in many countries under low cost management, i.e. by racially reducing human life to a question of figures.
After the justice sector was privatized in Great Britain, Sodexo took on the management of 5 prisons. In this case too, people without the status of citizens were put in the hands of private companies by the State in exchange of huge amounts of money. According to economy laws these companies gained total power in the exploitation of their resources. And they've been saving on human lives first and foremost (…)
Greetings to the rebels locked up in one of the British Sodexo jails, who rose up in March when 50 prisoners took control of an entire prison unit for a remarkable length of time, and to the group that gave us news of this and attacked the court of Yate with gas and petrol.
Actions against Sodexo were recently carried out also in this country: on 28/10/2013 and on 17/6/2014 unknown people set Sodexo vehicles on fire (1 and 2).
During a No-Border Camp in Brussels, a Sodexo building had all its windows smashed and another one was flooded with oil.
Following the abuses of those who want to govern migration in Berlin and elsewhere, we think it necessary to widen these practices of attack and at the same time to develop a strategy aimed at damaging the deportation machine well beyond symbolic gestures.
After the arrest of Bernhard of K.O.M.I.T.E.E., history is repeating itself and we all should take the occasion to gather new strength and knowledge. Here is our contribution in a beautiful night: we dedicate the arson of a Sodexo vehicle in Neukolln to Bernhard, Peter and Thomas, who almost managed to blow up a jail in Grunau 1995, following a string of deportations, and who had to go on the run until today; unfortunately Bernhard was arrested at the beginning of July 2014 in Venezuela and is awaiting extradition to Germany.
We agree with the communiqué issued by the comrades of the three, which we quote here: "What's happening on the borders outside the EU every day, the super-armed Frontex apparatus, the inhuman conditions in German migrants' detention camps and also the struggle of people living as clandestine demonstrate how courageous and visionary was the attempt of the comrades at putting an end to this practice of the system."
…
It's time we remembered the past: not only the K.O.M.I.T.E.E but also the Revolutionary Cells (RZ) who have given strong contributions to this struggle.
Let's consider what has been done, let's think of new things to do, new strategies for the struggle against state racism and exploitation. Let's increase the pressure on the bosses and let's make space to a new liberated world.
Fire to Sodexo and to all the exploiters in this world order that despises humanity. If people are dying it is our duty to act and to intensify the struggle against those who only care for profit and don't give a shit of human lives.
Burning vehicles can only be small lights in the sky of resistance, many small stars form a constellation, all together they make a bright night.

Komitee Galaxis
Tags: Arson, Berlin, Bernhard Heidbreder, Germany, K.O.M.I.T.E.E., Marco Camenisch, Revolutionary Cells (RZ), Sabotage, Sodexo
Posted in Direct Action
Sunday, September 14th, 2014
#communique
Through fire, we sent our direct solidarity to those fighters and arrested comrades who stood against the eviction of the State in Pandang Raya, Makassar, South Sulawesi. We deeply feel connected with those people, although we haven't seen each other. But your stories, your spirits and your courage, reached us here who are hiding in the dark and awaiting our momentum to hit back at the enemies. (more…)
Tags: Arson, Indonesia, International Conspiracy for Revenge, Manado, Padang Raya, Pandang Raya, RO-FAI (Indonesia Section), Solidarity Action
Posted in Direct Action