Archive for the 'Direct Action' Category
Thursday, December 5th, 2013
The night before last night we attacked the electronic communication net in Berlin (Germany). Our act of sabotage took place at a Vodafone radio tower and is meant as a symbol against total surveillance by governments, secret services and transnational corporations. Vodafone was chosen because it is eagerly engaged in cooperating with the british secret service GCHQ. GCHQ cooperates with the american secret service NSA. And NSA in turn cooperates with german secret service BND. Secret services collect patterns of normality and compare particular behaviours in order to find out if you could plan something deviant before you know it yourself. The collaborations of secret service industry and the industry's secret services secure the conditions of profit and power for both of them.
For us, the careless use of electronic devices and internet applications is problematic: Every move can be digitalized and technology is not neutral. We don't know how an emancipatory development of communication looks like, but we believe it would work in a different way and we have to find out together. In the meantime, we encourage to block infrastructure and bring it to a halt – against the stream of exploitation and surveillance, against a society based on destruction of human and nature.
Sabotage of the surveillance industry and infrastructures of exploitation!
Blind secret services!
Freedom of Movement and asylum for Edward Snowden and everybody else – No border, no nation!
Freedom for Chelsea Manning!
Anonymous/Vulcanogroup Katla
Tags: Berlin, Germany, Sabotage, Vodafone
Posted in Direct Action
Thursday, December 5th, 2013
Communique:
this is for the curtain-twitchers & community-snitchers, "their out there!" bolt your doors, lock up your daughers.
It a lovely sunny day, the last day of november, not long past twelve, the location according to the view-finder is the foot of brunel's famous bridge, so positioned at smeaton road,hotwells,all that was left as they say"just a little speck of dust on the lense" and the noise of a car-alarm. 3 vans had their windscreens cracked, 2 were mobile cctv vans & the other was a security. This was just a small token for the distaste felt for being constantly watched, that so many people vocalise,but ultimately feel powerless to act,. There will be more actions like this so keep your eyes open, a view to a thrill, you'd think day-time in the city & cctv they'd have our lives sewn-up……..not so, Still chucking rocks in the free world.
little sister wears a balaclava ( g.orwell ?)
Tags: Bristol, CCTV, UK, Vandals
Posted in Direct Action
Thursday, December 5th, 2013
Last night (December 2nd), we painted graffiti in solidarity with the Mi'kmaq warriors' road blockade in New Brunswick against the fracking company SWN. It reads "Solidarity with the Mi'kmaq blockades," "Fuck RCMP, Fuck OPD," "Fight back," and "Solidarity with the Mi'kmaq Warriors."
With this humble gesture we send them the strength of knowing that they are not alone and that their brave actions are inspiring us to show our feelings of revolt in more concrete terms. This is just the beginning for us, we intend to escalate our level of conflictuality.
We also put up a large piece that read "Strength + courage, fuck the state," not only for Germaine Jr Breau and the rest of the brave Mi'kmaq warriors, but for all those who show courage in times of adversity. We would like to take this opportunity to send greetings of solidarity to: The five recently arrested in Barcelona including Monica Caballero and Francisco Solar who remain in custody, the accused comrades of the Nea Filadelfia bank robbery case in Greece and to the inspiring Alfredo Cospito and Nicola Gai recently sentenced for the shooting of a CEO of a nuclear power company, your words are more important and inspiring than you can imagine.
In furtherance of an escalated anarchist conflict in the States, solidarity to the Mi'kmaq warriors and all those who fight back.
-some anarchists in Olympia
Pictures:
http://i41.tinypic.com/vinns3.png
http://i39.tinypic.com/11qsbkp.jpg
http://i40.tinypic.com/8z0mdv.jpg
http://i41.tinypic.com/30mxyxx.jpg
Tags: Canada, Fracking, Graffiti, International Solidarity, Mi'kmaq, Mi'kmaq Land Defenders, New Brunswick, SWN
Posted in Direct Action
Thursday, December 5th, 2013
On Tuesday evening, November 26th, 2013 we raided the Palladium internet café, located on Solomou street in Exarchia. We vandalized its interior, smashing the screens and the storefront glass-windows, and we torched the server, taking appropriate measures to prevent accidents. Then we left all together in a coordinated manner and absolute safety, in order to avoid any unfortunate encounter with dogs of the DELTA motorcycle police team.
Several incidents have reached our ears in relation to this internet café, including the fact that it was one of the cops' favorite spots in downtown Athens, something that even the owner himself admitted during the attack.
Every peaceful citizen who voluntarily dress themselves in police uniform, everyone who are looking forward to receiving a pat on the back from cops for offering their "services", everyone whose misery and subservience have permeated every inch of their personality should keep in mind that nothing goes unanswered. We will do everything in our power to give snitches what they deserve: the realization of their worst nightmare, a response to their intentional submission. They have a name, an address, they run their shops, and we know them very well. Their logic is dangerous; they have worn-out ideals, and have consciously taken on the submissive role of an informant. If they think we will allow them to perform their task without bearing the consequences, then they are woefully mistaken. Let individuals like the owner of the Palladium internet café know that they will constantly be targeted by us, because we will keep showing our aversion at well-meaning informers and associates of all sorts of cops. We owe this to our imprisoned comrades, those who left us early and did not fulfill their insurrectionary vision, those who ran into "bad luck" due to the work of advocates of intentional submissiveness, as well as those who continue the fight for the disorder and deconstruction of social inaction.
We dedicate this attack to the 4 comrades arrested in Nea Filadelfeia (Argyris Ntalios, Fivos Harisis, Grigoris Sarafoudis, Yannis Naxakis)
Strength to the 6 anarchists currently on trial for the Velventos case (Andreas-Dimitris Bourzoukos, Dimitris Politis, Nikos Romanos, Yannis Michailidis, Argyris Ntalios, Fivos Harisis), and to those who continue their struggle on the inside
Tags: Athens, Greece, Kozani, Solidarity Action, teh internets, Vandals
Posted in Direct Action
Sunday, December 1st, 2013
Phoenix Project, Act 8: Action with incendiary/explosive device against a Board of Elections office and in solidarity with Mónica Caballero and Francisco Solar. (Chile)
We are not spectators, but convinced enemies of all forms of domination.
Today, wielding the weapons of life and the ideas of rebellion, we wanted to give away a bit of anarchic momentum.
Today, we decided to attack the 98th Board of Elections office in La Reina commune [in Santiago] with an incendiary/explosive device, because we are convinced that the current state of affairs is sustained not only by those who administer domination, but also in the servile attitude of those who tacitly endorse it. (more…)
Tags: Arson, Chile, Francisco Solar, International Solidarity, Long Live Ilya Romanov Cell, Monica Caballero, Sabotage, Santiago
Posted in Direct Action
Saturday, November 30th, 2013
A message from the HWY 11 Land Defenders:
"We are not giving up despite these harsh weather conditions, sacrificing time with our families, our jobs, our homes, not only to protect land, water and people but to ensure a brighter future for the next 7 generations. We are asking for more support, through road blocks to be in solidarity. This is not just an Elsipogtog issue, this is a global issue and we need to raise awareness. Show us support any way possible, sending thank you's, road blocks, banners, even dropping by, all and every type of support is appreciated."
The 3rd encampment in Mi'kmaq Territory, at HWY 11, which saw stand off's between the Mi'kmaq peoples protecting the water and RCMP protecting corporate interests, is requesting widespread global support. (more…)
Tags: #Elsipogtog, #ShutDownCanada, Canada, HWY 11, Mi'kmaq, Mi'kmaq Land Defenders, Repression, Tar Sands
Posted in Direct Action
Thursday, November 21st, 2013
In the early morning of the 19th of November, the cops national special forces and the SÄPO (~ equivalent of MI5,FBI) organized a raid called Operation Eskil. The targets were a group of anti-fascists in different parts of the middle of Sweden. Some people were arrested, accused of attacking nazis and in several house raids the cops claimed to have found a lot of weapons and material for building incendiary devices.
Even though we do not share the socialist views with the anti-fascists, we do share a common enemy and the enemy of our enemy is a friend.
In response to the cops attack on our co-combatants, we decided to attack the cops. In the evening of the 19th we smashed the entrance windows of a cop station in Växjö, south of Sweden.
A modest action, non the less a promise of what will come when they attack our comrades.
Some anarchists with a passion for cop hatred
Tags: Fuck the Law, Operation Eskil, Repression, Sabotage, Sweden, Vaxjo
Posted in Direct Action
Wednesday, October 23rd, 2013
325 receives and transmits:
… Yesterday when I was cooking, me and subcommandante ***** heard about some eviction quite near to Pandan Raya, in Mapanyukki. We heard in the radio that two of the police were severely injured by molotov cocktails and we rushed to the place. But by the time we get there its all tear gas and the confrontation have calmed down, but you can see how the police forces were very large, including some military trucks, it was a full force eviction. But the occupants fought very hard too. The little boys fights with arrows, molotov cocktails, the women, rocks, but the tear gas easily dispersed them. I can still feel the pain in my eyes as we passed through the former battleground. This eviction grew unease to the comrades because its like signal for Pandan Raya as the next target. …
Tags: Eviction, Indonesia, Mapanyukki, Molotovs, Padang Raya, Riots
Posted in Direct Action
Tuesday, October 8th, 2013
Translated by the imprisoned members of the Conspiracy of Cells of Fire

PHOENIX PROJECT #6
"EAT THE JUDGES"
Once again we meet in the Fire, with old and new comrades, determined to overthrow the police estimations which wanted us to be a closed chapter of an ended story. The Conspiracy of Cells of Fire is a never-ending story. It is the inner flame that burns within us, it is the Phoenix which is born from its ashes again and again… it is the Fire of Refusal and Nihilism which cry "I cannot stop, I cannot be burnt, no one can put me out."
About a month ago, both our brothers Andreas and Spiros were arrested in Thessaloniki accused of sending a parcel bomb to the former commander of the Anti-terrorist force. There is no need for many words. Brothers remember that the sun will continue to rise for all of us whose homeland is the New Anarchy. The Phoenix is born from it own ashes and continues to mock the silence of the cowards, providing Promethea's fire to the eternal insurgents.
Thus, the sending of the trapped parcel bomb to inquisitor Mokkas is a first minimum and reflective response. It is the answer that for us the only way to escape is to set fire to the reformist defence positions and to proceed to attack first again.
Moreover, Damianos, Panagiotis, Theofilos, Christos, Haris, Giorgos.P, Giorgos, Michalis, Olga, Gerasimos, namely the ten brothers and sister of the CCF, all of who are already being held in captivity with double, triple and quadruple sentences that even surpasses the 36 months, are now persecuted by the prosecuting circles with the charge of inciting.
Dimitris Mokkas is exclusively entrusted with cases related to "terrorism" on Greek territory. Which means exclusively our organization. The career of this slimy object does not have any differences from that of any typical juridical officer. Faint hearted little people which evolved into justice officials in order to satisfy their own complexes. This specific clown did a bit better in than other worms of the appellate court in kissing his superiors ass. His vanity to get a higher position was satisfied. Now he is in charge of calls, interrogations and detentions, always with a vengeful smile on his mouth. The peak of his ridiculousness and cowardice was the postponement of the detention of our comrade of the CCF Gerasimos Tsakalos a few hours before the expiry date, above his bed, while he was also going through his 23rd day on hunger strike.
For all this that he has done we decided to also send him our own revenge gift. Of course, not to the glass tower of the appellate, where with the attitude of a thousand cardinals behind his office he signs the shitty legal papers against our brothers and sister, but sending our parcel to his personal residence, where he feels safe. We know that all these scumbags, such as Mokkas, after their sacred duty to hold captive the lives of dozens of people, go back to the warmth of their own home, pretending to be an honourable husband and parent. Thus, we followed the specific target, located his house and chose to send the parcel bomb there. In this way we sent him our performance signed the Conspiracy of Cells of Fire.
It is a fact that there is an insolence in this sector in the previous years. Parody trials sentencing people to dozens of years in prison with no evidence. Repeated detentions deprive freedom from whoever the cops consider a problem. And we are not just talking about armed guerillas. It is a tactic founded with anti-terror laws and is now used openly in dozens of cases. For all this insolence are responsible also all those who are released from prison and forget the big words of revenge against judges and prosecutors. Prisons therefore are also full with people who although feel wronged from the decisions of this sector, never transform this dissatisfaction into rage and rage into action.
Let this attack become an invitation for such acts of revenge, to all, inside and out of the prison walls, who have experienced the rot of juridical authority. It is not something unattainable. There are hundreds of juridical workers. They do not guard themselves, and it is not that hard to find them. Lets all attack them with whatever everyone can. From beatings and arsons up to bombs and executions. Only in this way will they understand there is a war. And if they do not understand, surely we will feel better that we avenged these inquisitors of justice. As for those inside the walls, the only decent attitude towards these scumbags is the discrediting of this farce called a trial. Let alone, when we speak of hostage revolutionaries and special terror trials.
With this attack we want to send our friendship and respect to our imprisoned brothers and sisters in Latin America. To dignified comrades Freddy Fuentivilla, Marcelo Villaroel and Juan Vega, who are accused in "caso security". The three comrades participated in the armed struggle against the state of Chile in the 80s and 90s. Now they are in prison accused of bank robberies and the execution of a cop during a shoot out.
We also dedicate it to unrepentant comrade Jose Miguel Sanchez Jimenez. An urban guerilla who continued his struggle after the fall of the junta in Chile, because as he wrote "i do not believe in their democracy".
Also to anarchist vegan Braulio Arturo Duran Gonzalez, who is in prison in Mexico accused of attacks on ATMs.
To Hans Niemeyer who is accused of subversive action and attacks on symbols of authority. The Chilean state bailed him under house arrest. Hans, broke his bail though, escaping into clandestinity. Unfortunately, a few months ago he was arrested and imprisoned.
To our brother Henry Zegarrando, who is accused by the Bolivian state for attacks of FAI-Bolivia which took place in the country's territory a while ago. Henry, was transferred from prison to special regime of house arrest.
As well we send our warmest greetings to our recently released brothers Mario Lopez, Ivan and Carlo. And of course a big hug which will hide from the cops our wanted friend and comrade Felicity Ann Ryder, for whom an arrest warrant has been put out for her in Mexico.
The Black International of Anarchists of Praxis through the FAI-IRF, is everywhere. In the imprisoned comrades, the wanted anarchists, the anarchists fighters of the streets.
This is why we want our voice and fires to travel to the other side of the globe, to far Indonesia, strengthening the actions of our brothers and sisters, in the FAI cells there. Recently, the cells of FAI-Indonesia, besides attacks against the system, carried out a campaign of counter-information concerning the execution of four prisoners by the special forces of the police. The four young prisoners were accused of a clash which took place in a bar and during which they killed a cop of the police special forces. A bit after their imprisonment there was a night time raid in the prisons where they executed the four prisoners in their cell, with kalashnikovs.
The comrades in Indonesia are not alone… All together, anarcho-individualists, nihilists, chaotics, we meet there where the new anarchy becomes practice. We want to meet through our actions and experiment with the diffuse of the Informal Anarchist Federation FAI. To mock the police control, become more dangerous, support the international anarchist solidarity and attack for it. That's why -just like fire unites us- we share the same joy for an anarchist attack as well as the sadness for a captivity or death of a comrade.
Concluding, we would like to dedicate a few words to those who the echo of attack makes them feel the desire of action. We therefore send a guerilla signal of fire to the comrades of anarchist steki Nadir in Thessaloniki, which was once again the target of oppression. Towards a "movement" where the plague of reformism and communism is spreading constantly in order to completely take it over, anarchist steki Nadir, with all of its possible contradictions, remains an annoying reminder which says that "anarchy is not a product for sale on the ideological shelves of the supermarkets of the 'veterans' of the 'movement', but it is insurrectionist violence in the street… "
Finally, we know that our comrades in Indonesia a few months ago dealt with a loss. Their, and our, brother Ryo, was stabbed to death in a clash. Their loss is our loss. This is why we decided to call the cell of the Conspiracy which sent the parcel bomb to the inquisitor, "Ryo" cell, as a token of honour and remembrance to the comrade who was killed…
Today the Conspiracy of Cells of Fire is reborn from its ashes, promoting The Phoenix Project. New cells of the Conspiracy are ready to unleash themselves into the new anarchist urban guerilla warfare. And to those reformist anarchists who slander us saying that our methods seem more more mafia-like, it's only because they start to resemble leftist hippies…

WE CREATE CELLS OF FAI-IRF EVERYWHERE
FOR THE DIFFUSE OF THE ANARCHIST URBAN GUERILLA
STRENGTH and SOLIDARITY to ANARCHIST STEKI NADIR
STRENGTH and SOLIDARITY to the new nihilists, the anarchists of Praxis, the chaotics of Refusal, the armed minorities
of anarcho-individualists…

CONSPIRACY OF CELLS OF FIRE – FAI/IRF
RYO CELL
Tags: Athens, Conspiracy of Cells of Fire, Conspiracy of Cells of Fire : Imprisoned Members Cell, Dimitris Mokkas, Greece, Indonesia, Informal Anarchist Federation (FAI), International Revolutionary Front, International Solidarity, Letter Bomb, Ryo, Ryo Cell - CCF/FAI/IRF
Posted in Direct Action
Friday, October 4th, 2013
via contra-info:
"Besides, I have the right to leave the theatre when the comedy becomes odious to me and even to slam the door while leaving, at the risk of disturbing the tranquility of those who are satisfied with it."
Émile Henry
Authority, a basic principle of the society, exercises its dominion through various different institutions; the Church is one of the most important because of its historical complicity with the State-Capital, taking charge of laying the foundations of and perpetuating the current state of patriarchal and heteronormative oppression. The Basilica of the Pillar, in Zaragoza, is one of the most significant temples for the holders of Power. Visited by Franco on several occasions and by Pope John Paul II in 1982 and 1984, this cathedral stands as one of the main symbols and a meeting point of fascism. The Virgin Mary of the Pillar is considered the patroness and queen of Hispanishness; flags of all the States that dominate the Latin-American territory are hung inside the temple as real trophies. The Pillar Square is situated on side of the basilica and features the Hispanishness fountain, which draws the map of Central and South-American continent, taking a great deal of pride in the extermination caused by civilization. (more…)
Tags: Insurrectionalist Commando Mateo Morral, Spain, Zaragoza
Posted in Direct Action
Friday, October 4th, 2013
A major line of Power was sabotaged. It occurred about a month ago (today is October 3rd 2013), during a pleasant night in the countryside somewhere in eastern Kanada, as all the comfortable slaves were so happily preparing their children to go back to a new level of brainwashing and behavioral social conditioning, with cops now keeping a preying eye upon them at school, so to prepare them for the prison world.
Lifting myself out of despair and isolation from this social daymare, I went on this nightly escapade to perform an act of monkey-wrenching against a High Voltage Direct Current (HVDC) power line, unbolting a bunch of nuts on two out of the four legs of those steel goliaths of technological enslavement that circulate power cross border, with only a large wrench, and a light metal tube to fit on the handle for extra leverage. While I would have greatly enjoyed the company and team work of other insurgents, I neither had the time or energy left to get them into action. But rest assured I did it no matter what, have put a lot of sweat into it, and it wasn't a big deal at all. So they say, it's easy to attack. Getting in and out of there is always harder.
I did this for Jerry Koch, for Marie Mason, for Maddy Pfeiffer, as well as for the millions of lesser-known others rotting in the concrete cells of a hardcore bandit capitalism that reigns over the US and the West in general. I want to bring down this fucking system of corporate piggery, and thought that literally bringing down their system's backbone, one bolt at a time, seems like a favorable tactic. (more…)
Tags: Canada, Pylon, Sabotage, Solidarity Action, USA
Posted in Direct Action
Wednesday, October 2nd, 2013
from vivalaanarquia, transl waronsociety:
Trying to be at our best and to continue maintaining the dignity deserved by human lives that rebel against the authority that provokes all kinds of oppression over the face of the earth in which we live, we again go on the offensive in the war declared by the lovers of freedom and their enemies.
We remember that in the prisons of the territory dominated by the Argentine State the prisoners who are there continue to be murdered and tortured. And in the streets the misery goes on increasing, the alienation of work and consumption obscures the consciences of the people who constantly go around tensioned by the contradictions of a system that is proclaimed consolidated by a government that speculates with the economic sciences, trying to hide their tyrannical condition at all costs.
Sit down, victims, because nothing you have yet suffered compares with the humiliation that all of us feel, we who are threatened with the death and radical confinement which nourishes the theory of those who have the power and will to profit off of the authoritarian methods and practices of civilized society.
Our proposal is the direct attack on those responsible for the misery of this reality, now the prison guards are in the sights of all the insurgent compañerxs — or is it necessary to keep saying what points we have in common? Actions say much more than words, but it is also necessary sometimes to mention what the media constantly try to hide.
The cars that we burned at 3000 Amenabar street were parked right outside one of the properties of Sergio Berni (secretary of the Ministry of Security), under 24 hour surveillance by the Federal Police.
The little bomb we set off in the Prison Guards' Mutual (Argentine Borders Building), located at 2264 Bartolome Mitre street, on Thursday September 19, 2013 at 1:40 am, unfortunately only caused material damages; we would have liked to find out that a servant of law and order had at least been injured.
We salute the compañerxs of the Conspiracy for Revenge and all those who, without lots of questioning, go on the offensive against authority all across the world.
Long Live Anarchy!
Friends of the Earth
Informal Anarchist Federation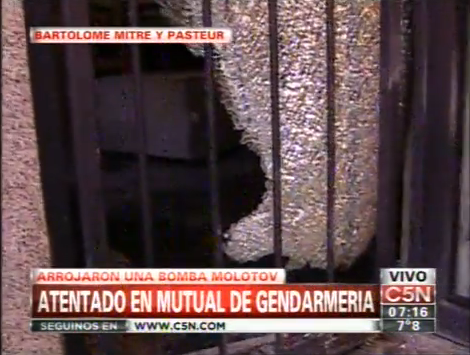 Tags: Argentina, Buenos Aires, Friends of the Earth / FAI, Informal Anarchist Federation (FAI), International Conspiracy for Revenge, Sabotage
Posted in Direct Action
Thursday, September 26th, 2013
Komunike
Polisi adalah musuh. Ini adalah pernyataan final kami yang tidak akan lagi bisa ditawar. Polisi terlahir tidak untuk menjadi sahabat, secara individual maupun institusi, dan tidak bisa tidak dimasukkan dalam daftar musuh yang mesti mendapatkan pukulan paling keras. Sebagai institusi dan individu, polisi adalah mereka yang bertugas untuk melindungi peradaban dan eksploitasi yang dilakukannya terhadap bumi. Polisi -seperti juga instrumen penindas yang lain- bertugas mengamankan uang dan kepentingan investasi demi berlangsungnya hidup antroposentrisme seperti hari. Polisi tidak hanya sekedar representasi bagi kami. Sebaliknya, polisi adalah salah satu dari ribuan wajah dari kebiadaban hidup hari ini. Polisi layak diserang, sekeras mungkin.
Atas jasa-jasa polisi yang dengan setia menjadi anjing penjaga bagi domestikasi hidup, mereka dibekali dengan peralatan tempur yang digunakan untuk memerangi keinginan merdeka dan cita-cita kehidupan liar di mana aturan judisial dan perangkat hukum absen total. Mereka dilengkapi dengan senjata, perisai dan rompi anti peluru. Perangkat-perangkat diproduksi agar babi-babi ini dapat dengan percaya diri dalam menghadapi perang yang dialamatkan kepada tuan-tuan mereka.
Tapi mereka salah besar. Polisi-polisi babi itu salah besar jika menyangka bahwa kami tidak cukup berani untuk mengirimkan serangan kami tepat di bagian-bagian penting mereka. Seperti saat ini, ketika kami menempatkan dua buah jerigen berisi 5 liter bensin dan 5 liter solar dilengkapi dengan pemicu otomatis. Pemicu yang telah kami siapkan agar kami dapat menjauh dari lokasi serangan dan membuat mereka tidak akan bisa menangkap satupun dari kami. Waktu yang lebih dari cukup untuk kami membiarkan alam melindungi kami dengan menghapus seluruh jejak-jejak kaki kami.
Kami mencoba sebuah langkah baru untuk meradikalkan serangan kami dan memperluas efek kerusakan yang ditimbulkan dari setiap pukulan yang kami arahkan kepada musuh. Perangkat pembakar yang kami kirimkan ke sebuah pabrik saat dini hari Senin, 23 September, yang terletak di Jalan Suryani Terusan, Kelurahan Babakan, Kecamatan Babakan Ciparay, Bandung, Jawa Barat.
Alasannya? Pabrik ini memproduksi rompi anti peluru bagi polisi dan tentara. Pabrik ini adalah salah satu sumber produksi peralatan perang bagi babi-babi ini. Rompi anti peluru untuk melindungi polisi dan tentara ketika mereka menembaki musuh, menembaki kami dan saudara-saudara kami.
Itu mengapa, membakar hangus pabrik ini adalah tujuan aksi ini.
Bersama aksi ini, kami mengirimkan salut hormat kami kepada para kombatan di belahan dunia lain dan tempat lain yang tanpa ragu melakukan serangan semaksimal mungkin. Salut kepada aksi bersama yang dilakukan oleh CCF Rusia dan ELF Rusia. Juga serangan tanpa henti dari kombatan-kombatan Amigo de la Tierra – FAI di Argentina. Juga serangan beruntun dari para pemberani di CCF dan ICR dalam Projek Phoenix.
Aksi ini juga adalah salam dan pelukan hangat kami kepada individu-individu pemberani yang diculik oleh negara namun terus melancarkan perang dalam keterbatasan geraknya. Kepada Gabriel Pombo da Silva, Marco Camenisch, Hans Niemeyer, Walter Bond, para kombatan dari Sel Dalam Penjara CCF serta para tahanan di Yunani, Italia dan Chile yang tidak bisa kami sebutkan satu persatu namun selalu berada di dalam hati kami.
Runtuhkan Peradaban
Kehidupan Liar, Sekarang!

ELF Fraksi Indonesia
=======================
Communique:
The police are the enemy . This is our final statement that is not negotiable. Police are not born to be friends, as individuals and as an institution, and can not be excluded from the list of enemies that must be addressed by for our attacks. As an institution and as individuals, the police goal is to protect civilization and the exploitation it is doing to the earth.
The objective of the police -as well as the other repressive instruments- is to secure the money and investment interests for the sake of the anthropocentric way of life as it is today. The police are not for representing our interests. Instead, the police are one of the thousands of faces of outrage alive today. Police must be attacked, as hard as possible.
For their loyal services as guard dogs for the domestication of life, they are equipped with combat equipment that is used against free will and the aspirations of wildlife where the judiciary and the rule of law are totally absent. They are equipped with weapons, armor and bulletproof vests. The devices are manufactured so that the pigs can act with confidence in the face of the war that is addressed to their masters.
But they were wrong. The pigs have a totally wrong idea if they think that we are not brave enough to send our attack right to their essential sectors. As of this moment, when we put two jerry cans containing 5 liters of petrol and 5 liters of diesel equipped with an automatic trigger. Triggers that we have prepared so that we can move away from the scene of the attack and make them not be able to catch any of us. Which is more than enough time for us to let nature protects us by removing all traces of our feets.
We tried a new step to radicalize our attacks and extend the effects of the damage from any blows that we direct to the enemy. Incendiary devices placed at a factory during the early hours on Monday, September 23, located on Canal Street Suryani, Babakan Village, District Babakan Ciparay, Bandung, West Java.
The reason? This factory manufactures bulletproof vests for cops and army. This plant is one of the sources for the production of war equipment for these pigs. Bullet-proof vests to protect police and soldiers when they open fire on the enemy, open fire on us and on our brothers. That's why, this place is burning, charred, and this is the purpose of this action.
Together with these actions, we send our respectful salute to the combatants in other parts of the world and other places who without hesitation attack as much as possible. Salute to the joint actions undertaken by CCF Russia and the Russian ELF. Also the relentless attack from combatants Amigo de la Tierra – FAI in Argentina. Also the multiple attacks by the brave ones of CCF and ICR in Project Phoenix.
This action also is our warm greetings and hugs to the brave individuals who were abducted by the state but continue to wage war whilst their physical movements are limited. To Gabriel Pombo da Silva, Marco Camenisch, Hans Niemeyer, Walter Bond, the combatants of CCF Imprisoned Members Cell and the prisoners in Greece, Italy and Chile that we can not mention one by one, but they are always in our hearts.
Bring down the civilization
Wild Life, now!
ELF Indonesian Fraction
====
Link of the video of the action from local news:
http://tv.detik.com/readvideo/2013/09/24/182502/130924044/061009681/pabrik-rompi-anti-peluru-terbakar?nd771104fvt
Tags: Arson, ELF- Indonesian Fraction, Fuck the Law, Indonesia, International Solidarity, Sabotage
Posted in Direct Action
Monday, September 23rd, 2013
Shame is not a job
Eight hours standing in the perimeter of a police bus at the corner of Charilaou Trikoupi with Didotou street in Exarchia, wondering when you're going to be attacked by "bottles" and stone-throwing. Recipients of hatred and rage that permeate our entire being. For what you are. For what we are. For those whom you serve. For what we're fighting for.
Eight hours in a row, and now it's time for the night shift, at 22.00, on September 19, 2013. Fresh pigs have come to replace you. After a chit chat, you enter the mobile pigsty all together.
But you are to confront us when you least expect it, when you sit your ass on a seat of the police bus, exhausted from this filth you call a job.
Two blocks away, at the junction of Charilaou Trikoupi and Dervenion streets, comrades wait for the police bus to get moving. They take positions, wait a bit longer, and then they push trash bins and block the street. The 10-liter jerrycans filled with gasoline are rolling underneath the vehicle. The cops make it just in time, and abandon the bus before watching the first Molotov light the flammable material. They have fear in their eyes.
Some other time, in another place, we'll be waiting for you.
Tags: Athens, Fuck the Law, Greece, Killah P, Molotovs
Posted in Direct Action
Saturday, September 7th, 2013
'Anarchists claim responsibility for fire at luxury West Melbourne car dealership, but police have doubts' the headline of the Herald-Sun screams the day after our little visit to Gran Turismo Autos.
Apparently 'investigators' do not believe that a 'mysterious anarchist group' were responsible for the fire & the Herald-Scum, which is the de-facto mouthpiece of the Victorian Police force in Melbourne, chose not to name the website where we initially posted our claim of responsibility – they also chose to only include a partial sentence from our communique.
Well we have some doubts of our own.
We doubt very much that the cops & the Herald-Scum are being truthful, and we think that even the casual reader of Tuesday's article would be doubting the truthfulness of the cops and their pet media outlet too. (more…)
Tags: Australia, Felicity Ann Ryder, Felicity Ann Ryder Cell / FAI- IRF, Fuck the Law, Fuck the Mainstream Media, Gran Turismo Autos, Informal Anarchist Federation (FAI), International Revolutionary Front, Melbourne
Posted in Direct Action
Tuesday, September 3rd, 2013
The poster by Anarchist Squat Utopia A.D. (Komotini) was released in 21/08 and was translated in English by Contra Info (Spanish and Italian and Greek versions also available). Andreas Tsavdaridis and Spyros Mandylas were arrested in Thessaloniki and accused of participation and responsibility in the Phoenix Project of the Informal Anarchist Federation (FAI). They are specifically accused also of sending a letter bomb to the former boss of the Greek anti-terrorist unit, the same pig who conducted the repression against the comrades of the Conspiracy of Cells of Fire – 1st Phase. The imprisoned members of the CCF are also accused for all the attacks as well. (more…)
Tags: Anarchist Squat Utopia A.D. (Komotini), Andreas Tsavdaridis, Athens, Flyposter, Greece, Igoumenitsa, Informal Anarchist Federation (FAI), Preveza, Spyros Mandylas, Thessaloniki, Volos
Posted in Direct Action
Monday, September 2nd, 2013
Last night (Sept 2nd 2013) for the first time in living memory but definitely not the last, the flames of anarchist insurrection roared high above the toxic skies of Melbourne putting a swift end to years of local 'activist' and 'social anarchist' inactivity in this city.
At approximately 7:30PM we gained entrance to Gran Turismo Autos, a luxury car dealership on Spencer St in inner-city West Melbourne via a poorly secured rear window and placed an improvised incendiary device with timer already set under a desk in an office area adjacent to the showroom then promptly fled the building via the same window through which we gained entry. (more…)
Tags: Arson, Australia, Felicity Ann Ryder, Felicity Ann Ryder Cell / FAI- IRF, Gran Turismo Autos, Informal Anarchist Federation (FAI), International Revolutionary Front, International Solidarity, Melbourne, Sabotage
Posted in Direct Action
Monday, September 2nd, 2013
Censored by the reactionary civil servants who administer Bristol IMC:
The full weight of our entrapment in within this society presses down on us unbearably. Un-named grief, frustration, loneliness and insecurity are the stories of our lives for the most part, stretching back generations. Like money talks loudest and silences all other principles, like concrete and tarmac isolate us from the rest of the planet as it sickens, and like the dominant culture casts humans as robots to work-consume-reproduce-obey… we are physically and emotionally smothered every day by a cheapened, artificial existence keeping us far from our dreams outside the mould.
Awakening anger pierces the fog of confusion from our alienated condition, seeking out worthy targets for the rage. Any notion of truce with the ruling institutions aiming at reform only conforms to the disarmed roles they would coerce us into. Immediate insurrection seems vital. We raise our masks and step out into the night to speak through a language as old as Domination: sabotage and conspiracy. (more…)
Tags: Arson, Barclays bank, Bristol, Freddy Fuentevilla Saa, Informal Anarchist Federation (FAI), International Solidarity, Juan Aliste Vega, Kozani, Marcelo Villarroel Sepúlveda, Marco Camenisch, Roger Clement, Sabotage, UK, Walter Bond
Posted in Direct Action
Wednesday, August 28th, 2013
Brief Message To The Enemies (Phoenix Project part 5)
We will not talk about "unfair prosecutions", about "the climate of terror against those who fight", nor about the "new totalitarian-ism" and things like that. That's because we know that none of these is new. These are simply snapshots of the ancient war between two incompatible words: on the one side lies the disgusting world of the Authority, of the submissive crowd and of the social cesspit and on the other side, the anarchist insurgents, the insubordinate fighters of the Negative, those who do not bow down to nobody. We will neither talk about the others. The ones who these days feel secretly happy and relieved. Now it's not the time nor the place to do so. They should bear in mind, however, that the time will come to talk about these things. -
– Freedom To The Wolves of The North
When we said "nothing is over", it's not only just words. Our threats will turn into action, time by time, every second we get the chance. And every time, we will bring our actions closer to your face. Directly in front of your guns, uniforms and prison – repressive tools that are often used to kidnap our revolutionary comrades. We will never let you sleep well, because our war is not over yet. (more…)
Tags: 'ICR-FAI-IRF / Free Mandylas and Tsavdaridis Cell', Alfredo Cospito, Andreas Tsavdaridis, Arson, Balikpapan, Conspiracy of Cells of Fire : Imprisoned Members Cell, Freddy Fuentevilla Saa, Fuck the Law, Hans Niemeyer, Indonesia, Informal Anarchist Federation (FAI), International Revolutionary Front, International Solidarity, Juan Aliste Vega, Kozani, Marcelo Villarroel Sepúlveda, Nadir Squat, Nicola Gai, Operation Ardire, Operation Thor, Operation "SHADOW", Sabotage, Spyros Mandylas
Posted in Direct Action
Wednesday, August 28th, 2013
August 27, 2013 – Responsibility claim for large-scale arson of £16million police firearms training facilities and vandalism of vehicles of the corporate security services:

The (under construction) Police Firearms Training Centre in Black Rock Quarry, Portishead, situated directly beneath the Avon and Somerset Police regional headquarters was our target on the night of 26th August, and we left it with flames licking high. The facility is intended to serve forces across the South West.
After climbing into the quarry we used accelerant to burn the major electrical cables at five junction points throughout the complex, and doused and lighted a pallet of electrical fittings and wires. More than twelve hours later the fire is still burning. It put smiles on our faces to realise how easy it was to enter their gun club and leave a fuck you signature right in the belly of the beast, with a curious fox as our only witness.
On the same night others of us attacked two vehicles near St George, Bristol with paint stripper and by slashing the tyres – one G4S and one Amey. In the UK and globally G4S provide prison and security services and profit from many aspects of prison society. Amey, in a joint venture with GEO transport prisoners in England and Wales and run courthouses in Bristol and North Somerset.
In the City around us the lock down increases; there is a general atmosphere of rising fear and powerlessness; there is more and more surveillance, and security guards with handcuffs appear on more and more doors. Tensions across the world are simmering as people lose faith in the system. As a response to this insecurity the state is militarising it's police with firearms, remote control drones and 'non-lethal' weapons that regularly kill. At the same time they develop the preventative 'soft cop' buffer of community support officers, liaison teams and so on, that are more fitting with the democratic image. They even get some help from leftists such as John Drury from Aufheben with his contributions on crowd control, who is as terrified of the unmanageable as the ruling classes are. The British state is a world leader in counter-insurgency techniques. Their expertise is the result of generations long brutal colonisation, like in India, Kenya and to this day in Ireland. (more…)
Tags: Amey, Angry Foxes Cell, Angry Foxes Cell in collaboration with ACAB, Arson, Black Rock Quarry, Bristol, Fuck the Law, G4S, GEO, International Solidarity, John Drury, Kostas Sakkas, Police Firearms Training Centre, Portishead, UK
Posted in Direct Action