Posts Tagged '14/14'
Saturday, February 7th, 2015
Vegan food, liberated price
For the address: blancarde2015@riseup.net
*The film is in Spanish but the subtitles are in English
International solidarity with those implicated in Operation Pandora

"For those who struggle, the sense of solidarity intends to dismantle
the loneliness of incarceration, waging a battle against forgetting our
comrades abducted by states, bringing to light the logic of domination
that seeks to condemn them to surrender."
– anarchists of Pandora
A year after the end of the "Caso Bombas" farce, the Spanish and Chilean
ministries, judges and cops are working together on a new case, this
time on this side of the ocean. Mónica Caballero and Francisco Solar,
both ex-suspects in the "Caso Bombas" case, are arrested in Barcelona,
suspected of placing an explosive at the Basílica del Pilar in Zaragoza,
planning a similar action and belonging to an alleged terrorist
organisation. (more…)
Tags: 14/14, Chile, France, International Solidarity, Marseille, Operation Pandora
Posted in Social Control
Saturday, November 16th, 2013
Distributed by: The Women's Coordinating Committee for a Free Wallmapu (Toronto)
Also read this article on multi-language anarchist website Contra-info.
On November 13th, our comrades Monica and Francisco were arrested by the repressive forces of the Spanish State, accused of the explosive bomb attack on the Pillar Basilica in Spain. A hurricane of grandiloquent statements have been unleashed unto this situation between representatives of both [Chilean and Spanish] governments; congratulations of resurrected prosecutors and recycled Interior Ministers as well. Monica and Francisco were arrested in August 2010 in the so-called Chilean Bombs Case. Both confronted the trial against them with dignity and rebellion; more than 9 months in medium and maximum pre-trial prison, rejected the prosecutor's blackmail, carried out a 65 day hunger strike and confronted one of the longest trials [in Chilean history], and had all their charges dropped by the Court with their convictions in tact. (more…)
Tags: 14/14, Barcelona, Catalunya, Chile, Francisco Solar, Monica Caballero, Spain, Zaragoza
Posted in Social Control
Thursday, November 22nd, 2012
from vivalaanarquia – updated from liberacion total:

Gabriela is free without charges and not compelled to sign with the authorities. Welcome back to the streets!
In the morning hours of November 19, the comrade Gabriela Curilem has reappeared on the street, ending his period of hiding for two years and three months. Recall that Gabriela is wanted following the "Bombs Case", specifically from August 14, 2010- the day the arrests were made, the case was closed on 1 June this year, the day that 5 comrades were absolved. In this case, Gabriela was charged as the alleged financier of an illicit association that is supposed to have manufactured and installed bombs. That same August 14, Gabriela was not in the CSO Sacco and Vanzetti (self-organised centre which was raided by anti-terrorist units), where other co-accused lived. During the morning of Nov 19, Gabriela appeared before the Chilean justice system and was compelled to sign with the authorities (we do not know whether weekly or monthly) and is now back on the street.
Tags: 14/14, Chile, Gabriela Curilem
Posted in Social Control
Sunday, June 3rd, 2012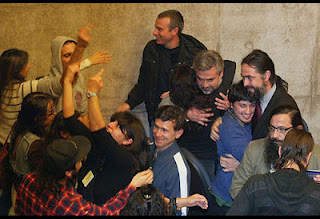 After a long process during which the $hilean state and the plaintiff institutions tried by all means to condemn the compas at any cost, they were absolved of all the charges, in the final hearing today June 1st, 2012.
All the charges such as placement of explosive device and terrorist financing were dismissed; also they raised all the cautionary measures against the 5 compas.
Tags: 14/14, Chile, Repression
Posted in Social Control
Friday, March 30th, 2012


Dark Nights is an anarchist & anti-prison PDF freesheet to download and print out on the fly.
12 pages A4 – PDF Download free.
This issue features an as always incomplete round-up of direct action and sabotage reports from the month of March, coverage of the trial of the Revolutionary Organisation – Conspiracy of Cells of Fire, international repression reports and news about Thessaloniki 5 prison sentences, No Tav- letter from injured comrade Luca Abba, letter about Luciano Tortuga's prison conditions, letter of comrade Kostas Katsenos, imprisoned anarchist accused of membership of the armed group – Revolutionary Struggle in Greece, report on the radical struggle in Russia & Ukraine over the past 2 months, trial updates about the Chilean frame-up "Bombs Case" against anarchists over there, "No Military on Our Streets" anti-Olympic/anti-Austerity text from UK, plus "Maybe they follow my account on Facebook" text from Anti-Authoritarians of Kalamata Messinias.
Fire to the Prisons
http://325.nostate.net/library/dark-nights-17.pdf
Anti-Copyright Network 2012
Tags: 14/14, Chile, Conspiracy of Cells of Fire, Dark Nights, Greece, Informal Anarchist Federation (FAI), Italy, Kostas Katsenos, Luca Abba, PDF, Revolutionary Struggle, TAV, UK, Zine
Posted in Library
Monday, February 27th, 2012
From solidaridadporlxspresxs, translated by war on society:
The political trial continues and begins to advance slowly chapter after chapter with the particular accusation against each comrade, bringing different police officers, experts or simply "at the scene" witnesses. This time the trial was suspended due to the extensive and continuous months of daily hearings, setting aside 5 days of "rest" to then return on February 13. (more…)
Tags: 14/14, Chile, Mauricio Morales, Repression, Trial
Posted in Prison Struggle
Tuesday, January 17th, 2012
Dark Nights is an anarchist & anti-prison PDF freesheet to download and print out on the fly.
FREEDOM WILL BLOSSOM FROM THE ASHES OF THE PRISONS
Click here: 16 pages A4 PDF + Click here: 4 pages A4 supplement
Longer format issue of Dark Nights; the frontpage carries the new open letter from Luciano 'Tortuga', anarchist in Chile hurt in a bomb attack against Santander Bank in Santiago. A major section of this issue is given over to a New Year Anti-Prison Actions Round-Up, which couldn't begin to cover the vast nature of the second international call-out for anti-prison demos on the New Years Eve, but is nevertheless a contribution to be spread and distributed.
The remaining full articles include the cases of the revolutionary anarchist group Revolutionary Struggle, the Conspiracy of Cells of Fire, Stella Antoniou, Sonja Suder & Christian Gauger of the Revolutionary Cells (RZ).
Special separate supplement covers the latest sabotages and attacks in Italy; Update on the "Bombs Case" in Chile; Joint declaration of subversive and revolutionary prisoners in support of the comrade Luciano Tortuga (Chile); Sabotage and attacks against automated car tolls and social control (Portugal); Update on the Two Imprisoned Combatants in Yogyakarta (Indonesia).
Dark Nights will continue a more frequent publishing schedule generated from the international network of translation and counter-information for the present time as a new editorial and design collective take over the freesheet.
Anti-Copyright Network 2012
Tags: 14/14, Billy, Conspiracy of Cells of Fire, Dark Nights, Eat, Luciano Pitronello Schuffeneger, PDF, Revolutionary Cells (RZ), Revolutionary Struggle, Stella Antoniou, Zine
Posted in Library
Friday, December 9th, 2011
A publication by the imprisoned members of the Conspiracy of Cells of Fire
We hear the song of fire that comes from far away. The words smell of gunpowder. From the other side of the world rebellious comrades burn the nights and liberate places and moments. We can hear them… They conspire, plan, attack… We do not have to say anything else, we leave our brothers and sisters to speak for us.
"We are all Conspiracy Cells of Fire. C.C.F. is not an organization or just a group. On the contrary it is a antagonistic expression of rage and contempt towards authority and its structures. To spread the C.C.F. all you need is gasoline, matches and the desire to fight for absolute freedom. We have begun the war against the existing order."
Mexican C.C.F./FAI
The following text is dedicated to the Mexican C.C.F. and to our brothers and sisters of F.A.I. all around the world.
i)The wind blows against… from Indonesia to Chile.
These previous months from every corner of the earth more and more explosive messages of fire and gunpowder cross borders and seas reaching us here, in the Greek prisons where we are hostage, but not defeated.

Words mix with fire and behind the ashes of banks, government buildings, cop cars, nanotechnology labs, satellite antennas, private security cars and luxury shops, open a promise to friends and a threat to the enemy. They open a live proposition of the Informal Anarchist Federation (F.A.I.). An International Revolutionary Front (I.R.F.) is now organized in Italy, England, Chile, Mexico, Argentina, Russia, Holland, Peru, Bolivia, Indonesia, Australia, Greece…
An idea that started its journey ten years ago from Italy from the brothers and sisters of the Italian F.A.I. and today is stronger than ever. F.A.I. definitely is not a theoretic game of harmless words and symbols, but an idea to live dangerously and anarchically with all our senses, without dead time and cowardly excuses.
Often the texts that come to our hands like the one from the Italian F.A.I., the one from the English comrades of F.A.I. titled "Rain and Fire", the announcement of the Russian F.A.I., the call of the 11 anarchist organizations from Mexico, and many more, fill us with a weird awkwardness. It's this indescribable joy we feel when individuals and groups who do not know one another reach the same conclusions and feel the same feelings the exact same moment.
This feeling explodes in every word that unlocks the next and draws a common path of revolt. It is one of the few times that we do not have much to say. Most of our points are covered by our comrades. But we don't want to consume the text in a series of compliments. (more…)
Tags: 14/14, Black International of Anarchists of Praxis, Chile, Conspiracy of Cells of Fire, Conspiracy of Cells of Fire - Mexico, Conspiracy of Cells of Fire : Imprisoned Members Cell, Fire & Gunpowder, Greece, Holland, Indonesia, Informal Anarchist Federation (FAI), International Revolutionary Front, Italy, Luciano Pitronello Schuffeneger, Mexico, Rain & Fire, RO-FAI (Indonesia Section), Russia, UK
Posted in Cognitive Liberty, Direct Action
Friday, November 18th, 2011
When the prison bars stop our hands from throwing the fire of anarchy into the world of power, our words become the sharp rasp of escape.
Armed with thoughts, desires, secret plans, new conspiracies, we give a warmest embrace in our imaginary meeting with the comrades of action across the world.
Now we want our voice to reach our brothers and sister in distant Chile to Luciano (Tortuga) prosecuted on November 22 and to Monica, to Felipe, to Francisco, to Omar, and Carlos on November 28, because they are anarchists and enemies of power. (more…)
Tags: 14/14, Black International of Anarchists of Praxis, Chile, Conspiracy of Cells of Fire, Conspiracy of Cells of Fire : Imprisoned Members Cell, Cristobal Bravo Franke, Informal Anarchist Federation (FAI), International Revolutionary Front, International Solidarity, Letter, Monica Cabellero, Theofilos Mavropoulos
Posted in Prison Struggle
Tuesday, November 1st, 2011
Tags: 14/14, Chile, Poster, Repression
Posted in Social Control
Saturday, October 29th, 2011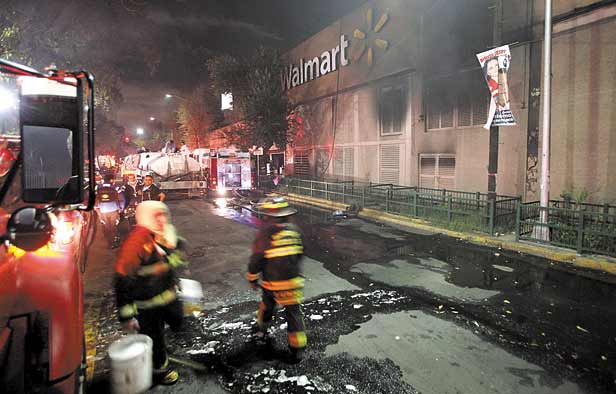 From culmine via this is our job:
To all like-minded arsonists and antagonists, the fourth communiqué from the Conspiracy of Cells of Fire – Mexico / Informal Anarchist Federation:
Neither exasperated, indignant, nor broken! Arsonists at war against every authority!
All our solidarity with comrade Gabriel Pombo da Silva!
We're celebrating two months of direct attacks on capital and the State!
Against the system of domination!
For Total Liberation!
Yesterday [26/10/11] at 6:23 p.m., liberatory fire again burned where it hurts most, destroying merchandise. The Conspiracy of Cells of Fire (CCF) faction of the Mexican Informal Anarchist Federation (FAI-M), Veracruz section, gave life to liberatory fire at the Wal-Mart located at Universidad and Avenida Las Palmas in the heart of Coatzacoalcos, Veracruz. With this new attack, we avenge comrade Gabriel Pombo da Silva (held captive in Aachen prison) and demand his immediate release from the German and Spanish states. We also stand in solidarity with our comrade Tamara, with the Bombings Case compas in Chile, with the imprisoned Conspiracy of Cells of Fire compas in Greece, and with all our comrades abducted by the State in Mexico and the rest of the world. (more…)
Tags: 14/14, Arson, Coatzacoalcos, Conspiracy of Cells of Fire, Conspiracy of Cells of Fire - Mexico, Conspiracy of Cells of Fire : Imprisoned Members Cell, Gabriel Pombo da Silva, Germany, Informal Anarchist Federation (FAI), Informal Anarchist Federation - Mexico (FAI-M), International Solidarity, Luciano Pitronello Schuffeneger, Mexico, Revolutionary Struggle, Spain, Tamara, Veracruz, Wal-Mart
Posted in Direct Action
Wednesday, October 12th, 2011
On October 4th, 2011, Judge Valderrama announced the latest discharges within the "bombs case".
The Prosecution solicited the discharges arguing there was a lack of evidentiary support to proceed to trial, in consideration of evidence that had been eliminated during the preliminary hearing.
Finally 13 comrades – and the one miserable informant- were discharged from illicit terrorist association.
Pablo Morales, Rodolfo Retamales, Camilo Peres, Vinicio Aguilera, Diego Morales, Felipe Guerra, Carlos Rivero, Andrea Urzua, Monica Caballero, Francisco Solar, Candelaria Cortez-Monroy, Omar Hermosilla and the filthy collaborator. Candelaria was also absolved of placing an explosive artifact (at Automotora Atal, on March 27th, 2007).
On his part, Cristian Cancino, is awaiting his own independent proceeding.
The Comrades that will be going to trial:
Without the specific charge of "Illicit Terrorist Association", 5 comrades will be facing the judicial/political proceeding:
Francisco Solar: Accused of three counts of placing an explosive artifact (ANI on January 18th, 2006, State Defense Council on December 21st 2006, and Chilectrica on October 16th, 2007) under law 18.314 (the Anti-terrorist Law).
Mónica Caballero: Accused of placing an explosive artifact (Sacramentos Church on November 21st, 2009) under law 18.314 (the Anti-terrorist Law).
Felipe Guerra: Accused of placing an explosive artifact (School of Gendarmerie on May 22nd, 2009) under law 18.314 (the Anti-terrorist Law).
Omar Hermosilla: Accused of terrorist financing, under article 8 of law 18.314 (the Anti-terrorist Law).
Carlos Rivero: Accused of terrorist financing, under article 8 of law 18.314 (the Anti-terrorist Law).
Moreover, the miserable filthy informant, Gustavo Fuentes Aliaga, is also accused of two counts of placing an explosive artifact (ANI, State Defense Council) under the Anti-terrorist Law.
The trial against our comrades will take place on November 28th, 2011.
CALLING OUT TO EXPRESS SOLIDARITY, & REMEMBER THAT THE TRIAL DOES NOT END WITH THE DISCHARGE OF SOME OF OUR COMRADES.
Because the Bombs Case is not over: END THE ANTI-TERRORIST LAW! END THE POLITICAL TRIALS!! DROP THE CHARGES OF THE FINAL 5 ACCUSED!
Libertad a lxs 14.A.
Tags: 14/14, Chile, Repression
Posted in Social Control
Monday, September 26th, 2011
Note: Updated corrected email address – sinomosiapf (at) riseup (dot) net
To all anarchist prisoners:
Prison is the country of prisoners. From here inside, we want to send greetings to our comrades imprisoned around the world, as well as set a proposal in motion.
In the country of prisoners, the days go by one after the other, slow and indifferent, while everywhere cement and an immense boredom prevail.
Nevertheless, our minds often escape and secretly visit our brothers and sisters imprisoned in Chile, Mexico, Italy, Germany, Switzerland, England, Russia, Denmark, and wherever else there are cells full of people who haven't lost the desire for freedom.
Comrades, we talk to you even though we don't speak the same language. We see you even though we've never met face-to-face. We smile at you even though we don't know one another.
The enemy believes it can break our morale by locking us up in its cells for months and years. Power thus expects to receive a declaration of remorse, a renunciation of direct action, a revision of our anarchist values.
But the only thing it will receive is our utter contempt and our most potent rage. All of us who have assumed responsibility for belonging to the first phase of the Conspiracy of Cells of Fire expect sentences of many years—condemnation by a system we have declared war on because we will not tolerate it governing our lives.
We want to transform the upcoming trial of the Conspiracy of Cells of Fire into a trial of the system.
By way of our discourse and our attitude, it won't be us defending ourselves in front of the judges, but they defending themselves in front of us for the crimes committed by the Power they serve.
At the same time, we want to draw attention to the fascist mechanism constructed to persecute us via the collaboration of the police, the judiciary, and the mass media.
A mechanism that launched an unprecedented anti-anarchist campaign whose goal was not just our arrest, but also the creation of a climate of widespread fear in which even the possession of previously published texts by anarchist prisoners could lead to a date with the prosecutor.
This was preceded by numerous detentions, the issuing of arrest warrants, the publication of photos of those of us who were at large, mass media screenplays about "connections between all the guerrilla organizations," reports about the "revolutionary fund" and our participation in bank robberies, "specialist" analyses of each of our "psychological profiles," and many other methodical schemes whose objective was to isolate us morally and marginalize anarchist urban guerrilla warfare.
The State wants to wipe the choice of anarchist direct action off the map of values held by subversive circles.
It wants to portray direct action as a futile decision that leads directly to prison, changing nothing.
However, when you choose direct action, you choose to take your life into your own hands.
Through direct action, we break away from stagnant thinking, we negate spineless movements, and we sabotage the clocks of discipline, creating free time and space within the hostile environment of the metropolis.
There, where surveillance cameras record our every move, uniformed police pigs memorize our faces, and the screens of the spectacle fabricate our desires, we once again don our masks. Our hands grab hold of stones, Molotovs, bombs, pistols, and we pour into the streets in search of freedom.
Now, even in prison, we don't ever forget that feeling, and we'll do exactly the same thing again the first chance we get.
We therefore don't want intellectuals, university professors, or any of the well-known hacks from leftist cliques defending us at our trial.
What do any of them know about the adventure of direct action and its values?
What can be said by those who spend all day firmly seated in their comfortable offices, chitchatting against the system from the vantage point of their leftist salon culture while that very system feeds them?
No, let them keep their "sensitivity" and the guilt they feel for having sold out to the Power that wants to portray us as "troubled, socially impressionable youths."
We're not looking for fake sympathy or support from the Left. Far from it. We seek accomplices to the same crime: the fight for anarchy and freedom.
There can be no more appropriate place for our search than the prisons that constitute an obligatory stop on the path of many anarchist comrades.
Therefore, comrades, we present you with a proposal/invitation.
In a few months the second Conspiracy of Cells of Fire trial will be held.
Even now we know that they will sentence us, and not for one minute will we take a step back, nor will we lower our heads or our voices in order to benefit from some "extenuating circumstance."
Therefore, there can be no better or stronger argument for our defense that your own voice, comrades. It's from your expressions of solidarity and the attacks carried out by anarchist direct action groups that we draw the courage to look our persecutors directly in the eye. Surely you've felt the same thing, imprisoned in other countries and paying the same price for our shared passion for freedom.
More specifically, what we're thinking about and proposing is to release, ahead of the trial, a pamphlet containing your international words of solidarity with the Conspiracy of Cells of Fire case.
At the same time, given that solidarity is a reciprocal concept to us, we'd like it if those of you who want to contribute something—thereby giving us strength and support—accompany it with an introductory text explaining your own case.
The pamphlet we want to release will thus include summaries of each of your cases, carrying your own experience of struggle to Greece and the other countries where the publication will be distributed, creating new opportunities to instigate hostilities with the system as part of international solidarity.
Together we will create an international experience of struggle that far exceeds our specific case, since we don't view the Conspiracy of Cells of Fire as the simple calling card of an organization. We view it as a way of being that describes and comprises the features and trajectory of the anarchist struggle we're all engaged in, another part of which is our time spent in prison.
This is an experience we want to share with all you comrades who find yourselves prisoners in the hands of the State, and it's simultaneously a proposal through which we can also be accomplices to your experiences.
It thus becomes possible to reach, within international anarchist circles, a level of unity and coordination that isn't vague, but essential.
Contact between comrade prisoners at an international level transforms solidarity into a revolutionary workshop, revealing the different perceptions that shape a joint anarchist action front.
The first contact between us will be capable of creating the preconditions that open up an international dialogue among prisoners as well as comrades on the other side of the prison walls—a dialogue in which each person's specific perceptions and analyses can be discussed, thereby promoting coordinated attacking actions against the State. Of course, this doesn't mean the fusion or the dismissal of different opinions
Additionally, such differences cannot and must not be obstacles to reciprocal support.
This is about trying to move from sympathy, which has developed among us through letters and shared textual references, to international coordination. It's about trying to become accomplices, together forming the Black International of anarchist prisoners and supporting—if so desired—our Italian comrades' proposal regarding the strengthening and broadening of the Informal Anarchist Federation/International Revolutionary Front.
The potentialities opened by this commitment are enormous, since it concerns a process of intensifying hostilities between revolutionary anarchists and the system.
It's worth imagining the strength gained by something that, for example, begins in Chilean prisons, crosses borders, and winds up in the cells of Greece. An international solidarity campaign can thus be initiated from prison, just like in the past when it was a matter of supporting comrade Gabriel Pombo da Silva.
At the same time, the formation of an autonomous network of communication among prisoners creates the appropriate preconditions for the existence of a permanent flow of information about what's going on in each prison, the conditions of imprisonment, upcoming trials, potential sentences, and ultimately the preparation of a counterattack plan by comrades outside prison.
For each sentenced comrade, for each disciplinary measure, for each prohibited letter or visit, for each vindictive transfer: no guard, no embassy, and no police officer should feel safe. When prisoners have the potential to communicate in their hands, there will be decisive comrades everywhere responding with action, sabotage, and fire.
We consider the proposal to release the International Words of Solidarity with the Conspiracy of Cells of Fire pamphlet to be the first step in that direction.
There will certainly be many more steps to come, but at some point one must simply begin.
In conclusion, we salute and stand beside—with our thoughts as well as our hearts—the Chilean comrades charged in the Bombings Case and also comrade Tamara, who is facing State persecution for sending a letter-bomb.
From the prisons of Greece we send anarchist smoke signals to Mónica Caballero, Andrea Urzúa, El Viejo Loco, and the rest of the comrades charged in the Bombings Case; Gabriel Pombo da Silva; Thomas Meyer-Falk; Marco Camenisch; Silvia, Billy, and Costa; Braulio Arturo; Walter Bond; Villarroel and Fuentevilla; Thomas Black and the English antifascists; the imprisoned Italian insurrectionists; the Russians and Belarusians; the Danes; and all those we've forgotten or whose names we simply don't know but want to know, because all of us have together chosen to sail against our epoch, using anarchy as our compass.
The following excerpt is dedicated to us all:
One day of prison. Two days of prison. Three days of prison. A month of prison.
The door closes and opens, then closes and opens again. Three months of prison. A year of prison. I need to know if others are thinking about me as much as I'm thinking about them. The days can't go by fast enough now. Four-hundred-eighty-two days of prison. Four-hundred-eighty-three days of prison. Four-hundred-eighty . . . I've lost count. Fuck. It's better that way. Counting is no good in prison. The arithmetic makes no sense whatsoever. Prison has its own smell. A smell that gets all over you and follows you around. I'll never manage to get it off me. Yesterday marked two calendars in prison. Two fucking years. I don't get any sleep. I've forgotten how to smile and now I can't dream. "Clink clink" in the night. They wake me up for a search. Maybe they'll find the shanks? Seven-hundred-fifty-one days of prison. Are you satisfied, my dear judges? Pigs. Seven-hundred-fifty-two days of prison, pigs. Seven-hundred-fifty-three pigs. Coming and going and off I go. Coming and going and off I go. My cell is three meters by three meters. From the second floor window I see 20% of the sky over the top of the fucking prison wall. I walk through the yard like an automaton. I walk kilometers in a yard measuring just a few meters. Boredom and boredom again. Today I vomited up my very soul. I vomited bars, walls, solitary confinements, years of prison, judicial sentences. I vomited three years of prison. I don't want to count anymore. I completely close my eyes and think. I think about my comrades, whom they're keeping far away from me in other prisons. I think about fires on the prison roofs. I think about everything prison has tried to make me forget. I think about a smile, a caress, a journey that doesn't end over there where the wall ends, a glance that isn't trapped behind the fucking prison bars. I stop thinking. I open my hand. I look at the metal file I have. Now I know. I know exactly what I have to do. Let's go then, once again. This time with feeling. Until the end. Long live Anarchy.
—An altered excerpt from the text signed by J. and V.
LONG LIVE THE CONSPIRACY OF CELLS OF FIRE. LONG LIVE THE INFORMAL ANARCHIST FEDERATION/INTERNATIONAL REVOLUTIONARY FRONT.
P.S. The current proposal to release the International Words of Solidarity with the Conspiracy of Cells of Fire pamphlet will be mailed to all our imprisoned comrades around the world. In order to counteract potential difficulties (censored correspondence), and due to the lack of information regarding certain comrade prisoners (unknown prison mailing addresses), our proposal will also be posted on anarchist Web sites. But what's crucially needed is that our comrade prisoners be informed. All responses, texts, comments, and critiques can be sent by e-mail to sinomosiapf (at) riseup (dot) net and by conventional mail to:
Post Box 51076
TK 14510 Nea Kifissia
Athens
Greece

— Imprisoned Members of the Conspiracy of Cells of Fire : Panayiotis Argyrou, Michalis Nikolopoulos, Giorgos Nikolopoulos, Gerasimos Tsakalos, Christos Tsakalos, Giorgos Polydoras, Damiano Bolano, Haris Hatzimichelakis, Olga Economidou
Tags: 14/14, Braulio Arturo, Chile, Christos Tsakalos, Conspiracy of Cells of Fire, Conspiracy of Cells of Fire : Imprisoned Members Cell, Damiano Bolano, Gabriel Pombo da Silva, Gerasimos Tsakalos, Giorgos Nikolopoulos, Giorgos Polydoras, Haris Hatzimichelakis, Informal Anarchist Federation (FAI), International Revolutionary Front, International Solidarity, International Words of Solidarity with the Conspiracy of Cells of Fire pamphlet, Marco Camenisch, Michalis Nikolopoulos, Olga Economidou, Panayiotis Argyrou, Proposal, Thomas Blak, Thomas Meyer Falk, Walter Bond
Posted in Prison Struggle
Friday, September 16th, 2011
UPDATE : CRISTOBAL IS FREE UNDER JUDICIAL CONDITIONS TO SIGN AT THE POLICE-STATION TWICE A MONTH UNTIL THE TRIAL (THE DATE IS NOT DECLARED YET).
Urgent news of an arrest of a comrade in Chile, our quick translation:
Yesterday a vegan anti-authoritarian comrade, Cristobal Bravo Franke, was arrested and accused of being involved in an attack on a minion of power at the commemoration of September 11 in Chile (the date on which the military coup occurred in 1973 always has large anarchist/anti-authoritarian demos).
From the press, faithful followers of the police, they spout that the comrade was being investigated in the "Caso Bombas" (A case in which power, on 14 August last year, placed a vengeance against 14 comrades for scores of attacks they could not solve.), and Cristobal was watched and persecuted.
Unfortunately for the comrade, Attorney Alejandro Peña himself has taken his case, this bastard is responsible for implementing "Operation Salamander" (which was the official name of the so-called "Caso Bombas" by the press) that actually took 14 comrades to prison. …
On the other hand, we call to be cautious about the information which is coming out about the situation, because so far nothing is made public [other than this statement], as even the words of those who represent you in court is not significant until we hear the words of the comrade himself.
This does not mean that we stood still against this repression …
Desde acá te enviamos un abrazo en revuelta a tí y a tus cercanxs, hermanándonos en tu actitud beligerante frente al enermigo.
DEFEND THE COMBATIVE SPIRIT
URGENT SOLIDARITY WITH CRISTOBAL!
Tags: 14/14, Arrests, Chile, Cristobal Bravo Franke, Repression, September 11
Posted in Prison Struggle
Tuesday, June 14th, 2011
Video received from Arde Moyano Records about the legalistic implications of the so-called 'anti-terrorist' investigation – "Caso Bombas"/"Bombs Case" – in Chile, which has struck the country with draconian repression since August 14 2010. Many comrades have been swept along in this frame-up, which sought to connect anarchist spaces, projects and individuals into an assumed organisation of 'terrorism'. Already the comrades went through an arduous and long hungerstrike, solidarity to the companer@s! Down with the walls of all prisons! Below is the note from Arde Moyano Records about how to select the subtitles with an instructive image following:
"Comrades, we have subtitled this video from the Spanish to the English. Now available in Spanish, English and Italian. We attach a image about how to select the subtitles. Please, spread this information in all parts of the English-speaking world. Thanks."
Tags: 14/14, Chile, Video
Posted in Social Control
Monday, June 6th, 2011
From culmine, rough translation by sysiphus.
4 June 2011
"Today one day from Luciano Pitronello's accident and then the foul media handling, Today when the Peñi [Mapuche prisoners] have reached 80 days of liquid hunger strike, when the 'caso bombas' continues, when wages do not stop being worth less and Education is still used by the guardians of the capital as a tool of indoctrination. We masked up in Temuko and decided to break with everyday habits and show our discontent. Reclaiming the subversive struggle as a legitimate tool against capitalism and all forms of oppression.
Thus, when our spontaneity walks with us and the image of Luciano is no longer molested by the bourgeois press, a group of comrades decided to attack the headquarters of Santander in Santiago paradoxically located in front of the library within the university it is not surprising. The attack included molotov cocktails, paint, and camotazos that broke the cynical image of the thieves, with each stroke claiming the destruction of capital and all the institutions that crush the dignity of the oppressed, recalling with each stroke the act of overcoming fear, like the comrades early Wednesday at the intersection of Victoria Vicuña Mackenna, as they pick it up again today as an example of struggle and therefore against Capital and all authority.

Solidarity with Luciano and his family and all brothers and sisters that attempt and will act against capitalism and the state."

YOUNG COMBATANTS, PERMANENT INSURRECTION
Tags: 14/14, Chile, Luciano Pitronello Schuffeneger, Mapuche, Santander Bank, Solidarity Action, Temuko, Young Combatants
Posted in Direct Action
Sunday, June 5th, 2011
Update: Luciano has awoken from the coma.
Received from ArdoMoyana Records:
Sisters and brothers, painfully and ever alert to the developments of Luciano's condition, we can't sit idly. We make a call to show solidarity in every way possible with Luciano. That's why we designed these posters*, to call for solidarity without limits.
We take advantage of telling you that Luciano NOT LOST HIS EYES. He has been seriously injured, but has not gone blind. (more…)
Tags: 14/14, Chile, International Solidarity, Luciano Pitronello Schuffeneger, Poster
Posted in Prison Struggle
Sunday, May 29th, 2011
from Culmine, translated by War on society:
The 23rd of May, at 2am, we set off an explosive device in the branch of BBVA-Bancomer located at Calzada Ignacio Zaragoza and Agua Caliente in the Iztacalda Delegación of Mexico City.
The target chosen is not accidental. This bank, Spanish in origin, is the second largest bank in Latin America and the first in management of pensions and securities. These are some of their "corporate responsibility" strategies: fomenting military conflict in the world by financing armament companies and armament trade, financing of cluster bombs (used by Gadafi to bombard Misrata in Libya), laundering drug trafficking money, financing of highly polluting projects (the Heavy Crude Pipeline (OCP) in Ecuador, Gasyrg pipeline in Bolivia, ENCE mega-papermill in Uruguay and financing of open-pit mining in Chile and Peru), financing of Repsol YPF and Iberdrola (which product energy in part from fossil fuels) contributing thus to CO2 emissions and climate change.
Although Mr. Mancera labors to disqualify this morning's action, speaking of hooligan youth with their faces covered, through this communique we want to say that we have motives for attacking these symbols of capital. In the face of what we consider strategies of extermination, we will respond with fire until the last of these neocolonial companies disappears from this country and from the world.
We claim this action as a form of solidarity with our imprisoned comrades in Chile. With this action we also remember compañero Mauricio Morales who fell dead when an explosive device went off that was to be used against the School of the Gendarmería.
Solidarity knows no borders. Nor does insurrectional action.
For the destruction of the capitalist system
For the freedom of the 14 political prisoners of $hile
For the freedom of our imprisoned Mexican comrades Adrián Magdaleno and Braulio Durán
For the freedom of our imprisoned comrades in Greece, Belarus and EU
In memory of Mauricio Morales and Patricia Heras

CRIA (Insurrectional Anarchist Revolutionary Cell)
Tags: 14/14, Adrián Magdaleno, BBVA-Bancomer, Braulio Durán, Chile, CRIA (Insurrectional Anarchist Revolutionary Cell), International Solidarity, Mauricio Morales, Mexico, Mexico City, Patricia Heras
Posted in Direct Action
Friday, April 29th, 2011
28/04/2011
A few individuals gathered yesterday at the Chilean Embassy in central London as a small token of solidarity to the Anarchist comrades in Chile (on their 65th day of hunger strike).
A banner was opened that read FREEDOM TO THE ANARCHIST COMRADES IN CHILE, ACCUSED IN THE "CASO BOMBAS" ON HUNGER STRIKE SINCE 21/2/11-. Some went into the embassy and threw flyers into most offices and entrance area while screaming IMMEDIATE FREEDOM TO THE CHILEAN ANARCHISTS ACCUSED IN THE CASO BOMBAS CASE!. Fliers were also given to passersby and workers in hard hats on the scaffolding of a building opposite, who broke into a shout of FREEDOM! with fists raised (for them it was a bit of a joke) along with the comrades.
Staying outside with the banner raised for a while, after a pointless (obviously) talk with the ambassador we walked down the street with the banner and did a lightening demo through Scotland yard and Westminster Abbey area, past the media of the world to give them a nice backdrop for their interviews of followers/slaves of the monarchy camped out to await the royal circus on Friday, throwing fliers behind us.
After that we all went our separate ways.
FREEDOM TO ALL IMPRISONED FIGHTERS
DESTROY ALL PRISONS
Random anarchists in London
Tags: 14/14, Chile, Demo, Hunger Strike, International Solidarity, London, UK
Posted in Direct Action
Wednesday, April 27th, 2011
Received via email:

ENGLISH:
Today, April 26th, our partners, kidnapped in the "Bombs Case" montage, have decided to finish -in the day #65- their hunger strike since February 21th. About the decision that they have taken, we're waiting that the comrades themselves write a release with their reasons, because no 'news' will tell us how they feel or why the hunger strike is over, if it is not them themselves who tell us.
However, the fight for their freedom continues and now we must support them in their recuperation after the long fast, no only materially but morally too, as has been going on. So that the solidarity doesn't stop. Our forces go for them.
That the fear doesn't destroy solidarity…
That the solidarity destroys prison.
KIDNAPPED BY THE STATE TO THE STREETS!
Tags: 14/14, Chile, Hunger Strike, Repression
Posted in Prison Struggle