Posts Tagged 'Car Burning'
Wednesday, January 28th, 2015
Via Contra-Info:
Wednesday 21st January around 3 o'clock in the morning, four vehicles of a real estate company in Leipzig were torched: the cars destroyed by flames were all high-end vehicles (3 Mercedes and 1 Audi). This incendiary sabotage was claimed on Sunday 25th January by "Autonome Gruppen":
In the night of 20th-21st January 2015, we attacked during a targeted action the whole fleet of vehicles of the multi-million euro real estate speculators GRK Holding in the southern-centre of Leipzig, and with this we delivered flames to four vehicles. The real estate company referenced is one of the largest long-term profiteers of gentrification in Leipzig. Spread throughout the city, the big company projects are either under construction or have already been completed. The systematic terror against the tenants is still high on the agenda, such as gentrification ensuing the cheaply purchased property renders Leipzig more attractive for people with a higher monthly income.
"Founded since 1991, GRK-Holding AG manages and leases, exclusively and qualitatively, high-end properties in and around Leipzig."
This is enough reason to show these dear ladies and gentlemen that their actions don't remain without a response. This took place whilst we deposited incendiaries to four vehicles parked in front of the headquarters of the company and a truck parked in the yard, four vehicles and a carport in the flames of our hatred. (more…)
Tags: Arson, Car Burning, Germany, Leipzig
Posted in Direct Action
Thursday, December 11th, 2014
Edited version via InterArma:
*NEITHER HOLIDAYS – NOR UNIVERSITY EXAMS*
*FIRE TO PRISONS*
"I stand here as your declared and unrepentant enemy, I do not beg for
your lenience, I do not seek to engage in dialogue with you and your
peers. My values are at war with yours, so that every phrase I come out
with against you is a razor scoring the masks of your hypocrisy and
making clear the position and the role of each of us. You redact
hundreds of pages of files and you constantly form new cases, in order
to bury us in the prisons of your democracy, for decades. You are
preparing to impose "special detention conditions" on us, which is the
only coup missing from the pantheon of "special treatment" (prison
transfers, trials, laws), which you create to fight us. The simple laws
of physics dictate, that reaction is the consequence of action. Outside
this courtroom on free lands, there are rebelious people, comrades for
me, terrorists for you, who don't intend to tolerate our extermination,
without making you and your political supervisors bleed first. You can
take this as a threat if you like. I believe, that this is the cynical
reality. Each option has its own cost. I guess, that, as judges and
servants of the law, you would agree with me on this."
(Nikos Romanos)
Fragment of the statement at the trial for the robbery in Velvento, Kozani
In the frenetic and ever changing social reality that surrounds us, even
the scientific consultants of the bellwethers of the capitalist system
fall out in their predictions. In addition to the individual
geostrategic choices of their peer competitors (Palestine, Syria,
Ukraine, Iran, etc.) and some flaws and contradictions of the system
that appear to be sharpened during the (because of this) exacerbated
condition of the ongoing structural crisis, that which crumples the
fragile humanitarian masks of statists and refutes, constantly, every
certainty about the future, every myth concerning the omnipotence of the
state and any idea about the futility of the liberation struggle, is the
imponderable factor of the insurgents of this world.
The 'europeanisation' of the Greek prison system, the aggravating penal
repression of social struggles, the escalation of counter-terrorism
policy dictated by interstate police conferences about Justice and
National Security, the bounty on the heads of revolutionaries and the
recent legal establishment and announcement of the construction of a
high security prison (type C) in Domokos, that aims primarily at
prisoners involved in cases of armed revolutionary action, are all
"signs of the times" and expressions of class domination of the vast
majority of formal and informal social institutions controlled by the
State and Capital. The global and multi-level, capitalist and cultural
restructuring attempted, with the economic crisis as pretext and means,
requires social "peace", mass vassalage, individualization and above all
annihilation of "internal enemies".
There are, however, times when the analyzes are redundant, rage and
hatred for the established order become a stream that threatens to drown
not only the usurpers of our lives but also every indolent, hypocritical
challenger and inactive, indignant humanist. There are no excuses! We
are constantly looking for ways to escape the grid of imposition of
domination and strive to reclaim moments of an – in advance – alienated
life, deregulating and seeking to dismantle the clocks of the social
machine, while maintaining an open bet of anarchist revolution and total
rupture with the regime.
***
The imprisoned anarchist urban guerrilla Nikos Romanos, friend of
Alexandros Grigoropoulos, who was present at his murder by the uniformed
worm Korkoneas, is one of the dozens of anarchist prisoners of war of
the Hellenic Republic, who in recent years have faced the inquisitors of
the judicial mafia and the special treatment reserved for political
enemies of the system, and who boldly defended the project and the
values of Anarchy, taking responsibility and having the costs of certain
choices stemmed from them, regardless of the jumble of prosecutions
against them and the harsh conditions of incarceration, that have
implications on their physical existence and freedom.
Since 1st February '13 when he was arrested after a car chase following
the double expropriation of state money along with his comrades
G.Mihailidis, A-D.Bourzoukos and D.Politis in the city of Veria and the
province of Kozani, comrade Romanos, a member of the Informal Anarchist
Federation, is now among those anarchist prisoners who found themselves,
and among other people "accused" for participating in armed
revolutionary groups, temporarily in Greek prisons for bank robberies,
which were chosen as a means of disengagement from the established,
time-consuming living solution of wage slavery and of the strengthening
of the urban guerrilla warfare.
From the juvenile prison of Avlona, he participated in the national
exams and he is now considered – by law – as a student at TEI of Athens
and he is entitled to prison leaves in order to attend the courses,
which the State refuses to grant him. (A similar example is the case of
political prisoner Hercules Kostaris, convicted for involvement in the
Revolutionary Organization 17 November, who has taken over 200 regular
and educational prison leaves in recent years, which were stopped on
the pretext of the runaway of Christodoulos Ksiros). Not having any
illusions about the institution of education as a tool of subjugation
and domestication of people in the hands of Domination and the role of
the university as a factory that produces docile slaves in the service
of the capitalist profitability and normality, our comrade, who is now
in Korydallos prison refusing to unravel the maypole of the
responsibilities of the prison council and the special interrogator
Nikopoulos, is on a hunger strike since November 10th demanding the
granting of his "right", for a breath of freedom!
Factual solidarity and support in this difficult struggle have already
been expressed by the others "arrested for Velvedo case" also with a
hunger strike inside the walls. At the same time, a broad, diverse
solidarity movement has developed throughout the Greek territory, while
public propaganda moves and nocturnal "interventions" are made abroad.
***
Remembering the axiom of uncertainty in the natural world and rejecting
the classical, deterministic conception of the proletarian onslaught at
the sky, the centralized organization models of the Struggle and
optimistic estimates of a shallow, reformist, idealism of "maturation of
the objective conditions", we are there where ideologies impact on the
brutal reality; where the existential rebellion is combined with
horizontal and autonomous class struggle with internationalist and
anti-state character, as it is manifested in each specific
circumstances, becomes an integral part of the social war and seeks to
place anarchist characteristics for the war against Authority and the
liberation of Man and Nature; there where our conventions and
contradictions in everyday life do not prevent us from seeing the
tactical utility and to recognize the partiality of "intermediate
struggles" and the necessity of organizing the anarchist struggle as a
whole, individually and collectively; where only those who were
imprisoned, tortured or killed for devoting themselves to the project of
social liberation, without bowing their heads, can perceive the nobility
of soul and motivation in all its glory; where the consolidation of fear
as a permanent emotional state does not find fertile ground and its
every germ is forcibly uprooted as a parasite that sucks the evergreen
tree of the Revolution; where, at present, the theory meets practice and
any trace of doubt regarding answer to the dilemma of the Selection of a
submissive life or a life in Battle is nullified in front of the rise of
anarchist conscience; we are at the point of no return …
We are inspired by the shooting stars and the fortitude of the people
who fought with the Beast. By night embracing us we swoop in hostile
grounds, creating oases of fire within the social desert. So, in the
morning of 1/12, we torched a school bus owned by St. Lawrence College
in Ag. Dimitrios. Also, we claim responsibility for the attack with gas
canisters, shortly after midnight on 6/12, against a car owned by the
construction company Aktor Facility Management (subsidiary of ELLAKTOR
group, known for its involvement in mining gold in Skouries, Halkidiki
and several cases of pillaging of the natural environment). The attacks
will continue.
*VICTORY TO THE STRUGGLE OF NIKOS ROMANOS*
*STRENGTH TO THE ANARCHIST PRISONERS ON HUNGER STRIKE*
*SOLIDARITY WITH THE WANTED COMRADES AROUND THE WORLD*
*LONG LIVE THE FREE MAN*
*LONG LIVE ANARCHY*
For the widespread (anti) – social insurgence,
*Eternal students at the University of Anarchist Insurrection/FAI – IRF*
Tags: Andreas-Dimitris Bourzoukos, Arson, Athens, Car Burning, Christodoulos Xiros, Dimitris Politis, Eternal students at the University of Anarchist Insurrection/FAI – IRF, Giannis Michailidis, Greece, Hercules Kostaris, Hunger Strike, Informal Anarchist Federation (FAI), International Revolutionary Front, Kozani, Nikos Romanos, Solidarity Action, Velvento, Veria
Posted in Direct Action
Friday, November 28th, 2014
[Noticias de la Guerra Social]
Durante la madrugada del 9 de Noviembre del 2014, anónimos lanzaron
cocteles molotov contra una automotora Nissan Cidef consiguiendo
incendiar y expandir el fuego por al menos 3 automóviles
Al lugar llego la policía y bomberos, quienes impotentes observaban como
el fuego consumía los vehículos a la venta que culminaron con una
perdida económica evaluada en cerca de 17 millones de pesos.
El ataque incendiario se produjo en la esquina de 5 de Abril con la
calle Aeropuerto, cerca de la Villa Francia y no se encontraron ni
panfletos ni adjudicaciones del ataque.
Durante la madrugada del 17 de Noviembre del 2014 anonimxs atacaron con
artefactos incendiarios la automotora portillo, ubicada en la comuna de
La Reina. El fuego se expandió sobre un auto de lujo, el artefacto
incendiario –según la prensa y la policía- habría estado compuesto por
balones de camping gas y botellas de plástico con combustible.
Esta vez tampoco se encontraron ni panfletos ni rayados relacionados con
el ataque incendiario.
Tags: Arson, Car Burning, Chile, La Reina, Nissan, Santiago
Posted in Direct Action
Saturday, October 11th, 2014
325 receives and transmits:
Early Tuesday morning (7 Oct. 2014), a German federal police car was set on fire at the Badischer Bahnhof (train station) in Basel. The car was completely destroyed. This action was in solidarity with the struggling refugees in Berlin and everywhere!
There, as here in Switzerland, people are degraded to problems for which a solution should be found. The solutions of politicians and authorities, as well as the cops as their henchmen, always mean confinement to detention centers, repression and often deportation to peoples' countries of origin, or third countries.
The struggle of migrants, which they have determined for themselves against the systematic oppression they face, encourages us and at the same time, shows us the need for us to contribute to the sabotage of this repression machinery.
This action is also our response to the upcoming European police operation 'Mos Maiorum' (13th-26th Oct. 2014), which will attempt to have 18,000 police, in cooperation with Frontex, control and arrest as many people without residence permits as possible.
Active solidarity with all struggling migrants in Berlin and everywhere!
translated from: http://switzerland.indymedia.org/de/2014/10/93441.shtml
Tags: Arson, Basel, Berlin, Car Burning, Frontex, Migrants, Mos Maiorum, Racism, Solidarity Action, Switzerland
Posted in No Borders
Sunday, October 5th, 2014
People of Kobane, hear us. In this bitter hour of the inhuman threat, we see you freedom lovers in the world and we call to you: take courage. The city of Kobane is surrounded by the ISIS-murderers. On three sides ISIS confronts the city. If they take the city. it will inevitably lead to a massacre of the remaining Kurdish people on site. They have no way to flee to the north, because there already waiting are the Turkish army …
Turkey will decide at the present day on the extension of the 'anti-terrorist' struggle. This will mainly affect Kurdish people in Syria, which they as well as the PKK (Kurdish Peoples Party) stand on the Turkish terror list. Turkey's fear of the Kurdish people is greater than of the ISIS-fighters. For example, Turkey supports the ISIS-fighters to their best of their will, for example, at border crossings to Syria or arms shipments that were observed by Kurdish people, or the medical care of injured ISIS-fighters in Turkish territory. On the Turkish side of the border, the Turkish army is using force of arms against all those Kurdish people trying to come to Kobane to oppose the corruption. Clashes occur daily there between Turkish security forces and Kurdish people who come from all over Turkey to help the trapped fighters of YPG in Kobane.
Tonight we have attacked the Turkish State in the NATO hinterland to brand it as an inhuman actor in this conflict. Two vehicles of the Turkish State – representatives of the Embassy are burned … At the same time, we appeal to everyone, not to stand idly by, ignite the solidarity for our brothers and sisters.
We tremble with the combatants, but their determination is our courage. We will not abandon the ideals and freedom. Maximum global solidarity!
Long live freedom!
In Memory of Berivan Sason, fallen but never dead!
Commando Berivan Sason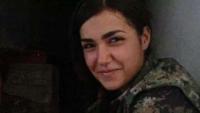 NB: Ceylan Ozalp (Code Name: Berivan Sason) was an active fighter and leader with several comrades in the northern Syrian Kurdish city Kobanê in armed resistance against the ISIS/Daesh.
Tags: Arson, Berlin, Car Burning, Commando Berivan Sason, Germany, International Solidarity, Islamic State in Iraq and Syria (ISIS), Sabotage, Turkey
Posted in Direct Action
Tuesday, February 18th, 2014
On the night of February 11-February 12, 2014, a vehicle of SPIE burst into flames, on Carducci street (ΧΙΧe).
SPIE is involved in the nuclear industry, in the optical fiber digital network and in the "1,000 cameras" plan, in the city of Paris. For these reasons, it must be attacked everywhere, all the time.
Snitch hunting has begun!
We send a greeting of love and struggle to the comrades whose trial started on February 3, in Koridallos women's prisons. For anarchy!

Source: Nantes Indymedia
Translated by Inter Arma
Tags: Anti-Nuclear, Arson, Car Burning, France, Paris, Solidarity Action
Posted in Direct Action
Friday, January 10th, 2014
Action report censored by the pacifist-judiciary of Indymedia UK:
8th of January – incendiary device on delay left at Kia car showroom, Lower Bristol Road, Bath. Damage to the building facade. A brand new 4-x-4 and three cars also consumed by the flames. A direct attack on exploitative manufacturing industries who profit from choking our world, who also make status symbols for our class enemies. This section of the Earth Liberation Front and Informal Anarchist Federation has them in our sights.
With the cops cleared of the execution of Mark Duggan that started the riots of 2011, as good a time as ever to re-ignite the streets.
Unfortunately for the enemy, the 32 year old man arrested for the action has no relation to our group.
Active solidarity with:
- the stirrings of new struggle against road building programs in the UK (traces of which we saw in Combe Haven), specifically with the ones who won't take the path of liberals and pacifists next time.
- Swiss anarchist Marco Camenish (who is on hunger strike and refusing work since the 30th of December) and also informal anarchist prisoners Alfredo Cospito and Nicola Gai in Italy.
- Henry Zegarrundo (who we recognise as a kindred spirit through his letters) targeted by the Bolivian prosecutors, those on the run, and the anarchist and indigenous peoples still fighting the highway development.
Bristol – Toluca – Jakarta – Moscow – Buenos Aires – Melbourne – keep the fires burning

Perennial Resistance ELF-FAI
Tags: Arson, Bath, Car Burning, Earth Liberation Front, Fuck the Police, Henry Zegarrundo, Informal Anarchist Federation (FAI), International Solidarity, Marco Camenisch, Mark Duggan, Perennial Resistance ELF-FAI, UK
Posted in Direct Action
Saturday, August 3rd, 2013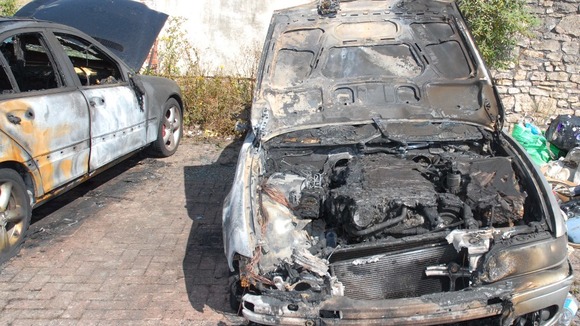 24 July – Mercedes and BMW set alight that were parked at Barry Football Club, South Wales. No one was arrested or injured. Police appealed for information because they have none.
July 30 – Three car fires in South East Ipswich were all the work of arsonists. Afterwards in the local media, police appealed for more information and revealed more acts of property damage had taken place, including against two of their own police cars. It all kicked off when a blaze broke out in Ravenswood Avenue at about 12.40am, when a number of people reported a car on fire in a wooded area on land between Ravenswood Avenue and Gainsborough Sports Centre. An East Ipswich fire crew turned up and had the flames under control by 1.03am. The damage was so bad that no identifiable features remained on the vehicle, which is thought to have been a Vauxhall Vectra or similar. At 4.17am, a Ford transit van was reported alight in Fletcher Road – and then a stolen car in Landseer Park at 5.05am. Between the fires, at 4.38am, a grey BMW and a black Ford Focus were damaged in Orwell Gardens. Shortly before 6.45am it was discovered the windows of a police car were smashed in Clapgate Lane, at the Ipswich south east safer neighbourhood team base. At 8.15am another police car was found to have had its windows smashed and damage done to the body work in Heath Road, at the Ipswich north east safer neighbourhood Team base.
Tags: Arson, Barry, Car Burning, Fuck the Law, Ipswich, UK, Wales
Posted in Direct Action
Monday, April 15th, 2013
Arson and damage against Mitie vehicles in Bristol
Over the weekend we attacked 2 different Mitie vans. Behind the "Bush" pub 5 minutes from Templemeads, on a sunny evening during rush hour we took the opportunity to spike two wheels and pour paint stripper over the vehicle. We may have been seen, so what, good luck to em, we look just like everyone else.
We chose not to only push our struggle in the hours of darkness, recognising that our expressed anger, if witnessed, probably leaves a question in the mind of the onlooker. On this occasion we decided the risk was worth it. We also burnt a Mitie van in East Bristol, setting fire to it at night.
Mitie are one of several companies to have benefited hugely from the privatisation started by Thatcher in the 1980s. The outsourcing of immigration prisons such as Campsfield was one step in building an empire which now includes prisons, youth offender institutes, probation services, and extends to housing and "sustainable" energy sources. We are not asking for state controlled versions of the above. But calling for fire to all prisons – immigration, youth or otherwise.
As well as "detention centres", Mitie now run 6 different prisons -including 2 youth offender institutes. They are partners with the UK Border agency and the Prisons Service. Last year workers for Mitie in London went on strike after a pregnant worker was badly mistreated, and ended up in hospital whilst working for Mitie.
Across the country, people of all ages are placed in the "care" of Mitie and are beaten and denied their freedom. These small actions are in solidarity with them, and anyone who was on the streets this weekend.
Mitie claims to support people but their move into housing and energy do nothing to change the fact that they are intent on profiting from any aspect of life.
Fire to the prisons!
Burn in hell Maggie!
Tags: Arson, Bristol, Car Burning, Margaret Thatcher, Mitie, UK
Posted in Direct Action
Saturday, March 23rd, 2013
The DB burns as a solidarity token for imprisoned anarchists in Greece!
In the early hours of February 27th, in search of a suitable target for a solidarity action with Nikos Romanos, Dimitris Politis, Andreas-Dimitris Bourzoukos and Yannis Michailidis, we spotted a vehicle belonging to the Deutsche Bahn in the neighbourhood of Prenzlauer Berg, in Berlin, which we wrapped up in the flames of international solidarity.
At the Deutsche Bahn AG (German railway corporation), ten managers of its subsidiary DB International have bribed public officials for engineering services contracts in several African States and in Greece, as the Frankfurt judiciary confirmed (according to a report of the 'Süddeutsche Zeitung' in April 2010).
Since 2008, in a number of legal battles, it has been documented that the German companies Siemens, MAN Ferrostaal and Deutsche Bahn have bought off politicians in Greece on a large scale, and thus 'financed' political decisions in their favour. So, the Siemens Group alone 'invested' since the mid-1990s and for about a decade 15 million euros per year in Greece, in order to propitiate in this way politicians of both major parties, Nea Dimokratia and PASOK.
While another Deutsche Bahn subsidiary, the Schenker logistics company, transports war supplies for the Bundeswehr (German armed forces), the Deutsche Bahn and the Defense Ministry are running a symbiotic cooperation: "The BwFuhrparkService GmbH has developed and implemented an economical and customer-oriented mobility concept for the German military. [...] The company is a joint venture of the Ministry of Defense as well as the Deutsche Bahn AG. The BwFuhrparkService guarantees customized logistic concepts, reduction of costs and an increase of the utilization and provision of secure vehicles. As a mobility services provider of the German military, the company offers comprehensive experience in the management of more complex fleet vehicles and the production of individual fleet solutions" (excerpts from dbfuhrpark.de/index.php?id=131).
In January 2013, Dr. Rüdiger Grube spoke on the topic 'The Deutsche Bahn AG – Current Challenges and Perspectives' at the military academy of the German armed forces, while 61-year-old Moorburger—chairman of the board of the Deutsche Bahn in Berlin since May 2009—explained to over 200 guests the DB AG corporate strategy and processes.
On the 16th of April, the DB Mobility Logistics and the Berlin's BFD ('Vocational Advancement Service' for the education and training of military personnel) will hold a Soldiers Day under the motto 'No job like any other.' The event is aimed at men and women soldiers who are interested in being trained and employed by the Deutsche Bahn.
Therefore, we classify the Deutsche Bahn as a de facto belligerent power and component of the German military/NATO, that will not allow any social changes in Greece but will rather go to any lengths in order to assist the suppression of a revolt. The Deutsche Bahn is one of the German enterprises that profit from the crisis in Greece, as was its predecessor, the Reichsbahn during German fascism.
Last night's fire was meant to show to the prisoners Nikos Romanos, Dimitris Politis, Andreas-Dimitris Bourzoukos and Yannis Michailidis that we are aware of their arrest and torture on the 1st of February after the double robbery in Kozani, and here, in the heart of the beast, we will try everything possible for the downfall of capitalism and its helpers.
Long live Anarchy! Death to all States!
Chaotics of the Night
Tags: Andreas-Dimitris Bourzoukos, Arson, Car Burning, Deutsche Bahn, Dimitris Politis, Germany, Greece, International Solidarity, Kozani, Nikos Romanos, Yannis Michailidis
Posted in Direct Action
Wednesday, March 13th, 2013
We have received message from our comrades: "We have burned a big Ford nearby VDNKH subway station about two weeks ago. The car had a pass of Police ministry behind a windshield and it looks like a typical car granted for official of medium/high level. We proclaim solidarity with all our comrades prosecuted. And you, police pigs, should know that any of your aggression etc. against freedom fighters won't be unrequited."
Tags: Arson, Car Burning, Fuck the Law, Moscow, Russia
Posted in Direct Action
Monday, February 11th, 2013
Hors Service is an anarchist journal from Brussels. It's printed in several thousands of copies and distributed in the streets of Brussels. Since a few numbers, it comes out every three weeks. Here's the translated part of disorder news and attacks of the three latest numbers.
Beyond all borders, long live the revolt – As an echo to the multiple movements of revolt in Egypt against the new power, for freedom and the end of all exploitation, the residence of the Egyptian ambassador, Fatma El Zahraa Ottman, in Brussels was attacked by unknown persons. During the night, the attackers broke the windows, threw paint on the building and started a fire in front of it, escaping before the arrival of the police. The ambassador, the representation of Egyptian power in Belgium, was at home during the attack. (more…)
Tags: Anderlecht, Arson, Belgacom, Belgium, Bravvo, Brussels, Car Burning, Charleroi, Egypt, Eurovia, Fatma El Zahraa Ottman, France, Fuck the Law, Hors Service, Laeken, Liège, Sabotage, Solidarity Action, Vinci
Posted in Direct Action
Friday, January 11th, 2013
325 receives and transmits:
Last night [10/1/13], we did it once again. Direct action based on our revolutionary values, as nihilists, as individualists and as an expression of the hatred of this society. Covered by the night, we burned a private car in Tomohon (small city in North Sulawesi), owned by an unknown person. It was a car located near the local TV station in that town. A car as a symbol of slavery, eco-disaster and the meaninglessness of life.
We believe, through direct action each revolutionary can speak, even separated by continents and nation-state borders. We believe that revolutionary actions speak loud and reach our sisters and brothers in the Informal Anarchist Federation – International Revolutionary Front.
We dedicate our action to our brother in arms, Panagiotis Argirou, –revolutionary and proud member of Conspiracy of Cells of Fire– who fell down and has to face surgery. When we heard this news, it hurt our heart. We burned a car to send our warmest revolutionary greetings to you, comrade. To let our enemies know that no revolutionary will be left alone. Strength brother! Fire of health for you.
To other members of Conspiracy of Cells of Fire and revolutionary anarchist, T. Mavropoulos: all of you are never alone. Our actions are also your revenge.
Not to forget to mention our brothers in Italy who are kidnapped by the state and are seized behind bars. To Alfredo Cospito and Nicola Gai. Our hearts always with both of you.
We also want to send our revolutionary greetings to Villa Amalias and all the free spaces that are invaded by our enemies. To all squatters who are kidnapped by pigs of the state. Your bravery inspires us to keep our heads up. 'Fire' is how we spell solidarity.
And to all anarchist prisoners: to Ivan and Carla, Freddy, Marcelo and Juan, in Chile, to Henry in Bolivia, to John Bowden, to Gabriel Pombo da Silva, to Marco Camenisch, and others around the world. This fire is a metaphor of hugs from us full of respect, solidarity and anger against Power.

Salute!
Argirou Cell
International Conspiracy for Revenge
International Revolutionary Front
Informal Anarchist Federation
Tags: Alfredo Cospito, Argirou Cell / ICR - FRI - FAI, Arson, Car Burning, Carla Verdugo, Conspiracy of Cells of Fire, Conspiracy of Cells of Fire : Imprisoned Members Cell, Freddy Fuentevilla Saa, Gabriel Pombo da Silva, Henry Zegarrundo, Indonesia, Informal Anarchist Federation (FAI), International Conspiracy for Revenge, International Revolutionary Front, Ivan Silva, John Bowden, Juan Aliste Vega, Marcelo Villarroel Sepúlveda, Marco Camenisch, Nicola Gai, Panagiotis Argirou, RO-FAI (Indonesia Section), Theofilos Mavropoulos, Tomohon
Posted in Direct Action
Friday, December 14th, 2012
7/12/2012
We claim the responsibility for the incendiary attack at the house of ex-minister of Economy and National Defence, Giannos Papandoniou. We arrived outside the door of his mansion on Olympias street in Kifissia and torched the two cars used by him and his "wife" Roula Kourakou for their meaningless movements. The personal guard the pig has could not ensure the security he seeks. Although our thoughts flirted constantly with the image of the flaming mansion and the terrorized Papandoniou and his "wife" looking for a way out, we had from the beginning eliminated such an idea since inside the mansion is also their young child which we did not want to put in any danger.
Far from a populist rhetoric we identify in the face of Giannos Papandoniou an officer of authority. We are not interested in listing the dodgy things he has done, although he surely has done many. Either way, corrupted or not corrupted, state officers, irrelevantly if they hold their positions in the state mechanism, are a permanent target for the insurrectionist dignities. We carried out our attack on the same night when four years ago cops murdered comrade Alexandros Grigoropoulos. Four years ago and someone left early, a cry of death which detonated the insurrection and the incidents we all know, four years later on the same day, a large fire and a few explosions outside the house of a stated enemy re-ignite our hate and unleash the terror towards the desirable direction. Through personal attacks we desire to burglarize their safe territorial zones in their lives. Their houses, their cars, their prodigal life. (more…)
Tags: Alexis Grigoropoulos, Arson, Athens, Car Burning, Fighting Minority / Commando Alexandros Grigoropoulos, Fuck the Law, Giannos Papandoniou, Greece
Posted in Direct Action
Tuesday, October 23rd, 2012
325 receives and transmits:
last night fire erupted in the tranquillity of bristols well-to-do redland area, targeting a marked vehicle of Standfast Ltd. besides the usual functions that led us to attack a company invested in "security" (as always, securing the sanctity of private property in mass society) one of their many cctv contracts in bristol, bath, avon, somerset and gloucestershire is both state and private schools, where as you can read in the newspapers even the toilets are no escape from the cameras. (more…)
Tags: Arson, Bristol, Car Burning, CCTV, Delta Squat, Gremlin Alley, Gustavo Quiroga González, PNW Repression, Solidarity Action, Standfast Ltd, UK
Posted in Direct Action
Monday, July 9th, 2012
From Linksunten Indymedia:
- plus an incomplete chronicle of the last three years of actions.
As one might have read in the media, in the last weeks multiple attacks on various state institutions and symbols of the capitalist exploitation machine took place in Munich. Besides the actions which are now over inflated by police and media there have been yet other attacks which took place without public notice. As one can read read on linksunten.indymedia.org 3 cars of the Office for Housing and Migration were set on fire in February of this year. On another night numerous vending machines of the MVG (Munich Public Transport Authority) were sabotaged. These are just two examples of rage expressed against the ruling order which are consciously ignored and silenced by the media and cops. (more…)
Tags: Arson, Car Burning, Fuck the Law, Germany, Munich, Paint attack, Paintbombs, Sabotage
Posted in Autonomy
Tuesday, May 22nd, 2012
Wildfire for every nationstate, the rich who run the economy and the faithful citizens. 325 receives and transmits: (Find the English translation of text below on waronsociety)
Recuento de los vehículos quemados en Cataluña y Barcelona durante el 2011 y lo que va de 2012.
¡!!La ciudad de las bombas volverá a arder!!!
Pedralbes – 27 de Marzo de 2010.
En el barrio rico de Pedralbes, a las 16:30 de la tarde y aprovechando la ausencia de viandantes en exceso, se atacó con coctels molotov un pequeño aparcamiento de ciclomotores de gama alta calando fuego a un numero 5 motos. (more…)
Tags: Arson, Barcelona, Car Burning, Catalunya, Fuck the Law, Sabotage
Posted in Direct Action
Saturday, May 19th, 2012

15 May 2012
In the district of Potsdam an attack took place which resulted in the BMW of the SPD MEP Dagmar Roth-Behrendt, (who was until early 2012, Vice President of the European Parliament), being set on fire. The car was parked in front of the property on which resides the Social Democrat since 2007. Her husband is Horst Reichenbach, the financial expert who is the director of "Task Force Greece" of the European Commission. Reichenbach's crisis management team oversees the implementation of the austerity measures agreed by the Greek state and the European Commission, International Monetary Fund and the European Central Bank.
In addition to the BMW being set on fire, a can of red paint was thrown at the house. The autonomous group "The Friends of Loukanikos"* took responsibility.
*Loukanikos is one of several so-called "Riot Dogs". This is a dog that is seen at protests and violent riots in Greece. He is a symbol of the struggle against austerity measures dictated by the International Monetary Fund and the European Central Bank.

Tags: Arson, Attack, Car Burning, Dagmar Roth-Behrendt, EU Task-Force, Germany, Horst Reichenbach, The Friends of Loukanikos
Posted in Direct Action
Monday, April 30th, 2012
325 receives and transmits. Castellano version aqui. Courage, respect and warm fire of rebellion to the anarchist-nihilist comrades in Barcelona, Cardem la Bofia…
March 6 – Barcelona metropolitan area
We belatedly claim responsibility for the arson of 15 trash bins as well as of 6 vehicles.
- At 2:49 AM, 3 bins were set alight on Floridablanca St.
- At 3:00 AM on Asia St, 5 bins and 3 vehicles were set alight, 2 of these belonging to the business Acsa and one luxury car.
- At 3:02 AM on Av. Marques de Santmori, 4 bins were set alight, and 2 luxury cars and a security company car.
- At 3:17 AM on the save avenue, 3 bins were burned.
On Mare St in Due de Lorda:
- On April 10 an ATM was burned with a molotov cocktail in a La Ciaxa bank branch.
April 10 – Montcada and Reixac
At 3:30 AM, the windows of 6 fashion stores were damaged and attack with heavy objects, breaking all their glass.
April 11 – Torrassa
- The windows of a Caixa Penedes bank branch were struck with blunt objects at 2:50 AM, then, the street was blocked off.
- At 4:50 AM, an ATM of a Caixa Bank was burned and only the next wall "Social War" was painted.
April 12 – Mercat Nou
At about 11:40 PM, a luxury car next to a Caixa Sabadell branch was burned. Minutes later, the bank branch was attacked with cobblestones.
April 13 – Sant Andreu
Between 11:50 PM and 2:40 AM, 8 fashion stores were destroyed, the (reinforced) windows struck with stones pulled from the ground and paint bombs thrown in once the windows had broken.
April 14 – Bon Pastor
At 2:10 AM, 2 excavators were damaged in a construction site. Afterwards, a telephone booth was destroyed with stones and "SOCIAL WAR" was painted on a nearby wall. At 3:12 AM, 2 trash bins were set alight.
April 15 – Carrer d'Aragó
At 2:20 AM, two molotov cocktails were thrown at a car dealership, but due to bad timing the fires did not climax as was hoped. At 3:20, paint bombs were thrown at the same dealership and the windows were broken with blunt objects.
April 16 – Raval
- At 2:30 AM, the de la Cera street was blocked off with burning trash bins and cabinets.
- At 4:50 AM, a 1 series BMW was set on fire.
April 17 – La Sagrera
At 3:52 AM, an employment office was hit with its windows broken, then paint bombs were thrown in and some combustible was thrown in although there was not time to set fire to the office.
April 18 – Santa Coloma de Gramenet
At 4:40 Am, a church was attacked, paint bombs thrown at its exterior, as well as the windows attacked with stones taken from the ground and then a statue of the Virgin Maria in the outside garden was destroyed by hammer.
April 19 – La Mina
At 4:40 PM Tessalia St was blocked off with 4 burning trash bins and with the traffic signal destroyed in order to block the traffic. At 10:40 PM, the windows of a nearby bank branch were struck and the ATM was set on fire with a small molotov cocktail.
April 20 – Glòries
At 1:20 AM, 8 smoke bombs made in plastic bottles were thrown into a police station of the Catalan police, causing a considerable amount of smoke. Then, a street two blocks away was blocked off with a cabinet that was found there, set fire with gasoline.
April 21 – Santviçent dels Horts
- At 2:30 AM, two vans of a construction company were burned with molotov cocktails.
- At 4:20 AM, outside of a security company, a Mercedes and an Audi were set on fire, both luxury cars, whose fire caused a trash bin and a dumpster to burn as well.
April 22 – Avenida Maresme
At 4:40 PM, the Avenue was quickly blocked with 4 burning tires.
April 22 – Raval
At 4:20 AM, a bank branch near Aurora St was attacked with two molotov cocktails.
April 23 – Camp de l'Arpa
At 11:30 PM an employment office was attack with stones from the ground and once the windows were broken, paint bombs were thrown on the exterior. Then, the street was blocked off.
April 23  – Salt
At 6 AM during the time when the lamps turn off, in the dark there was a threat, outside of a local police station, two luxury cars were set on fire and then several dumpsters were overturned to then be set on fire, blocking off the street.
April 24 – Verneda
At 12:40 AM a religious school was attacked with paint bombs on the exterior, the locks sealed and the windows were blown out. Destroyer schoolchildren.

Communique:
THE CITY OF THE BOMBS WILL BURN AGAIN
From religion, modern art, social relations, so-called "national culture", traditions, to historic architecture, buildings, values and bourgeois morality, to the way we talk and connect with others, to the working day which is based on the Gregorian calender -in a bid to extract the highest productivity of labour-, to the chronological composition of popular festivals (victories of ruling class history), we understand that everything is influenced by the capitalist order, every corner of this is evident in the lack of ideals in this gray and dead society, from the largely evident submission (at gunpoint) of capitalist society. The impossibility of any socially cohesive mass uprising by the majority of the hegemonic system is established in sleeping consciousness, and it seems paramount to destroy authoritarian relationships and dismantle their values. You cannot physically escape the clutches of Capital and the State, as well as their police and slave society (because nothing is white or black, we don't see only an evil system, but also the consent to it). The leftist alleged opposition schemes reproduce the values imposed from above and makes the wheel feeding back its failure of "praxis". Sexual liberation is the sponsorship of multinational corporations and an alternative you find sold in large fashion chains.
The mandarins of social harmony speak of self-perfection, seeking to put every person in their place in this rotten world, to understand, tolerate and humanize a political-economic organization consistently violent, as is the State, using war for re- economic organization… and who waive these basic pillars of civilization, is sociologically defeated and locked in prisons.
Given all this, we have emerged spontaneously bringing biopolitical emancipatory expectations, poor youth today, because we are the main victims of this dystopia, because we have nothing to lose. We have been deceived by the authoritarian and contradictory social project of capitalism, which promised a little stability, plastic happiness, fame, wealth, and gave us instead, neglect, deprivation, misery, boredom and social misery. This has meant that in recent decades, young people without security, uncontrolled and subversive have been the protagonists and instigators of riots demonstrating that during the current twist of capitalism, this is the proper objective analysis to advocate the destruction of the system. For us, the key figure in the revolution is the destructive amorality of the young vandal. For us, our comrades are the ones that that instead of occupying their schools and spouting reformist proclamations, decide to destroy the classrooms and burn the books. For us, our comrades are young offenders, youth gangs and criminal groups in a psychological exercise acquiring a position of social war against the totalitarian system. Hooded-up struggling against authority, trying to burn it. Our comrades are those revolutionary anarchists, those who hate authority, whose friendship has no limits. We have nothing to lose, do not have dreams, so we are dangerous.
The tension and conflict on our streets has continued to increase, the revolutionary struggle and power, with its criminal code, tries to fight back.
Sabotage is judged as futile terrorism and its perpetrators are accused of belonging to armed groups. They are trying to extinguish the flame and scare comrades away… Efforts have been stepped up in the form of waves of attacks, it stands up to their repression and shows we'll not abide by their authority. … These days every day, young vandals, we answer your fear with the radicalization of our practice, to raise an opposition in the streets … all this to lead to more radical conditions, with the participation of all the comrades, this involves a revolutionary civil war between the police state and young fighters. The welfare state is dead, the fighting has resumed and this time, the "admired fighters in balaclavas and military clothing, weapons experts and equipped with Kalashnikovs" are not acting, so, not like protagonist-organizations like ETA, GRAPO or FARC, the protagonists are these young savages, problematic, uprooted, these young people from ethnic minorities and lower social classes, in a nihilistic-revolutionary cry who began to open their eyes.
No sophisticated weapons, but with the character of spontaneity and related informal relationships… and that's what really scares the powerful, the fear that was given to Sarkozy in the riots of the suburbs of Paris, like the fear Karamanlis was given in the riots in Exarchia and like the fear given to Cameron, the British Prime Minister, from the powerful young people of Tottenham. And so, we appeal to all the young people in the poorer classes, to join us with stones in their hands and smelling of gasoline, to make the streets, squares and parks, a place of cohesion , correlation of attack and emancipation of our concerns.
The Catalan government and the central government talk about the disappearance of all the people who fight back, they make laws to wipe us off the map and that only makes the voltage rise: they force us to organize ourselves better and become more effective. These idiots will receive a political defeat in their "war against the violent." Rubber bullets, tear gas, the invention of shit martial-law, tortures at the police station in Les Corts, creation of a police state, closed borders, whilst their workers are protected and hide their identities… See their reaction when children ages 13, 14, 15 & 16 years burn their homes, their offices, their possessions.
We are not the resistance, we have nothing to preserve, nothing to resist the neoliberal onslaught, economic conditions automatically and systematically enslaved us, therefore we have nothing to safeguard as resistance, however, we anarchists-nihilists attack this as urban guerrillas. There are no images of the future, do not know the future which does not exist, neither remember the past, because we hate it… we reject it all.
We join with all elements of struggle, to meet the young criminals who acquire positions of conflict against the system, focusing their anger against the bourgeois structures, with the children of immigrants constantly disobeying authority of the Western world. We seek to create incendiary meetings, informal and uncontrolled, who conspire against the world of the rich. In all, we want to organize the rage in suburbs and neighborhoods and have the ability to spread revolutionary action.
As an anarchist praxis, we focus our project on the social threat and revolutionary nihilism.
To the horror, the censorship, as amended, its repression, we respond to the stress of the attacks.
THE NEIGHBOURHOODS AND STREETS BELONG TO US, GET OUT STATE OCCUPATION FORCES AND URBAN MURDERERS. AUTHORITY IS SHIT!
Mutual solidarity:
These actions are dedicated to all those in the [general] strike on March 29 who were attacked, arrested, imprisoned, judged and beaten. And this is also dedicated to all the fighters who struggle internationally in the war for freedom. Returning the warm greeting we sent and received with honor, to the brothers-comrades of the Conspiracy of Cells of Fire : Christos Tsakalos and Damiano Bolano. To the bosses, wooden-headed-pigs, bankers, journalists, fascists: This is for you.

Convert the old world into flames.
For suburban revolt.

Anarchist-Nihilists
Tags: Arson, ATM Burned, Barcelona, Car Burning, Catalunya, Christos Tsakalos, Conspiracy of Cells of Fire, Conspiracy of Cells of Fire : Imprisoned Members Cell, Damiano Bolano, Fuck the Law
Posted in Direct Action
Thursday, April 26th, 2012
325 recibe y transmite:
6 de Marzo – Área Metropolitana de Barcelona
Se reivindica con retraso el incendio de 15 contenedores así como la quema de 6 vehículos.
- A las 2:49 fueron incendiados en la calle Floridablanca 3 contenedores.
- A las 3:00 en la calle Asia se quemaron 5 contenedores y 3 vehiculos, 2 de la empresa Acsa y 1 de Gamma alta.
- A las 3:02 en la avenida marques de sant mori se quemaron 4 contenedores, dos vehículos de gamma alta y un coche propiedad de prosegur.
- A las 3:17 en la misma avenida, se quemaron otros 3 contenedores.
Calle mare de deu de lorda:
- El 10 de Abril fue incendiado un cajero con un coctel molotov en una sucursal La Caixa. (more…)
Tags: Arson, ATM Burned, Barcelona, Car Burning, Catalunya, Christos Tsakalos, Conspiracy of Cells of Fire, Conspiracy of Cells of Fire : Imprisoned Members Cell, Damiano Bolano, General Strike, Greece, International Solidarity, Molotovs, Repression, Sabotage
Posted in Direct Action