Posts Tagged 'Cardiff'
Tuesday, August 27th, 2013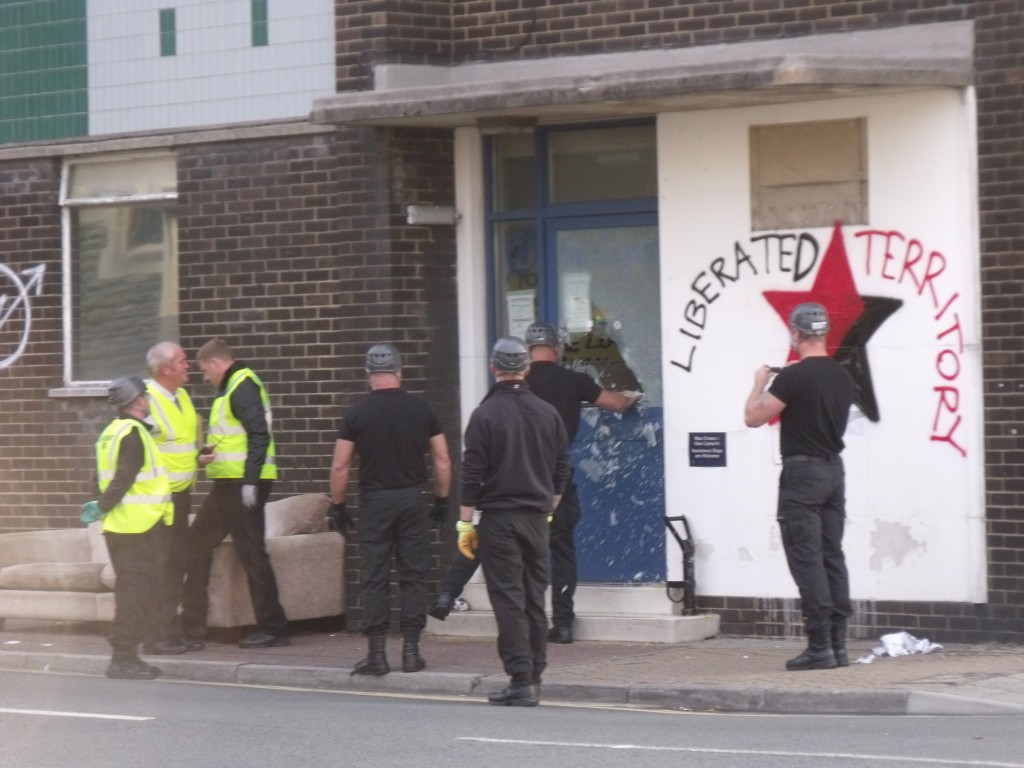 Tags: Cardiff, Eviction, Wales
Posted in Social Control
Sunday, August 18th, 2013
On August 5th cops in Greece continued their campaign of repression against squats by raiding three squatted spaces in Patras: Parartima, Maragopouleio and the Self-managed Hangout inside the Technological Educational Institute (TEI). 16 comrades were detained in total; 5 squatters and 11 supporters.
While those showing solidarity were later released, the 5 occupants faced charges in court on the 13th. Therefore the next day we painted a banner to express our solidarity with squatters facing charges and evicted from their homes. (more…)
Tags: Cardiff, Solidarity Action, Wales
Posted in Direct Action
Saturday, August 10th, 2013
On Thursday 8th August, at approximately 10am, High Court bailiffs showed up to join United Welsh representatives, police and contractors booked to secure buildings, in an attempt to evict Rumpoles, Moira Terrace, Cardiff, CF24 0NE (aka: prison squat / 0ne squat). By 12pm, without even attempting to enter, they left the occupiers in possession of the building. (more…)
Tags: Adamsdown, Cardiff, Prison squat / 0ne squat, United Welsh Housing Association, Wales
Posted in Social Control
Friday, February 8th, 2013
Solidarity with friends of Saleh family arrestees.
SUPPORT THE TWO FRIENDS OF THE SALEH FAMILY WRONGLY ARRESTED DURING THE DAWN RAID ON THE FAMILY HOME.
18/02/2013 @ Cardiff Magistrates Court
Friends arrested during dawn raid of family home:
Last October at around 6.30am Mrs Saleh and her two children were woken up by half a dozen UKBA officials and told to prepare themselves for deportation. Mrs Saleh's daughter and other friends of the family quickly came to the house and video footage of some of these events can be found here: http://www.youtube.com/watch?v=N1NXwTOnzp8
Two friends of the family were arrested outside the families home, without being told what they were being arrested for. Later at the station, charges were made up citing obstruction of UKBA officers during their official duty.
The two friends have known the family personally for some time and were well aware of the fear the family faced at the threat of being sent back to Egypt. More on the background of Mrs Saleh's claim can be found here: http://ncadc.org.uk/blog/2012/10/instead-of-protection-the-saleh-familys-ordeal-continued-in-the-uk
Their court case is on Monday 18th February 9:30am in Cardiff Magistrates court. This is a call out for solidarity with this case and the wider struggle for freedom of movement.
Friends of Saleh Family Campaign
- Homepage: http://www.facebook.com/SaveSalehFamily
Tags: Cardiff, Deportation, Egypt, Racism, UK, UKBA, Wales
Posted in No Borders
Wednesday, January 2nd, 2013
Last night as part of the international call out for noise demonstrations outside of prisons and detention centers, a group of anarchists and anti-authoritarians assembled at cardiff prison where some people set off fireworks and scattered hundreds of fliers from the top of the multi-storey car park opposite the jail (which is visible from many of the cells in the prison) whilst others sounded a siren, banged drums, threw fireworks over the wall of the prison and participated in anti-prison and anti-police chants with the prisoners who did everything they could to communicate back to the crowd gathered outside.
The fliers read "Solidarity is our weapon – Freedom now!" on one side and "Fire to the prisons, fire to the borders and fire to those who protect the system that's killing us all. ACAB" on the other.
The initial group made a speedy and tactical retreat after noticing the approaching filth accompanied by a fire engine heading towards the prison. Roughly an hour later a small group returned to set off the last firework and shout some more in support of those inside.
- some anarchists.
Tags: Cardiff, Demo, Fuck the Law, New Year, Prison demo, UK, Wales
Posted in Prison Struggle
Thursday, November 8th, 2012
Act for freedom now/ receives and transmits:
At midnight November 5th around fifteen masked-up anti-authoritarians rolled up outside the grim walls of Cardiff Prison to fire and throw fireworks over the wall, released a smoke bomb at the traffic intersection there. shouting against prisons, screws and the police and with a mobile sound system blasting and spotlights and alarms going off in the prison, the response was righteous from inside!! Prisoners shouted back from their cell windows and there was a big feeling of rage outside and inside meeting in shouts of ACAB and cheers as fireworks banged and whizzed. The fireworks got let off, there was some shouts back and forth then the motley crew disappeared before any cops showed up. (more…)
Tags: Cardiff, Fuck the Law, John Bowden, Kevin Thakrar, UK
Posted in Direct Action
Sunday, October 14th, 2012
The posse of Gremlins down at Gremlin Alley sent us a link for a video on their website:
Fuck the Law – Squat the World
Tags: Cardiff, Gremlin Alley, UK
Posted in Autonomy
Sunday, October 7th, 2012
325 receives and transmits:
We the gremlins are squatting at Gremlin Alley, City Road, Cardiff; formally known as Spin Bowling Alley and the Giety Cinema and bingo hall.
Yesterday [4th Oct] we successfully resisted an eviction from bayliffs and harrassment from police who attended for most of the day from 10AM. Banners including "We are resisting eviction: Fuck the fucking fuckers", "Solidarity with Alex Haigh, imprisoned for 3 months for being homeless", amongst others being displayed. (more…)
Tags: Cardiff, Eviction, Fuck the Law, Gremlin Alley, Squatting
Posted in Autonomy
Tuesday, April 3rd, 2012
A report from the Cardiff prison noise demo held on 31st March in solidarity with prisoners by local campaigners against the prison system and I.P.P. sentencing.
At 3:30pm on Saturday 31st of March around 25 local residents, children and anarchists gathered outside a local leisure centre for a noise demo at Cardiff prison, to show support for the prisoners and raise awareness about I.P.P. sentencing, a type of sentence that has destroyed lives in the local community. They came accompanied with black flags, a sound system and two large banners (reading "Abolish I.P.P." and "Solidarity"). (more…)
Tags: Cardiff, Prison demo, UK, Wales
Posted in Prison Struggle