Posts Tagged 'Chile'
Sunday, December 1st, 2013
Phoenix Project, Act 8: Action with incendiary/explosive device against a Board of Elections office and in solidarity with Mónica Caballero and Francisco Solar. (Chile)
We are not spectators, but convinced enemies of all forms of domination.
Today, wielding the weapons of life and the ideas of rebellion, we wanted to give away a bit of anarchic momentum.
Today, we decided to attack the 98th Board of Elections office in La Reina commune [in Santiago] with an incendiary/explosive device, because we are convinced that the current state of affairs is sustained not only by those who administer domination, but also in the servile attitude of those who tacitly endorse it.
This is also another cog of the democratic gear, due to its role in logistically organizing the entire electoral process at regional level. In simple terms, it appoints the board members of voting tables, the designated scrutineers of electoral commissions, and delegates from election offices, in addition to being the body that determines the polling stations.
We don't camouflage our obscure intentions.
Why go on the attack? Anarchy should not spend energy in obstructing the passage of a load of citizens toward the democratic rite of elections, but rather try to demonstrate that any debate between the refractories and authority is impossible. Anarchy must seek confrontation, instead of the promising appeal to amend the wrong path.
Appeals for not voting, building the Popular Power, marking the vote with the initials "AC" (Constituent Assembly), for a null vote, a blank vote, or voting for the "lesser evil" are nothing but an expression of disclaimers in citizenist language, and never put a strain on authoritarian domination.
The only truly worthy response amid so much misery is the anti-authoritarian offensive in its multiple facets and forms. It is the incitement to arson by any means. It is the arson itself, the idea that motivates it, and also the hands that concretize it, the unwavering will of those who fight to the last breath, with the means they have at hand.
Against democracy, against the misery of some anarchists.
It seems we are witnessing a sacralization of democracy, as it is on everyone's lips. Citizens and purported revolutionaries bet on it as an ideal future. Apparently, the whole spectrum of positions that the political weirdos hold is to make the existent perfect, or bring it truly into reality. Those who believe in electoral tactics, as well as those who reject them, agree on this point: the problem is not democracy but its management.
An anarchic position sets the rejection of any type of domination as the order of the day, thus it does not stop at problems of shape: neither as historical order nor as social dynamics does democracy mean a path of liberation. The struggle for more democracy equals the struggle for deepening a social system that hides the conflict emerging within it, the very conflict on which it is founded.
At the local level, apparently no one remembers that there have been gross concessions in favor of democracy from spectra claimed by anarchists and libertarians. Or is it perhaps that no one recalls the ephemeral flirt of several members of the Libertarian Communist Organization with the electoral coalition "Together We Can" here, in Santiago, a few years ago? "Anarchists", communists, humanists and the sort, all holding hands and letting out an occasional burst of laughter. Critical support? Simple platformist chutzpah.
What deserves a special mention is that one Libertarian Network who have openly supported today one of the current presidential candidates of the parliamentary left. Is it necessary to ask ourselves what sort of anarchist supports a possible president? That's spitting in the face of each comrade that decided to affirm anarchy by magnicide (assassination of a ruler).
On the other hand, there are those who seek to broaden their militant base at all costs, just like politicians do. For the Anarchist Revolution Current (CRA) is not enough to falsify the recent history of anarchic struggle in this territory, wrapping a supposed protagonism and an alleged and "unsustainable" police hostility about their especifist organizing. Now they also attempt to demonstrate their repudiation of the electoral process tossing up the flags of their organization. Anarchic action must be propaganda of struggle, not of this or that group or organization of anarchist chiefs.
Both the former and the latter expect to earn something back from all this, while those involved in the electoral circus at least have the honesty to not hide the intentions that motivate them. Those who superficially criticize domination, with lots of opposition rhetoric, neither deserve our respect nor are they comrades of ours.
It should therefore come as no surprise that electoral tactics are reproduced in other political and organizational scales, too, where the ballot box, voting or a show of hands are imposed and validated as methods for decision making in student federations, organizations of the left, assemblies and even some autonomous collectives. A good and disgusting example of this is the recent election of a libertarian young girl, who was transformed into President of the Federation of Students of Chile, and argues that anarchism is a "profoundly democratic" historical movement.
Those looking to have a grandstand for their organization in the market of politics also fall into the game that they reject so much. And this being the big picture, parliamentarists and the anti-election left coincide with certain "libertarian anarchists" in strategy: the dispute over spaces of Power.
Active minorities for the anti-state and anti-authoritarian combat.
Uncontrollable anarchy is not subjected to democracy and its values. It does not speak of majorities, consensus, or fundamental rights. It does not bend over the head for some shares of Power, much less wait for better times to experience its struggle. Today we are practicing, in all parts of the globe, irregular warfare against domination.
We are considering conflict in these parameters; those who expect revolutionary armies or popular militias do not even understand the nature of the current war. If conflict is asymmetric, then let's bite and disappear (hit and run), let's engage in hostilities against the enemy wherever they are, in every place, even within every single one of us. Far from any militaristic drift, let's fight Power in a multiform manner, with autonomous action, and organized from informality.
The attack is not only possible, it is also necessary. Let's generate situations and means to continue experiencing the conflict, and let's practice our advances wherever they arise.
Face to face with the enemy.
We know that this spirit expands internationally like the black plague, and this is what inflames our burning desires to move onward. Gestures of struggle like those of Alfredo Cospito and Nicola Gai make us feel, even thousands of miles away, the urgency to contribute a grain of sand to this immense shore of anarchic insurrection. To those who do not bow down to the lion's den, those who affirm their motivations facing the executioner, to Nicola and Alfredo our sincere respect and complicity.
While planning this action we heard about the sad accident of comrade Ilya Eduardovich Romanov, who was injured from the explosion of a homemade device in western Russia. We were really struck at this news; we recalled similar incidents that occurred in Chile, and it reminded us of how fragile the path of those who struggle is, but it also gave us more strength and dedication at the moment we moved onward with our preparatory acts. Tonight our heart was with yours, Ilya; this is a small gesture towards you, our own way of embracing you from a distance, and wishing you a quick recovery.
For each step tonight was accompanied by the irreducible and dignified attitude of all our brothers and sisters and comrades kidnapped in different parts of the planet. Those who remain day by day in struggle, unyielding and unrepentant… should know they are neither alone nor forgotten: Marcelo Villarroel, Juan Aliste Vega, Freddy Fuentevilla, Hans Niemeyer, José Miguel Sánchez, Alberto Olivares, Nicolás Sandoval, Victor Montoya, Marco Camenisch in Switzerland, Gabriel Pombo Da Silva in Spain, Sonja Suder in Germany, Nicola and Alfredo in Italy, the comrades who resist the grand jury in the US, the urban guerrillas of the Conspiracy of Cells of Fire, the Revolutionary Struggle, and the comrades detained for the double robbery in Kozani [Greece], who are facing trial soon. To irreducible Henry Zegarrundo in Bolivia, and also to the comrades who have faced their arrest in Villa Francia [in Santiago] on September 11th, 2013 in dignity and without victimization.
To conclude, we have turned the fire and explosion of our desires for freedom into action, and thus send our revolutionary solidarity to Mónica Caballero and Francisco Solar, comrades from Chile who were kidnapped by the Spanish State in the early hours of November 13th, accused of installing an explosive device which was vindicated by the Insurrectional Commando Mateo Morral in October this year.
While the States of Chile and Spain implement mechanically once again their well-known discursive, repressive and juridical strategy against supposed anarchist criminal organizations of international character, we send strength to our comrades, regardless of whether or not they're responsible for the facts of which they're accused.
We call for international solidarity with Mónica Caballero, Francisco Solar and the rest of the arrestees in Spain.
We dedicate this action to these comrades, intending also to contribute in the revival and multiplication of direct action in this territory. This is why we salute, despite out differences, the groups that carried out attacks this month against banks scattered around the city.
Solidarity with comrades pursued by Power: Diego Ríos and Felicity Ryder.
No truce with domination.
Memory and action for slain comrade Mauricio Morales!
Memory and action for slain comrade Lambros Foundas!
Long Live Ilya Romanov Cell
In affinity with Black International
_
Translators' notes:
- Phoenix Project comprises the following acts so far:
#1 Greece (June 7, 2013), #2 Greece (June 12, 2013), #3 Indonesia (June 26, 2013), #4 Greece (July 2013), #5 Indonesia (August 24, 2013), #6 Greece (September 2013), #7 Russia (October 2, 2013), #8 Chile (November 16, 2013)
- Some estimates suggest that the arrest of the 5 comrades on November 13th, 2013 in Barcelona, Spain—resulting to the pretrial incarceration of Mónica Caballero and Francisco Solar, as well as strict restrictive conditions against the three other prosecuted anarchists—was timed to occur right before the general elections in Chile, that were held on November 17th.
- Ilya Romanov, a 46-year-old anarchist from Russia (released from prison in 2012, after serving a 10-year sentence), was severely wounded and hospitalized on October 26th, 2013, when an improvised pyrotechnic device he was carrying exploded prematurely, and his left hand was torn off. The investigating authorities in Nizhny Novgorod, where the incident occurred, opened a criminal case against him under article 222 of the Russian penal code ("illicit trafficking in explosives"). You may support Ilya with much needed donations via ABC Moscow.
Tags: Arson, Chile, Francisco Solar, International Solidarity, Long Live Ilya Romanov Cell, Monica Caballero, Sabotage, Santiago
Posted in Direct Action
Saturday, November 16th, 2013
Distributed by: The Women's Coordinating Committee for a Free Wallmapu (Toronto)
Also read this article on multi-language anarchist website Contra-info.
On November 13th, our comrades Monica and Francisco were arrested by the repressive forces of the Spanish State, accused of the explosive bomb attack on the Pillar Basilica in Spain. A hurricane of grandiloquent statements have been unleashed unto this situation between representatives of both [Chilean and Spanish] governments; congratulations of resurrected prosecutors and recycled Interior Ministers as well. Monica and Francisco were arrested in August 2010 in the so-called Chilean Bombs Case. Both confronted the trial against them with dignity and rebellion; more than 9 months in medium and maximum pre-trial prison, rejected the prosecutor's blackmail, carried out a 65 day hunger strike and confronted one of the longest trials [in Chilean history], and had all their charges dropped by the Court with their convictions in tact. (more…)
Tags: 14/14, Barcelona, Catalunya, Chile, Monica Caballero, Spain, Zaragoza
Posted in Social Control
Wednesday, August 21st, 2013
Yesterday, Tuesday August 20th, there was a demonstration in solidarity with our comrade Hans Niemeyer, at the Chilean Embassy. After the protest, as our comrades were getting ready to leave, they were followed and arrested by the police; Jaime Alberto Aguilar Marroquin (member of the Anarchist Black Cross DF), Guarneros Tonatiuh Garcia, Jair Juarez Victorino and Mario Alberto Lopez Gutierrez. (more…)
Tags: ABC Mexico, Chile, Hans Niemeyer, Mexico, Repression, Solidarity Action
Posted in Social Control
Saturday, July 20th, 2013
Solidarity with the anarchists of the Temuco 'Bombs Case'
Starting August 1 and lasting at least until September 11, a dozen Mapuche who have been longtime fighters for total independence will be brought to trial, accused under the Chilean state's antiterrorism laws. On June 28, 2009, Mapuche community members used fallen trees to block five highways in the area of Temuco. At the Temuco bypass, a Tur-bus (similar to Greyhound) and three trucks trying to cross the blockades were stoned by masked Mapuche warriors, who spraypainted 'Return Mapuche lands' on the side of the bus. (more…)
Tags: Chile, Indigenous Struggle, Mapuche, Repression, Temuco, Wallmapu
Posted in Social Control
Monday, June 24th, 2013
New issue of the international news letter for mutual aid and solidarity, compiled from reports from the global informal network of anarchist counter-information and translation… Download and distribute!
1. Letter from Giannis Naxakis, Athens, Greece.
2. 'Fragment: Violence' by L.
3. Hunger strike declaration by Kostas Sakkas, Koridallos prison, Greece.
4. Chile: Carla and Ivan trial results.
5. Italy: Communiqué from RadioAzione on counter-info and repression.
6. Italy: Operation Ardire update.
7. Belarus: Support Dmitri Zvanko, antifa prisoner.
8. Bolivia: Letter from Krudo, accused and imprisoned in the FAI case.
9. Direct Action Chronology.
10. 'Hero with a 1000 Faces' by V.Q.

http://325.nostate.net/wp-content/uploads/2013/06/dark-nights-35.pdf
Tags: Bolivia, Carla Verdugo, Chile, Dark Nights, Fragment: Violence, Giannis Naxakis, Greece, Hero with a 1000 Faces, Informal Anarchist Federation (FAI), International Revolutionary Front, Italy, Ivan Silva, Kostas Sakkas, Krudo, Operation Ardire, PDF, RadioAzione, Zine
Posted in Library
Thursday, June 20th, 2013
Tags: Chile, Freddy Fuentevilla Saa, International Solidarity, Juan Aliste Vega, Marcelo Villarroel Sepúlveda
Posted in Prison Struggle
Tuesday, June 18th, 2013
June 2013
John Severino
A continuation of "The Intensification of Independence".
See the former for a glossary of terms in Spanish and Mapudungun.
Awareness of repression should never be turned into a list of cases and prisoners. Those who struggle must understand repression strategically. If the essence of repression is isolation, this means intentionally formulating our responses to overcome that isolation, both by connecting them to the lines of our ongoing struggle, and analyzing and thwarting the particular mechanisms through which the State seeks to isolate us.
In Wallmapu, that ongoing struggle is a struggle for the land, not as an alienated possession, but as a whole relationship outside of and against capitalism. Mapuche in struggle take over their traditional land, fighting with cops and landlords to do it, and sometimes burning them out; they block highways and sabotage the industries that would exploit their lands; and they farm, graze, and common in those lands, build their houses there, hold their rituals there, raise their children, marry, and bury their dead there, making their relationship with that land a solid fact.
Read more here:
http://chileboliviawalmapu.wordpress.com/2013/06/15/ongoing-repression-in-wallmapu/
Tags: Chile, Indigenous Struggle, Mapuche, Repression
Posted in Social Control
Saturday, June 1st, 2013
from hommodolars, translated by waronsociety:
It was around 2 pm on May 22 when over a dozen compañerxs covered up and with faces concealed decided to launch a direct action in memory of our compañero Mauricio Morales (El Punky Mauri). They took the intersection of Grecia Avenue and Doctor Johow, at the outskirts of the University of $hile, erected barricades and posted themselves to wait for the fanatics of order with 100 molotov cocktails.
Upon the arrival of the armed force of capital, the combatants got ready to attack, with all their material, without a breather; the trees would serve as cover while the shadows of the faceless bodies regrouped to attack again. The confrontations lasted about 30 minutes, without any compañerx being wounded, or indeed captured by the lapdogs of power.
The retreat was launched at the moment when the compañerxs used up all their attacking material. Neither their tear gas, nor their chemical water, nor their pellets were able to stop the action and the fury of the hooded compañerxs.
This action is framed within the commemoration of the unfortunate death of our compañero Mauricio Morales, a result of the unfortunate explosion of his explosive device. Four years after your death, those who carry fire in their hearts, fury in their minds, and thousands of insurrectionary actions in their hands do not forget you. We are not among those who idealize your death as heroic, or that of a martyr, you were just another brother, another compañerx, and therefore like many who launched the various forms of offensive against capital.
Compañero Mauricio Morales: a warrior, not a martyr!
Freedom to the political prisoners and fire to the prison society!
Contents of the leaflets found in the place:
On May 22, 2009, Mauricio Morales, an anarchist compañero, died fighting against exploitation, misery, the prison system… Today we remember your spirit of struggle, as a warrior, without putting anyone at risk… Like everything that you blew up, you blew yourself up as well. But you fly forever in our hearts.* Because no compañerx killed or imprisoned is forgotten.

FROM MEMORY TO THE STREET, PUNKY MAURI IS PRESENT

(click here if the embedded video does not work)
Tags: Chile, Mauricio Morales, Solidarity Action, Video
Posted in Direct Action
Tuesday, May 28th, 2013
Who believed that May would pass without direct action?
With fire we responded again.
Recalling the warrior Mauricio Morales and showing solidarity with the comrades imprisoned in Temuco, we set fire to the entrance of the National Association of Prison Guards, located at Santa Monica steps in downtown Cumming Street of the city of Santiago, on Sunday May 12. With this we add a new action to those which have already been claimed by other groups in "alternative medias" but silenced by the "official release".
We said in our previous attack on a property of Gendarmerie of Chile in January this year, we will not let the torturers be tranquil in their dens. The criticism of the authoritarian system and prison facilities cannot be separated from the direct attack on those who try to break the will of our rebel imprisoned comrades. Prison guards have decided voluntarily to live as enemies of freedom and are active contributors to domination, in exchange for shares of power that materialize in confinement and to humiliate our prisoners and their families.
In April, the anti-authoritarian comrade Ariadna Torres was punished in the Women's Prison of Temuco for insulting a judge and the jailers who seized a letter from the companion to the outside.
We sent a copy of this email again to the jailers of Chile so that they know that our anarchist comrades, anti-authoritarians and revolutionary prisoners in Chile are not for the authorities little games, and for every attack the answer will come back with fire, explosions and shrapnel.
We ask comrades of action why there has been a decline in violent activity against the enemy? One thing is the excitement of the street-fighting, but in May there has been fewer direct attacks and planned bombings, arson and sabotage against the wealthy, and also their system of misery. That the anti-authoritarian attacks are sustained over time and not by a police story, depends on us. That the option for revolutionary violence and its connection with the anti-authoritarian struggle (and its various forms of being implemented) be not just a youth fashion, depends on us. Boosting and multiplying the direct actions in quantity and quality depends only on our will.
In May, we remember those comrades murdered by the State in Chicago in 1886; to Daniel Menco, young man killed in 1999; to young Rodrigo Cisternas, worker killed by police in Chile in 2007 after being crushed by a police vehicle with a backhoe; to the compa Henry prisoner since May of last year in Bolivia [currently on house arrest]; and Nicola Gai and Alfredo Cospito, prisoners in Italy, imprisoned for a year accused of the shot to the leg of a boss of a scientific nuclear company.
Regards to the clandestine comrades and prisoners worldwide.
MAURICIO MORALES LIVES IN DIRECT ACTION.
Insurrectional Anti-authoritarian Cell Panagiotis Argyrou, affinity of the FAI/FRI. Chile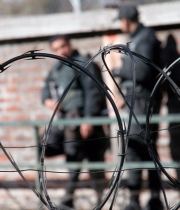 Tags: Alfredo Cospito, Arson, Chile, Conspiracy of Cells of Fire, Conspiracy of Cells of Fire : Imprisoned Members Cell, Greece, Henry Zegarrundo, Informal Anarchist Federation (FAI), International Revolutionary Front, International Solidarity, Italy, Mauricio Morales, Nicola Gai, Panagiotis Argirou, Santiago
Posted in Direct Action
Sunday, May 26th, 2013
Communique for incendiary attack on prison guards' gym
from materialanarquista, translated by waronsociety:
"One would say, then, that force is aimed at imposing the organization of a certain social order in which a minority governs, while violence tends to destroy this order. The bourgeoisie has used force since the dawn of time up to modern times, while the proletariat reacts to the present, through violence, against it and against the state" – George Sorel
THE GANG IS FURIOUS:
In this moment, the weight of history falls on our backs, the memory of the combatants, fallen and victorious compañerxs in a struggle since the origins of humanity, just like that, varying in material and quantitative terms. How to confront a corporeal beast with an unprecedented historical force; class society is a material and also an idea, essence and phenomenon present in humanity's individual and collective consciousness. The state, private property, its armed forces, the productive modes and the permanent, continual complicity of a humanity subject to the decisions of an omnipresent authority.
Tags: Anarchic Gang of Fury (B.A.C.), Arson, Chile, Fuck the Law, Incendiary Cell for the Subversion of the Existent, Molotovs
Posted in Direct Action
Friday, May 24th, 2013
No experience can be summarized with a bit of ink and paper.
Even less the experience of someone who decided to provoke the dominators with every possible way and any place. There are no pages which can effectively illustrate someone who died while fighting against authority. Inside these pages therefore, is not the whole of Mauri's life.
We do not condense all of his experiences and the moments our paths met.
We honestly desire that this is not the last collection of his writings.
We are not owners of his thoughts, the events he experienced or his analyses.
We hope that more material related to him will come to light, not as a fetish, not as a day on the calendar, but probably as a memory longing its moment.
MAURI, THE INSURRECTIONISTS DO NOT FORGET YOU
Mauricio Morales Book – Contents (Greek Language)
Communication with the solidarity assembly and receiving of copies: sal.spf(at)gmail.com
Communication with the imprisoned members of the R.O. CCF: sinomosiapf(at)riseup.net
Tags: Black International of Anarchists of Praxis, Chile, Greece, Mauricio Morales
Posted in Library
Wednesday, April 17th, 2013
PDF Freesheet to be printed off and distributed. Assembled from international news and reports. Returns after a month break in the regular release schedule… change is coming…
1. Words from José Miguel Sánchez to all the comrades and underground action groups of the world.
2. Editorial – Who are we?
3. Letter from Alfredo Cospito and Nicola Gai.
4. Marco Camenisch writes about the decision of the court of review on Stefano and Elisa's case.
5. Report from imprisoned anarchist comrade Giuseppe Lo Turco.
6. Anarchist comrade Giulia released from prison and put under house arrest.
7. Turin: Arrests and other restrictive measures: three comrades are jailed.
8. Update about Gabriel Pombo Da Silva.
9. Mail addresses for the Conspiracy of Cells of Fire.
10. Italy: FAI/FRI claim parcel bombs against La Stampa and Europol.
ORGANISE / RESIST / REPLICATE
Tags: Alfredo Cospito, Chile, Conspiracy of Cells of Fire, Conspiracy of Cells of Fire : Imprisoned Members Cell, Dark Nights, Elisa Di Bernardo, Gabriel Pombo da Silva, Giulia Marziale, Giuseppe Lo Turco, Greece, Informal Anarchist Federation (FAI), International Revolutionary Front, Italy, José Miguel Sánchez, Marco Camenisch, Nicola Gai, Operation Ardire, PDF, Spain, Stefano Gabriele Fosco, Switzerland, Zine
Posted in Library
Saturday, April 13th, 2013
Also read this: Letter from José Miguel after reading "Mapping the Fire" in the Colina II Prison, Chile
To the conscious minds who fight in the struggle in the street around the globe…
It is so naive to think about a generalized rebellion when what the poor people have done for centuries has been to submit themselves to norms and be passive waged slaves, with passive bodies, making the dominant class as well-stocked as ever, dictating norms and laws made for it to keep enriching itself with the consent of a people used to being submissive to the point of stupidity, always hoping for a crumb for their submissiveness.
Where are the insurgents? … In communities, neighborhoods, universities, high schools, etc. How many ready to take up the struggle in all of its aspects? … always very few. What is needed is to grow in determination and conviction, since we know that the bourgeoisie is and will be a strong and powerful enemy. In the class struggle we are many more, but they can count on the authorization and protection of the State, therefore they possess state of the art technology, with the servile protection of the police minions and with everything at their disposal. They guard and protect their possessions with tooth and nail, but we should use everything to demolish them. (more…)
Tags: Chile, José Miguel Sánchez, Letter
Posted in Prison Struggle
Wednesday, April 10th, 2013
1. Scallyway Magazine – How the Tory's covered up the paedophile ring Saville procured for + Scallywag Magazine article on Lord McAlpine and Derek Laud
Above picture: Dead paedophile Sir Peter Morrison with Margaret Thatcher. A close aide to Thatcher, a Member of Parliament for Chester, named as an abuser by residents of children's homes in nearby North Wales. Morrison was Parliamentary Private Secretary to Margaret Thatcher, leader of her campaign team in the Conservative leadership election of 1990 and a deputy chairman of the Conservative Party. Despite the massive internal security war being conducted against the domestic opposition and externally against the Irish Freedom Fighters, the security services allowed paedophiles this close to Thatcher and record-breaking paedophile and child procurer Jimmy Saville was her close friend: a regular visitor to her country home at Chequers and Christmas dinner guest. Thatcher would have known about the systematic abuse of hundreds of young boys and girls over decades. Rot in hell bitch.
2. TAPOL – promoting human rights, peace and democracy in Indonesia
Above picture: Margaret Thatcher with her friend and ally, the genocidal dictator General Suharto of Indonesia. US and British governments helped Suharto to power and backed his authoritarian regime. The workers and peasants unions were eradicated with the knowledge and support of Thatcher. Estimates of the death toll caused by Suharto's repression range from half a million to three million. No-one has ever been held to account for this appalling deed.
3. Anniversary of the Pinochet coup sees heavy clashes in Santaigo and elsewhere
In Chile, Thatcher backed a 17 year military dictatorship ruled by General Pinochet which deposed the leftist president Allende and a reported 1,200–3,200 people were killed, up to 80,000 were interned, and up to 30,000 were tortured by his regime including women and children. Pinochet was close to Thatcher and she intervened on his behalf when he was held in Britain for war crimes. Massive spontaneous street demonstrations broke out throughout the country upon the learning of his death. At least 200,000 Chileans (about 2% of Chile's 1973 population) were forced to go into exile. Additionally, hundreds of thousands left the country in the wake of the economic crises that followed the military coup during the 1970s and 1980s. Some of the key individuals who fled because of political persecution were followed in their exile by the DINA secret police, in the framework of Operation Condor, which linked South American military dictatorships together against political opponents.
Tags: Chile, Conservative Party, Evil Dead, General Suharto, Indonesia, Jimmy Saville, Margaret Thatcher, Pinochet, Riots, UK
Posted in Direct Action
Sunday, February 24th, 2013
There is no reason to step back. War continues as always and must be more violent each and every time. All of the infrastructures of the society are our targets and there are no excuses to let one still stand against the beautiful sky. All the buildings are the walls against our sight to see the stars, the same stars which our imprisoned and guerrilla comrades in other part of the world are also seeing.
Through the fire, we want to send our warmest greetings to the knights warriors around the globe who still carry on attacks as our revolutionary way. To the brave and dignified prisoners who kept their head up against the misery and cowardice of 'reformist' anarchists.
Last night (Friday, 22 February), we burned down another property of Society. We placed an incendiary of fire in the middle-class shopping areas in North Jakarta. We burn the shops as our sample and to once again call the individuals to create their own attacks –especially in Indonesia and South East Asia. We showed through practice that each individual can bring their anger into fire and gasoline without the specializations of elite units. We are not vanguards or the messiah to save the Society. We are the angry individuals who only want to burn down Society.
Only cowards –even self-proclaimed as anarchists– who only see the fire is rising and covering the sky with dark smokes and doing nothing. Cowards are the integral parts of the Society who are always waiting for the 'right moments' and trying to keep their life in the comfort zones. And we point out the cowards as our enemies and we will hunt you down also. In the future, we will not feel sorry if in our actions to attack Society, we are risking the life of someone.
From now, we will limit our revolutionary greetings to the comrades who in our judgements are revolutionary. We will not let our fire warm the 'innocent', 'reformist', 'pacifist', 'formal and pro-judicial anarchists', 'facebook anarchists' and other cowards. Our actions always are only for ourselves and our individualistic values and for the revolutionary comrades.
And through the fire, we send our love to the imprisoned comrades: Conspiracy of Cells of Fire, the 4 anarchists who are recently accused for double robbery in Greece, Alfredo and Nicola and other comrades who accused in Operation Thor, Ixodae, Mangifuoco, and similar repressions in Italy, to Gabriel Pombo da Silva and to Marco Camenisch, to Marcelo, Juan, Fredy, Ivan & Carla in Chile, to Henry in Bolivia, to injured one Tripa Lopez in Mexico, to Tukijo and to the insurrectionary prisoners behind state bars who always kept their dignity and revolutionary values. We also want to send our love to the comrades on the run: Felicity, Hans and others. Keep running and do not let the enemies catch you.
Love and revolutionary greetings to the individuals, cells and groups of Informal Anarchist Federation – International Revolutionary Front. Let's surround Society with our fires.
War continues until the collapse of the society.

Anger Unit
International Conspiracy for Revenge
FAI – IRF
Tags: Alfredo Cospito, Anger Unit / ICR-FAI-IRF, Arson, Bolivia, Chile, Conspiracy of Cells of Fire, Conspiracy of Cells of Fire : Imprisoned Members Cell, Gabriel Pombo da Silva, Indonesia, Informal Anarchist Federation (FAI), International Conspiracy for Revenge, International Revolutionary Front, International Solidarity, Jakarta, Kozani, Marco Camenisch, Mario 'Tripa' Lopez, Nicola Gai, Sabotage, Tukijo
Posted in Direct Action
Thursday, January 10th, 2013
from liberaciontotal, transl waronsociety:
I remember the cold of that October morning. I have not forgotten the disinformation media's mercenary barrage, legitimizing images behind a discourse. The message was clear and there was not a radio or TV that did not spread it; thus began the hunting and killing of several rebels–all of us libertarians and subversives with no turning back, and all happy owners of our lives.
This time it wasn't about more prison and captivity, the unveiled and declared decision pointed again to our lives, to the breath of ideas, pointed to the crystalline view of action in which our lives have nothing to do with submission, domestication and control, repudiating the daily misery of this imposed society with the oxygen of permanent resistance. (more…)
Tags: Chile, Juan Aliste Vega, Letter, Repression
Posted in Prison Struggle
Friday, December 14th, 2012
Download and distribute – December 2012 version of the international anti-prison anarchist freesheet to copy on the fly.
PDF: Dark Nights 29: Considerations on Action and Anarchy
Frontpage article from Italy considers the laming of Ansaldo Nucleare CEO Roberto Adinolfi, the zine also includes letters from imprisoned anarchist comrades, news and a direct action/sabotage round-up. Gabriel Pombo da Silva penned a letter in solidarity with Marco Camenisch this month, Marco is a persecuted eco-anarchist standing firm against the inquisition of nun Manuela Comodi in Italy and the prison authorities of Switzerland. Lastly, but not least, the call for an International Direct Action Week in solidarity with the always unyielding Mario Antonio López 'Tripa' from the 15th to the 22nd of December by the Anticivilization Fraction of the Earth Liberation Front in Mexico.
Not forgetting the yearly call for international anti-prison demonstrations and actions on New Years Eve – the time when people are encouraged by the system to spend even more money in consumerist temples and forget their problems through illusions.
Merry Crisis & Happy New Fear – For a Black Xmas!
Tags: Alessio Del Sordo, Alfredo Cospito, Ansaldo Nucleare, Anticivilization Fraction of the Earth Liberation Front, Athens, Billy, Chile, Considerations on Action and Anarchy, Conspiracy of Cells of Fire, Conspiracy of Cells of Fire : Imprisoned Members Cell, Dark Nights, Earth Liberation Front, Gabriel Pombo da Silva, Germany, Greece, Informal Anarchist Federation (FAI), International Revolutionary Front, International Solidarity, Italy, Letter, Long Live Luciano Tortuga Cell - International Revolutionary Front - FAI, Luciano Pitronello Schuffeneger, Marco Camenisch, Mario 'Tripa' Lopez, Maurizio Ferrari, Mexico, New Year, Nicola Gai, Nucleo Olga FAI/FRI, Operation Ardire, PDF, Revolutionary Struggle, Roberto Adinolfi, Switzerland, TAV, Theofilos Mavropoulos, Vryona 4, Zine
Posted in Library
Thursday, November 22nd, 2012
from vivalaanarquia:
During November 19, at 12 noon, the Eighth Chamber of the Santiago Appeals Court rejected the sentencing appeal by the prosecution in the case of anarchist comrade Luciano "Tortuga" Pitronello. The appeal was the last desperate attempt to restart the trial from the beginning, in order to obtain a conviction for Terrorism.
Fortunately this did not happen and Luciano is only sentenced for violating the Gun Control and Explosives Act, which resulted in 6 years of probation.

We salute Luciano, appreciate the enormous power he showed in the trial against him, and wish him well for the years to come.
The struggle continues.
Long live anarchy!

Tags: Chile, Luciano Pitronello Schuffeneger, Repression
Posted in Prison Struggle
Thursday, November 22nd, 2012
from vivalaanarquia – updated from liberacion total:

Gabriela is free without charges and not compelled to sign with the authorities. Welcome back to the streets!
In the morning hours of November 19, the comrade Gabriela Curilem has reappeared on the street, ending his period of hiding for two years and three months. Recall that Gabriela is wanted following the "Bombs Case", specifically from August 14, 2010- the day the arrests were made, the case was closed on 1 June this year, the day that 5 comrades were absolved. In this case, Gabriela was charged as the alleged financier of an illicit association that is supposed to have manufactured and installed bombs. That same August 14, Gabriela was not in the CSO Sacco and Vanzetti (self-organised centre which was raided by anti-terrorist units), where other co-accused lived. During the morning of Nov 19, Gabriela appeared before the Chilean justice system and was compelled to sign with the authorities (we do not know whether weekly or monthly) and is now back on the street.
Tags: 14/14, Chile, Gabriela Curilem
Posted in Social Control
Thursday, August 16th, 2012
from liberaciontotal, transl waronsociety:
Today August 15, at 1PM, in the Oral Penal Court of Santiago they dictated the sentence against Luciano.
Room 901 of the court, made up of the judges Mauricio Olave (president), Graciela Gómez (redactora) and Antonio Ulloa (integrante and who voted to apply the anti-terrorist law), sentenced Luciano Pitronello Schuffeneger for the crimes of "illegal transport of explosives," "damages" (to the bank)" and "use of false license plate."
The imposed sentenced was:
- For the damages to the Santander Bank: 41 months imprisonment in the highest degree, suspension of public office or employment for the duration of the sentence.
- For the possession of explosive device: 3 years and 1 day of imprisonment in the highest degree, and also complete disqualification from political rights and public offices and employment for the duration of the sentence.
- For driving a vehicle with another person's license plate: 541 days of imprisonment in the highest degree, suspension of public office or employment for the duration of the sentence and suspension of driver's license for the duration of 3 years. (more…)
Tags: Chile, Luciano Pitronello Schuffeneger, Trial
Posted in Prison Struggle