Posts Tagged 'Chile'
Wednesday, April 23rd, 2014
325 receives and transmits:
Dear all,
We would like to present you a new audio by the Anarchist Radio Berlin (Anarchistisches Radio Berlin, aradio.blogsport.de). It is based on an interview in Santiago de Chile as well as other information.
The lesbians' and women's collective Linea Aborto Libre in Chile established an telephone hotline that can be reached daily and they published also a corresponding handbook in order to support women who wish to perform an abortion at home. Chile is on of those countries where abortion is prohibited in all cases.
You'll find the audio (to listen online or download in different sizes) here:
http://aradio.blogsport.de/2014/04/21/a-radio-auf-englisch-practical-self-help-an-abortion-hotline-in-chile/

Length: 8:27 min
Enjoy! And please feel free to share!
A-Radio Berlin
Ps: Please note: We are always looking for people willing to lend us a hand with transcript translations from Spanish or German into English as well as people able to do voice recordings – in order to amplify our international radio work. You can contact us at: aradio-berlin/at/riseup(dot)net!
Tags: Anarchistisches Radio Berlin, Chile, Free Choice, Germany
Posted in Autonomy
Monday, March 31st, 2014
I thank you so much for your support, I can feel your unconditional love deep in my heart. Any letter, note, delicious sweet or money support is a joy and an injection of energy in this cage. Taking advantage of the fact you're all meeting there, I'm going to clarify some doubts that apparently are circulating here and there.
As for clarifying the facts I'm not going to say a word but rather give some signals of the situation. As far as prison is concerned, I had to face the conditions of the unit where I find myself, which is called "public connotation". Here the jailers are trying to establish a schizophrenic "friendship" with the female prisoners, thus creating a sort of Syndrome of Stockholm [Note: Syndrome of Stockholm refers to a particular state of mind, which manifests itself after experiencing an extremely violent or traumatic episode, for example kidnapping or continuous abuse. The person with Syndrome of Stockholm being kept in captivity or being abused, comes to express positive feelings, even including love, for his or her torturer, thus establishing some sort of alliance and complicity between the victim and the torturer]. (more…)
Tags: Chile, Letter, Sol F. Vergara
Posted in Prison Struggle
Saturday, March 15th, 2014
libertadahermesyalfonso.wordpress.com
Este sitio web pretende difundir la situación jurídica-política de los compañeros Alfonso Alvial y Hermes Gonzales, encarcelados desde el 11 de diciembre del 2013, luego de un operativo policial en respuesta a un supuesto intento de expropiación a un banco de la comuna de Pudahuel. Acción repelida por el guardia armado de la sucursal que termina con la muerte del compañero Sebastían Oversluij "Angry" Seguel en el lugar.
Nuestros objetivos son claros: difundir la situación de encierro de los compañeros detenidos, agitar para su pronta salida a la calle, haciendo un llamado a todxs los compañerxs que quieran solidarizar con la situación y difundir la vida hecha guerra del hermano Angry, para que se expanda y manteniendo viva la llama insurrecta y anárquica que prendió su corazón. (more…)
Tags: Alfonso Alvial, Chile, Counter-info, Hermes Gonzales, Repression, Sebastián Oversluij Seguel, Sol F. Vergara
Posted in Autonomy
Wednesday, March 5th, 2014
New counter-information website of translation! An eternal salute! Long live the combative memory of Ryo!

¡Mauricio Morales, Jhonny Cariqueo, Sebastian Oversluij,
Zoe Aveilla, Lambros Foundas!
¡¡Present in Our Hearts and Actions!!
Freedom to all comrades Anarchists and Nihilists of the world.
March, 2014.
instintosalvaje (at) distruzione.org
www.instintosalvaje.noblogs.org
Tags: Chile, Counter-info, Instinto Salvaje
Posted in Autonomy
Wednesday, February 26th, 2014
"Porque ninguna cadena será perpetua, y ninguna cárcel de "alta seguridad"
-Claudia López-
 

via Publicacion Refractario [english here via actforfree/radioazione]:

Ante juicios de la inquisición democrática…. En permanente Actitud de Combate al poder
Un asalto, un policía muerto y las campañas de exterminio
"A veces sale caro defender a los ricos"- Alexander M. Jacob.
El 18 de octubre de 2007 se produce un asalto a una entidad bancaria ubicada en pleno centro de Santiago, el Banco Security. Carabineros cierra el perímetro de la sucursal  con el objetivo de dar con los participantes en el hecho. Así en un control a una  motocicleta, se produce un enfrentamiento  armado y  Luis Moyano, cabo de Carabineros, cae muerto en el lugar. Otro funcionario policial resulta herido.
Santiago Centro se convulsiona y la cacería se desata en venganza. El  Departamento de inteligencia de Carabineros hace un rápido balance de la orquestación táctica del atraco, caracterización de los participantes, tipo de armamento y repliegue. Tras rápidos análisis lanzan la sentencia: los autores son ex-miembros de un grupo subversivo. (more…)
Tags: Chile, Freddy Fuentevilla Saa, International Solidarity, Juan Aliste Vega, Marcelo Villarroel Sepúlveda, Trial
Posted in Prison Struggle
Tuesday, February 18th, 2014
From vivalaanarquia, transl. waronsociety:

Villa Francia, Feb 3, 2014
Dear friends and compxs:
Our beloved Tamara Sol is imprisoned.
With the speed of an avenging lightning bolt, as always happens when they are condemning a poor person or a subversive, a judge of the system, Paoloa Robinovich, is considering sentencing her to 10 years and a day to life in prison, accusing her of "aggravated robbery" (robo calificado) the hardest statue in the Chilean penal system, arguing that Tamara Sol is a danger to society. Society constructed so orderly on the aberrant inequality between a few immensely rich and the many immensely poor; a society militarized with hundreds of cops in its streets and with everything in the periphery, taking hostage the youth of the poblaciones, with authorization to beat them, lie, create montages, arrest, reinvent cases, assassinate, spy, photograph… a society that is the "big market," a society proud of the individualism it has created, proud of the mediocrity it has created, a society in which the mediums of communication transmit only show business or passionate crimes… The judge, defending this society, has dictated that Tamara Sol shall remain in San Miguel Jail in the high security module during the investigation period (which by principle is 60 days). In this module of punishment, there is only a half hour to go outside…or perhaps they are caged all day. (more…)
Tags: Chile, Letter, Luisa Toledo Sepúlveda, Manuel Vergara Meza, Repression, Santiago, Sol F. Vergara
Posted in Prison Struggle
Tuesday, February 18th, 2014
Compañeras and compañeros,
We inform you that finally, and after a legal precision that was carried out a few days ago, there is finally a definitive date for the beginning of the oral trial of the compañeros Juan Aliste Vega, Freddy Fuentevilla and Marcelo Villarroel, accused in the so-called Security Case. We remember that they have asked for sentences for the compañeros from 18 years of prison up to life imprisonment for several bank robberies and the death of the cop Moyano in October 2007. (more…)
Tags: Chile, Freddy Fuentevilla Saa, Juan Aliste Vega, Marcelo Villarroel Sepúlveda, Repression, Trial
Posted in Prison Struggle
Monday, February 3rd, 2014
from refractario, transl waronsociety:

"Strength, Sol, we love you. We are proud of you." – Luisa Toledo, grandmother of compañera Sol, on entering the courtroom.
Our dear compañera Sol was pointed out by power and accused of the attack on the miserable Banco Estado security guard Rolando Vargas Fuentes, in which 4 bullets were fired as a gesture of revenge for the murderous shots that another of his colleagues fired months earlier at the body of the anarchist compañero Sebastián Overluij. (more…)
Tags: Attentat, Banco Estado, Chile, Fuck the Law, Sebastián Oversluij Seguel, Sol F. Vergara
Posted in Direct Action
Wednesday, January 1st, 2014
Βίντεο για το Σχέδιο "Φοίνικας" που προβλήθηκε στις εκδηλώσεις ανά την Ελλάδα
Via Inter Arma, new website of counter-information & translation.
Tags: Alfredo Cospito, Athens, Chile, Conspiracy of Cells of Fire, Conspiracy of Cells of Fire : Imprisoned Members Cell, Greece, Indonesia, Informal Anarchist Federation (FAI), International Revolutionary Front, Italy, Mexico, Nicola Gai, Phoenix Project
Posted in Direct Action
Sunday, December 1st, 2013
Phoenix Project, Act 8: Action with incendiary/explosive device against a Board of Elections office and in solidarity with Mónica Caballero and Francisco Solar. (Chile)
We are not spectators, but convinced enemies of all forms of domination.
Today, wielding the weapons of life and the ideas of rebellion, we wanted to give away a bit of anarchic momentum.
Today, we decided to attack the 98th Board of Elections office in La Reina commune [in Santiago] with an incendiary/explosive device, because we are convinced that the current state of affairs is sustained not only by those who administer domination, but also in the servile attitude of those who tacitly endorse it. (more…)
Tags: Arson, Chile, Francisco Solar, International Solidarity, Long Live Ilya Romanov Cell, Monica Caballero, Phoenix Project, Sabotage, Santiago
Posted in Direct Action
Saturday, November 16th, 2013
Distributed by: The Women's Coordinating Committee for a Free Wallmapu (Toronto)
Also read this article on multi-language anarchist website Contra-info.
On November 13th, our comrades Monica and Francisco were arrested by the repressive forces of the Spanish State, accused of the explosive bomb attack on the Pillar Basilica in Spain. A hurricane of grandiloquent statements have been unleashed unto this situation between representatives of both [Chilean and Spanish] governments; congratulations of resurrected prosecutors and recycled Interior Ministers as well. Monica and Francisco were arrested in August 2010 in the so-called Chilean Bombs Case. Both confronted the trial against them with dignity and rebellion; more than 9 months in medium and maximum pre-trial prison, rejected the prosecutor's blackmail, carried out a 65 day hunger strike and confronted one of the longest trials [in Chilean history], and had all their charges dropped by the Court with their convictions in tact. (more…)
Tags: 14/14, Barcelona, Catalunya, Chile, Monica Caballero, Spain, Zaragoza
Posted in Social Control
Wednesday, August 21st, 2013
Yesterday, Tuesday August 20th, there was a demonstration in solidarity with our comrade Hans Niemeyer, at the Chilean Embassy. After the protest, as our comrades were getting ready to leave, they were followed and arrested by the police; Jaime Alberto Aguilar Marroquin (member of the Anarchist Black Cross DF), Guarneros Tonatiuh Garcia, Jair Juarez Victorino and Mario Alberto Lopez Gutierrez. (more…)
Tags: ABC Mexico, Chile, Hans Niemeyer, Mexico, Repression, Solidarity Action
Posted in Social Control
Saturday, July 20th, 2013
Solidarity with the anarchists of the Temuco 'Bombs Case'
Starting August 1 and lasting at least until September 11, a dozen Mapuche who have been longtime fighters for total independence will be brought to trial, accused under the Chilean state's antiterrorism laws. On June 28, 2009, Mapuche community members used fallen trees to block five highways in the area of Temuco. At the Temuco bypass, a Tur-bus (similar to Greyhound) and three trucks trying to cross the blockades were stoned by masked Mapuche warriors, who spraypainted 'Return Mapuche lands' on the side of the bus. (more…)
Tags: Chile, Indigenous Struggle, Mapuche, Repression, Temuco, Wallmapu
Posted in Social Control
Monday, June 24th, 2013
New issue of the international news letter for mutual aid and solidarity, compiled from reports from the global informal network of anarchist counter-information and translation… Download and distribute!
1. Letter from Giannis Naxakis, Athens, Greece.
2. 'Fragment: Violence' by L.
3. Hunger strike declaration by Kostas Sakkas, Koridallos prison, Greece.
4. Chile: Carla and Ivan trial results.
5. Italy: Communiqué from RadioAzione on counter-info and repression.
6. Italy: Operation Ardire update.
7. Belarus: Support Dmitri Zvanko, antifa prisoner.
8. Bolivia: Letter from Krudo, accused and imprisoned in the FAI case.
9. Direct Action Chronology.
10. 'Hero with a 1000 Faces' by V.Q.

http://325.nostate.net/wp-content/uploads/2013/06/dark-nights-35.pdf
Tags: Bolivia, Carla Verdugo, Chile, Dark Nights, Fragment: Violence, Giannis Naxakis, Greece, Hero with a 1000 Faces, Informal Anarchist Federation (FAI), International Revolutionary Front, Italy, Ivan Silva, Kostas Sakkas, Krudo, Operation Ardire, PDF, RadioAzione, Zine
Posted in Library
Thursday, June 20th, 2013
Tags: Chile, Freddy Fuentevilla Saa, International Solidarity, Juan Aliste Vega, Marcelo Villarroel Sepúlveda
Posted in Prison Struggle
Tuesday, June 18th, 2013
June 2013
John Severino
A continuation of "The Intensification of Independence".
See the former for a glossary of terms in Spanish and Mapudungun.
Awareness of repression should never be turned into a list of cases and prisoners. Those who struggle must understand repression strategically. If the essence of repression is isolation, this means intentionally formulating our responses to overcome that isolation, both by connecting them to the lines of our ongoing struggle, and analyzing and thwarting the particular mechanisms through which the State seeks to isolate us.
In Wallmapu, that ongoing struggle is a struggle for the land, not as an alienated possession, but as a whole relationship outside of and against capitalism. Mapuche in struggle take over their traditional land, fighting with cops and landlords to do it, and sometimes burning them out; they block highways and sabotage the industries that would exploit their lands; and they farm, graze, and common in those lands, build their houses there, hold their rituals there, raise their children, marry, and bury their dead there, making their relationship with that land a solid fact.
Read more here:
http://chileboliviawalmapu.wordpress.com/2013/06/15/ongoing-repression-in-wallmapu/
Tags: Chile, Indigenous Struggle, Mapuche, Repression
Posted in Social Control
Saturday, June 1st, 2013
from hommodolars, translated by waronsociety:
It was around 2 pm on May 22 when over a dozen compañerxs covered up and with faces concealed decided to launch a direct action in memory of our compañero Mauricio Morales (El Punky Mauri). They took the intersection of Grecia Avenue and Doctor Johow, at the outskirts of the University of $hile, erected barricades and posted themselves to wait for the fanatics of order with 100 molotov cocktails.
Upon the arrival of the armed force of capital, the combatants got ready to attack, with all their material, without a breather; the trees would serve as cover while the shadows of the faceless bodies regrouped to attack again. The confrontations lasted about 30 minutes, without any compañerx being wounded, or indeed captured by the lapdogs of power.
The retreat was launched at the moment when the compañerxs used up all their attacking material. Neither their tear gas, nor their chemical water, nor their pellets were able to stop the action and the fury of the hooded compañerxs.
This action is framed within the commemoration of the unfortunate death of our compañero Mauricio Morales, a result of the unfortunate explosion of his explosive device. Four years after your death, those who carry fire in their hearts, fury in their minds, and thousands of insurrectionary actions in their hands do not forget you. We are not among those who idealize your death as heroic, or that of a martyr, you were just another brother, another compañerx, and therefore like many who launched the various forms of offensive against capital.
Compañero Mauricio Morales: a warrior, not a martyr!
Freedom to the political prisoners and fire to the prison society!
Contents of the leaflets found in the place:
On May 22, 2009, Mauricio Morales, an anarchist compañero, died fighting against exploitation, misery, the prison system… Today we remember your spirit of struggle, as a warrior, without putting anyone at risk… Like everything that you blew up, you blew yourself up as well. But you fly forever in our hearts.* Because no compañerx killed or imprisoned is forgotten.

FROM MEMORY TO THE STREET, PUNKY MAURI IS PRESENT

(click here if the embedded video does not work)
Tags: Chile, Mauricio Morales, Solidarity Action, Video
Posted in Direct Action
Tuesday, May 28th, 2013
Who believed that May would pass without direct action?
With fire we responded again.
Recalling the warrior Mauricio Morales and showing solidarity with the comrades imprisoned in Temuco, we set fire to the entrance of the National Association of Prison Guards, located at Santa Monica steps in downtown Cumming Street of the city of Santiago, on Sunday May 12. With this we add a new action to those which have already been claimed by other groups in "alternative medias" but silenced by the "official release".
We said in our previous attack on a property of Gendarmerie of Chile in January this year, we will not let the torturers be tranquil in their dens. The criticism of the authoritarian system and prison facilities cannot be separated from the direct attack on those who try to break the will of our rebel imprisoned comrades. Prison guards have decided voluntarily to live as enemies of freedom and are active contributors to domination, in exchange for shares of power that materialize in confinement and to humiliate our prisoners and their families.
In April, the anti-authoritarian comrade Ariadna Torres was punished in the Women's Prison of Temuco for insulting a judge and the jailers who seized a letter from the companion to the outside.
We sent a copy of this email again to the jailers of Chile so that they know that our anarchist comrades, anti-authoritarians and revolutionary prisoners in Chile are not for the authorities little games, and for every attack the answer will come back with fire, explosions and shrapnel.
We ask comrades of action why there has been a decline in violent activity against the enemy? One thing is the excitement of the street-fighting, but in May there has been fewer direct attacks and planned bombings, arson and sabotage against the wealthy, and also their system of misery. That the anti-authoritarian attacks are sustained over time and not by a police story, depends on us. That the option for revolutionary violence and its connection with the anti-authoritarian struggle (and its various forms of being implemented) be not just a youth fashion, depends on us. Boosting and multiplying the direct actions in quantity and quality depends only on our will.
In May, we remember those comrades murdered by the State in Chicago in 1886; to Daniel Menco, young man killed in 1999; to young Rodrigo Cisternas, worker killed by police in Chile in 2007 after being crushed by a police vehicle with a backhoe; to the compa Henry prisoner since May of last year in Bolivia [currently on house arrest]; and Nicola Gai and Alfredo Cospito, prisoners in Italy, imprisoned for a year accused of the shot to the leg of a boss of a scientific nuclear company.
Regards to the clandestine comrades and prisoners worldwide.
MAURICIO MORALES LIVES IN DIRECT ACTION.
Insurrectional Anti-authoritarian Cell Panagiotis Argyrou, affinity of the FAI/FRI. Chile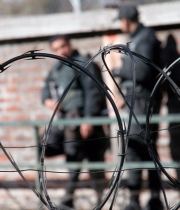 Tags: Alfredo Cospito, Arson, Chile, Conspiracy of Cells of Fire, Conspiracy of Cells of Fire : Imprisoned Members Cell, Greece, Henry Zegarrundo, Informal Anarchist Federation (FAI), International Revolutionary Front, International Solidarity, Italy, Mauricio Morales, Nicola Gai, Panagiotis Argirou, Santiago
Posted in Direct Action
Sunday, May 26th, 2013
Communique for incendiary attack on prison guards' gym
from materialanarquista, translated by waronsociety:
"One would say, then, that force is aimed at imposing the organization of a certain social order in which a minority governs, while violence tends to destroy this order. The bourgeoisie has used force since the dawn of time up to modern times, while the proletariat reacts to the present, through violence, against it and against the state" – George Sorel
THE GANG IS FURIOUS:
In this moment, the weight of history falls on our backs, the memory of the combatants, fallen and victorious compañerxs in a struggle since the origins of humanity, just like that, varying in material and quantitative terms. How to confront a corporeal beast with an unprecedented historical force; class society is a material and also an idea, essence and phenomenon present in humanity's individual and collective consciousness. The state, private property, its armed forces, the productive modes and the permanent, continual complicity of a humanity subject to the decisions of an omnipresent authority.
Tags: Anarchic Gang of Fury (B.A.C.), Arson, Chile, Fuck the Law, Incendiary Cell for the Subversion of the Existent, Molotovs
Posted in Direct Action
Friday, May 24th, 2013
No experience can be summarized with a bit of ink and paper.
Even less the experience of someone who decided to provoke the dominators with every possible way and any place. There are no pages which can effectively illustrate someone who died while fighting against authority. Inside these pages therefore, is not the whole of Mauri's life.
We do not condense all of his experiences and the moments our paths met.
We honestly desire that this is not the last collection of his writings.
We are not owners of his thoughts, the events he experienced or his analyses.
We hope that more material related to him will come to light, not as a fetish, not as a day on the calendar, but probably as a memory longing its moment.
MAURI, THE INSURRECTIONISTS DO NOT FORGET YOU
Mauricio Morales Book – Contents (Greek Language)
Communication with the solidarity assembly and receiving of copies: sal.spf(at)gmail.com
Communication with the imprisoned members of the R.O. CCF: sinomosiapf(at)riseup.net
Tags: Black International of Anarchists of Praxis, Chile, Greece, Mauricio Morales
Posted in Library