Posts Tagged 'Chile'
Friday, March 27th, 2015
[Noticias de la Guerra Social]
Cerca de las 9:00 de la mañana del 21 de Febrero del 2015, un fuerte estruendo afecta a la puerta lateral de la Iglesia San Pedro, cerca del sector del velatorio ubicada entre las calles Isabel La Católica con Vespucio, en la adinerada comuna de Las Condes. Una olla a presión repleta, cortada metálicamente para su fragmentación repleta de pólvora y esquirlas metálicas compuestas por clavos cortados, activado mediante un sistema de relojería detona parcialmente. La pólvora habría deflagrado sin lograr comprimirse y detonar completamente. (more…)
Tags: Chile, Fuck the Church
Posted in Direct Action
Friday, March 27th, 2015
CONVOCATORIA: FRENTE A LA SOCIEDAD CARCELARIA, NI SILENCIO, NI OLVIDO, SOLO LUCHA!!
* A todxs nuestrxs hermanxs, compañerxs, afectos y amores.
*A las complicidades multiformes del mundo entero que atacan el presente de explotación y miseria, de dominio, capital y muerte.
* A todxs los prisionerxs subversivxs, autónomos, libertarixs, revolucionarixs, antiautoritarixs que no niegan sus vínculos ni convixiones y resisten diaria y dignamente no tan solo en palabras sino que en concretas axiones.
"Quien teme a la libertad siente orgullo de ser esclavo"
Bakunin.-
La lucha contra el poder de la dominación y la totalidad de los dispositivos simbólicos, subjetivos, tangibles y valóricos que lo sustentan y sostienen requiere, ante todo, de aquella decisión individual, radical e inquebrantable de llevar la tensión a todos los espacios de la vida, haciendo de esta un continuo camino de liberación. Claro está que llegar a este convencimiento, decisión, opción implica un proceso que cada cual vive de manera única e irrepetible según el contexto y las circunstancias en que hemos abierto los ojos para luchar. Caminar hacia la emancipación como principio rector para la destruxión de la sociedad de clases no es un proceso instantáneo ni en solitario, aún siendo individual, en el encuentro de las ideas vamos construyendo vínculos que nos van hermanando en la práctica, generando puntos de afinidad, incluso, con mentes conscientes que directamente no conocemos pero con quienes vamos articulando un camino común. (more…)
Tags: Chile, International Solidarity
Posted in Prison Struggle
Thursday, March 26th, 2015
http://325.nostate.net/wp-content/uploads/2015/03/revista.pdf

Publicacion aperiodica por la insurreccion permanente
Compañerxs, compartimos con ustedes la edición digital del primer número de la revista "CONTRA TODA AUTORIDAD", a pedido de compañerxs que nos escribieron con la intención de difundir la revista en otros territorios.
Agradecemos a quienes nos han escrito y anunciamos que en los próximos días aparecerá el número 2 de la revista, con nuevas y afiladas reflexiones para aportar a la agudización de la ofensiva contra el poder.
-CONTRA TODA AUTORIDAD-
contratodaautoridad@riseup.net
http://contratodaautoridad.wordpress.com
Tags: Chile, Contra toda autoridad, PDF, Zine
Posted in Library
Thursday, March 26th, 2015
Night of propaganda and agitation for a new March 29 ("Day of the young combatant") and with messages of militant solidarity with our comrades in struggle within the prisons.
From the dignity of companero Juan Flores who was hit by prison-guards a few days ago in Chile, to the hunger strikes carried out by comrades of CCF and other comrades in Greece, to Jose Antunez and Javier Guerrero in Spain, through to the agitation and punishment in prisons in Italy against anarchist prisoners, our actions spread one international language: MEMORY, SOLIDARITY AND FIGHTING POWER.

No prison can stop the struggle for total liberation !!!

(more…)
Tags: Action, Chile, International Solidarity, Santiago, Solidarity Action
Posted in Direct Action
Thursday, March 19th, 2015
from refractario transl. waronsociety:
Dear friends,
Compañeras and compañeros,
We would like to share with you the status of the legal situation our Tamara Sol is facing, prisoner in San Miguel jail in a "high security" module, since the 21st of January. She has lived this year along with other compañeras locked down for 23 hours a day with one hour to go out to the yard. She receives two visits a week, 5 people on Monday and 5 people on Friday (two hours each time). Tamara is accused of "attempted murder" and robbery. The prosecutor asked for 7 years without benefits*, from the first day she was detained.
We, her family, have been doomed to work primarily with her lawyers, Nelson Miranda and Margarita López, on all of the legal procedures to achieve the reduction of the sentence and ensure the corresponding legal benefits be taken into account, for previous irreproachable conduct and other extenuating circumstances. (more…)
Tags: Chile, Sol F. Vergara, Tamara Sol
Posted in Prison Struggle
Tuesday, March 17th, 2015
Enmarcado en las distintas huelgas de hambre que se llevan al interior de las prisiones griegas desde el 02 de Marzo del 2015, expresamos, como mínimo gesto, nuestra solidaridad con propaganda por las calles de Santiago.
Solidarizamos incondicionalmente con todxs lxs compañerxs en prisión que continúan en guerra adentro de las cárceles, sin arrepentirse ni un milímetro de sus decisiones buscando expandir la ofensiva en su actual condición de rehén.
Hoy, distintos prisioneros se han levantado en huelga de hambre contra los avances represivos, incluyendo las cárceles tipo-C. Por su parte lxs compañeros de la Conspiración de Células del Fuego-célula en prisión al igual que la compañera recientemente detenida Angeliki Spyropoulou, han iniciado una huelga de hambre hasta la muerte exigiendo la liberación de sus familiares y amigos, encarcelados como parte de la reciente estrategia de venganza Estatal. (more…)
Tags: Chile, Conspiracy of Cells of Fire : Imprisoned Members Cell, Hunger Strike, International Solidarity, Santiago
Posted in Direct Action
Tuesday, March 17th, 2015
En nuestro contexto histórico actual, el poder global y local se plasma en numerosos engranajes destinados al control social para la reproducción de las relaciones de dominación y sumisión.
Desde los grandes complejos industriales hasta la tecnología inserta en la cotidianidad de la persona, la recolección de datos a través de las "redes sociales" y la promoción de la ideología de la "seguridad", el poder se preocupa de tener en sus manos la capacidad de mantenerlo todo bajo su control para mantener el orden sustentado en privilegios, riquezas y opresión. (more…)
Tags: Chile, International Solidarity, Penta-Security, Santiago
Posted in Direct Action
Sunday, March 1st, 2015
Anarchist comrade Nataly Casanova was denounced for 'threats' against prison guards in the prison of San Miguel, where she is locked up since September 2014 awaiting trial for the placement of four explosive devices (Metro los dominicos, 1st Comisaria, 39th Comisaria, divecenter Metro Escuela Militar).
Nataly during these months has received four complaints about her 'attitude' as she is not submissive towards the jailers.
Tags: Chile, Natalie Casanova Muñoz, Repression, San Miguel prison
Posted in Prison Struggle
Wednesday, February 25th, 2015
EN: Propaganda action outside the Southern District Attorney's Office in response to the imprisonment of compañero Diego Ríos
En los días posteriores a que se decretara una prisión preventiva de 30
días contra el compañero Diego Ríos, hemos arrojado volantes en las
afueras de la Fiscalía Sur, marcando en la calle nuestra presencia
antiautoritaria con una declaración de guerra:
CALOR SOLIDARIO A LXS AMIGXS DE LA LIBERTAD
FUEGO REBELDE A LOS DEFENSORES DEL PODER
¡DIEGO RÍOS A LA CALLE!
Como ente persecutor de quienes llevan a lxs hechos el antagonismo con
el orden autoritario, y como responsables del encarcelamiento de
compañerxs anarquistas en los últimos años, la Fiscalía Sur, sus
dependencias y fiscales debieran ser objeto de permanente hostigamiento
y ataque por parte de lxs antiautoritarixs. (more…)
Tags: Chile, Diego Ros, Solidarity Action
Posted in Direct Action
Wednesday, February 25th, 2015
[Noticias de la Guerra Social]
Durante la mañana del 16 de Diciembre del 2014, un aparente artefacto
explosivo es encontrado entre el Subcentro y la Escuela Militar,
generando un amplio dispositivo policial y mediático.
Hace un par de meses atrás, más precisamente en Septiembre, un artefacto
explosivo detona en un basurero del Subcentro en pleno horario de
almuerzo hiriendo a varios transeúntes. La acción es reivindicada por
"Conspiración de Células del Fuego –Chi" quienes señalan haber dado un
tiempo de 10 minutos para evacuar el sector, alerta que no fue creída
por la policía e insuficiente para despejar dicha área altamente
transitada. (more…)
Tags: Chile
Posted in Social Control
Wednesday, February 18th, 2015
Lienzo en solidaridad con Carlos Gutiérrez Quiduleo.
Lunes 16 de Febrero, Temuco 2015.
El día 28 de noviembre del 2013 es detenido en la región de La Araucanía el compañero Carlos Gutiérrez Quiduleo, tras permanecer en la clandestinidad por 6 años luego de ser implicado en el Caso Security. Juicio que culminó hace unos meses con condenas altísimas sobre los compañeros Freddy Fuentevilla, Marcelo Villarroel y Juan Aliste.
Carlos esta arriesgando una pena de 30 años de prisión, siendo formalizado por 3 asaltos bancarios, más una causa por tenencia ilegal de arma de fuego y una agresión a un carcelero al interior de la Sección de Máxima Seguridad (CAS) el año pasado. (more…)
Tags: Banner drop, Carlos Gutiérrez Quiduleo, Chile, Freddy Fuentevilla Saa, Juan Aliste Vega, Marcelo Villarroel Sepúlveda, Solidarity Action, Temuco
Posted in Prison Struggle
Monday, February 9th, 2015


Breaking: Comrade Diego Ríos arrested after 5.5 years on the run

"Para mí la libertad no es un lugar, ni un permiso, es acción, es el sentido antiautoritario que colma cada acto, es el nerviosismo que precede al ataque, es la expresión incontrolada por un/a compañerx, es sentirse vivo, porque sabes que tu vida ya no le pertenece al capital, sino que lo enfrenta."
- Diego Ríos -
Cuando hablamos de una lucha multiforme entendemos que cada acto aporta desde su debida magnitud, y desde la sinceridad con que es realizado, por ello, éste es un mínimo pero necesario gesto de solidaridad ante la detención del compañero Diego Rios durante la tarde del día 07 de febrero de 2015. Envíamos un fraterno abrazo al compañero que en este momento se encuentra en las garras del Poder.
Ante los movimientos represivos desatados por el Estado-Policial nuestras acciones se agudizan y transitan irremediablemente dentro del conflicto. La Guerra Social no se detiene, se propaga en cada paso y acto revolucionario.

09|02|2015
Tags: Chile, Diego Ros, Flyposters
Posted in Social Control
Saturday, February 7th, 2015
Vegan food, liberated price
For the address: blancarde2015@riseup.net
*The film is in Spanish but the subtitles are in English
International solidarity with those implicated in Operation Pandora

"For those who struggle, the sense of solidarity intends to dismantle
the loneliness of incarceration, waging a battle against forgetting our
comrades abducted by states, bringing to light the logic of domination
that seeks to condemn them to surrender."
– anarchists of Pandora
A year after the end of the "Caso Bombas" farce, the Spanish and Chilean
ministries, judges and cops are working together on a new case, this
time on this side of the ocean. Mónica Caballero and Francisco Solar,
both ex-suspects in the "Caso Bombas" case, are arrested in Barcelona,
suspected of placing an explosive at the Basílica del Pilar in Zaragoza,
planning a similar action and belonging to an alleged terrorist
organisation. (more…)
Tags: 14/14, Chile, France, International Solidarity, Marseille, Operation Pandora
Posted in Social Control
Wednesday, February 4th, 2015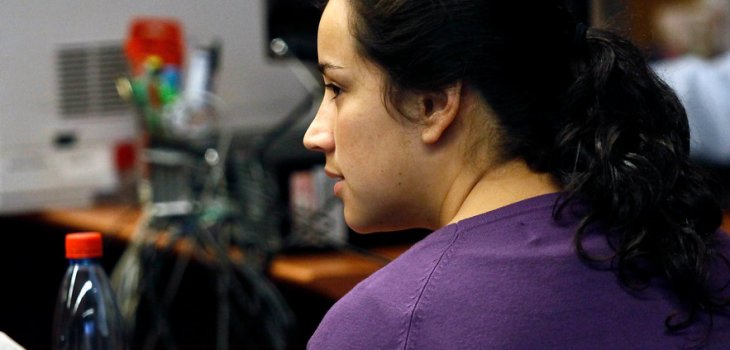 Updated:
According to info received, Tamara Sol was found guilty by the court and sentenced to 7 years and 2 months in prison, with a fine of $215.000 (US$ 345 – €300). Recall that Tamara Sol is the comrade who was arrested after a BancoEstado security guard was shot in revenge for the death of Sebastián Oversluij Seguel.
Definitive charges and sentences are the following:
Attempted Murder: 7 years
Theft [of the gun of the security guard who was shot]: 61 Days + fine.

After the trial, there was clashes between Sol family's and the tribunal guards (gendarmes). The family rebuked the judges and threw leaflets, calling the judges "fascists" and accusing them of developing a biased and political judgment. Also, the judges order to take a DNA sample of Sol, to include it in the National Register of Convicted.
However, there still exists an appeal opportunity against the sentence.
A video of the audience: http://www.youtube.com/watch?v=_eFns2YZUFY
And pictures of the meeting:

(from left to right: Luisa Toledo -grandmother-; Ana Vergara -mother-; Manuel Vergara -grandfather-)

(the man with the red megaphone is the father of Sol)
Solidarity to Tamara Sol!
Tags: Chile, Repression, Sebastián Oversluij Seguel, Sol F. Vergara, Tamara Sol, Trial
Posted in Prison Struggle
Tuesday, February 3rd, 2015
Inter Arma received from Sin Banderas Ni Fronteras:
After one year of detention in San Miguel prison, anarchist comrade Tamara Sol started to face the trial in which power aims to annihilate her. Tamara is accused of shooting a bank guard in January 2014, just days after a bank guard killed comrade Sebastian Oversluij in an attempted bank robbery, in a different bank branch.
In November 2014, a brief preparation for trial against Tamara was performed, which finally started on this January 23. Tamara is facing a democratic inquisition that wants to sentence her to several years in prison, with charges of attempted murder and accomplished simple theft. (more…)
Tags: Argentina, Banner drop, Buenos Aires, Chile, Sebastián Oversluij Seguel, Sol F. Vergara, Solidarity Action, Tamara Sol, Trial
Posted in Prison Struggle
Friday, January 16th, 2015
via War on Society:

Street blockade for Taco the polar bear.
In order to speak out about the situation suffered by Taco the polar bear at the Santiago metropolitan zoo, we demand the release of the polar bear.
Blockade carried out December 26, 2014
-
Tags: Burning Barricades, Chile, Santiago, Solidarity Action, Taco the Polar Bear
Posted in Eco Struggle
Friday, January 16th, 2015
Complicidad y solidaridad más allá de los idiomas, banderas y fronteras.

Con el comienzo del año y aprovechando las celebraciones, el gobierno griego dio comienzo a un proceso de traslado de prisionerxs hacia la Cárcel de tipo C de Domokos, con el claro objetivo de aislar a lxs prisionerxs en guerra e intentar amainar la lucha anárquica que cada día se intensifica en las calles y dentro de los siniestros muros de las prisiones.
El primer prisionero trasladado fue el compañero anarquista Nikos Maziotis miembro de Lucha Revolucionaria a lo que rápidamente de sumaron Dimitris Koufontinas, miembro de la organización 17 Noviembre, Kostas Gournas miembro de Lucha Revolucionaria, Yannis Naxakis y Grigoris Sarafoudis, condenados por atraco a mano armada y por supuesta participación en las CCF. (more…)
Tags: 17 November, Burning Barricades, Chile, Christodoulos Xiros, Conspiracy of Cells of Fire, Dimitris Koufodinas, Giannis Naxakis, Greece, Grigoris Sarafoudis, International Solidarity, Kostas Gournas, Nikos Maziotis, Revolutionary Struggle, Santiago, Solidarity Action, Type C prisons
Posted in Direct Action
Thursday, January 15th, 2015
English translation via War on Society
Un Paleógrafo es un paleógrafo…pero es más que un trozo de papel cuando
viene enmarcado en una forma de ver y entender el combate desde la
multiformidad permanente.
Es un mínimo gesto de respuesta, un guiño cómplice a nuestrxs compañerxs
secuestradxs por el Estado Español, nuestras complicidades se extienden
mas allá de cualquier frontera.
La complicidad entre el Estado chileno y Español se hizo evidente en el
coqueteo publico entre sus organismos represivos, materializándose con el
encuentro entre sus autoridades con diversos viajes entre ambos
territorios durante los últimos meses.
La operación Pandora no es simplemente la re-edición ciega de un modelo
represivo, sino que además incluye un movimiento de avanzada, contemplando
la falsificación de la realidad al apuntar a los GAC como una célula de
acción directa (tal como aquí las casas okupas fueron señaladas como
fachadas de una "organización terrorista"). Pero además el salto represivo
esta dado en la fantasiosa trampa de acusar a lxs compañerxs de conformar
una "organización terrorista" que no ha cometido ningún ataque conocido.
Esto es la Democracia, el absurdo que se autoafirma para perpetuarse en el
poder. Como antiautoritarixs no tenemos nada que mendigar, solo declarar
nuestro desprecio.
Desde las diferentes latitudes y territorios aprendamos de la maniobra
represiva en España, entendiendo que la Guerra Social se vive a nivel
global. Los Estados se comparten información y estrategias. Nosotrxs no
solo contemplamos, sino que somos parte de la misma marea contra el poder.
No olvidamos a nuestrxs hermanxs Francisco y Mónica, nuestros corazones
han estado y estarán con ustedes.
Solidaridad y lucha con lxs compañerxs secuestradxs por la Operación
Pandora y con nuestrxs entrañables compañerxs de la Conspiración de
Células del Fuego y Christodoulos Xiros recientemente
encarcelado:¡Guerrillero una vez, Guerrillero Siempre!
Algunos Anarquistas
$tgo-Chile. Enero 2015.
Tags: Banner drop, Chile, Christodoulos Xiros, Conspiracy of Cells of Fire, Francisco Solar, International Solidarity, Monica Caballero, Operation Pandora, Santiago, Solidarity Action
Posted in Prison Struggle
Sunday, December 28th, 2014
[Noticias de la Guerra Social]
Durante Diciembre del 2014, distintas expresiones de combate callejero
se volvieron a encontrar en la calle buscando mantener viva la memoria
insurrecta del compañero anarquista Sebastian Oversluij abatido durante
una expropiación bancaria el pasado 13 de Diciembre del 2013.
Ya desde Noviembre el sabotaje a la maquinaria del olvido se expreso con
fuego y combate, asi fue el ataque incendiario contra una micro en el
sector de Macul con Grecia (1) o el bloqueo dela línea férrea del tren de carga por parte del "Grupo Anarquista Coordinado – GAC. Banda Organizada Mauricio Morales /
Célula Incendiaria Sebastián Oversluij." (2)
Por solo nombrar algunos hechos, a continuacion un breve recuento
–siempre incompleto- de lo ocurrido hasta ahora.
Tags: Chile, Repression, Santiago, Sebastián Oversluij Seguel, Solidarity Action, Surveillance
Posted in Direct Action
Saturday, December 27th, 2014
From RadioAzione
Translated by act for freedom now
The preliminary hearing of the trial against comrade Tamara Sol Farias Vergara took place in Santiago on Monday 24th November. Tamara has been held prisoner in the jail of San Miguel for almost a year on charges of attempted murder and theft.
During the hearing defence lawyers and prosecutors submitted evidence reports, witness statements and other findings.
The court rejected about 28 witnesses for the prosecution, most of them cops of OS-9 and bank employees. Many of them did not even witness the events that led to Tamara's arrest.
The judge also accepted a defence lawyers' request and rejected other evidence, findings and materials presented by the prosecution and the representative of Banco Estado (the claimant).
There was a strong presence at this first hearing of comrades who have expressed solidarity with the comrade and her family from the start. But the comrades had to stay outside the court as the judge ordered the hearing be held behind closed doors. In spite of this Tamara managed to hear the slogans shouted by the comrades outside.
The triad of judges will be appointed and the date of the start of the trial fixed in the next few days.
Solidarity and complicity with Tamara Sol!
Tags: Chile, Repression, Santiago, Sol F. Vergara, Tamara Sol, Trial
Posted in Prison Struggle