Posts Tagged 'France'
Saturday, February 6th, 2016
via non-fides
Words of introduction by the translators (Dialectical Delinquents) : The following is a translation of a communique sent out from the anarchist bookshop "La Discordia" in Paris, which has been tagged and been the subject of smears calling them fascists because of their critique of Islam.

Various comments have been circulating the Parisian "anti-authoritarian" milieu describing both La Discordia and non-fides (which are not the same thing, despite some people being involved in both, some are involved in just the bookshop/library) as racists and – at least in the case of non-fides – as anarcho-nationalists. Anyone looking at either of them for longer than 2 seconds would realise that there's not only not the slightest bit of truth in these slanders, but also that they have consistently maintained an internationalist position contrary to some of the implicitly nationalist stances of some of the "anti-authoritarians" (e.g. a failure to critique Palestinian or Kurdish nationalism). Whilst this graffiti might seem a fairly trivial incident, such things, unless vigorously contested, can have a miserable result far worse than a tag. A lie goes half way round the world before the truth has time to get its boots on. And in a world of lies, most people are ready to believe anything as long as it conforms to their prejudices – lies are taken on faith, and most avoid checking things out themselves (one only has to look at the history of Stalinism to understand how vicious calumnies and amalgam techniques can become). So, in the spirit of solidarity with these anarchists, I have translated this text, despite it being of interest to fairly few people.
As planned long before, on Tuesday, January 26th, a debate entitled "Islamophobia: the conceptual political extortion racket" was held in La Discordia. We wanted to confront ourselves and others with a topic that is at the crossroads of the current widespread confusion over the condemnation of racism and the defense of religion. The joint discussions were interesting, and the sixty or so comrades and companions who came (we promise, next time we will rent a larger place, and with more chairs!) demonstrated that a lot of people find the need for a revolutionary critique of religions, every religion, even Islam, which others would like to palm off as the "religion of the oppressed." (more…)
Tags: France, La Discordia, Non-Fides.fr, Paris, The Misery of Islam
Posted in Cognitive Liberty
Monday, November 30th, 2015
From The Acorn:
Tear gas and grenades were fired by French riot cops against brave activists who defied martial law in France – and more than 200 people were arrested.
Thousands took to the streets of Paris against the hypocrisy of the industrial capitalist system and its phoney COP21 climate summit.
For their pains they were kettled, intimidated, attacked and gassed by the cops. "The state of emergency is a police state, a fascist state!" they shouted in defiance of the brutal force deployed by a state which has been so busily depicting itself as a victim, rather than a perpetrator, of violence.
Activist media reported several hundred arrests, with the police taking arrestees away in buses. (more…)
Tags: Climate Chaos, COP21, Demo, Ecological Destruction, France, Paris, Riots
Posted in Eco Struggle
Friday, November 27th, 2015
http://desruines.noblogs.org/post/2015/11/24/numero-2-automne-2015/
Tags: Des Ruines, France, PDF, Zine
Posted in Library
Thursday, November 26th, 2015
Tags: Facom Unit, France, Spiral Tribe, UK
Posted in Library
Monday, November 9th, 2015
Monsanto situated near Rennes (Ille-et-Vilaine), in the municipality of La Meziere, a Monsanto research centre was victim of a fire on October 28 around one in the morning. 100 square metres of offices were destroyed by the flames, the rest of the building did not have time to be affected thanks to the very rapid response of about twenty fire fighters. The investigators sent believe it could be a criminal act because the fire had been started in two places. An investigation is underway to determine the exact cause of the accident.
This R & D centre of Monsanto has a dozen employees. It specializes in research on the selection of conventional corn seeds for silage, destined for animal feed. The site is no longer functioning. It does not intervene on GMO products in any way, said the director of the Monsanto group in France in Saint-Priest, near Lyon (Rhone).
In France, the North American group Monsanto, some of whose products are very controversial, employs nearly 600 employees. It divides its activities between 11 different sites among which La Meziere. In France, the group does not sell GM seeds but conventional products for major crops like maize and rapeseed. It also markets the herbicide Roundup.
-
Posted on October 30, 2015 by Attaque
Translated by Act for freedom now
Tags: Arson, France, Ille-et-Vilaine, La Meziere, Monsanto, Monsanto Corporation
Posted in Direct Action
Wednesday, September 23rd, 2015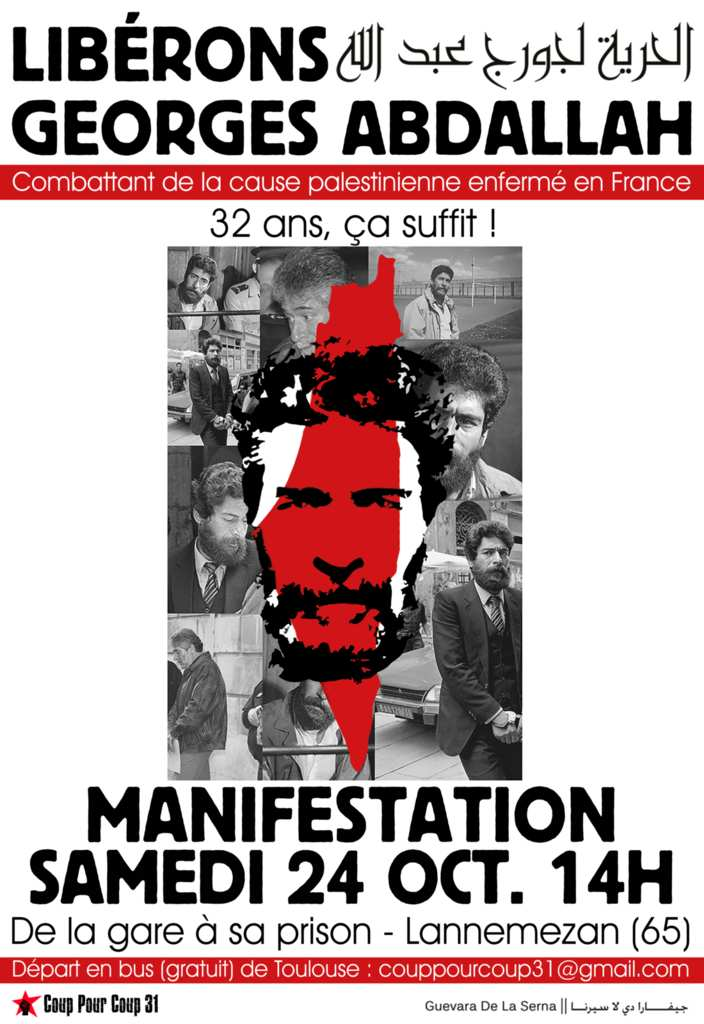 Georges Ibrahim Abdallah, a 64 year-old Lebanese communist, was arrested in Lyon (France) on 24 October 1984 and sentenced to life imprisonment for actions for which the Lebanese Armed Revolutionary Factions (LARF) claimed responsibility.
In 1978 he fought with the Popular Front for the Liberation of Palestine (PFLP) to push back the Israeli invasion of the Lebanon.
He was due for release in 1999, and keeping him in jail responds to a political decision on the part of the French State, with the backing of Israel and the United States. The latest request for parole for Georges Ibrahim Abdallah filed in 2014 was once again turned down. But we will not be deterred by this decision; it will only make us all the more determined! We will not be silenced by this decision; we will make our voice heard! (more…)
Tags: Demo, Factions Armés Révolutionnaires Libanaises (FARL), France, Georges Ibrahim Abdallah, Popular Front for the Liberation of Palestine (PFLP)
Posted in Prison Struggle
Saturday, August 15th, 2015
Mildly interesting article giving info on international police operations against the radical left, concerning the well known vastly over-hyped cases of the 'Invisible Committee' and Mark 'Stone' Kennedy, UK undercover cop.
Tags: France, Germany, UK, USA
Posted in Social Control
Thursday, June 18th, 2015
Also read: Toulouse, France: Summary of the arrests, convictions and sentences from recent ZAD demos.
An individual has been prosecuted who is suspected to be responsible for the publication of an article on IAATA.info, a collaborative and antiauthoritarian website in Toulouse. Informing people about police repression is a right and a necessity : that is why you find here a solidarity statement that denounces the criminalization and intimidation of the free independent media.
On Thursday March 7th, the corporate media announced that an individual from Toulouse was prosecuted by the State for a "public provocation to commit a crime or a felony". S/he is alleged to be an "admin" of IAATA.info, an antiauthoritarian website based in Toulouse. (more…)
Tags: Counter-info, France, Rémi Fraisse, Repression, Toulouse
Posted in Social Control
Wednesday, April 22nd, 2015
La discorde est une forme profonde de désaccord, un dissentiment violent qui oppose des personnes entre elles et les dresse les unes contre les autres. Ce que nous souhaitons encourager, c'est qu'elle les oppose plutôt à ce vieux-monde et à ses défenseurs, comme cela se manifeste déjà, ça et là, par de nombreux actes de révolte et d'insoumission. Il n'est pas question pour nous de jeter de l'eau sur les braises de ces révoltes, mais au contraire de jeter, comme la déesse Discordia, la pomme de discorde au milieu de cette société où les rapports marchands et répressifs semblent avoir pris le dessus sur l'entraide, la solidarité et la recherche d'une vie que l'on aimerait vivre. Aussi contre cette résignation diffuse et la recherche du consensus à tout prix – même au prix de l'apathie. (more…)
Tags: France, La Discordia, Paris
Posted in Autonomy
Tuesday, February 24th, 2015
- G.I. Abdallah : Nouveau refus de libération
LIBÉRATION IMMÉDIATE DE GEORGES IBRAHIM ABDALLAH
RASSEMBLEMENT DE PROTESTATION
MERCREDI 25 FÉVRIER 2015
DEVANT L'AMBASSADE FRANÇAISE D' ATHENES
(Coin des rues Vas. Sofias et Akadimias)
Le communiste révolutionnaire Georges Ibrahim Abdallah est dans son 31er année d'enfermement dans les prisons françaises. Toutes les demandes de libération conditionnelle qu'il a faites jusqu'ici ont été rejetées par les tribunaux sous des prétextes divers, après des interventions continues du State Department américain et du lobby sioniste aux gouvernements français. L'Etat français, en rôle de protectorat, met en œuvre un système d'exclusion contre un militant qui est libérable depuis 1999.
Le 5 Novembre 2014, le tribunal d' application des peines de Paris a rejeté la neuvième demande de libération que Georges Ibrahim Abdallah avait soumis en Mars 2014.
La demande d'Abdallah était considérée «irrecevable» sous le prétexte que précédemment il n'a pas fait l'objet d'un arrêté d'expulsion. Cette parodie de justice, confirme encore une fois le régime d'exception applicable à Georges Abdallah pour plus de 31 ans. Il est confirmé que le maintien en détention de Georges Abdallah est une décision politique du gouvernement français. (more…)
Tags: Dimitris Koufodinas, Factions Armés Révolutionnaires Libanaises (FARL), France, Georges Ibrahim Abdallah, Greece, Letter, Nikos Maziotis, Repression
Posted in Prison Struggle