Posts Tagged 'Fuck the Law'
Sunday, September 21st, 2014
from contrainformate transl. waronsociety:
On August 11 we carried out an attack on the 39° Bosque and 1° police stations in Santiago. We wanted to show that it is possible to hit the police right in the nose. It ended up as we would have liked as some bastion of law was injured.
/"they are mortal and their laws are destructible"/
We love to see wounded or dead cops whether in conflictual clashes or acts of sabotage.They should know that anyone of them could face the same fate as the pigs Moyano, Vera, or Bobadilla; they are all responsible (and volunteers) of belonging to a military institution that represses the population on a daily basis and orders us to comply to the laws imposed by the powerful.
It should be clear to them that each aggression that has been committed by the pigs of power is not forgotten, that their condition of impunity will not last long, they are human beings, mortal like any other.
Let us dare to confront them, there is every reason to detest the existence of the police, ratis, repressive forces, and/or guardians of the rich. They are the military force of the bourgeoisie in charge of suppressing and punishing every attempt to recuperate that which has been accumulated for centuries thanks to exploitation.
Whether in robberies or protests, they are those in charge of exerting fear on the population. Their essence is the defense of the system making us submit to its miseries. They and their bosses should be beaten and attacked with every means and all their manifestations.
We remember each blow given and yearn for the multiplication of direct attacks against their repulsive authority, as the preparation of material needed in order to cause the desired damage is minimal.
We remember and align ourselves with the compañerxs who carried out the failed attack on January 1, 2014 on the 14° station in ñuñoa, we also would have liked to see how this powerful device detonated and we celebrate the attack on the Lo Prado station!!
We send our fraternal greetings to all the families and loved ones of those fallen at the hands of the police.
Present in our minds are Matias Catrileo, Jhonny Cariqueo, Claudia Lopez, Daniel Melinao, Javier Mendoza Collio, all are present, dead here or in whichever part of the world they are part of the social war.
We are adding to the initiative of the compas in Indonesia and we make up part of:
C.I.V (Conspiración Internacional por la Venganza)

International Conspiracy for Revenge
Tags: Chile, Fuck the Law, International Conspiracy for Revenge, Santiago
Posted in Direct Action
Tuesday, September 16th, 2014
DOWNLOAD FLV VIDEO: Police car burned
In solidarity with anarchist prisoners all over the world, in the morning of Saturday 30th August 2014, we made an arson attack on a police car, which stood in the street in front of the station Truhlářova in Ústí nad Labem. The event has become a fragment of a mosaic of solidarity activities during the International Week of Anarchist Prisoners. It was announced for 23 to 30 August 2014.
Francesco Puglisi, André Mazurek, Yiannis Dimitrakis, Olegovich Igor Kharchenko, Rebecca Rubin, Bill Dunne, Nikos Maziotis and many others, known and unknown. They were imprisoned for their anarchist attitudes and actions. Our arson attack against the police is a solidarity message sent to all of them. The communication of this direct action is simple. In the ongoing class war the State puts in jail the people when they actively resist. A good sign of solidarity with the imprisoned comrades is therefore continuing the resistance. In opposition to the same goals with the same means that our friends often chose before being placing in the cells of the State.
There is no doubt that the purpose of prison is not only isolation and the subjection of detainees. In a broader sense, it is their task to influence those who survive outside of a prison cell. They intimidate every resisting person and try to break his/her will to fight. Anarchist groups around the world show that to achieve this goal is virtually impossible. While the States imprison many anarchists, others -despite the risks- continue to practice rebellion. Our arson attack in Ústí nad Labem is a powerful reminder that suffocating our friends behind the prison walls will not smother our libertarian will to resist. On the contrary, every act of State repression against the anarchist movement recreates other rebellious passions. They manifest themselves in a variety of direct actions and will continue until all the comrades leave prison.
Proletarian Solidarity Cell / Network Revolutionary Cells – 30th August 2014
Tags: Arson, Czech Republic, Fuck the Law, International Solidarity, International Week for Anarchist Prisoners, Network Revolutionary Cells, Proletarian Solidarity Cell / Network Revolutionary Cells, Ústí nad Labem
Posted in Direct Action
Saturday, September 6th, 2014
From the midst of the terror-fervor, the advance of the surveillance state, and display of force by the law.
This is to report incendiary action bringing life to our hatred for the police, inkeeping with our wider effort for the eradication of authority and it's civilisation and with not a step back before repression which fails to inhibit us…
It took place in Keynsham (on 3rd September) at the police-station where a fleet of support group vans and other marked force vehicles are kept close to the ring-road which skirts Bristol. We rigged all three mobile-CCTV vans at their charging station inside the perimeter to the side of the cop-den with short fuses, then more fuel in containers was primed to incinerate an extra riot squad minibus parked to the front after we'd left the area. When the fires were detected, the riot bus and at least one of the camera vans were already burnt. According to the media an individual was arrested shortly after, who they are probably even now dimly realising they have no evidence to charge because we alone are responsible for the blaze under their snouts.
The police-station is situated close to the massive Keynsham Police Centre due to now open which is also to assimilate the functions of the old Bath and Radstock stations as part of a newly-constructed series of the force's multi-purpose detention suites, crime investigation centres, an operations base and the tri-force firearms facility which was burned down by the hands of anarchists one year ago. (more…)
Tags: Arson, Bristol, Chile, Freddy Fuentevilla Saa, Fuck the Law, Informal Anarchist Federation (FAI), Juan Aliste Vega, Keynsham, Marcelo Villarroel Sepúlveda, Solidarity Action, UK, Uncivil Disobedients / Informal Anarchist Federation
Posted in Direct Action
Friday, September 5th, 2014


via In the Belly of the Beast (and mainstream media):
Bristol: Arrest after suspected arson attack at Keynsham police station (03 Sept)
A man has been arrested after two police vehicles were damaged in a fire at Keynsham police station.
The Avon and Somerset force vehicles – a safety camera van and a support group minibus – were damaged in the blaze in the early hours of this morning.
A police officer discovered the small fire in the yard at the Bath Hill site at around 3.20am and called Avon Fire and Rescue Service.
No-one had to be evacuated from the police station because of the fire.
A man who was in the area at the time was arrested and was being questioned this evening.
-
Brighton: Police car torched in suspected twin Church Street arson attack (02 Sept)
Police officers are investigating an arson attack which claimed one of their own cars.
The police car is thought to have been set fire to deliberately just half an hour after a bin containing paper and recycling went up in the same street.
The two blazes happened in Church Street, Brighton, in the early hours of yesterday.
The car was parked and unattended on the corner of Tichborne Street, Brighton, only about 50m away from the bin fire, which was outside the Mash Tun on the corner of New Road.
A fire crew from Preston Circus arrived to tackle the first blaze at about 2.30pm before returning to their station.
Just ten minutes later, they were called again to put out the police car using foam extinguishers and hoses.
The back half of the police car was destroyed.
Not one step back, arson the cops!
Tags: Arson, Fuck the Law, UK
Posted in Direct Action
Wednesday, June 25th, 2014


Here's some photos from one of our graffiti comrades in Indonesia… (more…)
Tags: Fuck the Law, Graffiti, Indonesia
Posted in Direct Action
Friday, May 23rd, 2014
Communique censored by the pacifist-judiciary of Indymedia UK:
RESPONSIBILITY CLAIM – SOLIDARITY KNOWS NO LAW
We firebombed the courthouse in central Yate, on 22nd May. 10 camping gas canisters were enough to devastate the front lobby, with a homemade napalm mixture as the detonator. We chose the early hours to avoid any injuries. Social war doesn't sleep: at any given time, irrepressibles somewhere are awake and angry, raging against impositions of the governing system which wants us as its cogs. That night it happened to be us.
New and bigger custody centers; more restrictive laws, injunctions and "anti-social behavior" legislation; legal aid reduced to entrap the poor; phonelines for snitching; different shades of cops embedding themselves throughout the layers of society; probation schemes to reinsert convicts into the world of wage-slavery and consumerism; a whole prison-world of concrete cities and surveilled data-streams overseen by the powerful, armed with CCTV, biometrics and electronic tagging to defend their wealth and social order…
And also carrying out this authoritarian disciplining of the individual, are the courts. Enforcers of human misery, shamelessly applying laws drawn up by the upper classes, politicians and business leaders. Stamping down to subdue people who are mostly trying to find means of survival while capitalism pits all against all.
The justice system tries to pass itself off as the only protection from the very same desperation and imbalances that civilized society creates. Its real function is and has always been to protect and sanctify property and privilege above all: and to usurp free communities or individuals capacity for autonomy, retaliation or reconciliation. (more…)
Tags: Arson, FAI - Conscience & Fury, Fuck the Law, Informal Anarchist Federation (FAI), International Revolutionary Front, International Solidarity, Mauricio Morales, Sabotage, UK, Yate, Yate Magistrates Court
Posted in Direct Action
Tuesday, March 18th, 2014
Just over a week ago, an Interim Possession Order was served on a squatted church in Brighton. Deciding to resist the IPO, the squatters barricaded the building, and took to the roof in protest and a large group of people gathered outside.
A Banner was hung from the roof stating "The meek shall squat the earth" in reference to some religious nonsense found within the church, and a black flag was flown whilst the squatters maintained a presence on the roof for 3 consecutive days.
Out of the numerous police patrols that passed, one cocky sergeant decided to parade around the church and threatened that the police would return at 5am in the morning to evict the squatters. (more…)
Tags: Brighton, Fuck the Church, Fuck the Law, Fuck the Police, Squatting, UK
Posted in Direct Action
Monday, February 24th, 2014
In the early hours of February 14, various anti-police slogans were sprayed across dozens of fences, walls, billboards and bus stops throughout Woolloomooloo, Redfern, Chippendale, Camperdown, Darlington and Newtown. (more…)
Tags: Australia, Demo, Fuck the Law, Police Brutality, Sydney, TJ
Posted in Social Control
Monday, February 3rd, 2014
from refractario, transl waronsociety:

"Strength, Sol, we love you. We are proud of you." – Luisa Toledo, grandmother of compañera Sol, on entering the courtroom.
Our dear compañera Sol was pointed out by power and accused of the attack on the miserable Banco Estado security guard Rolando Vargas Fuentes, in which 4 bullets were fired as a gesture of revenge for the murderous shots that another of his colleagues fired months earlier at the body of the anarchist compañero Sebastián Overluij. (more…)
Tags: Attentat, Banco Estado, Chile, Fuck the Law, Sebastián Oversluij Seguel, Sol F. Vergara
Posted in Direct Action
Saturday, December 7th, 2013
via Contra Info
Before I start describing the incident, I would like to mention the reasons why I haven't initiated any formal complaint or lawsuit. First off, I declare myself an anarchist-antiauthoritarian. Therefore, my conscience cannot be misled by legal proceedings. Freedom combatants should draw the battle lines against the system and its "privileges" offered to us. In the following account of the incident (which occurred two days before the anniversary of the murder of comrade Alexis Grigoropoulos, in 2008), I want to make it clear that I do not consider myself a victim of the described attack, because the battle lines are drawn, and we stand against the enemy, as I already mentioned. (more…)
Tags: Athens, Exarhia, Fuck the Law, Greece, Police Bastards, Police Brutality, Repression
Posted in Social Control
Sunday, December 1st, 2013
via Anonymous:
The report below is only a snapshot of what occurred on November 22nd. Our experience did not occur in isolation as a set of incommunicable facts and feelings. It is also not a historical narrative which swallows everything it does not crush. We hold out hope for some other form of thinking somewhere between the two.
"The police kill us youth, us young people, because they are afraid of us. They are afraid of the things we think and the things we know." – one of Chuy's friends, at the beginning of the event.
On Tuesday, November 19th 2013, Jesus "Chuy" Huerta died of gunshot wounds to the chest and head in the back seat of a Durham police vehicle. While police reported that the 17 year old was in the back of the cop car because he had been arrested for trespassing, the presence of a gun – an impossibility according to normal search procedure – has yet to be explained. The circumstances surrounding Chuy's death have been obscured. (more…)
Tags: Chuey Huerta, Demo, Durham, Fuck the Law, North Carolina, Police Brutality, USA
Posted in Autonomy
Thursday, November 21st, 2013
In the early morning of the 19th of November, the cops national special forces and the SÄPO (~ equivalent of MI5,FBI) organized a raid called Operation Eskil. The targets were a group of anti-fascists in different parts of the middle of Sweden. Some people were arrested, accused of attacking nazis and in several house raids the cops claimed to have found a lot of weapons and material for building incendiary devices.
Even though we do not share the socialist views with the anti-fascists, we do share a common enemy and the enemy of our enemy is a friend.
In response to the cops attack on our co-combatants, we decided to attack the cops. In the evening of the 19th we smashed the entrance windows of a cop station in Växjö, south of Sweden.
A modest action, non the less a promise of what will come when they attack our comrades.
Some anarchists with a passion for cop hatred
Tags: Fuck the Law, Operation Eskil, Repression, Sabotage, Sweden, Vaxjo
Posted in Direct Action
Friday, October 4th, 2013
Knowledge is Power – Fire to the BBC and the British Regime.
Tags: Akala, Fire in the Booth, Fuck the Law, Police Brutality, Racism, Repression
Posted in Autonomy
Thursday, September 26th, 2013
Komunike
Polisi adalah musuh. Ini adalah pernyataan final kami yang tidak akan lagi bisa ditawar. Polisi terlahir tidak untuk menjadi sahabat, secara individual maupun institusi, dan tidak bisa tidak dimasukkan dalam daftar musuh yang mesti mendapatkan pukulan paling keras. Sebagai institusi dan individu, polisi adalah mereka yang bertugas untuk melindungi peradaban dan eksploitasi yang dilakukannya terhadap bumi. Polisi -seperti juga instrumen penindas yang lain- bertugas mengamankan uang dan kepentingan investasi demi berlangsungnya hidup antroposentrisme seperti hari. Polisi tidak hanya sekedar representasi bagi kami. Sebaliknya, polisi adalah salah satu dari ribuan wajah dari kebiadaban hidup hari ini. Polisi layak diserang, sekeras mungkin.
Atas jasa-jasa polisi yang dengan setia menjadi anjing penjaga bagi domestikasi hidup, mereka dibekali dengan peralatan tempur yang digunakan untuk memerangi keinginan merdeka dan cita-cita kehidupan liar di mana aturan judisial dan perangkat hukum absen total. Mereka dilengkapi dengan senjata, perisai dan rompi anti peluru. Perangkat-perangkat diproduksi agar babi-babi ini dapat dengan percaya diri dalam menghadapi perang yang dialamatkan kepada tuan-tuan mereka.
Tapi mereka salah besar. Polisi-polisi babi itu salah besar jika menyangka bahwa kami tidak cukup berani untuk mengirimkan serangan kami tepat di bagian-bagian penting mereka. Seperti saat ini, ketika kami menempatkan dua buah jerigen berisi 5 liter bensin dan 5 liter solar dilengkapi dengan pemicu otomatis. Pemicu yang telah kami siapkan agar kami dapat menjauh dari lokasi serangan dan membuat mereka tidak akan bisa menangkap satupun dari kami. Waktu yang lebih dari cukup untuk kami membiarkan alam melindungi kami dengan menghapus seluruh jejak-jejak kaki kami.
Kami mencoba sebuah langkah baru untuk meradikalkan serangan kami dan memperluas efek kerusakan yang ditimbulkan dari setiap pukulan yang kami arahkan kepada musuh. Perangkat pembakar yang kami kirimkan ke sebuah pabrik saat dini hari Senin, 23 September, yang terletak di Jalan Suryani Terusan, Kelurahan Babakan, Kecamatan Babakan Ciparay, Bandung, Jawa Barat.
Alasannya? Pabrik ini memproduksi rompi anti peluru bagi polisi dan tentara. Pabrik ini adalah salah satu sumber produksi peralatan perang bagi babi-babi ini. Rompi anti peluru untuk melindungi polisi dan tentara ketika mereka menembaki musuh, menembaki kami dan saudara-saudara kami.
Itu mengapa, membakar hangus pabrik ini adalah tujuan aksi ini.
Bersama aksi ini, kami mengirimkan salut hormat kami kepada para kombatan di belahan dunia lain dan tempat lain yang tanpa ragu melakukan serangan semaksimal mungkin. Salut kepada aksi bersama yang dilakukan oleh CCF Rusia dan ELF Rusia. Juga serangan tanpa henti dari kombatan-kombatan Amigo de la Tierra – FAI di Argentina. Juga serangan beruntun dari para pemberani di CCF dan ICR dalam Projek Phoenix.
Aksi ini juga adalah salam dan pelukan hangat kami kepada individu-individu pemberani yang diculik oleh negara namun terus melancarkan perang dalam keterbatasan geraknya. Kepada Gabriel Pombo da Silva, Marco Camenisch, Hans Niemeyer, Walter Bond, para kombatan dari Sel Dalam Penjara CCF serta para tahanan di Yunani, Italia dan Chile yang tidak bisa kami sebutkan satu persatu namun selalu berada di dalam hati kami.
Runtuhkan Peradaban
Kehidupan Liar, Sekarang!

ELF Fraksi Indonesia
=======================
Communique:
The police are the enemy . This is our final statement that is not negotiable. Police are not born to be friends, as individuals and as an institution, and can not be excluded from the list of enemies that must be addressed by for our attacks. As an institution and as individuals, the police goal is to protect civilization and the exploitation it is doing to the earth.
The objective of the police -as well as the other repressive instruments- is to secure the money and investment interests for the sake of the anthropocentric way of life as it is today. The police are not for representing our interests. Instead, the police are one of the thousands of faces of outrage alive today. Police must be attacked, as hard as possible.
For their loyal services as guard dogs for the domestication of life, they are equipped with combat equipment that is used against free will and the aspirations of wildlife where the judiciary and the rule of law are totally absent. They are equipped with weapons, armor and bulletproof vests. The devices are manufactured so that the pigs can act with confidence in the face of the war that is addressed to their masters.
But they were wrong. The pigs have a totally wrong idea if they think that we are not brave enough to send our attack right to their essential sectors. As of this moment, when we put two jerry cans containing 5 liters of petrol and 5 liters of diesel equipped with an automatic trigger. Triggers that we have prepared so that we can move away from the scene of the attack and make them not be able to catch any of us. Which is more than enough time for us to let nature protects us by removing all traces of our feets.
We tried a new step to radicalize our attacks and extend the effects of the damage from any blows that we direct to the enemy. Incendiary devices placed at a factory during the early hours on Monday, September 23, located on Canal Street Suryani, Babakan Village, District Babakan Ciparay, Bandung, West Java.
The reason? This factory manufactures bulletproof vests for cops and army. This plant is one of the sources for the production of war equipment for these pigs. Bullet-proof vests to protect police and soldiers when they open fire on the enemy, open fire on us and on our brothers. That's why, this place is burning, charred, and this is the purpose of this action.
Together with these actions, we send our respectful salute to the combatants in other parts of the world and other places who without hesitation attack as much as possible. Salute to the joint actions undertaken by CCF Russia and the Russian ELF. Also the relentless attack from combatants Amigo de la Tierra – FAI in Argentina. Also the multiple attacks by the brave ones of CCF and ICR in Project Phoenix.
This action also is our warm greetings and hugs to the brave individuals who were abducted by the state but continue to wage war whilst their physical movements are limited. To Gabriel Pombo da Silva, Marco Camenisch, Hans Niemeyer, Walter Bond, the combatants of CCF Imprisoned Members Cell and the prisoners in Greece, Italy and Chile that we can not mention one by one, but they are always in our hearts.
Bring down the civilization
Wild Life, now!
ELF Indonesian Fraction
====
Link of the video of the action from local news:
http://tv.detik.com/readvideo/2013/09/24/182502/130924044/061009681/pabrik-rompi-anti-peluru-terbakar?nd771104fvt
Tags: Arson, ELF- Indonesian Fraction, Fuck the Law, Indonesia, International Solidarity, Sabotage
Posted in Direct Action
Monday, September 23rd, 2013
Shame is not a job
Eight hours standing in the perimeter of a police bus at the corner of Charilaou Trikoupi with Didotou street in Exarchia, wondering when you're going to be attacked by "bottles" and stone-throwing. Recipients of hatred and rage that permeate our entire being. For what you are. For what we are. For those whom you serve. For what we're fighting for.
Eight hours in a row, and now it's time for the night shift, at 22.00, on September 19, 2013. Fresh pigs have come to replace you. After a chit chat, you enter the mobile pigsty all together.
But you are to confront us when you least expect it, when you sit your ass on a seat of the police bus, exhausted from this filth you call a job.
Two blocks away, at the junction of Charilaou Trikoupi and Dervenion streets, comrades wait for the police bus to get moving. They take positions, wait a bit longer, and then they push trash bins and block the street. The 10-liter jerrycans filled with gasoline are rolling underneath the vehicle. The cops make it just in time, and abandon the bus before watching the first Molotov light the flammable material. They have fear in their eyes.
Some other time, in another place, we'll be waiting for you.
Pavlos lives among us.
Tags: Athens, Fuck the Law, Greece, Killah P, Molotovs
Posted in Direct Action
Saturday, September 7th, 2013
'Anarchists claim responsibility for fire at luxury West Melbourne car dealership, but police have doubts' the headline of the Herald-Sun screams the day after our little visit to Gran Turismo Autos.
Apparently 'investigators' do not believe that a 'mysterious anarchist group' were responsible for the fire & the Herald-Scum, which is the de-facto mouthpiece of the Victorian Police force in Melbourne, chose not to name the website where we initially posted our claim of responsibility – they also chose to only include a partial sentence from our communique.
Well we have some doubts of our own.
We doubt very much that the cops & the Herald-Scum are being truthful, and we think that even the casual reader of Tuesday's article would be doubting the truthfulness of the cops and their pet media outlet too. (more…)
Tags: Australia, Felicity Ann Ryder, Felicity Ann Ryder Cell / FAI- IRF, Fuck the Law, Fuck the Mainstream Media, Gran Turismo Autos, Informal Anarchist Federation (FAI), International Revolutionary Front, Melbourne
Posted in Direct Action
Wednesday, August 28th, 2013
Brief Message To The Enemies (Phoenix Project part 5)
We will not talk about "unfair prosecutions", about "the climate of terror against those who fight", nor about the "new totalitarian-ism" and things like that. That's because we know that none of these is new. These are simply snapshots of the ancient war between two incompatible words: on the one side lies the disgusting world of the Authority, of the submissive crowd and of the social cesspit and on the other side, the anarchist insurgents, the insubordinate fighters of the Negative, those who do not bow down to nobody. We will neither talk about the others. The ones who these days feel secretly happy and relieved. Now it's not the time nor the place to do so. They should bear in mind, however, that the time will come to talk about these things. -
– Freedom To The Wolves of The North
When we said "nothing is over", it's not only just words. Our threats will turn into action, time by time, every second we get the chance. And every time, we will bring our actions closer to your face. Directly in front of your guns, uniforms and prison – repressive tools that are often used to kidnap our revolutionary comrades. We will never let you sleep well, because our war is not over yet. (more…)
Tags: 'ICR-FAI-IRF / Free Mandylas and Tsavdaridis Cell', Alfredo Cospito, Andreas Tsavdaridis, Arson, Balikpapan, Conspiracy of Cells of Fire : Imprisoned Members Cell, Freddy Fuentevilla Saa, Fuck the Law, Hans Niemeyer, Indonesia, Informal Anarchist Federation (FAI), International Revolutionary Front, International Solidarity, Juan Aliste Vega, Kozani, Marcelo Villarroel Sepúlveda, Nadir Squat, Nicola Gai, Operation Ardire, Operation Thor, Operation "SHADOW", Phoenix Project, Sabotage, Spyros Mandylas
Posted in Direct Action
Wednesday, August 28th, 2013
August 27, 2013 – Responsibility claim for large-scale arson of £16million police firearms training facilities and vandalism of vehicles of the corporate security services:

The (under construction) Police Firearms Training Centre in Black Rock Quarry, Portishead, situated directly beneath the Avon and Somerset Police regional headquarters was our target on the night of 26th August, and we left it with flames licking high. The facility is intended to serve forces across the South West.
After climbing into the quarry we used accelerant to burn the major electrical cables at five junction points throughout the complex, and doused and lighted a pallet of electrical fittings and wires. More than twelve hours later the fire is still burning. It put smiles on our faces to realise how easy it was to enter their gun club and leave a fuck you signature right in the belly of the beast, with a curious fox as our only witness.
On the same night others of us attacked two vehicles near St George, Bristol with paint stripper and by slashing the tyres – one G4S and one Amey. In the UK and globally G4S provide prison and security services and profit from many aspects of prison society. Amey, in a joint venture with GEO transport prisoners in England and Wales and run courthouses in Bristol and North Somerset.
In the City around us the lock down increases; there is a general atmosphere of rising fear and powerlessness; there is more and more surveillance, and security guards with handcuffs appear on more and more doors. Tensions across the world are simmering as people lose faith in the system. As a response to this insecurity the state is militarising it's police with firearms, remote control drones and 'non-lethal' weapons that regularly kill. At the same time they develop the preventative 'soft cop' buffer of community support officers, liaison teams and so on, that are more fitting with the democratic image. They even get some help from leftists such as John Drury from Aufheben with his contributions on crowd control, who is as terrified of the unmanageable as the ruling classes are. The British state is a world leader in counter-insurgency techniques. Their expertise is the result of generations long brutal colonisation, like in India, Kenya and to this day in Ireland. (more…)
Tags: Amey, Angry Foxes Cell, Angry Foxes Cell in collaboration with ACAB, Arson, Black Rock Quarry, Bristol, Fuck the Law, G4S, GEO, International Solidarity, John Drury, Kostas Sakkas, Police Firearms Training Centre, Portishead, UK
Posted in Direct Action
Saturday, August 3rd, 2013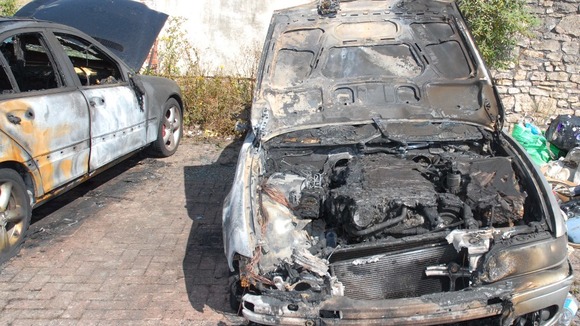 24 July – Mercedes and BMW set alight that were parked at Barry Football Club, South Wales. No one was arrested or injured. Police appealed for information because they have none.
July 30 – Three car fires in South East Ipswich were all the work of arsonists. Afterwards in the local media, police appealed for more information and revealed more acts of property damage had taken place, including against two of their own police cars. It all kicked off when a blaze broke out in Ravenswood Avenue at about 12.40am, when a number of people reported a car on fire in a wooded area on land between Ravenswood Avenue and Gainsborough Sports Centre. An East Ipswich fire crew turned up and had the flames under control by 1.03am. The damage was so bad that no identifiable features remained on the vehicle, which is thought to have been a Vauxhall Vectra or similar. At 4.17am, a Ford transit van was reported alight in Fletcher Road – and then a stolen car in Landseer Park at 5.05am. Between the fires, at 4.38am, a grey BMW and a black Ford Focus were damaged in Orwell Gardens. Shortly before 6.45am it was discovered the windows of a police car were smashed in Clapgate Lane, at the Ipswich south east safer neighbourhood team base. At 8.15am another police car was found to have had its windows smashed and damage done to the body work in Heath Road, at the Ipswich north east safer neighbourhood Team base.
Tags: Arson, Barry, Car Burning, Fuck the Law, Ipswich, UK, Wales
Posted in Direct Action
Friday, August 2nd, 2013
This statement was read in the 4th trial of CCF (250 attacks)
Before I speak my mind about the legal objections raised from the side of the lawyers, I want to make something clear. In this trial, there are four different sides. The side of the judges, the lawyers' side, the side of the accused, who are innocent and our own side, the side of those who took responsibility for our action in the network of the Conspiracy of Cells of Fire.
From the part of the lawyers there was a refined positioning in relation to the submission of objections to the court in previous sessions. The lawyers, among whom is also our personal friend Franciscos Ragkousis, speaking in the language of the law, not only highlighted the contradictions of the trial but they also showed its hypocrisy.
We're talking about a show that does not even keep up the pretenses of its own democratic scenario. But this farce called a trial, leaves us completely indifferent. Often our attorneys appointed by the court, reach a dead end. As they say themselves, the hostile and absolute way in which we face this trial, blocks them and cancels pieces of legal defense. It cancels the possible presumption of innocence, the pleas and defense lines as well as the legal benefit of any extenuations.
To be accurate, your laws are trash for us. Our view on justice is written on the demolition of the courts of Thessaloniki, on the blasting of the façade of Athens' Court, on the homes of judges, that we burned … Nothing has changed just because some of us were captured. The captivity in prison did not reduce our decision to fight against laws and institutions, not even one inch.
Then one could reasonably wonder why we appear at trial. The answer is simple. When we were free/wanted our attacks were the way we expressed ourselves and now as we remain captured, our word, even in the court of the enemy, breaks the silence. Silence is not acceptable for an anarchist urban guerrilla.
This does not mean that we will resort to the legal corpses of words in order to talk about ourselves. Reference was made to the jurisdiction of the Court. For us, the court lacks jurisdiction. We do not recognize any white-collar as our natural judge. Only we and our conscience can judge our actions. Nobody else. There was also a plea for the poor composition of judges. But for us, there are no good and bad judges, nor righteous and unrighteous. There are simply judges, officials of the enemy in different shades whose names are targets of the anarchist network of CCF, without exceptions.
The issue of the Joint Statutory and the presence of jurors, was also mentioned. We make clear here that we are anarcho-individualists and nihilists and that we have no appreciation nor respect for the "poor people." Even more, for law-abiding citizens who sit on the benches of jurors. These "poor" people, who are today humiliated and miserable, are the same who worship their bosses and have the same values with them​​, money and power. They are the people who always whimper but never revolt, questioning but always believing in young leaders/saviors, who always yell but never act. It is high time we break away from dusty revolutionary ideologies – no sheep was saved bleating. Against sheep and shepherds, we are wolves.
As far as the definition of "political crime" is concerned, we don't seek an evaluation for our actions within the laws and the articles of the penal code. Our actions are defined by ourselves with the way we intervene into the normal course of history in order to derail it. Only through violent derailment of history, is a person able to come across the peaks of his thoughts and actions. We place ourselves far away from the so-called unselfish separation between political and criminal. These terms belong to Power and we don't use them. There is just the responsibility of saying "this is me and I will continue to wage war by all means necessary". Theory and action are one. This is the theory of the Conspiracy of Cells of Fire. The unity of theory and action, for the destruction of the system. As for the unselfishness of the motives of our actions, this just a romantic abstraction, unable to measure up with real life. Anarchy is our egoistic demand to ourselves, to take life in our own hands. To define our existence. To hit what is ugly. More than anything it is an existential bet and not a scheme for social salvation. So we are not unselfish and neither do we act in the name of the pitiful people. We are egoist anarchists and we don't accept extenuations. We have already chosen the weight of our choices and we are not going to lighten our decisions.
As far as the potential risk of human life is concerned, we have said these things before in other trials. The choices of each one of us, define their life. There are options that are hostile and their exponents are targets for us. The acts and thoughts of an anarchist urban guerrilla aim to multiply the risk to the life of the enemies of anarchy and of state officials. It is clear that the Conspiracy of Cells of Fire contributed to the proliferation of this risk and we will continue to do so.
For all these reasons and countless more, do not bother to answer the objections because we are indifferent to them. We reject the hypocrisy of a democratic dialogue and choose to keep our words armed, as our weapons. Always on the opposite side, always on the attack.

The imprisoned comrades of the Conspiracy of Cells of Fire FAI/IRF
Tags: Athens, Conspiracy of Cells of Fire, Conspiracy of Cells of Fire : Imprisoned Members Cell, Fuck the Law, Greece, Informal Anarchist Federation (FAI), International Revolutionary Front, Letter
Posted in Cognitive Liberty