Posts Tagged 'Fuck the Law'
Sunday, November 22nd, 2015
From Noticias de la Guerra Social:
During the morning, about 03.30am of November 19th 2015, one loud bang surprised a bastard jailer who was on guard at the Prison Training School of Gendarmerie. A homemade bomb made of compressed black powder starts a fire after being activated by a detonating fuse at a side gate of the guards school in the municipality of San Bernardo. The blast leaves no wounded, causing some damage to the infrastructure of the enclosure. Quickly Colonel Christian Alveal, Director of the School pointed to the press: "Always anarchist anti-systemic groups have threatened the School of Gendarmerie, its facilities and staff, and we permanently take safeguarding measures to effectively prevent events like these happening to people and damage to facilities." For his part, Vice President Jorge Burgos said that "The investigation process is in full swing and I understand there has been policing results. This action will not go unpunished, which is important."
After the explosion, comrade Kevin Garrido was arrested in a nearby area by the DIPOLCAR, who also stopped Joaquin Garcia, who is accused of this attack and the attempted bombing of the 12th Commission. Both were remanded in custody.
Tags: Chile, Fuck the Law, Joaquin Garcia, Kevin Garrido, San Bernardo, Santiago
Posted in Uncategorized
Thursday, October 15th, 2015
New site from USA releasing the home addresses and personal info of prison officials, guards, corporate CEO's etc. Hunt and stalk.
It's been an exciting few months over here in the battlefield of the blogosphere. We've had infos dropped about the home addresses of various public officials, prison employees, and even profiteering CEO's (Shout out to Ryan Shapiro!) Our presence has caused some squirming on all sides. We thinks that it is completely paramount to ask ourselves why. Why would people who claim to desire the destruction of the prison system and capitalism be uncomfortable with doxing the people who have been doxed on our site? Why would people who seem so secure in their power and moral righteousness feel threatened by the presence of their home addresses on our website? Posted by bona fide punk ass trolls no less? Why would anarchists and jailers share the same opinions? Most importantly: What side are you on? (more…)
Tags: #Lulz Not Lulls Dox Campaign, Counter-info, Fuck the Law, Sean Swain, The Blast! Blog, USA
Posted in Prison Struggle
Saturday, April 11th, 2015
[Noticias de la Guerra Social]
El 29 de Marzo de 1985 la policía montaba un operativo para aniquilar a Eduardo y Rafael Vergara en el sector de Villa Francia, ambos orgullosos miembros del MIR son acribillados por la policía. Desde esa fecha que se conmemora el día del joven combatiente en recuerdo de todos los rebeldes asesinados a manos de la policía y muertos en combate durante dictadura y democracia.
Hace 30 años que el fuego de la memoria se enciende en los sectores combativos. Rapidamente a lo largo de los años el enfrentamiento se ha extendido a distintas poblaciones de la periferia que buscan atacar a la policía, devolviendo en parte la violencia cotidiana de esta institución de muerte.
En Valparaíso, el 25 de Marzo afuera de la UTFSM encapuchados cortan el transito en camino troncal urbano con barricadas incendiarias lanzando panfletos en conmemoración del joven combatiente. En simultaneo barricadas y enfrentamientos se desatan a las afueras de la Universidad Playa Ancha. (more…)
Tags: Chile, Day of the Young Combatant, Fuck the Law, Fuck the Police, Riots, Young Combatants
Posted in Direct Action
Saturday, April 4th, 2015
Inter Arma received and translated:
THE HUNGER STRIKE OF THE CONSPIRACY OF CELLS OF FIRE WAS VICTORIOUS
Today is a day that a crack in the walls of the imprisoned world around us has opened. After 32 days of hunger strike, the mother of Christos and Gerasimos Tsakalos and the girlfriend of the latter will soon pass the exit of prison, free again…
32 days of hunger strike, with eight comrades of the Conspiracy of Cells of Fire being hospitalized, balancing between life and death. Mihalis found himself in the ICU the last few days, Olga has reached 40 kilos, Panagiotis had an already compromised health from previous surgeries on his head, George P. has a problem with his heart, with his heart-beats reaching 30 and all of them had medical measurements indicating that they lost 15-20% of their initial body weight.
32 days, the hunger strike became a daily, slow torment of death, in order for us not to make truce with the absolute death of emotional blackmail. An insidious blackmail which authority wanted to impose on us by abducting and keeping our relatives as hostages in prison. 32 days of hunger strike, every fading beat of our heart, reminded us of the promise we made together when we met for the last time, "Let's go, until freedom …".
After 32 days of hunger strike, the shadow of repression grew pale, the walls of captivity lowered and prison admitted defeat.
This victory is not only the result of the hunger strike of the Conspiracy of Cells of Fire. It's a victory of a whole world of solidarity, with arson attacks, occupations, sabotage, marches, gatherings, unexpected interventions, which broke the social peace, turned cities into fields of insurrectional moments and occupied buildings into living labs of subversive situations. In an everyday life where the desire for freedom has been suspended indefinitely, life flooded with little and large gestures of liberation, with fires, with slogans and sparkling eyes of persons who wore hoods.
We are flooded with many thoughts that want to fill with words the corresponding meanings. But now, there is neither a day for celebration, nor for accounts of victory. Today we stop the hunger strike, having beaten the scarecrows of authority who wanted our relatives in prison, BUT at the same time, the hunger strike of the remaining political prisoners, for the overall requests that have been set, continues. The days that follow are critical both for their health and for the total wager of anarchist struggle. Therefore, there is no time neither for relaxing, nor for victory celebrations. The die was cast a long time ago… We, as the Conspiracy of Cells of Fire, remain on the ramparts and prepare our counter-attack, supporting the struggle conducted within and outside prison.
Authority and it's scarecrows should know that every judicial coup, every jail, every moment of oppression, every lie of propaganda, every shade of bourgeois morality will return back to its instigators and owners, with multiple power and vehemence. With the power and vehemence of sabotage, fire, explosion, execution… In war, we answer with war. Time for us to attack first…
STRENGTH AND SOLIDARITY with anarchist comrade Nikos Maziotis. member of R.S., and the Network of Fighting Prisoners

VICTORY TO THE STRUGGLE OF THE HUNGER STRIKE
EVERYTHING CONTINUES…
Conspiracy of Cells of Fire – FAI/IRF,
Imprisoned Members Cell
04/4/2015
Tags: Athens, Conspiracy of Cells of Fire, Conspiracy of Cells of Fire : Imprisoned Members Cell, Fuck the Law, Fuck the Police, Greece, Hunger Strike, Informal Anarchist Federation (FAI), International Revolutionary Front
Posted in Prison Struggle
Saturday, March 28th, 2015
Fuck the Police – Fuck the Tories – Fuck the lot of them – All Fucking Wankers
http://www.classwarparty.org.uk/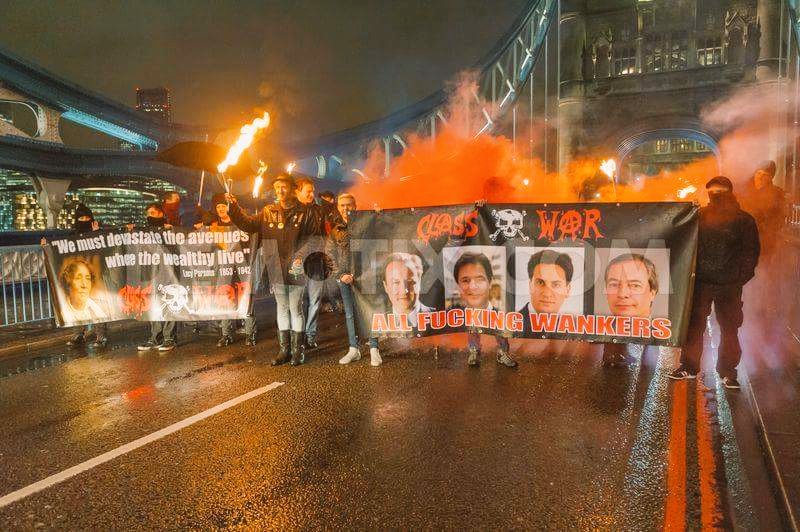 Tags: Class War (UK), Demo, Fuck School, Fuck the Church, Fuck the Elections, Fuck the Law, Fuck the Mainstream Media, Fuck the Police, Fuck the Queen, Fuck Work, Fuck You Tesco, Mayday, Police Bastards
Posted in Uncategorized
Thursday, March 12th, 2015
Last night, two cops were shot outside Missouri city police station during a demo against police brutality and the killing of Michael Brown, 18-year-old unarmed black man slain by cops last summer. The two cops did not die, but are seriously injured. On Wednesday, Ferguson Police Chief Thomas Jackson announced that he planned to resign after a harsh U.S. Justice Department investigative report about his handling of the police killing last summer of Michael Brown. (more…)
Tags: Ferguson, Fuck the Law, Fuck the Police, Missouri, Police Bastards, Police Brutality, Racism, USA
Posted in Direct Action
Wednesday, February 25th, 2015
Fire to the Prisons #12 is Available Now!
PDF – https://firetotheprisons.org/issues/fttp12.pdf
The new issue of Fire to the Prisons is now completed and available online. Check out the new issue, print your own copies, and view past PDFs at our new website: www.firetotheprisons.org
(NOT TO be confused with .com, which is hosted by unknown sources)
Fire to the Prisons is an insurrectionary periodical. It focuses on promoting a revolutionary solidarity between different struggles, prisoners, and existing social tensions that challenge capitalism and the state.
We made 10,000 copies of this issue because we wanted to get them as far and wide as possible. In order to create a publication for free to comrades and the general discontented public, we have forfeited our traditional magazine form and went with a less costly newspaper. We hope to spread this as far as it can go. A lot of blood, sweat, and tears went into this project and we hope that it shows. (more…)
Tags: Fire to the Prisons (Zine), Fuck the Law, Fuck the Police, PDF, Police Bastards, Police Brutality, Racism, USA, Zine
Posted in Library
Saturday, February 21st, 2015
The chief warden of Domokos' Type C high security prison was murdered on Saturday (21/02/2015) evening near the city of Lamia, in central Greece, police said. According to the information received so far, the 47 year-old victim left his house in the area of Kouvela, located between the town of Lamia and Stylida, just before 17.30 to go hunting in the wider area.
As soon as he got into his jeep, a passenger car with two or three individuals approached him and opened fire with Kalashnikovs and a nine-millimeter pistol. The victim was riddled with more than 20 bullets on the head and chest and had no time to react.
Police launched a manhunt to find the suspects and set up road blocks in the wider area but at time of writing had failed to find anything other than empty shells, witness statements and a corpse.

War against the existent
Tags: Attentat, Domokos, Fuck the Law, Greece, Kouvela, Lamia, Type C prisons
Posted in Direct Action
Saturday, February 21st, 2015
Here is an overview that we were sent reporting on some recent events in Guerrero, written by a Mexican anarchist living in the U$A
Guerrero, considered to be one of the most violent states in Mexico, seems to be in a never ending state of chaos. Murders in the beach resort town of Acapulco, the capital city Chilpancingo, multiple clandestine grave sites and of course, the Iguala massacre. Estado Fallido, failed state, is constantly used to describe Mexico, but especially Guerrero. No doubts there, police involvement in many heinous crimes, politicians and political parties working hand in hand with organized crime. A failed state, but what is a functioning state?
Tags: Coca Cola, Community Resistance, Drug War, Fuck the Law, Guerrero, Mexico, Petaquillas, Police Bastards, Repression
Posted in Autonomy
Thursday, January 29th, 2015
Beat The Raid will be a place to hear up to date info on the repression of anti-pipelines activists and anarchists in so called Vancouver, BC. We are still fundraising and now selling no pipelines patches and t-shirts to help with legal funds. You can contact us at beattheraid@riseup.net for questions and interview requests.
Together we will beat the isolation the state imposes on us.
Beat The raid: https://beattheraid.wordpress.com/
Contact: beattheraid -at- riseup.net
-
Statement
Repression is part and parcel in democracy. In a democracy the rulers require complete control over the people. Revolts are countered with political repression in the form of arrests, armed raids and physical and emotional harassment by the police. Movements are watered downed by mainstream environmental groups such as Forest Ethics and Greenpeace. These groups wish to reform colonialism instead of eliminating it. These groups, much like Enbridge and BP, rely upon capitalism and cooperation with the state to exist. These mainstream environmental organizations frack the rebellion out of people in the form of referendums, voting and waving signs. Meanwhile, they use our radical words only to dilute, co-opt and contribute to polluted deals undermining real grassroots movements and then ensure us that democracy is still drinkable. (more…)
Tags: Anti-pipelines, Canada, Fuck the Law, Graffiti, Keep Bombing, Repression, Vancouver
Posted in Eco Struggle