Posts Tagged 'General Strike'
Wednesday, November 21st, 2012
From Tarcoteca:
CNT update pickets around the Spanish state. The general trend: fairly quiet day in many cities and fulfilling the goal of stopping the activity in the industrial areas and major markets. Widespread impact of the pickets also in the city centers. Massive demonstrations followed in the afternoon. Anti-repressive alert in Logroño and Granada!
Translation from: CNT, Cobertura informativa: General Strike 14N
http://tarcoteca.blogspot.com.es/2012/11/cnt-informative-coverage-general-strike.html
-
Portugal, Lisbon – Clashes outside parliament
Italy – Revolt Everywhere, Freedom for All!
-
Spain, Pontevedra : Sabotage of ATMs
Tags: General Strike, Greece, Italy, Portugal, Spain
Posted in Direct Action
Wednesday, November 14th, 2012
This poem is released for the date of the combative November 14 2012 general strike called for the entire southern european area. This is a general strike that has heard a specific call to go beyond simply one day of refusal, towards an entire rejection of the manufactured crisis of capitalism. For insurrection and the destruction of the existent.

(to the sound of Greek bagpipes)
Today, the Greek Government
executed by firing squad
1000 pensioners, along
with 2000 workers, as part
of a package of financial
reforms, to reassure
the markets and permit
the Troika to release one
more tranch of the bail-out.
How one feels for the victims
In all this, the bankers
criminalised, shorn
of bonuses, the markets
bearish, nervous as
kittens, the green back,
the pound, the tsunami
floating yen, scurrying
between time-sealed
vaults and safe-havens,
exposed to the sniping
of credit default swaps
as Molotov cocktails
rain down relentlessly
from Fitch's, Moody's,
and S.& P.'s. Will
the friendly Troika
contrive fresh reforms?
Will our young friend,
the euro, be vaporised?
Growth is a must, come
what may, be it 3000
health workers hung,
drawn and quartered,
4000 firemen burned
at the stake, even
the odd politician garrotted.
Landeg White
Landeg White is a scholar, translator, novelist and poet, who has taught at universities in Trinidad, Malawi, Sierra Leone, the University of the West Indies, Trinidad, the University of Malawi and was the Director of the Centre for South African Studies at York University. Among his various books are studies of V.S. Naipaul, of Mozambican and Malawian history, and of southern African praise poetry, together with five collections of poems. His translation of Camoes' 'The Lusiads' won the Texeira Gomes prize for 1998. His most recent book is "Studying to be Singular: John Gabriel Stedman, 1744-1797".
Tags: Economic Crisis, General Strike, Greece, Italy, Landeg White, Portugal, Spain, Tattoo
Posted in Library
Thursday, October 25th, 2012
There will be a general strike in the southern countries of Europe. The uncontrollables want to make it spread and go global. Fire and barricades in the streets and the police and bosses put on the run. Here is the call.
325 receives and transmits via tarcoteca:
In the current context it is meaningless to stop working for only a single day. State and companies are capable to absorb its effects and make it harmful to workers that support the strike. The only solution in sight is a permanent and active general strike. But in this globalized world the response must be global. Single acts in a country don't have effects in the market economy. Similar situations in hundreds of countries allow the coordination. As simple as establishing a common date, 14-N. (more…)
Tags: Call, General Strike, N14
Posted in Direct Action
Saturday, June 2nd, 2012
Català/Anglès
2 Catalans empresonats arran de la vaga general del 29 de març

La jutgessa del jutjat d'instrucció número 31 de Barcelona ha decretat aquest dimecres a la nit presó provisional sense fiança per a dos dels 10 detinguts entre dimarts i dimecres en relació als incidents del 29 de març a Barcelona, segons ha
avançat Alerta Solidària.
Es tracta d'Andreu C. B., de 22 anys, actualment veí del barri de Sants de Barcelona, militant de Maulets i membre del CSA Can Vies i del Casal Panxampla.
L'Andreu, detingut aquest dimecres al matí a casa seva per quatre agents de paisà, està acusat del delicte continuat de desordres públics, de coaccions greus, de robatori amb violència i/o intimidació, delicte contra els drets, fonamentals i
llibertats públiques, danys i delicte de pertinença a grup criminal.
D'altra banda, el jutge també ha decretat presó provisional per a Rubén M.M, de 23 anys, veí també de Sants i membre actiu també dels moviments socials detingut dimarts. En el seu cas li imputen el delicte de desordres públic continuat, de
lesions greus, delicte de coaccions greus, falta de lesions, delicte contra la integritat moral, delicte contra els drets fonamentals i llibertats públiques, delicte de danys i delicte de pertinença grup criminal.
Aquest dimecres han comparegut davant la jutgessa de guàrdia els quatre detinguts dimarts a Barcelona i Andreu C., detingut dimecres. La fiscalia havia demanat presó per a tots cinc, però la jutgessa ho ha desestimat en el cas dels altres tres, han quedat en llibertat amb càrrecs sense fiança. Es tracta de Jorge M.C, de 25 anys; Jordi A.D, de 24 anys i Natxo P.A., de 20 anys, militants del SEPC i la CAJEI i membres també de la Coordinadora d'Assemblees de Facultat (CAF) de la Universitat Autònoma de Barcelona.
-

2 Catalan imprisoned because of the general strike of March 29
The magistrate judge's number 31 of Barcelona has declared this Wednesday night imprisonment without bail for two of the 10 arrested between Tuesday and Wednesday about the incident on 29 March in Barcelona.
Andreu C. B., currently resident in the Sants neighborhood of Barcelona, Maulets activist and member of the CSA Can Vies and Casal Can Panxampla. Andreu, who was arrested Wednesday morning at his home by four officers in plain clothes, is accused of the crime continued public disorder, serious coercion of, robbery with violence and / or intimidation, crime against the rights and fundamental freedoms, damages and criminal offense of group membership.
Moreover, the judge also has ordered tuesday imprisonment for Ruben M.M., a resident of Sants neighbourhood and also an active member of social movements from there. In its case against him for the offense continued public disorder, serious injury, serious crime of coercion, lack of injuries, crimes against moral integrity, crime against the fundamental rights and liberties, criminal damage and criminal offense of group membership .
This Wednesday appeared in front of the judge on duty the four arrested Tuesday in Barcelona and Andrew C., arrested Wednesday. The prosecution had asked prison for all five, but the judge has dismissed the case on three of them. These, Jorge, George, and Natxo, SEPC and CAJEI members and also of the Coordinator of School Boards (CAF) at the Autonomous University of Barcelona are now out on the streets again.
FREEDOM TO ALL THE VICTIMS OF STATE REPRESSION, THE REPRESSION WON'T STOP US!!!
Tags: Barcelona, Catalunya, General Strike, Repression
Posted in Social Control
Thursday, April 26th, 2012
325 recibe y transmite:
6 de Marzo – Área Metropolitana de Barcelona
Se reivindica con retraso el incendio de 15 contenedores así como la quema de 6 vehículos.
- A las 2:49 fueron incendiados en la calle Floridablanca 3 contenedores.
- A las 3:00 en la calle Asia se quemaron 5 contenedores y 3 vehiculos, 2 de la empresa Acsa y 1 de Gamma alta.
- A las 3:02 en la avenida marques de sant mori se quemaron 4 contenedores, dos vehículos de gamma alta y un coche propiedad de prosegur.
- A las 3:17 en la misma avenida, se quemaron otros 3 contenedores.
Calle mare de deu de lorda:
- El 10 de Abril fue incendiado un cajero con un coctel molotov en una sucursal La Caixa. (more…)
Tags: Arson, ATM Burned, Barcelona, Car Burning, Catalunya, Christos Tsakalos, Conspiracy of Cells of Fire, Conspiracy of Cells of Fire : Imprisoned Members Cell, Damiano Bolano, General Strike, Greece, International Solidarity, Molotovs, Repression, Sabotage
Posted in Direct Action
Thursday, October 27th, 2011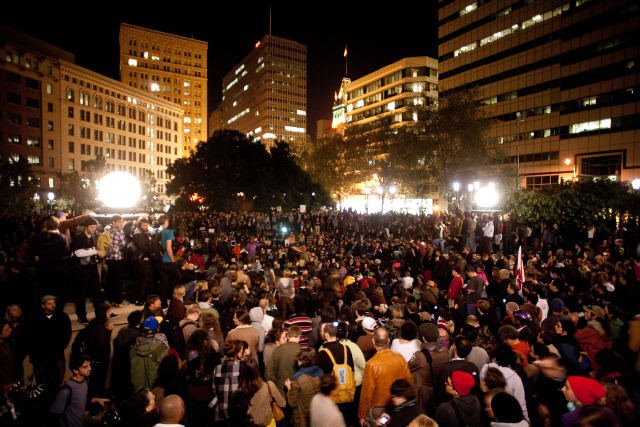 325 receives and transmits : Source
Below is the proposal passed by the Occupy Oakland General Assembly on Wednesday October 26, 2011 in reclaimed Oscar Grant Plaza. 1607 people voted. 1484 voted in favor of the resolution, 77 abstained and 46 voted against it, passing the proposal at 96.9%. The General Assembly operates on a modified consensus process that passes proposals with 90% in favor and with abstaining votes removed from the final count.
PROPOSAL:
We as fellow occupiers of Oscar Grant Plaza propose that on Wednesday November 2, 2011, we liberate Oakland and shut down the 1%.
We propose a city wide general strike and we propose we invite all students to walk out of school. Instead of workers going to work and students going to school, the people will converge on downtown Oakland to shut down the city.
All banks and corporations should close down for the day or we will march on them.
While we are calling for a general strike, we are also calling for much more. People who organize out of their neighborhoods, schools, community organizations, affinity groups, workplaces and families are encouraged to self organize in a way that allows them to participate in shutting down the city in whatever manner they are comfortable with and capable of.
The whole world is watching Oakland. Let's show them what is possible.
The Strike Coordinating Council will begin meeting everyday at 5pm in Oscar Grant Plaza before the daily General Assembly at 7pm. All strike participants are invited.
Stay tuned for much more information and see you next Wednesday.
Since this announcement, social media has been abuzz with calls for a US-wide General Strike and a Global General Strike!
Tags: #Occupy, Economic Crisis, General Strike, Oakland, Occupy Oakland General Assembly, Oscar Grant, Oscar Grant Plaza, USA
Posted in Autonomy
Friday, February 25th, 2011
Footage of Motorbike cops being attacked (Mainstream media) + February 23rd: General strike chronology, photos and video.
–
Update: Saturday, February 26, 2011
Lida Sofianou and another protester who faced felony charges under the enactment of hoodlum-law [koukoulonomos], were released under bail conditions (sign on at a police station once a month). A third protester facing misdemeanors was released without bail. Until 1:07pm (GMT+2) the protester accused of carrying a bow and ax, was waiting to appear before the prosecutor (photos of the frame-up of the police, here). He is injured by the police beatings in the chest, by thoracic rupture. He got notice to appear before the prosecutor on Monday, 28/2, but he is still detained because he refused to give fingerprints. Solidarity is our weapon
-
Tens of thousands of people took to the streets of Athens on the day of the general strike on February 23 and headed to Parliament, flouting police repression and control. In a society crushed daily in the cog-wheels of increasingly intensified repression enforced by the state and the bosses, and under the pretext of the memorandum of co-operation with the IMF, the EU and the ECB, the determination of the thousands to march to Parliament signals a refusal to bow or to fall for the fright that authority wants to give. The demonstration blocks of the anarchists/anti-authoritarians, of the class base unions, of the neighbourhood assemblies, of social resistance against price increases etc. all carried a clear message: the message of collectivisation and self-organisation of social struggles from below, against mediation, party conduct and the class surrender of union bosses. The fighting spirit of the thousands who besieged Parliament and the insistence of those who stayed at Syntagma square for hours, facing the army of police, reveal the conviction that bosses are not unshakeable, that this is the time of social and class strike-back. (more…)
Tags: Athens, Economic Crisis, General Strike, Greece, Lida Sofianou, Repression
Posted in Social Control