Posts Tagged 'Informal Anarchist Federation (FAI)'
Tuesday, August 20th, 2013
Translated by Actforfreedomnow!boubourAs

Session 58.
This session was interrupted again because of the hunger strike of one of the accused comrades who are not related to the CCF.
Session 59.
This session began with tension. The court often arranges sessions on the days the comrades of the CCF having visiting hours in prison. The result was the trial delayed to start, since the members of the Conspiracy have clarified that they will not interrupt their visiting hours in order to appear in court. In retaliation, the judges called the prison sergeant, in order to pressure the comrades to be in court "on time". As soon as the members of the CCF were informed of that, they verbally attacked the judges stressing that "blackmail will not pass", accompanying their statement with a torrent of swearing towards the chairman of the court. The judges receded on the matter of visiting hours and the trial was postponed again.

Session 60.
The interruption continued because of the hunger strike.

Session 61.
The trial continued after the decision of the appeals council to release the accused comrade on hunger strike. The prosecutor in one of his statements, referred to the political content of the CCF communiques concerning the attacks against embassies with parcel bombs. Because however there was a confusion concerning the separation of political and penal responsibility, a comrade of the CCF intervened immediately, stating that the comrades of the CCF support every word and every action of the Conspiracy, without dividing the political from the penal.

Session 62.
The trial continued this time with the anti-terrorist force constantly adding new documents for attacks of the Conspiracy that took place three years ago.

Session 63.
In this session appeared employees of courier companies as prosecution witnesses. Specifically one prosecution witness who worked at a courier company and opened the parcel bomb (because of the police curiosity of the employees), appeared very stressed (the courier company she worked at was attacked with a bomb by FAI a few months ago, as reprisals for its snitching). She testified that she was pressured by the cops since she could not remember many things and the cops helped in the testimony by writing a part themselves.

Session 64.
None of the prosecution witnesses which were called appeared. The court announced the new session dates, the chairwoman mentioned that because she had booked tickets for her vacation, she wants to interrupt the trial for three weeks. At that point intervened two comrades of the CCF who amidst the swearing towards the judges, mentioned the vengeful transfers carried out against them with the excuse of interrupting the trial resulting in their spreading to various prisons of Greece.

Session 65.
Two prosecution witnesses appeared, of which only one testified, while the other will testify in a future session. The witness that testified, mentioned the shoot out between a comrade of the CCF and cops. She characteristically mentioned that the bullets were raining and when she arrived, she saw the two cops injured on the ground and the comrade holding the leg that was shot. As she testified, what made an impression to her was the calmness and seriousness of the comrade who was not speaking or screaming compared to the two cops who as she said were "whining". The reference and description of the incidents caused laughter to the comrades of the CCF and embarrassment to the cops.

Session 66.
This session was short since a witness came which was the courier who delivered the parcel-bomb to the Bulgarian embassy. He did not mention anything else and the court was adjourned for August 27th.
Tags: Athens, Conspiracy of Cells of Fire, Conspiracy of Cells of Fire : Imprisoned Members Cell, Greece, Informal Anarchist Federation (FAI), Trial
Posted in Prison Struggle
Sunday, August 11th, 2013
Dark Nights #36 – 'Freedom to the Wolves of the North'

Download and distribute…
August 2013 issue of Dark Nights dedicated to a long hot dangerous summer. International news and reports from the informal network of counter-information and translation. Front page covers the repression in Thessaloniki, northern Greece, against comrades from the Nadir squat after the attacks of the Phoenix Project by cells of the Informal Anarchist Federation – International Revolutionary Front. Front page sidepanel is the contribution of Actforfreedomnow!/BoubourAs to the gathering concerning the informal network of counter-info and translation which took place at Nadir itself previous to the repression.
Inside from then on you'll find a concentration on the case of the Nadir 2, Spyros Mandylas and Andreas Tsavdaridis, the claim for the letter bomb against Dimitris Horianopoulos, scumbag ex-commander of the anti-terrorism unit which carried out the operation against the Conspiracy of Cells of Fire, for which the Nadir 2 were arrested for, plus other assorted news and reports from anarchist comrades on the ground in the struggle. We're really happy to print a letter from Claudio Lavazza, anarchist comrade imprisoned in the Spanish State, on initiatives of resistance in the prisons there. As well you'll find a statement from the imprisoned members of the Conspiracy of Cells of Fire about their court charges of responsibility for 250 attacks, and also you'll find letters from rebel prisoners in Chile, including Marcelo Villarroel and Juan Aliste of the 'Security case' and coming from Switzerland, a letter of hungerstrike resistance from Marco Camenisch and Andrea Stauffacher in solidarity with Georges Ibrahim Abdallah, of the Lebanese Revolutionary Armed Fraction, arrested in Lyon, France in 1984.
This is dedicated to all the prisoners of the struggle who don't have the ability to be free with their loved ones during the 'holiday' time, against the false-culture and the prison-society… From Chile, to Indonesia and beyond….

Long live the Black International
http://325.nostate.net/wp-content/uploads/2013/08/dark-nights-36.pdf
Tags: Andrea Stauffacher, Andreas Tsavdaridis, Claudio Lavazza, Conspiracy of Cells of Fire : Imprisoned Members Cell, Dark Nights, Georges Ibrahim Abdallah, Informal Anarchist Federation (FAI), International Revolutionary Front, Juan Aliste Vega, Marcelo Villarroel Sepúlveda, Marco Camenisch, Nadir Squat, PDF, Spyros Mandylas, Zine
Posted in Library
Friday, August 2nd, 2013
This statement was read in the 4th trial of CCF (250 attacks)
Before I speak my mind about the legal objections raised from the side of the lawyers, I want to make something clear. In this trial, there are four different sides. The side of the judges, the lawyers' side, the side of the accused, who are innocent and our own side, the side of those who took responsibility for our action in the network of the Conspiracy of Cells of Fire.
From the part of the lawyers there was a refined positioning in relation to the submission of objections to the court in previous sessions. The lawyers, among whom is also our personal friend Franciscos Ragkousis, speaking in the language of the law, not only highlighted the contradictions of the trial but they also showed its hypocrisy.
We're talking about a show that does not even keep up the pretenses of its own democratic scenario. But this farce called a trial, leaves us completely indifferent. Often our attorneys appointed by the court, reach a dead end. As they say themselves, the hostile and absolute way in which we face this trial, blocks them and cancels pieces of legal defense. It cancels the possible presumption of innocence, the pleas and defense lines as well as the legal benefit of any extenuations.
To be accurate, your laws are trash for us. Our view on justice is written on the demolition of the courts of Thessaloniki, on the blasting of the façade of Athens' Court, on the homes of judges, that we burned … Nothing has changed just because some of us were captured. The captivity in prison did not reduce our decision to fight against laws and institutions, not even one inch.
Then one could reasonably wonder why we appear at trial. The answer is simple. When we were free/wanted our attacks were the way we expressed ourselves and now as we remain captured, our word, even in the court of the enemy, breaks the silence. Silence is not acceptable for an anarchist urban guerrilla.
This does not mean that we will resort to the legal corpses of words in order to talk about ourselves. Reference was made to the jurisdiction of the Court. For us, the court lacks jurisdiction. We do not recognize any white-collar as our natural judge. Only we and our conscience can judge our actions. Nobody else. There was also a plea for the poor composition of judges. But for us, there are no good and bad judges, nor righteous and unrighteous. There are simply judges, officials of the enemy in different shades whose names are targets of the anarchist network of CCF, without exceptions.
The issue of the Joint Statutory and the presence of jurors, was also mentioned. We make clear here that we are anarcho-individualists and nihilists and that we have no appreciation nor respect for the "poor people." Even more, for law-abiding citizens who sit on the benches of jurors. These "poor" people, who are today humiliated and miserable, are the same who worship their bosses and have the same values with them​​, money and power. They are the people who always whimper but never revolt, questioning but always believing in young leaders/saviors, who always yell but never act. It is high time we break away from dusty revolutionary ideologies – no sheep was saved bleating. Against sheep and shepherds, we are wolves.
As far as the definition of "political crime" is concerned, we don't seek an evaluation for our actions within the laws and the articles of the penal code. Our actions are defined by ourselves with the way we intervene into the normal course of history in order to derail it. Only through violent derailment of history, is a person able to come across the peaks of his thoughts and actions. We place ourselves far away from the so-called unselfish separation between political and criminal. These terms belong to Power and we don't use them. There is just the responsibility of saying "this is me and I will continue to wage war by all means necessary". Theory and action are one. This is the theory of the Conspiracy of Cells of Fire. The unity of theory and action, for the destruction of the system. As for the unselfishness of the motives of our actions, this just a romantic abstraction, unable to measure up with real life. Anarchy is our egoistic demand to ourselves, to take life in our own hands. To define our existence. To hit what is ugly. More than anything it is an existential bet and not a scheme for social salvation. So we are not unselfish and neither do we act in the name of the pitiful people. We are egoist anarchists and we don't accept extenuations. We have already chosen the weight of our choices and we are not going to lighten our decisions.
As far as the potential risk of human life is concerned, we have said these things before in other trials. The choices of each one of us, define their life. There are options that are hostile and their exponents are targets for us. The acts and thoughts of an anarchist urban guerrilla aim to multiply the risk to the life of the enemies of anarchy and of state officials. It is clear that the Conspiracy of Cells of Fire contributed to the proliferation of this risk and we will continue to do so.
For all these reasons and countless more, do not bother to answer the objections because we are indifferent to them. We reject the hypocrisy of a democratic dialogue and choose to keep our words armed, as our weapons. Always on the opposite side, always on the attack.

The imprisoned comrades of the Conspiracy of Cells of Fire FAI/IRF
Tags: Athens, Conspiracy of Cells of Fire, Conspiracy of Cells of Fire : Imprisoned Members Cell, Fuck the Law, Greece, Informal Anarchist Federation (FAI), International Revolutionary Front, Letter
Posted in Cognitive Liberty
Saturday, July 27th, 2013
Originally published in 'My Own' #6 by Apio Ludd (November 22, 2012).
The nihilist-anarchist doesn't have to pretend that she belongs to a History or a Movement but chooses how her life will be in her own way, with the methods that she alone chooses with the close ones around her. She does not make excuses why she organises with an intimate group of 2-3 of her close friends. Her creative output circulates at the level she chooses and provides for, are co-created by those who have decided between them that they'll be together for some activities or correspondence. She knows alegalism and informality suit her and has no pretence of democracy, mass appeal or mass action. Life provides the space for her thoughtful-actions already. She has become the crowd, and in her she has annulled time and society, she can do anything she likes, if she puts her mind to it and accepts the consequences. No one gets out of life alive. To live or to die, and to hold the life of an enemy in her hands – squeeze the trigger, or not, if she chooses. Her life is her own. She is not a victim but an aggressor. The enemy will live and die at her choosing, not theirs. All is decided by her will, which is hers alone. She has no strategy other than seizing her opportunities, and no tactics but her dignity and determination to succeed against the odds.
With methods suited to each individual, linked through action, rather than identity, she follows her bad passions(1) to hell, and there is nothing anyone can do about it.

L

This is another text towards a collection of writings against civil anarchism, as put forward by Venona Q. and the comrades of Dark Matter Publications. Dedicated to Edizioni Cerbero, Parole Armate, FAI Olga Nucleus and the Conspiracy of Cells of Fire.
-
(1) – See Edizioni Cerbero, "Bad Passions – The Rights of the Ego – From an anti-Christian point of view", http://325.nostate.net/?p=4093
Tags: Conspiracy of Cells of Fire, Edizioni Cerbero, Fragment: The She-Wolf, Informal Anarchist Federation (FAI), My Own, Nucleo Olga FAI/FRI, Olga Economidou, Parole Armate
Posted in Cognitive Liberty
Saturday, July 27th, 2013
Tags: Conspiracy of Cells of Fire, Conspiracy of Cells of Fire : Imprisoned Members Cell, Informal Anarchist Federation (FAI), International Revolutionary Front, Nucleo Olga FAI/FRI, Olga Economidou, PDF, Poland
Posted in Library
Tuesday, July 23rd, 2013
2 dolphins were set free from Yevpatoria dolphinarium as a result of a special operation with diving equipment. During the night of the full moon on 20/07/2013 we covered 2 km under water and breached the security perimeter: We cut the nets and entered the dolphin containment pools.
In the next hour we cut a large part of the perimeter barrier. Dolphins encouraged our efforts with clicks and whistling. Their support filled us with joy and excitement.
This has been an unforgettable meeting and encouraging experience for us. Our job done, we left the area of operation. By the way, the prison was equipped with night-vision cameras, but their red eyes were turned on the catwalks and audience seats. Nobody expected our approach from below. As soon as dolphins got wind of freedom and open water, they escaped into the night sea.

ALF/FAI – SEALS on tour
Tags: ALF, ALF/FAI - SEALS on tour, Dolphins, Informal Anarchist Federation (FAI), Sabotage, Ukraine
Posted in Eco Struggle
Sunday, July 14th, 2013
FAI/IRF
PHOENIX PROJECT – Part 4 [Parts 1, 2, 3 &... 5]
"Be proud of your actions, because it is through disobedience and insurrection that a bright ray of human beauty is born! Hello anarchists of praxis! Hello brothers and sisters!"
Renzo Novatore

Some thought that we raised a white flag. Some thought we forgot our imprisoned brothers and sisters and sunk in the social swamp, next to the two-legged herd. The bosses, journalists, politicians, society and the ridiculous "anarchist" bureaucrats thought they got rid of us.
For all those, Project Phoenix is a punch in the gut. A punch in the gut because the new anarchist urban guerrilla is here and tears down the desires of all these worms to terminate our actions. Old groups are activated and new are created, with the promise to give life to the nightmares of authority and its subjects.
Comrade G.Tsakalos has been held on remand for 32 months when the limit is 18. We do not care about the provisions of the constitution.
We do not desire the cleansing of institutions, we fight for their destruction. We know that the law is a weapon in the hand of dominance, just like we know that our ten imprisoned brothers and sisters will not be liberated with legal procedures.
We believe authority is total of values which in the core is the citizen-mass human, who lies in the muck of stagnation, where everyone forgets their name and responsibilities. But even in this disgust some have a name. One of them is Dimitris Horianopoulos. During his service as a commander of the anti-terrorist force, the operation against the R.O. CCF was carried out. Horianopoulos is nothing more than a piece of garbage of the complexity of security and the fact that he has retired does not mean that we forgot him. The same goes for the rest of the scumbags in his department. They should know that they are on the top of the target list of FAI/IRF.
We take responsibility for the sending of a parcelbomb to the scumbag mentioned above, which was, unfortunately, detected.
We dedicate our attack to the UNREPENTANT and PROUD members of the CCF, as well as all imprisoned anarchists of praxis, wherever they are. We send our LOVE and RESPECT to all anarcho-individualists, nihilists, and iconoclasts who discovered the fountain of life in the attack.
WE DO NOT BOW OUR HEADS TO NO ONE!
P.S. It was announced that the parcel was ignited after falling down in the post office. The parcel we sent was absolutely safe for anyone not a target. The mechanism activates ONLY if the envelope is opened and not if it falls or gets shaken. We do not know what happened. The only sure thing is that the package was opened.

INFORMAL ANARCHIST FEDERATION
INTERNATIONAL REVOLUTIONARY FRONT
COMMANDO MAURICIO MORALES
-
via actforfree/boubourAs
Tags: Commando Mauricio Morales, Conspiracy of Cells of Fire : Imprisoned Members Cell, Dimitris Horianopoulos, Gerasimos Tsakalos, Greece, Informal Anarchist Federation (FAI), International Revolutionary Front, Letter Bomb, Mauricio Morales, Phoenix Project
Posted in Direct Action
Sunday, June 30th, 2013
A CONTRIBUTION FOR THE INFORMAL ANARCHIST FEDERATION – INTERNATIONAL REVOLUTIONARY FRONT
Today, the society is the prison. In the prison's system, no one can be neutral. Each one of us full of consciousness has made a choice to choose which side you'll stand for. No unconscious choices. Because a choice, is made by an individual and not by god. Therefore there will be no "civilians" in this asymmetric war. There is only two antagonistic sides: those who fought for the total destruction of the society and those who fought to defend it.
The formation of the society are the alienating forms. Alienated one from the other in many forms of imaginary borders which is protected by guns, laws, prisons, codes of morality and the "faith" of those who believed that the borders are real. And for us, all those who believe in the borders are the enemy.
In our sight, the good citizens and the paramilitaries who where built by the military and have the same attitudes and behaviors like military are enemies who deserved our attacks, the same attacks FAI-FRI sent to their religious institutions, schools, factories, army-barracks, banks and all the supporters of the system named: Society.
Though it's true that for many people, –even those who are self-proclaimed 'anarchists'–, that from a fire that destroyed every building we attacked, it does not look that "revolution" would soon arrive. This is a stupid prediction because it puts our actions in their cage of "revolutionism". An error occurred due to the habit of generalizing all individual events on the social scale, which is where we are enemies of it. They have too long used the ancient glasses, so see how the presence of new urban guerrilla groups is something that does not fit in their glasses. They will even easily use the label 'euro-centrism' or 'latin-centrism', because they think numbers are that important. Something which is inherited from the classical anarchist thought with a mixture of Marxism that is really disgusting. Those –very Marxist– anarchists who eventually became re-stuck on the same logic with the Leftist: Mass.
That's why, we are not at all interested in becoming involved in the wave of mass protest against fuel price hikes. Those who took to the streets carrying banners and shouting, because they consumed the same event. They perform repetitive and predictable actions. They shouted until hoarse and expect changes from the parliament or state generosity. They hide in the terminology of "peaceful protest" to hide their inability to attack the oppressors, because they are cowards. They are cowards who only live from the "revolutionary" events to quench the thirst of the "revolutionary" in them.
Although on the other hand, we know clearly there is a small fraction of individuals who remain firmly in war –like in battle that they have lived in the days of yesterday– and not judging a wave of mass awakening that occurred recently in Indonesia as something "revolutionary". To those whose eyes see clearly, we are really proud to call them comrades.
Each of those who read the communiqué must realize that we have a logic and reasoning that would not be possible according to the logic used by the pacifist, social activists and the Leftist and other citizens –including the social anarchists– which does not comprise part of our group. For us, it does not matter and is also not an issue that is important at this time. Each individual has the right to hold opinions and justifications respectively. Each group will have a different analysis of the foundation with the other groups. Every person is entitled to choose their own path for how to get involved, and take personal responsibility. Each individual must find tactics that suit them and select it.
In the end, the Informal Anarchist Federation-International Revolutionary Front must necessarily be seen as an international project between individuals, cells or groups who share the passion and anger. FAI-FRI is not an umbrella organization or union which collects only those who are called "nihilist-individualist" and "the radical anti-civilization". But FAI-FRI is a temporary meeting point for acts of solidarity, an act of revenge on the enemy, simultaneous attacks, which are not intended to embrace "a better future" but to see the collapse of the hypocritical society: Today.

ANGER UNIT
INTERNATIONAL CONSPIRACY FOR REVENGE (ICR)
INFORMAL ANARCHIST FEDERATION (FAI)
INTERNATIONAL REVOLUTIONARY FRONT (FRI)

PS: To show the hardness of our hearts, we burned down the three-floor clothing warehouse in di Jl Pengukiran Raya No 1, RT 03/03, Kelurahan Pekojan, Kecamatan Tambora, Jakarta Barat. We chose the warehouse so to show to the unionists that the workers goals are not to be workers anymore, and not for eight-hours, democracy inside the factory, freedom of association or other reformist demands.
Tags: A Contribution for the FAI-FRI, Anger Unit / ICR-FAI-IRF, Arson, Indonesia, Informal Anarchist Federation (FAI), International Revolutionary Front, Jakarta, Letter, RO-FAI (Indonesia Section), Sabotage
Posted in Direct Action
Wednesday, June 26th, 2013
"Brothers in chains, comrades in suffering, the battle is at hand. Soon we will launch our attack, intoxicated with vengeance; the enemy will flee, because the Federation of Sorrow is terrible." –Bruno Filippi
Our action (if it can) can be named PHOENIX PROJECT-PART 3. This is our collective decision to respond to the call from our Greek comrades – (1), (2).
Tonight (June 26) we moved out and brought the fire and burned down the third floor of former Sheraton Hotel, 'The Media Hotel and Tower', in Sahari Mountain Street, Jakarta. Our fire is to respond to the call from our brothers in Greece in the Phoenix project and as a gesture of solidarity to K. Sakkas, anarchist in hunger strike action to reach his freedom. We put the incendiary with timer in one of the trash cans in the karaoke room (which is located on the third floor) and let the fire speak for us.
Bring far our revolutionary greetings to the members of Conspiracy of Cells of Fire; Imprisoned Members Cell, to the 4 anarchists who were arrested in Kozani –we never forget you, for Cospito and Gai, to Carla, Ivan, Juan, Marcelo and Freddy, and to Henry and always to the anarchists prisoners in Greece and Italy, and to other cells of FAI – IRF around the world.
We will never say that we are just a few, but we will let the fire speak on our behalf.

Let's make the Phoenix project as an international project for revenge!

ANGER UNIT
INTERNATIONAL CONSPIRACY FOR REVENGE
IRF – FAI
-
News media link:
http://news.detik.com/read/2013/06/26/231703/2285333/10/ruang-karaoke-hotel-sheraton-gn-sahari-terbakar?9911012
Tags: Alfredo Cospito, Anger Unit / ICR-FAI-IRF, Carla Verdugo, Conspiracy of Cells of Fire, Conspiracy of Cells of Fire : Imprisoned Members Cell, Freddy Fuentevilla Saa, Henry Zegarrundo, Indonesia, Informal Anarchist Federation (FAI), International Conspiracy for Revenge, International Revolutionary Front, International Solidarity, Ivan Silva, Jakarta, Juan Aliste Vega, Kostas Sakkas, Kozani, Marcelo Villarroel Sepúlveda, Nicola Gai, Phoenix Project, RO-FAI (Indonesia Section), Sheraton Hotel
Posted in Direct Action
Wednesday, June 26th, 2013
via contrainfo:
In the early morning of April 10th, we placed an explosive device in the BBVA on Paseo de Husares in Madrid. Our objective is to do the most harm possible to these temples of money, in order to destroy everything that divides and represses us.
Our hate is stronger than theirs. Struggle is necessary for the fall of the capitalist system, struggle is necessary so that our political prisoners are freed and are liberated from the torturers.
Direct action is the path! Not a step back against the State!
Madrid Autonomous Group. FAI/FRI
Tags: BBVA, Informal Anarchist Federation (FAI), International Revolutionary Front, Madrid, Madrid Autonomous Group, Sabotage, Spain
Posted in Direct Action
Monday, June 24th, 2013
New issue of the international news letter for mutual aid and solidarity, compiled from reports from the global informal network of anarchist counter-information and translation… Download and distribute!
1. Letter from Giannis Naxakis, Athens, Greece.
2. 'Fragment: Violence' by L.
3. Hunger strike declaration by Kostas Sakkas, Koridallos prison, Greece.
4. Chile: Carla and Ivan trial results.
5. Italy: Communiqué from RadioAzione on counter-info and repression.
6. Italy: Operation Ardire update.
7. Belarus: Support Dmitri Zvanko, antifa prisoner.
8. Bolivia: Letter from Krudo, accused and imprisoned in the FAI case.
9. Direct Action Chronology.
10. 'Hero with a 1000 Faces' by V.Q.

http://325.nostate.net/wp-content/uploads/2013/06/dark-nights-35.pdf
Tags: Bolivia, Carla Verdugo, Chile, Dark Nights, Fragment: Violence, Giannis Naxakis, Greece, Hero with a 1000 Faces, Informal Anarchist Federation (FAI), International Revolutionary Front, Italy, Ivan Silva, Kostas Sakkas, Krudo, Operation Ardire, PDF, RadioAzione, Zine
Posted in Library
Monday, June 24th, 2013
This short text is part of a collection of critical writings in progress concerning "civil anarchism", as put forth by Venona Q. and Dark Matter publications, which is a response to a statement by the UK Anarchist Federation/Libcom denouncing the non-fatal shooting of CEO Roberto Adinolfi of Ansaldo Nucleare in Genoa, Italy(1). Two anarchist comrades, Nicola Gai and Alfredo Cospito are accused of the action, which was claimed by Olga Cell-FAI/FRI. Solidarity to the accused, who are imprisoned in Ferrara, Italy. This fragment is simply a meandering series of thoughts, the results of a notepad and a rainy afternoon, rather than a 'manifesto' or the kind of dry political statement that it is in response to.
I. "By having carried out dozens of attacks against targets of the system, with especially destructive material results, we were and will always be precise. We aim specifically against the institutions and the officers of the system, giving special attention to not injure someone who is not a target to us." CCF
Violence is neither good nor bad.
It is the State's basis for it's domination and consent. Any one who breaks this relationship is usually deemed criminal and/or insane. Any acts used in this transgression are usually deemed "unlawful" or further, "terrorism". (more…)
Tags: Alfredo Cospito, Anarchist Federation (UK), Anger Unit / ICR-FAI-IRF, Conspiracy of Cells of Fire, Conspiracy of Cells of Fire FAI/IRF - Gangs of Consciousness FAI/IRF - Sole Baleno Cell, Fragment: Violence, Giannis Naxakis, Informal Anarchist Federation (FAI), International Revolutionary Front, Italy, Libcom, Nicola Gai, Operation Ardire, Roberto Adinolfi, Scandalous thoughts – a few notes on civil anarchism
Posted in Cognitive Liberty
Saturday, June 22nd, 2013
Hidden inside a quiet business park in Portishead, just outside Bristol, is a UK Border Agency office from where an immigration crime team work with police, including launching raids in the south-west. We visited Thursday night into Friday (with the death of anarchist Carlo Guiliani in combat with police during the G8 summit 12 years ago still fresh in our minds) to set fires that damaged the building and burnt 6 vehicles stationed there – 3 cars, 2 blacked-out people carrier vans (known to be used for dawn snatches of immigrant family groups) and 1 large van. The border regime mercenaries draw the attention of our total contempt the same as any other cop does, and now this long arm of the State has felt that we are close and we don't stop.
A couple of weeks earlier, high noon on Sunday 2nd at a Tascor corporation depot at a Cribbs Causeway/Patchway area trading estate, 2 minibuses with barred passenger windows had their windscreens smashed and multiple dents to the bodywork of the cabs. Tascor (formerly Reliance Secure Task Management) work for the Border Agency and Border Force to 'escort' detainees between immigration prisons and to their deportations, utilizing the consequence-free violence their position furnishes them with such as during the recent forced removals of Marius Betondi and Raul Ally, and are the largest private sector provider of this 'service' worldwide (having taken over these duties in the UK from Group 4 Security in 2011). They also run designated holding rooms and short-term holding facilities throughout the UK as well as for UK border forces in Calais and Coquelles, France.
Capitalism profit greatly from a pool of cheap migrant labor, including known 'illegals' who are even more vulnerable to the bosses' blackmail. The State criminalizes those they decide are non-productive, utilizing poisonous nationalism to further divide the exploited (like the recent wave of hatred against anyone thought to appear 'Muslim') and to win elections. The 'lucky' migrants get to arrive in the slums of alienated Western society and are thrust into competition with other urban poor, the 'unlucky' or unprofitable in deportation prisons, in both cases governed by fear and racialized policing. However this sorting of human bodies doesn't always go as smoothly as planned: mass hungerstrikes in Dutch detention facilities and heavy rioting on the streets of Sweden are recent instances of refusal to submit to such degradation.
We don't want a world where the tyranny of immigration bureaucrats can mean the difference between life and death, and unique beings are categorized and labelled to wring the maximum profit and subordination from us all. We don't want the indignity of every movement being scrutinized for the purposed of social control and enclosure, whether at borders, on the housing estates, in school or at work.
The legend has it that 'we' are lucky to live here, under democratic totalitarianism with some comfortable cages and technological addiction to escape from reality. But infact we are surrounded by depression, divides of wealth and race and gender, devoid of any earth-based selfsufficiency and dependant on the very machine we hate. This machine is only fuelled by rampant exploitation here and largely in the countries that migrants have fled from, creating a disgusting feedback loop as industrial civilization consumes everything in its path. We want to demolish the myth that there is any good place to be within a global system of interconnected misery.
Our struggle is far from the calls for peaceful (re)integration of 'illegals' into this faceless society. We also don't want to set ourselves up as advocates of homogenized groups of migrants, nor to sanctify them all for their specific oppression. Instead of abstract humanitarian charity, we search for the rebel affinity that may be found with migrants who maybe want more than a different regime, and who breach borders, wound guards and destroy prisons from the Mediterranean to Australia; that may be found in the hearts of those who self-organize, with or without accomplices.
Borders are just one significant expression of the currently dominant order, in a world of divisions both physical and psychological, of walls segregating populations, classes and imaginations. Our attack carries the seeds for another world. One where each and every creature is free to roam as they choose. Our borderless solidarity bursts out like our flames for people struggling for life unchained, for Gabriel Pombo da Silva, the CCF imprisoned members, comrades raided in Belgium, Marco Camenisch, Henry Zegarrundo, the anarchists held in Italy and Denmark, the dignified criminals, lawless fugitives, rebellious migrants and other socially disaffected who arm their rage to fight for liberation.
We would consider this our leaving gift to the UK Border Agency, due to be renamed and reorganized in the future – except it turns out it'll mainly be "the same jobs", "in the same places", "with the same mission". We know that their same regime of exploitation will continue more adapted and integrated, so likewise our war is perpetually against all forms of categorization and control that attempt to hinder free movement and wild life on Earth. Nothing is over, everything continues.
Borderless Solidarity Cell (Informal Anarchist Federation)
Tags: Arson, Border Agency, Borderless Solidarity Cell (Informal Anarchist Federation), Bristol, Carlo Giuliani, Conspiracy of Cells of Fire, Conspiracy of Cells of Fire : Imprisoned Members Cell, Gabriel Pombo da Silva, Informal Anarchist Federation (FAI), International Revolutionary Front, International Solidarity, Marco Camenisch, Migrant Struggle, Migrants, Portishead, Racism, Tascor, UK, UKBA
Posted in Direct Action
Saturday, June 22nd, 2013
The Informal Anarchist Federation (FAI) – International Conspiracy for Revenge claims the responsibility for the placing of an explosive mechanism and the blowing up of the car of known people-guard Argiris Gelbouras who serves at Navplio prisons. This attack is a part of the "Phoenix Project" which began with the blowing up of the car of the director of Koridallos prisons by the Conspiracy of Cells of Fire.
The choice to strike this specific prison guard was not accidental. Argiris Gelbouras (a.k.a. Rex) is for years now a faithful watchdog of authority. He is one of those in charge of the dozens of beatings of prisoners in the prisons and is at the same time a good friend of the plain clothes cops of Navplio police station. Often he uses prisoners-lackeys of his in order to frighten or hit other prisoners who demand their obvious "rights" or simply do not belong in his circuit of influence inside the prisons. Argiris Gelbouras is a bully in a uniform. If some screws insist on having 'relevant behaviours' and take out their complexities and frustrations on the prisoners, we will visit them with worse intentions. Nothing will remain unanswered. The enemies of freedom have names and addresses.
Simultaneously with this attack, we wanted to break the veil of silence which covers up the tortures and the wretched living conditions of the prisoners in Navplio prisons (and not only). Navplio prisons are a cement grave where about 600 prisoners have been "buried" (at the same time when the "specifications" of the building are for 300). In the cells which fit 2-3 people, there are 6-7 prisoners, half of which sleep on the floor.
A few months ago on 4/3 a young prisoner in Navplio was let to die because of the homicidal negligence of some correctional employees. The specific prisoner suffered from tuberculosis and for days was complaining that he is in pain and did not feel well. The answer of the service and the prison doctor was the same which mockingly echoes in all prisons in Greece: "Take some paracetamol (if there is any) and be patient". "Paracetamol" cures everything in prison… even tuberculosis. That day, the 26 year old died of cardiac arrest when transferred to the hospital too late. On Tuesday 5/3 the prisoners of wings 1 and 3 revolted because of his death and did not go into their cells. The answer of those in charge at the Ministry of Justice and Navplio prisons was as simple as the paracetamol, only now it's called MAT (riotcops). So two units of the dogs raided the prison and the prisoners returned to their cells. Order and security triumphed in Navplio prisons. After that, for about a month and a half the prison guards of the gated cement bordelo of Navplio repeatedly beat the prisoners in revenge for the revolt and to remind those who disputed it even a bit, of who is boss. Society can calmly continue its eternal sleep. All its ugliness is well hidden away in the prisons of democracy, there where revenge is called justice and punishment correction.
In prison most prisoners become guinea pigs to the sadistic moods of every sergeant or employee. It is not only overpopulation, terrible food, lack of medical staff, but also the daily punishments of the service which roam around like axes over the heads of the prisoners. Because a prisoner in prison does not only have to do the sentence imposed by the scarecrows of justice, but often do double time because of the disciplinary punishments imposed by the self appointed little tyrants who wear a suit or tie and are called guards, sergeants, directors and prosecutors of prisons.
Disciplinary actions, isolation, beatings, humiliating searches, sudden transfers – kidnappings consist a part of the kidnapped daily life of the prisoners. But the authority of the little tyrants does not stop there. It poisons even the little daily moments of those captive. In each prison depending on the sadism of each sergeant or director the prohibitions are on the daily list. Each prohibition is accompanied always by the same answer: "Impossible because of security reasons". Fans for the summer, heaters for the winter, hobs and utensils, weights for working out, mattresses to sleep on… "Impossible because of security reasons".
The refusals and irrationality continues even for what the prisoners buy from the grocer. In some prisons you get some foods that in other prisons are forbidden. Of course, there are not many times where the irrationality meets the lure of economic interests. The economic agreements and supplies under the table between the suppliers and the prison directors or sergeants are known in the prison world. All this is known in the palaces of the Ministry of Justice of sensitive leftist clown A.Roupakiotis. Besides, it's not long since his secretary Kanelopoulos pocketed many millions of euros from V.Milionis and the rest of the ENERGIA clique who took 560 million euro from the society of the self-enslaved, bribed prosecutors and juridical circles in order to be released from prison, at the same moment that thousands of poor-devils are piled up in the prisons. Of course, no one speaks up and everyone bows the head yet again. But no sheep ever saved itself with bleating. This is why we choose the path of the lone wolf. We have no illusions about peaceful changes and fair solutions from authority. Even if democracy created a "golden" prison with equal rights for the prisoners, with hot water, clean mattresses and larger yards, it would always remain a prison, a place of captivity. We are not looking therefore for better solutions, but for all those ways that we can tear down the prisons, with dynamite, with TNT, with guns, with bulldozers…
Simultaneously most prisoners must tear down the prison they have in their heads. The ethics of prison, the mentality of the incarcerated hyena which devours the weak, the pseudo-nationalisms of every kind, the humiliating dependency on drugs, the authority of the leaders and the enslaving of the subjects… This is the only way that the walls will collapse and the bars will bend.
On the other side of the walls, we the "free besieged" choose for ourselves the choice of weapons and dynamite against the prison guards of our lives, the bosses and their directors, the priests and their followers, the cops and their Golden-Dawners, the journalists and their viewers, the politicians and their voters.
The new anarchist urban guerrilla is not a means of struggle, it is our existence itself. All the rest which does not promote the continuous anarchist insurrection is ideological cowardice.
FAI (Informal Anarchist Federation) in cooperation with the Conspiracy of Cells of Fire aims to create a diffuse network of direct action cell in the Greek territory which will strike where the enemy does not expect it. Small autonomous flexible armed cells watch, collect info, sometimes cooperate sometimes not and choose the moment of sudden attack. Only in the attack is there life. We are anarchists of action, chaotic, nihilist, egoists, godless, we are the carriers of the black flags of anarcho-nihilism.
For the diffusion of FAI (Informal Anarchist Federation) and IRF (International Revolutionary Front).
Now and always
Insurrection, Attack, Revenge
SOLIDARITY and STRENGTH to the unrepentant outlaws and the guerrillas of the CCF
Informal Anarchist Federation (FAI) – International Conspiracy for Revenge


Translated by boubourAs and originally posted on the net by actforfree.
Tags: Argiris Gelbouras, Argos, Conspiracy of Cells of Fire, Conspiracy of Cells of Fire : Imprisoned Members Cell, Greece, Informal Anarchist Federation (FAI), International Conspiracy for Revenge, International Revolutionary Front, International Solidarity, Navplio, Phoenix Project, Sabotage
Posted in Direct Action
Friday, June 21st, 2013
As the second part of the Phoenix Project, an explosion destroyed the personal car of a hated prison guard in Argos, Greece. The International Conspiracy for Revenge / FAI have taken responsibility for the direct action as part of their incendiary campaign of revolutionary solidarity. Despite the moves of the repressive authoritarian forces, the new anarchist urban guerrilla develops and conducts new operations, constructing and evolving the black international. Long live anarchy. Destroy all prisons.
The full claim in Greek language is here.
Tags: Argos, Conspiracy of Cells of Fire, Greece, Informal Anarchist Federation (FAI), International Conspiracy for Revenge, International Revolutionary Front, International Solidarity, Phoenix Project, Sabotage
Posted in Direct Action
Sunday, June 16th, 2013
As has been known, in the first days of January 2013, I suffered a serious head injury after an accident. What followed were two successive head surgeries and a three-month stay in various hospitals. Of course, for some time now, I have escaped danger and I'm on the mend, awaiting a final restoration surgery on the skull. Now I am back among my comrades and my brothers and sister of the CCF, which in itself makes me feel better.
I gradually get some insight into the interest expressed during my hospitalization, and I feel the need to thank all those who stood by me in various different ways, from donating blood (which was much needed), to fundraising for covering medical expenses.
I have a special place in my heart, however, for the comrades of the International Conspiracy for Revenge-FAI/IRF who burned a private vehicle in Indonesia, and for the compas of the Insurrectionary Anti-authoritarian Cell-FAI/FRI who targeted with incendiary devices the building of Chile's national association of penitentiary functionaries and previously attacked facilities belonging to the Chilean Gendarmerie, because of the great honour they have done me by giving my name in the direct action cells that claimed responsibility for these anarchist attacks against domination. Brothers and sisters, you should know you're in my thoughts and that these actions have moved me deeply. May the fire of Insurgence and Anarchy always keep your hearts warm, and your hands armed against the enemies of freedom.
Finally, I would like to thank all those direct action groups in Greece and abroad who were interested in my condition and wished me a good recovery.
I am happy to see that all this time the project of FAI/IRF remains dynamic and active. I'd like to hope that, in the future, its intensity will grow enormously, and its diffusion will cause fear among the rulers globally.

LONG LIVE FAI/IRF
LONG LIVE THE BLACK INTERNATIONAL OF ANARCHISTS OF PRAXIS
Panagiotis Argirou
Member of the Conspiracy of Cells of Fire
Tags: Conspiracy of Cells of Fire, Conspiracy of Cells of Fire : Imprisoned Members Cell, Greece, Informal Anarchist Federation (FAI), International Conspiracy for Revenge, International Revolutionary Front, International Solidarity, Letter, Panagiotis Argirou
Posted in Prison Struggle
Tuesday, June 11th, 2013
PHOENIX PROJECT
Freedom for anarchists of praxis incarcerated in Italy
i. 'Return of the Conspiracy of Cells of Fire from the ashes'
Only in those moments when our tension for freedom is rejoined with practice do we truly manage to live anarchy, here and now. Unfortunately the dream we carry in our hearts is too great to avoid the risk of finding ourselves up against the monstrous wall of authority raised in defense of the State and Capital. When we really put our life in play, inevitably we end up confronting the hardness there is in the struggle: death and prison.
Nicola Gai, Italian comrade accused in the Olga Cell-FAI case [May 2013]
The Conspiracy of Cells of Fire-FAI/IRF in collaboration with comrades from the Consciousness Gangs, honouring our old and timeless friendship, blew up the private car of the female director of Koridallos men's prisons, Maria Stefi, as a display of genuine solidarity with our ten imprisoned brothers and sister, Giorgos P., Olga, Gerasimos, Christos, Michalis, Giorgos, Haris, Theofilos, Panagiotis, Damiano, that have taken responsibility for their participation in the Conspiracy.
After almost two years of silence throughout the Greek territory, the CCF returns. Maintaining a common front with the Consciousness Gangs, the FAI cells ('Antifascist Front', 'Unscathed Cell of Vengeance', 'Lone Wolf Cell', etc.) and the Sect of Revolutionaries, we support and strengthen the international conspiracy of the Informal Anarchist Federation/International Revolutionary Front.
The bomb we placed at the vehicle of the director of Koridallos prisons is the first drops before the storm. Or, as it was written in the last communiqué by the CCF against the Greek minister of Justice…
Certainly the necessity for strategy is now clearer than ever before. A lightning does not ever travel in straight repetitive lines. It bursts out unannounced. Even a seeming 'silence' is no retreat but quietness before the thunder…
[Clandestine sector, Informal Anarchist Federation/Conspiracy of Cells of Fire (February 2011)]
So, now it's time to make noise again. Noise against the militarization in prisons and the continuous police raids by the disgraceful scum of the EKAM special suppressive antiterrorist unit. Noise concerning the inquisition at prison councils, where prison service prosecutors and directors are poisoning inmates with fruitless hopes, at the same time that the denied requests for days of leave or conditional release are being stacked on top of each other. Noise for all those unimportant wearing the jailers' uniform that think they personify Power and thus give orders. Noise about the terrifying silence of the majority of prisoners that have long ago exchanged freedom and dignity with a heroin dose, or day wages, or a more 'favorable' prison transfer, or a brand new mobile phone… Noise for the prolonged silence and inaction of a 'space' that likes to be called anarchist, but are in essence as petty bourgeois and decadent as the society's civilization that they're supposedly fighting.
ii. Chronicle of a war foretold
Over the recent months, a new regime prevails in Greek prisons. The ministry of Justice as well as the prison administration and the public prosecution promote the model of militarization for the 'correctional system.' To date there have been dozens of raids by fully armed EKAM cops into prisoners' cells, as part of the restructuring of prisons. These hooded chickens with the full-body police harness have oftentimes shown 'guts' by hitting people in handcuffs. In the correctional brothel of Grevena, the pigs used also taser devices (electroshock weapons) against prisoners handcuffed behind their back. In Koridallos prisons, the night raid operation of forty to fifty EKAM cops was carried out through the 'courtesy' of the director Maria Stefi and the prosecutor Troupi, who did not miss out on provocations and bullying from a safe distance.
We know that it never gets dark there, inside your prisons. Therein memories are scratching, and one forgets how the sky looks without bars and barbed wire. If death had its own colour, it should be painted on your prisons. Because the realm of slow death lies on the inside, and one can feel it every single day. It's hanging from the walls in corridors, it sounds with every locking of a door, it cries silently in disciplinary cells… There is no reason to continue the 'critique' of your 'correctional' system.
We have said it in the past, when we placed a bomb of twenty kilos on the outer wall of Koridallos prisons three years ago. Our imprisoned brothers and sister from the CCF say it definitely better than we do, through their writings, participating in the international dialogue of the Informal Anarchist Federation/International Revolutionary Front.
Besides, we do not expect something better from the empire of Power that is flavoured with the 'courteousness' of democracy. All of its officials handle perfectly their duties.
The judges sat on their imperial throne are handing prison sentences that challenge even the scientific average of human lifespan: 'Double life sentence'… 'Two hundred years in prison'… 'Eighty years in prison'… To them, the names of the accused are ultimately nothing but small annoying ink stains on their thick indictments that must be erased.
Below them are the prisons directors; the small gods of penitentiary institutions that give their commands behind their distant offices having the confidence of being 'the housemaster.' This 'business' is run by them anyway.
Next to them are the prisons prosecutors, the 'hand of god'. Their signature opens the doors of 'heaven' or 'hell.' 'Conditional release from prison… rejected.' 'Five days of leave from prison… rejected.' 'Rejected'… 'rejected'… 'rejected'… is the only word they know to say. But these are all enemies. The only thing to ask from your enemy is ultimate war.
The axe of criticism along with the nausea of unanswered questions falls heavy on the inhabitants of the country of prisons. It falls heavy on the prisoners themselves, most of whom accept passively their incarceration in the sweatshops of democracy. Far from resembling a subculture of the revolutionary imaginary icon of imprisoned 'fighters' as a heightened projection of the living herein, the reality in prisons sounds frighteningly ugly: passivity… snitching… customization… licking the prison service's ass… getting high on drugs… racism… cowardly cheekiness… self-pity… falsity…
Yet, this pathetic crowd can be transformed at once and become 'combatant' when it comes to a bottle cap of smack, to debts and loans, to the sovereignty of each clan. That is when the prisoners' inventiveness triumphs. A piece of iron turns into a murderous knife in the most skilful hands, and a sock hiding a heavy object turns into a weapon for the inner-hostilities between inmates, who have learned much better how to eat each others' flesh than they ever did on the outside.
With the same stunning inventiveness, they hide in the most unlikely places smack and other drugs they want to carry. However, this ingenuity is absent when it comes to seeking revenge against those who locked them up and deprived them of their freedom. How many former and current prison inmates were involved in actual revenge on their jailers? How many prisoners found the home address of a chief warden, or ambushed a prosecutor that threw their request for leave or probation in the trash bin?
For this we call minority prisoners, who still have dignity, to plan tens of acts of vengeance.
iii. The FAI/IRF international conspiracy
From our part over here, with the bombing against the director of Koridallos prisons, we coordinate our attacks through the FAI/IRF international network. It started when our brothers and sisters in Chile, of the 'Panagiotis Argirou' insurrectionary anti-authoritarian cell, targeted the National Association of Penitentiary Functionaries in Santiago on May 12th.
FAI/IRF is an international conspiracy of anarchists of praxis that sets fire on the defense positions of reformist societist anarchists. It gets rid of the smell of mold that has settled in anarchy seen at amphitheatres, and fills the air with the smell of gunpowder, black anarchy, nighttime, explosions, gunshots, sabotages. This explains why the International Revolutionary Front of FAI and Conspiracy is on top of the anarchist dangers list as cited in recent Europol reports.
Diffusion and informal organizing within the new anarchy into autonomous cells of direct action are what really scare the police of the whole world. Therefore, the State and the enemies of anarchy do not easily forget the anarchist militants who are held captive under their prisons' authority.
iv. For the brothers and sisters missing…
In Germany, comrade Thomas Meyer-Falk —who is held hostage for participation in bank robbery with the aim of supporting subversive projects— has already served his sentence, but remains incarcerated. In his case, an old law of Nazi Germany was applied, under which prisoners may continue to be kept in prison indefinitely, even when they have served their entire prison term, if they are deemed 'dangerous to society'… Thomas Meyer-Falk, with his uncompromising attitude and refusal to kneel in front of Power, is still considered dangerous for the social machine.
[Footnote in the original :] In Bulgaria, our comrade Jock Palfreeman remains hostage in prison, after a scuffle with nearly fifteen fascists who tortured a Roma. A fascist fell dead in the scuffle and another was seriously injured. We, for our part, send a signal of solidarity to Jock and a promise that he is not alone.
At the same time, our brother Gabriel Pombo Da Silva is currently incarcerated in Spain —moved from Germany a few months ago— and our brother Marco Camenisch is imprisoned in Switzerland. Our two brothers are confined for many years in the galleys of democracy because of their subversive and anarchic action. Gabriel —who has fought numerous times against the FIES [footnote in the original :] special prison regime— is accused of a scuffle with cops in the German city of Aachen, and Marco is accused of eco-sabotages, escape from prison and armed clash with border guards. While they have become eligible for conditional release from prison, the international state machine tries to keep them hostage, linking them to the 'operation Ardire', a case conceived by the Italian State. A police case against the FAI/IRF network, in which apart from Marco and Gabriel our comrades Giuseppe ('Peppe'), Stefano, Elisa, Sergio, Alessandro are co-accused and remanded in Italy, while some of our CCF comrades imprisoned in Greece are also 'under investigation.'
The state apparatus and its justice are now experimenting with similar alchemies in Greece. Our brother and CCF member Gerasimos Tsakalos is at the top of the blacklist of interrogators and judges. Currently, he has spent thirty one months on remand —the ceiling is eighteen months— and his pretrial detention was extended to another six months, describing him as 'particularly dangerous.' Nevertheless, the charlatans of justice make newer experiments as well. They open yet another case file, the double robbery in Velventos [Kozani], and charge Gerasimos for instigating crimes by delivering a new pretrial detention order to him. He is thus accused as instigator in a bank robbery case that occurred when he was already still in prison. What's more, we do not forget that last year, when his eighteen months' remand period was reaching an end, the mop called Mokkas (special appellate judge for the preliminary investigations) put him on the second consecutive remand, while the comrade was in hospital conducting hunger strike.
All this reinforce the certainty that we have, now more than ever before: the liberation of our comrades will only happen through violence, with guns, with an anarchist tromocracy and intensification of the new anarchist urban guerrilla warfare… and then, woe to whoever stands in the way of our comrades' liberation.
v. Everything continues…
The struggle does not end just because some unimportant folks got tired, and now they only show off their anarcho-medals on the catwalk, in the mire of Exarchia [downtown Athens], nor does it stop because some folks shit in their own pants and hunker down in whatever they've put on ice, or in their pseudo-assemblies.
For us, there is no middle ground. They who declare openly their anarchist intentions are facing a decisive dilemma, to either act or give up anarchy forever. There can never be anarchy at the rear of coffee shops and gossiping… Either act or shut up…
In closing the proclamation of our reoccurrence along with the Consciousness Gangs, we would like to dedicate our attack with all our strength to our brothers and sisters imprisoned in the Italian State's cells, and furthermore send out our conspirative signal to Alfredo Cospito and Nicola Gai, both accused of shooting Roberto Adinolfi ([footnote in the original :] chief executive of nuclear firm), an act for which the Olga Cell-FAI/FRI has claimed responsibility.

The words of coherence by the sisters and brothers in war are the only ones that have truly weight. The so-called 'social anarchism' makes everything revolve around the instrument 'assembly', which has become gym of authoritarianism, terrain of breeding big and smaller leaders, whose sole purpose is self-referentiality. The anarchist politicos do everything they can to stave off the new that advances. The new that advances as well as the making of the informal organization (…)
Alfredo Cospito [March 2013]
Courage and strength to the comrades who anonymously strike at the State and Capital, courage and strength to those who give a name to their own rage, courage and strength to the comrades who give life to the Fai/Fri. We are going to give soul and body to the black international, there is a whole world to destroy. Long live anarchy!
Nicola Gai [May 2013]
Brothers and sisters, the rendezvous is on…
We will be back — sooner than you expect…
Conspiracy of Cells of Fire-FAI/IRF
Consciousness Gangs-FAI/IRF
Sole–Baleno Cell
([Note in the original :] Sole and Baleno —Maria Soledad Rosas and Eduardo Massari— were two anarchist comrades accused of sabotage and anarchic dynamic actions in the 1990s. Baleno 'committed suicide' in his prison cell. Sometime later, Sole 'committed suicide' in the special conditions of 'house' detention imposed to her. Their memory lives within us, in our bullets, in our dynamite…)
-

translated by contra-info.
Tags: Athens, Conspiracy of Cells of Fire, Conspiracy of Cells of Fire : Imprisoned Members Cell, Conspiracy of Cells of Fire FAI/IRF - Gangs of Consciousness FAI/IRF - Sole Baleno Cell, Greece, Informal Anarchist Federation (FAI), International Revolutionary Front, Korydallos Prison, Maria Stefi, Phoenix Project
Posted in Direct Action
Sunday, June 9th, 2013
A bomb has exploded on the car of the administrator of Korydallos prison in Athens where imprisoned members of the Revolutionary Organisation – Conspiracy of Cells of Fire are held. There is also a claim from Conspiracy of Cells of Fire FAI/IRF – Gangs of Consciousness FAI/IRF – Sole Baleno Cell on Athens Indymedia. You can find it here also.
Tags: Athens, Conspiracy of Cells of Fire, Conspiracy of Cells of Fire FAI/IRF - Gangs of Consciousness FAI/IRF - Sole Baleno Cell, Greece, Informal Anarchist Federation (FAI), International Revolutionary Front, Korydallos Prison
Posted in Direct Action
Thursday, June 6th, 2013
via contra-info, see previous news stories 1 & 2:
We have been active as a group for around a year, during which time we have seen a slight increase in the kind of actions with which we identify. We also have taken similar actions and have decided to make them public through this indymedia, to encourage their replication.
Besides us, there was recently an attempt to frame their actions as part of a "campaign" or similar collection of actions. Afterward, the response was silence from most of the anarchist and nihilist lines in Catalonia (or, at least, nothing was spread on the Internet).
We keep our strategy and political line firm: We see the actions by the Informal Anarchist Federation (FAI) and other anonymous actions as small winks. We take the opportunity to send a solidarious hug to all those individuals who decided to pass from theory to practice, in relation to direct, material action. (more…)
Tags: Barcelona, Catalunya, Informal Anarchist Federation (FAI), L'Hospitalet, Sabotage, Solidarity Action
Posted in Direct Action
Tuesday, June 4th, 2013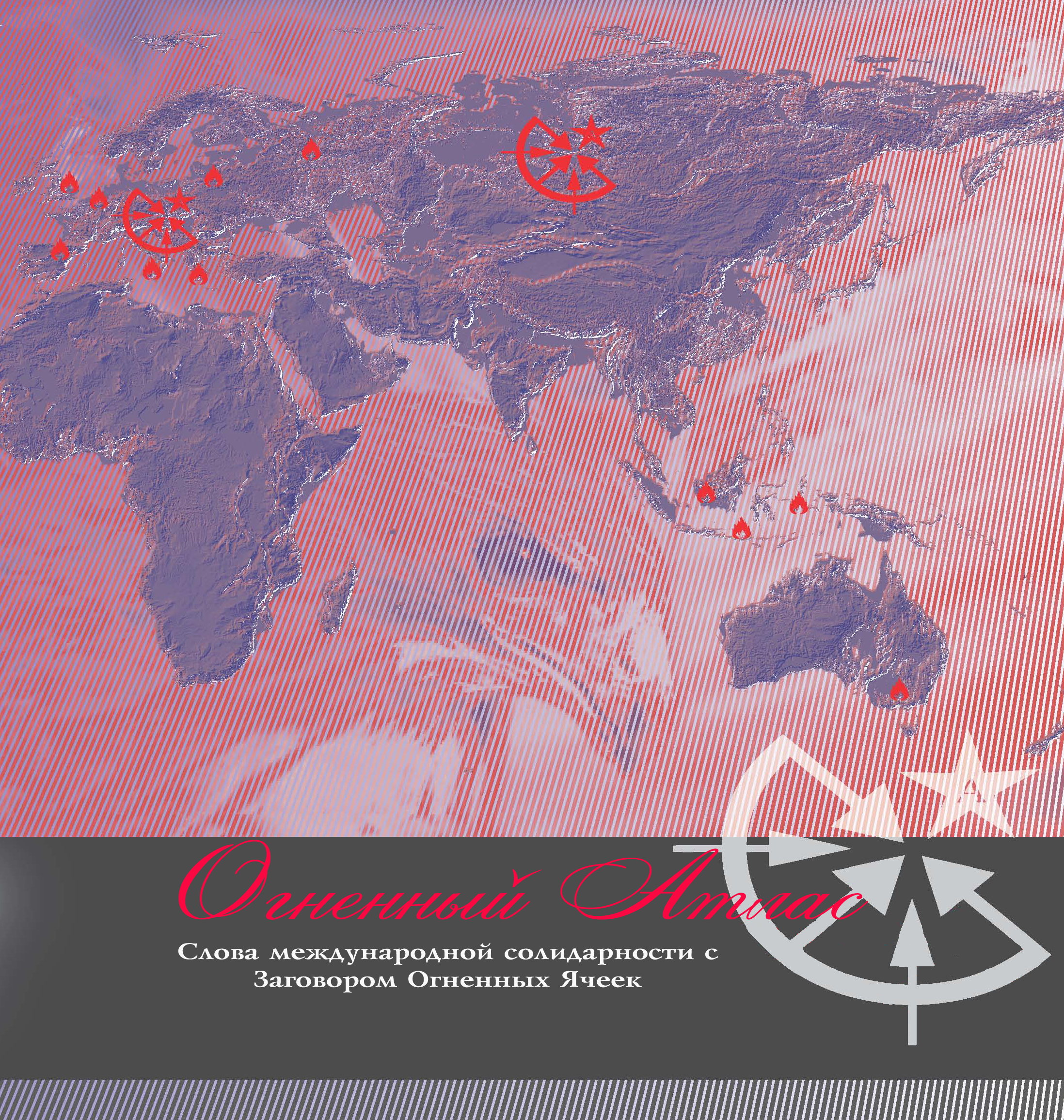 "Эта книга – место встречи наших товарищей со всей планеты. Место воображаемой встречи, конечно. Нас разделяют тюремные стены и решётки, потому что наши тела временно в плену наших врагов."
http://fromrussiawithlove.noblogs.org/files/2013/06/mapping-the-fire_ru.pdf
Tags: Black International of Anarchists of Praxis, Conspiracy of Cells of Fire, Conspiracy of Cells of Fire : Imprisoned Members Cell, Informal Anarchist Federation (FAI), International Revolutionary Front, Mapping the Fire, PDF, Zine, Огненный Атлас
Posted in Library