Posts Tagged 'Informal Anarchist Federation (FAI)'
Friday, October 25th, 2013
In Italy, on 30th October, our two brothers, Alfredo Cospito and Nicola Gai, are going on trial, accused for the gunshots against a high-profile business executive of a nuclear company. The attack was claimed by the Olga cell-FAI/IRF.
I know people… people silent and chatty,
coward and audacious, humble and arrogant…
People, who live obediently, like sheep and others,
who lurk treacherously, like hyenas.
I know people who dream without fantasy
and others, who live without dreaming… people, whose eyes
are used to staring low and whose ears
are used to taking orders "wake up", "work",
"pay", "buy", "believe", "comply"…
People from the lonely crowd, who patiently wait
in the line of life… for the eternal tomorrow,
for the better days, the optimistic future, the answers to their prayers…
They are waiting to believe in every prospective savior
and in any conman of thought, who will promise them a better life.
But those, who wait to live a better tomorrow,
are today, already dead.
I know people, but only a few of them are my comrades.
Slow Death or Insurrection here and Now…
These are the two paths, that unravel before us.
We choose to be there, where the strong ones dare.
The air is cleaner and the crowd, which bows before its false idols,
doesn't ugly our aesthetics.
It is nice to look down from the mountain Peak of the Unique
even if the crowd secretly wishes for you to fall into the abyss
in order for it, not to be ashamed of its short stature.
Our words, carve today like a blade
and our actions burn the bridges with yesterday…
With tenacity and will, until we murder authority.
For Nicola and Alfredo.
For the Anarchists of Praxis.
The members of the Conspiracy of Cells of Fire:
Nikolopoulos Giorgos, Nikolopoulos Mixalis, Tsakalos Xristos, Tsakalos Gerasimos, Oikonomidou Olga, Bolano Damianos, Argyrou Panagiotis, Polydoros Giorgos, Mavropoulos Theofilos, Xatzimixelakis Xaris
The member of FAI/IRF, Tsavdaridis Andreas and anarcho-nihilist Mandylas Spyros.
Tags: Alfredo Cospito, Andreas Tsavdaridis, Ansaldo, Conspiracy of Cells of Fire, Conspiracy of Cells of Fire : Imprisoned Members Cell, Greece, Informal Anarchist Federation (FAI), International Revolutionary Front, Italy, Letter, Nicola Gai, Nucleo Olga FAI/FRI, Roberto Adinolfi
Posted in Prison Struggle
Saturday, October 19th, 2013
Two years have passed since the latest incident in a nuclear power plant, that of Fukushima: a never before established and incalculable number of deaths, wounded and people contaminated by radioactivity; damages of huge proportions that the Japanese techno-scientific community, government and press awkwardly try to conceal, and last but not least the tragic farce of the Olympic Games in Japan, with which propaganda is glorifying a devastated, deadly and broken territory.
In Italy, an unknown number of radioactive waste sites oozing death are scattered in the countryside of Saluggia and Trino Vercellese close to the Po basin, the heritage of the last nuclear power plant that operated in the Piedmont region.
A regular passage of trains loaded with nuclear waste destined to re-processing (i.e. re-use) goes on between North Europe, Italy, the Susa Valley and France.
An industrial giant, Finmeccanica, specializes in various sectors including nuclear power for civil use (maintenance of existing nuclear plants and construction of new ones), arms production and trade, and control systems (mainly concentrated on the new borders of expansion such as nuclear plants in Romania, arms trafficking with India, etc), also represents a typical example of racketeering, corruption and exploitation ingrained in all expressions of dominion and capital.
A planner of nuclear plants, a champion of the dramatically false and faulty sustainability of the civil use of nuclear power, who is a manager belonging to Ansaldo Nucleare of Finmeccanica- Roberto Adinolfi- was wounded by a gunshot outside his house on May 7 2012, in an action claimed by the Olga nucleus of the Informal Anarchist Federation.
Two comrades, anarchists Nicola Gai and Alfredo Cospito will go on trial on October 30 2013, after having been charged with attack with purposes of terrorism following Adinolfi's wounding.
We greet with joy and anger anyone who opposes the devastation perpetrated by dominion, and with their heads held high they continue to claim the validity and force of real practices of struggle and critique.
For anarchy.
-
From RadioAzione translated by actforfree/B.pd
Tags: Alfredo Cospito, Ansaldo Nucleare, Finmeccanica, Fukushima, Informal Anarchist Federation (FAI), Italy, Nicola Gai, Nucleo Olga FAI/FRI, Repression, Roberto Adinolfi, Trial, Val Susa
Posted in Prison Struggle
Monday, October 14th, 2013
From Bite Back:
"To continue the momentum of direct action targeting speciesist companies in Portland, we slashed several tires on company vans at Sunshine Dairy Foods, located at 801 NE 21st Avenue. We are happy to see the surge in illegal actions in Portland. Keep fighting.
Until all humyn and non-humyn prisons are destroyed
FAI – OREGON"
Tags: FAI - Oregon, Informal Anarchist Federation (FAI), Oregon, Portland, Sabotage, USA
Posted in Eco Struggle
Tuesday, October 8th, 2013
Translated by the imprisoned members of the Conspiracy of Cells of Fire

PHOENIX PROJECT #6
"EAT THE JUDGES"
Once again we meet in the Fire, with old and new comrades, determined to overthrow the police estimations which wanted us to be a closed chapter of an ended story. The Conspiracy of Cells of Fire is a never-ending story. It is the inner flame that burns within us, it is the Phoenix which is born from its ashes again and again… it is the Fire of Refusal and Nihilism which cry "I cannot stop, I cannot be burnt, no one can put me out."
About a month ago, both our brothers Andreas and Spiros were arrested in Thessaloniki accused of sending a parcel bomb to the former commander of the Anti-terrorist force. There is no need for many words. Brothers remember that the sun will continue to rise for all of us whose homeland is the New Anarchy. The Phoenix is born from it own ashes and continues to mock the silence of the cowards, providing Promethea's fire to the eternal insurgents.
Thus, the sending of the trapped parcel bomb to inquisitor Mokkas is a first minimum and reflective response. It is the answer that for us the only way to escape is to set fire to the reformist defence positions and to proceed to attack first again.
Moreover, Damianos, Panagiotis, Theofilos, Christos, Haris, Giorgos.P, Giorgos, Michalis, Olga, Gerasimos, namely the ten brothers and sister of the CCF, all of who are already being held in captivity with double, triple and quadruple sentences that even surpasses the 36 months, are now persecuted by the prosecuting circles with the charge of inciting.
Dimitris Mokkas is exclusively entrusted with cases related to "terrorism" on Greek territory. Which means exclusively our organization. The career of this slimy object does not have any differences from that of any typical juridical officer. Faint hearted little people which evolved into justice officials in order to satisfy their own complexes. This specific clown did a bit better in than other worms of the appellate court in kissing his superiors ass. His vanity to get a higher position was satisfied. Now he is in charge of calls, interrogations and detentions, always with a vengeful smile on his mouth. The peak of his ridiculousness and cowardice was the postponement of the detention of our comrade of the CCF Gerasimos Tsakalos a few hours before the expiry date, above his bed, while he was also going through his 23rd day on hunger strike.
For all this that he has done we decided to also send him our own revenge gift. Of course, not to the glass tower of the appellate, where with the attitude of a thousand cardinals behind his office he signs the shitty legal papers against our brothers and sister, but sending our parcel to his personal residence, where he feels safe. We know that all these scumbags, such as Mokkas, after their sacred duty to hold captive the lives of dozens of people, go back to the warmth of their own home, pretending to be an honourable husband and parent. Thus, we followed the specific target, located his house and chose to send the parcel bomb there. In this way we sent him our performance signed the Conspiracy of Cells of Fire.
It is a fact that there is an insolence in this sector in the previous years. Parody trials sentencing people to dozens of years in prison with no evidence. Repeated detentions deprive freedom from whoever the cops consider a problem. And we are not just talking about armed guerillas. It is a tactic founded with anti-terror laws and is now used openly in dozens of cases. For all this insolence are responsible also all those who are released from prison and forget the big words of revenge against judges and prosecutors. Prisons therefore are also full with people who although feel wronged from the decisions of this sector, never transform this dissatisfaction into rage and rage into action.
Let this attack become an invitation for such acts of revenge, to all, inside and out of the prison walls, who have experienced the rot of juridical authority. It is not something unattainable. There are hundreds of juridical workers. They do not guard themselves, and it is not that hard to find them. Lets all attack them with whatever everyone can. From beatings and arsons up to bombs and executions. Only in this way will they understand there is a war. And if they do not understand, surely we will feel better that we avenged these inquisitors of justice. As for those inside the walls, the only decent attitude towards these scumbags is the discrediting of this farce called a trial. Let alone, when we speak of hostage revolutionaries and special terror trials.
With this attack we want to send our friendship and respect to our imprisoned brothers and sisters in Latin America. To dignified comrades Freddy Fuentivilla, Marcelo Villaroel and Juan Vega, who are accused in "caso security". The three comrades participated in the armed struggle against the state of Chile in the 80s and 90s. Now they are in prison accused of bank robberies and the execution of a cop during a shoot out.
We also dedicate it to unrepentant comrade Jose Miguel Sanchez Jimenez. An urban guerilla who continued his struggle after the fall of the junta in Chile, because as he wrote "i do not believe in their democracy".
Also to anarchist vegan Braulio Arturo Duran Gonzalez, who is in prison in Mexico accused of attacks on ATMs.
To Hans Niemeyer who is accused of subversive action and attacks on symbols of authority. The Chilean state bailed him under house arrest. Hans, broke his bail though, escaping into clandestinity. Unfortunately, a few months ago he was arrested and imprisoned.
To our brother Henry Zegarrando, who is accused by the Bolivian state for attacks of FAI-Bolivia which took place in the country's territory a while ago. Henry, was transferred from prison to special regime of house arrest.
As well we send our warmest greetings to our recently released brothers Mario Lopez, Ivan and Carlo. And of course a big hug which will hide from the cops our wanted friend and comrade Felicity Ann Ryder, for whom an arrest warrant has been put out for her in Mexico.
The Black International of Anarchists of Praxis through the FAI-IRF, is everywhere. In the imprisoned comrades, the wanted anarchists, the anarchists fighters of the streets.
This is why we want our voice and fires to travel to the other side of the globe, to far Indonesia, strengthening the actions of our brothers and sisters, in the FAI cells there. Recently, the cells of FAI-Indonesia, besides attacks against the system, carried out a campaign of counter-information concerning the execution of four prisoners by the special forces of the police. The four young prisoners were accused of a clash which took place in a bar and during which they killed a cop of the police special forces. A bit after their imprisonment there was a night time raid in the prisons where they executed the four prisoners in their cell, with kalashnikovs.
The comrades in Indonesia are not alone… All together, anarcho-individualists, nihilists, chaotics, we meet there where the new anarchy becomes practice. We want to meet through our actions and experiment with the diffuse of the Informal Anarchist Federation FAI. To mock the police control, become more dangerous, support the international anarchist solidarity and attack for it. That's why -just like fire unites us- we share the same joy for an anarchist attack as well as the sadness for a captivity or death of a comrade.
Concluding, we would like to dedicate a few words to those who the echo of attack makes them feel the desire of action. We therefore send a guerilla signal of fire to the comrades of anarchist steki Nadir in Thessaloniki, which was once again the target of oppression. Towards a "movement" where the plague of reformism and communism is spreading constantly in order to completely take it over, anarchist steki Nadir, with all of its possible contradictions, remains an annoying reminder which says that "anarchy is not a product for sale on the ideological shelves of the supermarkets of the 'veterans' of the 'movement', but it is insurrectionist violence in the street… "
Finally, we know that our comrades in Indonesia a few months ago dealt with a loss. Their, and our, brother Ryo, was stabbed to death in a clash. Their loss is our loss. This is why we decided to call the cell of the Conspiracy which sent the parcel bomb to the inquisitor, "Ryo" cell, as a token of honour and remembrance to the comrade who was killed…
Today the Conspiracy of Cells of Fire is reborn from its ashes, promoting The Phoenix Project. New cells of the Conspiracy are ready to unleash themselves into the new anarchist urban guerilla warfare. And to those reformist anarchists who slander us saying that our methods seem more more mafia-like, it's only because they start to resemble leftist hippies…

WE CREATE CELLS OF FAI-IRF EVERYWHERE
FOR THE DIFFUSE OF THE ANARCHIST URBAN GUERILLA
STRENGTH and SOLIDARITY to ANARCHIST STEKI NADIR
STRENGTH and SOLIDARITY to the new nihilists, the anarchists of Praxis, the chaotics of Refusal, the armed minorities
of anarcho-individualists…

CONSPIRACY OF CELLS OF FIRE – FAI/IRF
RYO CELL
Tags: Athens, Conspiracy of Cells of Fire, Conspiracy of Cells of Fire : Imprisoned Members Cell, Dimitris Mokkas, Greece, Indonesia, Informal Anarchist Federation (FAI), International Revolutionary Front, International Solidarity, Letter Bomb, Phoenix Project, Ryo, Ryo Cell - CCF/FAI/IRF
Posted in Direct Action
Tuesday, October 8th, 2013
September 4, 2013
"Others unthinkingly followed the paths learned once and for all, to their work and their home, to their predictable future. For them duty had already become a habit, and habit a duty. They did not see the deficiency of their city. They thought the deficiency of their life was natural. We wanted to break out of this conditioning, (…) in search of new passions."
Guy Debord
A short chronicle of my arrest
On Thursday night, July 11th, 2013 cops of the anti-terrorist force barged in the anarchist hangout Nadir, in Thessaloniki, once again. I was arrested and immediately transferred to the anti-terrorism headquarters in Athens where I got the news that, three hours prior to my arrest, my comrade and friend Andreas Tsavdaridis was also captured outside his home in the district of Stavroupoli, Thessaloniki. I was asked to give fingerprints, DNA sample and photographs but I refused to collaborate, and they took those by force. Shortly afterwards, they notified me I was being charged with all of the attacks that had occurred in the context of the Phoenix Project until that point (Acts 1, 2, 3, 4). I refused to sign any police paper, or talk about anything. Six days later, I was able to communicate with Andreas, who told me the exact same things had happened to him. What's more, the police announced that the ten imprisoned members of the Conspiracy of Cells of Fire were also charged as instigators in the Phoenix Project case. (more…)
Tags: Athens, Conspiracy of Cells of Fire, Greece, Informal Anarchist Federation (FAI), International Revolutionary Front, Korydallos Prison, Letter, Nadir Squat, Spyros Mandylas
Posted in Prison Struggle
Saturday, October 5th, 2013
Received via encrypted mailing oak:
On October the 2nd of 2013, 2 incendiaries 1.5l of gasoline each were placed at the sawmill situated on the land of a hunting resort under Bryansk (western Russia). Tongues of flames rose up to lick the rags left by unfortunate woodcutters right on the device. A nearby hill offered awesome spot to enjoy the night scene: thick smoke was soon gathering under the roof and coiling around the compound in a mist-like fashion.
We suggest this action to count as our input in PHOENIX project (#7), a project for the revival of direct action acts and anarchist resistance after repressions of 2010-2012. We wholeheartedly support our mates from Moscow cells of CCF and ELF when they state the necessity to resume and widen our attacks on state and capital.
Some thoughts about the recent critique by anonymous comrades from Argentina. Without any second thoughts of being self-referential or posting useless bravado:
Interior debates are not always worth it to publish them in English on international sites. Besides we thought that a series of attacks on similar targets still sparks debates in the anarchist community at least on the local level (we can name anti-police campaign of 2008-2011, Khimki and Butovsky forests, recent protests against mining project in Voronezh). Sometimes things go beyond debates.
We also considered it agreed upon that its very hard to coordinate timed hits at the similar structures on the international level (like fur farms, woodcutter industry, cops, prisons, military objects, industry, banks, gas and oil etc.) as this takes more time and we are communicating on a more or less public level here. So our enemies can get the better of us. It is debatable whether we should risk our freedom during next action for a chance to see a communique about similar action taking place 6 months later somewhere else. Besides, one cannot say we do not coordinate to some extent: notice the series of attacks at power supply lines and electricity industry objects in Belarus, Canada and Indonesia, actions taken against banking institutions in the UK, Russia, Germany, Italy, Greece, numerous coordinated acts of hunger strikes performed by our imprisoned comrades throughout the planet.
For our collective the whole FAI-IRF thing is more important because of the feeling of being part to some wider community. In the past that was the "social anarchist" organizations' exclusive domain. Now anarchists of other inclinations can feel camaraderie and support across the globe. Just several years ago in our country if you wanted to get in touch with anarchists you'd have to suffer through established mainstream anarchists organizations. And if some shit happened they were the first to mumble about police provocateurs and stuff. Now people who feel the same, who are edging towards rebellion and actions as no less valid than anarchist theory, can link up outside the pacifist and reformist anarchist framework. And when we read about hundreds of cars burning in one part of the world, banks going in flames in another and construction vehicles sabotaged somewhere else – so much the better. A short trip in memory: recall the heated discussions over the FAI acronym just a little while ago (or early discussions over the support/denouncement of CCF). We believe it is the achievement every group from FAI-IRF that things have changed.
We understand that your concern is lack of streamlined coordination in our attacks, but we have another issue to discuss as well: new groups to be formed, spreading of information, countermeasures against repressions. If one wants to coordinate her attacks more thoroughly, she needs only to read other people's communiques better. But to fight the still ongoing repression aimed at direct action groups world wide – this is the task we believe should be addressed asap.
- ELF/ FAI, Nestor Makhno Commando
Tags: Arson, Bryansk, Earth Liberation Front (Russia), ELF, ELF/ FAI Nestor Makhno Commando, Informal Anarchist Federation (FAI), International Revolutionary Front, Nestor Makhno Commando, Phoenix Project, Russia
Posted in Eco Struggle
Friday, October 4th, 2013
Edizioni Sole Nero NR.004: Cospirazione delle Cellule di Fuoco "La Nuova Guerriglia Urbana Anarchica"
The book by the Conspiracy of Cells of Fire "The New Anarchist Urban Guerrilla" is out now in ITALIAN language.
Download, print and distribute!
Link for downloading:
http://325.nostate.net/wp-content/uploads/2013/10/Nuova-guerriglia-urbana-anarchica.pdf
Tags: Black International of Anarchists of Praxis, Conspiracy of Cells of Fire, Conspiracy of Cells of Fire : Imprisoned Members Cell, Edizioni Sole Nero, Greece, Informal Anarchist Federation (FAI), Italy, PDF, Zine
Posted in Library
Wednesday, October 2nd, 2013
from vivalaanarquia, transl waronsociety:
Trying to be at our best and to continue maintaining the dignity deserved by human lives that rebel against the authority that provokes all kinds of oppression over the face of the earth in which we live, we again go on the offensive in the war declared by the lovers of freedom and their enemies.
We remember that in the prisons of the territory dominated by the Argentine State the prisoners who are there continue to be murdered and tortured. And in the streets the misery goes on increasing, the alienation of work and consumption obscures the consciences of the people who constantly go around tensioned by the contradictions of a system that is proclaimed consolidated by a government that speculates with the economic sciences, trying to hide their tyrannical condition at all costs.
Sit down, victims, because nothing you have yet suffered compares with the humiliation that all of us feel, we who are threatened with the death and radical confinement which nourishes the theory of those who have the power and will to profit off of the authoritarian methods and practices of civilized society.
Our proposal is the direct attack on those responsible for the misery of this reality, now the prison guards are in the sights of all the insurgent compañerxs — or is it necessary to keep saying what points we have in common? Actions say much more than words, but it is also necessary sometimes to mention what the media constantly try to hide.
The cars that we burned at 3000 Amenabar street were parked right outside one of the properties of Sergio Berni (secretary of the Ministry of Security), under 24 hour surveillance by the Federal Police.
The little bomb we set off in the Prison Guards' Mutual (Argentine Borders Building), located at 2264 Bartolome Mitre street, on Thursday September 19, 2013 at 1:40 am, unfortunately only caused material damages; we would have liked to find out that a servant of law and order had at least been injured.
We salute the compañerxs of the Conspiracy for Revenge and all those who, without lots of questioning, go on the offensive against authority all across the world.
Long Live Anarchy!
Friends of the Earth
Informal Anarchist Federation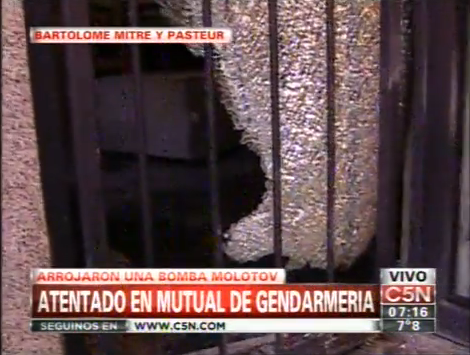 Tags: Argentina, Buenos Aires, Friends of the Earth / FAI, Informal Anarchist Federation (FAI), International Conspiracy for Revenge, Sabotage
Posted in Direct Action
Tuesday, October 1st, 2013
"Time of Fighting Consciences"
Tags: Conspiracy of Cells of Fire, Conspiracy of Cells of Fire : Imprisoned Members Cell, Informal Anarchist Federation (FAI), International Revolutionary Front, Our Lives of Burning Vision, PDF, Poland, Zine
Posted in Library
Sunday, September 29th, 2013
Dark Nights is an international anarchist & anti-prison publication of resistance reports and repression news ready to print out and distribute on the fly.
1. Athens, Greece: Letter of anarchist Andreas Tsavdaridis from Koridallos prison.
2. Letter by International Conspiracy of Revenge Indonesian sector Informal Anarchist Federation – International Revolutionary Front.
3. Barcelona, Catalonia: Basic contributions to the discussion about actions and revolutionary struggle.
4. Castelli Romani, Italy: Communiqué on the arrest of comrades Adriano and Gianluca.
5. Buenos Aires, Argentina: Communiqué for the attack on the Academy of Justice.
6. ABC Bristol, UK: Thoughts on the Anarchist Witch Hunt Following Attacks in Bristol.
7. Direct Action Reports.
http://325.nostate.net/wp-content/uploads/2013/09/dark-nights-37.pdf
Tags: ABC Bristol, Andreas Tsavdaridis, Argentina, Barcelona, Bristol, Buenos Aires, Castelli Romani, Catalunya, Dark Nights, Indonesia, Informal Anarchist Federation (FAI), International Conspiracy for Revenge, International Revolutionary Front, Italy, PDF, Repression, RO-FAI (Indonesia Section), Sabotage, UK, Zine
Posted in Library
Tuesday, September 24th, 2013
Finally, we had an opportunity to write a letter in a 'detailed way' from our own point of view in our group. From beyond the geographical borders, -although it's never been a limitation for our meetings in ideas and actions-, it is one of the basic problems that prevent our physical meeting,. Through this letter, we want to offer some of our analysis regarding the situation around us (as individuals and as a group), and also our own analysis related to the recent situation of FAI/IRF, since we are part of it. The letter is our critique and contribution for international anarchists of praxis around the globe.
The letter itself is the result of our discussion. But one must be aware from the beginning that we are an association of individualists, although we use one name in order of anonymity. In some part of this letter, the view represented the joint agreement among individuals in our group. But we never want to abolish the individual's judgment. That is why below, you will find some parts where we mention about individual analysis or individual gesture.
PART 1
thus democracy – the mother of socialism – is the daughter of religions*
—Renzo Novatore,
(Toward the Creative Nothing)
FUNDAMENTALISM, DIRECT ACTIONS and THE ANARCHISTS?
Since June of this year, we noted that in Indonesia there were at least 4 cases of political shooting against police officers. In our brief analysis, these actions are done by Moslem armed groups. Fundamentalist groups who exist since several years ago. Some individuals said that they started to appear in early 2000 and run until now. Their type of actions most easily recognized by the targets. For example, the bombings of churches and 'capitalist symbols' such as hotels or cafés where many foreigners (western or easily-said-to-be white skins) hangout. The most famous actions of this group are the Bali bomb part 1 (12 October 2002), the bomb against JW Marriot hotels (5 August 2003), the bomb action against the Australian embassy in 2004 and three bomb actions known as Bali Bom part 2 (1 October 2005). We highlight one thing, that now the group moved to another tactic. Rather than to send any suicide bombers like before, now they are targeting the pigs (police).
Why are they targeting the police? Because for them, the police are the most repressive tools of the State. Police institutions and all the police officers are the ones who must take responsibility for all of the 'counter-insurgency' from the State against this Moslem group and all of its members in the last ten years. The Indonesian special unit against terrorism is well known as Densus 88, who are the number one enemy for this Moslem group. The pigs in Densus 88, specifically carry a purpose to smash down this Moslem group and all terrorist activities around and in Indonesia. In the last five years we noted that the pigs of Densus 88 held several raid operations against the Moslem group where some of the members were killed in gunfire battle with the pigs and a big number of the members arrested. At least more than 30 members of this group now face different charges in trial for their actions. (more…)
Tags: Indonesia, Informal Anarchist Federation (FAI), International Conspiracy for Revenge, International Revolutionary Front, RO-FAI (Indonesia Section)
Posted in Autonomy
Monday, September 23rd, 2013
In mid-July 2013 ten members of the CCF-FAI/FRI (Olga Ekonomidou, Damianos Bolano, Charis Chatzimichelakis, Giorgos Polydoros, Panagiotis Argirou, Theofilos Mavropoulos, Christos Tsakalos, Gerasimos Tsakalos, Giorgos Nikolopoulos, Michalis Nikolopoulos), accused of 'instigation' following 4 attacks carried out in the context of the 'Phoenix Project', were summoned to testify before the judges.
The 'Phoenix Project' is a campaign of guerrilla attacks, which started off with the explosion of the car of the governor of Koridallos prison carried out by the CCF. The action was later followed by another 3 actions carried out by FAI/FRI nuclei in Greece and Indonesia. (more…)
Tags: Athens, Conspiracy of Cells of Fire, Conspiracy of Cells of Fire : Imprisoned Members Cell, Greece, Informal Anarchist Federation (FAI), International Revolutionary Front, Trial
Posted in Social Control
Tuesday, September 10th, 2013
September 4, 2013
"To my goal I will go—on my own way; over those who hesitate and lag behind I shall leap. Thus let my going be their going under."
Friedrich Nietzsche
This open letter is not addressed to the official milieu and its weathered structures. I despise its stereotypes, the putrescent breaths of its fixation. I consider the "anarchist" milieu of bureaucrats to be an enclave of Power, as they reproduce the same authoritarian values. I have no intention to make public relations, nor do I desire any sort of solidarity or unofficial help from dignitaries and subordinates of the antiauthoritarian lifestyle.
I am addressing the minorities; those individualities who show their contempt and mockery of Domination and its servants, and do not hesitate to take the offensive against the essence of contemporary civilization; all those anarchists of praxis who align themselves with the FAI-informal network, and furiously orchestrate their destructive plans, causing vexation in the camp of the enemy. (more…)
Tags: Andreas Tsavdaridis, Athens, Commando Mauricio Morales, Greece, Informal Anarchist Federation (FAI), International Revolutionary Front
Posted in Prison Struggle
Saturday, September 7th, 2013
'Anarchists claim responsibility for fire at luxury West Melbourne car dealership, but police have doubts' the headline of the Herald-Sun screams the day after our little visit to Gran Turismo Autos.
Apparently 'investigators' do not believe that a 'mysterious anarchist group' were responsible for the fire & the Herald-Scum, which is the de-facto mouthpiece of the Victorian Police force in Melbourne, chose not to name the website where we initially posted our claim of responsibility – they also chose to only include a partial sentence from our communique.
Well we have some doubts of our own.
We doubt very much that the cops & the Herald-Scum are being truthful, and we think that even the casual reader of Tuesday's article would be doubting the truthfulness of the cops and their pet media outlet too. (more…)
Tags: Australia, Felicity Ann Ryder, Felicity Ann Ryder Cell / FAI- IRF, Fuck the Law, Fuck the Mainstream Media, Gran Turismo Autos, Informal Anarchist Federation (FAI), International Revolutionary Front, Melbourne
Posted in Direct Action
Tuesday, September 3rd, 2013
The poster by Anarchist Squat Utopia A.D. (Komotini) was released in 21/08 and was translated in English by Contra Info (Spanish and Italian and Greek versions also available). Andreas Tsavdaridis and Spyros Mandylas were arrested in Thessaloniki and accused of participation and responsibility in the Phoenix Project of the Informal Anarchist Federation (FAI). They are specifically accused also of sending a letter bomb to the former boss of the Greek anti-terrorist unit, the same pig who conducted the repression against the comrades of the Conspiracy of Cells of Fire – 1st Phase. The imprisoned members of the CCF are also accused for all the attacks as well. (more…)
Tags: Anarchist Squat Utopia A.D. (Komotini), Andreas Tsavdaridis, Athens, Flyposter, Greece, Igoumenitsa, Informal Anarchist Federation (FAI), Preveza, Spyros Mandylas, Thessaloniki, Volos
Posted in Direct Action
Monday, September 2nd, 2013
Last night (Sept 2nd 2013) for the first time in living memory but definitely not the last, the flames of anarchist insurrection roared high above the toxic skies of Melbourne putting a swift end to years of local 'activist' and 'social anarchist' inactivity in this city.
At approximately 7:30PM we gained entrance to Gran Turismo Autos, a luxury car dealership on Spencer St in inner-city West Melbourne via a poorly secured rear window and placed an improvised incendiary device with timer already set under a desk in an office area adjacent to the showroom then promptly fled the building via the same window through which we gained entry. (more…)
Tags: Arson, Australia, Felicity Ann Ryder, Felicity Ann Ryder Cell / FAI- IRF, Gran Turismo Autos, Informal Anarchist Federation (FAI), International Revolutionary Front, International Solidarity, Melbourne, Sabotage
Posted in Direct Action
Monday, September 2nd, 2013
Censored by the reactionary civil servants who administer Bristol IMC:
The full weight of our entrapment in within this society presses down on us unbearably. Un-named grief, frustration, loneliness and insecurity are the stories of our lives for the most part, stretching back generations. Like money talks loudest and silences all other principles, like concrete and tarmac isolate us from the rest of the planet as it sickens, and like the dominant culture casts humans as robots to work-consume-reproduce-obey… we are physically and emotionally smothered every day by a cheapened, artificial existence keeping us far from our dreams outside the mould.
Awakening anger pierces the fog of confusion from our alienated condition, seeking out worthy targets for the rage. Any notion of truce with the ruling institutions aiming at reform only conforms to the disarmed roles they would coerce us into. Immediate insurrection seems vital. We raise our masks and step out into the night to speak through a language as old as Domination: sabotage and conspiracy. (more…)
Tags: Arson, Barclays bank, Bristol, Freddy Fuentevilla Saa, Informal Anarchist Federation (FAI), International Solidarity, Juan Aliste Vega, Kozani, Marcelo Villarroel Sepúlveda, Marco Camenisch, Roger Clement, Sabotage, UK, Walter Bond
Posted in Direct Action
Friday, August 30th, 2013
Sunday 15 September at 14.00 there will be at Riottosa Squat in Firenze the 3° Meeting about the struggle and revolutionary solidarity, and about a presence in solidarity for Nicola and Alfredo's trial on 30 Oct in Genoa.
Below is a translated text previously written by some Italian anarchist comrades for this meeting, and the poster produced in the last meeting also:

With our heads held high – A call for debate and solidarity in anticipation of the trial against Nicola and Alfredo

On July 5 the preliminary hearing of the trial against anarchists Nicola Gai and Alfredo Cospito, arrested on September 14 2012 and accused of being the perpetrators of the wounding of Ansaldo Nucleare manager Roberto Adinolfi – designer and builder of nuclear power plants – will take place [postponed until October 30th]. The action was claimed by the Olga Nucleus of the Informal Anarchist Federation/International Revolutionary Front.
On that day the dates of the trial will be set, most likely starting in autumn. (more…)
Tags: Alfredo Cospito, Anarchist Gatherings, Ansaldo Nucleare, Informal Anarchist Federation (FAI), International Revolutionary Front, Italy, Nicola Gai, Roberto Adinolfi, Trial
Posted in Prison Struggle
Wednesday, August 28th, 2013
Brief Message To The Enemies (Phoenix Project part 5)
We will not talk about "unfair prosecutions", about "the climate of terror against those who fight", nor about the "new totalitarian-ism" and things like that. That's because we know that none of these is new. These are simply snapshots of the ancient war between two incompatible words: on the one side lies the disgusting world of the Authority, of the submissive crowd and of the social cesspit and on the other side, the anarchist insurgents, the insubordinate fighters of the Negative, those who do not bow down to nobody. We will neither talk about the others. The ones who these days feel secretly happy and relieved. Now it's not the time nor the place to do so. They should bear in mind, however, that the time will come to talk about these things. -
– Freedom To The Wolves of The North
When we said "nothing is over", it's not only just words. Our threats will turn into action, time by time, every second we get the chance. And every time, we will bring our actions closer to your face. Directly in front of your guns, uniforms and prison – repressive tools that are often used to kidnap our revolutionary comrades. We will never let you sleep well, because our war is not over yet. (more…)
Tags: 'ICR-FAI-IRF / Free Mandylas and Tsavdaridis Cell', Alfredo Cospito, Andreas Tsavdaridis, Arson, Balikpapan, Conspiracy of Cells of Fire : Imprisoned Members Cell, Freddy Fuentevilla Saa, Fuck the Law, Hans Niemeyer, Indonesia, Informal Anarchist Federation (FAI), International Revolutionary Front, International Solidarity, Juan Aliste Vega, Kozani, Marcelo Villarroel Sepúlveda, Nadir Squat, Nicola Gai, Operation Ardire, Operation Thor, Operation "SHADOW", Phoenix Project, Sabotage, Spyros Mandylas
Posted in Direct Action
Tuesday, August 27th, 2013
Short interview by Contra Info with Conspiracy of Cells of Fire members, ten comrades currently incarcerated in Greece
[April 2013]
" … The masks of anonymity fell because of our arrests. Therefore, by claiming responsibility for our participation in the anarchist direct action group Conspiracy of Cells of Fire we now have the chance to put forth and speak about direct and by all means attack on the existent, thus opening a lively ongoing dialogue with all those comrades who act in hostile ways against domination. We feel in this way, and despite the limitations we have as captives in the hands of Power, that we are contributing to the shaping of an offensive front of the black international of anarchists of praxis. Our contribution in all this brings us a 'step' closer to freedom, as we mentally escape and our minds and hearts accompany every attack of direct action against the civilization of authority. So we feel more alive, more vigorous and stronger, and our morale is reviving in thinking that the shackles of captivity cannot quell the momentum of our rebellious soul. This is why we contribute with all our strength to the dissemination of anarchist ideas and publications." CCF-FAI
Tags: Conspiracy of Cells of Fire, Conspiracy of Cells of Fire : Imprisoned Members Cell, Contra Info (Athens), Greece, Informal Anarchist Federation (FAI), International Revolutionary Front, PDF, Zine
Posted in Interviews