Posts Tagged 'International Solidarity'
Saturday, June 22nd, 2013
The Informal Anarchist Federation (FAI) – International Conspiracy for Revenge claims the responsibility for the placing of an explosive mechanism and the blowing up of the car of known people-guard Argiris Gelbouras who serves at Navplio prisons. This attack is a part of the "Phoenix Project" which began with the blowing up of the car of the director of Koridallos prisons by the Conspiracy of Cells of Fire.
The choice to strike this specific prison guard was not accidental. Argiris Gelbouras (a.k.a. Rex) is for years now a faithful watchdog of authority. He is one of those in charge of the dozens of beatings of prisoners in the prisons and is at the same time a good friend of the plain clothes cops of Navplio police station. Often he uses prisoners-lackeys of his in order to frighten or hit other prisoners who demand their obvious "rights" or simply do not belong in his circuit of influence inside the prisons. Argiris Gelbouras is a bully in a uniform. If some screws insist on having 'relevant behaviours' and take out their complexities and frustrations on the prisoners, we will visit them with worse intentions. Nothing will remain unanswered. The enemies of freedom have names and addresses.
Simultaneously with this attack, we wanted to break the veil of silence which covers up the tortures and the wretched living conditions of the prisoners in Navplio prisons (and not only). Navplio prisons are a cement grave where about 600 prisoners have been "buried" (at the same time when the "specifications" of the building are for 300). In the cells which fit 2-3 people, there are 6-7 prisoners, half of which sleep on the floor.
A few months ago on 4/3 a young prisoner in Navplio was let to die because of the homicidal negligence of some correctional employees. The specific prisoner suffered from tuberculosis and for days was complaining that he is in pain and did not feel well. The answer of the service and the prison doctor was the same which mockingly echoes in all prisons in Greece: "Take some paracetamol (if there is any) and be patient". "Paracetamol" cures everything in prison… even tuberculosis. That day, the 26 year old died of cardiac arrest when transferred to the hospital too late. On Tuesday 5/3 the prisoners of wings 1 and 3 revolted because of his death and did not go into their cells. The answer of those in charge at the Ministry of Justice and Navplio prisons was as simple as the paracetamol, only now it's called MAT (riotcops). So two units of the dogs raided the prison and the prisoners returned to their cells. Order and security triumphed in Navplio prisons. After that, for about a month and a half the prison guards of the gated cement bordelo of Navplio repeatedly beat the prisoners in revenge for the revolt and to remind those who disputed it even a bit, of who is boss. Society can calmly continue its eternal sleep. All its ugliness is well hidden away in the prisons of democracy, there where revenge is called justice and punishment correction.
In prison most prisoners become guinea pigs to the sadistic moods of every sergeant or employee. It is not only overpopulation, terrible food, lack of medical staff, but also the daily punishments of the service which roam around like axes over the heads of the prisoners. Because a prisoner in prison does not only have to do the sentence imposed by the scarecrows of justice, but often do double time because of the disciplinary punishments imposed by the self appointed little tyrants who wear a suit or tie and are called guards, sergeants, directors and prosecutors of prisons.
Disciplinary actions, isolation, beatings, humiliating searches, sudden transfers – kidnappings consist a part of the kidnapped daily life of the prisoners. But the authority of the little tyrants does not stop there. It poisons even the little daily moments of those captive. In each prison depending on the sadism of each sergeant or director the prohibitions are on the daily list. Each prohibition is accompanied always by the same answer: "Impossible because of security reasons". Fans for the summer, heaters for the winter, hobs and utensils, weights for working out, mattresses to sleep on… "Impossible because of security reasons".
The refusals and irrationality continues even for what the prisoners buy from the grocer. In some prisons you get some foods that in other prisons are forbidden. Of course, there are not many times where the irrationality meets the lure of economic interests. The economic agreements and supplies under the table between the suppliers and the prison directors or sergeants are known in the prison world. All this is known in the palaces of the Ministry of Justice of sensitive leftist clown A.Roupakiotis. Besides, it's not long since his secretary Kanelopoulos pocketed many millions of euros from V.Milionis and the rest of the ENERGIA clique who took 560 million euro from the society of the self-enslaved, bribed prosecutors and juridical circles in order to be released from prison, at the same moment that thousands of poor-devils are piled up in the prisons. Of course, no one speaks up and everyone bows the head yet again. But no sheep ever saved itself with bleating. This is why we choose the path of the lone wolf. We have no illusions about peaceful changes and fair solutions from authority. Even if democracy created a "golden" prison with equal rights for the prisoners, with hot water, clean mattresses and larger yards, it would always remain a prison, a place of captivity. We are not looking therefore for better solutions, but for all those ways that we can tear down the prisons, with dynamite, with TNT, with guns, with bulldozers…
Simultaneously most prisoners must tear down the prison they have in their heads. The ethics of prison, the mentality of the incarcerated hyena which devours the weak, the pseudo-nationalisms of every kind, the humiliating dependency on drugs, the authority of the leaders and the enslaving of the subjects… This is the only way that the walls will collapse and the bars will bend.
On the other side of the walls, we the "free besieged" choose for ourselves the choice of weapons and dynamite against the prison guards of our lives, the bosses and their directors, the priests and their followers, the cops and their Golden-Dawners, the journalists and their viewers, the politicians and their voters.
The new anarchist urban guerrilla is not a means of struggle, it is our existence itself. All the rest which does not promote the continuous anarchist insurrection is ideological cowardice.
FAI (Informal Anarchist Federation) in cooperation with the Conspiracy of Cells of Fire aims to create a diffuse network of direct action cell in the Greek territory which will strike where the enemy does not expect it. Small autonomous flexible armed cells watch, collect info, sometimes cooperate sometimes not and choose the moment of sudden attack. Only in the attack is there life. We are anarchists of action, chaotic, nihilist, egoists, godless, we are the carriers of the black flags of anarcho-nihilism.
For the diffusion of FAI (Informal Anarchist Federation) and IRF (International Revolutionary Front).
Now and always
Insurrection, Attack, Revenge
SOLIDARITY and STRENGTH to the unrepentant outlaws and the guerrillas of the CCF
Informal Anarchist Federation (FAI) – International Conspiracy for Revenge


Translated by boubourAs and originally posted on the net by actforfree.
Tags: Argiris Gelbouras, Argos, Conspiracy of Cells of Fire, Conspiracy of Cells of Fire : Imprisoned Members Cell, Greece, Informal Anarchist Federation (FAI), International Conspiracy for Revenge, International Revolutionary Front, International Solidarity, Navplio, Phoenix Project, Sabotage
Posted in Direct Action
Friday, June 21st, 2013
As the second part of the Phoenix Project, an explosion destroyed the personal car of a hated prison guard in Argos, Greece. The International Conspiracy for Revenge / FAI have taken responsibility for the direct action as part of their incendiary campaign of revolutionary solidarity. Despite the moves of the repressive authoritarian forces, the new anarchist urban guerrilla develops and conducts new operations, constructing and evolving the black international. Long live anarchy. Destroy all prisons.
The full claim in Greek language is here.
Tags: Argos, Conspiracy of Cells of Fire, Greece, Informal Anarchist Federation (FAI), International Conspiracy for Revenge, International Revolutionary Front, International Solidarity, Phoenix Project, Sabotage
Posted in Direct Action
Thursday, June 20th, 2013
Tags: Chile, Freddy Fuentevilla Saa, International Solidarity, Juan Aliste Vega, Marcelo Villarroel Sepúlveda
Posted in Prison Struggle
Sunday, June 16th, 2013
As has been known, in the first days of January 2013, I suffered a serious head injury after an accident. What followed were two successive head surgeries and a three-month stay in various hospitals. Of course, for some time now, I have escaped danger and I'm on the mend, awaiting a final restoration surgery on the skull. Now I am back among my comrades and my brothers and sister of the CCF, which in itself makes me feel better.
I gradually get some insight into the interest expressed during my hospitalization, and I feel the need to thank all those who stood by me in various different ways, from donating blood (which was much needed), to fundraising for covering medical expenses.
I have a special place in my heart, however, for the comrades of the International Conspiracy for Revenge-FAI/IRF who burned a private vehicle in Indonesia, and for the compas of the Insurrectionary Anti-authoritarian Cell-FAI/FRI who targeted with incendiary devices the building of Chile's national association of penitentiary functionaries and previously attacked facilities belonging to the Chilean Gendarmerie, because of the great honour they have done me by giving my name in the direct action cells that claimed responsibility for these anarchist attacks against domination. Brothers and sisters, you should know you're in my thoughts and that these actions have moved me deeply. May the fire of Insurgence and Anarchy always keep your hearts warm, and your hands armed against the enemies of freedom.
Finally, I would like to thank all those direct action groups in Greece and abroad who were interested in my condition and wished me a good recovery.
I am happy to see that all this time the project of FAI/IRF remains dynamic and active. I'd like to hope that, in the future, its intensity will grow enormously, and its diffusion will cause fear among the rulers globally.

LONG LIVE FAI/IRF
LONG LIVE THE BLACK INTERNATIONAL OF ANARCHISTS OF PRAXIS
Panagiotis Argirou
Member of the Conspiracy of Cells of Fire
Tags: Conspiracy of Cells of Fire, Conspiracy of Cells of Fire : Imprisoned Members Cell, Greece, Informal Anarchist Federation (FAI), International Conspiracy for Revenge, International Revolutionary Front, International Solidarity, Letter, Panagiotis Argirou
Posted in Prison Struggle
Saturday, June 15th, 2013
Berlin-Kreuzberg salutes the people revolting in Turkey
Everyday since the beginning of the revolt about two weeks ago, people went on the streets in Berlin to show their solidarity with the ongoing fights in Turkey. Another short and wild demonstration took place in the center of Kreuzberg yesterday evening, the 7th of June, where around 50 people marched towards Kottbusser Tor, shouting slogans and lighting fireworks.
Material from a construction site got pulled on the street, so after a short while the traffic was blocked in every direction. The cops, that were making a drugraid at this moment, got attacked with stones, paintbombs and fire. After that the mob dispersed. (more…)
Tags: Berlin, Demo, Germany, International Solidarity, Turkey
Posted in Direct Action
Saturday, June 8th, 2013
cna-m.blogspot.com
nodo50.org/cna
Tags: #J11, International Solidarity
Posted in Prison Struggle
Sunday, June 2nd, 2013
from indymedia, translated by waronsociety:
Over the past few nights in Paris, the screens of two ATMs were cracked, we were thinking of the anarchist comrade Henry Zegarrundo, imprisoned by the Bolivian State for a year now (he was arrested on May 29, 2012, held in prison and recently released to house arrest).
All the States, the prisons, all the banks are of this world that we hate, let's attack them!
* * *
Paris: Acción en solidaridad con Henry Zegarrundo
desde indymedia, trad. waronsociety:
Durante las últimas noches en París, se rompieron las pantallas de dos cajeros automáticos, estabamos pensando en el compañero anarquista Henry Zegarrundo, enjaulado por el Estado boliviano desde hace un año (detenido el 29 de mayo de 2012, mantenido en prisión preventiva y mas reciente en arresto domiciliario).
Todos los Estados, las carceles, los bancos son de este mundo que odiamos, los ataquemos!
Tags: Bolivia, France, Henry Zegarrundo, International Solidarity, Paris
Posted in Direct Action
Friday, May 31st, 2013
Who is Alexei Gaskarov?
Alexei Gaskarov, a Russian social activist and economist, was arrested in Moscow on April 27, 2013. Gaskarov first became known to the broader public both in Russia and abroad in 2010, as one of the "Khimki hostages", when he was arrested the day after a grassroots protest action in the Moscow suburb of Khimki, apparently because of his role as a spokesman for the anti-fascist and environmental movements. After three months in a pretrial detention facility and a triumphant acquittal on all charges, Gaskarov did not give up his activism. On the contrary, he became even more involved in numerous campaigns and causes. Having gained fame as an anti-fascist, Gaskarov has over the past two years become a visible young public figure thanks to his energy, intelligence, passion, and commitment. (more…)
Tags: Alexei Gaskarov, International Solidarity, Khimki, Repression, Russia
Posted in Social Control
Tuesday, May 28th, 2013
Who believed that May would pass without direct action?
With fire we responded again.
Recalling the warrior Mauricio Morales and showing solidarity with the comrades imprisoned in Temuco, we set fire to the entrance of the National Association of Prison Guards, located at Santa Monica steps in downtown Cumming Street of the city of Santiago, on Sunday May 12. With this we add a new action to those which have already been claimed by other groups in "alternative medias" but silenced by the "official release".
We said in our previous attack on a property of Gendarmerie of Chile in January this year, we will not let the torturers be tranquil in their dens. The criticism of the authoritarian system and prison facilities cannot be separated from the direct attack on those who try to break the will of our rebel imprisoned comrades. Prison guards have decided voluntarily to live as enemies of freedom and are active contributors to domination, in exchange for shares of power that materialize in confinement and to humiliate our prisoners and their families.
In April, the anti-authoritarian comrade Ariadna Torres was punished in the Women's Prison of Temuco for insulting a judge and the jailers who seized a letter from the companion to the outside.
We sent a copy of this email again to the jailers of Chile so that they know that our anarchist comrades, anti-authoritarians and revolutionary prisoners in Chile are not for the authorities little games, and for every attack the answer will come back with fire, explosions and shrapnel.
We ask comrades of action why there has been a decline in violent activity against the enemy? One thing is the excitement of the street-fighting, but in May there has been fewer direct attacks and planned bombings, arson and sabotage against the wealthy, and also their system of misery. That the anti-authoritarian attacks are sustained over time and not by a police story, depends on us. That the option for revolutionary violence and its connection with the anti-authoritarian struggle (and its various forms of being implemented) be not just a youth fashion, depends on us. Boosting and multiplying the direct actions in quantity and quality depends only on our will.
In May, we remember those comrades murdered by the State in Chicago in 1886; to Daniel Menco, young man killed in 1999; to young Rodrigo Cisternas, worker killed by police in Chile in 2007 after being crushed by a police vehicle with a backhoe; to the compa Henry prisoner since May of last year in Bolivia [currently on house arrest]; and Nicola Gai and Alfredo Cospito, prisoners in Italy, imprisoned for a year accused of the shot to the leg of a boss of a scientific nuclear company.
Regards to the clandestine comrades and prisoners worldwide.
MAURICIO MORALES LIVES IN DIRECT ACTION.
Insurrectional Anti-authoritarian Cell Panagiotis Argyrou, affinity of the FAI/FRI. Chile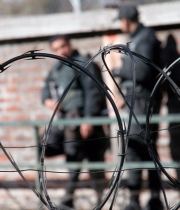 Tags: Alfredo Cospito, Arson, Chile, Conspiracy of Cells of Fire, Conspiracy of Cells of Fire : Imprisoned Members Cell, Greece, Henry Zegarrundo, Informal Anarchist Federation (FAI), International Revolutionary Front, International Solidarity, Italy, Mauricio Morales, Nicola Gai, Panagiotis Argirou, Santiago
Posted in Direct Action
Wednesday, May 8th, 2013
On the anniversary of the 2012 protests prior to the inauguration of Putin in Moscow, a demonstration for Russian political prisoners was organised in Helsinki by Free Pussy Riot Helsinki and a local group of Anarchist Black Cross. From 4 to 6 PM an info-stall was held at the statue of the Three Smiths in the very center of the city. Main topic of the demonstration was the case against more than 20 people, accused of rioting 6th of May 2012, but information was also provided about the case of Pussy Riot and the cases of four persecuted Moscow antifascists (Alexey Olesinov, Alexey Sutuga, Alyon Volkov and Igor Kharchenko) At 6 PM, the demonstration headed to the Russian embassy, shouting "Free Russian political prisoners" and "Putin out", as well as the names of around twenty political prisoners ("Free Aleksandra Dukhanina!", "Free Stepan Zimin!", "Free Alexey Polikhovich!", "Free Alexey Gaskarov!" and so on). In front of the demonstration, there was a bilingual banner "Free political prisoners" in Finnish and Russian languages. Altogether, around 50 people joined the demonstration.
Photos: http://avtonom.org/fi/node/20593
Tags: Anti-Fascist, Demo, Finland, International Solidarity, Russia, Solidarity Action
Posted in Direct Action
Sunday, April 28th, 2013
We are calling on comrades around the world to help raise awareness of the NATO 5 cases and support funds for the defendants on the one-year anniversary of their preemptive arrests. Between May 16 – 21, the one year anniversary of their arrests, plan a fundraiser, solidarity action, or just help spread the word in support of the NATO 5!
If you are unable to plan an entire event, you could always pass the hat at a meeting, or even help us promote our WePay.
While their lawyers are working pro bono, the NATO 5 require upwards of $30,000 for expert legal costs, court costs, data retrieval, etc. Any donation amount helps!
For more information, check out the information on the Week of Solidarity on our website: http://nato5support.wordpress.com/international-week-of-solidarity-with-the-nato-5/
Or go to our WePay: https://www.wepay.com/donations/nato-5-defense
In solidarity,
NATO 5 Defense Committee
Tags: International Solidarity, NATO 5, Repression, USA
Posted in Prison Struggle
Friday, April 26th, 2013
June 11th is the international day of solidarity with Eric McDavid, Marie Mason, and other longterm anarchist prisoners.
The state stole Eric McDavid and Marie Mason from us in 2006 and 2008 respectively. In the years since their arrests, repression has come to feel less like a specific event and more like an inescapable, ongoing nightmare. Sentenced to 22 years and 20 years, respectively, Marie and Eric remain in cages to this day, and know this nightmare more intimately than most.
Lately, we hear lots of talk about the end times, and total environmental collapse seems imminent. But what do these forces mean to those inside prison cells? And what do they mean for us on the outside? We are trying to save both each other and some shred of wildness on this earth. Our task is difficult, and sometimes seems impossible, because the harder we fight, the more repression we face. Every day we lose more species, more land, more friends… and this process shows no signs of slowing. How do we survive and continue to struggle in the face of this reality? (more…)
Tags: Eric McDavid, International Solidarity, June 11, June 11th Solidarity, Marie Mason, Repression
Posted in Prison Struggle
Saturday, April 20th, 2013
OPERATION SPY-HUNT
We attacked 'Europol Investigazioni' with a parcel bomb. This agency, like many others, provides the forces of order with equipment such as microchips, micro-cameras and other technological wickedness, which the forces of order scrupulously place in houses, cars and other places familiar to comrades, rebels and any other individual enemy of the law and its hangmen.
In this way any single aspect of life and daily experience becomes material for enlarging investigation files and is examined by the servants in uniform with the intent to analyse them according to the standards of the penal code, and use them to take our freedom away and lock us up in the concentration camps of the state.
We believe it is time to break this malicious chain thanks to which many comrades are imprisoned today, and many others who continue to struggle with generosity and determination are compelled to cope with the constant risk of being intercepted and spied on. One thing must be clear to these collaborators of repression: if you help, no matter how, armed dominion do its job, you automatically join its ranks, with all the consequences that this entails.
Another parcel bomb was sent to the notorious shit paper known as 'La Stampa', always ready to corroborate the frame-ups of carabinieri and police, especially when they strike those who are at war against the state. We know even too well that repression would be less effective without the fundamental help of pennivendoli [word sellers, TN], and it is for this reason that we decided to make them pay for their responsibility once again. We are aware of the fact that 'La Stampa' is just one of the many newspapers of the regime, therefore any single pennivendolo is a possible target of our war against the state and society that supports it and legitimizes its existence every single day.
This action is meant to continue the campaign started by the comrades of the 'Olga' nucleus with the wounding of stinker Adinolfi, manager of Ansaldo. This time we chose the targets among those who provide dominion with the technological appendages necessary to repression. They are as responsible as Ansaldo for harmfulness and suffering.
We dedicate this action to the comrades locked up in the AS2 unit of the prison of Ferrara: Sergio, Alessandro, Alfredo, Nicola, Peppe and Stefano; to the comrades imprisoned in Rebibbia: Elisa and Paola; to Marco Camenish, Gabriel Pombo da Silva, our Greek comrades of the CCF and Theofilos Mavropoulos. To all rebel anarchists locked up all over the world.
We hail the cells of FAI/FRI, by now so numerous, that attack dominion in all corners of the globe.
LONG LIVE FAI/FRI
LONG LIVE ANARCHY
INFORMAL ANARCHIST FEDERATION/INTERNATIONAL REVOLUTIONARY FRONT
DAMIANO BOLANO CELL
Tags: Damiano Bolano, Damiano Bolano Cell / FAI-FRI, Europol Investigazioni, Informal Anarchist Federation (FAI), International Revolutionary Front, International Solidarity, Italy, La Stampa, Letter Bomb, Roberto Adinolfi
Posted in Direct Action
Friday, April 19th, 2013
An open letter of solidarity with all imprisoned freedom fighters and those under trial!
I'm long past disappointment with black flags, books on theory in red covers and ideal utopias that never age. I've been asking "what next?" for quite some time now.
Everybody gets older, quits, sells his ideals of youth for comfort within the system. Nobody is ready to sacrifice his feeble status for freedom and utopian dreams. I don't believe in anything anymore.
Belief won't get us closer to freedom. What inspires me are your letters, comrades. Letters from those who had been violently put to cages of stone. You await letters from "outside" just as we wait for another letter from the "inside". You are so many. Your dignified and uncompromised stance warms our hearts. That is why I dedicate these lines to you. (more…)
Tags: International Solidarity, Letter, MY, Prison Letter
Posted in Prison Struggle
Saturday, April 13th, 2013
The left-radical group TŘÍDNÍ VÁLKA (CLASS WAR) based in Czech Republic, sent us the new text they have released about the situation in Egypt. You can find the links below to their blog with downloadable PDF file.
http://autistici.org/tridnivalka/egypt-nothing-has-changed-but-everything-begins/

http://autistici.org/tridnivalka/wp-content/uploads/egypt-nothing-has-changed-but-everything-begins.pdf
Everyone, whatever he says, whatever he does, takes part in the class struggle… Either in an active or a passive way… While developing and deepening it or while denying it… As a subject of his own existence or as an object of his survival under the dictatorship of value… In the camp of the proletariat or that of the bourgeoisie… As a human being or as a useful idiot of capital… "The history of all hitherto existing society is the history of class struggles." (Karl Marx) (more…)
Tags: Czech Republic, Egypt, International Solidarity, Tridni Valka
Posted in Autonomy
Monday, April 8th, 2013
Absolution for the May 29 defendants! No highway through TIPNIS! Freedom for all prisoners!
On May 29, 2012, 13 people were arrested by police in La Paz, Bolivia.
All of them were connected to anarchist participation in the defense of TIPNIS, an indigenous territory and national park. The 13 were accused of a series of arsons, bombings, and sabotage claimed by the Informal Anarchist Federation-International Revolutionary Front (FAI-FRI). The actions, occurring from September 2011 to May 2012, targeted government buildings, banks, car companies, fast food restaurants, supermarkets, and animal industries. Some of the attacks were claimed in solidarity with the struggle to defend TIPNIS, others in solidarity with comrades facing repression in Chile, others in support of animal liberation. (more…)
Tags: Animal Liberation, Bolivia, Indigenous Struggle, Informal Anarchist Federation (FAI), International Revolutionary Front, International Solidarity, Repression, TIPNIS
Posted in Autonomy
Wednesday, April 3rd, 2013
We speak through fire. To remember and always keep on our mind, our sisters and brothers who are kidnapped by the state and seized behind bars. To continue the urban guerrilla warfare against enemies of freedom. Let the action speak for us.
On March 31, we burned down 3 buildings owned by the Major of Aceh Tamiang, Hamdan Sati. This is our first action done in Aceh, a region where religious fundamentalists in the past threw 64 punks into a rehabilitation camp and made them 'normal'. But, we want to clarify that we aren't Acehnese. We have no citizenship because we are borderless. We are the angry ones who light the fire of freedom.
Solidarity to the imprisoned members of CCF and Th. Mavropoulos, Camenisch, da Silva and Italian comrades arrested during the Ardire, Thor, and Mangifuoco operations and to Cospito and Gai. And last but not least, we salute our fire to comrades of Kozani 4 who were recently arrested.
War continues
Anger Unit
ICR/FAI/IRF
-
Mass media video links about the action:
video.news.viva.co.id/read/24435-kelompok-misterius-bakar-3-gedung-milik-bupati-aceh-tamiang
Tags: Aceh, Alfredo Cospito, Anger Unit / ICR-FAI-IRF, Arson, Conspiracy of Cells of Fire, Conspiracy of Cells of Fire : Imprisoned Members Cell, Gabriel Pombo da Silva, Hamdan Sati, Indonesia, Informal Anarchist Federation (FAI), International Conspiracy for Revenge, International Revolutionary Front, International Solidarity, Kozani, Marco Camenisch, Nicola Gai, Operation Ardire, Operation Thor, RO-FAI (Indonesia Section), Theofilos Mavropoulos
Posted in Direct Action
Tuesday, April 2nd, 2013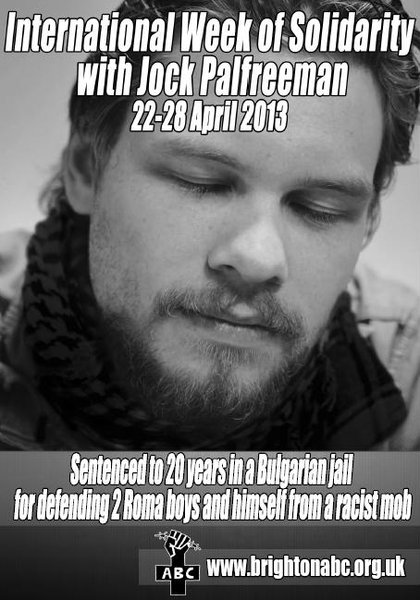 More details via ABC Brighton.
Tags: ABC Brighton, Ant-Facism, Bulgaria, International Solidarity, Jock Palfreeman, Racism
Posted in Prison Struggle
Saturday, March 23rd, 2013
The DB burns as a solidarity token for imprisoned anarchists in Greece!
In the early hours of February 27th, in search of a suitable target for a solidarity action with Nikos Romanos, Dimitris Politis, Andreas-Dimitris Bourzoukos and Yannis Michailidis, we spotted a vehicle belonging to the Deutsche Bahn in the neighbourhood of Prenzlauer Berg, in Berlin, which we wrapped up in the flames of international solidarity.
At the Deutsche Bahn AG (German railway corporation), ten managers of its subsidiary DB International have bribed public officials for engineering services contracts in several African States and in Greece, as the Frankfurt judiciary confirmed (according to a report of the 'Süddeutsche Zeitung' in April 2010).
Since 2008, in a number of legal battles, it has been documented that the German companies Siemens, MAN Ferrostaal and Deutsche Bahn have bought off politicians in Greece on a large scale, and thus 'financed' political decisions in their favour. So, the Siemens Group alone 'invested' since the mid-1990s and for about a decade 15 million euros per year in Greece, in order to propitiate in this way politicians of both major parties, Nea Dimokratia and PASOK.
While another Deutsche Bahn subsidiary, the Schenker logistics company, transports war supplies for the Bundeswehr (German armed forces), the Deutsche Bahn and the Defense Ministry are running a symbiotic cooperation: "The BwFuhrparkService GmbH has developed and implemented an economical and customer-oriented mobility concept for the German military. [...] The company is a joint venture of the Ministry of Defense as well as the Deutsche Bahn AG. The BwFuhrparkService guarantees customized logistic concepts, reduction of costs and an increase of the utilization and provision of secure vehicles. As a mobility services provider of the German military, the company offers comprehensive experience in the management of more complex fleet vehicles and the production of individual fleet solutions" (excerpts from dbfuhrpark.de/index.php?id=131).
In January 2013, Dr. Rüdiger Grube spoke on the topic 'The Deutsche Bahn AG – Current Challenges and Perspectives' at the military academy of the German armed forces, while 61-year-old Moorburger—chairman of the board of the Deutsche Bahn in Berlin since May 2009—explained to over 200 guests the DB AG corporate strategy and processes.
On the 16th of April, the DB Mobility Logistics and the Berlin's BFD ('Vocational Advancement Service' for the education and training of military personnel) will hold a Soldiers Day under the motto 'No job like any other.' The event is aimed at men and women soldiers who are interested in being trained and employed by the Deutsche Bahn.
Therefore, we classify the Deutsche Bahn as a de facto belligerent power and component of the German military/NATO, that will not allow any social changes in Greece but will rather go to any lengths in order to assist the suppression of a revolt. The Deutsche Bahn is one of the German enterprises that profit from the crisis in Greece, as was its predecessor, the Reichsbahn during German fascism.
Last night's fire was meant to show to the prisoners Nikos Romanos, Dimitris Politis, Andreas-Dimitris Bourzoukos and Yannis Michailidis that we are aware of their arrest and torture on the 1st of February after the double robbery in Kozani, and here, in the heart of the beast, we will try everything possible for the downfall of capitalism and its helpers.
Long live Anarchy! Death to all States!
Chaotics of the Night
Tags: Andreas-Dimitris Bourzoukos, Arson, Car Burning, Deutsche Bahn, Dimitris Politis, Germany, Greece, International Solidarity, Kozani, Nikos Romanos, Yannis Michailidis
Posted in Direct Action
Sunday, March 17th, 2013
On Sunday, 10th March an anarchist guerilla group placed an incendiary device at the entrance of the offices of Swift Mail express courier's company in Pagrati, Athens. This is the shop where the company's owner wife Reklitou Fotini works. Based on her detailed statement in 2010, the cops were able to mobilize their forces and arrest the comrades of CCF, who on that day sent a mail bomb to the embassy of Mexico using Swift Mail.
The anarcho-nihilist guerilla group "Untouched Revenge Cell, FAI-IRF" claimed responsibility for the act by publishing a communiqué. The comrades dedicated the attack to the imprisoned anarchist guerillas in Greece, Italy, Russia, Holland, Mexico, Indonesia and Belarus.
Tags: Athens, Conspiracy of Cells of Fire, Gerasimos Tsakalos, Greece, International Solidarity, Pagrati, Panagiotis Argirou, Reklitou Fotini, Swift Mail, Untouched Revenge Cell / FAI-IRF
Posted in Direct Action