Posts Tagged 'New Year'
Friday, January 2nd, 2015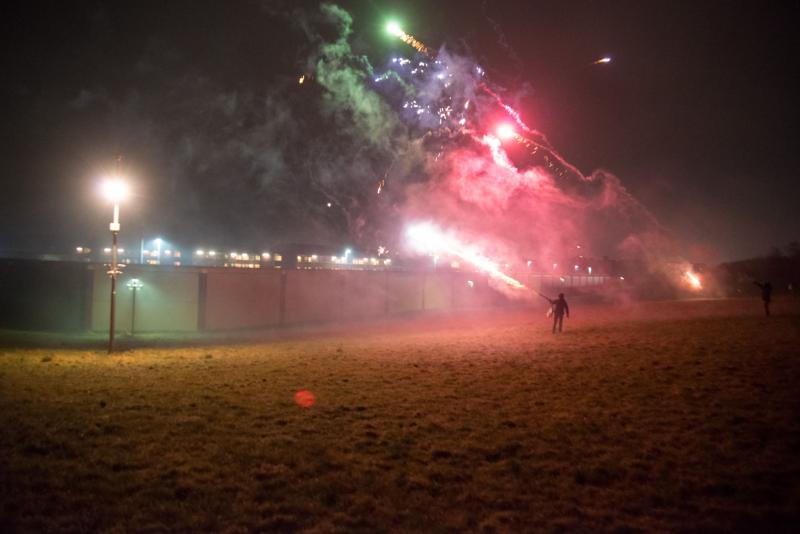 Here's some links compiled of anti-prison new year demos that have taken place. The picture above is from the New Year greetings at Uelzen prison, Germany. We'll add more links as the reports are published and circulated. For a rowdy 2015!

Germany: New Year's Eve demo at the prison of Freiburg
Germany: New Year's Eve at the prison of Münster
Rennes, France: New Year's solidarity against all types of incarceration
Ittre, Belgium: Fireworks against the jails
Florence, Italy: ATMs, luxury shops and company cars attacked
Turin, Italy: New Year's Eve greetings
Paris, France: Solidarity with all the incarcerated!
Athens, Greece: Anti-prison demo at Korydallos prisons
Hamilton, Ontario, Canada: New year's noise demo reportback
USA: First Annual Jackson, Mississippi, NYE Anti-Prison Noise Demo Report Back
London, UK: Fire to the Prisons! on NYE Demo at Pentonville & Holloway prisons
Dortmund, Germany: Anti-prison demo on New Year's Eve
Berlin, Germany: Anti-prison demo at JVA Moabit prison
North Germany: Anti-prison demo at JVA Uelzen
Tags: Demo, International Solidarity, New Year, Prison demo
Posted in Prison Struggle
Thursday, January 1st, 2015
Merry Crisis and a Happy New Fear – 325 receives and transmits this video which was mostly filmed in Athens in December 2014:
We bid farewell to the year 2014 with flashbacks of collective resistance, imprinted in our memories and engraved in the story of this world, to be reminded of our past, so that we keep on fighting in the future, to turn our dreams of a self-organized society without rulers, from Utopia to Reality.
Wherever you may be
Rise Up and Fight Back
Tags: Athens, Black December, New Year
Posted in Uncategorized
Wednesday, December 31st, 2014
WHAT: Noise Demo Against the PIC, for the Liberation of PPs + POWs
WHEN: 9:00pm, Wednesday, December 31st
WHERE: Metropolitan Correction Center (MCC, the federal prison in downtown Manhattan); Pearl Street, between Cardinal Hayes Place and Park Row (J to Chambers Street or 4/5/6/ to City Hall)
BRING: Noisemakers, air horns, drums, anything that is loud!
On the noisiest night of the year in New York City, come help us remind folks locked up that they are not alone. NYC Anarchist Black Cross, in response to an international call for noise demonstrations outside of prisons, is asking folks to join us outside of the Metropolitan Correctional Center (MCC) in lower Manhattan. Come, not to appeal to authority, speak truth to power, or any other contrivance, but rather to stand arm in arm with comrades and show direct solidarity to those on the other side of the wall.
The state, writ large, is targeting anarchists all across the United States and abroad. This will be both protest and celebration. To keep the cold at bay, comrades will again be on hand with hot cocoa that will keep the vocal cords nice and warm.

NYC Anarchist Black Cross

Tags: Demo, New Year, New York, NYC ABC, Prison demo, USA
Posted in Prison Struggle
Monday, December 29th, 2014
LONDON NYE Prisoner Solidarity Demonstration
Beginning at
8:00 pm Pentonville
then moves onto
9:30 pm Holloway
START ADDRESS: HMP Pentonville, Caledonian Rd, London N7 8TT
BRING NOISE MAKERS
Tags: Anti-Prison, Demo, London, New Year, UK
Posted in Prison Struggle
Sunday, December 21st, 2014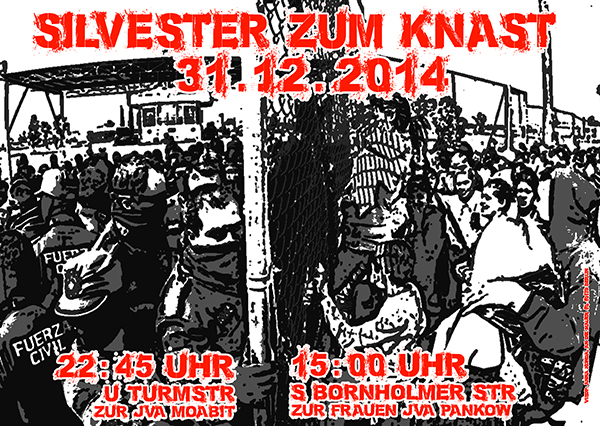 Bremen, Deutschland: endofroad.blogsport.de
Stuttgart, Deutschland: www.silvesterdemo-stuttgart.tk
Bristol, UK: bristolabc.wordpress.com
London, UK: network23.org/londonabc
Durham, North Carolina, USA: www.facebook.com
New York City, New York, USA: nycabc.wordpress.com
Oakland, Kalifornien, USA: www.facebook.com
Portland, Oregon, USA: www.facebook.com
Seattle, Washington, USA: pugetsoundanarchists.org


Call from Berlin-
Aufruf
"…solange es eine Unterschicht gibt, bin ich Teil davon. Solange es kriminelle Elemente gibt, bin ich eines davon, und solange auch nur eine Seele im Gefängnis ist, kann ich nicht frei sein."
Eugene V. Debs
Knäste sind das Resultat einer kranken Gesellschaft, welche zu feige ist sich mit ihren Problemen auseinander zu setzen. Wer sich den fremdbestimmten Regeln widersetzt, sich normfremd verhält oder manchmal einfach nur um Überleben kämpft hat in der Reproduktionsmaschinerie von Staat und Politik schlechte Karten. Kriminalisierung und schließlich das Wegsperren sind die vermeintlich leichtesten Mittel der Wahrheit aus dem Weg zu gehen und sich einer grundlegenden Konfrontation zu entziehen. (more…)
Tags: Anti-Prison, Fuck the Police, New Year, Prison : Abolish or Destroy?, Prison Abolition, Prison demo
Posted in Prison Struggle
Saturday, December 6th, 2014
From rabble.org.uk:
The prison population in the UK has doubled over the past 20 years. Check out the series of events coming up in London this month to build prisoner solidarity and resist prison expansion.
First up, on December 9th we've got The Politics of Prisons, an event to strategise on how to fight prison & immigration detention expansion, and discuss grassroots alternatives to the police and prisons to deal with problems. Organised by Defend the Right to Protest, the event promises some great speakers.
Then on 15th December there'll be the first public meeting of an exciting new group, Prison Action London. They're inviting people to come along to exchange ideas and plans for action. (more…)
Tags: Debbie Vincent, Demo, London, New Year, SHAC, UK
Posted in Prison Struggle
Friday, January 4th, 2013
From actforfree:
Brixton, London, 31 December 2012
…almost midnight
The Gregorian calendar is moving towards the next chapter in the existence of those who mark time in the boredom of ritual …Suddenly they appear out of nowhere, a few people out of step, dressed in black. Unfurling banners, a strange light in their eyes, they unhurriedly conquer the urban high street and proceed towards Brixton prison. Surprise – a spontaneous barrage of recognition – claxons, shouts and clenched fists from passing cars and buses. Precious instants of reciprocated feelings:
FIRE TO THE PRISONS, FUCK THE POLICE!
At last a common language; a spark of life. To then disperse into tiny particles until we meet again. To attract, repulse, embrace and corrupt each other once more… Then the gloomy destination is reached. 800 invisible souls entombed within that monstrous edifice.
A cry into the darkness: Freedom!
Again: Freedom!!! …Response from the bowels of the State cannibal: Freedom!!!
Echoes in the night…Freedom!!!…Freedom!!! Odd fireworks are set off. Some flame-propelled plastic bags respond. At the perimeter the massive gate resists an onslaught of banging and kicking. Wild howls pierce the silence that that building has imposed on the surrounding night for almost 200 years. By the time the custodians of order arrive everyone is on their way. Each with their thoughts… Hearts and consciousness expanding throughout the reaches of the island universe of those who fight to subvert the existent. From inside the prison cells or in the open gulag under invisible stars. In their own way, each one was saying 'I'm here!' To the bosses of this world and those who defend their interests: Happy New Fear!
Tags: Brixton, Demo, HMP Brixton, London, New Year, Prison demo, UK
Posted in Prison Struggle
Thursday, January 3rd, 2013
On New Year's Eve around 30 people turned up outside the gates of Nottingham prison to make some noise and show solidarity with the people being held inside. We toured the perimeter of the fence with a sound-system, banging pots and pans against the side of the fence, chanting and shouting, whilst fireworks were set off and thrown over the walls.
A parent of one of the prisoners had this to say afterwards:
''Thanks very much for doing this. My son says it's fucking amazing and when he heard the shouting he said it made him smile. Too many working class boys are in prison and it's all because everything is unequal and the rich ones are taking the piss. But it's great that you did that and that people inside heard. Love and respect to all of you''.
This was just one of many prisoner solidarity demos that happened around the world on New Year's Eve. The prison system is a brutal and violent means of repression and control by the state that needs to be challenged and resisted in our struggle for freedom. Noise demos are just one small way of breaking the isolation that prisoners are subjected to, letting them know that they are not forgotten.
Tags: Demo, Fuck the Law, New Year, Nottingham, Nottingham Prison, Prison demo, UK
Posted in Prison Struggle
Thursday, January 3rd, 2013
Last night a group of people went to make noise at the new location of the Schiphol deportation prison (Amsterdam). It is an international tradition on New Year's Eve to go to the prisons to break the silence and isolation.
In the new Schiphol prison 'De Poort' over 1,000 people will be locked up. Even more cells for a murderous system. Last night, recorded messages from the RefugeeChurch —a squatted church inhabited by illegal (undocumented) people in Amsterdam— were broadcasted for the people inside.
In the Netherlands there are thousands of people locked up because they don't have (the right) papers, in even worse conditions than the normal prisons. People are being kept for months and then either deported or kicked out on to the street for being 'practically not deportable,' and a couple of months later the circus starts again. The ones deciding on these 'measurements' are the few inventing laws everybody should bend for; they're the ones making money from repression.
The whole prison system is based on their need for regulating and controlling 'society'. People are being locked up just because they don't fit into that society, don't contribute enough in economical terms, or just to scare people. For the State it's about protecting the rich and the order, to maintain exploitation and suppression.
That's why we will keep coming back to make our solidarity with the prisoners heard.
Until everybody is free, until borders and prison walls don't exist any longer.
For a rebellious New Year!
Tags: Amsterdam, Demo, Holland, New Year, Prison demo, Schiphol
Posted in No Borders, Prison Struggle
Wednesday, January 2nd, 2013
Over 50 people gathered in Montreal to carry on the tradition of anti-prison noise demos at prisons on the new year. The demo assembled at the designated meeting place and took to the streets behind a banner reading "Pour un monde sans patrons, ni flics, ni prisons" (for a world without bosses, nor cops, nor prisons) with a heavy police escort trying in vain to control traffic. Some of the crowd distributed flyers explaining the action and detailing the recent legislative changes the government has designed to fill up the 22 new prisons they are building.
When we reached our first destination, the Tanguay women's prison, the chanting crowd entered through the open gate across a parking lot while the pigs held back at the entrance. Around the back entrance many speeches were given over a mega-phone addressed to the prisoners in hopes of them hearing the words of solidarity in both French and English.
Bursts of chants, horns and fireworks were used to get the attention of our friends inside. Soon into the visit we heard calls of response from the windows, "Bonne année" (happy new year) which fired up even more noise and love from the crowd. The crowd spent 20 minutes exchanging chants of solidarity and well wishing with the women before promising to return and marching on to our next target. (more…)
Tags: Canada, Demo, Fuck the Law, Montreal, New Year, Prison demo
Posted in Prison Struggle