Posts Tagged 'Panagiotis Argirou'
Thursday, November 12th, 2015
Also read: International call for a Black December.
I hate the individual who bends his body under the weight of an unknown power, of some X, of a god.
I hate, I say, all those who, surrendering to others, out of fear, out of resignation, a part of their power as a man, are not only crushed themselves but crush me, and those I love, under the weight of their frightful cooperation or their idiotic inertia.
I hate, yes, I hate them, for I sense it, I do not bow before the officer's braid, the mayor's sash, the capitalist's gold, moralities or religions; for a long time I have known that all of this is just baubles that can be broken like glass.
— Joseph Albert (Libertad)
There are times in history when the randomness of some events can cause dynamic variables, able to almost entirely paralyse the social space-time.
It was Saturday night, on 06/12/2008, when the culmination of a conflict between two worlds took place in just a few moments. On one hand, the youthful, enthusiastic, spontaneous and impetuous insurrectionary violence; on the other hand, the official state institutional organ that, legitimately, claims the monopoly on violence through repression.
No, it was not about an innocent kid and a paranoid cop found in the wrong place at the wrong time, but a rebellious young comrade who attacked a patrol car, in an area where clashes with the forces of repression were common, and a cop who patrolled the same area and, out of a personal perception about the honour and reputation of the police, decided to confront the troublemakers on his own. It was a conflict between two opposing forces: on one Insurgency, on the other Power, with the main protagonists of this conflict each representing their own sides.
The murder of Alexandros Grigoropoulos by the cop Epameinondas Korkoneas, and the large-scale riots that ensued, caused a powerful, high-tension social electroshock, because the image of "social peace" was shattered and the existence of these two opposing worlds was made visible, in the most manifest way, triggering situations from which there was no easy return, at least not without a creation and manifestation of events whose momentum nobody could any longer pretend they did not notice, they did not see, they did not hear, they did not take into account. (more…)
Tags: Alexis Grigoropoulos, Black December, Conspiracy of Cells of Fire, Conspiracy of Cells of Fire : Imprisoned Members Cell, Greece, Informal Anarchist Federation (FAI), International Revolutionary Front, International Solidarity, Korydallos Prison, Nikos Romanos, Panagiotis Argirou, Sebastián Oversluij Seguel
Posted in Direct Action
Tuesday, July 1st, 2014
End of the massive hunger strike in Greek prisons

After 8 days of hunger strike the prisoners in Greece decided to end it and continue the mobilization with other means.
At the end of the hunger strike around 4500 prisoners were participating.
Our comrades Michalis Nikolopoulos,, Panagiotis Argirou and Nikolas Romanos are good in their health and out of hospital!!!!
May health and chaos be within you!
Tags: Greece, Hunger Strike, Michalis Nikolopoulos, Nikos Romanos, Panagiotis Argirou
Posted in Prison Struggle
Monday, June 30th, 2014
Dozens of inmates went to the hospital. More specifically, 2 inmates from Corfu prison, some inmates from Amfisa prison and the rest of them from Koridallos prison. They were going to the hospital and most of them were sent back after being given an injection of dextrose!
Comrades Panagiotis Argirou, Michalis Nikolopoulos and Nikos Romanos remains in the hospital after having a fight for not taking intravenous fluids and dextrose!
Here is a video from the prisoners of A wing of Koridallos deciding to refuse the night lockdown for one hour with force!
http://m.youtube.com/watch?v=ORAyiPehfv8&feature=share

May health and chaos be within you!
Tags: Greece, Hunger Strike, Michalis Nikolopoulos, Nikos Romanos, Panagiotis Argirou
Posted in Prison Struggle
Sunday, June 16th, 2013
As has been known, in the first days of January 2013, I suffered a serious head injury after an accident. What followed were two successive head surgeries and a three-month stay in various hospitals. Of course, for some time now, I have escaped danger and I'm on the mend, awaiting a final restoration surgery on the skull. Now I am back among my comrades and my brothers and sister of the CCF, which in itself makes me feel better.
I gradually get some insight into the interest expressed during my hospitalization, and I feel the need to thank all those who stood by me in various different ways, from donating blood (which was much needed), to fundraising for covering medical expenses.
I have a special place in my heart, however, for the comrades of the International Conspiracy for Revenge-FAI/IRF who burned a private vehicle in Indonesia, and for the compas of the Insurrectionary Anti-authoritarian Cell-FAI/FRI who targeted with incendiary devices the building of Chile's national association of penitentiary functionaries and previously attacked facilities belonging to the Chilean Gendarmerie, because of the great honour they have done me by giving my name in the direct action cells that claimed responsibility for these anarchist attacks against domination. Brothers and sisters, you should know you're in my thoughts and that these actions have moved me deeply. May the fire of Insurgence and Anarchy always keep your hearts warm, and your hands armed against the enemies of freedom.
Finally, I would like to thank all those direct action groups in Greece and abroad who were interested in my condition and wished me a good recovery.
I am happy to see that all this time the project of FAI/IRF remains dynamic and active. I'd like to hope that, in the future, its intensity will grow enormously, and its diffusion will cause fear among the rulers globally.

LONG LIVE FAI/IRF
LONG LIVE THE BLACK INTERNATIONAL OF ANARCHISTS OF PRAXIS
Panagiotis Argirou
Member of the Conspiracy of Cells of Fire
Tags: Conspiracy of Cells of Fire, Conspiracy of Cells of Fire : Imprisoned Members Cell, Greece, Informal Anarchist Federation (FAI), International Conspiracy for Revenge, International Revolutionary Front, International Solidarity, Letter, Panagiotis Argirou
Posted in Prison Struggle
Tuesday, May 28th, 2013
Who believed that May would pass without direct action?
With fire we responded again.
Recalling the warrior Mauricio Morales and showing solidarity with the comrades imprisoned in Temuco, we set fire to the entrance of the National Association of Prison Guards, located at Santa Monica steps in downtown Cumming Street of the city of Santiago, on Sunday May 12. With this we add a new action to those which have already been claimed by other groups in "alternative medias" but silenced by the "official release".
We said in our previous attack on a property of Gendarmerie of Chile in January this year, we will not let the torturers be tranquil in their dens. The criticism of the authoritarian system and prison facilities cannot be separated from the direct attack on those who try to break the will of our rebel imprisoned comrades. Prison guards have decided voluntarily to live as enemies of freedom and are active contributors to domination, in exchange for shares of power that materialize in confinement and to humiliate our prisoners and their families.
In April, the anti-authoritarian comrade Ariadna Torres was punished in the Women's Prison of Temuco for insulting a judge and the jailers who seized a letter from the companion to the outside.
We sent a copy of this email again to the jailers of Chile so that they know that our anarchist comrades, anti-authoritarians and revolutionary prisoners in Chile are not for the authorities little games, and for every attack the answer will come back with fire, explosions and shrapnel.
We ask comrades of action why there has been a decline in violent activity against the enemy? One thing is the excitement of the street-fighting, but in May there has been fewer direct attacks and planned bombings, arson and sabotage against the wealthy, and also their system of misery. That the anti-authoritarian attacks are sustained over time and not by a police story, depends on us. That the option for revolutionary violence and its connection with the anti-authoritarian struggle (and its various forms of being implemented) be not just a youth fashion, depends on us. Boosting and multiplying the direct actions in quantity and quality depends only on our will.
In May, we remember those comrades murdered by the State in Chicago in 1886; to Daniel Menco, young man killed in 1999; to young Rodrigo Cisternas, worker killed by police in Chile in 2007 after being crushed by a police vehicle with a backhoe; to the compa Henry prisoner since May of last year in Bolivia [currently on house arrest]; and Nicola Gai and Alfredo Cospito, prisoners in Italy, imprisoned for a year accused of the shot to the leg of a boss of a scientific nuclear company.
Regards to the clandestine comrades and prisoners worldwide.
MAURICIO MORALES LIVES IN DIRECT ACTION.
Insurrectional Anti-authoritarian Cell Panagiotis Argyrou, affinity of the FAI/FRI. Chile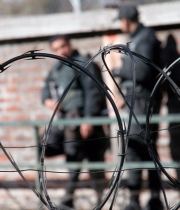 Tags: Alfredo Cospito, Arson, Chile, Conspiracy of Cells of Fire, Conspiracy of Cells of Fire : Imprisoned Members Cell, Greece, Henry Zegarrundo, Informal Anarchist Federation (FAI), International Revolutionary Front, International Solidarity, Italy, Mauricio Morales, Nicola Gai, Panagiotis Argirou, Santiago
Posted in Direct Action
Sunday, March 17th, 2013
On Sunday, 10th March an anarchist guerilla group placed an incendiary device at the entrance of the offices of Swift Mail express courier's company in Pagrati, Athens. This is the shop where the company's owner wife Reklitou Fotini works. Based on her detailed statement in 2010, the cops were able to mobilize their forces and arrest the comrades of CCF, who on that day sent a mail bomb to the embassy of Mexico using Swift Mail.
The anarcho-nihilist guerilla group "Untouched Revenge Cell, FAI-IRF" claimed responsibility for the act by publishing a communiqué. The comrades dedicated the attack to the imprisoned anarchist guerillas in Greece, Italy, Russia, Holland, Mexico, Indonesia and Belarus.
Tags: Athens, Conspiracy of Cells of Fire, Gerasimos Tsakalos, Greece, International Solidarity, Pagrati, Panagiotis Argirou, Reklitou Fotini, Swift Mail, Untouched Revenge Cell / FAI-IRF
Posted in Direct Action
Friday, March 15th, 2013
via contra-info:
On Monday, March 11th, anarchist comrade and Conspiracy of Cells of Fire member Panagiotis Argirou was transferred from the general hospital of Nikaia back to Koridallos prison's hospital. His transfer was made after the state of his health was much improved.
Panagiotis has now fully recovered from his serious injury and talked with his comrades on the phone. He will remain in the hospital of Koridallos prison until several mobility problems are restored, that were caused due to his two-month hospitalization and the length of time he was under sedative medication. For now, he is recovering and 'shares' the same cell with his friend Spyros Dravilas, who is also recovering there after his successful hunger strike.
We know we haven't provided updates on the health condition of Panagiotis for a long time, but this was not done by chance: each time we released positive news on the comrade's health, the anti-terrorist force and the external armed guards that had undertaken his custody pressured the hospital staff to permit Panagiotis' immediate transfer to the prison for 'security reasons' (his file bore the indication 'Dangerous to escape').
A big thank you to all the comrades and friends who were interested in Panagiotis, who sent letters, donated blood, and supported the R.O. Conspiracy of Cells of Fire. Finally, a flaming hug to the brothers and sisters of the Argirou Cell/International Conspiracy for Revenge/FRI-FAI from Indonesia, as well as the Panagiotis Argirou insurrectionary anti-authoritarian cell/FAI-FRI from Chile, who made solidarity among anarchists praxis through their incendiary attacks.
Tags: Athens, Conspiracy of Cells of Fire, Conspiracy of Cells of Fire : Imprisoned Members Cell, Greece, Informal Anarchist Federation (FAI), International Solidarity, Korydallos Prison, Panagiotis Argirou, Spyros Dravilas
Posted in Prison Struggle
Friday, February 1st, 2013
by actforfreedom:

30.1.13 The comrade has shown slow but steady signs of improvement. He remains in the intensive care unit but for now a limited written communication with him is possible. The hospital infection of his respiratory system can be dealt with and does not especially worry the doctors. There will be more updates for anything new.
STRENGTH TO COMRADE PANAGIOTIS ARGIROU MEMBER OF THE ANARCHIST REVOLUTIONARY ORGANIZATION C.C.F.
Comrades.
Tags: Conspiracy of Cells of Fire, Conspiracy of Cells of Fire : Imprisoned Members Cell, Greece, Informal Anarchist Federation (FAI), Panagiotis Argirou
Posted in Prison Struggle
Saturday, January 19th, 2013
325 receives and transmits:
In the early hours of the morning we struck another small blow against the mechanisms of capital. The street level of one of the many new condo developments under construction in the city, containing building supplies as well as the architectural plans for the building, was smashed and then set ablaze as a small gesture of our rage. Our anger is directed both towards the continuing, and celebrated, gentrification within the city, and the ongoing imprisonment of anarchist comrades around the world.
Gentrification is the celebrated death of community in slow motion. The encroachment of high priced individualized living spaces into a community forces out people to whom boutique living is unaffordable, splitting up life long friendships and personal relations. With this come the chain store vultures picking apart the carcasses of local, independent stores as well as the inevitable "cleansing" of the area, removing any unwanted signs of life or suffering. The aspirational advertisements which accompany these developments hide the secret that instead of a lifestyle change or upgrade, what is being sold is an isolative and vacuous box with the trappings and veneer of luxury, as well as one's very own role in the destruction of a pre-existing community.
With one change of our clothes we disappeared into the night undetected. This is not an attempt at a gloat or a glorification, but an attempt to show how easily these acts can be replicated elsewhere. Let's make their lives as difficult as they try to make ours. This is an escalation in regards to our tactics, but we realize these acts are still of small scale in relation to actions of comrades across the world.
With this, we also recognize the need to intensify our attacks against the state and capital in North America in relation to the intensity of repression and attacks against the anarchist and anti-authoritarian community. With every wave of repression must follow a targeted, critiqued, and increasingly militaristic response.
This is an act of solidarity with the people of the Villa Amalias and Lelas Karagianni 37 squats in Athens who have had their homes raided by the brutal, fascist Greek police. We chose to target new housing developments, catering to the bourgeois of the city, as they lie in direct contrast to the vibrance, community and solidarity seen in squats across the world. Another stark difference is the economically exclusionary nature of private property. We are not fighting for "affordable housing" or "income-based housing", we are fighting for housing for every human being, regardless of economic status.
We also send an embrace warmed with love and rage to Panagiotis Argirou. Strength comrade, so you may continue this fight.
For the negation of every oppression this society is complicit in.
Until the last prison walls crumble…
The Toronto Solidarity Cell.
Tags: Arson, Athens, Canada, Gentrification, Greece, Lelas Karagianni 37, Panagiotis Argirou, Solidarity Action, Toronto, Toronto Solidarity Cell, Villa Amalias
Posted in Direct Action
Thursday, January 17th, 2013
On 15th January the doctors stopped giving to Panagiotis Argirou anesthetic medicines that kept him sedated. His communication is not full yet but the first reactions he had are quite encouraging about the procedure of his health.
The two people that were recently arrested for participation in CCF were not imprisoned because there was nothing to charge them for, but they probably will go on trial with the charges of participation in CCF and possession of guns.
Tags: Conspiracy of Cells of Fire, Conspiracy of Cells of Fire : Imprisoned Members Cell, Greece, Informal Anarchist Federation (FAI), Panagiotis Argirou
Posted in Prison Struggle
Friday, January 11th, 2013
325 receives and transmits:
Last night [10/1/13], we did it once again. Direct action based on our revolutionary values, as nihilists, as individualists and as an expression of the hatred of this society. Covered by the night, we burned a private car in Tomohon (small city in North Sulawesi), owned by an unknown person. It was a car located near the local TV station in that town. A car as a symbol of slavery, eco-disaster and the meaninglessness of life.
We believe, through direct action each revolutionary can speak, even separated by continents and nation-state borders. We believe that revolutionary actions speak loud and reach our sisters and brothers in the Informal Anarchist Federation – International Revolutionary Front.
We dedicate our action to our brother in arms, Panagiotis Argirou, –revolutionary and proud member of Conspiracy of Cells of Fire– who fell down and has to face surgery. When we heard this news, it hurt our heart. We burned a car to send our warmest revolutionary greetings to you, comrade. To let our enemies know that no revolutionary will be left alone. Strength brother! Fire of health for you.
To other members of Conspiracy of Cells of Fire and revolutionary anarchist, T. Mavropoulos: all of you are never alone. Our actions are also your revenge.
Not to forget to mention our brothers in Italy who are kidnapped by the state and are seized behind bars. To Alfredo Cospito and Nicola Gai. Our hearts always with both of you.
We also want to send our revolutionary greetings to Villa Amalias and all the free spaces that are invaded by our enemies. To all squatters who are kidnapped by pigs of the state. Your bravery inspires us to keep our heads up. 'Fire' is how we spell solidarity.
And to all anarchist prisoners: to Ivan and Carla, Freddy, Marcelo and Juan, in Chile, to Henry in Bolivia, to John Bowden, to Gabriel Pombo da Silva, to Marco Camenisch, and others around the world. This fire is a metaphor of hugs from us full of respect, solidarity and anger against Power.

Salute!
Argirou Cell
International Conspiracy for Revenge
International Revolutionary Front
Informal Anarchist Federation
Tags: Alfredo Cospito, Argirou Cell / ICR - FRI - FAI, Arson, Car Burning, Carla Verdugo, Conspiracy of Cells of Fire, Conspiracy of Cells of Fire : Imprisoned Members Cell, Freddy Fuentevilla Saa, Gabriel Pombo da Silva, Henry Zegarrundo, Indonesia, Informal Anarchist Federation (FAI), International Conspiracy for Revenge, International Revolutionary Front, Ivan Silva, John Bowden, Juan Aliste Vega, Marcelo Villarroel Sepúlveda, Marco Camenisch, Nicola Gai, Panagiotis Argirou, RO-FAI (Indonesia Section), Theofilos Mavropoulos, Tomohon
Posted in Direct Action
Friday, January 4th, 2013
Translated by Act for freedom now/boubourAs
Update on the trial of the C.C.F.
Sessions 9, 10, 11, 12, 13 , 14, and 15 , 2012
In these sessions most lawyers completed their speeches concerning the objections but also the proposition made by the prosecutor during the 12th session.
On 3/12 /12 (session 11) one of the comrades of the Conspiracy made a statement after the speech of one of the appointed lawyers and said the following:
"I want to clarify some things. First of all, I very carefully heard the speech of the advocate and despite that we come from two different spaces, as he said, since we have chosen the path of anarchist illegal insurrection and he has chosen the path of legality, I really appreciate some things which he said and I really see that he worked a lot on approaching the core of the thought of our organization, the CCF. And in many thing he said, although I am no legal expert and not only that, but I demean the laws, I recognize the approach he made and I have no disagreement concerning that. But, I want to make a clarification for some things that remain. I want to clarify something in the name of our organization, the CCF, because something was said in relation to the R.O 17 November organization. It is not a reproach to the advocate. Besides, he clarified that what he said is his own personal opinion, perception, idea.
But because nothing should remain unanswered, flawed and meteor in this procedure, we must stress the following.
With the R.O. 17N -and I stress the words, because it was a Revolutionary Organization- we clearly have some differences concerning our perceptive field or our ideas in some individual matters, but these matters do not concern the court, neither are they matters for a juridical room. With these people who took the political responsibility and remain unrepentant -because there are unrepentant 17N members- connects us a friendship and comradeship. Therefore, we will clarify that the CCF, although coming from the anarchist urban guerrilla and has no connection with the Marxist structures, despite all this sees, and feels immediate affinity with comrades such as those of the 17N. And I want to stress something else, because a reference to homicide was heard. I think homicide, not concerning its potential evaluation, but also on how much the meaning of homicide, which I translate into the meaning of political execution, applies by armed revolutionary organizations in Greece -the 17N and the Sect of Revolutionaries and other organization- it is a part which we absolutely adopt, because it is a means of struggle of the anarchist armed action. Life on its own is not dignity on its own. Life is a value based on the choices made by everyone. Thus, whichever comrades chose to arm themselves and expose themselves by executing officers of authority, we are next to them. It is a choice adopted by the CCF as well. I want this to be stated and remain about the perception the CCF has".
Most members of the CCF do not appear in the court room refusing to "impersonate" the role of the accused. As they have explained in a previous session they will appear in pairs exclusively in order to intervene in case some witness or judge tries to slander the CCF. Anyway, as stated by the comrades, as anarchists of praxis they do not respect any state justice and do not recognize any law which will try them.
Tuesday 18/12
Before the 15th session began there was tension in the court room between the cops and members of the CCF. Specifically, when the comrades of the CCF went to greet their friends and family in the court room the cops formed a "human" wall blocking any communication. At one point a cop pushed the friend of a comrade resulting in the intensification of the situation. Immediately the comrades the members of the CCF moved towards him pushing him and swearing him while one of them spit a piece of gum in his face. The rest of the cops tried to disengage their colleague and in the end let the friends and family to greet the comrades of the Conspiracy.
In the legal part of the trial the speeches of the lawyers concerned the objections.
-
Athens: Anarchist comrade of CCF member Panagiotis Argirou reportedly injured in Koridallos prison and hospitalized
After conversation with a relative of anarchist Panagiotis Argirou, solidarians reported that the comrade fell out of the bunk bed at night, on January 1st, and gradually began to lose consciousness. He was evacuated from Koridallos prisons to Tzaneio hospital in Piraeus, and he might need to be admitted to another hospital soon. His injury appears to be quite severe, with bruises on the head.
The comrade has already been operated on the head last night 2/1/12 and had a hematoma removed.
He will remain in an induced coma until the end of the week because his situation is considered critical.
We are thinking of you always Panagiotis.
Actforfreedomnow/boubourAs
Tags: Athens, Conspiracy of Cells of Fire, Conspiracy of Cells of Fire : Imprisoned Members Cell, Greece, Panagiotis Argirou, Trial
Posted in Prison Struggle
Tuesday, August 21st, 2012
From contrainfo:

13 August 2012
Athens: Responsibility claim for arson on the headquarters of Trastor real estate investment company
We are witnessing the most extreme contradictions that are born and die in this shit-world. While the calculators of sorcerer's apprentices of economic statistics are counting 23,000 dead in Syria, billions of people are watching besotted the London Olympic Games; the distance between the Olympic and the 'practical' shooting in the field of operations is just a simple push of the button on a remote control. If only it could happen… all these rivers of blood to become an impetuous torrent which will drown athletes and spectators. If only it could happen… We can refer all the same to the thousands of homeless people 'messing up' the image of the dire city, while the rich enjoy their luxurious comforts in the gardens of Ekali and Kifissia (two of the richest suburbs of Athens).
Societies that, despite their contradictions, manage to reproduce the stench they're emitting, partitioning everyone and everything, manufacturing hundreds of microcosms.
Power is not a compact structure but a diffused edifice, located on the systemic structures—economic, institutional, etc.—and human relations. Starting from society's chopping into antagonistic-with-each-other subsets, the constant fragmentation continues in the individual's daily life within the capitalist world; in every aspect of the individual's life, in every field of expression. (more…)
Tags: 2012 Olympics, Anti-Fascist, Arson, Conspiracy of Cells of Fire : Imprisoned Members Cell, Gerasimos Tsakalos, Greece, Informal Anarchist Federation (FAI), International Revolutionary Front, Luciano Pitronello Schuffeneger, Olga Ekonomidou, Panagiotis Argirou, Rami Syrianos, Revolutionary Solidarity, Sabotage, Sokratis Tzifkas, Trastor REIC
Posted in Direct Action
Monday, May 14th, 2012
From athens indymedia via contra-info:
It is a wonderful moment, the moment that the enemy kneels and falls from the determination of your brothers and sisters. A few days ago Roberto Adinolfi, CEO-magister of the nuclear energy company Ansaldo Nucleare, was shot by our brothers and sisters of the Olga Cell of the Informal Anarchist Federation (FAI)–International Revolutionary Front (FRI).
Roberto Adinolfi is a high priest of the new totalitarianism of science and technology imperatives. Science has become the modern religion of our time, promising an apathetic society the lethargy of a stuffed belly and artificial paradises in exchange for the coldness of an empty heart drowned in compromise.
The empire of scientific totalitarianism is fed by the vanity of an anthropocentric authoritarian civilization. A civilization imposed on our desires, our choices, the nature and animals, turning life into a quantitative scale to fit its miserable statistics. At the same time, contemporary people end up unable to even dare to live authentically, without hypocrisy, and as they sink deeper into their reliance on technological substitutes of real life they create illusions and superficial relationships. Now, with their scientific discoveries, they can 'offer' us more time to grow old but deprive us of a way to live authentically. So, science generates the coldest of all monsters of the human folly. It lays the technological fascistization of our lives. It lays genetic testing, electronic monitoring, laboratory animals, research statistics, the dictatorship of machines and numbers. (more…)
Tags: Ansaldo Nucleare, Anti-Nuclear, Attentat, Christos Tsakalos, Conspiracy of Cells of Fire, Conspiracy of Cells of Fire : Imprisoned Members Cell, Damiano Bolano, Finmeccanica, Gerasimos Tsakalos, Giorgos Nikolopoulos, Giorgos Polydoros, Greece, Haris Hadjimihelakis, Informal Anarchist Federation (FAI), International Revolutionary Front, Italy, Michalis Nikolopoulos, Nucleo Olga FAI/FRI, Panagiotis Argirou, Roberto Adinolfi, Theofilos Mavropoulos
Posted in Autonomy
Friday, May 4th, 2012
From Contra-Info:
On April 20th, in the special court-martial of Koridallos women's prisons where one more trial session of the second 'Halandri case' took place, Michalis Nikolopoulos read his request for postponement of the trial and then another statement by Christos Tsakalos and Damiano Bolano (both comrades were absent from court due to their hunger strike). Later, the defense attorney Frangiskos Ragousis handed the judges a letter from Athena Tsakalou, the mother of Christos and Gerasimos Tsakalos. She herself was present in the courtroom but she refused to testify. The letter wasn't read in court, and the presiding judge simply announced that 'it will be added to the transcript.' The complete letter is as follows:
TO THE COURT
18-4/2012

'Every act of rebellion expresses nostalgia for innocence and an appeal to the essence of being.'
[Albert Camus]
I am asking myself: why are parents of the anarchists–revolutionaries of the Conspiracy of Cells of Fire being subpoenaed to trial? Why are they subpoenaing me? Are they doing it in order to ask me if I know something about the organization? To ask me questions about the personal lives of my sons, sketch out their 'psychological profile,' or get an opinion on their 'family life'? Or to ask me if I agree with the actions of my children and, in general, those of the organization? To stand me up in front of this court, supported by that little book, and make me swear to that god you have placed in the service of Power? To make revolutionary anarchists feel uncomfortable while their parents are asked a bunch of awkward questions? Or is it so that you yourselves can rejoice at the thought that you have made us believe it is we who must give the answers and make an apologia? (more…)
Tags: Athena Tsakalou, Athens, Christos Tsakalos, Conspiracy of Cells of Fire, Conspiracy of Cells of Fire : Imprisoned Members Cell, Gerasimos Tsakalos, Greece, Informal Anarchist Federation (FAI), Korydallos Prison, Letter, Panagiotis Argirou, Trial
Posted in Prison Struggle
Wednesday, April 11th, 2012
'When one does not die for the other, then we are already dead'
[Tasos Livaditis]
I am not a humanist and therefore will not talk like a humanist. I place myself on the side of the anarchists of praxis. In the battle for a free life without leaders and minions, often a price to pay is the prison. This price has been imposed on me a year ago, since I am imprisoned–CAPTIVE by the State. Captive but not defeated; because for me, as an anarchist urban guerrilla, prison is a temporary stop but never the terminal. During this whole year, I did not allow prison to tame or to 'correct' me, or to subdue my body and my memory through the dead repetition of the time-jailer.
From the very first moment, however, a ceaseless psychological warfare and a special detention regime were launched against all comrades who participate in the Conspiracy of Cells of Fire. (more…)
Tags: Athens, Black International of Anarchists of Praxis, Christos Tsakalos, Conspiracy of Cells of Fire, Conspiracy of Cells of Fire : Imprisoned Members Cell, Gerasimos Tsakalos, Greece, Hungerstrike, Informal Anarchist Federation (FAI), International Revolutionary Front, Korydallos Prison, Panagiotis Argirou, Stella Antoniou
Posted in Prison Struggle
Wednesday, April 11th, 2012
'The tigers of wrath are wiser than the horses of instruction' [William Blake]
Each of us knows that to get his life in his hands, he must refuse the dialogue and the illusions of democracy and come into conflict with the Power, having his knife between his teeth.
From the first moment of our imprisonment, we chose not to surrender to the dictatorship of the penitentiary system. From the first moment, the State and the antiterrorist unit's Tagmatasfalites (security battalions) sent specific commands to the prison service, in order to give special treatment both to us and the other CCF comrades. (more…)
Tags: Athens, Black International of Anarchists of Praxis, Conspiracy of Cells of Fire, Conspiracy of Cells of Fire : Imprisoned Members Cell, Gerasimos Tsakalos, Greece, Hungerstrike, Informal Anarchist Federation (FAI), International Revolutionary Front, Panagiotis Argirou
Posted in Prison Struggle
Wednesday, September 14th, 2011
On Tuesday, September 13th, 275 inmates in the 1st wing of Koridallos men's prisons refused to enter the prison cells in solidarity with two imprisoned members of the anarchist revolutionary organization Conspiracy of Cells of Fire, namely Gerasimos Tsakalos and Panagiotis Argirou who were transferred to Domokos prisons yesterday, September 12th.
Both refused to comply with the psychological torture of forcible full body search, and were attacked by warden Christos Kliaris and a group of the prison guards' staff. The two political prisoners resisted the jailers' blatant attack and threats, demonstrating that not all inmates remain apathetic to prison humiliating procedures and authorities.
The communiqué is co-signed by a total of 275 inmates who decided to remain outside the prison cells for three hours during midday. They dedicate their action to Gerasimos Tsakalos, Panagiotis Argirou and all prisoners that struggle for their dignity and have suffered tortures.
NEITHER CRIMINAL NOR POLITICAL PRISONERS
SET FIRE TO ALL PRISONS
FROM : http://en.contrainfo.espiv.net
Tags: Conspiracy of Cells of Fire, Conspiracy of Cells of Fire : Imprisoned Members Cell, Gerasimos Tsakalos, Greece, Korydallos Prison, Letter, Panagiotis Argirou, Repression
Posted in Prison Struggle
Saturday, June 25th, 2011
From Actforfreedomnow/BoubourAs
On 21/6, five of the nine accused of particiation in the organization "Conspiracy of Cells of Fire" testified.
First was Panagiotis Masouras, who immediately from the start declared that he is not apologizing but making a political statement. He spoke of the "court martial" and of a "political" trial, while he stressed that he is in the court as a "political enemy of the hostage regime" and not as a common criminal. (more…)
Tags: Alexandros Mitrousias, Athens, Conspiracy of Cells of Fire, Errikos Rallis, Giorgos Karagiannidis, Greece, Haris Hadjimihelakis, Manos Giospas, Nikos Vogiatzakis, Panagiotis Argirou, Panagiotis Masouras, Repression, Trial
Posted in Prison Struggle
Tuesday, June 21st, 2011
ANNOUNCEMENT OF THE REVOLUTIONARY ORGANISATION – CONSPIRACY OF CELLS OF FIRE – On the 10th of June there was the trial in the Evelpidon courts of the case of the occupation of the radio station Sport FM that took place in 2007 in solidarity to anarchist Giannis Dimitrakis, imprisoned for a bank robbery.
From Actforfreedomnow:
On the 10th of June there was the trial in the Evelpidon courts of the case of the occupation of the radio station Sport FM, that took place in 2007 in solidarity to anarchist Giannis Dimitrakis, imprisoned for a bank robbery. The incidents that happened that day and which concern the defendants, among which are also members of our organization, but also those gathered in solidarity and relatives, force us to speak publicly. The blows that the members of the R.O. C.C.F. Panagiotis Argirou, Damiano Bolano, Mihalis Nikolopoulos received, and also some of their co-defendants, from the EKAM (special forces) and the masked special guards of the transfer escort as well as the attack of the riot-cops on those gathered proves what cowardly pigs they are. (more…)
Tags: Alexandros Mitrousias, Conspiracy of Cells of Fire, Conspiracy of Cells of Fire : Imprisoned Members Cell, Damiano Bolano, Giannis Dimitrakis, Greece, Haris Hadjimihelakis, Letter, Mihalis Nikolopoulos, Panagiotis Argirou, Repression, Solidarity Action, Trial
Posted in Prison Struggle