Posts Tagged 'Repression'
Sunday, May 10th, 2015
Thousands of protesters laid siege to Downing Street and marched on the Conservatives' campaign HQ and Parliament, causing havoc which ranged across central London in a disruptive demo which saw at least 17 people arrested and a number of police injured in clashes. A small black bloc was active on the frontlines attacking police and defending the demo from police attacks. Eventually the demo was kettled and the crowd processed. There was a simultaneous event in Cardiff, Wales, and an anti-fascist demo in Walthamstow against the English Defence League, fascist-nationalist group.

"Those who forget the past are condemned to repeat it." – Fuck Tory Scum
Tags: Cardiff, Conservative Party, Demo, London, Police Bastards, Repression
Posted in Anti-Fascist
Wednesday, May 6th, 2015
Police have just announced that 3 people being held in custody were accused of terrorism. According to Czech law the minimum penalty for this crime is 12 years and it is one of the very few crimes with possible life sentence. Two other people are accused of not reporting this crime and the last two of illegal arms (police reported they found an explosive timed device made of a steel tube). The case is apparently very serious. Terrorism charge gives the police some extra power and rights.
Other people arrested are being investigated for "supporting the movement seeking to violate human rights and freedom", which is a crime designated for use against hate movements [racist/far-right].
Police released this story to the public: those accused planned an attack with Molotovs on a train transporting Hyundai cars. Two of them should have obtained
the "explosives", two others should actually attack the train, the last three should work as scouts. The attack should have taken place last November but never happened for an unknown reason, it is possible it was just delayed.
The police say that all of them belong to "Conspiracy of Cells Of Fire". All people were under surveillance at least since last September.

From ABC.
Tags: Conspiracy of Cells of Fire, Czech Republic, Prague, Raids, Repression
Posted in Social Control
Wednesday, May 6th, 2015
Today police evicted the only squatted place in Prague, Cibulka. In a massive raid 200 cops with water-cannon and even a helicopter arrested at least 12 people, at least 4 people were injured. There were around 50 people present in the place when the police came, most of them left the premises voluntarily. Four people occupied the roof but were forcibly removed. It is still unclear what exactly happened as police closed off the whole surrounding area. At least four people are in hospital now. At least 12 people are being held.
Cibulka was occupied by squatters two years ago. Soon they managed to sign an agreement with the owner, semi-public company Autoklub. For two years it was used legally, but that did not prevent police from raiding the place several times. Last month the contract was recalled by the owner. Yesterday evening the owner made a formal complain to police, today the place was evicted. It is an unprecedent speed of police work in the country where it is usual to wait 8 or more years for a court verdict and generally the justice system is very slow and ineffective…
From ABC.
Tags: Cibulka, Czech Republic, Eviction, Prague, Repression
Posted in Social Control
Saturday, May 2nd, 2015
Following massive raid on anarchists on Tuesday night, three people were
charged with terrorism and taken into custody. Whole operation police
called "Phoenix" started in early morning with house search in dozens of
private flats and social center "Ateneo" in the town of Most. Around 20
people were arrested, part of them only questioned and immediately
released.
Three people were charged of attempted terrorism (12-20 years of
prison), some others are officially investigated of the same crime but
were released. Even others were charged of not reporting this serious
crime. Three people were taken into custody. As some servers were
confiscated most of Czech anarchists websites are down.
(more…)
Tags: Czech Republic, Fuck the Police, Most, Repression
Posted in Social Control
Saturday, May 2nd, 2015
A lxs compañerxs que en Chile y el mundo se enfrentan a toda forma de
poder.
A las mentes y conciencias insumisas que rechazan la dominación y
anhelan la libertad total.
A quien se sienta interpeladx y llamadx a la acción:
Quienes nos dirigimos a ustedes somos individuxs y grupos organizadxs y
activxs en la solidaridad antiautoritaria con prisionerxs anárquicxs y
revolucionarixs.
Hoy escribimos para motivar que los gestos de compañerismo se expresen
de manera urgente y combativa en acciones solidarias en apoyo a la
huelga de hambre que realizan lxs compañerxs Juan Flores, Nataly
Casanova, Guillermo Durán y Enrique Guzmán. (more…)
Tags: Chile, Enrique Guzmán, Guillermo Durán Méndez, Hunger Strike, International Solidarity, Juan Flores, Nataly Casanova, Repression
Posted in Prison Struggle
Tuesday, April 21st, 2015
Monday 20 April: Last night in the early morning hours, police raided a house squatted by activists in Mariacka street, Katowice. The police used rubber bullets, smoke, and stun grenades. 21 people were beaten up and arrested. (At least 3 people were taken to hospital) The people imminently stated that they are starting a hunger strike against their detention. According to the police, the people are accused of breaching domestic peace (in an empty building!). Solidarity picket took place at 13:00 in front of the cop station at Lompy 19, Katowice. In Poznan at 14:00 solidarity picket in front of the Regional Police station, Kochanowskiego 2a.
—
Solidarity communique:
European Economic Congress in Katowice: full hotels, empty houses – Antiterrorists fighting social change
Katowice. Another day of meetings for the European elites. The subject is TTIP and hundreds of other anti-social programs, forced on people against their will. A group of anarchists and trade unionists who organize Anticongress, together with the people that need a roof above their head, have squatted one of the thousands of empty buildings, which after being 'cleaned' of the tenants awaits its demolition and transformation into an office building. On the front wall, a huge banner is hung, saying 'human capital resists!'. In the newly opened space, the 'Alternative Economical Forum' took place. The debates started on a different kind of economic politics, the kind that could reverse the trend of radical accumulation of wealth into the hands of the elites in Europe and the world. (more…)
Tags: European Economical Congress, Katowice, Poland, Police Brutality, Raids, Repression, Squatting
Posted in Social Control
Friday, April 17th, 2015
Eric G. King, a 28-year-old vegan anarchist, was arrested and charged
with an attempted firebombing of a government official's office in
Kansas City, MO in September 2014. Eric is being charged with throwing a
hammer through a window of the building, followed by two lit Molotov
cocktails. The criminal complaint states that both alleged incendiary
devices failed to ignite. Scheduled to go to trial in July 2015, he is
facing up to 30 years in federal prison.
Eric was identified as a suspect by local police because he had
previously come under suspicion for anti-government and anti-police
graffiti. He is currently being held in the Corrections Corporation of
America's Leavenworth Detention Center. (more…)
Tags: Eric G. King, Repression, Trial, USA
Posted in Prison Struggle
Wednesday, April 15th, 2015
Inter Arma received and translated:
With new reports by snitching cop journalists, an effort is being made to target comrades who come occasionally in contact with the imprisoned members of the Conspiracy of Cells of Fire. In this case, they try to locate comrades from the UK who, as reported by the cops, publish an insurrectionary anarchist magazine there. They want to investigate what comrades from abroad traveled to Greece on specific dates. Also, they take into account the importance of the presence of FAI cells in the country and report that a group of Greek cops will travel there to inform their colleagues. This is a witch hunt which now targets comrades abroad as well. The case of the escape of the members of CCF becomes the perfect alibi, after several months of media propaganda, for cleaning up and hunting comrades which the cops already have in target.
Solidarians
Tags: CCF Escape case, Conspiracy of Cells of Fire, Greece, Informal Anarchist Federation (FAI), International Revolutionary Front, Repression, UK
Posted in Social Control
Sunday, April 12th, 2015
[Translated by Sin Banderas Ni Fronteras from Refractario]
On April 7, 2015, a bus was set on fire. Near the action, the bastards of police arrested comrades Natalia Collao (24) and Javier Pino (22).
When the journalistic carrion arrived to police station, both Natalia and Javier walked with head up. Javier shouted out loud: Down with the patriarchal and anthropocentric society!

On Friday 10, the judge decreed three months of preventive detention on charges of incendiary device installation in a public transport bus. Outside the Tribunal, comrades in solidarity stayed with banners and slogans.
Javier is now detained in Santiago 1 prison, and Natalia is in San Miguel prison.
All our solidarity with the comrades!
Tags: Chile, Javier Pino, Natalia Collao, Repression, Santiago, Santiago 1
Posted in Social Control
Sunday, April 12th, 2015
From Pubblicacion Refractario:
'Are we persecuted? Well, it's logical that we are persecuted because we are a constant threat for who represents the system. In order not to be prosecuted we would have to adapt to their laws, comply with them, integrate into the system, let bureaucracy penetrate our spinal cord and become perfect traitors… but is that what we want? No. So our everyday actions have to be nourished with our creative imagination. Our strength is our ability to resist. We can fail but must never bow down to anyone.' Buenaventura Durruti.
There can be many and varied explanations for the repressive blow of December 16th, just as the general and specific causes that intertwined to create a delirious net of power leading to the arrest of our friends and comrades are many.
Perhaps one of the general causes could be the introduction of the Law on Citizens Security, known as the 'Gag law'; this, along with the exacerbation of the penal code, which has re-introduced life sentences, creates a pattern whereby the control exercised by power is more efficient and strengthened by constant paranoia. Sentences for attacks on authorities, public disorder and disobedience have been exacerbated; at the same time social protests like those of 15M [blockade of parliament] and of PAH (a group against housing taxes) are being punished. Progressives and social-democrats say that the State is 'leaving less space for freedom' and that 'the struggle for rights is being criminalized'. As you can see, the turn of the screw by the repressive-judicial apparatus is striking citizens, that is to say those who struggle for more and better laws, more and better democracy, for more participation in the management of misery. Freedom and law is inconsistent with one another. As anarchists we are aware that the more rights are granted the stronger the State becomes and as a consequence our submission grows. Not because it will cease to be such with a subtle, more democratic oppression, but quite the opposite it becomes more natural and firm in its being invisible. (more…)
Tags: FIES, Francisco Solar, Letter, Operation Pandora, Repression, Spain
Posted in Social Control
Saturday, April 4th, 2015
The recent wave of hunger strikes and other protests in UK migration prisons has subsided, as prisoners have been silenced, moved between prisons, and humiliated and beaten. This report from the Anti Raids Network is just one of many cases of how people are treated in detention centres and during deportation attempts.
Tahar Khalifa beaten by guards in an attempted deportation on Tuesday 31st March.
On Tuesday, 31st March, Tahar Khalifa, detained at Brook House detention centre [one of the two migration prisons inside the perimeter of Gatwick Airport], was forcibly removed from the centre in an attempted deportation to Tunisia, on flight TU791 at 1745hrs. As he was going up the stairs to the plane he was physically assaulted and beaten by the guards.
In a statement Tahar says that there were multiple officers trying to get him up the stairs; one was choking him, another was twisting his upper body. Tahar was handcuffed at the front and one officer was holding him by the wrist and pulling very hard. (more…)
Tags: Brook House (Immigration Detention Centre), Migrant Struggle, Racism, Repression, Tahar Khalifa, UK
Posted in No Borders
Thursday, April 2nd, 2015
In the afternoon of April 1st 2015 anarchists of "Rouvikonas" collective "invaded" the grounds of the Greek parliament in the center of Athens to protest in solidarity to the mass hunger strike of 22 political prisoners in Greek prisons, most of them since March 2, and 8 prisoners from Turkey on solidarity hunger strike in turns since March 11.
Immediate satisfaction of the demands – Solidarity to the fighters
Tags: Athens, Demo, Greece, Hunger Strike, Occupation, Repression, Type C prisons
Posted in Direct Action
Tuesday, March 31st, 2015
UPDATE: The comrade – hunger striker Mihalis Nikolopoulos almost suffered a heart attack for the second time in one day. Injected atropine was administered to him again as his heart rate is 30 beats per minute.
Today in the morning around 6 a.m., the hunger striker Mihalis Nikolopoulos almost suffered a heart attack as his heart rate was 25 beats per minute and his blood pressure 8/2,5. One and a half dose of injected atropine was administered to him as a single dose wasn't enough. His state of health is currently somewhat more stable (40 beats per minute) but the risk of a cardiac arrest is imminent and can happen anytime.
Also the council of appeals decided today to release the mother of comrades Christos and Gerasimos Tsakalos on bail.
According to the latest information, all comrades of CCF continue the hunger strike until the wife of Gerasimos is also released.
-InterArma
Tags: Athens, Conspiracy of Cells of Fire, Conspiracy of Cells of Fire : Imprisoned Members Cell, Greece, Hunger Strike, Mihalis Nikolopoulos, Repression
Posted in Prison Struggle
Monday, March 30th, 2015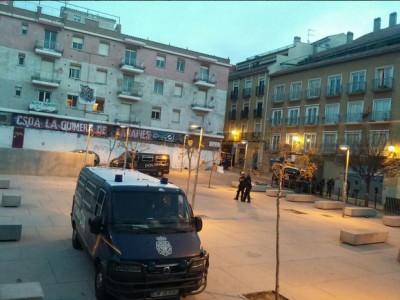 UPDATE: Operation Piñata – Five comrades imprisoned, ten conditionally bailed, address for three of the prisoners
Via squat.net:
This morning in Operation Piñata (following Pandora in December) cops have raided social centres and arrested people (at least 26) in Barcelona, Madrid, Palencia and Granada.
La 13-14 in Madrid announced it was being raided this morning.
CSOA La Redonda in Granada released a communique condemning the raids, which they said occurred without a warrant.
Centro Social (re)Okupado La Quimera in Lavapies, Madrid was evicted. It also stated no warrant was shown after its doors were smashed at 06:30 and added:

"This is just another attack on the anarchist movement with intent to criminalize and victimize our struggle."
Other raided social centres were la Magdalena and La Enredadera de Tetuán.
In solidarity!
On squat.net:
Estado español: Zarpazo represivo, al menos 26 detenciones. Desalojan el CSOA La Quimera

La policia espanyola deté 27 persones en una operació contra col·lectius anarquistes
Tags: Barcelona, Catalunya, Granada, Madrid, Operation Pandora, Operation Piñata, Palencia, Raids, Repression, Spain, Squatting
Posted in Social Control
Saturday, March 28th, 2015

Inter Arma received and translated:
UNTIL THE END…
We continue the hunger strike for the 27th day and are now hospitalized in Tzanio hospital. Our health may be at a "worrying point" as doctors say, but this does not affect us at all. Let us make ourselves clear once again. There is no return from our choice to die if necessary in order to stop the vindictive detention of the mother of Christos and Gerasimos Tsakalos and the partner of the latter. We are people that keep their word and we will remain consistent as anarchists in it. We will not step back. It may sound strange to some, the fact that we are on hunger strike without asking anything for ourselves, but we could not leave this vindictive witch hunt pass. Punishing our relatives for our choices, is a fascist practice. From this position, we can only attempt to put a stop to these practices – by hunger strike. We sincerely thank the comrades who help in all ways the struggle that we give in here to be heard by making solidarity action outside. We will not take even one step back. We do not stop. We are determined to rather die than to accept the idea of ​​our relatives in prison. Until the end and let everyone take his/hers responsibilities.
NEITHER LEFT NOT RIGHT AUTHORITY
DEATH TO THE ENEMIES OF FREEDOM… UNTIL VICTORY
Solidarity and strength to all hunger strikers

Gerasimos Tsakalos
Giorgos Polydoros
Members of the Conspiracy of Cells of Fire – FAI/IRF
PS1. Our thoughts are with all the comrades on hunger strike in hospitals in Greece and especially with Mihalis and Damiano who suffer in the hospital of Evangelismos, known for its history of torturing urban guerrillas during their hospitalization there. Stay strong brothers until victory.
PS2. After the well-aimed intervention in Tzanio hospital by some comrades in the past days, in response to the behavior of the hospital towards anarchist hunger striker Fivos Harisis, the behavior of the medical staff towards us is the one that suits to hunger strikers.
-
Update on comrades – hunger strikers Giorgos Polydoros and Gerasimos Tsakalos

Inter Arma received and translated:
Gerasimos Tsakalos suffers from very strong headaches almost permanently on a daily basis as a result of the multi-day hunger strike. Giorgos Polydoros has α very low pulse (36-40 beats per minute) in combination with low pressure (8/4) which means an immediate risk for a heart attack. Both have already problems with their liver and bile.
The update was sent to us by comrades in solidarity with the hunger strikers
Tags: Conspiracy of Cells of Fire, Conspiracy of Cells of Fire : Imprisoned Members Cell, Gerasimos Tsakalos, Giorgos Polydoros, Hunger Strike, Informal Anarchist Federation (FAI), International Revolutionary Front, Letter, Repression, Tzanio
Posted in Prison Struggle
Friday, March 27th, 2015
Inter Arma received and translated:

Conspiracy of Cells of Fire, 25th day of hunger strike – Either with Anarchy or with authority.
It's already been 25 days that the mother of Christos and Gerasimos Tsakalos and the girlfriend of the second one are locked up in the cells of democracy.
We have already been for 25 days on hunger strike until death, demanding their immediate release.
It's been 25 days and already eight of us are in hospitals with their health condition on the limits.
25 days are not just a number on a calendar, it is the experiment of evolution of repression, with new methods of emotional blackmail against imprisoned anarchist urban guerrillas.
This is not the first time the cardinals of "justice" set up an Inquisition against relatives of imprisoned urban guerrillas. It has happened before in the past, with persecuted relatives who were ultimately acquitted in courtrooms, after they were led as trophies by the police, on the altar of media and journalistic cannibalism. But this is the first time that repression is applied with such intensity against relatives, unleashing pogroms. Three arrests, two detentions and a case file that remains open.
The velvet laws of democracy in a period of leftist management of authority, imposed their own coup, that not even the military junta had dared to impose. During the military junta, when a fugitive and wanted enemy of the regime found shelter in a relative's house, not even the military judges dared to persecute or imprison their relatives. Today, however, democracy is revealed in an increasingly fascist and vindictive way. Even the illusions of freedom, retreat now. It wears the iron chest of law, to ensure its tyranny. It attacks by imprisoning relatives, counter-terrorism laws, hood-laws, persecutions even for political texts, increased power of the judiciary and the counter-terrorism agency, TV-trials with journalists in the role of prosecutors, raids and searches in houses… This is the background of democratic freedom.
Repression, then, is not just a word. It is not only handcuffs, investigators and locked prison doors. It is, above all, a social relationship. It is a constant promise and guarantee of the balance of power's horror. So, this is why we say that the case of the detention of our relatives is not just a personal matter. It is the management of fear and an emotional blackmail which starts from the individual, to reach the collective. The goal is one: the complete isolation and permanent elimination of the choice of the anarchist urban guerrilla.
The power and its system knows, now, that the arrests and imprisonment of unrepentant anarchist urban guerrillas will not lead us to any surrender or truce. Even prison, can become the laboratory of subversive situations for people whose captivity did not extinguish the flame of freedom inside them. It is another thing for one to be arrested and another to surrender. The only way that the system invented to neutralize us, is to isolate us politically, through journalistic slander, and to make us hostages, held not only by the State BUT also by our choices, which now have an impact on our associates, leading them to prison.
Currently, the blackmail of authority is clear: We either make a truce or our relatives will remain in prison. These are the practices of real organized crime and mafia…

Towards the terror dilemma, we answer with the dilemma of dignity and combat – they will either release our relatives, or they will deal with the torching of social peace, on the background of the hunger strike and the interactive relationship of combat and the attack it creates.

Of course, repression has an expansionary intention, as it wishes for fear to take up every possibility of subversive relationship and action. The pre-trial detentions of our relatives work as the forefront of fear, aiming to generalize it. It is no coincidence that, in the investigative offices, they possess and have checked the books of the visits we had in prison since 2011… It is no coincidence that in the courts against us, not only is the name of everyone present kept in the cops' files, but they're also "mapped" (even photographed) by the counter-terrorist officers and the undercover cops inside the court room. So, the message is clear- since they didn't hesitate to imprison our relatives, then every comrade in solidarity can be found captive in an investigative office because they helped us financially, because they sent us a letter, because they talked to us… Here's the point where the puzzle of repression is being set up. The counter-terrorism law describes exactly this condition – "Whoever helps morally or financially a terrorist organization, can be charged with being a member of it". The more indefinite power is, the more totally it governs… So, the counter-terrorism law wished to repress every expression of solidarity. In what other way could the term "moral help" be interpreted? This way, everything is placed on the vice of repression. Moral help can even be to send a book to a prisoner or distribute a text of theirs, or even to publish it on counter-information sites. The same goes for the financial help. Collectives funding political prisoners for their living inside prison, can be targeted.
The wager set against the onslaught of fear is demanding and unconditional. We can reverse the terms and make fear change side. Towards the fear of repression, we can stand up with the stubbornness and the decision to attack, with no truce. The beginning of the judicial coup that imprisoned our relatives can be the starting point of a restart of rupture and battle for total liberation. The hunger strike is a mound of dignity against the suffocating siege of laws. The hunger strike can work as a detonator that may trigger a fairly heterogeneous explosive mixture. It is a meeting point that, on the background of the invasion of the police and judicial state, it connects people of fight, regardless of the individual starting points, the specialties and one's differences. In no case do we promote the fake "unity", projecting the collective amnesia of the ruptures that have taken place. It is not a fake "all together", but an imperative "now it is the time to act". The challenge set by the enemy with our relatives' imprisonment, goes over the individuals' likes and dislikes and this is why it can release a huge dynamic. The dynamic of the sharpening of the constant anarchist attack against every form of power. There, in the attack does one discover him/herself and his/her desires. And we can argue again tomorrow, if we want… But, today, it is time for decisions.

Either with Anarchy or with authority
HUNGER STRIKE UNTIL DEATH FROM 2/3,
FOR THE IMMEDIATE RELEASE OF THE CCF MEMBERS' RELATIVES
NO TRUCE, LONG LIVE ANARCHY
Conspiracy of Cells of Fire – FAI/IRF,
Prison Cell
Tags: Athens, Christos Tsakalos, Conspiracy of Cells of Fire, Conspiracy of Cells of Fire : Imprisoned Members Cell, Gerasimos Tsakalos, Greece, Hunger Strike, Informal Anarchist Federation (FAI), International Revolutionary Front, Repression, SY.RIZ.A.
Posted in Prison Struggle
Sunday, March 22nd, 2015
The government has not met all of the demands of the hunger strikers with their recent parliamentary bill, thus as of now the hunger strikers will continue the hunger strike.
More updates as they come. . .
http://hunger-strike.espivblogs.net/
The demands:
- Withdrawal of the special anti-terrorist legislation and specifically the terrorist and criminal organization laws (laws 187A and 187).
- Withdrawal of the special repressive laws (anti-hoodie law).
- Abolishment of the "C-type" prisons that constitute the finalization of the separation and exemption status of political prisoners.
- Delineation of the use and processing of DNA as legal.
- Immediate release of Savvas Xiros who is being slowly exterminated over the past 13 years by the vengeful state despite his 98 % disability.
- Immediate release of family members of the Conspiracy of Cells of Fire (CCF).
+ Also read: Medical Appreciation on the health of the hunger strikers in Domokos prisons – Greece
Tags: Greece, Hunger Strike, Repression, SY.RIZ.A.
Posted in Prison Struggle
Sunday, March 22nd, 2015
Today, Saturday 21/03 in the morning, about an hour after midnight, comrade Fivos Harisis, after having suffered a fainting episode in his cell, was initially transferred to the infirmary and then to the "hospital" Saint Paul of Korydallos prison. Although the doctor signed a referral for his transfer to an outside hospital, for unspecified reasons, Fivos remained in a hospital cell for the whole night, although it was at hypoglycemic shock limits with his sugar index reaching up to 45. The suffering of the comrade continued until 10 am, when the procedure for his transfer to "Attikon" hospital begun.

Yesterday, the comrade published a text informing us about his experience in Tzanio hospital:
Today, 20/3, and while being on the 19th day of hunger strike, I was transferred, after three hours of staying in the "hospital" of Korydallos prison, to Tzanio with the suffocating escort of EOM and EKAM (special police squads). My transfer to a tertiary hospital was deemed necessary as during my today's medical review, my personal doctor Sakkas Spyridon diagnosed low blood sugar values (59), malaise, dizziness in addition to the fact that I've lost 9.3 pounds equivalent to 12.8% of my body weight.
During my stay in Tzanio all examinations were taking place under the suffocating presence of cops, a fact that didn't irritate doctors at all, as they appeared to be very familiar with it. It is worth pointing out that during two medical tests the cops were willing to remove my handcuffs but the doctors did not let them, thus I had to be examined in irons. After all examinations were done and while I was lying handcuffed on a stretcher with four cops above my head, a doctor came in and started to inject sugar water into the tube they were using to get my blood sample, without asking me. When I realized what was happening (because I had my eyes closed at the beginning) I stopped her and removed the injection myself, asking her intensely why was she doing that without asking me while clarifying that the hunger strike I am on is my conscious choice and that I want to control the current decay of my body. After a short debate the doctor clarified in a harsh way that I as prisoner and a patient will do what the doctors say, not what I want and then she left. After ten minutes, the manager of the pathology clinic, Drimis Stylianos, made clear to me that if I do not accept the serum, I can not be hospitalized. To my arguments that the care of a hunger striker in the hospital is not about administrating serum but offering the best conditions possible in relation to the prison hospital and the direct control of vital organs, he repeated that there is no way for me to be hospitalized without serum. Finally, after my refusal to receive serum, to my question if he takes the responsibility to return me to prison with my blood sugar at the limits of a hypoglycemic shock, he replied that he does and that he has even signed the paperwork that would send me back to prison.
The doctors in each case must learn to step up and not work as subordinates of the cops when the patient happens to be a prisoner. The hunger strike is a conscious political choice of resistance. A choice made knowing the risks beforehand. The medical staff must be next to the patient by providing (in agreement with him/her) the necessary care instead of acting in a repressive way, just like another prison guard. From my side, I continue the hunger strike with no intention to retreat, supporting the demands of the Network of Fighting Prisoners:
- Abolition of counter-terrorism laws 187 and 187a
- Abolition of the law concerning special repressive treatment to actions commited wearing a hood.
- Limiting the use of DNA as a evidence.
- Abolition of type C prisons
-Release of the heavily injured urban guerrilla Savvas Ksiros, in order for him to receive the medical treatment he needs.

For every day that passes and for any deterioration of our health condition, the government of SYRIZA and specifically the minister of Justice Nikos Paraskevopoulos are to be held accountable.
IMMEDIATE SATISFACTION OF OUR DEMANDS
UNTIL THE END UNTIL VICTORY
Fivos Charisis
———
Translated by Inter Arma
Tags: Athens, Fivos Harisis, Greece, Hunger Strike, Korydallos Prison, Network of Fighting Prisoners (NFP), Repression, SY.RIZ.A.
Posted in Prison Struggle
Friday, March 20th, 2015
Translated by Actforfree:
After the deposition of the legislation of the Ministry of Justice, there appears to be a first victory of the political prisoners' hunger strike.
The abolition of the legal framework that defines the operation of the C'type prisons and the beneficial provisions for patients and disabled prisoners, that lead to the release of multi-injured guerilla of the revolutionary organization 17 November, Savvas Xiros, would feel (or at least not so soon) without the struggle that is being carried out. But there is much more to happen.
We do not care for any governmental statement or any promise coming from state employees. Every authoritarian mechanism that deals with a hunger strike by its stated enemies will go into a deterioration war that will include promises, negated deadlines, vague statements and anything that could wear us down physically and/or psychologically. Especially Syriza, who all during its political life as a major or minor opposition demeaned and de-politicized the hunger strikes carried out by anarchist hostages, has great experience in the systemic managing of such situations. (more…)
Tags: Andreas-Dimitris Bourzoukos, Antonis Stamboulos, Argiris Dalios, Dimitris Politis, DNA Forensics, Fivos Harisis, Giorgos Karagiannidis, Greece, Grigoris Sarafoudis, Hunger Strike, Network of Fighting Prisoners (NFP), Repression, Tasos Theofilou
Posted in Prison Struggle
Monday, March 16th, 2015
From RabbleLDN:
Shilan (Silhan) Ozcelik, an 18 year-old Kurdish comrade from London, has been held on remand in Holloway prison charged with preparing to commit acts of terrorism. Her charge relates to allegedly trying to join the fight against Daesh (ISIS) in Syria.
Shilan was arrested at Stansted airport in January after returning from a trip to mainland Europe, but appeared in court only last week charged with the offence under section 5 (1)(a) of the Terrorism Act 2006. She is accused of trying to join fighters from the Kurdistan Workers' Party (PKK), which is banned as a terrorist organisation in the UK. It's the first known prosecution in relation to people in the UK joining the fight against Daesh.
An emergency demo was held outside Holloway on Friday to support her. Shilhan is due to appear at the Old Bailey on 1st April – updates will be shared here if further demos are called.
Write to Shilan at:
Silan Ozcelik
Prison No: A8733DK
HMP Holloway
Parkhurst Road
London N7 0NU
UK
Tags: Iraq, Islamic State in Iraq and Syria (ISIS), Kurdistan, London, PKK (Kurdish People's Party), Repression, Rojava, Shilan Ozcelik, Syria, UK, War
Posted in Social Control