Posts Tagged 'Sabotage'
Monday, November 3rd, 2014
La ciencia hoy se ha convertido declaradamente en un objetivo concreto al cual atacar, desde un pequeño gesto, manifestamos hacia ella nuestro desprecio por ser un templo de dominio e intervención de la vida natural.
La ciencia es uno de los tantos pilares que sostiene la dominación militar, psiquiátrica, heteronormativa, especista, y antropocentrista dentro de la actual era patriarcal. Esta vez, direccionamos nuestras acciones hacia centros donde laboratorios de biotecnología avanzan en estudios y prácticas de intervención genética Esta rama de la ciencia, en nuestros días manipula la vida, por ejemplo, trabajando con células madres, "mejorando" las razas de animales y plantas, interviniendo en alimentos y experimentando en animales, todo esto en un supuesto progreso de la condición de "salud", un concepto construido bajo las asquerosas lógicas de esta sociedad que transgrede la forma en que la naturaleza dispone de la vida. (more…)
Tags: Biotechnology, Chile, Sabotage
Posted in Direct Action
Monday, November 3rd, 2014
English translation via War on Society.
[Noticias de la Guerra Social]
Durante la madrugada del 29 de Octubre del 2014, anonimxs colocaron un
artefacto explosivo en un muro perimetral del cuartel de LABOCAR
(Laboratorio de criminalistica de carabineros) en la ciudad de Temuco, al
sur de $hile.
A las 4:00Hrs Am, detono el artefacto colocado a mediana altura del muro,
en la intersección de Avenida Pedro de Valdivia con San Fernando.
El artefacto explosivo habría estado compuesto por un extintor relleno de un
kilo de pólvora activado mediante un sistema de relojería.
La potente detonación, produjo un boquete de cerca de 60 cm en la
comisaria, estando a corta distancia de un estanque de gas de 400 kilos
que no alcanzo a detonar al interior del asqueroso cuartel policial.
En el lugar no se han encontrado panfletos y hasta el momento ningún grupo
reivindico el ataque. La policía "científica", acostumbrada a esconderse
tras la neutralidad de la "ciencia" y salir de cacería en el wallmapu
encarcelando y matando a comuneros mapuche, esta vez fue blanco del
ataque.
La investigación será llevada por los bastardos de la Fiscalia de Alta
complejidad de Temuco, y tanto el gobierno como los perseguidores
decidieron invocar la ley Antiterrorista para investigar.
Ultima Hora: Tras la detonación del artefacto explosivo, la policía habría
allanado una vivienda en Temuco deteniendo a un compañero acusado
supuestamente de tener materiales para la confección de explosivos. La
fiscalía no lo acusa de participar en el ataque a Labocar.
—–
Chile: Explosive attack on LABOCAR headquarters in Temuco
In the early hours of October 29, 2014, anonymous individuals placed an explosive device on the perimeter wall of LAVOCAR (Criminal laboratory of the carabineros [military police]) headquarters in the city of Temuco in the south of Chile. (more…)
Tags: Chile, LABOCAR, Sabotage, Temuco
Posted in Direct Action
Monday, November 3rd, 2014
Anonymous report on Hayvanozgurlugucevirileri.com:
November 1st should be an action day for animal liberation not a partying day for veganism.
At the European side of Istanbul, on 1st November around 2 am, we did series of actions: Two trucks that transport dead chickens are sabotaged. Tires blown, front windows broken, locks glued.
"Viva animal liberation" slogans are also spray painted in same neighborhood. Another fast-food restaurant nearby is attacked, windows smashed.
Every day action, every day ALF!
Viva Animal liberation!
Down with speciesism!
Everything for our animal friends!
Freedom to earth, animals and humans!

ALF Turkey, Istanbul
Tags: ALF, ALF Turkey, Istanbul, Sabotage, Turkey, World Vegan Day
Posted in Direct Action
Tuesday, October 21st, 2014
From contra-info:
A gesture of solidarity…
On the night of October 12th we used stones, slingshots and Molotov cocktails to sabotage two banking entities in Iztapalapa delegation of Mexico City.
Revolutionary solidarity is how we also show our support to the imprisoned comrades on hunger strike since the 1st [until the 17th] of October by attacking those responsible for this miserable everyday living. It is our response to the harassment of the comrades by guards, physicians and the staff of penitentiary institutions. So ours is a target easily identifiable and relatable to domination.
The insurrectionary anarchist perspective goes beyond the fetishism of fire or weapons. Our approach to anarchy is a struggle that has no interest in being a televised spectacle, nor need for "self-promotion" due to lack of promotion by the State. So ours is a simple and direct communication that corresponds to the requirement of the moment concerning the striking comrades; a simple and easily reproducible means.
The insurrectionary anarchist perspective is a method, often suitable for the generalization of individual and social conflict that subverts the normalcy. For insurrection as many other forms (and in their entirety) open up possibilities for a veritable revolution. An anarchist method for radical and profound change.
No mediation or dialogues with the State and the Capital!
For the struggle against all kinds of power, including the so-called Popular Power that is being sold to us as autonomy!
Tags: Hunger Strike, Mexico, Mexico City, Sabotage, Solidarity Action
Posted in Direct Action
Saturday, October 18th, 2014
On the morning of October 17th, the National Guard Armory in Durham was the target of vandalism intended to disrupt weekend operations at the facility.
We glued five different sets of locks in order to prevent the entry or exit of
vehicles from the fenced lot, chained the front doors shut, and left a message on the brick wall on the front of the building reading, "Disobey orders. Solidarity with Missouri Rebels. Fuck the Police."
This simple act was done in solidarity with all who struggle against police
harassment and occupation of their neighborhoods, and in particular with those
insurgents in St. Louis and Ferguson, whose historic rebellion resulted in a
National Guard occupation of their town. They remind us that when police murder the poor and people of color, the proper reaction is to riot.
We're aware that our act is unlikely to cause major disruption at this facility. It is not a substitute for other kinds of antagonism and combative struggle.
Nonetheless, we see it as a gesture towards that time when such a facility provides crucial vehicles and arms to crush popular uprisings. If the future looks like civil war, let's learn the terrain now rather than later.
To those who train at this facility, we would encourage you to think now about what it would mean to fire on your own neighbors and community members. Some of the most courageous soldiers in history have been those who disobeyed orders and refused to squash a popular rebellion. How will you be remembered when that time comes? Which side are you on? If it was your son or daughter murdered by the cops, what side then?

In defiance and fury,
- Some bull city anarchists
Tags: Durham, Fuck the Law, Sabotage, Solidarity Action, USA, Vandals
Posted in Direct Action
Saturday, October 11th, 2014
http://voiceofanarchopacifism.noblogs.org/post/2014/10/08/3586/
Tags: Czech Republic, Elections, Fuck the Law, Sabotage, Vandals
Posted in Direct Action
Sunday, October 5th, 2014
Anarchists in Australia issue a call out for decentralised attacks, disorder, riots and sabotage around the topic of the G20.
The G20 is meeting in Brisbane in November. This elite decision making body epitomises the undemocratic nature of state-sponsored global capitalism; delegates from the 20 wealthiest economic zones make self-serving proclamations which affect everyone, without open discussion or oversight. …
We are calling for people to form affinity groups in their home towns and
autonomously organise decentralised direct action against the G20 and the capitalist occupation of our lives.
See you on the streets!!
http://planbg20.wordpress.com/
Tags: Arson, Australia, Brisbane, Fuck the Law, G20, Insurrection, Riots, Sabotage
Posted in Autonomy
Sunday, October 5th, 2014
People of Kobane, hear us. In this bitter hour of the inhuman threat, we see you freedom lovers in the world and we call to you: take courage. The city of Kobane is surrounded by the ISIS-murderers. On three sides ISIS confronts the city. If they take the city. it will inevitably lead to a massacre of the remaining Kurdish people on site. They have no way to flee to the north, because there already waiting are the Turkish army …
Turkey will decide at the present day on the extension of the 'anti-terrorist' struggle. This will mainly affect Kurdish people in Syria, which they as well as the PKK (Kurdish Peoples Party) stand on the Turkish terror list. Turkey's fear of the Kurdish people is greater than of the ISIS-fighters. For example, Turkey supports the ISIS-fighters to their best of their will, for example, at border crossings to Syria or arms shipments that were observed by Kurdish people, or the medical care of injured ISIS-fighters in Turkish territory. On the Turkish side of the border, the Turkish army is using force of arms against all those Kurdish people trying to come to Kobane to oppose the corruption. Clashes occur daily there between Turkish security forces and Kurdish people who come from all over Turkey to help the trapped fighters of YPG in Kobane.
Tonight we have attacked the Turkish State in the NATO hinterland to brand it as an inhuman actor in this conflict. Two vehicles of the Turkish State – representatives of the Embassy are burned … At the same time, we appeal to everyone, not to stand idly by, ignite the solidarity for our brothers and sisters.
We tremble with the combatants, but their determination is our courage. We will not abandon the ideals and freedom. Maximum global solidarity!
Long live freedom!
In Memory of Berivan Sason, fallen but never dead!
Commando Berivan Sason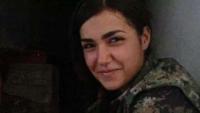 NB: Ceylan Ozalp (Code Name: Berivan Sason) was an active fighter and leader with several comrades in the northern Syrian Kurdish city Kobanê in armed resistance against the ISIS/Daesh.
Tags: Arson, Berlin, Car Burning, Commando Berivan Sason, Germany, International Solidarity, Islamic State in Iraq and Syria (ISIS), Sabotage, Turkey
Posted in Direct Action
Thursday, October 2nd, 2014
via antidev:
'We retransmit this message sent to us from visitors… On retransmet ce message qui nous a été envoyé par des lecteurs-rices…'
So the other night on September 21, we've set fire to a railroad telecomm cable linking Brigham to Sherbrooke (Qc) to the US, thinking about the Algonquins people recently evicted from a resistance camp and detained in Gatineau. We took the time to select a railway bridge in the middle of nowhere near Waterloo, so we'd not have to dig to get to the cables or attract too much attention. Some fuel was dropped through an opening in the steel casing of the cables, then set on fire. Nothing fancy. It worked better than we'd guessed, as a few seconds later it already smelled of burning rubber a few meters away. The enclosed air in the conduit apparently turned the fire into something like a blow torch. Kind of an easy game to be reproduced elsewhere by others, we told ourselves… so that's a reason to let others know.
Of course it didn't cause the whole techno-industrial system to collapse! Society is still pretty much functional today. But you gotta start attacking it somewhere. Though it did feel as if an important nerve deep below society had been severed. And this felt good getting off our asses in the middle of the night for this. (more…)
Tags: Amélie Trudeau Pelletier, Carlos López Martin, Communique, Earth Liberation Front, Fallon Poisson, King Ludd and his army of Fenians, Quebec, Sabotage, Solidarity Action
Posted in Direct Action
Tuesday, September 30th, 2014
37 pages B&W: Setting Fires With Electrical Timers- An ELF Guide
From the introduction:
Electrical timers are superior to delays that use candles, incense or cigarettes. Electrical timers have significantly longer delay times. When electrical timers are carefully constructed, they are more reliable. Each one can be tested repeatedly until you are certain that it will work. Electrical timers are easily protected from wind and
rain, whereas even a mild breeze can be a problem for candles and incense.
This guide has recipes for two electrical timers, the Old-Fashioned Kitchen Timer and the SCR Digital Timer. Both recipes have been greatly expanded to give extremely clear and detailed instructions. Our goal has been to eliminate ambiguity from the directions and to provide as many helpful tips as possible. You don't need prior experience with electronics. You need only practice some with a soldering iron. As long as you pay attention to details and do the proper testing, you'll be able to construct highly reliable timers.
The Old-Fashioned Kitchen Timer is relatively quick and easy to construct. The SCR Digital Timer takes much longer to build, especially the first few times, but it is worth the effort. At the target, it can be positioned and activated with unparalleled speed and safety. In addition, the SCR Digital Timer is extremely precise – down to the minute, and even down to the second, depending on the timepiece. With that level of precision, you can guarantee that multiple incendiary devices will ignite at the same time. Simultaneous ignition is especially important in situations where you expect firefighters to arrive quickly. If ignition is not simultaneous, the first fire may bring firefighters onto the scene before the other fires have a chance to do damage.
There are two other timer recipes that have been passed around. Both have serious drawbacks and should no longer be used. One recipe uses the hour hand on a wind-up wristwatch to push two wires together. It is terribly imprecise and most wristwatches are unable to perform the job. The other recipe uses an alarm clock that plugs
into an electrical outlet. (It must be an alarm clock with a battery backup.) This type of alarm clock shuts off its display when unplugged, creating complications for the saboteur. Another problem is its reliance on a REED relay, which is not a solid state component and not as resilient as an SCR. The SCR Digital Timer is more foolproof and easier to use.
We hope you find many good uses for these timers. Enjoy.
Tags: Earth Liberation Front, PDF, Sabotage, Zine
Posted in Library
Monday, September 29th, 2014
via interarma.info:
Secret animal testing lab revealed!
- Claim of responsibility -
The company BIOMEDVET RESEARCH GMBH operates an animal testing laboratory at:
SÜDKAMPEN 31
29664 Walsrode
Lower Saxony
They are conducting tests on beagles. The laboratory is located at the spot where the infamous animal testing company HARLAN operated a lab. HARLAN left Walsrode at the end of 2009. BIOMEDVET has been there since the beginning of 2010. The animal murder continued, only with other perpetrators. The laboratory is small but for the animals who are dying it does not matter. Murder is murder.
The laboratory is totally secluded in a wooded area. It is well hidden and hardly anyone knows about it. The company has no website. They probably thought they would go undetected. Even in the animal rights scene, the lab may be unknown. Unfortunately it was not possible to liberate the dogs. But we attacked an expensive car on the premises: Paint stripped and glass etched.
Companies like BIOMEDVET must be pulled from anonymity. Our motto: Animal killers, you can not hide! We will find you sooner or later!
Our message to the animal rights scene: Make something out of this! The underground has done its part.
Animal testing is murder. We will resist animal testing and all forms of animal exploitation.
No rest for the animal murderers!
Animal Liberation Front
———

Source: Bite Back
Tags: ALF, BioMedVet Research GmbH, Germany, Harlan, Sabotage, Walsrode
Posted in Direct Action
Sunday, September 28th, 2014
via biteback:
We claim responsibility for the attack on the National Parks and Wildlife Service on the morning of Thursday 18th September.
NPWS were targeted for their part in the war on wildlife, with an extended history, and a continuing habit of dumping 1080 poison (sodium fluoroacetate) into wild places, all under the public guise of 'conservation'. Killing and destroying indiscriminately, how many more lives and lands must be destroyed by this groups insane, ecocidal visions and experiments?
To express our outrage, under the cover of night, we entered their depot on Darug/Gundungurra Country (Blackheath, NSW). During our short visit, two vehicles were set upon leaving tyres slashed, windscreens smashed and a little additive into the fuel, just to sweeten the deal.
If you choose to continue to use this land as your dumping ground, you will encounter us again. Our rage will only burn bigger and stronger.

In defense of predators. In defense of wildness.
- ELF
Tags: Australia, Blackheath, Earth Liberation Front, National Parks and Wildlife Service - Australia, Sabotage
Posted in Direct Action
Saturday, September 27th, 2014
via contrainfo:
Various cells have initiated a series of small acts of sabotage in Costa Rica for months now, yet we really didn't expect that our action would have such a strong impact. It is the first action of this type in this filthy country in many, many years…
For this reason we saw the need to claim responsibility for this action, thinking that many more people would gain strength and shake off the fear that torments us every day, this fear that doesn't let us go any farther…
The technological control is steadily increasing, that's why we decided to take control of our lives for a few moments and carry out this action, which is not an end in itself but the means by which we get revenge for our slavery. On Thursday, June 19th, 2014 we particularly attacked a butcher shop in Cartago with an incendiary device. The fire exceeded our expectations, and according to reports in the Press the total damages were more than 40,000 dollars. The meat industry is a clear reflection of this society: domestication, minimum respect toward nature, and money as a sacred god behind every move. (more…)
Tags: ALF, Animal Liberation, Arson, Cartago, Costa Rica, Earth Liberation Front, Informal Anarchist Federation (FAI), International Revolutionary Front, Sabotage, Savages of the Earth - ELF/ALF/FAI/FRI
Posted in Direct Action
Wednesday, September 24th, 2014
During the course of the week of action against the NATO summit a diverse range of actions were taken by many different groups and individuals. Here is a summary of what happened:
Friday 29th August
- Stop NATO camp set up at Tredelgar park in Newport
- BAE systems attacked with fire in Filton and vehicles torched at army cadet base in Bristol as acts of resistance against NATO
Saturday 30th August
- Mass march and radical bloc against NATO in Newport
- Effigy of Obama burned in Cardiff
Sunday 31st August – Action against securitisation and repression at the 'fence' in Cardiff
Monday 1st September – Sabcats anti-austerity action at Newport jobcentre and army recruitment centre.
Tuesday 2nd September
– No borders noise demo at UK Borders Agency in Cardiff
- Activist locks himself inside Cardiff Keep in Cardiff Castle where the NATO dinner is due to be held
Wednesday 3rd September – Activists hand in a demand for the arrest of NATO leaders to police in Newport, based on evidence leaked by Chelsea Manning of war crimes.
Thursday 4th September
– No to NATO March on Celtic Manor from centre of Newport and mass demo against the NATO dinner at Cardiff Castle
- Activists chalk out the connections between NATO and arms companies in Newport
Friday 5th September
- Activists again try to present evidence of war crimes at Newport police station
- Occupation of Barclays Bank in Newport calling for Barclays to ditch their shares in Israeli arms company, Elbit. Four activists glue themselves inside the bank
Saturday 6th September – Solidarity demonstrations outside Newport Magistrates Court in support of Barclays occupiers.
-
The struggle continues
Last week we saw a diverse struggle against NATO in Cymru. Marches against NATO in the streets of Newport and Cardiff; actions against the forces driving war in the banks and the securitised zones; workshops and discussions at the camp about connected issues from Gaza to police repression at the camp; people spreading the word in a hundred different ways, from conversations with locals, to the camp, to the web. But the struggles against capitalism and militarism are not a one-day, or even a one-week, event. The actions taken this week by Stop NATO Cymru, the Anarchist Action Network and other organisations are a small part of building up a movement capable of bringing about radical change.
So, when we look back, does it make sense to ask whether we "succeeded" in the week of action? We think it does. If one more mind went beyond the distortions of the mainstream media because of what we did, then yes we 'succeeded'. If one more pair of feet was spurred onto the streets by what we did, then we succeeded. And if one more pair of hands joined with ours, yes, we succeeded. In the coming struggles, those hands will again pick up the tools to take action, until the last drone is smashed. We hope to see you there.
Tags: BAE Systems, Barclays bank, Cardiff, Chelsea Manning, Demo, Elbit, NATO, Newport, Sabotage, UK, UKBA, Wales
Posted in Direct Action
Wednesday, September 24th, 2014
325 receives and translates:
This day at dawn [18/9] we organized to sabotage, sealing locks with steel liquid, many branches of one of the industries with the highest presence of death in the metropolitan region; Doner meat. Local places sabotaged were the following:
Buin
General Balmaceda #231
J.J. Perez
J.J. Perez #7275
La Florida Avda.
La Florida #10301
Macul 1
J.P. Alessandri #2054
Macul 2
J.P. Alessandri #4185
Maipu 1 (Local con Mayorista)
Avda. 5 deAbril#157
Maipu 2
Pinochet Lebrun #86
Maipu 3
Chacabuco #99
Melipilla (Local con Mayorista)
Ortuzar #899
La Estrella
La Estrella #1035
Pte. Alto 1
Avda. Concha y Toro #480
Pte. Alto 2
Jose Luis Coo #084
Santa Rosa 1
Santa Rosa #8151
Santa Rosa 2
Santa Rosa # 8069
Alameda (Local con Mayorista)
Chacabuco #1 D
La Vega (Local con Mayorista)
Los Artesanos # 711 local 15
Pte. Alto 3
Avda. Concha y Toro # 225
Plaza Egaña (Local con Mayorista)
Larrain #5707
Gran Avenida
Gran Avenida #8522
We dedicate and remember with integrity, through this action and these words Comrade Avalon*, direct action activist of earth and animal liberation.

For now no more to say … that's all friends.
Abyssal core of action
-
* Avalon, 'William C. Rogers', was a comrade of the Earth Liberation Front in the United States who suicided during the investigation of the FBI Operation Backfire, known as the 'Greenscare'. Avalon made a statement of escape on the night he died, mailing it to several friends, and asphyxiated by a plastic bag over his head. He defended his choice as a return to the heart of life and death, and from where the agents of the law can never reach us. Honor and dignity to Avalon, who through his example showed courage and determination in the face of the enemy, he who refused the trial and prison process and made his choice in an impossible situation of betrayal. Let the blood shed from the snitches and the collaborators who still live, those who ratted on their comrades of the Earth Liberation Front. Fire and rage against each and every cage.
"To my friends and supporters to help them make sense of all these events that have happened so quickly: Certain human cultures have been waging war against the Earth for millennia. I chose to fight on the side of bears, mountain lions, skunks, bats, saguaros, cliff rose and all things wild. I am just the most recent casualty in that war. But tonight I have made a jail break — I am returning home, to the Earth, to the place of my origins." Bill, 12/21/05 (winter solstice)
Tags: Abyssal core of action, Animal Liberation, Avalon, Chile, Earth Liberation Front, Sabotage, Santiago
Posted in Eco Struggle
Monday, September 15th, 2014
From Actforfree, via an Italian translation by imprisoned eco-anarchist Marco Camenisch:
For almost 20 years company Sodexo has been the target of people like us, who are struggling against the racist and neo-colonialist system. It started in 1997, when Sodexo offered to take on catering and other services destined to refugees in the knowledge this would result in a huge turnover. Since then Sodexo has been internationally known as a company who became a big multinational operating in many countries under low cost management, i.e. by racially reducing human life to a question of figures.
After the justice sector was privatized in Great Britain, Sodexo took on the management of 5 prisons. In this case too, people without the status of citizens were put in the hands of private companies by the State in exchange of huge amounts of money. According to economy laws these companies gained total power in the exploitation of their resources. And they've been saving on human lives first and foremost (…)
Greetings to the rebels locked up in one of the British Sodexo jails, who rose up in March when 50 prisoners took control of an entire prison unit for a remarkable length of time, and to the group that gave us news of this and attacked the court of Yate with gas and petrol.
Actions against Sodexo were recently carried out also in this country: on 28/10/2013 and on 17/6/2014 unknown people set Sodexo vehicles on fire (1 and 2).
During a No-Border Camp in Brussels, a Sodexo building had all its windows smashed and another one was flooded with oil.
Following the abuses of those who want to govern migration in Berlin and elsewhere, we think it necessary to widen these practices of attack and at the same time to develop a strategy aimed at damaging the deportation machine well beyond symbolic gestures.
After the arrest of Bernhard of K.O.M.I.T.E.E., history is repeating itself and we all should take the occasion to gather new strength and knowledge. Here is our contribution in a beautiful night: we dedicate the arson of a Sodexo vehicle in Neukolln to Bernhard, Peter and Thomas, who almost managed to blow up a jail in Grunau 1995, following a string of deportations, and who had to go on the run until today; unfortunately Bernhard was arrested at the beginning of July 2014 in Venezuela and is awaiting extradition to Germany.
We agree with the communiqué issued by the comrades of the three, which we quote here: "What's happening on the borders outside the EU every day, the super-armed Frontex apparatus, the inhuman conditions in German migrants' detention camps and also the struggle of people living as clandestine demonstrate how courageous and visionary was the attempt of the comrades at putting an end to this practice of the system."
…
It's time we remembered the past: not only the K.O.M.I.T.E.E but also the Revolutionary Cells (RZ) who have given strong contributions to this struggle.
Let's consider what has been done, let's think of new things to do, new strategies for the struggle against state racism and exploitation. Let's increase the pressure on the bosses and let's make space to a new liberated world.
Fire to Sodexo and to all the exploiters in this world order that despises humanity. If people are dying it is our duty to act and to intensify the struggle against those who only care for profit and don't give a shit of human lives.
Burning vehicles can only be small lights in the sky of resistance, many small stars form a constellation, all together they make a bright night.

Komitee Galaxis
Tags: Arson, Berlin, Bernhard Heidbreder, Germany, K.O.M.I.T.E.E., Marco Camenisch, Revolutionary Cells (RZ), Sabotage, Sodexo
Posted in Direct Action
Thursday, September 4th, 2014
A night in Bagcılar… we were at the foot of the Beast

Even though, the deepest darkness of the night is thought to hide all of this system's infamies, it also becomes accomplice to some furious hookers who want to destroy this shit before the dawn. Although street lights, shop lights, surveillance cameras and MOBESEs sure- the eyes and ears of the State- prowl to betray us by giving a feeling like we're under the surveillance of a rapist, this can not prevent us from transforming our rage against this rotten system to action by coalescing with shadows which remain for us from the night.
Here in one of the nights again, in Istanbul/Bagcilar, we attacked a yellow beast, which only has a task to dig concrete disintergrating the land, which takes an active role in the clear-cut of forests and in the urbanization of the last places remaining without concrete, by cutting the blood stream and defusing the connection between its organs.
We took this action in order to contribute to the "Anarchist Prisoners Global Week of Solidarity (23-30 August)". First, we dedicate this action to anarchist comrade Tamara Sol Farías Vergara who is now in prison under charge of shooting and wounding a security guard of a bank, then Nikos Maziotis, who is now in prison after being arrested in an armed conflict, claiming the tradition of never surrendering, and to his partner Panagiota Roupa who is on the run now. Also we dedicate this action to all anarchist and anti-authoritarian prisoners around the world who are fighting against the institutions of domination.

"We were awake last night, with the dawn somethings were going wrong somewhere."

FAI/IRF Furious Hookers Militia
Tags: Bagcilar, FAI/IRF Furious Hookers Militia, International Week for Anarchist Prisoners, Istanbul, Sabotage, Solidarity Action, Turkey
Posted in Direct Action
Saturday, August 2nd, 2014
In the early hours of Friday, July 18th, we attacked the Nissan Dealership in the Olympia Automall by spraying brake fluid on and slashing the tires of new yet-to-be-sold cars. We did this in solidarity with Amelie, Carlos, and Fallon (Better known as the 5E3 Prisoners.).
These three were arrested in Mexico City in January 2014 in alleged connection the firebombing of a Government Building and Nissan Car Dealership in the center of the city. Whether these three be innocent or guilty, we know they desire a world that is free from domination, a world where anarchy has a potential to flourish and our enemies are forced to deal with consistent attacks. We know that Amelie, Carlos, and Fallon are brave individuals who will be able to handle whatever any state-force chooses to throw at them. We are inspired by their courage, and their confinement only make us wish to continue our attacks on institutions of domination, support for each other, desire for a world free of prisons and capital.
We attacked this dealership to let our comrades know that they are not alone, that despite their imprisonment the anarchist struggle still continues on. We hope to see more actions like this occur.
Remember; It's Easy To Attack!
P.S. – According the Mainstream Media (link below) windows at the dealership were also smashed. While we wish we could say that we take credit for this, we are slightly puzzled how this action occurred, because all we used was brake fluid and knives. Perhaps the dealership was hoping to get more insurance money from this situation? As we all know capitalists are parasites. If indeed some other vandal was there that night – hats off!
http://www.komonews.com/news/local/Vandals-damage-23-vehicles-at-Olympia-Nissan-dealership-267730771.html
Tags: Amélie Trudeau Pelletier, Carlos López Martin, Fallon Poisson, International Solidarity, Olympia, Sabotage, USA
Posted in Direct Action
Wednesday, June 11th, 2014
325 receives and transmits this communique released on the June 11th International Day of Solidarity for Marie Mason, Eric McDavid and all long-term anarchist prisoners:
Around Bristol between June 9th-10th, we left 7 mobile phone antennae in flames. Daily continuation of capitalist society is dependent on uninterrupted flows (of goods, people, data, and energy) and the communications grid is no exception. The limited uses most of us can make from these flows only mask the way they are mainly used to oversee and impose the dominant order, and increase its' reach and control.
You need only look to how the values of connectivity, speed, and mobility that are embodied in a mobile phone (for example) facilitate a relentless consumer culture and the requirement to be available and flexible at all times: as much for the benefit of the boss and the advertiser as for your family or friends. This is fully consistent with the modern restructuring and decentralisation of the gigantic productive system which this society subjects us to. Hindering all this was our objective.
2 antennae went up simultaneously, in Hambrook and outside Ram Hill business park in Coalpit Heath, both owned by O2. This is also not the first time O2 have been singled out for damage acts because of the contracts they hold in the migrant detention industry, with cops, and tagging for the probation service. Some hours later a 3rd O2 antenna went up in Coombe Dingle, at the same time as a 4th fire was lit after gaining access to transmission units connected to the huge BT telecommunication tower in Lockleaze. Signals that will have been affected are those of O2, T-Mobile, Orange and Vodaphone.
These corporations variously are connected to the field of military equipment and armament, use prison labour, and are famous for readily collaborating with electronic policing by the secret services (now that widespread data-surveillance is well known) while not even stopping at financing Oxford university with its' extensive animal experimentation labs. This has already led to their interests being attacked in Berlin (T-Mobile's parent company*), Paris (Orange*), and Banbury (Vodaphone*).
For all above reasons it is always good to harm these corporations, structurally and economically, and then there is the issue of the antennae themselves radiating who knows how much harmfulness to nearby species. There were the publicised cases in Bristol even some years ago of a woman in Shirehampton who complained of the affects of an antenna put up on her high rise flatblock and later died from a brain tumor, while an antenna nicknamed The Tower of Doom was withdrawn from Staple Hill after cancer rates soared. Evidence has mounted up that prolonged use of mobile phones damages the immune system, decreases fertility, and causes brain tumors and cancers: especially in the young. We should mention that the antenna we burned in Coombe Dingle is one of three on the grounds of a university sports pitch also marketed for schools, as are many others. Additionally, twisted lab technicians claim to have deduced from experimentation on other mammals (built on torture like so much scientific research) that exposure while still in the womb "significantly damages brain function, structure and behaviour and suggested that these exposures could contribute to children's behavioural disorders".
These products were and still are pushed on us as harmless, although nearly every study that claims this was funded by the industry itself, when we had no idea of the long term affects, similarly to the marketing of asbestos or smoking before they began to show their deadly toll (to use only 2 better known examples among thousands). These days even researchers at Bristol university concede the dangers of cellular use. What a surprise….the permanently wired environment turns out to be toxic, while companies make a killing in profits and the government receives billions in taxes and licensing. For most people prolonged contact with mobile phones or wireless networks in general seems unavoidable, for work or to avoid social marginalisation, in the street, on public transport, or at home: we are soaking in one more accumulative barrage in a poisonous, anti-human and anti-life civilisation that grows by the day.
A recurring feature of the estrangement that technologies such as mobile phones actually cultivate between individuals, is how many addicted to their constant use now prefer to text message or to "tweet" to avoid the prospect of real life contact, and how many only feel safe communicating from behind a device. It is now completely standard for people to spend the majority of their waking hours interfacing with one screen or another. Up and coming inventions such as Google Glass attempt to make this enclosure near total (although also dependent in part on uninterrupted transmission infrastructure). As a society that lives through highly complex technologies, we no longer fully inhabit our bodies and environment but instead some part of the techno-hive: and it is no longer only nerds and the young who practically call this virtual reality their home. As the sphere dominated by information technology expands, what is considered socially of importance in our actual lives shrinks to what can be conveyed and received by the device, and so narrowing human emotion and experience. Or think about the obsessive urge to treat modern life as something less to be lived than to be documented in each detail for passive consumption on the "social" networks, as another example of colonisation by capitalism and its' technology.
Planning and carrying out your existence digitally also allows the possibilities of unprecedented surveillance, and it hinders active rebellion or even questioning of the dominant order by flagging up "abnormalities" in what you often voluntarily share with your friends or "Friends." At the same time, concerted exploitation of the base populations around the world and ecological pillage to the point of collapse continues to fatten the same rich parasites' pockets, and technological immersion helps people neither relate nor care. On the contrary millions now hunger for their part in the way of life that is killing everything.
With an anarchist perspective in search of free and fulfilling existence, we fight to do away with all technologies born from the toxification and slavery of mines, factories, and industrial infrastructures, and for our daily communication to be as unmediated as possible. Taking down these few nodes was not enough for us, it is not a case of simply abandoning the uses of a particular device alone, but it is erasing the whole social system which first trapped us in its' "necessity" which is the challenge. We found antennae an easy way to start: it is simply a matter of burning tires between the exposed cables and away you go. In North Lanarkshire, Scottish villagers even felled one. By reflecting on radical and anti-industrial history in Britain (such as the Swing and Luddite insurrections), as well as contemporary anarchist guerrilla praxis, we can see the advantage of low-tech, cheap, and easily reproducible tactics to wreck machinery that encloses and impoverishes us, on an even more intimate level presently than ever before. These ubiquitous (and highly expensive) structures are spread around every town or city and further industrialising the countryside, where they are sometimes painted green in the attempt to camouflage them: and disgustingly even have bird and bat nesting boxes mounted on some. Their guardians cannot always be watching them all so it is up to our ingenuity to remain a step ahead and stretch their forces thin. This and every network has its' weak points, in these cracks in the architecture of control that afford us leverage: a destructive capacity we are appropriating. As the promises of hyper-technified modern culture continue to show their shallowness, rebels will carry on acting against the noxious installations and the way of life they feed.

"….Resistance against the Technological-Industrial Machine lives only through the path of liberation from every power and order, runs towards an event horizon where nothing has been written yet." – Letter from Gianluca Iacovacci, from C.R. San Michele prison
Our attack is not separate from overall anarchist subversion by all means, which naturally includes solidarity with our prisoners in enemy hands. A wild greeting from Bristol to Adriano Antonacci, no less than to his friend and comrade Gianluca (FAI/IRF Subversive Anti-Civilisation Individualities) whose brave lone acts in Rome he is also accused of. Hello to the new anarchist and anti-colonial groups in Hong Kong and Australia, and solidarity to the Paris ten accused of sabotaging prison profiteers.
Our attack came at a time when the networks are already set to be overloaded by the World Cup hysteria, to show our complicity with the insurgent fighters in Brazil as they answer massive dispossession and militarised slum clearances for the opulence of the games with street battles and arson. Because it should be remembered that the enthralling spectacle, that is staged to make the rich yet more money and to distract us from our daily humiliations, is based on the State and Capital's violence against resisters, the indigenous, and the poorest in Brazilian society.
Let's not forget Marie Mason and Eric McDavid: both are still behind bars after State repression and entrapment which followed an early string of Earth Liberation Front strikes in the USA. Years later the earth liberation struggle is not defeated either in spirit or in practice. The fight goes on with fur farms raided and emptied across North America, and our incendiary-minded sisters or brothers prowling the besieged Turkish forests, the streets of the Costa Rican metropolis, or the techno-industrial developments in Switzerland (on the last note: a quick reminder that the continuing legal threats against the released anarchists Silvia, Costas and Billy, and also the latest vindictive treatment of Marco Camenisch around his prison transfer, have not gone unnoticed by the international fire-starters).
Down with the society based on dominating earth and all its' creatures.

Live Wires FAI/ELF

(14th contribution to the international Phoenix Project, one more part of a war that will never be contained by a legal code)
* http://en.contrainfo.espiv.net/2013/01/08/berlin-incendiary-attack-on-deutsche-telekom-vehicle-in-friedrichshain/
* http://nantes.indymedia.org/articles/28902
* http://www.directaction.info/news_mar12b_06.htm
Tags: Arson, Bristol, Earth Liberation Front, Informal Anarchist Federation (FAI), International Solidarity, June 11th Solidarity, Live Wires FAI/ELF, Phoenix Project, Sabotage, UK, Vodafone
Posted in Direct Action
Sunday, June 8th, 2014
via bellyofthebeast:
An arsonist has started four fires in Banbury leaving the High Street closed. At about 2.15am, three ATMs in High Street were set alight causing damage to the buildings although no money was stolen. The three banks targeted were Santander, Yorkshire Bank and Lloyds. A short time later, Freemasons Hall in nearby Marlborough Road was also set alight. All four fires were believed to have been started deliberately using petrol. See below for more photos… (more…)
Tags: Arson, ATM Burned, Banbury, Lloyds TSB, Sabotage, Santander Bank, UK, Yorkshire Bank
Posted in Direct Action