Posts Tagged 'Sabotage'
Friday, April 11th, 2014
325 receives and transmits:
During the evening of Wednesday April 9th. 3 Bank atms in Seattle had their credit card slots sealed shut. This was done in solidarity with the hunger strikers at the Northwest Detention and for Amélie, Fallon and Carlos.
- Some Anarchists
Tags: Amélie Trudeau Pelletier, ATM, Carlos López Martin, Fallon Poisson, Sabotage, Seattle, Solidarity Action, USA
Posted in Direct Action
Tuesday, April 8th, 2014
During the night of February 14th we, the silent shadows, sneaked into the tree cutters camp.
It was 3 o'clock in the night, but the workers were awake. They were going back-and-forth around the encampment, one quarry excavator was raping Nature while guards were watching TVs on their posts drinking beer. In our experience the camp was pretty large: 6-7 living sheds, several sheds for tools, 2 passenger cars, 3 excavators and 1 grader. Having sneaked between sheds and vehicles, we selected two excavators that looked as the most recent addition to local park (i.e., their loss will be most expensive). After that we followed routine procedure: put some rags around engine parts and oil pumps, soaked them with gasoline, etc. After we left the area, we tarried for some time to enjoy the night view. Both excavators were trailing huge columns of smoke into the air. We establish the damage done at around 6-8 million rubles (approx. 200 000 USD).
We hope this act will slow down operations in this quarry. The area already boasts several abandoned quarries. Since our initial recon in this district large tracts of wood were drained and cut in order to clear up space for more quarry works. The sand excavated in here is used for future development projects that do not take Nature or clean air into account.
We wish best of luck to all of you. Keep that fire burning.
MOSCOW 2014, ELF/FAI/IRF
Tags: Arson, Earth Liberation Front, Earth Liberation Front (Russia), ELF-Moscow, Informal Anarchist Federation (FAI), International Revolutionary Front, IRF/ELF-Moscow, Moscow, Russia, Sabotage
Posted in Direct Action
Sunday, March 30th, 2014
via contra info:
1,000 hours of theory equal 1 minute of action.
In the early morning hours of Friday, March 21st, 2014, we attacked the tax office of the Nea Ionia district in the city of Volos. We chose to torch the tax archives, and poured records with gasoline and lit them on fire. Our goal was to expand the flames throughout the whole of the building, but due to lack of oxygen the fire didn't spread. Next time we'll be more cautious.
- The reasons why we chose to target the tax office are self-evident. Our only debt to the main predatory mechanism of the State is its destruction.
- Action replaces tears.
- We take action to overcome our fears.
- We will not wait for any condition to become ripe.
- We will not wait for any society to wake up.
- We will not wait for any 'revolutionary' to revolutionize oneself.
We urge anyone who doesn't want to live a slavish life, anyone who consciously opposes this aging world, to let go of the miseries and ideologized inactivity, and act aggressively.
Let us be the ones who start to determine the current event agenda.
Anarchists in action
Tags: Arson, Greece, Nea Ionia, Sabotage, Volos
Posted in Direct Action
Sunday, March 16th, 2014
325 receives and transmits:
Last night the nazi publishers at counter currents got the message.
Bricks and paint bombs.
We got close.
We will get closer.
For antifascists in Ukraine, Sweden, and the world.
Tags: Neo-Nazis, Paint bombs, Racism, Sabotage, San Francisco, USA
Posted in Anti-Fascist
Wednesday, March 5th, 2014
On Saturday [1 March 2014] the Department of Corrections Office in Seattle was paint bombed and had graffiti written on it with the message, "Destroy All Prisons (A) FTP (A)". The office is a site of the prison society we all live in. The grand jury in Seattle has for the last year and a half embodied that prison society we struggle against. This action is meant as a small gesture against that repression and in solidarity with those who struggle against it. Fuck the DA, the FBI, and the grand jury.
Tags: Grand Jury, Paint attack, Paint bombs, Sabotage, Seattle, USA
Posted in Direct Action
Thursday, February 27th, 2014
While we lit a cold and dark night with a pile of iron, the rising flames could be seen far from the site and aside from the pleasure that has given us, the action was taken in the service of eco-vandalism lobby which has a name that's never been heard.
On Thursday, February 20th, in Poyraz rural regions of Anatolian part of Istanbul, we attacked an excavator which is left to sleep on the verge of excavating the nature and we spray painted several locations around the site with the signs of 'ELF-FAI/IRF'. While this nature killer became unusable with a simple, time-set, handmade incendiary device, the message we wanted to give was clear: "If you build it, we will burn and destroy it!".
Our major motivations for this action are;
We wanted to emphasize that the definitive attack against the dictatorship which legitimizes itself by conducting ecocide projects such as '3. Bosphorus Bridge' and 'Canal Istanbul', has to be manifested no more relying on stereotypes liberal-pacifist "consciousness raising campaigns" and "judicial process". These kind of organizations are just trying to delay what is unavoidable and to hinder the reasonable eco-defense ground against current ecological destruction. Trying to get a positive decision from the State's justice system which is actually the contractor of ecocides, they help weakening the anger by channeling it to polls or social media shares. (more…)
Tags: Arson, Earth Liberation Front, ELF, Informal Anarchist Federation (FAI), International Revolutionary Front, International Solidarity, Istanbul, Sabotage, Turkey
Posted in Direct Action
Wednesday, February 26th, 2014
325 receives and transmits:
On the night of February 22nd, we poured a mixture of sand and water into the fuel tanks of two tractors used in the construction of a new Atlanta streetcar. The streetcar is one of many major development projects the city has initiated in the past few years as a part of a general plan to revitalize downtown. We know that this plan only means more police and unaffordable housing.
We offer this small gesture of solidarity to the ZAD, the No TAV movement, and the occupation of the Hambach Forest. We would also like to send strength to those affected by increased surveillance or repression the new developments have brought to Atlanta.
Our action was very simple to perform. It did not take long to plan or to enact and we found all of the materials on the side of the road. We do not believe that an accumulation of "actions" makes a revolution, but we wanted to give encouragment to the current and future participants of revolutionary struggles. Onward, strong hearts!
Tags: Atlanta, Hambach Forest, Sabotage, Solidarity Action, TAV, USA, ZAD
Posted in Direct Action
Tuesday, February 11th, 2014
Anarchist-Hooligans strike again…
Too many city-slickers playing at being country folk, driving around in status symbols, in a dream where the fuel never runs out, "oh it's such a stress parking the landie, when I do the school run" why not get a smaller car, ride bikes, bus it, use your legs or even better have a lobotomy…
In the middle of December last year in Bristol, Sneyd park & Bathwick hill area of Bath, somewhere between 20-25 4×4′s/service utility vehicles had the air removed from their front tyres via several puncture wounds, there wasn't a splash of mud on any of them! If we embrace a wide array of the aspects of anarchy then we can possibly feel healthier, more rounded & balanced as a whole within our own being, attempting to address the issues as best one see's fit realising you can't just pick & choose the nice bits that might neatly line-up with what one's decided is comfortable. To acknowledge the challenge to take up & carry the torch that one extra mile, firstly for ourselves & our close friends, remembering out there the glowing spirits that flicker & know in themselves they too have to kick themselves out of this shit that we are all in, seeing that generally things are a little rough around the edges but exciting at times & on some days even potentially dangerous. (more…)
Tags: Bath, Bristol, Informal Anarchist Federation (FAI), Sabotage, SUV, UK
Posted in Direct Action
Thursday, December 5th, 2013
The night before last night we attacked the electronic communication net in Berlin (Germany). Our act of sabotage took place at a Vodafone radio tower and is meant as a symbol against total surveillance by governments, secret services and transnational corporations. Vodafone was chosen because it is eagerly engaged in cooperating with the british secret service GCHQ. GCHQ cooperates with the american secret service NSA. And NSA in turn cooperates with german secret service BND. Secret services collect patterns of normality and compare particular behaviours in order to find out if you could plan something deviant before you know it yourself. The collaborations of secret service industry and the industry's secret services secure the conditions of profit and power for both of them.
For us, the careless use of electronic devices and internet applications is problematic: Every move can be digitalized and technology is not neutral. We don't know how an emancipatory development of communication looks like, but we believe it would work in a different way and we have to find out together. In the meantime, we encourage to block infrastructure and bring it to a halt – against the stream of exploitation and surveillance, against a society based on destruction of human and nature.
Sabotage of the surveillance industry and infrastructures of exploitation!
Blind secret services!
Freedom of Movement and asylum for Edward Snowden and everybody else – No border, no nation!
Freedom for Chelsea Manning!
Anonymous/Vulcanogroup Katla
Tags: Berlin, Germany, Sabotage, Vodafone
Posted in Direct Action
Sunday, December 1st, 2013
Phoenix Project, Act 8: Action with incendiary/explosive device against a Board of Elections office and in solidarity with Mónica Caballero and Francisco Solar. (Chile)
We are not spectators, but convinced enemies of all forms of domination.
Today, wielding the weapons of life and the ideas of rebellion, we wanted to give away a bit of anarchic momentum.
Today, we decided to attack the 98th Board of Elections office in La Reina commune [in Santiago] with an incendiary/explosive device, because we are convinced that the current state of affairs is sustained not only by those who administer domination, but also in the servile attitude of those who tacitly endorse it. (more…)
Tags: Arson, Chile, Francisco Solar, International Solidarity, Long Live Ilya Romanov Cell, Monica Caballero, Phoenix Project, Sabotage, Santiago
Posted in Direct Action
Thursday, November 21st, 2013
In the early morning of the 19th of November, the cops national special forces and the SÄPO (~ equivalent of MI5,FBI) organized a raid called Operation Eskil. The targets were a group of anti-fascists in different parts of the middle of Sweden. Some people were arrested, accused of attacking nazis and in several house raids the cops claimed to have found a lot of weapons and material for building incendiary devices.
Even though we do not share the socialist views with the anti-fascists, we do share a common enemy and the enemy of our enemy is a friend.
In response to the cops attack on our co-combatants, we decided to attack the cops. In the evening of the 19th we smashed the entrance windows of a cop station in Växjö, south of Sweden.
A modest action, non the less a promise of what will come when they attack our comrades.
Some anarchists with a passion for cop hatred
Tags: Fuck the Law, Operation Eskil, Repression, Sabotage, Sweden, Vaxjo
Posted in Direct Action
Monday, October 14th, 2013
From Bite Back:
"To continue the momentum of direct action targeting speciesist companies in Portland, we slashed several tires on company vans at Sunshine Dairy Foods, located at 801 NE 21st Avenue. We are happy to see the surge in illegal actions in Portland. Keep fighting.
Until all humyn and non-humyn prisons are destroyed
FAI – OREGON"
Tags: FAI - Oregon, Informal Anarchist Federation (FAI), Oregon, Portland, Sabotage, USA
Posted in Eco Struggle
Friday, October 4th, 2013
A major line of Power was sabotaged. It occurred about a month ago (today is October 3rd 2013), during a pleasant night in the countryside somewhere in eastern Kanada, as all the comfortable slaves were so happily preparing their children to go back to a new level of brainwashing and behavioral social conditioning, with cops now keeping a preying eye upon them at school, so to prepare them for the prison world.
Lifting myself out of despair and isolation from this social daymare, I went on this nightly escapade to perform an act of monkey-wrenching against a High Voltage Direct Current (HVDC) power line, unbolting a bunch of nuts on two out of the four legs of those steel goliaths of technological enslavement that circulate power cross border, with only a large wrench, and a light metal tube to fit on the handle for extra leverage. While I would have greatly enjoyed the company and team work of other insurgents, I neither had the time or energy left to get them into action. But rest assured I did it no matter what, have put a lot of sweat into it, and it wasn't a big deal at all. So they say, it's easy to attack. Getting in and out of there is always harder.
I did this for Jerry Koch, for Marie Mason, for Maddy Pfeiffer, as well as for the millions of lesser-known others rotting in the concrete cells of a hardcore bandit capitalism that reigns over the US and the West in general. I want to bring down this fucking system of corporate piggery, and thought that literally bringing down their system's backbone, one bolt at a time, seems like a favorable tactic. (more…)
Tags: Canada, Pylon, Sabotage, Solidarity Action, USA
Posted in Direct Action
Wednesday, October 2nd, 2013
from vivalaanarquia, transl waronsociety:
Trying to be at our best and to continue maintaining the dignity deserved by human lives that rebel against the authority that provokes all kinds of oppression over the face of the earth in which we live, we again go on the offensive in the war declared by the lovers of freedom and their enemies.
We remember that in the prisons of the territory dominated by the Argentine State the prisoners who are there continue to be murdered and tortured. And in the streets the misery goes on increasing, the alienation of work and consumption obscures the consciences of the people who constantly go around tensioned by the contradictions of a system that is proclaimed consolidated by a government that speculates with the economic sciences, trying to hide their tyrannical condition at all costs.
Sit down, victims, because nothing you have yet suffered compares with the humiliation that all of us feel, we who are threatened with the death and radical confinement which nourishes the theory of those who have the power and will to profit off of the authoritarian methods and practices of civilized society.
Our proposal is the direct attack on those responsible for the misery of this reality, now the prison guards are in the sights of all the insurgent compañerxs — or is it necessary to keep saying what points we have in common? Actions say much more than words, but it is also necessary sometimes to mention what the media constantly try to hide.
The cars that we burned at 3000 Amenabar street were parked right outside one of the properties of Sergio Berni (secretary of the Ministry of Security), under 24 hour surveillance by the Federal Police.
The little bomb we set off in the Prison Guards' Mutual (Argentine Borders Building), located at 2264 Bartolome Mitre street, on Thursday September 19, 2013 at 1:40 am, unfortunately only caused material damages; we would have liked to find out that a servant of law and order had at least been injured.
We salute the compañerxs of the Conspiracy for Revenge and all those who, without lots of questioning, go on the offensive against authority all across the world.
Long Live Anarchy!
Friends of the Earth
Informal Anarchist Federation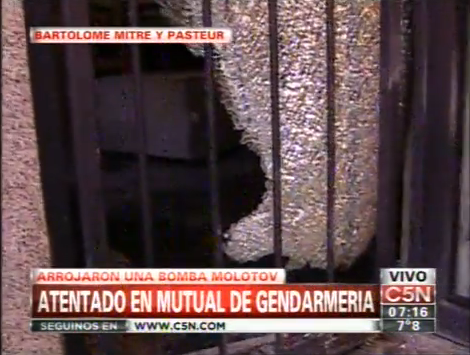 Tags: Argentina, Buenos Aires, Friends of the Earth / FAI, Informal Anarchist Federation (FAI), International Conspiracy for Revenge, Sabotage
Posted in Direct Action
Sunday, September 29th, 2013
Dark Nights is an international anarchist & anti-prison publication of resistance reports and repression news ready to print out and distribute on the fly.
1. Athens, Greece: Letter of anarchist Andreas Tsavdaridis from Koridallos prison.
2. Letter by International Conspiracy of Revenge Indonesian sector Informal Anarchist Federation – International Revolutionary Front.
3. Barcelona, Catalonia: Basic contributions to the discussion about actions and revolutionary struggle.
4. Castelli Romani, Italy: Communiqué on the arrest of comrades Adriano and Gianluca.
5. Buenos Aires, Argentina: Communiqué for the attack on the Academy of Justice.
6. ABC Bristol, UK: Thoughts on the Anarchist Witch Hunt Following Attacks in Bristol.
7. Direct Action Reports.
http://325.nostate.net/wp-content/uploads/2013/09/dark-nights-37.pdf
Tags: ABC Bristol, Andreas Tsavdaridis, Argentina, Barcelona, Bristol, Buenos Aires, Castelli Romani, Catalunya, Dark Nights, Indonesia, Informal Anarchist Federation (FAI), International Conspiracy for Revenge, International Revolutionary Front, Italy, PDF, Repression, RO-FAI (Indonesia Section), Sabotage, UK, Zine
Posted in Library
Thursday, September 26th, 2013
Komunike
Polisi adalah musuh. Ini adalah pernyataan final kami yang tidak akan lagi bisa ditawar. Polisi terlahir tidak untuk menjadi sahabat, secara individual maupun institusi, dan tidak bisa tidak dimasukkan dalam daftar musuh yang mesti mendapatkan pukulan paling keras. Sebagai institusi dan individu, polisi adalah mereka yang bertugas untuk melindungi peradaban dan eksploitasi yang dilakukannya terhadap bumi. Polisi -seperti juga instrumen penindas yang lain- bertugas mengamankan uang dan kepentingan investasi demi berlangsungnya hidup antroposentrisme seperti hari. Polisi tidak hanya sekedar representasi bagi kami. Sebaliknya, polisi adalah salah satu dari ribuan wajah dari kebiadaban hidup hari ini. Polisi layak diserang, sekeras mungkin.
Atas jasa-jasa polisi yang dengan setia menjadi anjing penjaga bagi domestikasi hidup, mereka dibekali dengan peralatan tempur yang digunakan untuk memerangi keinginan merdeka dan cita-cita kehidupan liar di mana aturan judisial dan perangkat hukum absen total. Mereka dilengkapi dengan senjata, perisai dan rompi anti peluru. Perangkat-perangkat diproduksi agar babi-babi ini dapat dengan percaya diri dalam menghadapi perang yang dialamatkan kepada tuan-tuan mereka.
Tapi mereka salah besar. Polisi-polisi babi itu salah besar jika menyangka bahwa kami tidak cukup berani untuk mengirimkan serangan kami tepat di bagian-bagian penting mereka. Seperti saat ini, ketika kami menempatkan dua buah jerigen berisi 5 liter bensin dan 5 liter solar dilengkapi dengan pemicu otomatis. Pemicu yang telah kami siapkan agar kami dapat menjauh dari lokasi serangan dan membuat mereka tidak akan bisa menangkap satupun dari kami. Waktu yang lebih dari cukup untuk kami membiarkan alam melindungi kami dengan menghapus seluruh jejak-jejak kaki kami.
Kami mencoba sebuah langkah baru untuk meradikalkan serangan kami dan memperluas efek kerusakan yang ditimbulkan dari setiap pukulan yang kami arahkan kepada musuh. Perangkat pembakar yang kami kirimkan ke sebuah pabrik saat dini hari Senin, 23 September, yang terletak di Jalan Suryani Terusan, Kelurahan Babakan, Kecamatan Babakan Ciparay, Bandung, Jawa Barat.
Alasannya? Pabrik ini memproduksi rompi anti peluru bagi polisi dan tentara. Pabrik ini adalah salah satu sumber produksi peralatan perang bagi babi-babi ini. Rompi anti peluru untuk melindungi polisi dan tentara ketika mereka menembaki musuh, menembaki kami dan saudara-saudara kami.
Itu mengapa, membakar hangus pabrik ini adalah tujuan aksi ini.
Bersama aksi ini, kami mengirimkan salut hormat kami kepada para kombatan di belahan dunia lain dan tempat lain yang tanpa ragu melakukan serangan semaksimal mungkin. Salut kepada aksi bersama yang dilakukan oleh CCF Rusia dan ELF Rusia. Juga serangan tanpa henti dari kombatan-kombatan Amigo de la Tierra – FAI di Argentina. Juga serangan beruntun dari para pemberani di CCF dan ICR dalam Projek Phoenix.
Aksi ini juga adalah salam dan pelukan hangat kami kepada individu-individu pemberani yang diculik oleh negara namun terus melancarkan perang dalam keterbatasan geraknya. Kepada Gabriel Pombo da Silva, Marco Camenisch, Hans Niemeyer, Walter Bond, para kombatan dari Sel Dalam Penjara CCF serta para tahanan di Yunani, Italia dan Chile yang tidak bisa kami sebutkan satu persatu namun selalu berada di dalam hati kami.
Runtuhkan Peradaban
Kehidupan Liar, Sekarang!

ELF Fraksi Indonesia
=======================
Communique:
The police are the enemy . This is our final statement that is not negotiable. Police are not born to be friends, as individuals and as an institution, and can not be excluded from the list of enemies that must be addressed by for our attacks. As an institution and as individuals, the police goal is to protect civilization and the exploitation it is doing to the earth.
The objective of the police -as well as the other repressive instruments- is to secure the money and investment interests for the sake of the anthropocentric way of life as it is today. The police are not for representing our interests. Instead, the police are one of the thousands of faces of outrage alive today. Police must be attacked, as hard as possible.
For their loyal services as guard dogs for the domestication of life, they are equipped with combat equipment that is used against free will and the aspirations of wildlife where the judiciary and the rule of law are totally absent. They are equipped with weapons, armor and bulletproof vests. The devices are manufactured so that the pigs can act with confidence in the face of the war that is addressed to their masters.
But they were wrong. The pigs have a totally wrong idea if they think that we are not brave enough to send our attack right to their essential sectors. As of this moment, when we put two jerry cans containing 5 liters of petrol and 5 liters of diesel equipped with an automatic trigger. Triggers that we have prepared so that we can move away from the scene of the attack and make them not be able to catch any of us. Which is more than enough time for us to let nature protects us by removing all traces of our feets.
We tried a new step to radicalize our attacks and extend the effects of the damage from any blows that we direct to the enemy. Incendiary devices placed at a factory during the early hours on Monday, September 23, located on Canal Street Suryani, Babakan Village, District Babakan Ciparay, Bandung, West Java.
The reason? This factory manufactures bulletproof vests for cops and army. This plant is one of the sources for the production of war equipment for these pigs. Bullet-proof vests to protect police and soldiers when they open fire on the enemy, open fire on us and on our brothers. That's why, this place is burning, charred, and this is the purpose of this action.
Together with these actions, we send our respectful salute to the combatants in other parts of the world and other places who without hesitation attack as much as possible. Salute to the joint actions undertaken by CCF Russia and the Russian ELF. Also the relentless attack from combatants Amigo de la Tierra – FAI in Argentina. Also the multiple attacks by the brave ones of CCF and ICR in Project Phoenix.
This action also is our warm greetings and hugs to the brave individuals who were abducted by the state but continue to wage war whilst their physical movements are limited. To Gabriel Pombo da Silva, Marco Camenisch, Hans Niemeyer, Walter Bond, the combatants of CCF Imprisoned Members Cell and the prisoners in Greece, Italy and Chile that we can not mention one by one, but they are always in our hearts.
Bring down the civilization
Wild Life, now!
ELF Indonesian Fraction
====
Link of the video of the action from local news:
http://tv.detik.com/readvideo/2013/09/24/182502/130924044/061009681/pabrik-rompi-anti-peluru-terbakar?nd771104fvt
Tags: Arson, ELF- Indonesian Fraction, Fuck the Law, Indonesia, International Solidarity, Sabotage
Posted in Direct Action
Monday, September 23rd, 2013
A statement from Bristol Anarchist Black Cross on the recent revelation by The Post and Avon & Somerset Police that they plan on "cracking down" on anarchist, rioters and extremists
When the flames were lit that engulfed the Police Firearms Training Centre in Portishead, near Bristol it shocked the country. Never before in living memory had such a blazen act of insurrection taken place on British soil and aimed at such a high-profile target. The mass media went hysterical with talk of a "anarchist terror network". The communique, originally published on Bristol Indymedia, was quoted around the world and quickly dubious links were made between the arson at Portishead and other attacks across the UK. (more…)
Tags: ABC Bristol, Angry Foxes Cell, Angry Foxes Cell in collaboration with ACAB, Arson, Repression, Sabotage, UK
Posted in Social Control
Tuesday, September 10th, 2013
Two Moscow cells of ecoanarchists carried out a coordinated attack on highway construction site in eastern Moscow that ended in torching of two bulldozers. The action took place on 08/09/2013. First we came upon some construction workers who were busy burning fires at their wheeled houses near the forest. So initially we were tempted to fuck them up and torch their houses with tools and personal belongings. But turned out that our mutual desire to clean karma was stronger than inclination to spoil it, so we didn't touch the slaves. We torched their vehicles.
As usual, we acted with impudence: we did our black deeds right in front of workers and passer-by car drivers. So we apologized to the guy who almost got into a traffic accident because flaming dozer hypnotized him so much.
We take this opportunity to remind you that roadworks at the site continue. Moscow region is teeming with projects like this one, when trees are uprooted and earth is covered in bitumen. The more roads there are – the less we got left to live. This is not okay with us. Good luck to those who are brave. Death to those who are not.

CCF-Russia
ELF-Russia
Tags: Arson, Conspiracy of Cells of Fire, Conspiracy of Cells of Fire: Russian Cell, Earth Liberation Front, Earth Liberation Front (Russia), Russia, Sabotage
Posted in Eco Struggle
Monday, September 2nd, 2013
Last night (Sept 2nd 2013) for the first time in living memory but definitely not the last, the flames of anarchist insurrection roared high above the toxic skies of Melbourne putting a swift end to years of local 'activist' and 'social anarchist' inactivity in this city.
At approximately 7:30PM we gained entrance to Gran Turismo Autos, a luxury car dealership on Spencer St in inner-city West Melbourne via a poorly secured rear window and placed an improvised incendiary device with timer already set under a desk in an office area adjacent to the showroom then promptly fled the building via the same window through which we gained entry. (more…)
Tags: Arson, Australia, Felicity Ann Ryder, Felicity Ann Ryder Cell / FAI- IRF, Gran Turismo Autos, Informal Anarchist Federation (FAI), International Revolutionary Front, International Solidarity, Melbourne, Sabotage
Posted in Direct Action
Monday, September 2nd, 2013
Censored by the reactionary civil servants who administer Bristol IMC:
The full weight of our entrapment in within this society presses down on us unbearably. Un-named grief, frustration, loneliness and insecurity are the stories of our lives for the most part, stretching back generations. Like money talks loudest and silences all other principles, like concrete and tarmac isolate us from the rest of the planet as it sickens, and like the dominant culture casts humans as robots to work-consume-reproduce-obey… we are physically and emotionally smothered every day by a cheapened, artificial existence keeping us far from our dreams outside the mould.
Awakening anger pierces the fog of confusion from our alienated condition, seeking out worthy targets for the rage. Any notion of truce with the ruling institutions aiming at reform only conforms to the disarmed roles they would coerce us into. Immediate insurrection seems vital. We raise our masks and step out into the night to speak through a language as old as Domination: sabotage and conspiracy. (more…)
Tags: Arson, Barclays bank, Bristol, Freddy Fuentevilla Saa, Informal Anarchist Federation (FAI), International Solidarity, Juan Aliste Vega, Kozani, Marcelo Villarroel Sepúlveda, Marco Camenisch, Roger Clement, Sabotage, UK, Walter Bond
Posted in Direct Action