Posts Tagged 'Sabotage'
Friday, February 27th, 2015
The Reserve Officers' Training Corps (ROTC) is a college-based program for training commissioned officers of the United States Armed Forces. From media scum:
Two ROTC passenger vans parked on the Kent State campus were found burning early Monday morning [23 Feb 2015] and investigators believe the fires were intentionally set. The 15-passenger 2014 Dodge vans were parked in the Terrace Hall lot when firefighters were called about 2:30 a.m., said Emily Vincent, a Kent State spokeswoman. No one was injured. The State Fire Marshal's Office and the Blue Ribbon Arson Committee are offering a reward of up to $5,000 for the identification of those responsible for causing the fire.
One van was heavily damaged; the other sustained less damage, officials said. A cause of the fires has yet to be determined, but arson is suspected, Vincent said. The State Fire Marshal's Office and Kent City firefighters are investigating. ROTC Lt. Col. Matthew Fox said there have been no other recent acts against the organization or cadets. As a precaution, Fox has ordered cadets to wear civilian clothing while on campus.
Tags: Anti-Militarism, Arson, Car Burning, Kent State campus, Reserve Officers' Training Corps (ROTC), Sabotage, USA
Posted in Direct Action
Tuesday, February 24th, 2015


Inter Arma received and translated:

ONE STEP BEFORE…
In the modern age where everything moves continuously with terrible speed, not even the most shrewd ones manage to realize adequately and securely enough to estimate in time the consequences of the stated decisions of others upon their lives!
In modern Fortress Europe, where immigrants/refugees from the "third world" countries are shot in cold blood at the borders, flounder on the Aegean sea or become "sacks of potatoes" and "punching bags" inside police departments and detention centers. There where the global conflict of interests, between the two most powerful –but interdependent- poles of power and also the ambivalent smaller circles of influence that interlock with each other, goes on with unabated intensity, muffled but also unconcealed (as in Ukraine); Greece and other neighboring countries (inside and outside the EU) remain fully heterogeneous and controlled – colonial type-provinces of the capitalist center, where even breathing is taxed!
In modern civilization, with the toxic wastes that extensively pollute the earth and the aquifer, air pollution that contributes highly to the reduction of life expectancy, the techno-industrial noises of every kind leading to paranoia and the luminous advertising signs that cover the starlight, even the car's petrol tank light exists to remind us of the misery we experience!
In the modern city and everywhere else where there are the catastrophic tentacles of industry and the lies of social hierarchy (eg. always talking about the artificial environment, the officials and lackeys of institutional authority etc.), there is nothing more beautiful than the screwed up faces and the broken bones, the debris and embers of the means and infrastructure of the Enemy! (more…)
Tags: 3S Protection, Aggeliki Spyropoulou, Argiroupoli, Arson, Athens, Business & Personal Luxury Holidays, Byron, Conspiracy of Cells of Fire, Conspiracy of Cells of Fire : Imprisoned Members Cell, Constant Unholy Synod / Iconoclastic Cell Clément Duval / FAI-IRF, Elliniko, Glyfada, Greece, Hellenic Duty Free Shops, Informal Anarchist Federation (FAI), Integrated Security Management, International Revolutionary Front, Sabotage, Solidarity Action
Posted in Direct Action
Saturday, February 7th, 2015
In the morning of Friday 30th January, just after the secrecy of the investigation was lifted and the news disseminated of the impending conditional bailing of comrades, we decided to express our solidarity in the streets. We sabotaged the cashpoints and the windows of the following Santander Bank offices:
In Mataró, the branches in the streets of Camí del Mig, Plaza de Granollers, Plaza Santa Anna, Carrer Sant Cugat, Avenida de América, Via Europa. We also sabotaged the branches of the same bank in El Masnou, Vilassar de Mar and Premià de Mar.
We chose the bank Santander because it is the only entity responsible for managing the cash flow in prisons of the Spanish State, generating around 100 million euros per year, according to official figures. Speculating and turning a profit on the basis of this important amount of money, the fruit of suffering and incarceration of thousands of people.
We celebrate the fact that our comrades are again on the outside, but even so, we are well aware that we still have a long and difficult path ahead, and that as long as resistance exists against the domination of the capitalist system, the state and it's repressive mechanisms will try to put an end to it.
That the flame of solidarity isn't put out.
Freedom for Mónica and Francisco!
- ContraInfo
Tags: ATM, Catalunya, El Masnou, Francisco Solar, Mataro, Monica Caballero, Operation Pandora, Premià de Mar, Sabotage, Santander Bank, Solidarity Action, Vilassar de Mar
Posted in Direct Action
Sunday, February 1st, 2015
Kısırkaya Animal Camp built in Kısırkaya village of Sarıyer, for street animals what means being exiled from streets, being genocided was protested by animal animal rights supporters and animal liberation defenders. With no doubt Kısırkaya Camp is also a part of the destruction project of Northern Forests.
The anger and the reaction, collected by the ongoing propaganda and information campaign, resulted hundreds of people gather in front of the Camp.
After the press speech, anarchists and animal liberation activists who defends the idea of giving reaction and expressing feeling directly destroyed the gate and the fences of the camp. Even the gendarmes were ready with sticks and gas bombs no contact was happened. Some stencils and writing on the walls also done. People who had some doubts in the beginning about destroying the fences then also joined the action.
Also some fences and the back entrance of the camps were also smashed down while leaving from the area.
Also some demos were held in Ankara and İzmir.
Find more info here:
http://sosyalsavas.org/2015/02/istanbul-anarchists-torn-down-the-fences-of-animal-concentration-camp/
Tags: Animal Liberation, Istanbul, Sabotage, Turkey
Posted in Direct Action
Friday, January 30th, 2015
Action in solidarity with Mónica, Francisco and the Operation Pandora prisoners
In the night of January 16th, 2015, responding to the call of solidarity with those who have suffered reprisals in "Operation Pandora", we sabotaged 16 ATMs.
Freedom for all!
We want them home now!
Solidarity is our best weapon
- ContraInfo
Tags: ATM, Francisco Solar, Madrid, Monica Caballero, Operation Pandora, Sabotage, Solidarity Action, Spain
Posted in Direct Action
Friday, January 30th, 2015
Bristol, UK: MP Charlotte Leslie, rabid anti-anarchist and anti-environmentalist member of the Conservative Party, who called for a repressive policing campaign against Bristol's anarchist and eco 'community' has had a slogan reading "Fracking Whore" spray-painted on her political party offices. The woman and her political party suffered the vandalism early this morning but continued with their lying, thieving and manipulating into the afternoon and the conceivable future. Police are 'investigating' the crime scene and the local right-wing paper reported the heinous attack against democracy. The "Fracking Whore" gave a sensitive and unintentionally funny statement imploring the presumed anarchists responsible to stop using aerosols and form a political party to stand against her in the elections.
"The earth is not dying, it is being killed, and those who are killing it have names and addresses."
Utah Phillips
Tags: Bristol, Charlotte Leslie - Fracking Whore, Conservative Party, Fracking, Fuck the Elections, Graffiti, Paint attack, Sabotage, UK, Vandals
Posted in Direct Action
Friday, January 30th, 2015
Scotland 25/12/2014
On the eve of christmas after the mass had paid their respects to the altar of consumerism I thought of celebrating in an other way this farce of civilization, by going outside at night sabotaging the locks of stores that have made death commerce. The systematized death in the name of civilization under the mantle of the morality of anthropocentrism.
I glued the locks of 6 stores in the city centre by just putting in very strong glue inside the locks and therefore destroying the system of those locks completely. 2 stores that display a new dead body every day for each slave of society to consume. Every day another whole pig cut into pieces, exposition on a big window. A harlequin after death for the service of the civilized anthropocentrist human. From death row to the final destination. The others were cashmere stores which are obviously a target as well. (more…)
Tags: Animal Liberation, Cell of conscience "Falcon Of Chaos", Sabotage, Scotland, UK, Vandals
Posted in Direct Action
Saturday, December 6th, 2014
Act for freedom now! receives:
Sunday night, November 30th 2014 we burned 5 ATMs, as a minimal gesture of solidarity with anarchist Nikos Romanos, on hunger strike since November 10:
- One of the Banco Nacional in Aghias Sofis street, in Vyronas district.
- One of Alphabank between Karaoli and Dimitriou streets, in Vyronas district.
- One of the Banco Nacional in Varnva Square, in Pagrati district.
- One of the Banco Nacional in via Formionos, in Pagrati district.
– One of Alphabank in Kaisariani district.
This was just a warning. In the case of our comrade's demand not being fulfilled, all of you will become targets.
The struggle continues.
Strength to the hunger strikers Nikos Romanos, Yannis Michailids, Andreas-Bourzoukos Dimitris and Dimitris Politis.

anarchists
Tags: Andreas-Bourzoukos Dimitris, ATM Burned, Dimitris Politis, Greece, Hunger Strike, Nikos Romanos, Sabotage, Solidarity Action, Yannis Michailids
Posted in Direct Action
Saturday, December 6th, 2014
325 receives and transmits:
On the night of November 29, we snuck into the engineering department of McGill University and jammed the locks of the Aerospace Mechatronics Lab using superglue as a minimum gesture of solidarity with the survivors of the Israeli state's summer attack on Gaza, in which 800 drone strikes took place over the course of a 50 day period.
Official documents obtained by campus group Demilitarize McGill through an access-to-information request reveal that the Aerospace Mechatronics Lab has received upwards of 262,000$ from the Canadian military to develop software for miniature drones or "strikebots" designed for surveillance and urban warfare.
The advent of drone technology originally offered an oblivious public the "feel-good" fantasy of surgical-precision in the exercise of deadly force, whereas today we now know very well that there exists a significant body of data documenting the fact that Us & Israeli drone campaigns have killed, injured, and displaced thousands of non-combatants in Afghanistan, Pakistan, Yemen, Somalia and the occupied territories. (more…)
Tags: Aerospace Mechatronics Lab, AIA (Anti-Imperialist Action), Canada, McGill University, Montreal, Sabotage
Posted in Direct Action
Friday, November 28th, 2014
Latest direct actions in Italy:
12 November, Milano: anonymous claim: "On Wednesday night, November 12th, we attacked 5 ATMs with hammer and vandalized several luxury cars (punctured tires and broken windows), as a minimum gesture of individual revolt against a capitalist system that exploits and devastates.
We dedicate this action to the compagni and the compagna accused of attacking the TAV construction yard in May 2013 as well as to all anarchist prisoners. We cannot stand idly by while our comrades are buried under years of imprisonment, or limit ourselves to symbolic acts that do not cause any nuisance.
The only solidarity is attack!"
15 November, Venezia: according to the media, the justice palace was vandalized with paint and spraypaint against the TAV: "Free the no tav prisoners".
17 November, Napoli: according to the media, an explosive device containing 1 kilo of black powder was found unexploded in front of a Deutsche Bank in the neighborhood of Vomero. Until now no-one claimed the action.
18 November, Cremona: according to the media, a PD (=Democratic Party) office was vandalized in Cremona, with a smashed window, damage to the videosurveillance cameras and spray-paints like: "Stop evictions", "PD=Police", "Corvetto resists" and "Free the no tav prisoners".
18 November, Milano: according to the media, during the night an ALER office in via Inganni was set on fire. This happened a few hours after the eviction of two anarchist squats and other houses and the resistance to it. A window was smashed and a molotov cocktail thrown inside, with heavy damages to furniture, computers, papers and other material (picture: http://www.informa-azione.info/files/0milanoaler.jpg) .
ALER is the company responsible for the recent plan of evicting hundreds of occupied houses, for the business of the thousands of houses left vacant, for property speculations on housing projects in Milano.
Unknown date, Viterbo: anonymous claim: "An animal liberation activist once wrote that in the last twenty years the number of vegetarians and vegans has increased dramatically, but the number of activists has remained the same. This made us think and we decided to bring animal liberation back to its true meaning: to free animals. One November night we visited a small farm in Orte (Province of Viterbo); we opened the doors of the cages that imprisoned ten rabbits, giving them freedom. We then opened the henhouse and carried away with us about 10 turkeys and other birds. We dedicate this action to those who are truly active, in the way and form they prefer, and not on social networks!"
20 November, Milano: anonymous claim: "20th of november is the day of remembrance for the people killed for being trans. This year the registered deaths in the world are 226. We decided to attack a catholic church because it is a symbol of the anti-trans oppression. The violence experienced by trans people is the consequence of their moral and anti-gender rules. In the night of 20/11 we attacked the church of San Paolo in via vismara 2. We glued the locks of several doors, we threw pink paint on the facade and spraypainted: "20/11 NIGHT OF TRANS REVENGE" on the front door. LET'S ATTACK THE CHURCHES! REVENGE AND NOT ONLY REMEMBRANCE!"
22 November, Trento: according to the media, the local office of PD party was painted and some writings were left like: "Freedom for the arrested in Valsusa", "No PD – Corvetto resists", "NO TAV – no evictions". The traffic was blocked and a banner against high speed was hanged. Some days before, on the 19th, an high speed train was blocked in the train station in solidarity with the No Tav resistance; the sides were spraypainted with slogans dedicated to Rémi Fraisse and for the freedom of arrested comrades.
Tags: Cremona, Italy, Milan, Napoli, Sabotage, Trento, Venice, Viterbo
Posted in Direct Action
Friday, November 28th, 2014
In the night of November 21st, 2014, the Office of probation services and juvenile court assistance located in the Museumstrasse in Altona, Hamburg, was attacked with stones, and many windows were broken.
Against the State, its Justice and minions!
Solidarity with the accused and the imprisoned in the case of squatting in the Breite Strasse in Hamburg!
Solidarity with the squatters, who really showed the cops!
Rage and struggle for Rémi Fraisse, who was killed in France some weeks ago after he was hit by a grenade during clashes with the cops!
Freedom is not negotiated or begged for!
Against every authority!
English translation:
http://en.contrainfo.espiv.net/2014/11/24/hamburg-juvenile-justice-agency-attacked/
Tags: Germany, Hamburg, Rémi Fraisse, Sabotage, Solidarity Action
Posted in Direct Action
Monday, November 3rd, 2014
La ciencia hoy se ha convertido declaradamente en un objetivo concreto al cual atacar, desde un pequeño gesto, manifestamos hacia ella nuestro desprecio por ser un templo de dominio e intervención de la vida natural.
La ciencia es uno de los tantos pilares que sostiene la dominación militar, psiquiátrica, heteronormativa, especista, y antropocentrista dentro de la actual era patriarcal. Esta vez, direccionamos nuestras acciones hacia centros donde laboratorios de biotecnología avanzan en estudios y prácticas de intervención genética Esta rama de la ciencia, en nuestros días manipula la vida, por ejemplo, trabajando con células madres, "mejorando" las razas de animales y plantas, interviniendo en alimentos y experimentando en animales, todo esto en un supuesto progreso de la condición de "salud", un concepto construido bajo las asquerosas lógicas de esta sociedad que transgrede la forma en que la naturaleza dispone de la vida. (more…)
Tags: Biotechnology, Chile, Sabotage
Posted in Direct Action
Monday, November 3rd, 2014
English translation via War on Society.
[Noticias de la Guerra Social]
Durante la madrugada del 29 de Octubre del 2014, anonimxs colocaron un
artefacto explosivo en un muro perimetral del cuartel de LABOCAR
(Laboratorio de criminalistica de carabineros) en la ciudad de Temuco, al
sur de $hile.
A las 4:00Hrs Am, detono el artefacto colocado a mediana altura del muro,
en la intersección de Avenida Pedro de Valdivia con San Fernando.
El artefacto explosivo habría estado compuesto por un extintor relleno de un
kilo de pólvora activado mediante un sistema de relojería.
La potente detonación, produjo un boquete de cerca de 60 cm en la
comisaria, estando a corta distancia de un estanque de gas de 400 kilos
que no alcanzo a detonar al interior del asqueroso cuartel policial.
En el lugar no se han encontrado panfletos y hasta el momento ningún grupo
reivindico el ataque. La policía "científica", acostumbrada a esconderse
tras la neutralidad de la "ciencia" y salir de cacería en el wallmapu
encarcelando y matando a comuneros mapuche, esta vez fue blanco del
ataque.
La investigación será llevada por los bastardos de la Fiscalia de Alta
complejidad de Temuco, y tanto el gobierno como los perseguidores
decidieron invocar la ley Antiterrorista para investigar.
Ultima Hora: Tras la detonación del artefacto explosivo, la policía habría
allanado una vivienda en Temuco deteniendo a un compañero acusado
supuestamente de tener materiales para la confección de explosivos. La
fiscalía no lo acusa de participar en el ataque a Labocar.
—–
Chile: Explosive attack on LABOCAR headquarters in Temuco
In the early hours of October 29, 2014, anonymous individuals placed an explosive device on the perimeter wall of LAVOCAR (Criminal laboratory of the carabineros [military police]) headquarters in the city of Temuco in the south of Chile. (more…)
Tags: Chile, LABOCAR, Sabotage, Temuco
Posted in Direct Action
Monday, November 3rd, 2014
Anonymous report on Hayvanozgurlugucevirileri.com:
November 1st should be an action day for animal liberation not a partying day for veganism.
At the European side of Istanbul, on 1st November around 2 am, we did series of actions: Two trucks that transport dead chickens are sabotaged. Tires blown, front windows broken, locks glued.
"Viva animal liberation" slogans are also spray painted in same neighborhood. Another fast-food restaurant nearby is attacked, windows smashed.
Every day action, every day ALF!
Viva Animal liberation!
Down with speciesism!
Everything for our animal friends!
Freedom to earth, animals and humans!

ALF Turkey, Istanbul
Tags: ALF, ALF Turkey, Istanbul, Sabotage, Turkey, World Vegan Day
Posted in Direct Action
Tuesday, October 21st, 2014
From contra-info:
A gesture of solidarity…
On the night of October 12th we used stones, slingshots and Molotov cocktails to sabotage two banking entities in Iztapalapa delegation of Mexico City.
Revolutionary solidarity is how we also show our support to the imprisoned comrades on hunger strike since the 1st [until the 17th] of October by attacking those responsible for this miserable everyday living. It is our response to the harassment of the comrades by guards, physicians and the staff of penitentiary institutions. So ours is a target easily identifiable and relatable to domination.
The insurrectionary anarchist perspective goes beyond the fetishism of fire or weapons. Our approach to anarchy is a struggle that has no interest in being a televised spectacle, nor need for "self-promotion" due to lack of promotion by the State. So ours is a simple and direct communication that corresponds to the requirement of the moment concerning the striking comrades; a simple and easily reproducible means.
The insurrectionary anarchist perspective is a method, often suitable for the generalization of individual and social conflict that subverts the normalcy. For insurrection as many other forms (and in their entirety) open up possibilities for a veritable revolution. An anarchist method for radical and profound change.
No mediation or dialogues with the State and the Capital!
For the struggle against all kinds of power, including the so-called Popular Power that is being sold to us as autonomy!
Tags: Hunger Strike, Mexico, Mexico City, Sabotage, Solidarity Action
Posted in Direct Action
Saturday, October 18th, 2014
On the morning of October 17th, the National Guard Armory in Durham was the target of vandalism intended to disrupt weekend operations at the facility.
We glued five different sets of locks in order to prevent the entry or exit of
vehicles from the fenced lot, chained the front doors shut, and left a message on the brick wall on the front of the building reading, "Disobey orders. Solidarity with Missouri Rebels. Fuck the Police."
This simple act was done in solidarity with all who struggle against police
harassment and occupation of their neighborhoods, and in particular with those
insurgents in St. Louis and Ferguson, whose historic rebellion resulted in a
National Guard occupation of their town. They remind us that when police murder the poor and people of color, the proper reaction is to riot.
We're aware that our act is unlikely to cause major disruption at this facility. It is not a substitute for other kinds of antagonism and combative struggle.
Nonetheless, we see it as a gesture towards that time when such a facility provides crucial vehicles and arms to crush popular uprisings. If the future looks like civil war, let's learn the terrain now rather than later.
To those who train at this facility, we would encourage you to think now about what it would mean to fire on your own neighbors and community members. Some of the most courageous soldiers in history have been those who disobeyed orders and refused to squash a popular rebellion. How will you be remembered when that time comes? Which side are you on? If it was your son or daughter murdered by the cops, what side then?

In defiance and fury,
- Some bull city anarchists
Tags: Durham, Fuck the Law, Sabotage, Solidarity Action, USA, Vandals
Posted in Direct Action
Saturday, October 11th, 2014
http://voiceofanarchopacifism.noblogs.org/post/2014/10/08/3586/
Tags: Czech Republic, Elections, Fuck the Law, Sabotage, Vandals
Posted in Direct Action
Sunday, October 5th, 2014
Anarchists in Australia issue a call out for decentralised attacks, disorder, riots and sabotage around the topic of the G20.
The G20 is meeting in Brisbane in November. This elite decision making body epitomises the undemocratic nature of state-sponsored global capitalism; delegates from the 20 wealthiest economic zones make self-serving proclamations which affect everyone, without open discussion or oversight. …
We are calling for people to form affinity groups in their home towns and
autonomously organise decentralised direct action against the G20 and the capitalist occupation of our lives.
See you on the streets!!
http://planbg20.wordpress.com/
Tags: Arson, Australia, Brisbane, Fuck the Law, G20, Insurrection, Riots, Sabotage
Posted in Autonomy
Sunday, October 5th, 2014
People of Kobane, hear us. In this bitter hour of the inhuman threat, we see you freedom lovers in the world and we call to you: take courage. The city of Kobane is surrounded by the ISIS-murderers. On three sides ISIS confronts the city. If they take the city. it will inevitably lead to a massacre of the remaining Kurdish people on site. They have no way to flee to the north, because there already waiting are the Turkish army …
Turkey will decide at the present day on the extension of the 'anti-terrorist' struggle. This will mainly affect Kurdish people in Syria, which they as well as the PKK (Kurdish Peoples Party) stand on the Turkish terror list. Turkey's fear of the Kurdish people is greater than of the ISIS-fighters. For example, Turkey supports the ISIS-fighters to their best of their will, for example, at border crossings to Syria or arms shipments that were observed by Kurdish people, or the medical care of injured ISIS-fighters in Turkish territory. On the Turkish side of the border, the Turkish army is using force of arms against all those Kurdish people trying to come to Kobane to oppose the corruption. Clashes occur daily there between Turkish security forces and Kurdish people who come from all over Turkey to help the trapped fighters of YPG in Kobane.
Tonight we have attacked the Turkish State in the NATO hinterland to brand it as an inhuman actor in this conflict. Two vehicles of the Turkish State – representatives of the Embassy are burned … At the same time, we appeal to everyone, not to stand idly by, ignite the solidarity for our brothers and sisters.
We tremble with the combatants, but their determination is our courage. We will not abandon the ideals and freedom. Maximum global solidarity!
Long live freedom!
In Memory of Berivan Sason, fallen but never dead!
Commando Berivan Sason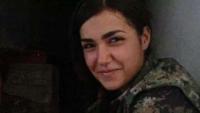 NB: Ceylan Ozalp (Code Name: Berivan Sason) was an active fighter and leader with several comrades in the northern Syrian Kurdish city Kobanê in armed resistance against the ISIS/Daesh.
Tags: Arson, Berlin, Car Burning, Commando Berivan Sason, Germany, International Solidarity, Islamic State in Iraq and Syria (ISIS), Sabotage, Turkey
Posted in Direct Action
Thursday, October 2nd, 2014
via antidev:
'We retransmit this message sent to us from visitors… On retransmet ce message qui nous a été envoyé par des lecteurs-rices…'
So the other night on September 21, we've set fire to a railroad telecomm cable linking Brigham to Sherbrooke (Qc) to the US, thinking about the Algonquins people recently evicted from a resistance camp and detained in Gatineau. We took the time to select a railway bridge in the middle of nowhere near Waterloo, so we'd not have to dig to get to the cables or attract too much attention. Some fuel was dropped through an opening in the steel casing of the cables, then set on fire. Nothing fancy. It worked better than we'd guessed, as a few seconds later it already smelled of burning rubber a few meters away. The enclosed air in the conduit apparently turned the fire into something like a blow torch. Kind of an easy game to be reproduced elsewhere by others, we told ourselves… so that's a reason to let others know.
Of course it didn't cause the whole techno-industrial system to collapse! Society is still pretty much functional today. But you gotta start attacking it somewhere. Though it did feel as if an important nerve deep below society had been severed. And this felt good getting off our asses in the middle of the night for this. (more…)
Tags: Amélie Trudeau Pelletier, Carlos López Martin, Communique, Earth Liberation Front, Fallon Poisson, King Ludd and his army of Fenians, Quebec, Sabotage, Solidarity Action
Posted in Direct Action