Posts Tagged 'Sabotage'
Sunday, December 1st, 2013
Phoenix Project, Act 8: Action with incendiary/explosive device against a Board of Elections office and in solidarity with Mónica Caballero and Francisco Solar. (Chile)
We are not spectators, but convinced enemies of all forms of domination.
Today, wielding the weapons of life and the ideas of rebellion, we wanted to give away a bit of anarchic momentum.
Today, we decided to attack the 98th Board of Elections office in La Reina commune [in Santiago] with an incendiary/explosive device, because we are convinced that the current state of affairs is sustained not only by those who administer domination, but also in the servile attitude of those who tacitly endorse it.
This is also another cog of the democratic gear, due to its role in logistically organizing the entire electoral process at regional level. In simple terms, it appoints the board members of voting tables, the designated scrutineers of electoral commissions, and delegates from election offices, in addition to being the body that determines the polling stations.
We don't camouflage our obscure intentions.
Why go on the attack? Anarchy should not spend energy in obstructing the passage of a load of citizens toward the democratic rite of elections, but rather try to demonstrate that any debate between the refractories and authority is impossible. Anarchy must seek confrontation, instead of the promising appeal to amend the wrong path.
Appeals for not voting, building the Popular Power, marking the vote with the initials "AC" (Constituent Assembly), for a null vote, a blank vote, or voting for the "lesser evil" are nothing but an expression of disclaimers in citizenist language, and never put a strain on authoritarian domination.
The only truly worthy response amid so much misery is the anti-authoritarian offensive in its multiple facets and forms. It is the incitement to arson by any means. It is the arson itself, the idea that motivates it, and also the hands that concretize it, the unwavering will of those who fight to the last breath, with the means they have at hand.
Against democracy, against the misery of some anarchists.
It seems we are witnessing a sacralization of democracy, as it is on everyone's lips. Citizens and purported revolutionaries bet on it as an ideal future. Apparently, the whole spectrum of positions that the political weirdos hold is to make the existent perfect, or bring it truly into reality. Those who believe in electoral tactics, as well as those who reject them, agree on this point: the problem is not democracy but its management.
An anarchic position sets the rejection of any type of domination as the order of the day, thus it does not stop at problems of shape: neither as historical order nor as social dynamics does democracy mean a path of liberation. The struggle for more democracy equals the struggle for deepening a social system that hides the conflict emerging within it, the very conflict on which it is founded.
At the local level, apparently no one remembers that there have been gross concessions in favor of democracy from spectra claimed by anarchists and libertarians. Or is it perhaps that no one recalls the ephemeral flirt of several members of the Libertarian Communist Organization with the electoral coalition "Together We Can" here, in Santiago, a few years ago? "Anarchists", communists, humanists and the sort, all holding hands and letting out an occasional burst of laughter. Critical support? Simple platformist chutzpah.
What deserves a special mention is that one Libertarian Network who have openly supported today one of the current presidential candidates of the parliamentary left. Is it necessary to ask ourselves what sort of anarchist supports a possible president? That's spitting in the face of each comrade that decided to affirm anarchy by magnicide (assassination of a ruler).
On the other hand, there are those who seek to broaden their militant base at all costs, just like politicians do. For the Anarchist Revolution Current (CRA) is not enough to falsify the recent history of anarchic struggle in this territory, wrapping a supposed protagonism and an alleged and "unsustainable" police hostility about their especifist organizing. Now they also attempt to demonstrate their repudiation of the electoral process tossing up the flags of their organization. Anarchic action must be propaganda of struggle, not of this or that group or organization of anarchist chiefs.
Both the former and the latter expect to earn something back from all this, while those involved in the electoral circus at least have the honesty to not hide the intentions that motivate them. Those who superficially criticize domination, with lots of opposition rhetoric, neither deserve our respect nor are they comrades of ours.
It should therefore come as no surprise that electoral tactics are reproduced in other political and organizational scales, too, where the ballot box, voting or a show of hands are imposed and validated as methods for decision making in student federations, organizations of the left, assemblies and even some autonomous collectives. A good and disgusting example of this is the recent election of a libertarian young girl, who was transformed into President of the Federation of Students of Chile, and argues that anarchism is a "profoundly democratic" historical movement.
Those looking to have a grandstand for their organization in the market of politics also fall into the game that they reject so much. And this being the big picture, parliamentarists and the anti-election left coincide with certain "libertarian anarchists" in strategy: the dispute over spaces of Power.
Active minorities for the anti-state and anti-authoritarian combat.
Uncontrollable anarchy is not subjected to democracy and its values. It does not speak of majorities, consensus, or fundamental rights. It does not bend over the head for some shares of Power, much less wait for better times to experience its struggle. Today we are practicing, in all parts of the globe, irregular warfare against domination.
We are considering conflict in these parameters; those who expect revolutionary armies or popular militias do not even understand the nature of the current war. If conflict is asymmetric, then let's bite and disappear (hit and run), let's engage in hostilities against the enemy wherever they are, in every place, even within every single one of us. Far from any militaristic drift, let's fight Power in a multiform manner, with autonomous action, and organized from informality.
The attack is not only possible, it is also necessary. Let's generate situations and means to continue experiencing the conflict, and let's practice our advances wherever they arise.
Face to face with the enemy.
We know that this spirit expands internationally like the black plague, and this is what inflames our burning desires to move onward. Gestures of struggle like those of Alfredo Cospito and Nicola Gai make us feel, even thousands of miles away, the urgency to contribute a grain of sand to this immense shore of anarchic insurrection. To those who do not bow down to the lion's den, those who affirm their motivations facing the executioner, to Nicola and Alfredo our sincere respect and complicity.
While planning this action we heard about the sad accident of comrade Ilya Eduardovich Romanov, who was injured from the explosion of a homemade device in western Russia. We were really struck at this news; we recalled similar incidents that occurred in Chile, and it reminded us of how fragile the path of those who struggle is, but it also gave us more strength and dedication at the moment we moved onward with our preparatory acts. Tonight our heart was with yours, Ilya; this is a small gesture towards you, our own way of embracing you from a distance, and wishing you a quick recovery.
For each step tonight was accompanied by the irreducible and dignified attitude of all our brothers and sisters and comrades kidnapped in different parts of the planet. Those who remain day by day in struggle, unyielding and unrepentant… should know they are neither alone nor forgotten: Marcelo Villarroel, Juan Aliste Vega, Freddy Fuentevilla, Hans Niemeyer, José Miguel Sánchez, Alberto Olivares, Nicolás Sandoval, Victor Montoya, Marco Camenisch in Switzerland, Gabriel Pombo Da Silva in Spain, Sonja Suder in Germany, Nicola and Alfredo in Italy, the comrades who resist the grand jury in the US, the urban guerrillas of the Conspiracy of Cells of Fire, the Revolutionary Struggle, and the comrades detained for the double robbery in Kozani [Greece], who are facing trial soon. To irreducible Henry Zegarrundo in Bolivia, and also to the comrades who have faced their arrest in Villa Francia [in Santiago] on September 11th, 2013 in dignity and without victimization.
To conclude, we have turned the fire and explosion of our desires for freedom into action, and thus send our revolutionary solidarity to Mónica Caballero and Francisco Solar, comrades from Chile who were kidnapped by the Spanish State in the early hours of November 13th, accused of installing an explosive device which was vindicated by the Insurrectional Commando Mateo Morral in October this year.
While the States of Chile and Spain implement mechanically once again their well-known discursive, repressive and juridical strategy against supposed anarchist criminal organizations of international character, we send strength to our comrades, regardless of whether or not they're responsible for the facts of which they're accused.
We call for international solidarity with Mónica Caballero, Francisco Solar and the rest of the arrestees in Spain.
We dedicate this action to these comrades, intending also to contribute in the revival and multiplication of direct action in this territory. This is why we salute, despite out differences, the groups that carried out attacks this month against banks scattered around the city.
Solidarity with comrades pursued by Power: Diego Ríos and Felicity Ryder.
No truce with domination.
Memory and action for slain comrade Mauricio Morales!
Memory and action for slain comrade Lambros Foundas!
Long Live Ilya Romanov Cell
In affinity with Black International
_
Translators' notes:
- Phoenix Project comprises the following acts so far:
#1 Greece (June 7, 2013), #2 Greece (June 12, 2013), #3 Indonesia (June 26, 2013), #4 Greece (July 2013), #5 Indonesia (August 24, 2013), #6 Greece (September 2013), #7 Russia (October 2, 2013), #8 Chile (November 16, 2013)
- Some estimates suggest that the arrest of the 5 comrades on November 13th, 2013 in Barcelona, Spain—resulting to the pretrial incarceration of Mónica Caballero and Francisco Solar, as well as strict restrictive conditions against the three other prosecuted anarchists—was timed to occur right before the general elections in Chile, that were held on November 17th.
- Ilya Romanov, a 46-year-old anarchist from Russia (released from prison in 2012, after serving a 10-year sentence), was severely wounded and hospitalized on October 26th, 2013, when an improvised pyrotechnic device he was carrying exploded prematurely, and his left hand was torn off. The investigating authorities in Nizhny Novgorod, where the incident occurred, opened a criminal case against him under article 222 of the Russian penal code ("illicit trafficking in explosives"). You may support Ilya with much needed donations via ABC Moscow.
Tags: Arson, Chile, Francisco Solar, International Solidarity, Long Live Ilya Romanov Cell, Monica Caballero, Sabotage, Santiago
Posted in Direct Action
Thursday, November 21st, 2013
In the early morning of the 19th of November, the cops national special forces and the SÄPO (~ equivalent of MI5,FBI) organized a raid called Operation Eskil. The targets were a group of anti-fascists in different parts of the middle of Sweden. Some people were arrested, accused of attacking nazis and in several house raids the cops claimed to have found a lot of weapons and material for building incendiary devices.
Even though we do not share the socialist views with the anti-fascists, we do share a common enemy and the enemy of our enemy is a friend.
In response to the cops attack on our co-combatants, we decided to attack the cops. In the evening of the 19th we smashed the entrance windows of a cop station in Växjö, south of Sweden.
A modest action, non the less a promise of what will come when they attack our comrades.
Some anarchists with a passion for cop hatred
Tags: Fuck the Law, Operation Eskil, Repression, Sabotage, Sweden, Vaxjo
Posted in Direct Action
Monday, October 14th, 2013
From Bite Back:
"To continue the momentum of direct action targeting speciesist companies in Portland, we slashed several tires on company vans at Sunshine Dairy Foods, located at 801 NE 21st Avenue. We are happy to see the surge in illegal actions in Portland. Keep fighting.
Until all humyn and non-humyn prisons are destroyed
FAI – OREGON"
Tags: FAI - Oregon, Informal Anarchist Federation (FAI), Oregon, Portland, Sabotage, USA
Posted in Eco Struggle
Friday, October 4th, 2013
A major line of Power was sabotaged. It occurred about a month ago (today is October 3rd 2013), during a pleasant night in the countryside somewhere in eastern Kanada, as all the comfortable slaves were so happily preparing their children to go back to a new level of brainwashing and behavioral social conditioning, with cops now keeping a preying eye upon them at school, so to prepare them for the prison world.
Lifting myself out of despair and isolation from this social daymare, I went on this nightly escapade to perform an act of monkey-wrenching against a High Voltage Direct Current (HVDC) power line, unbolting a bunch of nuts on two out of the four legs of those steel goliaths of technological enslavement that circulate power cross border, with only a large wrench, and a light metal tube to fit on the handle for extra leverage. While I would have greatly enjoyed the company and team work of other insurgents, I neither had the time or energy left to get them into action. But rest assured I did it no matter what, have put a lot of sweat into it, and it wasn't a big deal at all. So they say, it's easy to attack. Getting in and out of there is always harder.
I did this for Jerry Koch, for Marie Mason, for Maddy Pfeiffer, as well as for the millions of lesser-known others rotting in the concrete cells of a hardcore bandit capitalism that reigns over the US and the West in general. I want to bring down this fucking system of corporate piggery, and thought that literally bringing down their system's backbone, one bolt at a time, seems like a favorable tactic. (more…)
Tags: Canada, Pylon, Sabotage, Solidarity Action, USA
Posted in Direct Action
Wednesday, October 2nd, 2013
from vivalaanarquia, transl waronsociety:
Trying to be at our best and to continue maintaining the dignity deserved by human lives that rebel against the authority that provokes all kinds of oppression over the face of the earth in which we live, we again go on the offensive in the war declared by the lovers of freedom and their enemies.
We remember that in the prisons of the territory dominated by the Argentine State the prisoners who are there continue to be murdered and tortured. And in the streets the misery goes on increasing, the alienation of work and consumption obscures the consciences of the people who constantly go around tensioned by the contradictions of a system that is proclaimed consolidated by a government that speculates with the economic sciences, trying to hide their tyrannical condition at all costs.
Sit down, victims, because nothing you have yet suffered compares with the humiliation that all of us feel, we who are threatened with the death and radical confinement which nourishes the theory of those who have the power and will to profit off of the authoritarian methods and practices of civilized society.
Our proposal is the direct attack on those responsible for the misery of this reality, now the prison guards are in the sights of all the insurgent compañerxs — or is it necessary to keep saying what points we have in common? Actions say much more than words, but it is also necessary sometimes to mention what the media constantly try to hide.
The cars that we burned at 3000 Amenabar street were parked right outside one of the properties of Sergio Berni (secretary of the Ministry of Security), under 24 hour surveillance by the Federal Police.
The little bomb we set off in the Prison Guards' Mutual (Argentine Borders Building), located at 2264 Bartolome Mitre street, on Thursday September 19, 2013 at 1:40 am, unfortunately only caused material damages; we would have liked to find out that a servant of law and order had at least been injured.
We salute the compañerxs of the Conspiracy for Revenge and all those who, without lots of questioning, go on the offensive against authority all across the world.
Long Live Anarchy!
Friends of the Earth
Informal Anarchist Federation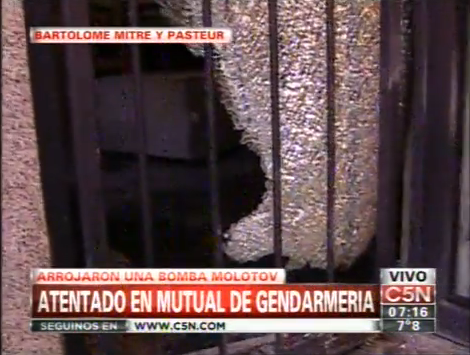 Tags: Argentina, Buenos Aires, Friends of the Earth / FAI, Informal Anarchist Federation (FAI), International Conspiracy for Revenge, Sabotage
Posted in Direct Action
Sunday, September 29th, 2013
Dark Nights is an international anarchist & anti-prison publication of resistance reports and repression news ready to print out and distribute on the fly.
1. Athens, Greece: Letter of anarchist Andreas Tsavdaridis from Koridallos prison.
2. Letter by International Conspiracy of Revenge Indonesian sector Informal Anarchist Federation – International Revolutionary Front.
3. Barcelona, Catalonia: Basic contributions to the discussion about actions and revolutionary struggle.
4. Castelli Romani, Italy: Communiqué on the arrest of comrades Adriano and Gianluca.
5. Buenos Aires, Argentina: Communiqué for the attack on the Academy of Justice.
6. ABC Bristol, UK: Thoughts on the Anarchist Witch Hunt Following Attacks in Bristol.
7. Direct Action Reports.
http://325.nostate.net/wp-content/uploads/2013/09/dark-nights-37.pdf
Tags: ABC Bristol, Andreas Tsavdaridis, Argentina, Barcelona, Bristol, Buenos Aires, Castelli Romani, Catalunya, Dark Nights, Indonesia, Informal Anarchist Federation (FAI), International Conspiracy for Revenge, International Revolutionary Front, Italy, PDF, Repression, RO-FAI (Indonesia Section), Sabotage, UK, Zine
Posted in Library
Thursday, September 26th, 2013
Komunike
Polisi adalah musuh. Ini adalah pernyataan final kami yang tidak akan lagi bisa ditawar. Polisi terlahir tidak untuk menjadi sahabat, secara individual maupun institusi, dan tidak bisa tidak dimasukkan dalam daftar musuh yang mesti mendapatkan pukulan paling keras. Sebagai institusi dan individu, polisi adalah mereka yang bertugas untuk melindungi peradaban dan eksploitasi yang dilakukannya terhadap bumi. Polisi -seperti juga instrumen penindas yang lain- bertugas mengamankan uang dan kepentingan investasi demi berlangsungnya hidup antroposentrisme seperti hari. Polisi tidak hanya sekedar representasi bagi kami. Sebaliknya, polisi adalah salah satu dari ribuan wajah dari kebiadaban hidup hari ini. Polisi layak diserang, sekeras mungkin.
Atas jasa-jasa polisi yang dengan setia menjadi anjing penjaga bagi domestikasi hidup, mereka dibekali dengan peralatan tempur yang digunakan untuk memerangi keinginan merdeka dan cita-cita kehidupan liar di mana aturan judisial dan perangkat hukum absen total. Mereka dilengkapi dengan senjata, perisai dan rompi anti peluru. Perangkat-perangkat diproduksi agar babi-babi ini dapat dengan percaya diri dalam menghadapi perang yang dialamatkan kepada tuan-tuan mereka.
Tapi mereka salah besar. Polisi-polisi babi itu salah besar jika menyangka bahwa kami tidak cukup berani untuk mengirimkan serangan kami tepat di bagian-bagian penting mereka. Seperti saat ini, ketika kami menempatkan dua buah jerigen berisi 5 liter bensin dan 5 liter solar dilengkapi dengan pemicu otomatis. Pemicu yang telah kami siapkan agar kami dapat menjauh dari lokasi serangan dan membuat mereka tidak akan bisa menangkap satupun dari kami. Waktu yang lebih dari cukup untuk kami membiarkan alam melindungi kami dengan menghapus seluruh jejak-jejak kaki kami.
Kami mencoba sebuah langkah baru untuk meradikalkan serangan kami dan memperluas efek kerusakan yang ditimbulkan dari setiap pukulan yang kami arahkan kepada musuh. Perangkat pembakar yang kami kirimkan ke sebuah pabrik saat dini hari Senin, 23 September, yang terletak di Jalan Suryani Terusan, Kelurahan Babakan, Kecamatan Babakan Ciparay, Bandung, Jawa Barat.
Alasannya? Pabrik ini memproduksi rompi anti peluru bagi polisi dan tentara. Pabrik ini adalah salah satu sumber produksi peralatan perang bagi babi-babi ini. Rompi anti peluru untuk melindungi polisi dan tentara ketika mereka menembaki musuh, menembaki kami dan saudara-saudara kami.
Itu mengapa, membakar hangus pabrik ini adalah tujuan aksi ini.
Bersama aksi ini, kami mengirimkan salut hormat kami kepada para kombatan di belahan dunia lain dan tempat lain yang tanpa ragu melakukan serangan semaksimal mungkin. Salut kepada aksi bersama yang dilakukan oleh CCF Rusia dan ELF Rusia. Juga serangan tanpa henti dari kombatan-kombatan Amigo de la Tierra – FAI di Argentina. Juga serangan beruntun dari para pemberani di CCF dan ICR dalam Projek Phoenix.
Aksi ini juga adalah salam dan pelukan hangat kami kepada individu-individu pemberani yang diculik oleh negara namun terus melancarkan perang dalam keterbatasan geraknya. Kepada Gabriel Pombo da Silva, Marco Camenisch, Hans Niemeyer, Walter Bond, para kombatan dari Sel Dalam Penjara CCF serta para tahanan di Yunani, Italia dan Chile yang tidak bisa kami sebutkan satu persatu namun selalu berada di dalam hati kami.
Runtuhkan Peradaban
Kehidupan Liar, Sekarang!

ELF Fraksi Indonesia
=======================
Communique:
The police are the enemy . This is our final statement that is not negotiable. Police are not born to be friends, as individuals and as an institution, and can not be excluded from the list of enemies that must be addressed by for our attacks. As an institution and as individuals, the police goal is to protect civilization and the exploitation it is doing to the earth.
The objective of the police -as well as the other repressive instruments- is to secure the money and investment interests for the sake of the anthropocentric way of life as it is today. The police are not for representing our interests. Instead, the police are one of the thousands of faces of outrage alive today. Police must be attacked, as hard as possible.
For their loyal services as guard dogs for the domestication of life, they are equipped with combat equipment that is used against free will and the aspirations of wildlife where the judiciary and the rule of law are totally absent. They are equipped with weapons, armor and bulletproof vests. The devices are manufactured so that the pigs can act with confidence in the face of the war that is addressed to their masters.
But they were wrong. The pigs have a totally wrong idea if they think that we are not brave enough to send our attack right to their essential sectors. As of this moment, when we put two jerry cans containing 5 liters of petrol and 5 liters of diesel equipped with an automatic trigger. Triggers that we have prepared so that we can move away from the scene of the attack and make them not be able to catch any of us. Which is more than enough time for us to let nature protects us by removing all traces of our feets.
We tried a new step to radicalize our attacks and extend the effects of the damage from any blows that we direct to the enemy. Incendiary devices placed at a factory during the early hours on Monday, September 23, located on Canal Street Suryani, Babakan Village, District Babakan Ciparay, Bandung, West Java.
The reason? This factory manufactures bulletproof vests for cops and army. This plant is one of the sources for the production of war equipment for these pigs. Bullet-proof vests to protect police and soldiers when they open fire on the enemy, open fire on us and on our brothers. That's why, this place is burning, charred, and this is the purpose of this action.
Together with these actions, we send our respectful salute to the combatants in other parts of the world and other places who without hesitation attack as much as possible. Salute to the joint actions undertaken by CCF Russia and the Russian ELF. Also the relentless attack from combatants Amigo de la Tierra – FAI in Argentina. Also the multiple attacks by the brave ones of CCF and ICR in Project Phoenix.
This action also is our warm greetings and hugs to the brave individuals who were abducted by the state but continue to wage war whilst their physical movements are limited. To Gabriel Pombo da Silva, Marco Camenisch, Hans Niemeyer, Walter Bond, the combatants of CCF Imprisoned Members Cell and the prisoners in Greece, Italy and Chile that we can not mention one by one, but they are always in our hearts.
Bring down the civilization
Wild Life, now!
ELF Indonesian Fraction
====
Link of the video of the action from local news:
http://tv.detik.com/readvideo/2013/09/24/182502/130924044/061009681/pabrik-rompi-anti-peluru-terbakar?nd771104fvt
Tags: Arson, ELF- Indonesian Fraction, Fuck the Law, Indonesia, International Solidarity, Sabotage
Posted in Direct Action
Monday, September 23rd, 2013
A statement from Bristol Anarchist Black Cross on the recent revelation by The Post and Avon & Somerset Police that they plan on "cracking down" on anarchist, rioters and extremists
When the flames were lit that engulfed the Police Firearms Training Centre in Portishead, near Bristol it shocked the country. Never before in living memory had such a blazen act of insurrection taken place on British soil and aimed at such a high-profile target. The mass media went hysterical with talk of a "anarchist terror network". The communique, originally published on Bristol Indymedia, was quoted around the world and quickly dubious links were made between the arson at Portishead and other attacks across the UK. (more…)
Tags: ABC Bristol, Angry Foxes Cell, Angry Foxes Cell in collaboration with ACAB, Arson, Repression, Sabotage, UK
Posted in Social Control
Tuesday, September 10th, 2013
Two Moscow cells of ecoanarchists carried out a coordinated attack on highway construction site in eastern Moscow that ended in torching of two bulldozers. The action took place on 08/09/2013. First we came upon some construction workers who were busy burning fires at their wheeled houses near the forest. So initially we were tempted to fuck them up and torch their houses with tools and personal belongings. But turned out that our mutual desire to clean karma was stronger than inclination to spoil it, so we didn't touch the slaves. We torched their vehicles.
As usual, we acted with impudence: we did our black deeds right in front of workers and passer-by car drivers. So we apologized to the guy who almost got into a traffic accident because flaming dozer hypnotized him so much.
We take this opportunity to remind you that roadworks at the site continue. Moscow region is teeming with projects like this one, when trees are uprooted and earth is covered in bitumen. The more roads there are – the less we got left to live. This is not okay with us. Good luck to those who are brave. Death to those who are not.

CCF-Russia
ELF-Russia
Tags: Arson, Conspiracy of Cells of Fire, Conspiracy of Cells of Fire: Russian Cell, Earth Liberation Front, Earth Liberation Front (Russia), Russia, Sabotage
Posted in Eco Struggle
Monday, September 2nd, 2013
Last night (Sept 2nd 2013) for the first time in living memory but definitely not the last, the flames of anarchist insurrection roared high above the toxic skies of Melbourne putting a swift end to years of local 'activist' and 'social anarchist' inactivity in this city.
At approximately 7:30PM we gained entrance to Gran Turismo Autos, a luxury car dealership on Spencer St in inner-city West Melbourne via a poorly secured rear window and placed an improvised incendiary device with timer already set under a desk in an office area adjacent to the showroom then promptly fled the building via the same window through which we gained entry. (more…)
Tags: Arson, Australia, Felicity Ann Ryder, Felicity Ann Ryder Cell / FAI- IRF, Gran Turismo Autos, Informal Anarchist Federation (FAI), International Revolutionary Front, International Solidarity, Melbourne, Sabotage
Posted in Direct Action
Monday, September 2nd, 2013
Censored by the reactionary civil servants who administer Bristol IMC:
The full weight of our entrapment in within this society presses down on us unbearably. Un-named grief, frustration, loneliness and insecurity are the stories of our lives for the most part, stretching back generations. Like money talks loudest and silences all other principles, like concrete and tarmac isolate us from the rest of the planet as it sickens, and like the dominant culture casts humans as robots to work-consume-reproduce-obey… we are physically and emotionally smothered every day by a cheapened, artificial existence keeping us far from our dreams outside the mould.
Awakening anger pierces the fog of confusion from our alienated condition, seeking out worthy targets for the rage. Any notion of truce with the ruling institutions aiming at reform only conforms to the disarmed roles they would coerce us into. Immediate insurrection seems vital. We raise our masks and step out into the night to speak through a language as old as Domination: sabotage and conspiracy. (more…)
Tags: Arson, Barclays bank, Bristol, Freddy Fuentevilla Saa, Informal Anarchist Federation (FAI), International Solidarity, Juan Aliste Vega, Kozani, Marcelo Villarroel Sepúlveda, Marco Camenisch, Roger Clement, Sabotage, UK, Walter Bond
Posted in Direct Action
Wednesday, August 28th, 2013
Brief Message To The Enemies (Phoenix Project part 5)
We will not talk about "unfair prosecutions", about "the climate of terror against those who fight", nor about the "new totalitarian-ism" and things like that. That's because we know that none of these is new. These are simply snapshots of the ancient war between two incompatible words: on the one side lies the disgusting world of the Authority, of the submissive crowd and of the social cesspit and on the other side, the anarchist insurgents, the insubordinate fighters of the Negative, those who do not bow down to nobody. We will neither talk about the others. The ones who these days feel secretly happy and relieved. Now it's not the time nor the place to do so. They should bear in mind, however, that the time will come to talk about these things. -
– Freedom To The Wolves of The North
When we said "nothing is over", it's not only just words. Our threats will turn into action, time by time, every second we get the chance. And every time, we will bring our actions closer to your face. Directly in front of your guns, uniforms and prison – repressive tools that are often used to kidnap our revolutionary comrades. We will never let you sleep well, because our war is not over yet. (more…)
Tags: 'ICR-FAI-IRF / Free Mandylas and Tsavdaridis Cell', Alfredo Cospito, Andreas Tsavdaridis, Arson, Balikpapan, Conspiracy of Cells of Fire : Imprisoned Members Cell, Freddy Fuentevilla Saa, Fuck the Law, Hans Niemeyer, Indonesia, Informal Anarchist Federation (FAI), International Revolutionary Front, International Solidarity, Juan Aliste Vega, Kozani, Marcelo Villarroel Sepúlveda, Nadir Squat, Nicola Gai, Operation Ardire, Operation Thor, Operation "SHADOW", Sabotage, Spyros Mandylas
Posted in Direct Action
Sunday, August 25th, 2013
Civilization is not established by itself but by the people who support it. People who turned themselves into one of the poles of the civilization. Humans are the ones who gave birth to civilization. It also means that no one is innocent or not guilty in this present life. Every one plays their part in supporting the sustainability of civilization. So, every part of work, values, property, actions and every one who enjoy the benefits from civilization are enemies for us.
How it can be?
Humans are the creators for what is so-called: Culture. Culture is the direct mirror of civilization. Culture is but one of the brainwashing processes to make one bow and degrade the wild desires. Culture is not only a batch of values but tools of repression and hegemony. And two forms of among many culture's faces is school and arts.
It lead us to send our fire to the Arts Institute of Jakarta located in Cikini, on 20th August. We brought our hatred to the heart of the hangout place of artists who are only puppets of civilization. We put an incendiary device in an empty room of the third floor in the afternoon. We did our action directly in the face of a group of artists who are the self-considered "avant-garde" and who felt that they were revolutionaries. We set the fire to laugh at their passivity which is nothing but another gesture that supports the civilization to keep running.
Arts Institute of Jakarta for a long time are filled with illusions. This place breed individuals who play a main role in creating a "counter-culture" which is only another culture, rather than to discover and attack the whole picture of culture: Civilization. They produce songs, paintings, buildings, poems, and different forms of arts to help civilization stick its nails of domination.
Our only regret is how the fire does not accomplish itself to burn down the whole building because of another of civilization's helpers: the firefighters, who came in less than one hour to extinguish fires. But it's not the end or our last action. We will hit you again.

ELF-Indonesian Fraction
PS: We send our greetings to the FAI / Friends of Earth in Argentina who burned down hundreds of cars and comrades of ELF-Russia. Also to the revolutionary prisoners around the world.
mass media link:
http://news.detik.com/read/2013/08/20/184808/2335547/10/gedung-kampus-ikj-cikini-terbakar
http://news.detik.com/read/2013/08/20/193158/2335586/10/api-yang-membakar-gedung-kampus-ikj-berhasil-dipadamkan
Tags: Arson, Earth Liberation Front, ELF- Indonesian Fraction, Indonesia, International Solidarity, Jakarta, Sabotage
Posted in Direct Action
Tuesday, August 20th, 2013
we receive and transmit:
About two weeks ago we torched a tracked excavator at the place where workers were destroying Ismailovo park. The vehicle was parked on the side of the highway, where they were adding more lanes to the road. It took us 3-4 minutes to do the job. We approached. We set up our load of rags, no rush (we targeted spots between the cockpit, engine room and hydraulics in the arm). Added some gasoline and set it on fire. Quickly ran to the opposite side of the street, took our bottles of beer from bags and headed towards the nearby subway station. After about 10 minutes of walking we saw a firefighter brigade (all noisy and flashy) driving to the place of recent ecotage (they would be just in time to save the smoking remains).
Words of encouragement to our Ukranian comrades who for reasons unknown suspended all activity. We would also like to mention our rage at the sentence of Igor "Squash" Kharchenko: http://grani.ru/Society/Law/m.217970.html [antifascist from Moscow, sentenced to prison time after a controversial trial process despite all evidence proving his innocence - trans.]
Have no doubt, we will avenge him.
- ELF-Moscow
Tags: Arson, Earth Liberation Front, Earth Liberation Front (Russia), ELF-Moscow, Russia, Sabotage
Posted in Direct Action
Sunday, August 18th, 2013
On 10th August under cover of darkness we targeted the construction contractors Van Omme & De Groot for their involvement in the building of Rotterdam detention centre. The slogan 'Fuck Deportation!' was sprayed upon the shutters covering the windows and paint bombs filled with generous amounts of bright paint were thrown, ruining the ever so posh wooden door of the arrogant planners of incarceration. This action was an autonomous action taken upon by ourselves separate from the planned No Borders camp during the same week.
It is one thing to shout "no borders, no nations, stop deportation" but an entirely more effective act to physically attack those who make such a hell for migrants exist. We are also aware that our action alone will not bring an end to the detention/deportation profiteers, but it is a retaliation against those involved in such torturous places that think they can operate with impunity. Our action is in solidarity with all those dwelling in detention centres in fortress Europe, be it Rotterdam, Calais, UK, Italy or Greece. You are never forgotten. To those who make such places of violence possible, you are not forgotten either, we know of you and what you do.

GEEN MENS IS ILLEGAAL (NO HUMAN IS ILLEGAL)
Destructors of Borders
Tags: Holland, Migrant Struggle, Paint attack, Paintbombs, Rotterdam, Sabotage, Van Omme & De Groot
Posted in No Borders
Sunday, August 11th, 2013
We receive and transmit:
At the end of July 2013 near Maikop (resp. Adygeya) we carried out an ecotage action at the highway construction site. We chose a moonless night to reach the site of this horrendous rape of nature and chose our targets: personal belongings of slave-workers as well as corporate property. Having picked up a stone in the ditch nearby, we cracked open a window and poured some gasoline inside the mobile housing unit (we made sure no workers were inside before the attack). The rest of gasoline was poured on the wheels. In the next moment a flash of match send this shit to hell where it properly belongs. We wish the construction company to follow the vehicle there. Our withdrawal was lit with flames (as usual). No guard turned up to stop us (as usual).
Do not wait for the optimal moment to present itself before you go on the offensive. Only the state of permanent conflict will make your personality strong. If you follow the track of biding your time, hoarding money, buying some sophisticated stuff for the action – you're subconsciously withdrawing from the struggle. No camouflage or fancy boots will carry out the action for you (though they do help). All things are mere tools. Go outside and fight now! Do not listen to those who murmur: "now is not the time"! To hell with famous ideologists! To hell with "inappropriate anarchy"! Anarchy is here and now! To hell with union struggle! Working class is dead just like the present day society. It's rotten. It's in decay. Yet we are supposed to communicate with it just like Russians are supposed to communicate with Lenin. Do what you want the way you want it to be done. Fight for your own freedom. Fight for yourselves. Fight for your brothers and sisters. Fight for the future of your children. Nobody will grant you freedom unless you take it by force for yourselves. If now is not the time for you to step over "the law", to look beyond the templates of accepted "resistance", then we bet you won't find any courage inside when the civil war starts. We wish you luck.
CCF-Russia, 2013
Tags: Adygeya, Arson, Conspiracy of Cells of Fire, Conspiracy of Cells of Fire: Russian Cell, Maikop, Russia, Sabotage
Posted in Direct Action
Wednesday, August 7th, 2013
At 3am on Tuesday morning (August 6th) the County Sports Club on Colston Street was attacked. 4 windows were smashed each with 2 panes and SMASH FASCISM was painted on the wall. On July 13th the County Sports Club allowed Close Shave to play, a fascist punk band that have played regularly with Screwdriver and on the bill of Rock Against Communism. Their lyrics advocate bringing back the death penalty for immigrants and gays amongst other things.
Let this be a warning when polite requests fail. Anyone supporting or promoting the racism, homophobia and totalitarianism of the far right (or left) deserves this kind of treatment.
For freedom of movement and freedom of sexuality!
For freedom.
Tags: Bristol, County Sports Club, Racism, Sabotage, UK
Posted in Anti-Fascist
Thursday, July 25th, 2013
El pasado jueves 18 atacamos a pedradas el Banco ITAU situado en las calles Bolivar y Moreno, en pleno centro porteño. A su vez, dejamos pintado en sus vidrieras "Solidaridad con la Revuelta en Brasil". Un gesto mínimo que queríamos comunicar en momentos donde el papa Francisco I (Jorge Bergoglio) se pasea por las calles del país vecino, antes una masa imbécil que lo vitorea, mientras miles mueren de hambre o bajo balas del ejercito, mientras otrxs tantos revientan hacinados en las favelas o bajo el martillo del narcotráfico y las drogas.
Ni la ostentación de la riqueza del vaticano, ni el espectáculo millonario del próximo mundial de fútbol, pueden tapar tanta miseria.
Contra toda Autoridad!
PROPAGANDA Y ACCIÓN
-
On Thursday 18 we attacked the ITAU Bank with stones located in streets Bolivar & Moreno, in downtown Buenos Aires. In turn, we painted on their windows "Solidarity with the revolt in Brazil." A small gesture that we wanted to communicate in the moments where Pope Francis I (Jorge Bergoglio) wanders the streets of the neighboring country before a mass cheering circle-jerk, while thousands starve or are under army bullets and while many others are in bursting overcrowded favelas or under the hammer of drug trafficking and drugs.
Neither the ostentation of wealth of the Vatican, or the millionaire show of the next World Cup, can cover so much misery.

Against all Authority!
PROPAGANDA AND ACTION
Tags: Argentina, Bank Smashed, Buenos Aires, Sabotage, Solidarity Action
Posted in Direct Action
Tuesday, July 23rd, 2013
2 dolphins were set free from Yevpatoria dolphinarium as a result of a special operation with diving equipment. During the night of the full moon on 20/07/2013 we covered 2 km under water and breached the security perimeter: We cut the nets and entered the dolphin containment pools.
In the next hour we cut a large part of the perimeter barrier. Dolphins encouraged our efforts with clicks and whistling. Their support filled us with joy and excitement.
This has been an unforgettable meeting and encouraging experience for us. Our job done, we left the area of operation. By the way, the prison was equipped with night-vision cameras, but their red eyes were turned on the catwalks and audience seats. Nobody expected our approach from below. As soon as dolphins got wind of freedom and open water, they escaped into the night sea.

ALF/FAI – SEALS on tour
Tags: ALF, ALF/FAI - SEALS on tour, Dolphins, Informal Anarchist Federation (FAI), Sabotage, Ukraine
Posted in Eco Struggle
Sunday, June 30th, 2013
A CONTRIBUTION FOR THE INFORMAL ANARCHIST FEDERATION – INTERNATIONAL REVOLUTIONARY FRONT
Today, the society is the prison. In the prison's system, no one can be neutral. Each one of us full of consciousness has made a choice to choose which side you'll stand for. No unconscious choices. Because a choice, is made by an individual and not by god. Therefore there will be no "civilians" in this asymmetric war. There is only two antagonistic sides: those who fought for the total destruction of the society and those who fought to defend it.
The formation of the society are the alienating forms. Alienated one from the other in many forms of imaginary borders which is protected by guns, laws, prisons, codes of morality and the "faith" of those who believed that the borders are real. And for us, all those who believe in the borders are the enemy.
In our sight, the good citizens and the paramilitaries who where built by the military and have the same attitudes and behaviors like military are enemies who deserved our attacks, the same attacks FAI-FRI sent to their religious institutions, schools, factories, army-barracks, banks and all the supporters of the system named: Society.
Though it's true that for many people, –even those who are self-proclaimed 'anarchists'–, that from a fire that destroyed every building we attacked, it does not look that "revolution" would soon arrive. This is a stupid prediction because it puts our actions in their cage of "revolutionism". An error occurred due to the habit of generalizing all individual events on the social scale, which is where we are enemies of it. They have too long used the ancient glasses, so see how the presence of new urban guerrilla groups is something that does not fit in their glasses. They will even easily use the label 'euro-centrism' or 'latin-centrism', because they think numbers are that important. Something which is inherited from the classical anarchist thought with a mixture of Marxism that is really disgusting. Those –very Marxist– anarchists who eventually became re-stuck on the same logic with the Leftist: Mass.
That's why, we are not at all interested in becoming involved in the wave of mass protest against fuel price hikes. Those who took to the streets carrying banners and shouting, because they consumed the same event. They perform repetitive and predictable actions. They shouted until hoarse and expect changes from the parliament or state generosity. They hide in the terminology of "peaceful protest" to hide their inability to attack the oppressors, because they are cowards. They are cowards who only live from the "revolutionary" events to quench the thirst of the "revolutionary" in them.
Although on the other hand, we know clearly there is a small fraction of individuals who remain firmly in war –like in battle that they have lived in the days of yesterday– and not judging a wave of mass awakening that occurred recently in Indonesia as something "revolutionary". To those whose eyes see clearly, we are really proud to call them comrades.
Each of those who read the communiqué must realize that we have a logic and reasoning that would not be possible according to the logic used by the pacifist, social activists and the Leftist and other citizens –including the social anarchists– which does not comprise part of our group. For us, it does not matter and is also not an issue that is important at this time. Each individual has the right to hold opinions and justifications respectively. Each group will have a different analysis of the foundation with the other groups. Every person is entitled to choose their own path for how to get involved, and take personal responsibility. Each individual must find tactics that suit them and select it.
In the end, the Informal Anarchist Federation-International Revolutionary Front must necessarily be seen as an international project between individuals, cells or groups who share the passion and anger. FAI-FRI is not an umbrella organization or union which collects only those who are called "nihilist-individualist" and "the radical anti-civilization". But FAI-FRI is a temporary meeting point for acts of solidarity, an act of revenge on the enemy, simultaneous attacks, which are not intended to embrace "a better future" but to see the collapse of the hypocritical society: Today.

ANGER UNIT
INTERNATIONAL CONSPIRACY FOR REVENGE (ICR)
INFORMAL ANARCHIST FEDERATION (FAI)
INTERNATIONAL REVOLUTIONARY FRONT (FRI)

PS: To show the hardness of our hearts, we burned down the three-floor clothing warehouse in di Jl Pengukiran Raya No 1, RT 03/03, Kelurahan Pekojan, Kecamatan Tambora, Jakarta Barat. We chose the warehouse so to show to the unionists that the workers goals are not to be workers anymore, and not for eight-hours, democracy inside the factory, freedom of association or other reformist demands.
Tags: A Contribution for the FAI-FRI, Anger Unit / ICR-FAI-IRF, Arson, Indonesia, Informal Anarchist Federation (FAI), International Revolutionary Front, Jakarta, Letter, RO-FAI (Indonesia Section), Sabotage
Posted in Direct Action