Posts Tagged 'Solidarity Action'
Sunday, September 14th, 2014
#communique
Through fire, we sent our direct solidarity to those fighters and arrested comrades who stood against the eviction of the State in Pandang Raya, Makassar, South Sulawesi. We deeply feel connected with those people, although we haven't seen each other. But your stories, your spirits and your courage, reached us here who are hiding in the dark and awaiting our momentum to hit back at the enemies.
We were waiting for a while, discussing and questioning ourselves. We want to bring the urban war against the enemies into the next level by training ourselves to be more violent. But we couldn't hold ourselves down and watch all this violence by the State against our sisters in struggle. We won't let ourselves only be throwing words of solidarity but doing nothing, when you are facing a war to defend your lives and your homes. NO! We are not civil anarchists. We are the angry ones.
And so early Sunday (14th September, 2014), we decided to launch an attack against the property of the State. And we chose the Faculty of Cultural Science, Sam Ratulangi University as target. It was an easy target for us. And if out there, people will ask why we attacked this university, we won't give an answer. We answered it before, years ago, when we attacked a primary school in this city. No more explanations for spectators or enemies.
Hands off Pandang Raya,
Urban Guerrilla War,
International Conspiracy for Revenge
FAI Indonesia
-
The pictures were stolen by one of our comrades from Path.
Tags: Arson, Indonesia, International Conspiracy for Revenge, Manado, Padang Raya, Pandang Raya, RO-FAI (Indonesia Section), Solidarity Action
Posted in Direct Action
Monday, September 8th, 2014
Last week was the International Week of Anarchist Prisoners. Dozens of events from South America to the Far East. The anarchist collectives around the world in various ways tried to raise awareness of imprisoned comrades and fellow soldiers. And we, along with other groups and individuals supporting the Anarchist Black Cross tried to highlight this issue. And not only that. We have tried to express solidarity to our imprisoned friends and comrades with the intensification of correspondence (letters and sending packages). We put up hundreds of flyers and stickers. Held a public screening of a film about the fate of Sacco and Vanzetti, upgrading in cities, in prisons, courthouses and even a police station. In Ústí nad Labem, according to a communiqué signed by the group "Proletarian Solidarity" 'a police car was damaged as symbolic support to imprisoned anarchists in the world'. Although the last week in August is unfortunately not optimal for broader mobilization, perhaps the International Week of Anarchist Prisoners served its purpose. It recalled the need for solidarity not only for imprisoned comrades and friends, but throughout the movement as such. (more…)
Tags: Czech Republic, International Week for Anarchist Prisoners, Solidarity Action, Ústí nad Labem
Posted in Prison Struggle
Monday, September 8th, 2014
from contrainfo, transl. waronsociety:
In the early hours of Friday August 29, 2014 the ambassador of the Spanish state's mansion walls in Quito were painted in solidarity with Mónica Caballero, Francisco Solar and the rest of the State's prisoners. This action was framed inside of the International Week of Solidarity with anarchist prisoners. Although the damage was not much and due to logistical problems the actions was not carried out in all of its splendor, any attack against the State's institutions and its representatives should be celebrated.The same night the Israeli embassy was attacked as well, tearing down its dirty flag in support of the Palestinian people and the "Anarchists against the wall" organization.
Their mansions will be converted into their gallows, our prisons into their death sentences. From the city of Quito all support and solidarity with imprisoned compas.

Long live the vandal nights!
Long live the insurrection!

IDOOS
Dissident Individuals Occasionally Organized for Subversion
Tags: Dissident Individuals Occasionally Organized for Subversion, Ecuador, Embassy, Francisco Solar, International Week for Anarchist Prisoners, Monica Caballero, Paint attack, Solidarity Action, Spain
Posted in Direct Action
Saturday, September 6th, 2014
A group of anarchists in Hamburg dropped a banner in solidarity with Mónica and Francisco, imprisoned in Spain. The banner read "Freedom for Mónica and Francisco. Pull down the prisons." This is our small contribution to the week of solidarity with anarchist prisoners.
Freedom for Mónica and Francisco, freedom for all anarchist prisoners. Until all are free!
Tags: Banner drop, Francisco Solar, Germany, Hamburg, International Week for Anarchist Prisoners, Monica Caballero, Solidarity Action
Posted in Direct Action
Saturday, September 6th, 2014
From the midst of the terror-fervor, the advance of the surveillance state, and display of force by the law.
This is to report incendiary action bringing life to our hatred for the police, inkeeping with our wider effort for the eradication of authority and it's civilisation and with not a step back before repression which fails to inhibit us…
It took place in Keynsham (on 3rd September) at the police-station where a fleet of support group vans and other marked force vehicles are kept close to the ring-road which skirts Bristol. We rigged all three mobile-CCTV vans at their charging station inside the perimeter to the side of the cop-den with short fuses, then more fuel in containers was primed to incinerate an extra riot squad minibus parked to the front after we'd left the area. When the fires were detected, the riot bus and at least one of the camera vans were already burnt. According to the media an individual was arrested shortly after, who they are probably even now dimly realising they have no evidence to charge because we alone are responsible for the blaze under their snouts.
The police-station is situated close to the massive Keynsham Police Centre due to now open which is also to assimilate the functions of the old Bath and Radstock stations as part of a newly-constructed series of the force's multi-purpose detention suites, crime investigation centres, an operations base and the tri-force firearms facility which was burned down by the hands of anarchists one year ago. (more…)
Tags: Arson, Bristol, Chile, Freddy Fuentevilla Saa, Fuck the Law, Informal Anarchist Federation (FAI), Juan Aliste Vega, Keynsham, Marcelo Villarroel Sepúlveda, Solidarity Action, UK, Uncivil Disobedients / Informal Anarchist Federation
Posted in Direct Action
Thursday, September 4th, 2014
A night in Bagcılar… we were at the foot of the Beast

Even though, the deepest darkness of the night is thought to hide all of this system's infamies, it also becomes accomplice to some furious hookers who want to destroy this shit before the dawn. Although street lights, shop lights, surveillance cameras and MOBESEs sure- the eyes and ears of the State- prowl to betray us by giving a feeling like we're under the surveillance of a rapist, this can not prevent us from transforming our rage against this rotten system to action by coalescing with shadows which remain for us from the night.
Here in one of the nights again, in Istanbul/Bagcilar, we attacked a yellow beast, which only has a task to dig concrete disintergrating the land, which takes an active role in the clear-cut of forests and in the urbanization of the last places remaining without concrete, by cutting the blood stream and defusing the connection between its organs.
We took this action in order to contribute to the "Anarchist Prisoners Global Week of Solidarity (23-30 August)". First, we dedicate this action to anarchist comrade Tamara Sol Farías Vergara who is now in prison under charge of shooting and wounding a security guard of a bank, then Nikos Maziotis, who is now in prison after being arrested in an armed conflict, claiming the tradition of never surrendering, and to his partner Panagiota Roupa who is on the run now. Also we dedicate this action to all anarchist and anti-authoritarian prisoners around the world who are fighting against the institutions of domination.

"We were awake last night, with the dawn somethings were going wrong somewhere."

FAI/IRF Furious Hookers Militia
Tags: Bagcilar, FAI/IRF Furious Hookers Militia, International Week for Anarchist Prisoners, Istanbul, Sabotage, Solidarity Action, Turkey
Posted in Direct Action
Wednesday, August 20th, 2014
325 receives and transmits:
Earlier this week here in Berlin, we threw paving stones through the windows of an office of the Social Democratic Party of Germany. We attacked with comrade Luke O'Donovan in our thoughts. Like Luke, our humble action was motivated by a love of life and an active rejection of a resignation to death.
Tags: Berlin, Luke O'Donovan, Solidarity Action
Posted in Direct Action
Saturday, August 16th, 2014
From the anti-repression festival in Luzern, Switzerland, we send revolutionary greetings to the prisoners and hands off Nikos Maziotis the struggle goes on ….

Red Help Switzerland
rotehilfech.noblogs.org
Tags: Nikos Maziotis, Revolutionary Struggle, Solidarity Action, Switzerland
Posted in Direct Action
Wednesday, August 6th, 2014
We spread this social activist action report in solidarity with the struggle against all oppression – Report from London Palestine Action via RabbleLDN:
Victory to the Palestinian struggle! Stop arming Israel! #StopElbit
For nearly a month, Israel has bombarded Gaza from land, sea and air. More than 1800 Palestinians have lost their lives and war crimes have been committed. To our collective shame, the UK government has not only failed to take action to pressure Israel to stop its massacre, but has refused to take steps to end the material support it provides to Israel's brutal regime of apartheid and colonialism. When governments support crimes against humanity, grassroots movements must take direct action.
A group of activists from the London Palestine Action network have today (5/8/14) chained the doors shut of an Israeli weapons factory based near Birmingham in the UK and are now occupying the roof. As part of the boycott, divestment and sanctions movement (BDS) and in response to calls for action from Palestinian movements, we are demanding the permanent closure of the factory and an end to all forms of military trade and cooperation with Israel. (more…)
Tags: Anti-Militarism, Elbit, Palestine, Solidarity Action, UK
Posted in Direct Action
Friday, August 1st, 2014


Here's a photo from Switzerland. Solidarity to Maziotis and the prisoners who fight!
Tags: Greece, Nikos Maziotis, Revolutionary Struggle, Solidarity Action, Switzerland
Posted in Prison Struggle
Tuesday, July 29th, 2014
MIT POWER DURCH DIE MAUER! – Nur Angst, Kein Respekt – Gegen alle
Zwangsanstalten und die Gesellschaft des Einsperrens!
Anlässlich der Solidaritätstage mit den Griechischen Gefangenen, haben wir beim Antirassistischen Fußballturnier in Lohmen zusammen mit anderen Kicker_innen ein kleines Solifoto geknipst!
Das griechische Parlament beschloss kürzlich ein Gesetz, dass die Haftbedingung sukzessiv verschärft und nach unserer Auffassung vor allem politische Rebellion in und außerhalb der Knäste einschüchtern und bekämpfen soll. Nach der Einführung der griechischen Variante des Paragraphen 129a (1) folgt nun "ganz logisch" eine aggressivere Bestrafung vermeintlicher Terrorist_innen. Unliebsame Subjekte, die mit ihrem Engagement für den Staat ein Problem darstellen, sollen als Gefangene des "Typ C" nach Möglichkeit in Isolationshaft fast beliebig lange begraben werden. (2)
Gleichzeitig werden die Inhaftierten nach ihren "Verbrechen" selektiert um die gegenseitige Solidarität zu unterbinden!
Wir wissen, dass unsere Aktion nicht einmal im Ansatz eine Antwort auf diesen Angriff des Staates darstellt. Ein Banner zu malen und ein Foto zu schießen unterbricht weder die staatliche Routine, noch wird es viele andere Menschen von unseren Ideen überzeugen. Dennoch wollen wir den Gefangenen (in GR) ein kleines Zeichen unserer Solidarität senden damit sie vielleicht etwas Kraft schöpfen können.
Auch unser ganz alltäglicher Kampf ist nicht immer von "Power" erfüllt.
Vielmehr sind wir meist mit Erschöpfung angesichts und Angst vor Repression oder dem eigenen Scheitern konfrontiert. Umso wichtiger finden wir einen solidarischen und verständnisvollen Umgang miteinander – um uns selbst aufzufangen und der Repression möglichst wenig Angriffsfläche zu bieten!

Wir sind alle 129a! Knäste zu Spielplätzen! Bullenkarren zu Wohnmobilen!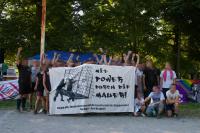 Tags: Germany, Hunger Strike, Solidarity Action
Posted in Prison Struggle
Tuesday, July 29th, 2014
Vi hanno partecipato complessivamente sette detenuti: Ahmet Duezguen Yueksel, Andreas Krebs, Oliver Rast, R., Sadi Özpolat, Thomas Meyer­Falk e Marco Camenisch in Svizzera.

Ahmet Duezguen Yueksel
In Turchia esercita la professione di avvocato e, dato che lavora a favore dei prigionieri politici, ha dovuto lasciare il paese ed è stato arrestato in Germania nel 2007 in base all'art. 129b. E' stato processato, condannato e incarcerato nella prigione di Stoccarda-Stammheim. Dopo aver scontato la pena è stato sottoposto a restrizioni rispetto alla residenza, ad esempio gli è stato concesso di stare solo in certe zone. Non ha rispettato quest'obbligo ed è stato arrestato in Grecia ed estradato in Germania nel maggio di quest'anno. Lì attende di essere estradato in Turchia. (more…)
Tags: Ahmet Düzgün Yüksel, Andreas Krebs, Germany, Marco Camenisch, Oliver Rast, Sadi Özpolat, Solidarity Action, Thomas Meyer Falk
Posted in Prison Struggle
Monday, July 28th, 2014
Inter Arma received and translated:
RESPONSIBILITY CLAIM FOR SKAI
SCUMBAGS – PIMPS – JOURNALISTS

"Media are to democracy what tanks are to dictatorships"
We "Nihilists' Cells" take responsibility for the grenade attack against the headquarters of SKAI pimp-channel, in the early hours of Saturday 12/07.
In the age of media empire a lot are being written just to say a few and hide the most. Journalists appear as the exclusive owners of the truth. Whatever doesn't "play" on TV cameras, it simply doesn't exist. It's being deleted… silenced… hidden…
Just like the biggest hunger strike (4,500 prisoners) ever made in Greek prisons against the law for maximum security prisons. The tidings of the hunger strike was squeezed among advertisements for mobile cellphones, detergents, electrical appliances and the world cup's carnivalesque rhythms, in order to be frittered, slaughtered and, finally, completely silenced.
The prisoners' fight against being buried and forgotten living-dead inside hundreds of tons of concrete and banisters looks like it doesn't match the TV narrative of life. Where the lie builds your ideological castles, there is room only for fear and for the stupefaction of the society of the spectacle. Images of people searching the garbage for some food, interchange with flashy fashion shows and charity events, while the news about the thousands of suicides of neo-desperate ex-bourgeois are being forgotten in the aftermath of lifestyle gossips in an endless TV bargain of social aphasia… And life goes on outside the TV screen in a black-and-white background. Mass way of thinking and emotions with users' guides… this is the social factory of the media.
SKAI and its group of lackey and pimp journalists are carrying on the propaganda of conservatism and fear. Spinster witches (I. Mandrou), submissive counselors (A. Portosalte), agents (Papachelas), disgusting fawners (G. Aftias), newly minted pretentious cocky dastards (T. Chatzis), hysterical bankers (M. Papadimitriou), under the instructions of a smuggler (Alafouzos), praise and sanctify the authority's orders, sending for the Inquisition to whoever dares question it.
We could say thousands of words about the salaried TV-attorneys. But no sheep was ever saved by bellowing. In the battle against the existent the one who speaks "well" wins not, but the one who turns his words into action does. That's why we don't like garnished speeches, complicated analyses, social rhetorics and pompous political terms, in order to "justify" our actions or to become likeable for the masses.
We are with the minority of those who are indifferent to the objective conditions and the intermediate levels of "social revolution" and we bring the immediate experience of the anarchist insurrection HERE and NOW…
From the razor's edge where we look for the authentic experience of attack, we send our greeting and our complicity to the COMRADES of the C.C.F.-Imprisoned Members' Cell and to Andreas and Spyros who are being held in Korydallos wing A, to comrade Olga of C.C.F. and to all those friends in prisons who do not kneel in front of the tyranny of the authority and the decay of time. Solidarity and Strength to the illegal sector of the Conspiracy of Cells of Fire, to Comrades in Germany, Italy, Indonesia and England who reinforce "Project Phoenix", to the international network of FAI/IRF and to the fugitive urban guerrilla Chr. Ksiros.
THINK REVOLUTIONARY – ACT AGGRESSIVELY
"Nihilists' Cells"
PS (1). The presence of some random by-passers and the danger of injuring them forced us no to express the range of attack we had planned and limit ourselves to the throwing of that specific grenade… But next time we will not content ourselves with a simple intimidating symbolism…
PS (2). Every arrest of an urban guerrilla, like the arrest of N. Maziotis, is one more reason for the sharpening of the attacks. Strength and complicity with the comrades who take the political responsibility of choosing the armed struggle.
Tags: Andreas Tsavdaridis, Christodoulos Xiros, Conspiracy of Cells of Fire, Conspiracy of Cells of Fire : Imprisoned Members Cell, Informal Anarchist Federation (FAI), International Revolutionary Front, Nihilists' Cells, Nikos Maziotis, Olga Economidou, Solidarity Action, Spyros Mandylas
Posted in Direct Action
Monday, July 21st, 2014
via contra-info:
In the early hours of Sunday, July 20th, we attacked the bastards of the MAT anti-riot squad with Molotov cocktails at the headquarters of Greece's socialist PASOK co-ruling party located in Charilaou Trikoupi Street, Exarchia, as a minimum act of solidarity with urban guerrilla fighter Nikos Maziotis…
The States are the only terrorists. Solidarity with urban guerrilla fighters!
Strength and solidarity to anarchist combatant Nikos Maziotis, and Pola Roupa who has a bounty on her head.
Tags: Arson, Athens, Exarchia, Greece, Nikos Maziotis, Pola Roupa, Revolutionary Struggle, Solidarity Action
Posted in Direct Action
Saturday, July 19th, 2014
via RHI-SRI:
Besides Sadi Özpolat, Julihmet Düzgün Yuksel, Andreas Krebs, Oliver Rast, Thomas Meyer-Falk and Marco Camenisch are participating in the solidarity hunger strike for the Greek prisoners, from 18-20 July.
In a § 129b – trial [terrorist association] in the Regional Court of Dusseldorf in early 2012, Sadi Özpolat was sentenced to six years in prison. In Turkey, Sadi spent 17 years in jail. He participated in the 1996 death fast and at the beginning of the century, he was the spokesperson of the prisoners in the hunger-strike. In a battle against the introduction of isolation torture "made in Stammhein" in prisons [Stammhein is the prison where the imprisoned members of the Red Army Faction were murdered by the German State], that is going on for almost 7 years, in that time more than 120 people have died.
Death fast, in contrast to hunger strike, is ended only if a result is reached.
After his release in 2003 in Turkey, Sadi was arrested again in 2004. When he was released in 2008, he left Turkey and applied for asylum in France.
Sadi was arrested on 19 May 2010 in French Colmar due to a warrant by the German Attorney General, and in July 2010 he was delivered to the German authorities and sent to prison.
In Germany, Sadi did several hunger strikes to fight for better conditions.
Sadi Özpolat
Krümmede 3
44791 Bochum
Germany
-
Neben Sadi Özpolat beteiligt auch an dem Solidaritätshungerstreik für die griechischen Gefangenen vom 18-20. Julihmet Düzgün Yüksel, Andreas Krebs, Oliver Rast, Thomas Meyer-Falk und Marco Camenisch ist auch Sadi in den Soli-HS getreten.
In einem §129b – Prozess vor dem OLG Düsseldorf wurde Sadi Özpolat Anfang 2012 zu 6 Jahren Haft verurteilt. In der Türkei war Sadi insgesamt 17 Jahre im Knast. Er nahm am Todesfasten 1996 teil und war Anfang des Jahrhunderts Sprecher der hungerstreikenden Gefangenen. In einen bald 7 Jahre andauernden Kampf, der sich gegen die Einführung der Isolationsfolter "Made in Stammheim" richtete, starben über 120 Menschen.
Todesfasten wird im Gegensatz zum Hungerstreik erst beendet, wenn ein Resultat erreicht ist.
Nach seiner Entlassung 2003 in der Türkei wurde Sadi 2004 erneut verhaftet. Als er wieder frei kam, reiste er 2008 aus der Türkei aus und stellte einen Asylantrag in Frankreich.
Sadi wurde am 19. Mai 2010 im französischen Colmar aufgrund eines Festnahmeersuchens der Bundesanwaltschaft festgenommen und im Juli 2010 nach Deutschland ausgewiesen und in den Knast gesteckt.
Er trat mehrere Male in der BRD in den Hungerstreik, um bessere Bedingungen zu erkämpfen.
Sadi Özpolat
Krümmede 3
44791 Bochum
Deutschland
Tags: Germany, Greece, Hunger Strike, Sadi Özpolat, Solidarity Action
Posted in Prison Struggle
Monday, July 14th, 2014
Respondiendo al llamado de nuestros compañeros y de nuestra propia conciencia insurrecta, decidimos no estar ausentes en solidaridad durante el día de la lectura de la sentencia contra los compañeros presos por el "Caso Security".
Sabemos que los carceleros no quedan indiferentes cuando se sienten apuntados por la hostilidad anárquicaanticarcelaria, por eso el día de la lectura de las condenas "decoramos" con propaganda la esquina donde está ubicada el complejo represivo-penitenciario que aloja al Centro de Justicia y diversas unidades penales, incluyendo la Cárcel de Alta y Máxima Seguridad, donde se encuentran encarcelados los compañeros del "Caso Security". (more…)
Tags: Chile, Freddy Fuentevilla Saa, Juan Aliste Vega, Marcelo Villarroel Sepúlveda, Solidarity Action, Trial
Posted in Prison Struggle
Sunday, July 6th, 2014
This is a message from German prisoners. They are going to go on hunger-strike between the 18th and the 20 of July. Marco Camenisch, long-term eco-anarchist radical prisoner in Switzerland will also participate. This is an expression of the international prisoners solidarity with the struggle of the Greek prisoners against the new prison system. More info to come…

solidarity is our weapon
Check out: www.rhi-sri.org
"An alle Mitgefangenen,
Geht um die Hungerstreikenden Gefangenen in Griechenland
In Griechenland wehren sich seit dem 23. Juni tausende Gefangene mit einem Hungerstreik gegen Gesetze zur Einrichtung von Hochsicherheitsgefängnissen.
An dem Protest nehmen bereits fast 4000 der etwa 12000 in griechischen
Knästen Eingesperrten teil.
Daher wird aus Solidarität und Anteilnahme die bundesweiter Hungerstreik
aufgerufen.
Bereits in Berlin und einigen Haftanstalten in Bayern wurde der Termin
für den 18.-20.Juli hierfür angesetzt.
Gez. Gefangenen-Gewerkschaft
Andreas Krebs
Marco Camenisch
Oliver Rast
-

English version
"To all fellow prisoners,
This is about the hunger striker prisoners in Greece
In Greece since June 23 thousands of prisoners fight back with a hunger strike against laws establishing High-security prisons.
At the protest already almost 4000 of about 12,000 of those imprisoned in Greek prisons are taking part.
Therefore, for solidarity and sympathy, a nationwide hunger strike is invoked.
Already in Berlin and some prisons in Bayern was the start date of 18-20 July recognized.
Gez. Prisoners' union
Andreas Krebs
Marco Camenisch
Oliver Rast
Tags: Germany, Greece, Hunger Strike, Solidarity Action
Posted in Prison Struggle
Thursday, July 3rd, 2014
Here we are with a good picture of solidarity to the prisoners struggle in Greek prisons from Ticino, Switzerland.
Tags: Greece, Hunger Strike, Solidarity Action, Switzerland, Ticino
Posted in Prison Struggle
Thursday, June 26th, 2014
The street sign of "FIFA-Strasse", which was disassembled at the
manifestation at 14 June in front of the head office of FIFA in Zurich, was passed us on today.
In solidarity with all struggles against and around the World Cup in Brasil we fight against the capitalistic exploitation of football through FIFA and the other exponents of capital.
In Greece the capital punishment is now called Prison Type C.
"We fight and resist for our dignity", wrote the fighting prisoners, which are in hunger strike since monday, 23.06.2014.
Our solidarity shall also be a weapon in this struggle!

International solidarity is our arme!

RHI-SRI
Tags: Demo, FIFA, Greece, Hunger Strike, Solidarity Action, Switzerland, Zurich
Posted in Direct Action
Wednesday, June 25th, 2014
This is a solidarity action in Zurich at the Greek general consulate that we received from Red Help International.
Tags: Greece, Hunger Strike, Solidarity Action, Switzerland, Zurich
Posted in Prison Struggle