Posts Tagged 'Trial'
Monday, June 29th, 2015
From: supportericking.wordpress.com
A quick update for supporters around the world. A continuance has been
filed for Eric King's federal trial, pushing the trial date back from
July 13th to October 26th. We will keep you updated on the progress of his
case and reach out when we're starting to prepare to pack the court for
his trial.
In the mean time, Eric remains housed in segregation at CCA Leavenworth.
We ask for all your love and solidarity while he continues to fight for
medical care, including outside testing for an increasingly serious
medical situation. We will update everyone as we get more information
about his health. (more…)
Tags: Eric G. King, Trial, USA
Posted in Prison Struggle
Saturday, June 6th, 2015
5 June 2015, Athens - Christodoulos Xiros, ex-member of the Revolutionary Organisation 17 November, who is facing charges for participation in the Conspiracy of Cells of Fire escape attempt that was foiled in January by the Greek authorities, denied to answer any questions from the judicial apparatus and made a political statement.
In his brief political statement, Xiros expressed his views and called on the examining magistrate Eftihis Nikopoulos and everyone that he works for to apologize themselves.
Part of his statement read: "I have nothing to say to mechanisms that support the occupation forces and their local collaborators. You and those you serve should apologize to the people and history."
Tags: 17 November, Athens, CCF Escape case, Christodoulos Xiros, Greece, Trial
Posted in Prison Struggle
Friday, May 29th, 2015
22.5.2015 – Comrades Nikos Maziotis and Kostas Gournas were transferred yesterday from Domokos prisons to Koridallos prisons where the upcoming trial will begin today 22.5.15 in the special court room of the prison.
The comrades were take straight to the basement cells of the female prisons, where they are basically in isolation…
After the demand by comrade Nikos Maziotis for a postponement in order for him to contact his lawyer since his transfer from Domokos was only the previous day, the court decided to adjourn till Wednesday June 10th at 9am.
After communicating with the comrades of the Revolutionary Struggle over the phone, we can state that they are strong and their morale is high!
via actforfree.
Tags: Athens, Domokos, Greece, Korydallos Prison, Kostas Gournas, Nikos Maziotis, Prison Transfer, Revolutionary Struggle, Trial, Type C prisons
Posted in Prison Struggle
Friday, May 8th, 2015
On 5 May, the court of appeal dismissed the application for revocation of the decision which had sentenced comrade Tamara Sol to seven years, six months and a fine for the shooting of a security guard in a branch of Banco Estado. On hearing the decision unrest broke out in the courtroom and on the street outside the building, which resulted in five arrests.
———

Translated by Inter Arma
Source: Publicacion Refractario
Tags: Chile, Sol F. Vergara, Tamara Sol, Trial
Posted in Prison Struggle
Friday, May 8th, 2015
In early May, the Supreme Court decided to reduce the sentences of comrades Alfredo Cospito and Nicola Gai, who have been sentenced for the shooting of the manager of the nuclear company Ansaldo Nucleare, Roberto Adinolfi.
The final sentences are:
Alfredo Cospito: 9 years, 5 months and 10 days (from 10 years and 8 months)
Nicola Gai: 8 years, 8 months, 20 days (from 9 years and 4 months)
———
Translated by Inter Arma
Source: Machorka
Tags: Alfredo Cospito, Informal Anarchist Federation (FAI), International Revolutionary Front, Nicola Gai, Nucleo Olga FAI/FRI, Roberto Adinolfi, Trial
Posted in Prison Struggle
Friday, April 17th, 2015
Eric G. King, a 28-year-old vegan anarchist, was arrested and charged
with an attempted firebombing of a government official's office in
Kansas City, MO in September 2014. Eric is being charged with throwing a
hammer through a window of the building, followed by two lit Molotov
cocktails. The criminal complaint states that both alleged incendiary
devices failed to ignite. Scheduled to go to trial in July 2015, he is
facing up to 30 years in federal prison.
Eric was identified as a suspect by local police because he had
previously come under suspicion for anti-government and anti-police
graffiti. He is currently being held in the Corrections Corporation of
America's Leavenworth Detention Center. (more…)
Tags: Eric G. King, Repression, Trial, USA
Posted in Prison Struggle
Friday, March 6th, 2015
UPDATED
As is known, the CCF imprisoned members are on hunger strike until death. Christos' and Gerasimos' mother and Gerasimos' wife testified to the investigating judge on Tuesday, where they both denied the charge of being members of a "terrorist organization" (which is what they are charged with). The comrades' mother only accepted the charge of "harboring a criminal", and she was remanded by the counter-terror state. Gerasimos' wife was also remanded the same day.
On March 4th, Christos Tsakalos wrote a political claim of his own, concerning the escape attempt, and Giorgos Polydoros published a text as well, as a personal friend of his brother was arrested (he was released along with the woman who was arrested on Saturday).
On March 5th, Aggeliki S. and the 39-year-old comrade Christos R. who was arrested in the neighbourhood of Galatsi on February 28th were demanded to testify. Aggeliki gave a statement saying she did not recognise the court and declared herself as anarchist. Aggeliki was then detained in Korydallos, and she had already began a hunger strike from the point of her arrest with the common aims of CCF. Christos R. also gave a statement, and was immediately remanded to Domokos Type C prison.
On March 6th, Christos Polydoros, brother of Giorgos, voluntarily went to the public prosecutor to speak against the repression of the family and friends of CCF, so the prosecutor vermin ordered his arrest. Currently, Christos Polydoros is being held by the anti-terrorist force in the Athens police headquarters [he is now released, 10 March].
Death to the police – Death to the state
Tags: Aggeliki Spyropoulou, CCF Escape case, Christos Polydoros, Christos Rodopoulos, Christos Tsakalos, Domokos, Gerasimos Tsakalos, Giorgos Polydoros, Hunger Strike, Korydallos Prison, Trial, Type C prisons
Posted in Prison Struggle
Friday, February 27th, 2015
From InterArma:
Today, Thursday 26th of February, the trial concerning the inner-movement conflicts of 2012 in Thessaloniki was continued after a break.
From my side, it became clear from the first moment, the fact that the trial cannot take place at this time because my lawyer Fragiskos Ragousis faces some impediment and I am already on the trial concerning "Phoenix" project which takes place in Athens.
Today, the court decided to begin the process although I was not represented by a lawyer. It should be noted that in this trial I am accused of felonies concerning explosions, possession and use of explosives etc. (more…)
Tags: Greece, Letter, Spyros Mandylas, Thessaloniki, Trial
Posted in Prison Struggle
Wednesday, February 25th, 2015
Spread around. Lumpen-proletarian rebel arrested recently in Oakland, CA USA at anti-police demonstration. Squatter and anarchist. Facing serious charges. Help get word out.
Dante Cano is currently being held in Santa Rita jail for participation in a demonstration against police brutality and murder in the Bay Area and across the United States. At the time of his arrest, police in near-by Emervyville had just killed Yuvette Henderson in early February. At the same time, police also had just shot people in San Jose, East Oakland, and also the courts had exonerated the police that shot and killed Alex Nieto in San Francisco. This happened against a back-drop of ongoing police murder and violence across the US as well as a deep and furious revolt in the Bay Area against this murder and repression. (more…)
Tags: California, Dante Cano, Oakland, Police Bastards, Police Brutality, Repression, Trial, USA
Posted in Prison Struggle
Sunday, February 22nd, 2015
From informa-azione.info
Translated by act for freedom now
THE TRIAL OF BILLY SILVIA AND COSTA IS APPROACHING:
LET'S RELAUNCH THE STRUGGLE AGAINST TOXICITY
Five years have passed since we were arrested in Switzerland when police at a checkpoint on the Albis pass, Canton of Zurich, found explosives, propane gas canisters, petrol cans and several copies of a claim by Switzerland Earth Liberation Front in the car we were in. The target of the proposed attack was the Binning and Rohrer Nanotechnology Centre, a structure that was under construction at the time, property of IBM in collaboration with ETH, the Federal Polytechnic of Zurich.
The trial took place a year and a half later where we were accused of: preparing deliberate arson; concealing and transporting explosive material; unauthorized trade (importation) of explosives. Federal prosecutor Hansjörg Stadler demanded sentences of 3 years and 4 to 8 months, broadly accepted by federal judge Walter Wütrich. The court confirmed all the charges, except that of illicit traffic (importation) of explosives, a charge we were cleared of.
Parallel to this, the Public Prosecutor of Turin had begun a thorough investigation of the explosive cartridges that the Swiss authorities had found on us to find out where the material had come from. When the investigation was completed, prosecutor Enrico Arnaldi Di Balme issued three more charges against us: terrorist activity involving lethal and explosive devices, possession and transport of explosives in the public space and receiving stolen goods (explosives), all charges aggravated with 'terrorist intent'. (more…)
Tags: Binning and Rohrer Nanotechnology Centre, Costantino Ragusa, ETH, IBM, Italy, Luca Bernasconi, Repression, Silvia Guerini, Switzerland Earth Liberation Front, Trial
Posted in Eco Struggle
Wednesday, February 4th, 2015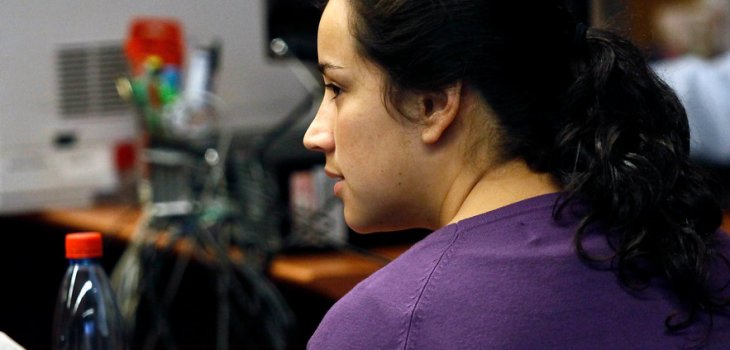 Updated:
According to info received, Tamara Sol was found guilty by the court and sentenced to 7 years and 2 months in prison, with a fine of $215.000 (US$ 345 – €300). Recall that Tamara Sol is the comrade who was arrested after a BancoEstado security guard was shot in revenge for the death of Sebastián Oversluij Seguel.
Definitive charges and sentences are the following:
Attempted Murder: 7 years
Theft [of the gun of the security guard who was shot]: 61 Days + fine.

After the trial, there was clashes between Sol family's and the tribunal guards (gendarmes). The family rebuked the judges and threw leaflets, calling the judges "fascists" and accusing them of developing a biased and political judgment. Also, the judges order to take a DNA sample of Sol, to include it in the National Register of Convicted.
However, there still exists an appeal opportunity against the sentence.
A video of the audience: http://www.youtube.com/watch?v=_eFns2YZUFY
And pictures of the meeting:

(from left to right: Luisa Toledo -grandmother-; Ana Vergara -mother-; Manuel Vergara -grandfather-)

(the man with the red megaphone is the father of Sol)
Solidarity to Tamara Sol!
Tags: Chile, Repression, Sebastián Oversluij Seguel, Sol F. Vergara, Tamara Sol, Trial
Posted in Prison Struggle
Tuesday, February 3rd, 2015
Inter Arma received from Sin Banderas Ni Fronteras:
After one year of detention in San Miguel prison, anarchist comrade Tamara Sol started to face the trial in which power aims to annihilate her. Tamara is accused of shooting a bank guard in January 2014, just days after a bank guard killed comrade Sebastian Oversluij in an attempted bank robbery, in a different bank branch.
In November 2014, a brief preparation for trial against Tamara was performed, which finally started on this January 23. Tamara is facing a democratic inquisition that wants to sentence her to several years in prison, with charges of attempted murder and accomplished simple theft. (more…)
Tags: Argentina, Banner drop, Buenos Aires, Chile, Sebastián Oversluij Seguel, Sol F. Vergara, Solidarity Action, Tamara Sol, Trial
Posted in Prison Struggle
Friday, January 30th, 2015
The last trial of the people arrested at last year's NATO protests in Wales is due to be played out in court next Wednesday in Cardiff. This time the police and CPS are trying to stitch up someone up for assaulting an officer. A demonstration is planned outside the Cardiff Magistrate's at 9.15am on 4th February.
Almost all of the other people arrested at the protests against NATO and the DPRTE arms fair have had their charges dropped. The cases demonstrate, once again, that the cops will make arrests and harass demonstrators any way they can with the aim of stamping out resistance. They also show the urgent need for collective solidarity for those experiencing police repression.
- Rabble
Tags: Cardiff, NATO, Repression, Solidarity Action, Trial, UK
Posted in Social Control
Thursday, January 15th, 2015
From actforfree:
THE POLITICAL STATEMENT OF COMRADE KOSTAS SAKKAS READ OUT AT THE TERROR-TRIAL OF KORIDALLOS PRISONS.
I am sending the following text to Athens lawyer Dimitrios Katsaris in order for him to deliver it to his client and my co-accused Giorgos Karagiannidis, in order to read it out in the courtroom during the testimony procedure.
I realize absolutely that what a relative of mine testified during the witnesses' testimonies was done with the best of intentions. However I must clarify that a large part of it does not reflect reality and does not express me as an individual.
Unfortunately the conditions in which I find myself in, my inability to communicate and the restrictions that this implies, led to the misinterpretation of this specific witness on what their role was, as such.
In my following statement my political opinions and positions are analysed to a large degree as well as what my implication is in the case examined in the court.
On December 4th 2010, two days before the anniversary of the murder of Alexandros Grigoropoulos by the forces of repression, I was arrested along with my comrade and friend A.Mitrousias, outside a place in which we were hiding weapons. From the start we clarified that the weapons belonged to us and no one but us. They were not intended to supply any organization and could obviously not be a product for trading. (more…)
Tags: Greece, Kostas Sakkas, Trial
Posted in Prison Struggle
Thursday, January 1st, 2015
TRANSLATED BY ACT FOR FREEDOM NOW!
SENTENCES FOR THE 3RD TRIAL IN THE CCF CASE
29/12/2014
Today the sentences for those accused in the third trial of the CCF case, including the Nea Smirni case, were announced.
More specifically:
[CCF members]
Christos Tsakalos: 24 years and two months, 1.500 euro fine.
Gerasimos Tsakalos: 21 years and two months, 1.200 euro fine.
Mihalis Nikolopoulos: 20 years.
Giorgos Nikolopoulos: 24 years and two months, 1.200 euro fine.
Damiano Bolano: 24 years and two months, 1.200 euro fine.
Panagiotis Argirou: 19 years and nine months, 1.300 euro fine.
Giorgos Polidoras: 25 years, 1.200 euro fine.
Olga Economidou: 25 years, 1.200 euro fine.
Theofilos Mavropoulos: 25 years, 1.200 euro fine.
[accused who deny participation in CCF]
Kostas Sakkas: 16 years (the comrade is underground, having violated his
bail conditions and is wanted)
Alexandros Mitrousias: 14 years.
Giorgos Karagiannidis: 14 years.
Giannis Mihailidis: 5 years.
Dimitris Politis: 6 Months.
It is reminded that on 4/12/14, Stella Antoniou and Kostas Papadopoulos were acquitted of the charge of participation in a terrorist organization in the same trial.
Stella Antoniou was found guilty of simple complicity in aggravated weapons possession and was sentenced to 6 years suspended sentence and Kostadinos Papadopoulos was found guilty of weapons possession and was sentenced to 6 months suspended for 3 years. Both have been released.
-
Giorgos Karagiannidis read out a statement sent by Kostas Sakkas, who is underground, to his advocate Dimitris Katsaris. Read the statement of Giorgos here.
Tags: Athens, Conspiracy of Cells of Fire, Conspiracy of Cells of Fire : Imprisoned Members Cell, Greece, Repression, Trial
Posted in Prison Struggle
Saturday, December 27th, 2014
From RadioAzione
Translated by act for freedom now
The preliminary hearing of the trial against comrade Tamara Sol Farias Vergara took place in Santiago on Monday 24th November. Tamara has been held prisoner in the jail of San Miguel for almost a year on charges of attempted murder and theft.
During the hearing defence lawyers and prosecutors submitted evidence reports, witness statements and other findings.
The court rejected about 28 witnesses for the prosecution, most of them cops of OS-9 and bank employees. Many of them did not even witness the events that led to Tamara's arrest.
The judge also accepted a defence lawyers' request and rejected other evidence, findings and materials presented by the prosecution and the representative of Banco Estado (the claimant).
There was a strong presence at this first hearing of comrades who have expressed solidarity with the comrade and her family from the start. But the comrades had to stay outside the court as the judge ordered the hearing be held behind closed doors. In spite of this Tamara managed to hear the slogans shouted by the comrades outside.
The triad of judges will be appointed and the date of the start of the trial fixed in the next few days.
Solidarity and complicity with Tamara Sol!
Tags: Chile, Repression, Santiago, Sol F. Vergara, Tamara Sol, Trial
Posted in Prison Struggle
Friday, October 17th, 2014
Read the full dialogue which took place between various anarchist prisoners and the "Kontra" newspaper here.
I write these lines because of the public critique I received by communist newspaper "Kontra", concerning my stance to discredit courts by being absent from the procedure. Initially I would like to clarify that I do not dispute even a little bit the comradely intentions of this critique and I recognize the contribution of this specific project as very important to the struggle, with the presence at and update of all terror-trials.
I think the root of this disagreement, is the crucial difference between anarchist analyses and Marxist ideology, concerning the role of the state mechanism, its institutions and the social contracts. (more…)
Tags: Athens, Giannis Mihailidis, Greece, Korydallos Prison, Letter, Trial
Posted in Prison Struggle
Thursday, October 16th, 2014
La acción y la solidaridad son urgentes. Todo lo demás son excusas.
Reflexiones sobre avance de la represión en Chile.
Propagando la solidaridad con Juan, Nataly y Guillermo.
(Texto de Sin Banderas Ni Fronteras)
1. Y aquí vamos otra vez. Porque la guerra continúa.
Tras un ciclo acumulativo de agitación callejera, movilizaciones masivas y expansión de conflictos sociales en Chile, el poder ha buscado generar mecanismos que favorezcan la continuidad y fortalecimiento del modelo de dominación democrático.
Con tal de evitar que las grietas en el cuestionado orden social se extiendan o se vuelvan más profundas, el gobierno de turno ha desplegado diversas tácticas que le permiten anular progresivamente el descontento.
Así, a las movilizaciones masivas que han puesto en cuestión el modelo económico y social gestado en dictadura, se ha respondido con propuestas de reformas sociales que recuperan las consignas de los movimientos de protesta para incluirlos en soluciones configuradas desde el Estado. (more…)
Tags: Chile, Guillermo Durán Méndez, Juan Flores Riquelme, Natalie Casanova Muñoz, Repression, Santiago, Trial
Posted in Social Control
Tuesday, October 7th, 2014
Background: Text by the 4 arrested anarchists concerning the double robbery in Velvento, Kozani + Anarchists sentenced for the double bank robbery in Velvento + Letter from Argyris Ntalios & Fivos Harisis
via actforfree:
31/7/14

Comrade A.D. Bourzoukos made his political statement today. Comrades D.Politis, G.Mihailidis, F.Harisis and A.Dalios were also present in the court room.
To begin, I would like to clarify the reason I am here today, by taking advantage of the procedure of statements. What will follow therefore, will in no way have an apologetic character, since my acts and choices are included in the wider anarchist struggle, the struggle for life and freedom. Consequently, they are acts that I support with every aspect of my being and I will continue to do so as long as this world remains as it is.
So, no, I am not apologizing, I have to nothing to say and analyse on a procedural level about my actions. I refuse the charges exactly because I refuse civil legality. I refuse to legitimize your role and your justice which is driven and instructed by those governing.
I therefore do not hope for your leniency, I will not bend before the threat of your laws and the many years of prison that await me, even in the worst of conditions that your state reserves for those who refuse to bow their head. These new prisons called "C- Type prisons". I am here to highlight the characteristics of my choices and exacerbate the dispute between us. You, a part of the judicial authority, and me, a part of the anarchist struggle. And when I say "you", I do not mean just you specifically, but all the people who hold positions of authority. It is a dispute that escapes the narrow frames of a inter-personal clash, it is a class and social war that spreads in the space-time continuum, it finds its roots in the initial forms of capitalism and the relations of exploitation and authority which for centuries now have defined the human race. (more…)
Tags: Andreas-Dimitris Bourzoukos, Athens, Bank Robbery, Greece, Kozani, Trial, Type C prisons, Velvento
Posted in Prison Struggle
Wednesday, September 24th, 2014

(Translated by Sin Banderas Ni Fronteras from "Refractario")

On Tuesday, September 23, 2014, the judicial formalization of charges was performed against Juan Flores, Natalie Casanova and Guillermo Duran, comrades arrested on September 18 accused of the last explosive attacks that occurred in Santiago.
In a special courtroom (with two floors), used for large prosecutions, formalization was performed with a great security device that included the presence of anti-riot prison guards and various controls before enter the court room.
The 3 comrades were charged under anti-terrorist law:
Juan Flores: Charged with 5 accusations. Accused as the author of the subway bombing in "Los Diminicos" station (July 23) and the "Sub-center" (September 8 ), actions that were claimed by "Conspiracy of Cells of Fire – Chile". He was also accused as the perpetrator of the double simultaneous explosive attack against two Police Headquarters on August 11, claimed by CIV (International Conspiracy of Revenge). Also accused of the strange charge of "Tenure and processing of explosives for terrorist actions in the attempted grade".
Juan is now under preventive prison for 10 months during the prosecution's investigation, awaiting for trial. (more…)
Tags: Chile, Guillermo Durán Méndez, Juan Flores Riquelme, Natalie Casanova Muñoz, Santiago, Trial
Posted in Social Control