Posts Tagged 'UK'
Saturday, April 18th, 2015
From Movement for Justice via RabbleLDN:
Anna Rjabova and Lillija Jezdovska are brave fighters for their own freedom and for the rights and freedom of their fellow detainees in the notorious Yarl's Wood detention centre, near Bedford. On Thursday 9th April they were part of an integrated group of African, Caribbean and East European women who gathered to physically block the deportation of Lucy N, a victim of torture from Kenya. The women gathered together, sitting around Lucy, linking arms and singing.
That afternoon 30+ 'guards' employed by Serco (the private company that manages Yarl's Wood) forced their way into Lucy's room, wearing full riot gear and armed with batons. You can hear the moment the guards entered the room and dragged the women away here, there were 3 guards for every woman. Anna, Lillija and four other women were handcuffed and taken to Kingfisher wing, the isolation block within Yarl's Wood.
Anna and Lillija had been brutally beaten on their legs with a baton by one of the guards, Jo Singh, against whom Lillija had previously made official complaints. Anna had to be taken to Bedford hospital for treatment on Saturday. They have made further complaints and have spoken to the Prison Inspectors currently visiting Yarl's Wood. (more…)
Tags: Jo Singh, Racism, Serco, UK, UKBA, Yarl's Wood Detention Centre
Posted in No Borders
Wednesday, April 15th, 2015
Inter Arma received and translated:
With new reports by snitching cop journalists, an effort is being made to target comrades who come occasionally in contact with the imprisoned members of the Conspiracy of Cells of Fire. In this case, they try to locate comrades from the UK who, as reported by the cops, publish an insurrectionary anarchist magazine there. They want to investigate what comrades from abroad traveled to Greece on specific dates. Also, they take into account the importance of the presence of FAI cells in the country and report that a group of Greek cops will travel there to inform their colleagues. This is a witch hunt which now targets comrades abroad as well. The case of the escape of the members of CCF becomes the perfect alibi, after several months of media propaganda, for cleaning up and hunting comrades which the cops already have in target.
Solidarians
Tags: CCF Escape case, Conspiracy of Cells of Fire, Greece, Informal Anarchist Federation (FAI), International Revolutionary Front, Repression, UK
Posted in Social Control
Sunday, April 12th, 2015
English subtitled version of the film giving the account of the early part of the Phoenix Project, international project of sabotage and attack with over a dozen hits in a variety of different countries.

Dedicated to Alfredo Cospito and Nicola Gai, Olga Cell FAI/IRF, who took responsibility for the laming of CEO Roberto Adinolfi of Ansaldo Nucleare.
"We are here, where everything starts now."
The Project of 'Phoenix' is the unfolding of a hidden map marking one of the routes to the Atlantis of practical theory. An unknown and lost continent that exists beyond the edges of the burning cities of the interzone. Created through action, dialogue and ideas and organised informally with anarchic principles of permanent autonomous attack, revolutionary solidarity and internationalism. A sequence of attacks by different radical direct action groups around the world, breaking the silence of isolation and striking back again against the prison societies of the techno-industrial system.
The imprisoned members of CCF are charged with instigation for the attacks, Spyros Mandylas and Andreas Tsavdaridis were arrested and charged for act #4 in the project, sending a parcel-bomb to the former commander of the anti-terrorist agency, Dimitris Xorianopoulos, whilst Christos Rodopoulos is reportedly accused of the mailing of the parcel bomb to Dimitris Mokkas, chief prosecutor in the CCF case, as act #6.
The Phoenix project is now renewed through the 2015 attacks in Chile, Czech Republic and Greece, with the comrades within the territory of Czech Republic initiating the campaign "Let's destroy repression". The story of the Phoenix continues to be written…
SOLIDARITY IS OUR WEAPON
NOT A MILLIMETER BACK
NINE MILLIMETERS TO THE COPS' HEADS
Tags: "Let's destroy repression" - 2015, Alfredo Cospito, Andreas Tsavdaridis, Ansaldo Nucleare, Black International of Anarchists of Praxis, Chile, Conspiracy of Cells of Fire, Conspiracy of Cells of Fire : Imprisoned Members Cell, Czech Republic, Germany, Greece, Indonesia, Informal Anarchist Federation (FAI), International Conspiracy for Revenge, Italy, Mexico, Nicola Gai, Nucleo Olga FAI/FRI, Phoenix Project, Poland, Roberto Adinolfi, Russia, Spyros Mandylas, UK, Videos
Posted in Library
Saturday, April 11th, 2015
**NB: There is a demonstration organised for Brighton at the Clock-Tower on Sunday 12th at 6pm**
Last Monday (April 30th) there was a new repressive strike against the anarchist movement in Spain. Thirty-eight people were arrested in a police operation under the name 'Operación Piñata'. Fifteen of them are facing charges of terrorism and five are in preventive imprisonment. The raids were carried out on private homes, social centres and squatted spaces in Madrid, Barcelona, Palencia and Granada.
These police raids were carried out in a very open way, trying to create the maximum social alarm. The media have published the names of the people arrested and the groups they are involved in, presenting the fake police accusations as fact. They talk about 'anarchist terrorism' and organisations with leaders, hierarchical infrastructures and various 'capitation' methods the arrested allegedly use to 'fund' their 'illegal' activities.
These raids are a continuation of police operation 'Operación Pandora', which took place last December within the context of the increasingly repressive politics employed by the Spanish government. (more…)
Tags: ABC Brighton, Brighton, Catalunya, Demo, International Solidarity, Operation Pandora, Operation Piñata, Spain, UK
Posted in Direct Action
Saturday, April 11th, 2015
Letter from social prisoner Kevan Thakrar, from a comrade of ABC Brighton:
06/04/15
Thank you to everyone who turned out to demonstrate in my support in London outside Prison Service headquarters on February 16th and to all those who helped create the banners, flyers and advertised the event.
Since then there have been significant developments. Firstly, the attempt to have me sectioned under the Mental Health Act failed. Post-Traumatic Stress Disorder is not something which a person can be sectioned for, so the psychiatrist refused to do the dirty work of the Close Supervision Centre Management Committee (CSCMC) and refer me to hospital.
Transfer to HMP Full Sutton segregation unit turned out to be their next attack. Greeted by a full riot squad on arrival, my treatment was never going to be good, but even I was shocked at the audacity of these discriminators who stormed my cell while I was praying, to assault me and provoke a reaction: Fortunately I did not fall into their trap; however this has only led to me being subjected to a continued and increasing level of harassment. (more…)
Tags: Close Supervision Centre CSC, Demo, HMP Full Sutton, HMP Wakefield, Kevan Thakrar, Letter, Manchester, Prison Transfer, UK
Posted in Prison Struggle
Sunday, April 5th, 2015
Inthebellyofthebeast receives & transmits:
A crack was formed in the prison wall during the eviction eve demo on 2nd April for Chiltern House, a building that has been occupied by squatters in solidarity with residents in the near abandoned Aylesbury estate, which is earmarked for demolition by Southwark council. A whole estate that is now surrounded by a wall & patrolled by private security* which is all part of the the forced but also self imposed prison society. As anarchists we see the Southwark council, just as our friends who are occupying the estate do, as part of the wave of gentrification that is sweeping vast parts of the capital urban hell, moulding the cityscape more to authoritarian control, pushing the excluded further to the outer reaches, out of sight, out of mind as they say!
We decided not to be part of the demonstration, instead lying in wait for our moment to attack, which presented itself in an empty cop van on the estate. Our rage was projected through the smashing of the vehicles windows just minutes after the pigs left it all on its own. The cops were attacked because they are just as much the screws of our daily existence in this prison island as any politician and security can be.
We will not wait to be evicted… instead we go on the attack!

ACAT (All Cops Are Targets)
*who have physically attacked friends & intimidated residents on the Aylesbury estate. DON'T THINK WE HAVE FORGOTTEN ABOUT YOU SECURITY SCUM!
Tags: Aylesbury Estate, Fuck the Police, London, Sabotage, UK
Posted in Direct Action
Saturday, April 4th, 2015
The recent wave of hunger strikes and other protests in UK migration prisons has subsided, as prisoners have been silenced, moved between prisons, and humiliated and beaten. This report from the Anti Raids Network is just one of many cases of how people are treated in detention centres and during deportation attempts.
Tahar Khalifa beaten by guards in an attempted deportation on Tuesday 31st March.
On Tuesday, 31st March, Tahar Khalifa, detained at Brook House detention centre [one of the two migration prisons inside the perimeter of Gatwick Airport], was forcibly removed from the centre in an attempted deportation to Tunisia, on flight TU791 at 1745hrs. As he was going up the stairs to the plane he was physically assaulted and beaten by the guards.
In a statement Tahar says that there were multiple officers trying to get him up the stairs; one was choking him, another was twisting his upper body. Tahar was handcuffed at the front and one officer was holding him by the wrist and pulling very hard. (more…)
Tags: Brook House (Immigration Detention Centre), Migrant Struggle, Racism, Repression, Tahar Khalifa, UK
Posted in No Borders
Monday, March 30th, 2015
Today at 1pm in Cardiff city centre we held a demonstration in solidarity with the hunger striking members of CCF and their friends and families. We handed out flyers explaining their situation and demands while shouting chants in English and Greek. After the demonstration we hung a banner in the city and scattered flyers from the roof. Strength and complicity to CCF and their friends and relatives.

Long live anarchy!
*we will send pics soon.
Tags: Cardiff, Conspiracy of Cells of Fire : Imprisoned Members Cell, Demo, Greece, Hunger Strike, Solidarity Action, UK, Wales
Posted in Direct Action
Saturday, March 28th, 2015
Over the night of March 15th and 16th, slingshots were fired at Balfour Beatty on Carter Road, Bishopsworth and The Post building close to Old Market, breaking several windows on each.
Balfour Beatty would never let something stupid like the environment stand in the way of 'progress', constructing the route for the controversial metrobus that will eventually cart people to and from their daily boredom. Whilst the media makes millions from a world of misery whilst constantly manipulating public opinion.
Note: The Evening Post building was attacked previously in 2011 and one anarchist comrade remains hunted for the attack. The newspaper is the usual scum-outlet of reactionary crap.
Tags: Balfour Beatty, Bristol, Fuck the Mainstream Media, Sabotage, UK
Posted in Direct Action
Tuesday, March 24th, 2015
Poster from individualist nihilists & insurrectionary anarchists in the UK.
Tags: Flyposters, Greece, Hunger Strike, Migrant Struggle, UK
Posted in Prison Struggle
Sunday, March 22nd, 2015
Yesterday, Kurdish people and their supporters confronted the street presence of Daesh-supporting Islamic-fascists at their protest stall outside a Boots chemist store in High Road, Wood Green in the late afternoon. The Islamists use the stall to promote Sharia Law and the Islamic State. Police came and protected the few fascists from the angry crowd, but quickly the Islamists packed up and left the area. The Kurdish people and their supporters made a procession to their community centre to celebrate their new year of Newroz. There were no arrests.
Video here, with running commentary by some local kids debating the scene who caught the footage on their fone -
Tags: Anjem Choudary, Demo, Islamic Roadshow, Islamic State in Iraq and Syria (ISIS), Kurdish Struggle, Kurdistan, London, Newroz, UK, Wood Green
Posted in Anti-Fascist
Wednesday, March 18th, 2015
From RabbleLDN:
As of yesterday (Sunday 15 March) we had heard of hunger strikes and other protests taking place in 8 detention centres across the UK, as prisoners started refusing food in Dungavel (Scotland, near Glasgow) and Dover. There is now rebellion in the majority of the UK's migration prisons.
The other six known to be protesting are Yarl's Wood (Bedfordshire), Harmondsworth and Colnbrook (Heathrow airport), Tinsley House and Brook House (near Gatwick Airport). (See previous report here.) (more…)
Tags: Colnbrook, G4S, Harmondsworth, Hunger Strike, Migrant Struggle, Mitie, Serco, UK
Posted in No Borders
Monday, March 16th, 2015
Poster from anarchist nihilist & anti-civilisation comrades in the UK.
'Uncivilised on the Margins'
Tags: Flyposters, UK
Posted in Library
Monday, March 16th, 2015
From RabbleLDN:
Shilan (Silhan) Ozcelik, an 18 year-old Kurdish comrade from London, has been held on remand in Holloway prison charged with preparing to commit acts of terrorism. Her charge relates to allegedly trying to join the fight against Daesh (ISIS) in Syria.
Shilan was arrested at Stansted airport in January after returning from a trip to mainland Europe, but appeared in court only last week charged with the offence under section 5 (1)(a) of the Terrorism Act 2006. She is accused of trying to join fighters from the Kurdistan Workers' Party (PKK), which is banned as a terrorist organisation in the UK. It's the first known prosecution in relation to people in the UK joining the fight against Daesh.
An emergency demo was held outside Holloway on Friday to support her. Shilhan is due to appear at the Old Bailey on 1st April – updates will be shared here if further demos are called.
Write to Shilan at:
Silan Ozcelik
Prison No: A8733DK
HMP Holloway
Parkhurst Road
London N7 0NU
UK
Tags: Iraq, Islamic State in Iraq and Syria (ISIS), Kurdistan, London, PKK (Kurdish People's Party), Repression, Rojava, Syria, UK, War
Posted in Social Control
Sunday, March 15th, 2015
On Monday 9 March, there was a demo in Birmingham by the Birmingham Against AstraZeneca crew. Around 25 people over the course of the day joined the protest. This is the first demo against a Skanska office in the UK, Skanska are the builders of the Cambridge AstraZeneca global HQ and animal lab. AstraZeneca uses around 300,000 animals in pointless experiments each year; that's over 800 animals every single day! 500 leaflets brought by the activists were distributed within the first hour and a half of the protest! Support from the public was overwhelming. Shut down the animal torturers-murderers!
Please do a demo against your local Skanska office, without Skanska no lab can be built. The animals need YOU!
https://www.facebook.com/BirminghamAgainstAZ

Upcoming demo in Yorkshire against Skanska and AstraZeneca:
Friday, April 10 at 12:00pm
Bentley House, Jossey La, Doncaster DN5 9ED
https://www.facebook.com/yorkshireagainstaz
Tags: Animal Liberation, AstraZeneca, Birmingham, Demo, Skanska, UK
Posted in Eco Struggle
Tuesday, March 10th, 2015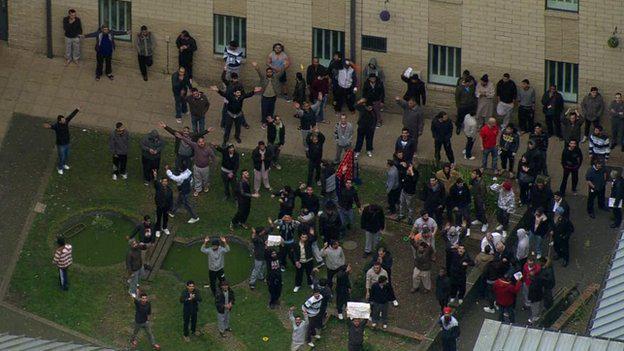 Update: Protests spreading across immigration detention centres in UK.
Resistance continued yesterday at Harmondsworth and Colnbrook. Over 70 people detained had gathered in the courtyard to continue the protest.
Outside at 9am a group of people made a solidarity demonstration in support of the protests. They could hear people shouting 'Freedom' and 'No Food'. The police were called to the protest and one person was pushed aggressively. Guards and centre managers are asking detainees to go to their rooms and come to talk to the managers one-by-one or in pairs. Detainees have refused and ask the management/staff to come and listen to them in the yard. (more…)
Tags: Colnbrook, Demo, Harmondsworth, Hunger Strike, Migrant Struggle, Racism, UK, UKBA
Posted in No Borders
Friday, March 6th, 2015
YPG Press Office said in a written statement Wednesday that British YPG fighter Erik Konstandino Scurfield (Kemal) lost his life in clashes during the Til Berak operation:
Konstandinos Erik Scurfield AKA Heval Kemal Konstandinos was killed in combat on Tuesday the 3rd of March. Kosta was born in England but subsequently moved from Britain when he was young. He was an ex-Royal Marine Commando, an exceptional soldier and a great ambassador to the Kurdish people for his two nations.
On the 5th of December 2014 he could take no more. He made the treacherous journey to fight alongside the Kurdish people and then rid Rojava of ISIS. He was a frontline fighter always in thick of it, his experience and leadership were greatly appreciated assets. (more…)
Tags: Erik Konstandino Scurfield (Kemal), Islamic State in Iraq and Syria (ISIS), Kurdistan, Lions of Rojava, People's Defence Units (Y.P.G.), Rojava, Syria, Til Berak, UK, War, Xezale
Posted in Autonomy
Saturday, February 28th, 2015
The Anti Fascist Network is all about getting out of our armchairs and on to the streets, so here's a run through of what's coming up. How will anyone know you oppose fascism if you don't get out there and say so!
First up in March is an EDL national demo in Manchester on Saturday the 7th. The local UAF are organising a counter demo. It's Piccadilly Gardens at midday. The EDL say their demo is because of 'Muslim grooming gangs' but a recent post from Malatesta demonstrates how the far-right has more than its fair share of sex offenders as well. Unfortunately, paedophiles and rapists turn up in all walks of life. It is not about ethnicity. (more…)
Tags: Anti-Fascist Network, Antifa, Bolton, Brighton, English Defence League, Leeds, Manchester, National Action, Newcastle, Racism, Rotherham, Salford, Stamford Hill, UK
Posted in Anti-Fascist
Saturday, February 21st, 2015
HMP Oakwood is a very well-known large shit-hole of a prison run by G4S private security company, known for very poor conditions and overcrowding.
From inthebellyofthebeast, via mainstream media slime:
Six criminals have been jailed over a riot which caused £170,000-worth of damage at Britain's biggest jail.
The crooks smashed up their wing at the privately-run HMP Oakwood, near Wolverhampton, in January last year.
Staff were forced to flee as they trashed TVs, furnishings, pool tables and washing machines. (more…)
Tags: G4S, HMP Oakwood, Prison Riots, Repression, UK
Posted in Prison Struggle
Tuesday, February 17th, 2015
Above: A speaker from FRFI (Fight Racism! Fight Imperialism!) at the protest at HM Prison Service HQ against continued solitary confinement of Kevin Thakrar since he was acquitted of attacking prison officers in 2010.
Prolonged isolation of Kevan Thakrar in UK prisons is torture protest
The demo took place 16 February at HM Prison Service HQ in London, and it was attended by over a dozen people, different individuals and groups who were there to support Kevan and show solidarity about his case. Brighton Anarchist Black Cross, Jengba, Fight Racism! Fight Imperialism!, Payday Men's Network and others. (more…)
Tags: ABC Brighton, Close Supervision Centre CSC, Demo, Fight Racism! Fight Imperialism! (FRFI), Isolation, Kevan Thakrar, Repression, Solidarity Action, UK
Posted in Prison Struggle