Posts Tagged 'UK'
Monday, March 30th, 2015
Today at 1pm in Cardiff city centre we held a demonstration in solidarity with the hunger striking members of CCF and their friends and families. We handed out flyers explaining their situation and demands while shouting chants in English and Greek. After the demonstration we hung a banner in the city and scattered flyers from the roof. Strength and complicity to CCF and their friends and relatives.

Long live anarchy!
*we will send pics soon.
Tags: Cardiff, Conspiracy of Cells of Fire : Imprisoned Members Cell, Demo, Greece, Hunger Strike, Solidarity Action, UK, Wales
Posted in Direct Action
Saturday, March 28th, 2015
Over the night of March 15th and 16th, slingshots were fired at Balfour Beatty on Carter Road, Bishopsworth and The Post building close to Old Market, breaking several windows on each.
Balfour Beatty would never let something stupid like the environment stand in the way of 'progress', constructing the route for the controversial metrobus that will eventually cart people to and from their daily boredom. Whilst the media makes millions from a world of misery whilst constantly manipulating public opinion.
Note: The Evening Post building was attacked previously in 2011 and one anarchist comrade remains hunted for the attack. The newspaper is the usual scum-outlet of reactionary crap.
Tags: Balfour Beatty, Bristol, Fuck the Mainstream Media, Sabotage, UK
Posted in Direct Action
Tuesday, March 24th, 2015
Poster from individualist nihilists & insurrectionary anarchists in the UK.
Tags: Flyposters, Greece, Hunger Strike, Migrant Struggle, UK
Posted in Prison Struggle
Sunday, March 22nd, 2015
Yesterday, Kurdish people and their supporters confronted the street presence of Daesh-supporting Islamic-fascists at their protest stall outside a Boots chemist store in High Road, Wood Green in the late afternoon. The Islamists use the stall to promote Sharia Law and the Islamic State. Police came and protected the few fascists from the angry crowd, but quickly the Islamists packed up and left the area. The Kurdish people and their supporters made a procession to their community centre to celebrate their new year of Newroz. There were no arrests.
Video here, with running commentary by some local kids debating the scene who caught the footage on their fone -
Tags: Anjem Choudary, Demo, Islamic Roadshow, Islamic State in Iraq and Syria (ISIS), Kurdish Struggle, Kurdistan, London, Newroz, UK, Wood Green
Posted in Anti-Fascist
Wednesday, March 18th, 2015
From RabbleLDN:
As of yesterday (Sunday 15 March) we had heard of hunger strikes and other protests taking place in 8 detention centres across the UK, as prisoners started refusing food in Dungavel (Scotland, near Glasgow) and Dover. There is now rebellion in the majority of the UK's migration prisons.
The other six known to be protesting are Yarl's Wood (Bedfordshire), Harmondsworth and Colnbrook (Heathrow airport), Tinsley House and Brook House (near Gatwick Airport). (See previous report here.) (more…)
Tags: Colnbrook, G4S, Harmondsworth, Hunger Strike, Migrant Struggle, Mitie, Serco, UK
Posted in No Borders
Monday, March 16th, 2015
Poster from anarchist nihilist & anti-civilisation comrades in the UK.
'Uncivilised on the Margins'
Tags: Flyposters, UK
Posted in Library
Monday, March 16th, 2015
From RabbleLDN:
Shilan (Silhan) Ozcelik, an 18 year-old Kurdish comrade from London, has been held on remand in Holloway prison charged with preparing to commit acts of terrorism. Her charge relates to allegedly trying to join the fight against Daesh (ISIS) in Syria.
Shilan was arrested at Stansted airport in January after returning from a trip to mainland Europe, but appeared in court only last week charged with the offence under section 5 (1)(a) of the Terrorism Act 2006. She is accused of trying to join fighters from the Kurdistan Workers' Party (PKK), which is banned as a terrorist organisation in the UK. It's the first known prosecution in relation to people in the UK joining the fight against Daesh.
An emergency demo was held outside Holloway on Friday to support her. Shilhan is due to appear at the Old Bailey on 1st April – updates will be shared here if further demos are called.
Write to Shilan at:
Silan Ozcelik
Prison No: A8733DK
HMP Holloway
Parkhurst Road
London N7 0NU
UK
Tags: Iraq, Islamic State in Iraq and Syria (ISIS), Kurdistan, London, PKK (Kurdish People's Party), Repression, Rojava, Syria, UK, War
Posted in Social Control
Sunday, March 15th, 2015
On Monday 9 March, there was a demo in Birmingham by the Birmingham Against AstraZeneca crew. Around 25 people over the course of the day joined the protest. This is the first demo against a Skanska office in the UK, Skanska are the builders of the Cambridge AstraZeneca global HQ and animal lab. AstraZeneca uses around 300,000 animals in pointless experiments each year; that's over 800 animals every single day! 500 leaflets brought by the activists were distributed within the first hour and a half of the protest! Support from the public was overwhelming. Shut down the animal torturers-murderers!
Please do a demo against your local Skanska office, without Skanska no lab can be built. The animals need YOU!
https://www.facebook.com/BirminghamAgainstAZ

Upcoming demo in Yorkshire against Skanska and AstraZeneca:
Friday, April 10 at 12:00pm
Bentley House, Jossey La, Doncaster DN5 9ED
https://www.facebook.com/yorkshireagainstaz
Tags: Animal Liberation, AstraZeneca, Birmingham, Demo, Skanska, UK
Posted in Eco Struggle
Tuesday, March 10th, 2015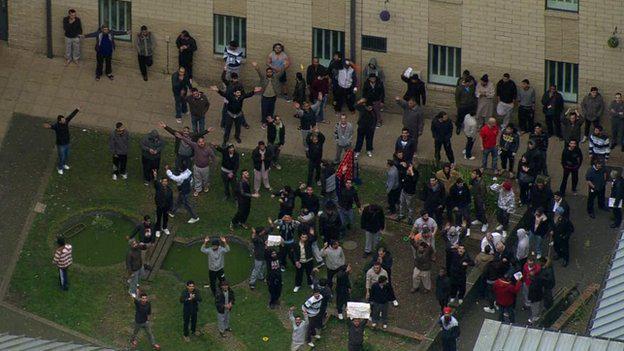 Update: Protests spreading across immigration detention centres in UK.
Resistance continued yesterday at Harmondsworth and Colnbrook. Over 70 people detained had gathered in the courtyard to continue the protest.
Outside at 9am a group of people made a solidarity demonstration in support of the protests. They could hear people shouting 'Freedom' and 'No Food'. The police were called to the protest and one person was pushed aggressively. Guards and centre managers are asking detainees to go to their rooms and come to talk to the managers one-by-one or in pairs. Detainees have refused and ask the management/staff to come and listen to them in the yard. (more…)
Tags: Colnbrook, Demo, Harmondsworth, Hunger Strike, Migrant Struggle, Racism, UK, UKBA
Posted in No Borders
Friday, March 6th, 2015
YPG Press Office said in a written statement Wednesday that British YPG fighter Erik Konstandino Scurfield (Kemal) lost his life in clashes during the Til Berak operation:
Konstandinos Erik Scurfield AKA Heval Kemal Konstandinos was killed in combat on Tuesday the 3rd of March. Kosta was born in England but subsequently moved from Britain when he was young. He was an ex-Royal Marine Commando, an exceptional soldier and a great ambassador to the Kurdish people for his two nations.
On the 5th of December 2014 he could take no more. He made the treacherous journey to fight alongside the Kurdish people and then rid Rojava of ISIS. He was a frontline fighter always in thick of it, his experience and leadership were greatly appreciated assets. (more…)
Tags: Erik Konstandino Scurfield (Kemal), Islamic State in Iraq and Syria (ISIS), Kurdistan, Lions of Rojava, People's Defence Units (Y.P.G.), Rojava, Syria, Til Berak, UK, War, Xezale
Posted in Autonomy
Saturday, February 28th, 2015
The Anti Fascist Network is all about getting out of our armchairs and on to the streets, so here's a run through of what's coming up. How will anyone know you oppose fascism if you don't get out there and say so!
First up in March is an EDL national demo in Manchester on Saturday the 7th. The local UAF are organising a counter demo. It's Piccadilly Gardens at midday. The EDL say their demo is because of 'Muslim grooming gangs' but a recent post from Malatesta demonstrates how the far-right has more than its fair share of sex offenders as well. Unfortunately, paedophiles and rapists turn up in all walks of life. It is not about ethnicity. (more…)
Tags: Anti-Fascist Network, Antifa, Bolton, Brighton, English Defence League, Leeds, Manchester, National Action, Newcastle, Racism, Rotherham, Salford, Stamford Hill, UK
Posted in Anti-Fascist
Saturday, February 21st, 2015
HMP Oakwood is a very well-known large shit-hole of a prison run by G4S private security company, known for very poor conditions and overcrowding.
From inthebellyofthebeast, via mainstream media slime:
Six criminals have been jailed over a riot which caused £170,000-worth of damage at Britain's biggest jail.
The crooks smashed up their wing at the privately-run HMP Oakwood, near Wolverhampton, in January last year.
Staff were forced to flee as they trashed TVs, furnishings, pool tables and washing machines. (more…)
Tags: G4S, HMP Oakwood, Prison Riots, Repression, UK
Posted in Prison Struggle
Tuesday, February 17th, 2015
Above: A speaker from FRFI (Fight Racism! Fight Imperialism!) at the protest at HM Prison Service HQ against continued solitary confinement of Kevin Thakrar since he was acquitted of attacking prison officers in 2010.
Prolonged isolation of Kevan Thakrar in UK prisons is torture protest
The demo took place 16 February at HM Prison Service HQ in London, and it was attended by over a dozen people, different individuals and groups who were there to support Kevan and show solidarity about his case. Brighton Anarchist Black Cross, Jengba, Fight Racism! Fight Imperialism!, Payday Men's Network and others. (more…)
Tags: ABC Brighton, Close Supervision Centre CSC, Demo, Fight Racism! Fight Imperialism! (FRFI), Isolation, Kevan Thakrar, Repression, Solidarity Action, UK
Posted in Prison Struggle
Tuesday, February 10th, 2015
Kevan Thakrar is a social prisoner wrongly convicted for murder. There was no DNA, forensics, ballistics, or cell-phone siting placing Kevan at or anywhere near the scene. False multiple hearsay and two questionable identifications were enough to wrongly convict and sentence to life with a 35 year tariff. From a comrade of ABC Brighton:
Despite being found not guilty of attacking three prison officers, but instead that he acted in self-defence after months of racial, physical and psychological abuse (a ruling that goes against prison officers is VERY unusual in a court) Kevan Thakrar continues to be held in the prison services 'Close Supervision Centres' more than five years later.
The CSCs are places of extremely restrictive solitary confinement where he, and his family visiting him, have suffered constant harassment. Kevan's solicitor recently arranged for an independent psychologist to make a report on Kevan. Kevan has suffered with Post Traumatic Stress Disorder (PTSD), as a direct result of the way he's been treated by prison guards, since before he was placed in the CSCs. The independent psychologist's report concluded that as Kevan has displayed no violent behaviour since being in the CSCs, and because solitary confinement and the regime in these units only makes PTSD worse, Kevan should be moved back into the mainstream prison population. (more…)
Tags: Close Supervision Centre CSC, Demo, Kevan Thakrar, Repression, UK
Posted in Prison Struggle
Tuesday, February 10th, 2015
From a comrade of ABC Brighton:
There has for some time been serious concerns about the treatment of prisoners held in the so called 'Close Supervision Centre' (CSC) at Woodhill prison in Milton Keynes, and once again the segregation and isolation of what the prison system labels as "difficult" prisoners in a control unit environment has lead to serious abuses of human rights and unlawful behaviour on the part of those "supervising" the CSC. That unlawful behaviour now threatens the physical safety and even lives of prisoners held in the CSC. An incident recently engineered by staff operating the Woodhill prison CSC where a mentally ill prisoner was encouraged to attack another prisoner in what is a supposedly "closely supervised" environment indicates that a "divide and rule" strategy is now being officially applied in the CSC that threatens the lives of these prisoners considered especially "difficult" and "challenging" by the CSC staff.
Douglas Gary Vinter is a prisoner serving a natural life sentence, which means he is unlikely to ever be released. His "difficult" behaviour, which usually took the form of smashing up his cell in impotent rage and despair, led to his being "selected" for the Woodhill CSC, despite a judicial review ruling that his prolonged segregation was unlawful because it was contributing to his deteriorating mental condition.
Lee Newell, also serving a natural life sentence, was "selected" for the Woodhill CSC because of his constant complaints about the behaviour of prison staff, who, he claimed, had targeted him for bullying and intimidation. Both prisoners after experiencing a CSC regime of solitary confinement, psychological abuse and the ever present threat of organised staff violence, repeatedly requested transfers on the grounds that their mental health was seriously deteriorating; their requests were denied by the "multi disciplinary management team" operating the Woodhill CSC. (more…)
Tags: Alan Parkins, Angela Curtis, Claire Hodson, Close Supervision Centre CSC, Douglas Vinter, HMP Woodhill, Joanne King, Lee Newell, Mary-Anne Dixie, Milton Keynes, Repression, Sean Dunohoe, UK
Posted in Prison Struggle
Wednesday, February 4th, 2015
From a comrade of ABC Brighton:
The growth of what some have described as the "prison industrial complex" and the unleashing of economic free market forces upon the prison system by a government ideologically-driven to sell off or "out source" virtually every state function has created the spectre of a prison population utilised as essentially a source of cheap, forced labour for an increasingly avaricious neo-liberal capitalism. There is no starker example of organised modern slavery.
In the US, the epicentre of the prison industrial complex, the exploitation of cheap convict labour takes place on an industrial scale and in poor urban areas, especially districts with a majority poor Afro-American population, prisons are increasingly replacing factories as places where the criminalised poor are confined and exploited by multi-national security corporations.
In Britain, whose criminal justice system is becoming almost a mirror-image of it's American counterpart, the exploitation of cheap convict labour by private companies is increasingly as is the ownership of entire chunks of the prison system. More and more prisoners are dealt with and treated not as offenders to be rehabilitated but as a source of considerable profit for an economic elite not hamstrung by wishy-washy concepts such as public service or moral conscience in the treatment of prisoners. (more…)
Tags: Germany, HMP Shotts, John Bowden, Letter, Militante Gruppe (MG), Oliver Rast, Prison Industrial Complex, Prison Labour, Scotland, UK
Posted in Prison Struggle
Friday, January 30th, 2015
The last trial of the people arrested at last year's NATO protests in Wales is due to be played out in court next Wednesday in Cardiff. This time the police and CPS are trying to stitch up someone up for assaulting an officer. A demonstration is planned outside the Cardiff Magistrate's at 9.15am on 4th February.
Almost all of the other people arrested at the protests against NATO and the DPRTE arms fair have had their charges dropped. The cases demonstrate, once again, that the cops will make arrests and harass demonstrators any way they can with the aim of stamping out resistance. They also show the urgent need for collective solidarity for those experiencing police repression.
- Rabble
Tags: Cardiff, NATO, Repression, Solidarity Action, Trial, UK
Posted in Social Control
Friday, January 30th, 2015
Bristol, UK: MP Charlotte Leslie, rabid anti-anarchist and anti-environmentalist member of the Conservative Party, who called for a repressive policing campaign against Bristol's anarchist and eco 'community' has had a slogan reading "Fracking Whore" spray-painted on her political party offices. The woman and her political party suffered the vandalism early this morning but continued with their lying, thieving and manipulating into the afternoon and the conceivable future. Police are 'investigating' the crime scene and the local right-wing paper reported the heinous attack against democracy. The "Fracking Whore" gave a sensitive and unintentionally funny statement imploring the presumed anarchists responsible to stop using aerosols and form a political party to stand against her in the elections.
"The earth is not dying, it is being killed, and those who are killing it have names and addresses."
Utah Phillips
Tags: Bristol, Charlotte Leslie - Fracking Whore, Conservative Party, Fracking, Fuck the Elections, Graffiti, Paint attack, Sabotage, UK, Vandals
Posted in Direct Action
Friday, January 30th, 2015
Scotland 25/12/2014
On the eve of christmas after the mass had paid their respects to the altar of consumerism I thought of celebrating in an other way this farce of civilization, by going outside at night sabotaging the locks of stores that have made death commerce. The systematized death in the name of civilization under the mantle of the morality of anthropocentrism.
I glued the locks of 6 stores in the city centre by just putting in very strong glue inside the locks and therefore destroying the system of those locks completely. 2 stores that display a new dead body every day for each slave of society to consume. Every day another whole pig cut into pieces, exposition on a big window. A harlequin after death for the service of the civilized anthropocentrist human. From death row to the final destination. The others were cashmere stores which are obviously a target as well. (more…)
Tags: Animal Liberation, Cell of conscience "Falcon Of Chaos", Sabotage, Scotland, UK, Vandals
Posted in Direct Action
Thursday, January 29th, 2015
PDF: Actualising Collapse + Cover
Actualising Collapse is a collection of iconoclastic texts, rebellious thoughts and proposals on the borderless war against the techno-industrial system, with writings by imprisoned urban guerrillas, uncivilised saboteurs and communiques from the frontlines of the black international of anarchists of praxis.
As this publication has taken much longer than originally thought to complete, some of the communiques within in its pages have surely been well read by now, however we believe it is important to run printed copies of said texts to avoid their inevitable disappearance into the void of the internet. Physical copies can be read anywhere, given to friends and best of all they wont give you a fucking headache like attempting to read zines on some glowing screen. So keep an eye out for printed copies around the UK and feel free to print and distribute it without hesitation.
Articles concerning illegalism, individualism, tactical analysis with some rants and poems.
http://325.nostate.net/wp-content/uploads/2015/01/Actualising-Collapse1.pdf
Tags: Actualising Collapse, PDF, UK, Zine
Posted in Library