Posts Tagged 'Wales'
Monday, October 12th, 2015
ABOUT THE WEEK OF ACTION
A week of action has been called to encourage people all of the UK & the
world to take action against the construction of the North Wales Prison
in Wrexham.
The prison will be the second largest prison in Europe, holding more
than 2100 people and costing £250 million to build. Australian
contractor Lend Lease was awarded the contract to build the Wrexham
titan prison by the government in May 2014.
Local people have resisted the prison for over half a decade; objecting
to planning applications, lobbying, going to meetings. Full planning
permission was eventually granted in November 2014 despite local
resistance. It is now a construction site and this place of abuse and
oppression is being built as we speak. (more…)
Tags: Anti-Prison, Lend Lease, UK, Wales, Wrexham
Posted in Prison Struggle
Monday, March 30th, 2015
Today at 1pm in Cardiff city centre we held a demonstration in solidarity with the hunger striking members of CCF and their friends and families. We handed out flyers explaining their situation and demands while shouting chants in English and Greek. After the demonstration we hung a banner in the city and scattered flyers from the roof. Strength and complicity to CCF and their friends and relatives.

Long live anarchy!
*we will send pics soon.
Tags: Cardiff, Conspiracy of Cells of Fire : Imprisoned Members Cell, Demo, Greece, Hunger Strike, Solidarity Action, UK, Wales
Posted in Direct Action
Thursday, March 12th, 2015
6pm @Cardiff Central Police Station on the 24th of March 2015
It has been over five years since we learned that Mark "Marco" Jacobs was not just another anarchist in the south Wales activist scene, but was actually an undercover police officer.
Since then a number of people who were directly effected by his use of sexual relations as an infiltration tactic have taken legal action to attempt to hold the system to account.
Sickeningly South Wales Police and the Metropolitan Police have maintained a "Neither Confirm Nor Deny" defence of all aspects of Officer Jacobs deployment. (more…)
Tags: Cardiff, Demo, Fuck the Police, Mark 'Marco' Jacobs (Undercover Cop), Police Bastards, Rapist abusers, Repression, Wales
Posted in Social Control
Wednesday, September 24th, 2014
During the course of the week of action against the NATO summit a diverse range of actions were taken by many different groups and individuals. Here is a summary of what happened:
Friday 29th August
- Stop NATO camp set up at Tredelgar park in Newport
- BAE systems attacked with fire in Filton and vehicles torched at army cadet base in Bristol as acts of resistance against NATO
Saturday 30th August
- Mass march and radical bloc against NATO in Newport
- Effigy of Obama burned in Cardiff
Sunday 31st August – Action against securitisation and repression at the 'fence' in Cardiff
Monday 1st September – Sabcats anti-austerity action at Newport jobcentre and army recruitment centre.
Tuesday 2nd September
– No borders noise demo at UK Borders Agency in Cardiff
- Activist locks himself inside Cardiff Keep in Cardiff Castle where the NATO dinner is due to be held
Wednesday 3rd September – Activists hand in a demand for the arrest of NATO leaders to police in Newport, based on evidence leaked by Chelsea Manning of war crimes.
Thursday 4th September
– No to NATO March on Celtic Manor from centre of Newport and mass demo against the NATO dinner at Cardiff Castle
- Activists chalk out the connections between NATO and arms companies in Newport
Friday 5th September
- Activists again try to present evidence of war crimes at Newport police station
- Occupation of Barclays Bank in Newport calling for Barclays to ditch their shares in Israeli arms company, Elbit. Four activists glue themselves inside the bank
Saturday 6th September – Solidarity demonstrations outside Newport Magistrates Court in support of Barclays occupiers.
-
The struggle continues
Last week we saw a diverse struggle against NATO in Cymru. Marches against NATO in the streets of Newport and Cardiff; actions against the forces driving war in the banks and the securitised zones; workshops and discussions at the camp about connected issues from Gaza to police repression at the camp; people spreading the word in a hundred different ways, from conversations with locals, to the camp, to the web. But the struggles against capitalism and militarism are not a one-day, or even a one-week, event. The actions taken this week by Stop NATO Cymru, the Anarchist Action Network and other organisations are a small part of building up a movement capable of bringing about radical change.
So, when we look back, does it make sense to ask whether we "succeeded" in the week of action? We think it does. If one more mind went beyond the distortions of the mainstream media because of what we did, then yes we 'succeeded'. If one more pair of feet was spurred onto the streets by what we did, then we succeeded. And if one more pair of hands joined with ours, yes, we succeeded. In the coming struggles, those hands will again pick up the tools to take action, until the last drone is smashed. We hope to see you there.
Tags: BAE Systems, Barclays bank, Cardiff, Chelsea Manning, Demo, Elbit, NATO, Newport, Sabotage, UK, UKBA, Wales
Posted in Direct Action
Wednesday, September 24th, 2014
From StopNatoCymru:

8.30 am at Cardiff Motorpoint Arena. Wednesday, the 8th of October

"When the rich wage war, it's the poor who die." – Jean-Paul Sartre
On the 8th of October Cardiff will host one of the UK's biggest arms fairs at the Motorpoint Arena. Let's show them what we think of their dirty business! We call on people from south Wales and beyond to come and picket outside the arena that day from the time they open for registration at 8.30 am.
DPRTE this year will be attended by some of the UK's biggest arms companies, as their exhibitor list shows. They also host a conference, with keynote speakers from industry and government.
The arms fair was previously held in Bristol, but was forced out by protests.
We hope to see you there. If you would like to be a legal observer contact us at stopnatocymru@riseup.net . You can also contact us by that email address for any additional information regarding the demonstration.
Tags: Anti-Militarism, Cardiff, Demo, DPRTE Arms Fair, Motorpoint Arena, UK, Wales
Posted in Direct Action
Wednesday, September 24th, 2014
On the 2nd of September, at 12pm around 50 people gathered outside the Cardiff Home Office Buildings for the noise demo planned as part of the Stop NATO Cymru week of action. In the past, there have been monthly noise demos by No Borders South Wales group, with many different points of focus, ID cards, destitution, dawn-raids and anti-deportation. The focus of this particular demo was how border controls relate to militarism and the NATO war machine. This was called because NATO are part of the samesystem that divides and isolates through borders. Borders are a mechanism for the divide and rule of working class people. Borders kill innocent people around the world as does militarism. (more…)
Tags: Cardiff, Demo, NATO, Racism, UK, UKBA, Wales
Posted in No Borders
Friday, September 5th, 2014

tedious boot in a typical style
placed on the mantlepiece
as corpse-Gelli picks out teens
coming in bombs in public arts

-
See also:
'Stefano Delle Chiaie – Portrait of a Black Terrorist' by Stuart Christie
Tags: GLADIO, Licio Gelli, NATO, UK, Wales
Posted in Anti-Fascist
Friday, September 5th, 2014
There are demos taking place against the NATO summit in Wales, here is the Indymedia UK link where many photos are being uploaded by activists. There were not many people attending the demos but anarchists attended, as did communists in a Red Block.
http://indymedia.org.uk/en/actions/2014/nato/
Tags: Demo, NATO, UK, Wales
Posted in Autonomy
Monday, August 25th, 2014


From Cardiff to Gaza – tear down their barrier!
In preparation for the NATO summit, the authorities have put a giant fucking wall around parts of Cardiff and Newport. Local people do not want this wall – it prevents access to public grounds and services, disrupts essential travel and is an ugly visible reminder of the increasingly militarised zone that Cardiff and Newport have become in advance of this Summit.
Whilst they are in no way equivalent, we are mindful of the daily plight of the Palestinian people, hemmed in by giant walls that prevent them from accessing sufficient provisions, medical care or shelter from the prolific murderous Israeli attacks that have recently claimed thousands of lives.
We stand against all those states and corporations which would seek to profit from human misery, division and securitisation.
Meet us on Sunday, 31th August, at 3pm at the Nye Bevan statue in Cardiff (west end of Queen Street, opposite the castle) to make our feelings known.
Bring Palestinian flags and banners.
southwalesanarchists.wordpress.com
-
What's Planned?
Stop NATO week of action: 30th Aug – 5th Sep
All week: action camp near Newport, with gigs, workshops, skillshares. The main info-point for further details during the week will be at the camp. Full details can be found on the camp website.
Fri 29th Aug: Help set up the camp.
Sat 30th Aug: Radical bloc will join demo against NATO in Newport.
Sun 31st Aug: Day of action against drones, securitisation and policing.
Mon 1st Sep: Day of action against austerity, benefit cuts and evictions.
Tue 2nd Sep: No Borders South Wales day of action.
Wed 3rd Sep: Day of skillshares and action training.
Thu 4th Sep: Mass action to disrupt the summit. Further details near the time. Affinity group actions to help disrupt the summit also welcome!
Fri 5th Sep: Affinity group actions against capitalism, the state and NATO; get together with your mates and organise your own action.
Sat 6th Sep: Help pack up the camp.
-
Mainstream media link
http://www.walesonline.co.uk/news/wales-news/nato-summit-2014-cardiff-ring-7659971
Tags: Cardiff, Demo, NATO, Newport, Palestine, Wales
Posted in Social Control
Wednesday, July 23rd, 2014
As part of our coverage of the anti-NATO events in Wales, UK, here is a report of a police harassment taking place against stopnatocymru:
On Wednesday, July 9th, the otherwise successful Day of Action against Nato in Merthyr Tydfil was marred by an intrusive police presence, the attempted intimidation of Stop Nato Cymru activists and the harassment of a public meeting that afternoon.
As soon as a stall was set up in the town centre the police made their presence known, with a mixture of "Community Support" officers and actual coppers surrounding the table – groups of two standing at either end of the street and four walking passed repeatedly, taking leaflets and demonstrating their cutting edge intelligence gathering techniques with questions such as "What you up to?", "Are you moving on?" and "Are you doing this anywhere else?". (more…)
Tags: Anti-Militarism, Merthyr, NATO, Repression, UK, Wales
Posted in Social Control
Friday, July 18th, 2014
Between Saturday August 30 and Friday September 5 the leaders of the so-called North Atlantic Treaty Organisation (NATO) countries will be inflicting themselves on Newport- a little town in South Wales. Hiding themselves behind a wall of their thugs.

Check out this newsletter about making life difficult for them from anarchist action network and stop nato cymru.
Tags: Cardiff, Demo, NATO, Newport, UK, Wales
Posted in Library
Thursday, July 10th, 2014
National Convergence Weekend:
Saturday 19th July 11am -5pm in Newport, South Wales at the Community Space Partnership, 128 Lower Dock Street, Newport, NP20 1EG.
Sunday 20th July 11am- 5pm in Cardiff, South Wales at the Owain Glyndwr Pub, (Tair Pluen function Room) Cardiff, 10 St John's Street, Cardiff, Wales, CF10 1G
All welcome except cops & journos.
Stop NATO Cymru is a group initiated by local activists to mobilise against the NATO summit. Stop NATO Cymru joined with the Anarchist Action Network as a group with the same fundamental principles and as a group with the experience and skills gained from the anti-G8 mobilisation in 2013.
The Anarchist Action Network is working with Stop NATO Cymru to mobilise against the forthcoming NATO summit : Sat 30th Aug – Fri 5th Sep. This is the penultimate organising meeting before the summit – come and join the mobilisation!
Please email us in advance to discuss any queries about disabled access, childcare or crashspace at: stopnatocymru at riseup dot net
Tags: Cardiff, NATO, Newport, Wales
Posted in Autonomy
Wednesday, May 7th, 2014
As part of our coverage of anti-NATO events this year in UK, we reproduce this report:
The campaigners formed a Radical Bloc on the Trades Council-organised May Day march, breaking from the main route to take action against the bank instead of going to listen to speeches by union officials at the Trades Council's rally.
A local anarchist and member of the Stop NATO Cymru campaign group said: "We took part in the May Day march to draw attention to the struggles of workers all over the world against exploitation and violent oppression which is exacerbated by arms producers here in the UK. (more…)
Tags: Barclays bank, Cardiff, Demo, NATO, UK, Wales
Posted in Direct Action
Thursday, April 10th, 2014
From the 26th May to the 1st June 2014 Anarchist Action Network is holding a week of Anarchist events dubbed the Anarchist Travelling Circus in Newport, South Wales. The week will include, workshops, discussions and skillshares and more. We hope that these events will address some of the issues which most people are facing right now from problems with housing, to welfare cuts and the government austerity agenda, as well as increased poverty, environmental destruction, police repression, racism and the racist border system. (more…)
Tags: Anarchist Gatherings, NATO, Newport, UK, Wales
Posted in Autonomy
Tuesday, April 8th, 2014
No to NATO. No to War. No to Austerity.
Wales could see its biggest protests in a generation as 60 world leaders meet at the Celtic Manor in Newport for the NATO summit on 4th -5th September to plan their war on the world. Previous summits in Chicago and Strassbourg saw thousands protest war, austerity and global inequality.
From August 30th people will flock to South Wales for international actions including a weekend march and Counter Summit, week-long peace camp, and protests on the summit's opening day. (more…)
Tags: NATO, UK, Wales
Posted in Autonomy
Monday, February 3rd, 2014
325 receives and transmits:

[Also see this]
This year NATO will have their next summit at Celtic Manor Resort, in Newport, south Wales. In early September 2014, "world leaders" – all directly responsible for untold death, illegal torture flights, and wars fought purely to protect Western business interests and resource supply routes – will gather on the edge of this historic Welsh city.
Many people from Newport, Cardiff, Bristol and beyond, will oppose the summit and use a diversity of tactics against it. We, an anti-capitalist, anti-militarist network in South Wales, plan to facilitate mobilisations and provide
space for workshops, skill-shares and social events. We are organising without leaders as we do not agree with bosses or bombs.
NATO has often used the term 'humanitarian interventions' to disguise the fact that it actually fights for the strategic, economic and political benefit of the elite classes within NATO member countries. Militarism and capitalism are part of the same global power structure. A critique and confrontation of capitalism is therefore an indispensable aspect of our anti-militarist stance. (more…)
Tags: Anarchist Gatherings, Anti-Militarism, Demo, NATO, Newport, Repression, UK, Wales
Posted in Autonomy
Tuesday, August 27th, 2013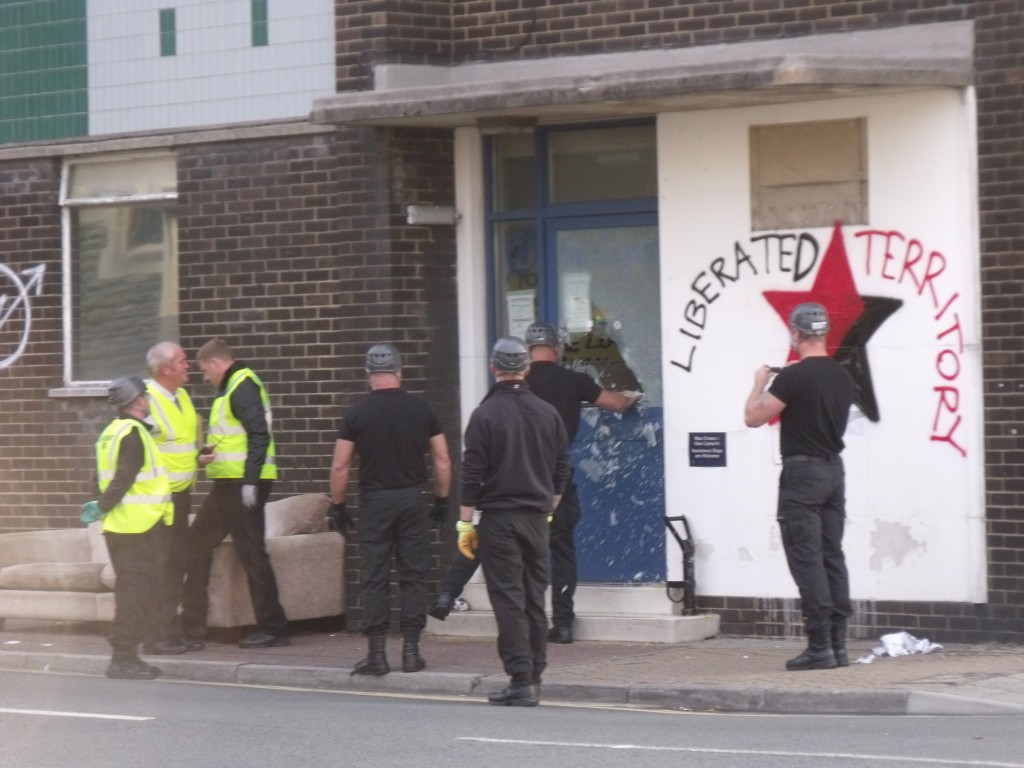 Tags: Cardiff, Eviction, Wales
Posted in Social Control
Sunday, August 18th, 2013
On August 5th cops in Greece continued their campaign of repression against squats by raiding three squatted spaces in Patras: Parartima, Maragopouleio and the Self-managed Hangout inside the Technological Educational Institute (TEI). 16 comrades were detained in total; 5 squatters and 11 supporters.
While those showing solidarity were later released, the 5 occupants faced charges in court on the 13th. Therefore the next day we painted a banner to express our solidarity with squatters facing charges and evicted from their homes. (more…)
Tags: Cardiff, Solidarity Action, Wales
Posted in Direct Action
Saturday, August 10th, 2013
On Thursday 8th August, at approximately 10am, High Court bailiffs showed up to join United Welsh representatives, police and contractors booked to secure buildings, in an attempt to evict Rumpoles, Moira Terrace, Cardiff, CF24 0NE (aka: prison squat / 0ne squat). By 12pm, without even attempting to enter, they left the occupiers in possession of the building. (more…)
Tags: Adamsdown, Cardiff, Prison squat / 0ne squat, United Welsh Housing Association, Wales
Posted in Social Control
Saturday, August 3rd, 2013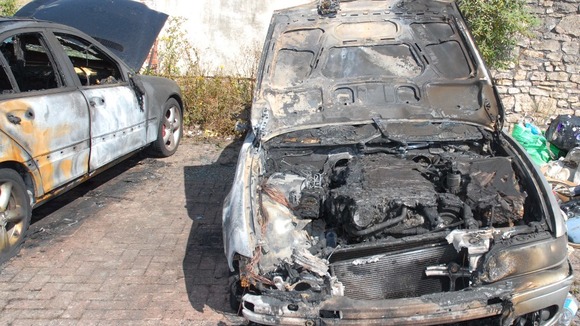 24 July – Mercedes and BMW set alight that were parked at Barry Football Club, South Wales. No one was arrested or injured. Police appealed for information because they have none.
July 30 – Three car fires in South East Ipswich were all the work of arsonists. Afterwards in the local media, police appealed for more information and revealed more acts of property damage had taken place, including against two of their own police cars. It all kicked off when a blaze broke out in Ravenswood Avenue at about 12.40am, when a number of people reported a car on fire in a wooded area on land between Ravenswood Avenue and Gainsborough Sports Centre. An East Ipswich fire crew turned up and had the flames under control by 1.03am. The damage was so bad that no identifiable features remained on the vehicle, which is thought to have been a Vauxhall Vectra or similar. At 4.17am, a Ford transit van was reported alight in Fletcher Road – and then a stolen car in Landseer Park at 5.05am. Between the fires, at 4.38am, a grey BMW and a black Ford Focus were damaged in Orwell Gardens. Shortly before 6.45am it was discovered the windows of a police car were smashed in Clapgate Lane, at the Ipswich south east safer neighbourhood team base. At 8.15am another police car was found to have had its windows smashed and damage done to the body work in Heath Road, at the Ipswich north east safer neighbourhood Team base.
Tags: Arson, Barry, Car Burning, Fuck the Law, Ipswich, UK, Wales
Posted in Direct Action