Posts Tagged 'International Solidarity'
Monday, December 7th, 2015
-En el marco del llamamiento a un Diciembre Negro.
-A 2 años de la muerte en combate del Anarquista Sebastián Oversluij.
-A lxs Rebeldes Subversivxs, Revolucionarixs, Anarquistas y
Antiautoritarixs que luchan por la destrucción de toda forma de Poder y
Autoridad en el mundo entero.
Queremos recordar lo bonito que es que se paralice el espacio-tiempo
social, a través de pequeños o mayores cortocircuitos sociales. Queremos
recordar lo peligrosa que es la anarquía cuando quiere. Por un Diciembre
Negro. Nikos Romanos, Panagiotis Argirou.
Desde las prisiones griegas, desde la resistencia cotidiana en las
entrañas de la bestia de la sociedad carcelaria se gesta un llamado al
recuerdo de la inestabilidad de la paz social bajo la amenaza constante
de rompimiento de la normativa, el que nos invita a hacer de este
recuerdo particular una iniciativa que se multiplique en la
multiformidad del ataque antagonista y antiautoritario, que nos invita a
propagar la acción que desborda la teoría sin dejar pie para excusas o
letargos. (more…)
Tags: Black December, Chile, Greece, International Solidarity, Sebastián Oversluij Seguel
Posted in Autonomy
Tuesday, December 1st, 2015
via contrainfo:
We claim responsibility for the incendiary attack against the Hellenic Post (ELTA) branch in the district of Pefki [in the early hours of November 23rd]. Anarchist prisoners, currently on trial in the terror-court of Koridallos prisons for a series of cases of anarchist violence, are also accused of committing robbery at this branch, that's why we made sure it went up in flames, to send them a symbolic message of solidarity in view of the court decision.
This particular attack is our response to the call for a 'Black December' launched from inside prisons by our captive brothers Nikos Romanos and Panagiotis Argirou.
The political rationale of this specific proposal – one we entirely support – stands for an open wager for reinitiating the anarchist insurgency, and attempting to create an informal platform that may become an invisible point of encounter and coordination between comrades in every trench of multiform anarchist struggle.
Not much else to say at the moment; now is the time for action, for constant and ceaseless multiform struggle.
Strength and complicity to the arsonists who set fire to social peace and sabotage the social normalcy in Brazil, Chile, Mexico, spreading Black December in every corner of the world.
Strength and complicity to those who will take to the streets seeking to vandalise representations of domination, throw stones at cops and burn symbols of Power.
Strength and complicity to all anarchist prisoners in every corner of the world.

Solidarity means attack!
For a Black December!
For the anarchist offensive against the world of Power!

Combative Anarchy/Informal Anarchist Federation (FAI-IRF)
Tags: Arson, Athens, Black December, Combative Anarchy - FAI/IRF, Greece, Hellenic Post (ELTA), International Solidarity
Posted in Direct Action
Monday, November 30th, 2015
We are going in front of Kandıra No.1 F Type Prison to support Osman Evcan…
Osman Evcan is resisting authority as an anarchist against speciecism for uninterrupted 23 years in state prisons. Osman Evcan supports the struggle for animal liberation as an anarchist since 2003. He has been a name for us, who voices the demand for total freedom against ecological destruction, hunger, poverty, carnage and war policies created by the state and capitalism.
Osman Evcan is recently located in Kandıra Kocaeli F-Type Prison No. 1 after being exiled to almost all the prisons in Turkey for resisting and never bending his head against systematically and continuously imposed intimidation. Osman Evcan's and all political prisoners most basic and vital right to a healthy diet according to their preference and will is blocked by the prison management with the knowledge and instructions of the Ministry of Justice. (more…)
Tags: ABC Istanbul, Animal Liberation, Demo, Hunger Strike, International Solidarity, Kocaeli No:1 F Type Prison, Osman Evcan, Prison demo, Turkey
Posted in Prison Struggle
Tuesday, November 17th, 2015
via contrainfo:
—We claim responsibility for incendiary attacks against four banks in the city of São Paulo. The attacks occurred at the Santander bank branches in Largo da Batata, another in the Liberdade area, and the other two in the central region and in a peripheral region.—
Manifesto:
The "Carlo Giuliani" cell of the Anarchist Insurgent Movement (M.I.A.) assumes responsibility for the four incendiary attacks that consumed bank branches in the early hours of November 15th 2015 in the central region of the city of São Paulo.
On November 15th the proclamation of the republic is "commemorated", within large and ironic quotation marks. We have this fetish of commemorating historical dates and personages that remind our massacres and subservience. We do not commemorate the insurgencies of slaves or the Canudos Insurrection, nor do we celebrate the epic past of Marighella, Zumbi, João Cândido, Jesuíno Brilhante, Olga [Benário], or Espirtirina Martins. Going against logic, we buy the canned historical version, told by the winners who still continue to dominate us.
The fetid and corrupt monarchy that parasitised Brazil, deposed after the proclamation of the republic, does not differ in absolutely anything from the elite which nowadays parasitises the so admired democratic republic. Bankers, lobbyists, politicians, corporatists, CEOs, speculators and landlords, all worms that accumulate innumerable richness at the expense of others' sweat.
(more…)
Tags: Arson, Black December, Bradesco Bank, Brazil, Carlo Giuliani, Célula Carlo Giuliani - Movimento Insurgente Anarquista, Conspiracy of Cells of Fire : Imprisoned Members Cell, International Solidarity, Movimento Insurgente Anarquista (MIA), Sabotage, São Paulo
Posted in Direct Action
Sunday, November 15th, 2015
Video:
https://vimeo.com/145530683

Communique:
On the 11th of November, while fascists scums were holding marches in all of Poland, we – the anarchists – decided to release our hatred upon the state and capital.
We're expressing our support for fighting against an oppressive system in every part of its front, from unions to direct actions.
We believe that this symbolic bank arson will raise radical fire in all country.
Solidarity with all prisoners of the system!
We dedicate this action for Czech anarchists in custody during police operation "Fenix".
Let acts speak!
Solidarity in combat!

BLACK RANKS Group
Tags: Arson, Black Ranks Group, Czech Republic, International Solidarity, Poland
Posted in Direct Action
Thursday, November 12th, 2015
325 receives and transmits:
To Comrade Nikos Romanos and all the young fighters who are imprisoned in the
jails of Troika and Syriza,
We attach the appeal to the international day of struggle for December 12th
that we want to propel with you.
From the south of Argentina we want to send you a warm hug. You are not
alone, we are together!
Here the oil and mine imperialist companies plunder our natural sources
with impunity and get huge profits with our muscles and bones, with daily
shifts of 12 and 14 hs per day. Every time we fight for our rights they
chase us, repress us, imprison us and convict us with the government and
its justice.
Thus on December 12, 2013, the Videlist justice convicted us for fighting
in 2006 against outsourcing and against a tax on our wages that bosses and
government cinically call it "tax on profits". It is a robbery to our low
wages, even more in the south where the cost of living is two times higher
than the rest of the country.
For this fight, four of us are convicted for life and there are six
comrades who received a sentence of 5 years. (more…)
Tags: Argentina, Greece, International Solidarity, Mining, Nikos Romanos, SY.RIZ.A.
Posted in Prison Struggle
Thursday, November 12th, 2015
Full coverage of Black December via Contra-Info on this #tag.
Also read: International call for a Black December.
I hate the individual who bends his body under the weight of an unknown power, of some X, of a god.
I hate, I say, all those who, surrendering to others, out of fear, out of resignation, a part of their power as a man, are not only crushed themselves but crush me, and those I love, under the weight of their frightful cooperation or their idiotic inertia.
I hate, yes, I hate them, for I sense it, I do not bow before the officer's braid, the mayor's sash, the capitalist's gold, moralities or religions; for a long time I have known that all of this is just baubles that can be broken like glass.
— Joseph Albert (Libertad)
There are times in history when the randomness of some events can cause dynamic variables, able to almost entirely paralyse the social space-time.
It was Saturday night, on 06/12/2008, when the culmination of a conflict between two worlds took place in just a few moments. On one hand, the youthful, enthusiastic, spontaneous and impetuous insurrectionary violence; on the other hand, the official state institutional organ that, legitimately, claims the monopoly on violence through repression.
No, it was not about an innocent kid and a paranoid cop found in the wrong place at the wrong time, but a rebellious young comrade who attacked a patrol car, in an area where clashes with the forces of repression were common, and a cop who patrolled the same area and, out of a personal perception about the honour and reputation of the police, decided to confront the troublemakers on his own. It was a conflict between two opposing forces: on one Insurgency, on the other Power, with the main protagonists of this conflict each representing their own sides.
The murder of Alexandros Grigoropoulos by the cop Epameinondas Korkoneas, and the large-scale riots that ensued, caused a powerful, high-tension social electroshock, because the image of "social peace" was shattered and the existence of these two opposing worlds was made visible, in the most manifest way, triggering situations from which there was no easy return, at least not without a creation and manifestation of events whose momentum nobody could any longer pretend they did not notice, they did not see, they did not hear, they did not take into account. (more…)
Tags: Alexis Grigoropoulos, Black December, Conspiracy of Cells of Fire, Conspiracy of Cells of Fire : Imprisoned Members Cell, Greece, Informal Anarchist Federation (FAI), International Revolutionary Front, International Solidarity, Korydallos Prison, Nikos Romanos, Panagiotis Argirou, Sebastián Oversluij Seguel
Posted in Direct Action
Tuesday, November 10th, 2015
Manifestación en la Embajada de España en Londres en solidaridad con los anarquistas perseguidos a raíz de la Operación Pandora en Barcelona en los últimos meses.
Demonstration at the Spanish Embassy in London in solidarity with anarchists persecuted following Operation Pandora in Barcelona in the last months.
Saturday, November 14
6:00pm
Spanish Embassy
SW1X 8SB, London, UK
Solidarity to all the prisoners of the Spanish State – Destroy the Prisons.
https://www.facebook.com/events/926372350792952/
Tags: Demo, International Solidarity, London, Operation Pandora, Solidarity Action, Spain, UK
Posted in Social Control
Monday, November 9th, 2015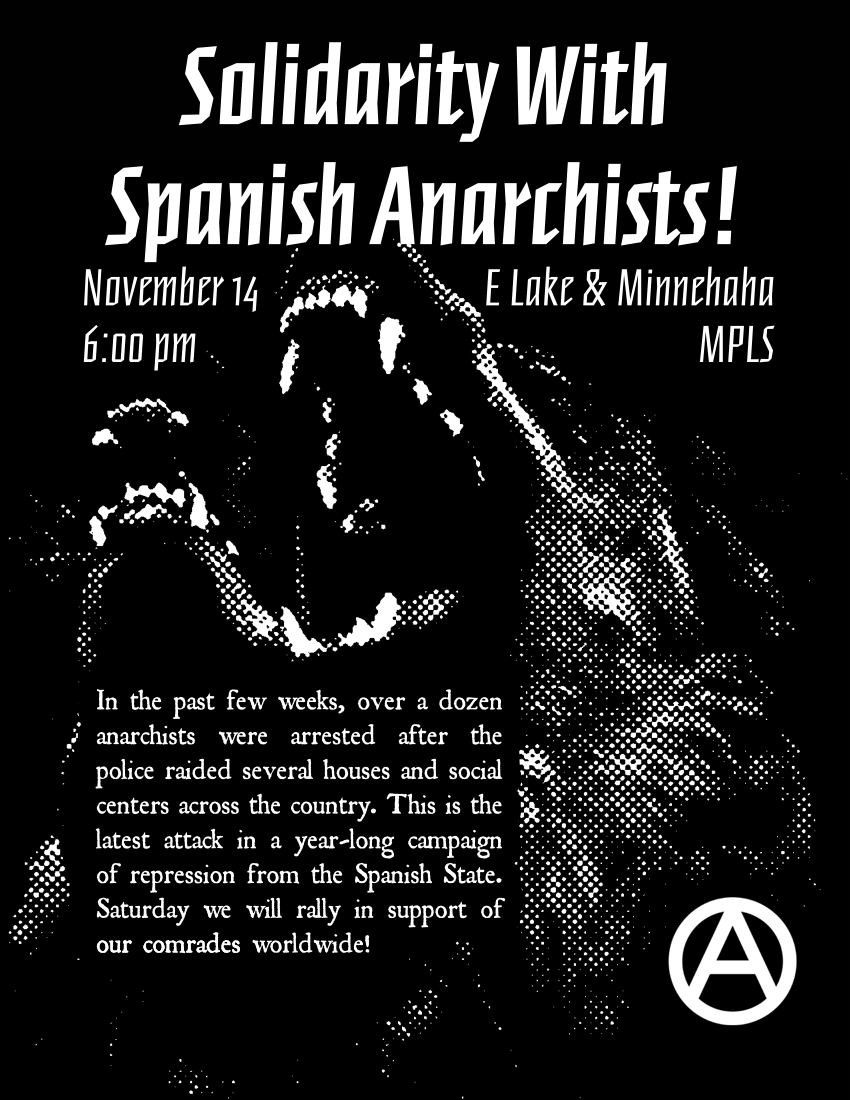 Updated: Here's the reportback.
Almost a year ago, the Spanish State began a campaign of repression against anarchists, arresting dozens, including nine in late October, and five more in November of this year. Their imprisonment is justified with the invention of a fictional terrorist group, the GAC-FAI-IRF. No attack has ever been claimed with this set of acronyms, and the GAC (Coordinated Anarchist Groups) are only the authors of a recent book, Contra la Democracia (eerily similar to the Tarnac Affair and The Coming Insurrection in France, 2008).
On Saturday we will rally in solidarity with those arrested, at 6:00pm at the corner of E Lake St & Minnehaha Ave in Minneapolis.
More info here: Efecto Pandora & Conflict MN.
Tags: Catalunya, Demo, GAC (coordinated anarchist groups), International Solidarity, Minneapolis, Spain, USA
Posted in Social Control
Monday, October 26th, 2015
325 receives and transmits – We add the clarification after a contact with our comrades, Sin Banderas-Ni Fronteras, in Chile, that this letter is published mainly for reference, not as an approval. Our nihilist-anarchist and anti-civilisation perspective obviously has a critique of the authoritarianism of Marx-Lenin-Trotsky. Solidarity to the imprisoned comrades, for a new internationalist struggle:
October 2, 2015
Comrades,
Firstly, we wanted to send you a big hug, a hearty encouragement and our entire sympathy and support in the fight for your freedom in the dungeons of the Greek regime, especially to comrade Evi Statiri, who is now recovering from her hunger strike.
We are the Collective for the Re-foundation of the IVth International – FLTI. We are an international current with militancy in Syria near Aleppo, resistance against the genocidal Assad; we are also working alongside the rebel militias in Libya who yesterday defeated Khadafi; we are fighting in Zimbabwe and South Africa in Black Africa; and also in several Latin American countries.
We are writing to you because we have been carefully following your struggle and denouncing and fighting together with you against the brutal imprisonment that dozens of comrades are suffering, who today are still in prison at the hands of the Syriza's Government, those "merchants of hope" -as comrade Nikos Romanos denounced them – that are actually jailers and oppressors.
We want you to know that this claim and this fight that you are carrying forward, is also ours. We know that you are imprisoned for fighting; for defending migrant workers attacked by the fascist gangs of Golden Dawn. Today it is thousand times more necessary to deepen this fight, when tens of thousands of political refugees arrive in Europe fleeing from genocide as that perpetrated by dog Al-Assad against the Syrian revolution before the "crocodile tears" of European Governments and Obama who are the ones that command these massacres against the rebel masses.
So when we hear of students that have taken the technological Institute of Athens to fight for the freedom of political prisoners and in defense of the refugees, we greet their action with revolutionary fervor and say that this is a huge example to multiply and deepen. (more…)
Tags: Argentina, Greece, International Solidarity, Libya, South Africa, Syria, Zimbabwe
Posted in Prison Struggle
Thursday, October 8th, 2015
En un escenario político de evidente descomposición de las fuerzas
representativas tradicionales, y con toda una gama de propuestas que
buscan reformar el modelo de dominación construyendo formas "populares"
de administrar el poder, nuestra opción continúa siendo la ruptura
absoluta con el mundo de la autoridad, como única salida a la catástrofe
de la dominación.
Y en esa ruptura, el ataque directo a las instituciones y representantes
de la opresión y del poder sigue siendo propaganda de la necesidad de la
revuelta individual y colectiva por la destrucción de todo orden social
en la búsqueda continua de nuestra libertad.
Armadxs con estas ideas transformada en unos cuantos gramos de pólvora,
unos cuantos litros de bencina y un mecanismo de activación que nos dio
algunos minutos para salir sin problemas, atacamos con un artefacto
incendiario dependencias de la Fuerza Aérea de Chile, pertenecientes al
Servicio Religioso del Comando de Personal, ubicado en calle Cienfuegos
en la ciudad de Santiago, durante la madrugada del martes 06 de octubre.
Todo esto se realizó a una hora y con una carga incendiaria de tal tipo
que impidiera que transeúntes salieran heridxs, ya que no son el
objetivo de nuestros ataques. (more…)
Tags: Arson, Arsonist Anarchist Attack - "Fire and Consciousness" Cell - FAI/IRF, Chile, Informal Anarchist Federation (FAI), International Revolutionary Front, International Solidarity, Santiago
Posted in Direct Action
Monday, September 28th, 2015
Kurdish Red Crescent – This is a list of medical equipment and medicines that we need in Rojava.
If you can help please contact: solidaritywithrojava[at]gmail[dot]com
Tags: International Solidarity, Kubani, Kurdistan, Rojava, Syria
Posted in Autonomy
Monday, September 28th, 2015
Texte d'appel de la campagne
Au coeur du Moyen-Orient, les populations du Rojava (Kurdistan syrien) se sont soulevées depuis deux ans contre les forces réactionnaires qui oppressent la région depuis des décennies. Après avoir libéré le Rojava de l'Etat Islamique, les habitants du Rojava et les nombreux révolutionnaires étrangers qui sont venus les soutenir inquiètent à présent les impérialistes américains et l'OTAN, ainsi que les régimes réactionnaires et fascistes du Moyen-Orient : la Turquie, l'Arabie Saoudite et l'Iran. Tous à présent interviennent par bombardements ou ingérence, reproduisant les stratégies qui ont abouti à la création des nombreux groupes islamistes comme l'Etat Islamique, al Qaïda ou le front al-Nosra, des golems qui ont échappé au contrôle des pays capitalistes qui les ont façonnés. (more…)
Tags: International Solidarity, Kubani, Kurdistan, People's Defence Units (Y.P.G.), Rojava, Syria, YPJ (Women's Protection Unit)
Posted in Autonomy
Wednesday, September 23rd, 2015
With this call out we invite individuals, organizations, collectives to participate in or support our fight for liberation, liberation not only of the Kurds for their land, but first and foremost liberation from the power of the state and capitalism and of patriarchy. We invite you to come to Rojava, Canton Cizire and Kobani.
Rojava (Western Kurdistan) is a piece of land largely freed from the presence of ISIS but under embargo: an embargo implemented against us not only from Turkey but also from Iraqi Kurdistan, whose regime does not appreciate the social changes taking place here. This embargo limits the availability of basic necessities, but also on the shortage of medicines and medical equipment needed to treat the injured. Here there are thousands of martyrs, of people killed by war: many have lost their family and home.
Our region lives since four years in an intensive atmosphere of war and great popular resistance. The attacks of authoritarian forces of modern capitalism backed up by regional reactionary forces which are deployed in the region, and are practically embodied in extremist religious organizations with its different names, which can be summed up in ISIS, is not only an armed attack which is supported by all technical modern means against the forces of resistance, such as women, youth and the forces of protection, but it is an intellectual and ideological attack that represents the peak of authoritarian and monopolistic patriarchal mentality which is anti-women, youth and the whole society. It is an international war, all hegemonic powers are directly or indirectly playing their part, all because they want influence in this region. (more…)
Tags: International Solidarity, Islamic State in Iraq and Syria (ISIS), Kubani, Kurdistan, Lions of Rojava, People's Defence Units (Y.P.G.), Rojava, Syria, Women's Defense Units (YPJ)
Posted in Autonomy
Sunday, September 20th, 2015
A small act of solidarity from London for Rumah Api (KL): Banner drop outside
the Malaysian Embassy on the same day as a massive 'Malaysia Night' event
takes place in nearby Trafalgar Square. Rumah Api is a Kuala Lumpur based
anarcho-punk social centre and gig space, and was raided by armed police on
August 28th. This resulted in 160 people being arrested.
SOLIDARITY IS OUR WEAPON
Rumah Api website: http://rumahapi.weebly.com/
News story: http://325.nostate.net/?p=17229

Tags: Banner drop, International Solidarity, London, Malaysia, Rumah Api (social center/house project), Solidarity Action, UK
Posted in Direct Action