Posts Tagged 'London'
Tuesday, December 6th, 2016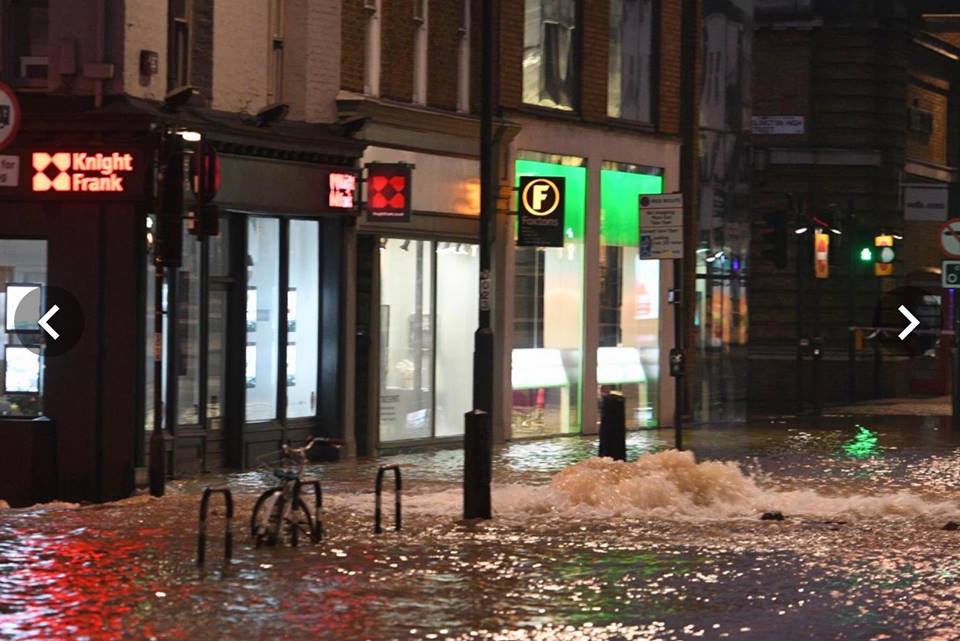 "CLASS WAR hit watermain outside Foxtons Islington… and flood Boris Home in COLBROKE ROW……………. WE SAID WE'D BE BACK!"
Class War London opened up a water main outside gated estate agents Foxtons, which flooded dozens of expensive multi-million pound homes in a posh area. 100s of people had to be evacuated and the cost of the damage is extensive. Boris Johnson, the ex-mayor and now foreign secretary also had his basement flooded by waters which were reported to be up to 2 metres deep in the surrounding streets. The rich people were reported to have been taken to some kind of refugee camp for the upper class.
Tags: Class War (UK), London, Sabotage, UK
Posted in Direct Action
Tuesday, November 15th, 2016
"Concrete and wires prevail everywhere.
Looking out from the window of my cell, behind the bar,
I see a piece of sky decorated with some barbed wire."
Tasos Theofilou
Join us on Friday 18th of November for our info night event in solidarity with the anarchist communist Tasos Theofilou who is currently in prison, after being sentenced on the basis of forged and non existent evidence. He was convicted just because he is an anarchist. He was convicted because he didn't lose his smile even when the court of first instance announced his sentence.
Projections, case updates, phone call interventions and presentation of Tasos' inspiring writings…
Bring your insurrectionary poetry for our open mic!
Starting at 18:00 sharp at L.A.R.C. (62 Fieldgate Street E1 1ES London)
18:30 Phone call intervention with comrades in Athens, Greece
20:00 Phone call intervention with imprisoned comrade Tasos Theofilou.
Live music will follow, starting at 21:00.
Bar will run throughout the evening. Entry on free donation.
Feel free to spread the word!!!
See you all there!
P.S. Please respect the fact that we do not wish this event to be republished on social media such as Facebook, Twitter etc.
Anarchists in Solidarity
Tags: Greece, London, Solidarity Event, Tasos Theofilou, UK
Posted in Prison Struggle
Tuesday, November 15th, 2016
The Apoist Youth Initiative has attacked a London-based organization that is close to Diyanet İşleri Başkanlığı (Presidency of Religious Affairs) and the Turkish Islamic Society in Newington Green / London.
The 30 youths who attacked these two fascist organizations declared that they had targeted them because of their dirty policies against the Kurdish freedom movement.
Both organizations were bombarded with fireworks, the windows were smashed and 'Turkey = ISIS (DAESH)' was spray painted on the walls.
The young people declared that similar actions would continue.
via Rojaciwan, translated by Insurrection News
Tags: Apoist Youth Initiative – NRW, Islamic State in Iraq and Syria (ISIS), Kurdish Struggle, London, Turkey, Turkish Islamic Society, UK
Posted in Direct Action
Monday, June 27th, 2016
Whitechapel and Bethnal Green have seen anti-raids and no borders posters and graffiti appearing all over the place.
Tags: Bethnal Green, London, Racism, UK, Whitechapel
Posted in No Borders
Friday, March 11th, 2016
Fuck you all, it's the Fuck Parade
Meet Sunday 1st May 2016, 6pm @ One Commercial Street, Aldgate, London E1 7PT. Bring what you expect to find.
http://fuckparade.wordpress.com
Tags: 1st May, Demo, Fuck McDonalds, Fuck the Church, Fuck the Law, Fuck the Mainstream Media, Fuck the Police, Fuck the Queen, Fuck Work, Fuck You Tesco, London, UK
Posted in Direct Action
Friday, January 29th, 2016
PDF: Squatters of London Action Paper (SLAP!) 1st Edition

Please spread & repost!
Tags: London, PDF, Squatters of London Action Paper - SLAP!, Squatting, UK, Zine
Posted in Library
Saturday, December 5th, 2015
31/12/2015
NYE Prisoner solidarity demonstration beginning at
8:00 pm Pentonville
then moves onto
9:30 pm Holloway
START ADDRESS: HMP Pentonville,Caledonian Rd, London N7 8TT
BRING NOISE MAKERS
http://network23.org/londonabc/2015/12/01/2015-nye-london-prisoner-solidarity-demo/

This is also in solidarity with comrades from Greece
Comrades coming from various geographies and different paths of
struggle, yet having the same longing for the diffusion of anarchist
offensive, support the call for a Black December
Tags: ABC London, Black December, Demo, London, UK
Posted in Prison Struggle
Sunday, November 15th, 2015
Received from Squatters and Homeless Autonomy Collective:
Coming to Terms
In Camden, an eight-month squat is evicted by pigs and three are arrested under Section 144, the 2012 ban on residential squatting. A man in a SUPPORT YOUR LOCAL SQUAT t-shirt waits for NELSN to forward a text. Two arrive from a council-estate squat further north. Builders begin to secure the building. Against Section 144, against increasing precarity and repression, broken self-identity and fractured organisation, London squatting seems to have begun a coming-to-terms.
Attempts to surround the fragility of the squat scene with nostalgia have come thick and fast: Remember the Squatters' Union; remember unrestricted residential squatting; remember squatters' rights. As ever this nostalgia is a thinly disguised dose of forgetfulness: Squatting has always meant struggle; and no mourning for a golden age can deny the permanence of our struggles and the permanent need to politicise them. (more…)
Tags: London, Squatting, UK
Posted in Autonomy
Thursday, November 12th, 2015
From NFA Anti-Fascists:
Today, on Armistice Day [11 November], No Fixed Abode Anti-Fascists took the steps of Euston War Memorial against patriotism and for solidarity with anti-fascist and anti-militarist struggle.
Two years ago on this day, the Przychodnia squat in Warsaw successfully resisted an attack by neo-fascists on the 'March for Independence'. Refusing to intervene, police blocked people from reaching the nationalists, who set two cars alight and threw molotovs at the squat. Two squatters were injured while repelling the fascists from the roof.
The wars of the rich and street battles of their nationalist lackeys have a history of resistance by people of no fixed abode. On 20th September 2014, squatters in Calais Bleriot Avenue defended against a fascist attack after a demonstration in the city. During Franco's rule in Spain, underground squats in Catalonia provided spaces for political refugees, organising and urban resistance. On one occasion in Auschwitz, hundreds of Romani people refused to be taken away and so resisted with knives and bricks. The black poppy remembers those on any or no side who resisted, rebelled and mutinied against the First World War and all wars after.
The anti-fascist resistance at Przychodnia contrasts with the patriotism of today's Remembrance. A hub of far-right activity on the ground, Remembrance Day phrases British patriotism and anti-German xenophobia as anti-fascist struggle. As the British Legion and Lockheed Martin clap for money and the crowd claps for "national identity", everywhere people struggle against fascism, patriotism and militarism.
Tags: Banner, Demo, London, Poland, UK
Posted in Anti-Fascist
Tuesday, November 10th, 2015
Manifestación en la Embajada de España en Londres en solidaridad con los anarquistas perseguidos a raíz de la Operación Pandora en Barcelona en los últimos meses.
Demonstration at the Spanish Embassy in London in solidarity with anarchists persecuted following Operation Pandora in Barcelona in the last months.
Saturday, November 14
6:00pm
Spanish Embassy
SW1X 8SB, London, UK
Solidarity to all the prisoners of the Spanish State – Destroy the Prisons.
https://www.facebook.com/events/926372350792952/
Tags: Demo, International Solidarity, London, Operation Pandora, Solidarity Action, Spain, UK
Posted in Social Control
Friday, November 6th, 2015
Anonymous Submission
Last night a Metropolitan Police Safer Neighbourhoods Team base on Blackstock Road was targeted in response to a wave of police violence and control in Hackney and larger London. Pigs are frisking us on our estates; assisting in the eviction of our family and friends; containing and violently suppressing our protests and everyday resistance. Armed with public order sections and counter-terrorism legislation, they criminalise our communities and cultures.
At yesterday's Million Mask March and the Free Education demonstration the day before, the Met police excelled in invasive repression and control. Riot cops attempted for hours to put a baton over the head of central London protest; but our resistance cannot be contained to designated protest zones. All around London, lines of social conflict are marked. Where the ground is ours, resistance is on our terms, at our times and outside their enforced zones.
Resistance to police control is as permanent as it is necessary. There is always a police car burning. In Lambeth, Southwark and Hackney, pigs feel blows from their own batons. A family is refusing to be evicted from their council flat; a firework is hitting a pig van on patrol; a mob of people are pulling someone from the grips of Met officers.
Everywhere we are creating our own lines of social war and resistance.
Violence and sabotage is ours and we will continue to use it.
Tags: Fuck the Police, London, Sabotage, UK
Posted in Direct Action
Friday, November 6th, 2015
Thousands of angry demonstrators, a riotous carnival atmosphere and edgy embattled police lead to scenes of disorder and chaos in London last night as the Million Mask March called by Anonymous took place in Westminster. 50 people were arrested by cops on various charges related to the demo, including 3 men who were accused of carrying knives, lock picks, gas canisters, plus smoke and paint grenades; they remain imprisoned at this time.
Several police were injured, although only slightly, including a police horse. Fireworks were used to great effect against the police horses, causing them to startle and flee from the line, one police officer was thrown from his horse and injured in a fight with demonstrators outside Buckingham Palace.
A police car on Queen Anne's Gate, near the Ministry of Justice was burned, as roving breakaway groups of anarchists and activists spread the chaos across the elite districts of power.
They should have expected us.
Never forgive – Never forget.
Tags: #anonymous, Arson, Fuck the Police, London, Riots, UK
Posted in Direct Action
Sunday, September 20th, 2015
A small act of solidarity from London for Rumah Api (KL): Banner drop outside
the Malaysian Embassy on the same day as a massive 'Malaysia Night' event
takes place in nearby Trafalgar Square. Rumah Api is a Kuala Lumpur based
anarcho-punk social centre and gig space, and was raided by armed police on
August 28th. This resulted in 160 people being arrested.
SOLIDARITY IS OUR WEAPON
Rumah Api website: http://rumahapi.weebly.com/
News story: http://325.nostate.net/?p=17229

Tags: Banner drop, International Solidarity, London, Malaysia, Rumah Api (social center/house project), Solidarity Action, UK
Posted in Direct Action
Monday, September 7th, 2015
International anarchist prisoner week: London Solidarity
To mark International Anarchist prisoner week last Saturday London ABC & friends visited two prisons in north London Holloway & Pentonville.
Pentonville-
Holloway-
Tags: ABC London, International Week for Anarchist Prisoners, London, Solidarity Action, UK
Posted in Prison Struggle
Tuesday, July 14th, 2015
Insurrection News received and transmits:
In London on Saturday 11th July the Socialist Workers Party (SWP) hosted a public meeting attended by around 1000 people with a member of Syriza's Central Committee.
Driven by a rejection of the SWP's Patriarchal rape apologist authoritarian politics and to make clear to Syriza that the imprisonment of fellow Revolutionary Combatants will not go peacefully no matter what place of the world they run to, a small group of Anarchist co-conspirators made the decision to disrupt the meeting.
We successfully made it through their lines of burly 'minders' to reach the stage, where we unfurled a banner stating 'Solidarity with Imprisoned Anarchists, not Syriza' and chanted anti-prison slogans.
During our escape we were viciously attacked, one comrade had their hair pulled, the banner was stolen, we received death threats, compared to Nazis, there was damage to clothing etc.
This level of violence was unexpected, but revealed the Authoritarian nature of the SWP. Members of the crowd objected to the violence enacted on us, and hopefully this will make evident to them what kind of organisation the SWP is.
Fire to the Prisons!
No Peace for Syriza while our Comrades rot in their jails!
For Social Revolution and a People in Arms!
Tags: International Solidarity, London, Socialist Workers Party (SWP), Solidarity Action, SY.RIZ.A., UK
Posted in Prison Struggle