Conspiración Acrata: Publicación Anarquista Insurreccional y Revolucionaria #11 (Mexico)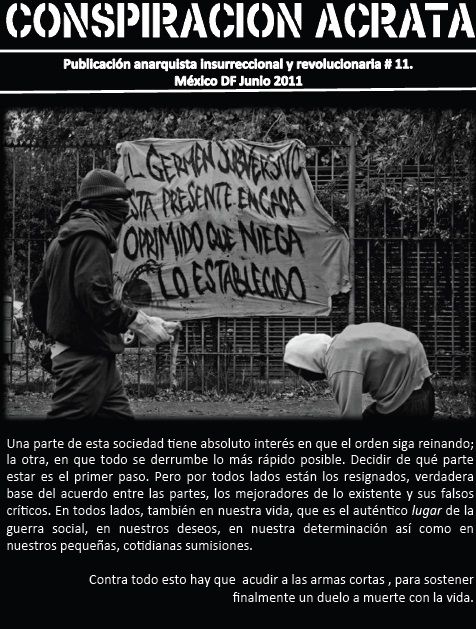 New edition of the Mexican anarchist publication, "Conspiración Acrata", #11.
–
– Editorial.
– Noticias incendiarias y acciones mundiales.
– Marcha, meeting y planton, y de paso un buen raspon que avala el martirologio libertario x. CIA.
– III. Afinidad y organización informal. Alfredo Maria Bonanno.
– Nosotrxs y lxs muertxs que se los llevo el viento.
– De la teoria a la practica x: Giannis Dimitrakis.
– Acciones, sabotajes, comunicados.
– Algunos escritos, poemas del compañero Mauricio Morales.
– Algunas noticias incendiarias de Mexico y el Mundo.
– Comunicado de las barricadas incendiarias en C.U.
– Articulos de opinion Acrata.
– Anarquismo del sigo XXI: La insoslayable necesidad de abandonar todo lo ajeno x: Gustabo Rodriguez.
– Un texto que fue enviado y que el congreso no quiso difundir.
– Mauri: la ofensiva no te olvida: Comunicados de Acciones en Mexico para el Mauri.
– Reseña de la actividad en solidaridad con lxs compas del caso bombas.
– Contra portada: Poema de Gabriel Pombo da Silva.
link: aqui
Tags: Conspiracion Acrata, Mexico, Publications
This entry was posted on Friday, June 17th, 2011 at 3:50 pm and is filed under Library.