Communique for the attack against the Italian Institute of Culture (Mexico)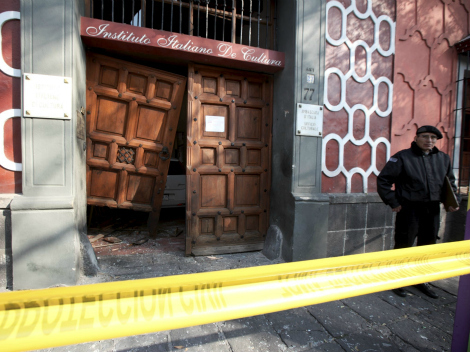 From culmine via war on society
13 December 2011
Last night we decided to give a demonstration of our anti-indulgence with respect to the norms that govern this society, the unmasked consumerism, the "commodity" of not thinking and refraining from an infinity of alternatives, and of, zombie-like, letting oneself be carried by commercialism, walking without a fixed course, without a project, passing stores, malls, barracks, museums of the State full of culture and useless "art" that has infatuated many "alternative people" thinking that with paintings about an unreal reality they can change something, they can see a different world and envision a future without violence, without hate, with agreement, without conflict… and passivity! eternal ally of the State/Capital, the useless urge to not do anything for oneself nor for anyone nor anything, nor to change minimally our situation as individuals. The only beneficial change for the majority of this society is that the economy and progress grow desperately, they can have more than the rest, can take a better position of power in this world in which each goes for the best bet. And the others? They and we are those who from our barricades–whatever they may be–remain in resistance and offensive against a system that does not propose anything but acceptance and resignation and a life of placid slavery.
Nevertheless, there are many of us from whom the media discourse–of pacifism, non-violence, and consequently the pacification of conflicts that is so popular these days–do not remove our desires nor our energy to depart from and combat in every moment a world that is not our own, to keep our life in a constant and permanent war against the State/Capital, to express solidarity, to combat actively, which for us is much better and more dignified than to remain seated, simply as spectators, awaiting uncertain futures like teachers of the pen, professional revolutionaries, ignoring other realities, and discrediting other possibilities, living eternally locked up "in our own GALAXY."
It is for this reason that we decided to fraternize ourselves with the decision of the "Italian" anarchist comrade Fede Buono with respect to his trial and defense… in conclusion, to the total rejection of whatever juridical medium of the State/Capital's system of justice, including the rejection not only of the trial, but also the rejection of a defense based on the legal standards of the State [e.g.: 1, 2]. We know that it is a strong decision. So, yesterday in the morning, the REVOLUTIONARY ANARCHIST CELL – GABRIELLA SEGATA ANTOLINI, converging in the AUTONOMOUS CELLS FOR IMMEDIATE REVOLUTION – PRAXEDIS G. GUERRERO, placed and detonated an explosive device at the doors of the "Italian Institute of Culture," belonging to the "Italian Embassy in Mexico," located in an affluent part of the Coyoacan area of Mexico City; with this action we decided to burst the apparent peace and perfection of this city, and to burst as well the normality of the institutions belonging to the Italian State, sabotaging them as they deserve, vindicating the struggle that our comrade Federico is carrying, also vindicating the war that our anarchist comrades in that country have fought–and continue to fight–directly against the State/Capital and its institutions, past war and present war! With this act we intend to burst the diplomatic relations between these two countries where Fascism reigns, giving continuity to the campaign of the convergent cells in the FAI of Europe in order to sabotage the powerful capitalists and governors on an international level. With this act we claim ourselves participants in the INFORMAL ANARCHIST FEDERATION and in the INTERNATIONAL REVOLUTIONARY FRONT!
Solidarity with our anarchist brother and sister prisoners of war in the Italian State!!!
Solidarity with the comrade Fede Buono!!!
For international anarchist coordination!!!
For the international anarchist conspiracy
against the State/Church/Capital!!!
Long live the FAI!!!
signed
REVOLUTIONARY ANARCHIST CELL – GABRIELLA SEGATA ANTOLINI / CARI-PGG
FAI
Tags: Autonomous Cells of the Immediate Revolution – Praxedis G. Guerrerro, Federico Buono, Informal Anarchist Federation (FAI), International Revolutionary Front, International Solidarity, Italian Institute of Culture, Italy, Mexico, Mexico City, Revolutionary Anarchist Cell - Gabriella Segata Antolini, Solidarity Action
This entry was posted on Thursday, December 15th, 2011 at 5:49 pm and is filed under Direct Action.