December wave of Letter-bombs by Free Eat & Billy Cell FAI/IRF (Germany, Italy, France)
7/12/11 – Frankfurt, Germany : CEO Josef Ackermann is the intended target of a fully operational explosive parcel which is mailed to Deutsche Bank headquarters. Bank security staff identify the device during x-ray screening, and it is later neutralised by police. A claim of responsibility is recovered from the device, which is published in the corporate press.
9/12/11 – Rome, Italy : Chief Director Marco Cuccagna of Italy's tax collection office, Equitalia, receives a letter-bomb which explodes after he opens it, causing damage to his hands, blowing off part of his finger and almost blinding him after his glass desk shatters in the explosion.
12/12/11 – Paris, France : The Greek embassy in Paris is the target of a third explosive device which is identified and neutralised.
Amidst the wave, mainstream media report that envelopes containing bullets and threatening letters are mailed to Italian Justice Minister Paola Severino and Rome Mayor Gianni Alemanno. An additional parcel of vengeance was received by Equitalia on the 15th December, but was identified and neutralised. A note inside the latest package said "don't kill yourself, rebel: death to usurers!"

Here is a translation of the claim of responsibility that accompanied the package bomb to the central headquarters of Deutsche Bank in Frankfurt:

FREEDOM AND HAPPINESS FOR OUR BROTHER GABRIEL POMBO DA SILVA. DEATH TO THE BANKS THAT STRANGLE THE PEOPLE.
THREE PARCEL BOMBS IN THESE DAYS ARE TRAVELLING TOWARD BANKS AND BANKERS, TICKS AND LEECHES. WITH THESE SMALL BUT RESOLVED ACTIONS, WE OF THE EAT & BILLY ITALIAN CELL JOIN IN THE NEW ANARCHIST INTERNATIONAL, THE INFORMAL ANARCHIST FEDERATION AND INTERNATIONAL REVOLUTIONARY FRONT. WE HAVE THIS NAME IN SOLIDARITY WITH THE INDONESIAN FAI, WITH OUR BROTHERS EAT AND BILLY. WE DON'T NEED SPECIALISTS OF ACTION, ANYONE CAN ARM THEIR OWN HANDS, ANYONE CAN ASSEMBLE THEIR OWN GIFT PACKAGE. WAR ON THE EUROPE OF THE BANKERS, DEATH TO THE LEECHES THAT GOVERN US.
LONG LIVE THE INDONESIAN FAI
LONG LIVE THE C.C.F.
VIVA THE NEW ANARCHIST GUERRILLA
VIVA THE FAI/IRF
FREE EAT AND BILLY CELL FAI/IRF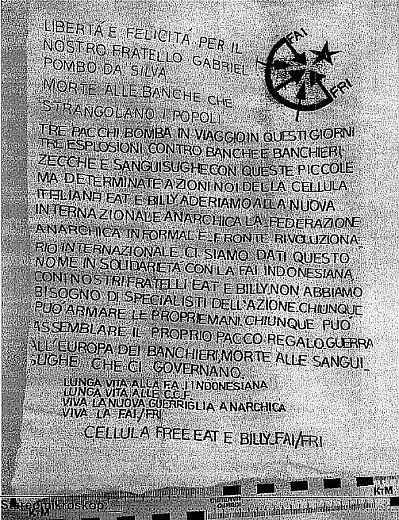 Tags: Billy, Deutsche Bank, Eat, Equitalia, France, Frankfurt, Free Eat & Billy Cell FAI/IRF, Germany, Greece, Greek Embassy, Indonesia, Informal Anarchist Federation (FAI), International Revolutionary Front, International Solidarity, Italy, Letter-bombs, Paris, RO-FAI (Indonesia Section), Rome
This entry was posted on Thursday, December 15th, 2011 at 8:31 pm and is filed under Direct Action.