Santiago: Prosecutor demands 15 years for Luciano 'Tortuga' (Chile)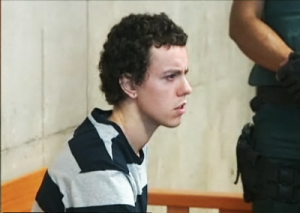 From information learned from the bourgeois press and from the counter-information website viva la anarquia, the state prosecution has asked for a 15-year prison sentence for the comrade Luciano 'Tortuga', 12 years for terrorist offenses – use of an explosive device – and 3 years for using false license plates on the motorcycle used for the action. The trial is expected to begin in April. Tortuga is now in the Santiago 1 prison, in the hospital section.
Turtle Power Partner, your example of strength and determination encourages us to keep fighting!
Tags: Chile, Luciano Pitronello Schuffeneger, Repression, Trial
This entry was posted on Wednesday, February 22nd, 2012 at 8:26 pm and is filed under Prison Struggle.