Urgent: Two arrested transporting an explosive device in Santiago (Chile)
From vivalaanarquia, 4/16/2012, transl waronsociety:
Ivan Silva and Carla Verdugo were arrested transporting an explosive device in the Granja neighborhood today at 3:30 AM.
They were taken to the 13th Precinct where one of the prosecutors of the Bombs Case, Christian Toledo came. Ivan and Carla were carrying a backpack which according to the press had a fire extinguisher full of black powder with two butane gas canisters and a fuse as well as a change of clothing.
It was also reported in the press that Carla had romantic ties with the compa Juan Aliste Vega.
According to police sources, Carla and Ivan wanted to plant the explosive device during the night because today the trial preparation hearing of Juan Aliste Vega was happening.

We know that the state and its representatives will try by all means to dole out an exemplary punishment, therefore we call all individuals and affinity groups to show once again the solidarity and support that unite us in this struggle against the system of domination.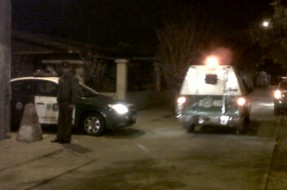 Tags: Carla Verdugo, Chile, Ivan Silva, Juan Aliste Vega, Repression, Santiago
This entry was posted on Wednesday, April 18th, 2012 at 1:21 pm and is filed under Social Control.