Santiago: Communique for the incendiary attack against the National Association of Prison Guards ($hile)
Who believed that May would pass without direct action?
With fire we responded again.
Recalling the warrior Mauricio Morales and showing solidarity with the comrades imprisoned in Temuco, we set fire to the entrance of the National Association of Prison Guards, located at Santa Monica steps in downtown Cumming Street of the city of Santiago, on Sunday May 12. With this we add a new action to those which have already been claimed by other groups in "alternative medias" but silenced by the "official release".
We said in our previous attack on a property of Gendarmerie of Chile in January this year, we will not let the torturers be tranquil in their dens. The criticism of the authoritarian system and prison facilities cannot be separated from the direct attack on those who try to break the will of our rebel imprisoned comrades. Prison guards have decided voluntarily to live as enemies of freedom and are active contributors to domination, in exchange for shares of power that materialize in confinement and to humiliate our prisoners and their families.
In April, the anti-authoritarian comrade Ariadna Torres was punished in the Women's Prison of Temuco for insulting a judge and the jailers who seized a letter from the companion to the outside.
We sent a copy of this email again to the jailers of Chile so that they know that our anarchist comrades, anti-authoritarians and revolutionary prisoners in Chile are not for the authorities little games, and for every attack the answer will come back with fire, explosions and shrapnel.
We ask comrades of action why there has been a decline in violent activity against the enemy? One thing is the excitement of the street-fighting, but in May there has been fewer direct attacks and planned bombings, arson and sabotage against the wealthy, and also their system of misery. That the anti-authoritarian attacks are sustained over time and not by a police story, depends on us. That the option for revolutionary violence and its connection with the anti-authoritarian struggle (and its various forms of being implemented) be not just a youth fashion, depends on us. Boosting and multiplying the direct actions in quantity and quality depends only on our will.
In May, we remember those comrades murdered by the State in Chicago in 1886; to Daniel Menco, young man killed in 1999; to young Rodrigo Cisternas, worker killed by police in Chile in 2007 after being crushed by a police vehicle with a backhoe; to the compa Henry prisoner since May of last year in Bolivia [currently on house arrest]; and Nicola Gai and Alfredo Cospito, prisoners in Italy, imprisoned for a year accused of the shot to the leg of a boss of a scientific nuclear company.
Regards to the clandestine comrades and prisoners worldwide.
MAURICIO MORALES LIVES IN DIRECT ACTION.
Insurrectional Anti-authoritarian Cell Panagiotis Argyrou, affinity of the FAI/FRI. Chile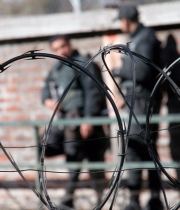 Tags: Alfredo Cospito, Arson, Chile, Conspiracy of Cells of Fire, Conspiracy of Cells of Fire : Imprisoned Members Cell, Greece, Henry Zegarrundo, Informal Anarchist Federation (FAI), International Revolutionary Front, International Solidarity, Italy, Mauricio Morales, Nicola Gai, Panagiotis Argirou, Santiago
This entry was posted on Tuesday, May 28th, 2013 at 5:05 pm and is filed under Direct Action.