Anti-social arson and vandalism against luxury cars and police vehicles (UK)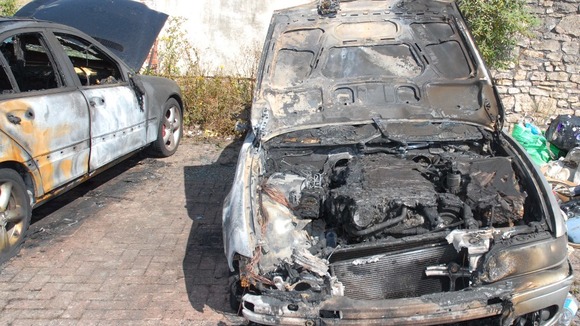 24 July – Mercedes and BMW set alight that were parked at Barry Football Club, South Wales. No one was arrested or injured. Police appealed for information because they have none.
July 30 – Three car fires in South East Ipswich were all the work of arsonists. Afterwards in the local media, police appealed for more information and revealed more acts of property damage had taken place, including against two of their own police cars. It all kicked off when a blaze broke out in Ravenswood Avenue at about 12.40am, when a number of people reported a car on fire in a wooded area on land between Ravenswood Avenue and Gainsborough Sports Centre. An East Ipswich fire crew turned up and had the flames under control by 1.03am. The damage was so bad that no identifiable features remained on the vehicle, which is thought to have been a Vauxhall Vectra or similar. At 4.17am, a Ford transit van was reported alight in Fletcher Road – and then a stolen car in Landseer Park at 5.05am. Between the fires, at 4.38am, a grey BMW and a black Ford Focus were damaged in Orwell Gardens. Shortly before 6.45am it was discovered the windows of a police car were smashed in Clapgate Lane, at the Ipswich south east safer neighbourhood team base. At 8.15am another police car was found to have had its windows smashed and damage done to the body work in Heath Road, at the Ipswich north east safer neighbourhood Team base.
Tags: Arson, Barry, Car Burning, Fuck the Law, Ipswich, UK, Wales
This entry was posted on Saturday, August 3rd, 2013 at 2:43 pm and is filed under Direct Action.