War against ISIS/Daesh: 2014 end of year report from YPG General Command + Latest news from the defence of Kobane (Kurdistan)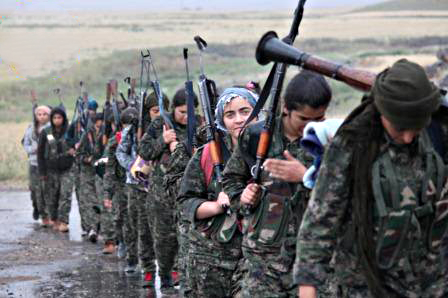 YPG/YPJ eliminate 24 ISIS/Daesh fanatics on New Year's Day
KOBANI – The terrorist group of ISIS which had planned to occupy Kobani within a week has failed because of the heroic resistance of YPG/YPJ fighters.
This is 108th days of barbaric attacks by ISIS on Kobani, where YPG/YPJ are gaining more ground and eliminating terrorists.
Our forces managed to liberate "Maktaba Resh" and "water tank" areas south of 48 street when it carried out operations against the terrorist groups of Daesh led to killing 24 terrorists, seizing 5 bodies beside an amount of weapons and ammunition.
During these clashes three of our fighters martyred after a heroic resistance.
YPG Media Centre
01.01.2015
–

7 terrorists killed on 31st December by YPG/YPJ
KOBANI– The historic resistance against the terrorist attacks of Daesh (ISIS) terror organization in Kobani continued on the 107th day. Conducting non-stop operations, our forces of the People's Defense Units (YPG) and the Women's Defense Units (YPJ) are advancing inside the city.
An assault operation was conducted against numerous terrorist-occupied areas in Maktaba Resh area inside the city. After heavy clashes, our forces were able to liberate the southern and eastern sides of this region from terrorists. In the battle on this area 6 members of Daesh terrorist forces were confirmed killed.
Our forces also managed to seize a number of the terrorists' weapons and ammunition in Maktaba Resh area after search and mop-up operation, the weapons captured on this area are: 7 AK-47 rifles, 2300 bullets for AK-47, 30 AK-47 magazines, 2 RPG-7 rocket launchers, and 7 vz. 24 plus a filming device.
In the north-east of Kobani, our forces led an operation against the terrorist groups. During the assault on Kaniya Kurda neighborhood a minor battle was experienced where 1 terrorist was confirmed killed.
YPG Media Centre
Dec. 31, 2014
–
Report 2014: Greatest resistance expressed by The YPG/YPJ Defense Units against Daesh (ISIS) terrorists
In 2014 we have witnessed terrorist attacks by the terror organization of Daesh (ISIS) against people and the forces who would stand in the face of their barbaric mentality.
Women, children, and the elderly were not salvaged from their brutality. Along with Daesh terrorism, the earlier attacks by the Free Syrian Army, several Islamic battalion, and the forces affiliated to the Syrian Regime were in order to light the fire of war in the cities that normal life was ongoing, against the civilians. Not just inside the Syrian borders, the terrorist forces of Daesh (ISIS) faced towards Iraq and started a war with the Iraqi army and Peshmerga forces of the Kurdistan Regional Government, in an attempt to instill fear in people's hearts, and controlled several strategic areas.
On the 10th of June 2014, Daesh terrorists could occupy the city of Mosul in Iraq and seize large numbers of weapons and military equipment, adding to their military supplies that already were controlled in Syria from the Syrian Regime and the Free Syrian Army. While taking control of some of Syria and Iraq's oil and gas fields, the terrorist group tried to enlarge its controlled territory from North of Aleppo up to Hasakah outskirts, north of Mosul to Takrit and up near Baghdad.
These terrorist attacks of Daesh by occupying vast areas in Syria and Iraq resulted in the displacement of more than a half million people, fleeing from the group's inhumaneness. Religious minorities in the territory controlled by Daesh, however, suffered the more from the organization's violence, Christian communities in Mosul and other areas in Iraq and Syria, Shi'ite community of Tal Afar and its countryside, and the genocides against Sunni Arab tribes that took place in Deir ez-Zor, and Al-Anbar in Iraq are all the examples of war crimes committed by the terror group of Daesh / ISIS in the region.
On 3rd of August 2014, the Kurdish Ezidi (Yazid) minority of Iraq in the city of Shingal (Sinjar) was another vulnerable target for Daesh terrorists, to undermine city's Ezidi and Kurdish spirit. Terrorist attack on Shingal was a lot crueler and brutal from the earlier attacks carried out against its people for more than 70 times in their history. Young Ezidi girls and women were being sold in slave markets, the group's threat was no longer regional, yet threatening the whole world and violating human rights and values.
Since the first days of Daesh's formation, our forces of the People's Defense Units (YPG) and the Women's Defense Units (YPJ) have swiftly and sharply responded the terrorist attacks, for instance in the city of Serekaniye (Ras al-Ayn) our forces have been able to obtain numerous victories against Daesh terrorists and force them to flee. Suffering defeats in other parts of Rojava (Syrian Kurdistan), the terrorist forces started an assault on Kobane (Kobani) Canton on September 15th, 2014 to destabilize the Democratic Self-Management of Rojava there, deploying large numbers of forces and heavy weapons that they had captured in Mosul, Iraq. While heads of neighboring states were expecting Kobani to fall within 7 days, sympathizing with the terrorists, our forces expressed an unparalleled resistance against Daesh terrorists, led a heroic defense which is continuing to this moment. The terrorist forces of Daesh have deployed nearly 40 car-bombs in their attacks on Kobani, astonishingly this number of VBIEDs [Vehicle-Borne Improvised Explosive Device] have not been used for a city neither in Syria, nor in Iraq.
2014 contained three historic turning points for the People's Defense Units
• A great effort was shown by our units to rescue Ezidi refugees fleeing from the genocide committed by Daesh terrorists in Shingal (Sinjar), Iraq, by opening a humanitarian corridor. This endless determination resulted in the rescue of more than 150000 displaced Ezidis, a remarkable action that takes place among the significant activities in the latest years. This process in Shingal is still ongoing where our forces where the first who entered the city among the forces initiated a major operation to liberate the city in the latest weeks.
• The historic resistance in Kobani, which is now known for the entire world, conducted with low resources but a great determination made a pure example of the struggle against the terrorist forces. While the terrorists were continuing to flow thousands of weapons and forces to Kobani, our forces stood against them with no support, before the air support of the International Coalition for our forces, which had an influential role in the resistance rather than a decisive role, we will always be grateful for the air campaigns, supporters and all those who contributed their helps to accomplish this process. To liberate parts of Kobani which still remain occupied by the terrorists, our units will continue to mobilize their operations.
• To defend and liberate Jazeera Canton of two fronts, as north of Tal Hamis the first front, resulted in the liberation of more than 25 villages and areas occupied by Daesh terrorists. In the meantime we were also able to eliminate the threat of Daesh on Qamishlo by the operations in the villages of Tal Maruf up to Muhammad Diyab and Abu Qasayeb, as well as the operations in the western and southern Serekaniye countryside in which over 100 villages and strategic positions were liberated from Daesh.
The resistance that is being demonstrated by our units of the People's / Women's Defense Units (YPG/YPJ) in Rojava, not just for the Kurds, but indeed is to serve all the components of this region, Arabs, Assyrians, Christians, and also preserve the values of humanity and a peaceful life.
To defend the values of humanity we fought against Daesh (ISIS) terrorists. With this notion that Daesh is an occupier threatening all the people of the region and it shall not be in our lands, the resistance of the YPG/YPJ in 2014 proved for the world that it can degrade and destroy the terrorist forces of Daesh, and also that any strategy to fight the terrorist group's ideology, without the YPG/YPJ forces, will fail to acquire the expected result.
As People's Defense Units (YPG) in the New Year we shall conduct the resistance in a broader approach as the struggle will grow in higher stages, and the moral duty of ours for the sake of people's defense and a peaceful life shall be performed against the terrorist forces. We will advance our cooperation with the proponents of freedom, and train the people in this regard.
In 2014 the terrorist forces of Daesh (ISIS) tried to control over as much of the areas, cause displacement of the population and impose its barbaric laws. Yet the People's Defense Units (YPG) were at the forefront of the force that stood in the face of their terrorism and attained victories on the ground. All thanks go to the hundreds of men and women who did and are fighting for this cause, and our fallen fighters who made an ultimate sacrifice not just for Rojava but to relieve the world from terrorism, we pay tribute and salute these honorable men and women, and promise to achieve the goals that they had initiated.
Outcome of battles and campaigns conducted by our units in 2014;
1. Operations carried out by our forces: 337
2. Clashes and contacts our forced were involved: 414
3. Operations and clashes which the results were not verified: 168
4. Suicide operations waged by the enemy deploying car-bombs: 47
5. Enemy forces killed: 4964 (8 of regime forces)
6. Bodies of the enemy forces seized on the battlefields: 228
7. Enemy forces captured alive: 11
8. Armored vehicles and weapons of enemy forces destroyed: 167 military vehicles, 13 tanks, 8 DShK-mounted vehicles, 7 Humvees, 3 Panzers, 26 DShK weapons, 4 vehicles, 2 pieces of 57mm mortars, and 1 piece of Katyusha launcher.
9. Vehicles and weapons of the enemy forces captured: 16 military vehicles, 3 Panzers, 4 Humvees, 316 AK-47 rifles, 48 PK machine guns, 60 RPG-7 rocket launchers, 3 AKC, 2 sniper rifles, 2 vz. 24 rifles, 3 DShK, 1 grenade launcher, 19 hand guns, 287 handmade explosives, 450 hand grenades, 24 binoculars, 15 night vision binoculars, 1 thermal binocular, 1 computer device, 1 camera, thousands of bullets for PK machine gun and AK-47, hundreds of magazines, and many other military equipment.
10. Our fighters martyred in action: 537 members of the YPG/YPJ, and 14 members of Burkan al-Firat joint command.

People's Defense Units (YPG) – General Command
December 27, 2014
Tags: Aleppo, Baghdad, Insurrection, Iraq, Islamic State in Iraq and Syria (ISIS), Kubani, Kurdistan, Lions of Rojava, Mosul, People's Defence Units (Y.P.G.), Rojava, Sinjar, Syria, War, Women's Defense Units (YPJ)
This entry was posted on Friday, January 2nd, 2015 at 7:03 pm and is filed under Autonomy.