Solidarity with anarchist prisoner Sean Swain (USA)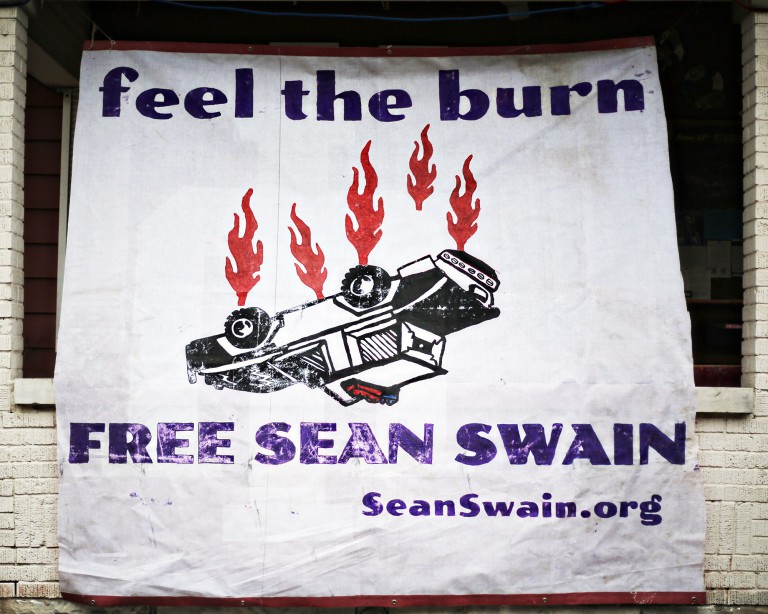 Warren Correctional Institution, not content with merely restricting Sean's communications with the outside world, has now assigned a lieutenant to read through all printed materials sent to Sean.
Please take a minute to send Sean some reading material. That stack of zines in the bathroom? That one book you've had for years but will never read? All those fancy new publications you designed? Send them all! Let's help Sean (and the fuckweasels who intercept his mail) something to pass the time.
Send reading material to:
Sean Swain #243-205
Warren CI
P.O. Box 120
Lebanon, Ohio 45036
USA
–
We receive & transmit:

Bloomington, Indiana (USA): Banner hung in solidarity with Sean Swain
We hung a banner in solidarity with Sean Swain's struggles against the prison system in Ohio. Despite repeatedly being transferred and having his communications cut off, Sean remains uncompromising in his pursuit of freedom, putting his life on the line in struggle against the state. We keep his words and deeds with us as we carry out our own struggles against prison society.
Fundraising, letters, demonstrations, banners, graffiti, and direct attacks form a bright tapestry of revolutionary solidarity. Let's always be searching for new ways to break down the isolation of imprisonment and build complicity through the prison walls.
Tags: Banner drop, Bloomington, Indiana, Sean Swain, USA
This entry was posted on Sunday, February 7th, 2016 at 1:13 pm and is filed under Prison Struggle.