New Counter-Info – Tormentas de Fogo
New counter-information site 'Tormentas de Fogo', translating news and articles from Spanish, Portuguese and English:
Letter from anarchist prisoner Marcelo Villarroel Sepúlveda – Chile.
–
COMUNICADO PARA DIFUSÃO DE "BEM-VINDO AO INFERNO: TEXTOS SOBRE A INSURREIÇÃO CONTRA A CÚPULA DO G20 HAMBURGO, 2017"
Essa publicação reúne algumas ofensivas anárquicas dentro e fora das cadeias, contra a desprezível reunião dos vinte chefes de estado mais poderosos do mundo.
Algumas palavras de provocação… Não tão somente…
A energia caótica mantém a chama da anarquia queimando. As ações transcritas nessas linhas são recebidas por nós calorosamente. Todavia estas práticas não se encerram apenas na nossa memória, mas encontram solo fértil em nossas mentes e corações. Portanto não se trata de contemplar o passado, mas vivê-lo intensamente durante o presente.
Uma cronologia para continuar…
A visão transmitida é bastante nítida: nós não esperaremos pela próxima cúpula. Essa publicação celebra a rebelião, procurando manter pulsante a paixão demolidora pela total liberdade.
Da leitura… Até a cumplicidade…

Tormentas de Fogo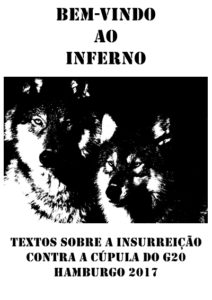 Tags: Counter-info, G20, Hamburg, Marcelo Villarroel Sepúlveda, PDF, Tormentas de Fogo, Zine
This entry was posted on Wednesday, September 13th, 2017 at 11:07 pm and is filed under Autonomy.