Solidarity with Ucil – imprisoned anarchist comrade Brian Valentino (Indonesia)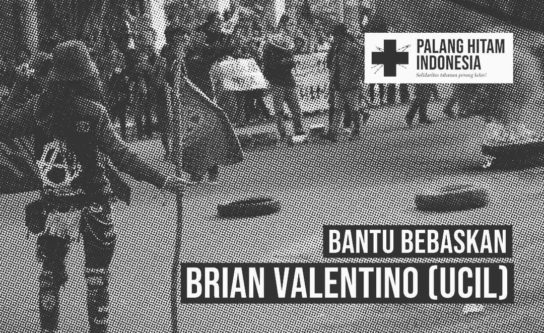 Our comrade Brian Valentino is being held in Polda prison Yogyakarta, the main police headquarter of Yogyakarta (special feudal region within Central Java territory)
Since the day of his arrest, May 1st until May 16th 2018, our comrade, who were beaten and tortured, have been denied of his rights for legal advocate or lawyer. Ever since he was arrested it's already 15 days of interrogation without the company of a lawyer or advocate.The police or the legal aid haven't gave us a clear reason about this, therefore we are not sure that whether the police or the legal advocate who refuse to help him.
To be clear, we received information from Brian Valentino's dad who have just visited him after a week and he make sure that Brian was the only of the arrestees who haven't given any legal aid for 15 days since arrest.
Therefore we urge to the comrades national and international to strengthen solidarity with Brian Valentino, our dear anarchist friend, who have been refused of his rights for legal aid. We are not limiting the solidarity, it can be legal or whatever.
But for donation to the family and defendants:
Donation: BRI 5175-01-001-257-503 (Ilona)
Email: palanghitam@riseup.net
Or communicate this to the local Indonesian embassy. By any means necessary
– Anarchist Black Cross/Anti-Authoritarian Solidarity Yogyakarta,Indonesia
In German l Portuguese

From contrainfo
–

Letter from Ucil
As I wrote this letter, I've been arrested for 21 days in Mapolda D.I.Y prison cell. I'm arrested for my involvement in May Day riot few weeks before. There's some difficulties that I can't really explained it here one by one, but I know for sure that this cells aimed to limit our access to communicate and therefore our further works for the network, a work that was meant to revive the spirit and consciousness to undermine every forms of obedience and submission. I believe we've agreed that it is not intellectual or academic potential that coul raise the consciousness of our surrounding that is rapidly destroyed.
I wanted to give thanks to the comrades out there, those who keep their spirit high for rebellion and struggle and also their solidarity even the remote places.
Tak banyak yang bisa kutiliskan dalam surat ini, sehubungan dengan situasi yang cacat intervensi di tempat ini.
There's not much I can write in this letter as the condition is quite impossible.
But one of the main purpose of this open letter is to warned all the comrades that the situation had escalated and it is urgent to act as more and more of our friends being arrested for participating in the May Day action.
All in all, I urged to all the comrades to increase awareness and planning, so that the future struggle would be more bigger, concentrated, and not easily defeated.
Because we know that revolution doesn't come from discusson to discussion.
I am very thankful for all the help from the comrades, especially for the legal aid that would give me choices in the front of the court.
Considering: The trial have been politicized by the rulling classes and the assumption that one of the political institution who are controlling public opinion. Thus, I give you this letter as an ask for help in the trial process.
Long Live the Resistance
Long live Insurrection
Alerta!

Brian Valentino/Ucil
Tags: Brian Valentino (Ucil), Indonesia
This entry was posted on Tuesday, July 3rd, 2018 at 12:38 am and is filed under Prison Struggle.