Spanish State: Monument to the División Azul in the cemetery of La Almudena is Vandalised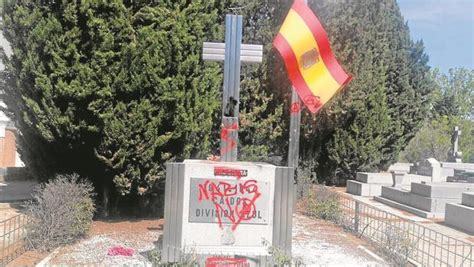 Last Friday, February 8, we vandalized the monument to the División Azul in the Almudena cemetery in Madrid. There are reasons to do it any day, but this date we chose with pleasure because the next day the fascists paid homage and on Sunday an amalgam of rancid ultra-Catholics, fascists, geriatics, neo-Nazis and various imbeciles walked with their anachronistic and disgusting symbols for a few streets in Madrid.
We carry the historical memory in our hearts. In the invisible scars that have left us with centuries of oppression. In our ideology and our practices. In our incessant search for freedom. We do not need governments or laws that change symbols for others. We will always have fun staining the dirty symbols of the authorities, whether they represent democracy or fascist dictatorships.
Death to the State and Long Live Anarchy!
Tags: División Azul, Madrid, Sabotage, Spain, Vandalism
This entry was posted on Thursday, February 28th, 2019 at 12:10 pm and is filed under Direct Action.