Two cars of the Forestry Service trashed in South Sulawesi during demo (Indonesia)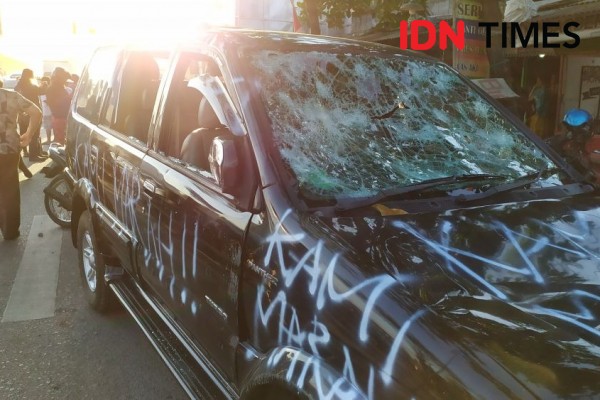 A demonstration outside Hasanuddin University (Unhas) I, Makassar Perintis Independence Street, took place as a series of demonstrations of community and student alliances of various regions. During the end of the demo today, comrades stopped two official state cars, brought the drivers out and trashed the vehicles. According to corporate media 19 people were arrested in the nearby area in a police round-up.
At September, 26, 2019, two cars of the Forestry Service South-Sulawesi Province (Makassar-Indonesia) had been damaged, by breaking all the windshields and then turning it in the middle of the road.
Here is the communique from that action:
1. We are angry because the country along with the Army and Police violently chased, evicted, fired, and killed our brothers in Papua, Kulon Progo, Urut Sewu, Bara barayya and Polongbangkeng.
2. We are angry because the government continues to attack us with torturous rules.
3. We are angry because the capitalists continually try to destroy our lives, destroy nature, burn forests, heap the oceans, destroy mountains, displace the living space of each species, build artificial buildings, to control what we should and should not consume.
4. We are angry because the media are preaching everything that is not important, eliminating cases of murder until the slaughter and continuing to work with the authorities to destroy the struggle of our combatants who fight for a better life.
5. There is no compromise for rulers and capitalists.
Below are link/news about that action:
https://nasional.tempo.co/read/1252801/unjuk-rasa-di-makassar-rusuh-massa-merusak-mobil-pelat-merah/full&view=ok
https://sulsel.idntimes.com/news/sulsel/aanpranata/unjuk-rasa-di-depan-unhas-dua-mobil-dinas-dirusak/full
Tags: Demo, Indonesia, Makassar, Riots, Sabotage, Sulawesi
This entry was posted on Thursday, September 26th, 2019 at 10:47 pm and is filed under Direct Action.