ES/EN/DE – International Agitation Week for the Prisoners of the Revolt in Chile 13 to 19 January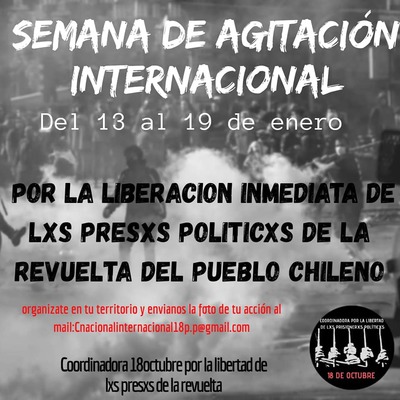 WEEK OF INTERNATIONAL AGITATION IN SUPPORT OF THE PRISONERS OF THE REVOLT IN CHILE. FROM JANUARY 13-19.
"THOSE WHO FORGET THE POLITICAL PRISONERS FORGET THE STRUGGLE"
More than 80 days after the social outbreak in Chile, the struggle and social organization persists in the unwavering conviction of confronting and breaking with the model of power and economy that has perpetuated inequalities, injustices and abuses for decades.
Undoubtedly the revolt that still breathes in Chile means this is a turning point with no return, it is within a long journey of struggle that has also brought with it a hard cost: hundreds and hundreds of prisoners of the revolt that are today in the different prisons in this territory. Each week this number increases and in an obvious phenomenon of mass incarceration the State seeks to intimidate and criminalize social protest. We speak of political prisoners of the revolt because of the fact of the mass imprisonment of social fighters after the outbreak of the 18th [October], responding to a political decision of the State and not to technical/legal criteria, understanding the complicity between the different powers of the State in order to perpetuate the existing model of control. That is why we make this call for international solidarity with the prisoners of the revolt in order to reveal the political condition of their imprisonment and demand their immediate freedom. We extend this call appealing to the multiple initiatives and solidarity actions that arise in each territory.
THOSE WHO FORGET THE POLITICAL PRISONERS FORGET THE STRUGGLE!
IMMEDIATE FREEDOM TO THE PRISONERS OF THE REVOLT!
CO-ORDINATION FOR THE FREEDOM OF THE OCTOBER 18th POLITICAL PRISONERS
—
SEMANA DE AGITACIÓN INTERNACIONAL EN APOYO A LXS PRESXS DE LA REVUELTA EN CHILE. DEL 13 AL 19 DE ENERO.
"QUIEN SE OLVIDA DE LXS PRESXS POLÍTICXS SE OLVIDA DE LA LUCHA"
A mas de 80 días del estallido social en Chile la lucha y organización social persiste en la inquebrantable convicción de confrontar y romper con el modelo económico y de poder que ha perpetuado desigualdades, injusticias y abusos durante décadas. Sin duda la revuelta que aún se respira en Chile a significado un punto de inflexión y de no retorno en un largo recorrido de lucha pero también ha traído consigo un duro costo: cientxs y cientxs de presxs de la revuelta que hoy se encuentran en las distintas prisiones de este territorio. Cada semana este número aumenta y en un evidente fenómeno de encarcelamiento masivo el Estado busca amedrentar y criminalizar la protesta social. Hablamos de presxs políticxs de la revuelta porque el hecho de encarcelar masivamente a lxs luchadorxs sociales tras el estallido del 18 responde a una decisión política de Estado y no a criterios técnicos/jurídicos dando cuenta de las complicidades de los distintos poderes del Estado con el fin de perpetuar el modelo de control existente. Es por eso que hacemos este llamado de solidaridad internacional con lxs presxs de la revuelta para así develar la condición política de su encarcelamiento y exigir su inmediata libertad. Extendemos esta convocatoria apelando a las múltiples iniciativas y acciones solidarias que surgan en cada territorio.
QUIEN OLVIDA A LXS PRESXS POLITICXS OLVIDA LA LUCHA¡¡
LIBERTAD INMEDIATA A LXS PRESXS DE LA REVUELTA¡¡¡
COORDIANDORA POR LA LIBERTAD DE LXS PRESXS POLÍTICXS 18 DE OCTUBRE
–
Internationale Woche der Agitation in Unterstützung der Gefangenen der Revolte in Chile: 13. bis 19. Januar 2020
Nach mehr als 80 Tagen des sozialen Aufstands in Chile sind der soziale Kampf und die soziale Organisierung noch immer lebendig – und zwar in Form der ungebrochenen Überzeugung, dass das derzeitige Wirtschafts- und Herrschaftsmodell, das jahrzehntelang zu mehr Ungleichheit, Ungerechtigkeit und Missbrauch geführt hat, ein Ende haben muss. Ohne Zweifel stellt die Revolte, die in Chile noch immer in der Luft liegt, einen Bruch und einen Point-of-no-return im Rahmen eines längeren Kampfes dar, der aber auch mit großen Opfern einhergegangen ist: Hunderte und Aberhunderte von Gefangenen des Aufstands befinden sich heute in verschiedenen Gefängnissen im chilenischen Territorium hinter Gittern. Jede Woche nimmt ihre Zahl zu, und es liegt auf der Hand, dass der Staat mit der Masseninhaftierung bestrebt ist, die sozialen Proteste einzuschüchtern und zu kriminalisieren. Wir sprechen von den politischen Gefangenen der Revolte, weil die massenhafte Inhaftierung von sozialen Aktivist*innen nach dem Ausbruch des Aufstands am 18. Oktober Teil einer staatlichen Entscheidung ist und nicht irgendwelchen technischen oder juristischen Kriterien entspricht – ein Beleg mehr für die Komplizenschaft der anderen Gewalten im Staate und dem Versuch, das herrschende Modell einer allumfassenden Kontrolle aufrechtzuerhalten. Aus diesem Grund starten wir diesen Aufruf zur internationalen Solidarität mit den Gefangenen der Revolte, um auf den politischen Umstand ihrer Inhaftierung hinzuweisen und ihre sofortige Freilassung zu verlangen. Wir rufen hiermit unterschiedlichste Gruppierungen zu solidarischen Aktionen in ihren Territorien auf.
Internationale Woche der Agitation in Unterstützung der Gefangenen der Revolte in Chile: 13. bis 19. Januar 2020!
WER DIE GEFANGENEN VERGISST, VERGISST DEN KAMPF!
SOFORTIGE FREILASSUNG DER GEFANGENEN DER REVOLTE!
KOORDINATION FÜR DIE FREIHEIT DER POLITISCHEN GEFANGENEN DES 18. OKTOBERS
—
On the blog of A-Radio Berlin there is also audios in Spanish and German (2:43 min):
http://aradio.blogsport.de/2020/01/11/chile-13-19-1-2020-woche-der-solidaritaet-mit-den-politischen-gefangenen-semana-de-solidaridad-con-lxs-presxs-politicxs/
If you want to send any pictures of actions to the comrades in Chile, use this email: cnacionalinternacional18p.p (at) gmail (dot) com
Tags: Chile, International Solidarity, Riots, Santiago, Social Insurrection
This entry was posted on Sunday, January 12th, 2020 at 1:45 pm and is filed under Prison Struggle.