Russia – A Call for Solidarity Actions – February 22-29
We must not forget the anarchists and anti-fascists suffering repression in Russia! We are calling for people to take action of all forms to express support for these prisoners, to protest the prison system, and to spread information about the use of torture as an instrument of repression in Russia.
Why now? On 10th February, 630 kilometers from Moscow, the court in Penza passed sentence on seven people accused of organizing the so-called "anarchist terrorist community 'Network'". This entire case is based on confessions the defendants were forced to agree to via intense torture as well as weapons planted by police and an extremely tenuous accusation that they were "planning to plan terrorist actions to overthrow the government of Russia". For a "crime" without victims involving no real action and no real plan, the sentences decreed by the court are shockingly high. Dmitry Pchelintsev and Ilya Shakursky, the supposed organizers of this fabricated "Network," were sentenced to 18 years and 16 years in prison, respectively. The others have been sentenced as follows: Arman Sagynbaev 6 years, Andrei Chernov 14 years, Vasily Kuksov 9 years, Mikhail Kulkov 10 years, and Maxim Ivankin 13 years of imprisonment.
Scientists, journalists, human rights defenders, and other groups in Russia have protested and demanded that the sentence be repealed.
International solidarity is especially important at this moment because the "Network case" is not over. In St.-Petersburg, two more people, Viktor Filinkov and Julian Boyarshinov, await trial on related charges. The next court hearings are planned for February 25-28. This is why we ask that solidarity actions take place the last week of February.
Many other anarchists and anti-fascists in Russia are experiencing repression and torture, including Azat Miftahov, Ilia Romanov, Egor Lesnyh, Evgeny Karakashev and Kirill Kuzminkin. They also deserve our attention.
If you have a Russian consulate or embassy in your city, consider organizing an action in front of it!
Email action reports to rupression@protonmail.com or via Telegram to @RUPRESSION_bot or Rupression social networks.
We will inform the prisoners about any actions that take place.
For more information about the Network case, details of financial support and prisoners addresses: rupression.com
YOUR TORTURE WILL NOT KILL OUR IDEAS!
–
Russia – Un appello ad Azioni di Solidarietà – 22-29 febbraio
Non dimentichiamo le persone anarchiche e le antifasciste che subiscono la repressione in Russia!Chiediamo a tutt* di agire in qualsiasi modo per esprimere sostegno a questi prigionieri, per manifestare contro il sistema carcerario, e per
sensibilizzare sull'uso della tortura come strumento di repressione in Russia.
Perché ora? Perché il 10 febbraio, a 630 kilometri da Mosca, la corte di Penza ha giudicato sette persone accusate di organizzare la presunta «community anarchica terrorista di nome "Network" [NdT: Сеть, pronuncia "set'"]». L'intero caso è montato su confessioni estorte agli imputati sia con pesanti torture, sia su armi portate dalla polizia [NdT: come le molotov del G8 alla Diaz], e con l'accusa per niente fondata che stessero «pianificando azioni terroriste per sovvertire il governo della Russia». Per un "crimine" senza vittime che non implica né azioni e né piani reali, le sentenze decretate dalla corte sono drammaticamente alte. Dmitrij Pčelincev e Il'â Šakurskij, i supposti organizzatori di questo sedicente "Network", sono stati condannati rispettivamente a 18 e 16 anni di prigione. Gli altri sono stati condannati ai seguenti anni in prigione: 6 anni a Arman Sagynbaev, 14 anni a Andrej Černov, 9 anni a Vasilij Kuksov, 10 anni a Mihail Kul'kov e 13 anni a Maksim Ivankin.
Scienziati, giornalisti, difensori dei diritti umani e altri gruppi in Russia protestano e richiedono che la sentenza sia revocata [NdT: "repealed" in originale inglese].
La solidarietà internazionale è particolrmente importante in questo momento perché il "caso Network" non è finito. Altre due persone a San Pietroburgo, Viktor Filinkov e Ûlian Boâršinov, attendono un processo per accuse simili. La prossima udienza è fissata per il 25-28 febbraio. È per questo che vi chiediamo di tenere azioni di solidarietà l'ultima settimana di febbraio.
Molti altri anarchici e antifascisti in Russia stanno subendo repressioni e torture, fra cui Azat Miftahov, Il'â Romanov, Egor Lesnyh, Evgenij Karakašev e Kirill Kuz'minkin. Meritano la nostra attenzione.
Se avete un consolato o un'ambasciata russa nella vostra città, valutate di organizzare un'azione lì davanti!
Mandate resoconti delle azioni a rupression@protonmail.com o via Telegram a @RUPRESSION_bot o ai canali social di Rupression.
Informeremo i prigionieri delle azioni che avranno luogo.
Per altre informazioni riguardo il caso Network, dettagli per il supporto finanziario e gli indirizzi dei prigionieri: rupression.com
LE VOSTRE TORTURE NON UCCIDERANNO LE NOSTRE IDEE!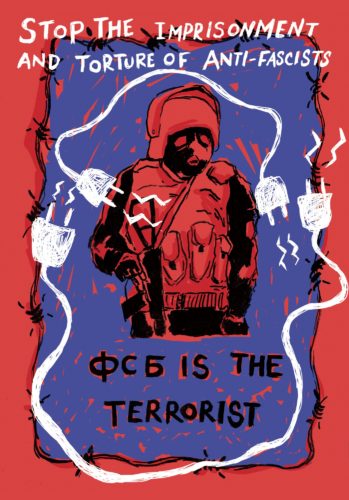 Tags: "Network Case", International Solidarity, Repression, Russia
This entry was posted on Wednesday, February 19th, 2020 at 4:43 pm and is filed under Social Control.