EN/ES: Call in solidarity with political anarchist stands – Tirso de Molina square, Madrid (Spain)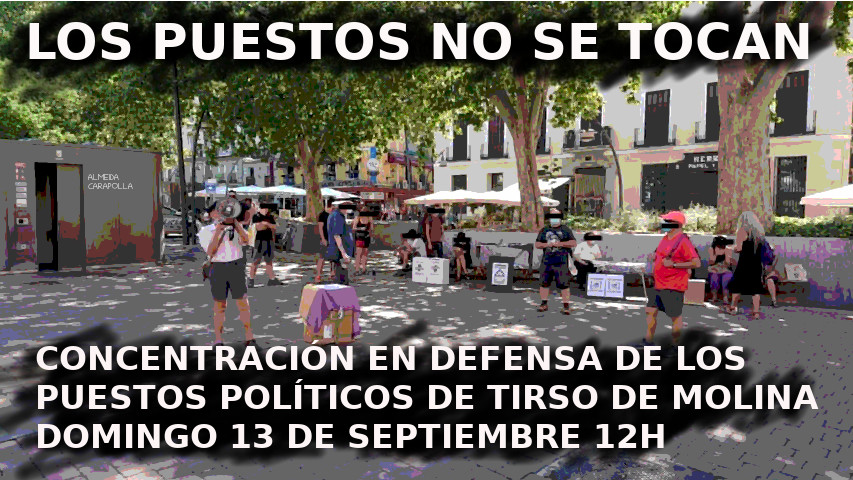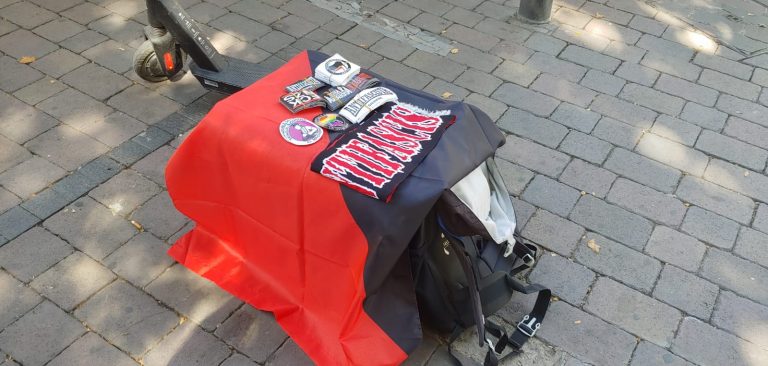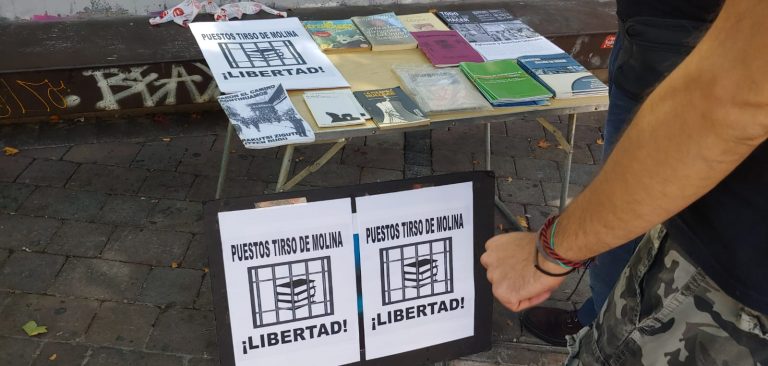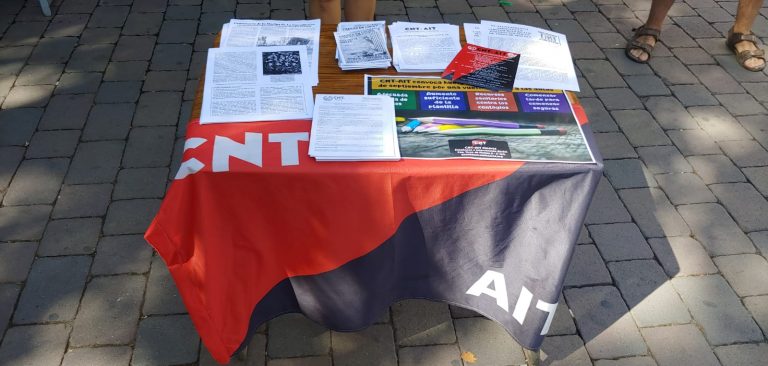 Since last July 19, the date on which the municipal police evicted us from the Tirso de Molina square with the threat of sanctions and seizure of the stands, we have been gathering every Sunday to protest against this arbitrary decision by the City Council. We maintain that it is a political decision rather than a health one, since that day we were complying with the measures imposed by the Community; masks, distance between the stalls, hand disinfection gels, if we add to this that the space in the plaza is wide and the number of stalls that we set up that morning was small, it was not possible that there would be crowds.
In fact, the only official justification we received from the agents was not having a license and the assertion that "El Rastro was closed by municipal order." The reality is that El Rastro continues to be closed as of today since the stalls do not accept the City Council's reform plans that seek to end the emblematic market as we know it and also know that for more than three decades political stands lack licenses. For this reason, we are convinced that the Pandemic is only an excuse to eliminate political positions that spread ideas and free culture, and it is clear that Tirso de Molina and El Rastro are also part of the gentrification plans that we have been suffering in the area in recent years.
The political stands of Tirso de Molina can be managed with distancing and protection measures in line with those that many other markets in the city have while this health crisis lasts, we are not going to allow the City Council to make our space disappear through police repression. The square must continue to be what these four decades has been: a place taken from the established Order to express other political options, other sensibilities and other ideas, a place of expression and encounter outside the System.
Not a step back in the defense of our spaces conquered from power and the dominant ideology through mobilization and struggle. We are not willing to allow the Pandemic to end up destroying the freedoms and rights taken from the System. Today is Tirso de Molina, tomorrow it will be our labor rights, the day after tomorrow evictions, unemployment and misery. The social situation is critical in this new crisis that is approaching and getting us off the street is trying to make discontent and social anger invisible in order to lock ourselves at home and have their restructuring plans applied without resistance. We cannot allow this to happen.
Finally, we want to tell the mayor and his government team that Tirso's stands remain, and that we are not going to stop until the positions fill the square with culture and self-management again every Sunday.
FREEDOM FOR POLITICAL STANDS
ASSEMBLY OF POLITICAL STANDS OF THE PLAZA DE TIRSO DE MOLINA (MADRID, SPAIN)
More info (Spanish) : https://puestostirso.noblogs.org
–
Desde el pasado 19 de julio, fecha en la que la policía municipal nos desalojó de la plaza de Tirso de Molina con la amenaza de sanciones e incautación de los puestos, nos venimos concentrando todos los domingos para protestar contra esta arbitraria decisión por parte del Ayuntamiento. Sostenemos que es una decisión más política que sanitaria, ya que aquel día cumplíamos las medidas impuestas por la Comunidad; mascarillas, distancia entre los puestos, geles de desinfección de manos, si a esto añadimos que el espacio de la plaza es amplio y el numero de puestos que montamos aquella mañana era reducido, no era posible que se produjeran aglomeraciones.
De hecho, la única justificación oficial que recibimos por boca de los agentes fue no tener licencia y la afirmación de que "El Rastro estaba cerrado por orden municipal". La realidad es que El Rastro a fecha de hoy continua cerrado ya que los puestos no aceptan los planes de reforma del Ayuntamiento que pretenden acabar con el emblemático mercadillo tal cual lo conocemos y además saben que desde hace más de tres décadas los puestos políticos carecen de licencias. Por esto estamos convencidos que la Pandemia solo es una excusa para eliminar los puestos políticos que difunden ideas y cultura libre, y está claro que Tirso de Molina y El Rastro también forman parte de los planes de gentrificación que estamos sufriendo en la zona en los últimos años.
Los puestos políticos de Tirso de Molina pueden ser gestionados con medidas de distanciamiento y protección acordes a las que tienen otros muchos mercadillos de la ciudad mientras dure esta crisis sanitaria, no vamos a permitir que el Ayuntamiento mediante la represión policial haga desaparecer nuestro espacio. La plaza debe continuar siendo lo que estas cuatro décadas ha sido: un lugar arrebatado al Orden establecido para expresar otras opciones políticas, otras sensibilidades y otras ideas, un lugar de expresión y encuentro al margen del Sistema.
Ni un paso atrás en la defensa de nuestros espacios conquistados al poder y a la ideología dominante mediante la movilización y la lucha. No estamos dispuestos a permitir que por la Pandemia se acabe arrasando con las libertades y derechos arrancados al Sistema. Hoy es Tirso de Molina, mañana serán nuestros derechos laborales, pasado mañana los desahucios, el paro y la miseria. La situación social es crítica en esta nueva crisis que se avecina y sacarnos de la calle es tratar de invisibilizar el descontento y la rabia social para encerrarnos en casa y que sus planes de re-estructuración sean aplicados sin resistencia. No podemos permitir que esto suceda.
Finalmente, queremos decirle al alcalde y su equipo de gobierno que los puestos de Tirso se quedan, y que no vamos a parar hasta que los puestos vuelvan a llenar la plaza de cultura y autogestión todos los domingos.
LIBERTAD PUESTOS POLÍTICOS
ASAMBLEA DE PUESTOS POLÍTICOS DE LA PLAZA DE TIRSO DE MOLINA
WEB: puestostirso.noblogs.org
facebook.com/contraeldesalojo
Twitter @Puestos Tirso
Tags: Coronavirus, El Rastro, Eviction, Madrid, Repression, Spain, Tirso de Molina
This entry was posted on Thursday, September 10th, 2020 at 11:03 pm and is filed under Autonomy.