ES/EN – Estado Español: Concentración solidaria con el compañero anarquista Gabriel Pombo Da Silva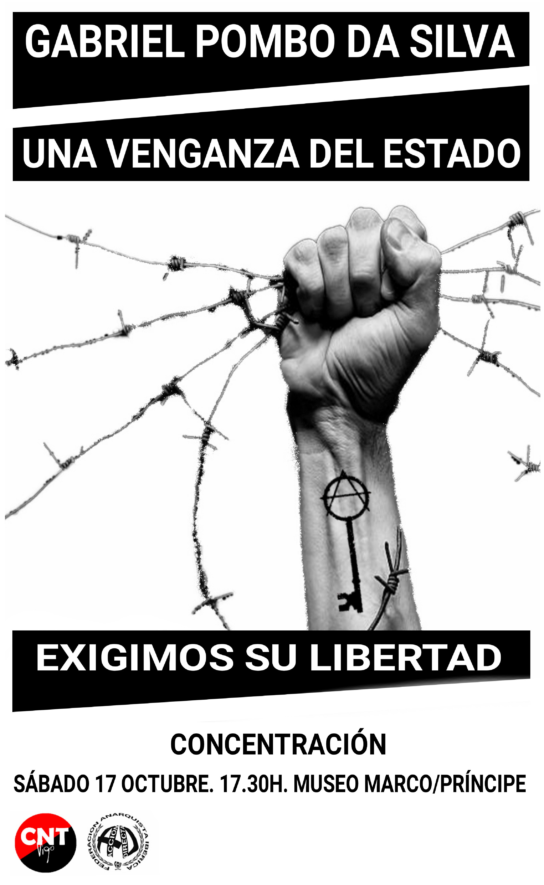 El compañero Gabriel Pombo Da Silva fue arrestado en Portugal, el 25 de enero pasado, en virtud de una ODE, Euroorden, emitida por el Juzgado de lo Penal nº 2 de Girona, del que es magistrada juez Mercedes Alcázar Navarro, la cual, en mayo del 2016, ordenó al entonces director de la cárcel de Dueñas (Palencia) ocultar la orden de liberación inmediata de Gabriel quien, tras tres semanas de "secuestro", fue finalmente liberado el 16 de junio, por lo que se iniciaron los trámites para denunciarla por prevaricación. A cada cual la conclusión de la obcecación de esa magistrada juez en proceder mediante una ODE a la persecución europea del compañero, pese a que Gabriel fuera puesto en libertad en España, dicho 16 de junio de 2016, al haber cumplido la totalidad de su condena. Se aclara que con posterioridad a esa fecha, el compañero no ha sido incriminado por delito alguno, por lo que no existe ninguna sentencia de condena posterior.
Ese Juzgado de lo Penal Girona y su magistrada juez se han valido de una ODE (procedimiento que entró en vigor el 1/1/ 2004, Decisión Marco de los países miembros de la UE) con el objetivo de facilitar la entrega del acusado y agilizar la cooperación judicial entre los mismos. Entre otras medidas, dispone plazos burocráticos muy breves, simplifica los trámites judiciales y suprime el principio de doble tipificación para una gran cantidad de delitos, siendo de difícil oposición por parte del país llamado a la entrega del acusado, siempre que se cumplan todos los requisitos (expuestos en un listado de 63 tipos de delitos penales) y no se den las 3 excepciones que permitan oponerse a esa orden. Así, es de más difícil impugnación de lo que fuera en su día la extradición entre países miembros de la UE.
Tras su detención en Portugal, la segunda parte del juicio en ese país, que se había iniciado el 27/01, en Oporto, tuvo lugar, el 26/02, en el Tribunal da Relação de Guimarães ( 2ª Instancia), que no presentó oposición a la ODE emitida en España. Se elevó recurso de apelación al Tribunal Supremo de Lisboa, que tampoco se opuso.
– Así, el 13 de mayo, Gabriel fue entregado a España, ingresando en el Centro Penitenciario de Badajoz.
– El 11 de junio, la Audiencia Provincial de Girona, dictó en su contra una sentencia de 30 años de prisión, de los cuales, en virtud de ese auto, al compañero le quedan por cumplir 16 años, 2 meses y 7 días.
– Dicha sentencia se ha basado en el no reconocimiento del "principio de especialidad" en España, que, sin embargo, sí le fue reconocido en altas instancias judiciales, en Alemania, en 2016, dictando auto de liberación inmediata del penal de Dueñas (Palencia) por considerar irregular de todo punto su encarcelamiento.
– Su defensa Letrada, fundamentándose en lo anterior, ha presentado recurso al Tribunal Constitucional, Sala 2ª, Sección 4, recurso nº 4.540/2020.
– Desde el 1 de julio, el compañero Gabriel Pombo Da Silva se encuentra recluido en régimen FIES 5 (colectivos especiales) en el: Centro Penitenciario de Mansilla de las Mulas, Paraje Villahierro, 24210 Mansilla de las Mulas (León)
– Tiene el correo intervenido, por lo que las cartas, siempre por correo certificado, han de ser de ánimo y apoyo moral, sin contenido político.
–
Solidarity rally with anarchist comrade Gabriel Pombo Da Silva
Comrade Gabriel Pombo Da Silva was arrested in Portugal, on 25 January, under an ODE, Euroorden, issued by the Girona Criminal Court No. 2, of which Judge Mercedes Alcázar Navarro is a member, which, in May 2016, ordered the then director of the Dueñas prison (Palencia) to suppress the order for Gabriel's immediate release. After three weeks of "kidnapping", he was finally released on 16 June, and so proceedings were initiated to denounce him for malfeasance. The conclusion of this judge's obsession with the European prosecution of the comrade, despite the fact that Gabriel was released in Spain on 16 June 2016, having served his full sentence, is for each of us to conclude. It is made clear that after that date, the comrade has not been charged with any crime, so there is no subsequent conviction.
This Criminal Court of Girona and its judge have made use of an ODE (procedure which entered into force on 1/1/2004, Framework Decision of the EU Member States) with the aim of facilitating the surrender of the accused and speeding up judicial cooperation between the states. Among other measures, it provides for very short bureaucratic deadlines, simplifies judicial procedures and abolishes the principle of double criminality for a large number of offences. It is difficult for the country called upon to surrender the accused to oppose it, provided that all the requirements are met (set out in a list of 63 types of criminal offence) and that the 3 exceptions allowing opposition to this order do not exist. Thus, it is more difficult to challenge extradition between EU member states than it once was.
Following his arrest in Portugal, the second part of the trial in that country, which had begun on 27 January in Porto, took place on 26 February at the Tribunal da Relação de Guimarães (2nd instance), which did not oppose the ODE issued in Spain. An appeal was lodged with the Supreme Court of Lisbon, which did not oppose it either.
– Thus, on 13 May, Gabriel was handed over to Spain, entering the prison of Badajoz.
– On 11 June, the Provincial Court of Girona handed down a sentence of 30 years' imprisonment, of which, by virtue of that order, the fellow prisoner has still to serve 16 years, 2 months and 7 days.
– This sentence has been based on the non-recognition of the "principle of speciality" in Spain, which, however, was recognised in high judicial instances, in Germany, in 2016, dictating an order of immediate liberation from the prison of Dueñas (Palencia) because it considered his imprisonment irregular in every way.
– His legal defence, based on the above, has presented an appeal to the Constitutional Court, 2nd Chamber, Section 4, appeal no. 4.540/2020.
– Since 1 July, comrade Gabriel Pombo Da Silva has been held under the FIES 5 regime (special groups) at the: Mansilla de las Mulas Prison, Paraje Villahierro, 24210 Mansilla de las Mulas (León)
– Gabriel has his mail intervened upon, so the letters, always by registered mail, must be of encouragement and moral support, without political content.
Write to the comrade:
Gabriel Pombo da Silva
Mansilla de las Mulas Prison,
Paraje Villahierro,
24210 Mansilla de las Mulas (León)
Spain
Tags: Anti-Prison, Badajoz, Demo, FIES, Gabriel Pombo da Silva, Girona, International Solidarity, Repression, Spain
This entry was posted on Wednesday, October 14th, 2020 at 11:00 am and is filed under Prison Struggle.