'Autonomy' Archives
Thursday, September 24th, 2020
A todes/a/o.
La lucha subversiva autónoma contra el capital, el estado y todos sus órganos, continúa. Han sido años de conflicto y violencia política con distintos niveles de intensidad, marcando un precedente con la revuelta que inició en octubre de 2019.
Actualmente en tiempos de pandemia la lucha sigue viva, sigue la organización, siguen activándose grupos y sigue habiendo acciones múltiples con los autocuidados que amerita la situación -pero es inevitable- queremos ver arder nuevamente la ciudad, sus símbolos y queremos seguir atacando con fuerza a lxs bastardxs que defienden con sus armas a lxs ricxs y poderosxs de este país, queda mucho por cobrarles a lxs pacxs, milicxs, ratis, gendarmes, etc.
Sabemos que la lucha es cotidiana y que cualquier día es propicio para la acción, pero aquellas fechas que han quedado marcadas en las conciencias de todxs son también instancias para seguir practicando lo curtido.
Por eso es importante que conspires, que te organices y salgas a la calle con tus afines, tus vecinxs, en tu barrio, en la pobla, en el centro de la ciudad, cuidándote y cuidando a lxs tuyxs, siempre atentx, sal a la calle con todo lo que puedas y quieras este 18 de octubre a 1 año de la revuelta en el territorio chileno.
Por todxs lxs muertxs, desaparecidxs, mutiladxs, violadxs
Por lxs compañerxs en prisión de ayer y hoy que resisten dignamente
Por una vida distinta y mejor
Sal y prende la calle
Mientras exista miseria habrá rebelión
Tags: Chile, Flyposter, International Solidarity, Riots, Santiago, Social Insurrection
Posted in Autonomy
Tuesday, September 22nd, 2020
The ethical question is not about weapons, but about which ones.
by Adrian Wohlleben
There is no such thing as a peaceful insurrection. This is America; there is no imaginable scenario in which social conflicts will continue and people will not be armed, on all sides. Whether weapons are necessary is an open question, but in any case, they are inevitable. However, as friends noted some time ago, there is an important distinction to be made between "being armed and the use of arms". If guns are an inevitable feature of any American insurrection, it is a question of doing every­thing possible to make their use unnecessary.
For participants and observers of this summer's uprisings, the clashes in Kenosha following Jacob Blake's shooting have dragged the question of armed violence to the forefront of debates. Does the presence of guns on 'our side' offer any sense of relief from danger? Do they make anything possible that isn't otherwise? Can we imagine them being used in a way that would open the situation up, and made people feel more powerful?
In his "Critique of Violence" (1921), penned in the immediate aftermath of a defeated communist insurrection in Germany, Walter Benjamin attempts to bypass sterile oppositions between violence and 'nonviolence', legitimate and illegitimate force, instead directing our attention to the more decisive difference between modes and manners of violence. By suspending the question of the 'aims' or goals of violence—which, on Benjamin's view, quickly devolves into myth and metaphysics—and instead differentiating between its means and uses, we shift the problem from an instrumental or technical register to an ethical one. Instead of asking, "for the sake of what end does this act occur?", we should ask, What is this act like from the inside? What does it do to us, and those around us? How does it activate, or deactivate, our capacity to fully participate in existence? In this way, Benjamin is able to reframe the problem of revolutionary violence: its difference from state violence resides not in the 'tasks' or agenda it claims to serve, but first and foremost in the relation to the world, to oneself, and to others that it engenders. (more…)
Tags: Analysis, Ill Will Editions, Kenosha, Racism, Riots, Social Insurrection, USA
Posted in Autonomy
Saturday, September 19th, 2020
+ Amenaza Inminente de Desalojo del Ateneo Libertario de Vallekas
El pasado 16 de septiembre se volvió a dejar constancia de que la solidaridad y la acción directa es la mejor arma de la que disponemos como medio de defensa frente al Estado y la represión. Alrededor de 150 personas de vallekas y otros barrios de la ciudad se plantaron en la puerta del Ateneo para impedir el desalojo del espacio. No se trata solo del desalojo de un espacio, es la defensa de la okupación como herramienta de lucha en la guerra social, como herramienta para crear con nuestras propias manos, al margen de partidos e instituciones, espacios de lucha, encuentro y aprendizaje.
Y lo conseguimos (gracias a todos y a todas). Contamos con un tibio despliegue de periodistas, furgonas de la policía municipal y el comisario del distrito. Debido a la fluencia de solidarias, la secretaria judicial no tuvo más remedio que pasar de largo. Ahora, cualquier día y sin previo aviso, el Ateneo puede ser desalojado.
Más especial resulta esta muestra de solidaridad si tenemos en cuenta como se esta desplegando el discurso represivo sobre vallekas (y los barrios obreros de Madrid en general): criminalización mediática, constante señalamiento de los medios y la clase política por los casos de Covid-19, persecución a las personas migrantes, abusos policiales, videovigilancia, multas y una persecución especialmente intensificada a la okupación en los últimos meses. Todo ello con la retina cargada de imágenes como las colas del hambre, que no cesan, los desahucios y desalojos, que no cesan, los centros de salud, colapsados, los trabajadores hacinados en el metro y esperando que un político les diga si pueden salir a la calle para algo que no sea trabajar para nuestros patrones. Esa es la lógica del estado y el capital para los pobres y los barrios donde vivimos.
La lucha continua por muchas y variadas formas, la solidaridad no tiene límites ni barreras, y va más allá de los días concretos de desalojos: bancos, inmobiliarias, especuladores, policías, medios de co- municación, políticos y empresarios siguen ahí, manejando y gestando las condiciones de nuestra explotación. Llamamos a extender la solidaridad en todas sus formas.
Este domingo convocamos nuevamente jornadas de resistencia en el Ateneo, y seguimos con el llamamiento: el viernes de la semana del desalojo del Ateneo, manifestación a las 20H en vallekas en solidaridad con los espacios okupados. El lugar exacto lo confirmaremos el día del desalojo.
¡Solidaridad con los espacios okupados!
¡Ningún desalojo, ningún desahucio sin respuesta!
¡Okupación, resistencia y acción directa!
ateneolibertariovallekas@riseup.net
ateneolibertariovk.noblogs.org
Tags: Ateneo Libertario de Vallekas, Eviction, Madrid, Repression, Spain
Posted in Autonomy
Thursday, September 17th, 2020
We are currently still low on the printing cost for this journal, please consider to donate, we still need about 150 USD for 500 exemplars. We have managed to sell 700 exemplars from the previous edition.
Paypal: frambawati@yahoo.com or just email us if you want to donate from another platform: feldasit@riseup.net
Tags: Indonesia, Jurnal Anarki
Posted in Autonomy
Wednesday, September 16th, 2020
[09.10.20 RÄUMUNSGVERSUCH DER LIEBIG34 – DON'T TOUCH LIEBIG34!!!!!]
Don't touch Liebig 34!
Eviction date on 09 October 2020
Today, on September 15, we received mail from the bailiff T. Knop.
They threatened to evict Liebig34 on Friday, October 9 at 7 am!
We will not let that happen!
How is it possible that an attempt to evict is being planned even though it is publicly known that a different association than the defendant is present in the rooms?
How is it possible that in times when a second wave of Corona and #StayHome is expected, a home is to be evicted by so many people?
How is it possible that especially now, in times of fascist marches and a shift to the right, a feminist, leftist and queer house project is being attacked so massively?
We are angry but determined.
We will not give up the Liebig 34 without further ado.
Support us in our struggle.
Come to the general assemblies, annoy politicians and homeowners.
Be creative! Let's make the eviction attempt a disaster!
MORE INFOS WILL COME – WE'LL KEEP YOU UPDATED!
Liebig34 blog: http://liebig34.blogsport.de/
via AWW.
Tags: Berlin, Eviction, Germany, Liebig34, Liebig34/XB, Repression
Posted in Autonomy
Tuesday, September 15th, 2020
Tags: International Solidarity, Philippines, Repression, Video
Posted in Autonomy
Thursday, September 10th, 2020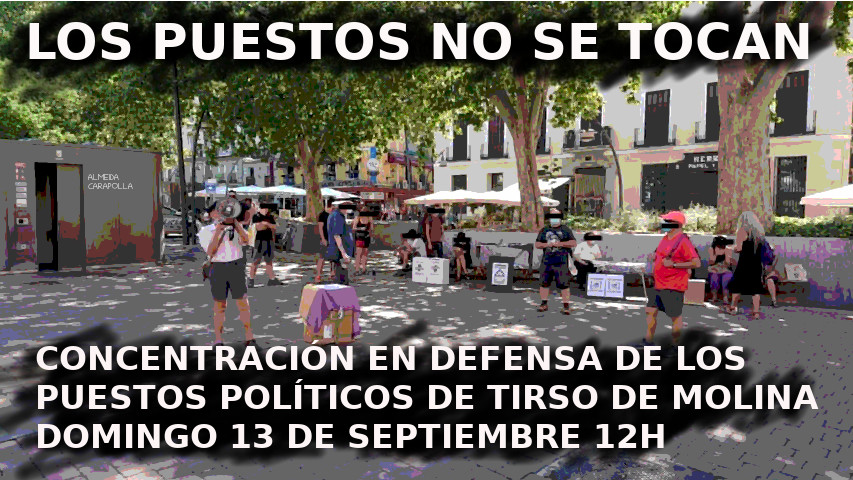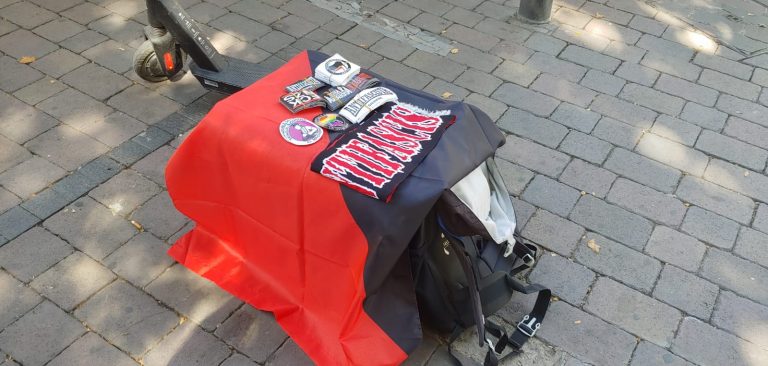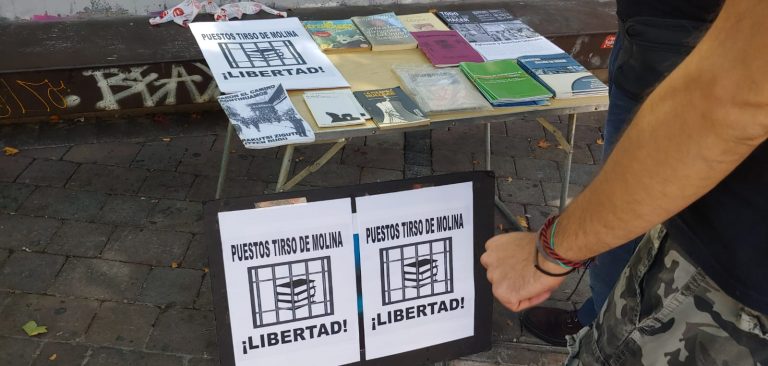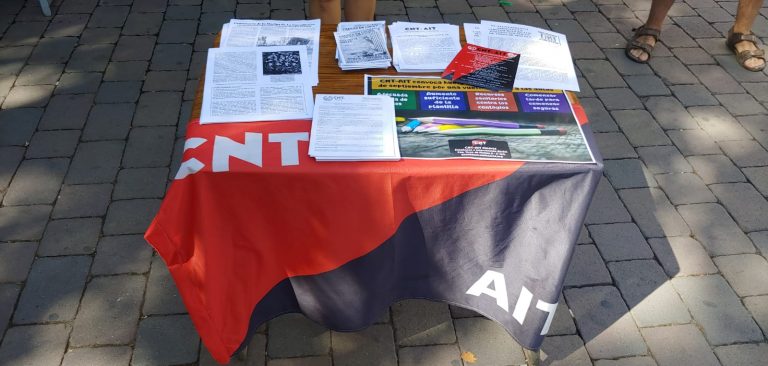 Since last July 19, the date on which the municipal police evicted us from the Tirso de Molina square with the threat of sanctions and seizure of the stands, we have been gathering every Sunday to protest against this arbitrary decision by the City Council. We maintain that it is a political decision rather than a health one, since that day we were complying with the measures imposed by the Community; masks, distance between the stalls, hand disinfection gels, if we add to this that the space in the plaza is wide and the number of stalls that we set up that morning was small, it was not possible that there would be crowds.
In fact, the only official justification we received from the agents was not having a license and the assertion that "El Rastro was closed by municipal order." The reality is that El Rastro continues to be closed as of today since the stalls do not accept the City Council's reform plans that seek to end the emblematic market as we know it and also know that for more than three decades political stands lack licenses. For this reason, we are convinced that the Pandemic is only an excuse to eliminate political positions that spread ideas and free culture, and it is clear that Tirso de Molina and El Rastro are also part of the gentrification plans that we have been suffering in the area in recent years. (more…)
Tags: Coronavirus, El Rastro, Eviction, Madrid, Repression, Spain, Tirso de Molina
Posted in Autonomy
Wednesday, September 9th, 2020
International Call for Action and Discussion Days in Berlin 30.10.-01.11.2020
International Demo in Berlin 31.10.2020
UNITED WE FIGHT!
Connect Urban Struggles – Defend Autonomous Spaces
Over the last years we experience a global resurgence of reactionary politics. State and capital, in a constant process of intensifying exploitation and expanding repression, used the global capitalist crisis, which started a decade ago, as a chance to further restructure relations of power in their advantage. Their political answer is materialized in a shift to the right, with a political alliance of neoliberal economic policies coupled with strong nationalistic narratives and repressive policies against resistance and progressive movements. The new face of authoritarianism has unleashed an all out attack against individuals it considers unnecessary or those that choose to resist and collectivize against the ruin of their lives. In our current period, states the world over used measures against Covid-19 to extend repression, policing and surveillance against societies. At the same time, the failings of neoliberal healthcare systems have led to masses of deaths and increasing inequality due to access to healthcare.
To all of this, people in different areas of the world answer with massive resistance on the streets. Movements with different perspectives have revolted, for example in Argentina, Bolivia, Chile, or more recently in France and the USA. The common thread of all these movements is their distance from institutionalized and systemic politics and the choice of self-organization and horizontalism in the fight against authority. (more…)
Tags: Berlin, Demo, Eviction, Germany, International Solidarity, Liebig34, Liebig34/XB, Meuterei, Potse, Squatting, Syndikat
Posted in Autonomy
Thursday, September 3rd, 2020
EN | Madrid: Imminent threat of eviction of the Ateneo Libertario de Vallekas
PDF: Panfleto
AMENAZA INMINENTE DE DESALOJO DEL ATENEO LIBERTARIO DE VALLEKAS
A finales de agosto recibíamos una bonita notificación del juzgado en el que se nos comunicaba que el día 16 de septiembre se personaría en el espacio la policía y el cerrajero para proceder al desalojo. Nuestro espacio lleva dos años sirviendo como lugar de actividades, debates, asambleas, gimnasio y punto de encuentro e impulso de diversas iniciativas libertarias.
Tags: Ateneo Libertario de Vallekas, Demo, Eviction, Madrid, Repression, Spain
Posted in Autonomy
Wednesday, August 26th, 2020
Solidarity with the West Papuan Struggle for Independence
[Anarchists Worldwide Archive on the 2019 West Papua Uprising]
via AWW.
Tags: Indonesia, International Solidarity, Video, West Papua, West Papua Independence
Posted in Autonomy
Sunday, August 23rd, 2020
In the morning of 17th of August Terra Incognita gets TEMPORARILY evicted by the repressive forces of neoliberalism. Police forces intrude in the building and conduct researches for hours and confiscations. Days after the eviction the squat still remains open with cops celebrating TEMPORARILY their capability of violating every corner of our liberalized grounds.
For over 16 years Terra Incognita constituted a meeting place for hundreds of people of the struggling social basis. With constant events, direct acts, demonstrations and conflicts Terra Incognita was present in moments of the violent struggle against the violence of the state, the benefits of capitalistic monopolies, against the violating authority of fascism and patriarchy, against any type of discrimination and speciesism. In the grounds of the self-organised structures of self-education, solidarity and mutual aid of the squat all the "known-unknown" strugglers of freedom met and will continue to meet. Liberating and equality-based relationships were constructed, subversive plans and operations, dreams that day by day found and still find a space of moral and physical substance. For 16 years the squat proves itself to be the flesh of the flesh of the multiform struggle against any type of authority and oppression, without prioritizing or distinguishing the means that contribute to the spreading of libertarian ideas and the organization of social and class-conscious counter attack. Because for us this is liberation. (more…)
Tags: Eviction, Greece, International Solidarity, Repression, Terra Incognita Squat, Thessaloniki
Posted in Autonomy
Saturday, August 22nd, 2020
September 25-26-27, 2020
14th NYC Virtual Anarchist Book Fair
The NYC Anarchist Book Fair will be held virtually this year, with a few limited outdoor events. Our website will host presses, live digital conversations and workshops, prerecorded talks and roundtables, a film festival, and archival materials from previous events. Deadline for Sept 25-27 NYC ABF submissions is August 31.
(You can still submit your ideas after the deadline but we may not be able to accommodate on Sept 2020 event. If that happens we may contact you about future opportunities in our year long programming.)
Parallel Worlds: Creating Autonomous Communities
When we construct parallel worlds (worlds guided by logics other than consumerism, accumulation, and hierarchy) we lay the groundwork for a viable anti-capitalist life, one free from police and prisons, hunger, propriety, money, and the systemic violence levelled against the physical, psychological, spiritual and communal health of all beings. (more…)
Tags: Anarchist bookfair, Anarchist Gathering, New York, USA
Posted in Autonomy
Wednesday, August 19th, 2020
Lukáš Kalina, Zdeněk Vítek, Lubomír Sogel, Tomáš Tichánek, Václav Šupka and many others. They all took goods in the shops without payment, and the courts imposed severe penalties on them.
This perverse practice cannot go unanswered. That is why the MAGPIE PROJECT starts. Other goods will disappear from stores and the capitalists will not get money for it. People will use expropriated goods to meet their needs. We will explain why this is happening. We will encourage others to participate as well.
It is not a crime to take goods from the capitalists without paying. They themselves act criminally when they accumulate commodities by exploiting employees. They let them work hard, but they give them only a small part of what they have created with their work. They capture the rest and invest in the next cycle of exploitation. This is theft! This is a crime! Remove the stolen values ​​from these thieves is not a thievery. Contrary to the preachers of Christian-bourgeois morality, we argue that expropriation is a legitimate form of reaction to a world where the path to one's wealth is paved with the poverty of the other.
Judges and guards imprison human beings. The hypocrites are mumbling about the theft, but they are stealing people's lives and destroying interpersonal relationships.
Capitalists throw away tons of food and other things every day and do everything they can to prevent people from getting them without paying.
They are unlucky because, even if some are punished, many disobedient people will continue to expropriate. Many of these will never be caught. And if so, they won't curb them anyway. From the malls it is possible to move to greater goals: to the banks, accounts, settlements and equipment of the bourgeoisie. Just do it!
The MAGPIE PROJECT needs another accomplice. Get involved! Send your stories, videos, photos to publish. Don't forget safety and don't get caught!
Tags: Czech Republic, Magpie Project, Shoplifting / Stealing
Posted in Autonomy
Sunday, August 16th, 2020
The following text is a translation by Anarchists Worldwide of an article from Estallido Antisocial / Antisocial Outburst, a new anarchist publication from Chile. You can download a copy of the publication HERE.
TENSIONS WITH REFORMISM AND THE CONSTITUENT PROCESS IN THE MIDST OF FIRE AND RIOTING IN CHILE
The idea and practice of anarchic insurrection in the Chilean region and the world is enough to make us forget who we are and to uncritically join social revolts in which diverse and sometimes contradictory interests are involved.
For us, insurrectionists and antisocial anarchists, it has been a great joy to share moments of generalised rebellion between like-minded people and sometimes with circumstantial accomplices united by the desire to bring out the rage against what oppresses us.
However, when we go deeper into the visions about the struggle and what we want to destroy and build, the differences usually come out and we are not interested in this going unnoticed just to be socially accepted. On the contrary, the fire of our indomitable hearts calls us to propagate the idea and practice of confrontation against all forms of social order. (more…)
Tags: Analysis, Chile, Estallido Antisocial / Antisocial Outburst, Riots, Santiago, Social Insurrection
Posted in Autonomy
Wednesday, August 12th, 2020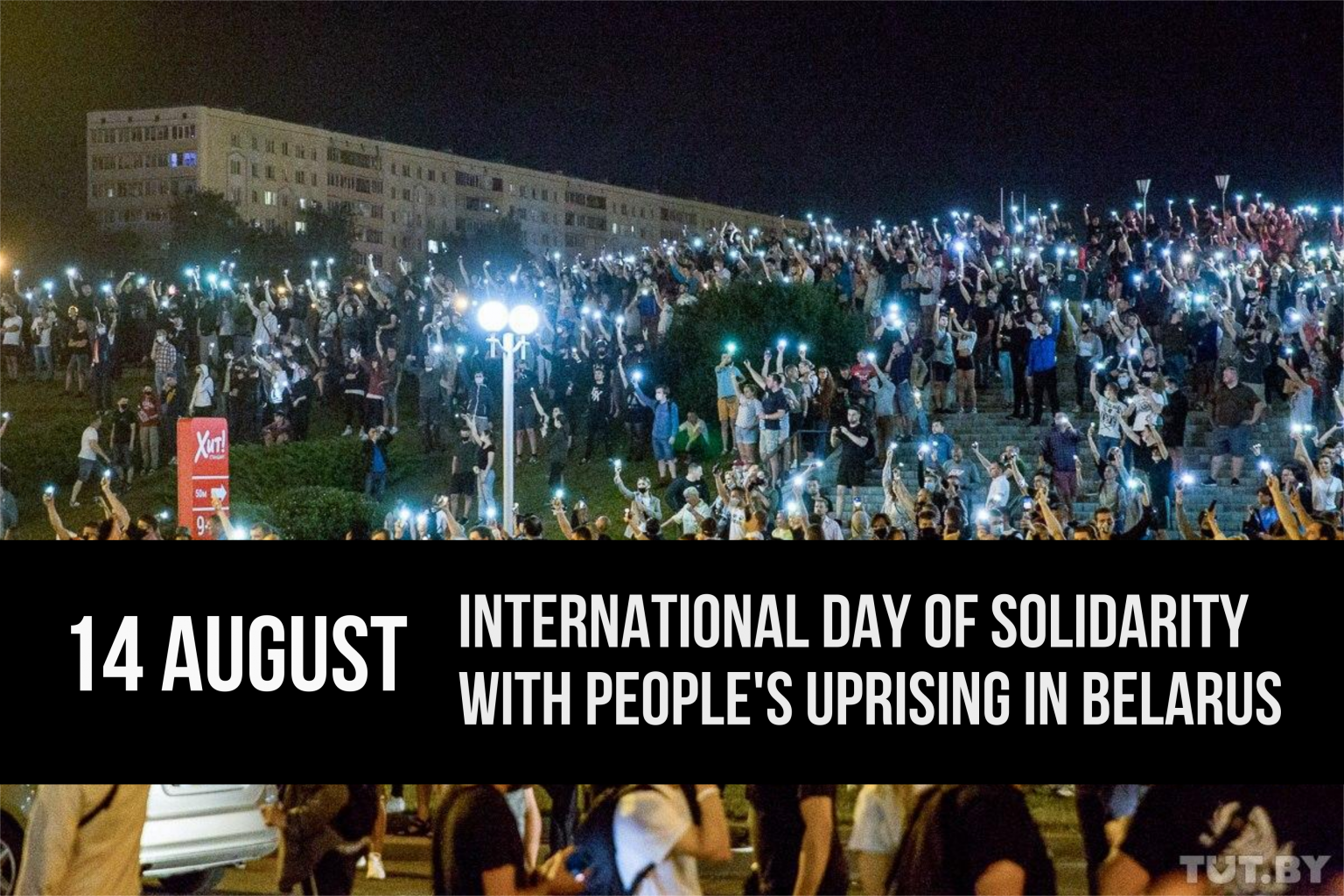 For the first time in the history of Belarus, people across the country rebelled against the dictatorship. Many thousands of demonstrations are held not only in the capital, but also in small towns. People take to the streets and not only peacefully protest against the authorities, but also fight against the state apparatus – they help friends and comrades and clash with punishers.
August 10, barricades appeared in the streets of Minsk for the first time, while protesters began using molotov cocktails. Some enterprises and firms went on strike.
In recent days, standing shoulder to shoulder, we have felt what the energy of the people means. We have realized that together we can overthrow a tyrant!
The blockage of the Internet could not stop the news flow. People all over the world have learned that the Belarusian dictatorship is ready to drown the population in blood just to stay in power. In three days, police and internal troops detained more than 5000 people, hundreds suffered from cop violence. At least one person has been killed.
Now more than ever, international solidarity is important in the fight against Lukashenko. Therefore, we call you all to join the international day of actions in solidarity with Belarusian people! In what format can you express your solidarity? You can hold rallies and demonstrations at Belarusian embassies and other institutions of Belarusian power in your country. Take collective photos. Take part in direct actions. Any, even the smallest solidarity can support the fire of rebellion that will tear down the dictatorship in our country!
Send your reports to belarus_abc@riseup.net or post on social networks with the #Belarus hashtag.
Tags: ABC Belarus, Belarus, Dictatorship, International Solidarity, Repression, Riots, Social Insurrection
Posted in Autonomy