'Autonomy' Archives
Thursday, December 5th, 2019
To Joaquín García Chanks and Marcelo Villarroel Sepúlveda, comrades and co-conspirators.

"… every revolutionary opinion draws its strength from the secret conviction that nothing can be changed."
George Orwell, The Road to Wigan Pier.
"Alicia: How long does it last, forever?
White Rabbit: Sometimes just for a moment."
Lewis Carroll, Alice in Wonderland.
The discontent are the new starting point of the impetuous popular protests that run through the geography of the globe. Hong Kong, France, Algeria, Iraq, Haiti, Lebanon, Catalonia, Ecuador, Bolivia and Chile, are the lavish protagonists of the wave of massive urban revolts that shakes the world.
While it is true that these profuse protests have very particular triggers that explain them (specifically Hong Kong and Catalonia, with their independentist rallies), it would be naive to think that this accumulated rage is disconnected. The increase in the costs of goods and services, coupled with austerity – with its consequent loss of jobs and unequal economic survival as global growth slows down – are the common denominator of most of these mobilizations.
However, it is undeniable that these protests also share another great backdrop that far exceeds the economic analysis and that very conveniently is not addressed in the means of mass domestication and intentionally escapes the analysis of political scientists and apologists of domination: anti-government convulsion, a tiredness against those who govern and, against all political parties, whatever their ideological color. A feature that withholds the absence of leadership and / or leaders and facilitates the ephemeral realization of Anarchy. (more…)
Tags: Analysis, Chile, Gustavo Rodriguez, Letter, Riots, Santiago
Posted in Autonomy
Sunday, November 24th, 2019
The Anarchist Union of Iran and Afghanistan believes that the Islamic Republic of Iran's regime will not hesitate to massacre millions of Iranians, like it has done in Syria and Iraq as well as in Iran these these last few days. Therefore, the Anarchist Union of Iran and Afghanistan is prepared to declare that it will cooperate with all Kurdish, Arab and Baloch armed opposition forces. With respect to the widespread repression of defenseless people in Iran, we must be able to provide them with the right tools to defend themselves, before there are more dead and the people's movement has been permanently suppressed. Therefore the need to form an armed revolutionary front to support and defend the people against the Islamic regime's executioners is urgent and necessary. If it is possible to transport weapons to people inside Iran, you should not hesitate for a moment to prevent more people from being bled and buried. The duty of the revolutionary and radical opposition outside of Iran is to provide logistical and strategic support to the struggles and resistance of the people inside Iran
Anarchist Union of Iran and Afghanistan
آدرس و اسامی صفحات مرتبط با اتحادیه آنارشیستهای ایران و افغانستان
Tags: Afghanistan, International Solidarity, Iran, Repression, Social Insurrection, War
Posted in Autonomy
Sunday, November 24th, 2019
WE ARE BAD AND WE WILL BE WORSE: WE ARE THEIR WORST NIGHTMARE!
Urgent Call to Anarchic Action
Next Monday 25 marks the International Day for the Elimination of the Violence against Women and we will not stay at home. We will go out with all our anti-systemic rage and we hope to spread the rage back to the sectors numb from the so-called "feminist movement."
We will not allow the Mexican State to rape and kill us while converting this day in an official act and we presume his Fourth Transformation as the end of
Patriarchy. Nor will we tolerate the police presence or allow them to reporters and journalists take pictures or videos of our faces: the press aims and the system shoots!
In his morning circus the pejeganso has decreed "the end of machismo in Mexico" and has ordered his subordinate Sheimbaum to declare the Alert for Gender Violence in City.
If the feathered peje thinks that by appointing ministers in the SCJN and doing statements grabs us, the asshole's wrong. As we have expressed before: we are aware of the presence in the national palace of a misogynist and sexist fascist, pro-life, ultraconservative and evangelicalist to which the left has allied in its constant opportunism to "take power" at all costs.
WE ARE NOT FOOLED BY THEM! (more…)
Tags: Anarcha-Feminists, F.B.I. (Féminas Brujas e Insurreccionalistas), Mexico, Mexico City
Posted in Autonomy
Wednesday, November 20th, 2019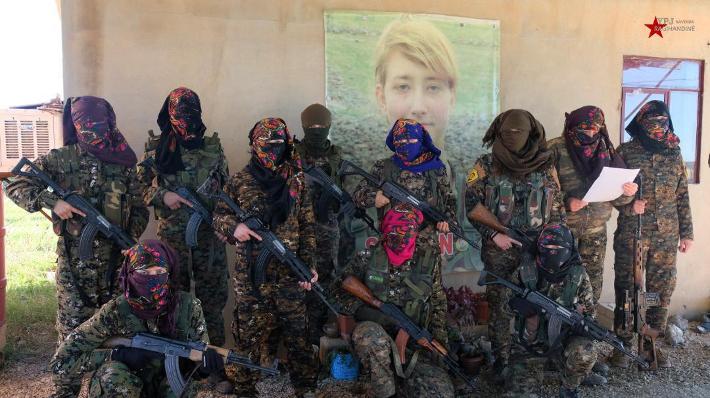 نامه ای از جانب یک آنارشیست انترناسیونالیست در روژاوا
Translation to Persian: Hasse Golkar
via barrikade:
Comrades,
I think it is important now that our voices of Rojava, out of the heart of that battle, are being heard. A fight for the life, for an existence in dignity, for real democracy and for the freedom of all women. I want to tell how the resistance of Serekaniye went on, how the beginning was, how the end was and also what happened in between. Serekaniye right now is in the hands of jihadist groups that are being supported by Turkey, upon approval by the United States. At a time they said there would be a five-day firearm rest…. we didn't believe it for one second. And that's how it was – the attacks didn't stop, maybe they've been reduced, but they continued attacking us with heavy artillery, bombings and airplanes. When there are bombings, there is not much that can be done; hide behind a tree and hope, that they didn't see you running or that they found your place.
Those five days of supposed firearm rest actually have been decisive for the United States and Turkey, to redefine the conflict, to realign the situation of war, confrontation and resistance against our forced withdrawal that no one expected. No one could believe it, after 11 days of resistance, beautiful and very hard at the same time. Leaving the city. The Turkish invasion of Serekaniye did start some days before, 8th of October, with a bombing of our military post that hasn't been answered, for not to unleash what happened later anyway. It was an attempt of the friends to protect the people and the society. But the next day, about 3 to 4 pm, another bombing of a post of the YPG took place, where 5 friends have fallen, and since then they bombed the whole border. (more…)
Tags: Islamic State in Iraq and Syria (ISIS), Kurdish Struggle, Kurdistan, Letter, People's Defence Units (Y.P.G.), Rojava, Serekaniye, Syria, Til Temir, Turkey, War, YPG International
Posted in Autonomy
Wednesday, November 20th, 2019
News, photos and videos from Greece.

1. D.K. – Public denouncement for my abduction and detention by the anti-terrorist police on 9/11/2019 –
https://athens.indymedia.org/post/1601137/
***

2. M.S. – Public account of the operation by the state terrorist agency
and my arrest – https://athens.indymedia.org/post/1601146/
***

3. Debrief from the solidarity actions with the insurrection in Chile –
https://athens.indymedia.org/post/1600817/
***

4. Co-ordination of anarchist/anti-authoritarian/autonomous squatted places and collectives inside the universities: Videos from the participation in two demos in solidarity with the squatted place of ASOEE
Video from the demo of 14/11/2019:

Video from the demo of 15/11/2019:

(more…)
Tags: Arson, Athens, Demo, Eviction, Exarchia, Greece, Molotovs, Patras, Repression, Riot, Sabotage, Thessaloniki, Video
Posted in Autonomy
Thursday, November 14th, 2019
The past few weeks have seen an intensification of the Nea Demokratia government's efforts to subdue the Greek anarchist movement and crush initiatives that offer alternatives to prison society. In particular, the anarchist neighbourhood of Exarchia in Athens has been a focal point for its aggression. A rough chronology of this repression as well as actions of solidarity and resistance taken by comrades in Athens is listed below.
The current rumour is that the State wants to evict 'all squats' by 17th November. Another rumour puts the deadline at 6th December. Both are significant dates in the history of the Greek anarchist movement, which are marked by annual riots. What 'all squats' means is not entirely clear. What is clear from the past few weeks however, is that attacks have been made on squats both inside and outside Exarchia, and as well as in cities in other parts of the country.
Evictions of migrant housing squats
The State's first focus for attack on occupied spaces has targetted the numerous squats that offered alternative housing to the dire state-run camps for migrants. These were self-managed spaces inhabited by migrants, anarchists and anti-authoritarians, often of considerable size. They were largely concentrated in Exarchia. (more…)
Tags: Athens, Eviction, Exarchia, Greece, Migrant Struggle, Repression, Squatting
Posted in Autonomy
Tuesday, November 5th, 2019
Wednesday 30/10 we did an intervention to the central offices of METKA EGN to show solidarity in the insurrection in Chile. We choose to intervene in this company with a banner texts and flyers to give emphasis to the role that this Greek company has also in South America with a plan to impose a cruel neoliberal agenda and degrade the lives of the people in Chile with the investments in energy and exploitation of the land.
Thursday 31/10 we wanted to do a microphonic in Propylaia but because of the rain it was cancelled but we manage 40 comrades to make an intervention and open the bars of the subway so everybody can pass freely while we were sharing texts and flyers.
Friday 1/11 we did a gathering at the embassy of Chile and after a demo back to Exarchia.The pre gathering was in the subway station of Evaggelismos were we shared texts after a while 100 comrades moved with order to Vasilisis Sofia street to approach as close as we can to the embassy that was full of cops. We stand there for one hour and in the way back the riot police was following us and they were provocative trying to find reason to attack us.We manage to finish the demo in Exarchia shouting slogans in the way. In the demo participated also comrades from the popular front of Turkey that they had gathering in the embassy of Turkey.
From the 19th of October, the Chilean state has been overrun by thousands of insurrectionary peoples who have occupied the streets and squares of the country. The mass demonstrations, originally due to the raising of ticket prices for public transport, developed into a generalised insurrection which sweeps everything in its path. (more…)
Tags: Analysis, Athens, Chile, Greece, International Solidarity, Repression, Riots, Santiago, Social Insurrection
Posted in Autonomy
Wednesday, October 30th, 2019
Desde el territorio dominado por el Estado de $hile:
UN LLAMADO A LA SOLIDARIDAD ANARQUISTA INTERNACIONAL CON LA INSURRECCION: REVUELTA Y ACCION DIRECTA FRENTE A LA NUEVA ARREMETIDA DEL ASESINO ESTADO MILITAR DE $HILE
El Viernes 18 de octubre del presente año, hemos presenciado y sido parte de como por medio de la acción directa y el sabotaje a los distintos estandartes del capitalismo moderno, los cánones de la normalidad fueron sobrepasados por el actuar insurrecto; una normalidad impuesta desde hace siglos en este territorio y consolidada por medio de una dictadura civico y militar que implanta el brutal modelo neoliberal vigente. El estallido de la revuelta se desarrolló en toda la extensión de la capital exhibiendo acciones de sabotaje hacia las estaciones del metro de Santiago, el edificio de ENEL (empresa multinacional italiana "distribuidora" de luz), los buses de la línea red (Transantiago), cadenas de bancos, cafeterías y restaurantes de comida rápida, concesionarias de autos, supermercados y farmacias, cada símbolo del capital fue atacado.
El desborde y descontento de miles de hordas e individuxs que sin líderes ni dirigentes, rebasó la ciudad con una extensa batalla contra lxs eternxs protectorxs de la propiedad privada y la paz social de lxs poderosxs fueron parte de una extensa jornada de protesta y rebeldía que culminó con el fascista presidente de derecha Sebastián Piñera, decretando Estado de Emergencia y poniendo a cargo de las tropas de los asesinxs militares al asqueroso general Javier Iturriaga. El avance de los dias siguientes no fue distinto, continuaron las acciones de sabotaje acompañadas de multitudinarias expropiaciones masivas a los grandes centros comerciales, el ataque a edificios gubernamentales y los incesables enfrentamientos contra la policia, argumentos perfectos para imponer Toque de queda en casi todo el territorio y con esto dando completa libertad y legitimidad al actuar de las policias y fuerzas militares que han asesinado y torturado históricamente en nombre de la autoridad. (more…)
Tags: Analysis, Chile, International Solidarity, Riots, Santiago, Social Insurrection
Posted in Autonomy
Wednesday, October 30th, 2019
From the 19th of October the Chilean state has been overrun by thousands of insurrected individuals who have occupied the streets and squares of the country. The mass demonstrations, originally due to the raising of ticket prices for public transport, developed into a generalised insurrection which sweeps everything in its path.
The first acts of social disobedience with callings for mass forced entries into and sabotage towards public transport, with thousands of high school and university students breaking the protective gates and entering the metro lines, quickly facing state repression.
The images we see from Chile remind us of the insurrected metropolitan landscape of Athens, when clashes with police, expropriation and looting of department stores, the vandalism of state and capitalist targets, and the passion for the struggle which flooded our own roads was a reality which clashed with that imposed on us by capitalism.
At this moment, the insurrected of Chile face, on their streets, the whole "range" of state repression, because except for the rifles and tear gas of the police, on Friday night, President Piñera decided to impose a state of emergency on the city of Santiago, sending tanks to its streets and imposing a night-time curfew. It is the first time after the fall of the dictatorship of Pinochet in Chile that the army is taking to the streets to repress demonstrators, whereas, at the moment of writing, there are 7,000 arrested and at least 18 dead (some sources state more), 4 shot by cops, the others run over by military vehicles. (more…)
Tags: Analysis, Athens, Chile, Greece, International Solidarity, Riots, Santiago, Social Insurrection
Posted in Autonomy
Monday, October 28th, 2019
Algunas palabras desde y por la revuelta de octubre
"A partir de cierto punto no hay retorno.
Ese es el punto que hay que alcanzar."
Franz Kafka
La indómita protesta por parte de estudiantes secundarios contra el alza del pasaje del tren subterráneo y la inmediata respuesta represiva fue el escenario propicio para que días más tarde la guerra social se dejara vislumbrar con una explícita crudeza.
La dinámica del conflicto fue rápida, impredecible e instintiva. El malestar enfocado principalmente contra el transporte público subterráneo se generalizó y comenzó a explotar, visibilizarse, reconocer formas de combate estallando–literalmente-en cada esquina de Santiago. El 18 de Octubre del 2019 un contexto de revuelta generalizada se desató por toda la capital; barricadas y enfrentamientos se sucedían en cualquier momento y en cualquier lugar. Distintos símbolos, estructuras e infraestructuras del poder fueron atacadas a lo largo de toda la ciudad, y prontamente de todo el país. El orden se resquebrajaba y la transgresión inundaba todas las calles, de pronto los sujetos se aglomeraban y atacaban lo que siempre consideraron sus cadenas. No hay planificación, sino espontaneidad que sabe reconocer claramente a su enemigo: El Estado, el capital y sus fuerzas represivas. Los objetivos siniestrados o saqueados son el mejor de los ejemplos: Ministerios, instituciones financieras, empresas depredadoras de la tierra, grandes bodegas almacenadoras de mercancía y comida, y un largo etcétera.
La violencia revolucionaria se ha validado y desatado en los más amplios aspectos de lxs oprimidxs. (more…)
Tags: Analysis, Chile, Repression, Riots, Santiago, Social Insurrection
Posted in Autonomy
Saturday, October 26th, 2019
DESDE CHILE: UNA MIRADA ANÁRQUICA AL CONTEXTO DE REVUELTA Y REPRESIÓN
Actualmente en Chile se vive una situación de Estado de Emergencia decretado por el gobierno derechista de Sebastián Piñera producto del estallido de una revuelta que explotó el día viernes 18 de octubre de 2019.
Este texto nace con la necesidad comunicar a compañerxs de diversas latitudes del mundo la situación que actualmente se vive en en este territorio.
Desde una mirada anárquica se comparten acá lo que consideramos algunos puntos principales para dar conocer y aportar a entender el momento actual.
—
PRELUDIO: LA JUVENTUD EN LUCHA Y LA CHISPA QUE ENCENDIÓ LA HOGUERA.
Luego de una semana de evasiones masivas al servicio de trenes subterráneos, protagonizadas principalmente por estudiantes secundarios durante el mes de octubre ante el alza del valor en los pasajes del transporte, se propagaron por diversos puntos de la ciudad de Santiago múltiples episodios de desobediencia individual y colectiva que derivaron en destrucción de infraestructura y enfrentamientos con las fuerzas policiales dentro y fuera de las estaciones del tren subterráneo. (more…)
Tags: Analysis, Chile, International Solidarity, Repression, Riots, Santiago, Social Insurrection
Posted in Autonomy
Saturday, October 26th, 2019
US State gives green light for the Turkish military invasion of Northern Syria
October 7th, 2019
After a period of a hypocritical stance by the American state towards the Kurds of Northern Syria and the other rebellious peoples of the region whom they supported militarily as they gave their lives in battle against ISIS (Islamic State) and their armed forces of men and women liberated one city after another by expanding the revolutionary project of Democratic Confederalism, the US regime has shown its true face by giving the green light to the Turkish state for the military invasion of the region. It is the expected development of the "democratic" American state and the "democratic" West in general. (more…)
Tags: Athens, Greece, International Solidarity, Kurdish Struggle, Kurdistan, Nikos Maziotis, People's Defence Units (Y.P.G.), Pola Roupa, Revolutionary Struggle, Rojava, Syria, War
Posted in Autonomy
Saturday, October 26th, 2019
ARGENTINA: ON THE "INCIDENTS" IN FRONT OF THE CHILEAN CONSULATE IN BUENOS AIRES ON OCTOBER 21. AN ANARCHIC AND REVOLUTIONARY LOOK.
Again the media show raises its indignant voice, they speak of infiltrators, of Kichnerism and of the left, any issue that manages to divert attention from the conflict, excuses abound with the elections, again the damn elections, but never the rebellion, never Freedom. We all know that on the other side of the mountain range they are killing our compañerxs, the rebels who face police and military, who have rifles and machine guns pointing directly at them, choose to build barricades, grab stones, fuel and their hoods.
Faced with this climate, we chose to step forward, face to face with those who steal our lives daily, or did they forget that the police kill someone every 24 hours in Argentina? It is extremely hypocritical that those who say they stand in solidarity with a social revolt defend the police, the banks and the press. What solidarity do they talk to us about? That is nothing more than political use of circumstances to go to hang their flags again when the next day they return to their well-off neighborhoods and their hierarchical logics. (more…)
Tags: Argentina, Buenos Aires, Chile, International Solidarity, Molotovs, Riot, Social Insurrection
Posted in Autonomy
Saturday, October 26th, 2019
24 OCTOBER TO 1 NOVEMBER. INTERNATIONAL WEEK IN SOLIDARITY WITH THE REVOLT IN CHILE.
"Far from the specialists of solidarity who turn it into a jocular farce of humanism and victimization mutilating all our combative characteristics, anarchist solidarity does not fit into rules or infallible recipes.
The essence of solidarity is the continuation and sharpening of the anarchist offensive with every means, from a sacrilegious and aggressive poster to an action with explosive or shots against the organs of the existent. Solidarity transmits the solid message that everything continues and, as other compas have already said before us" :
"Solidarity between anarchists is not just words…"
The news about the revolt in the territory dominated by the State of Chile has travelled this globalised world, not only from last Friday October 18 and the military's presence in the streets with the respective curfew, but also from the constant putting in practice that the anarchists have managed to uphold throughout the years, standing firm against long sentences and even death of comrades in offensive actions.
Today democracy is showing its face without masks, that face that the prisoners and the populations have to suffer every day, the face of torture, rape and death around the corner, today the State is extending and launching orders to its minions, police and military have to fulfill the functions for which they were programmed, now bluntly, and the revolt responds with dignity, stones, incendiary devices, looting and incipient news of armed attacks against police stations.
From outside this territory we feel the air of rebellion and it calls us back to solidarity action with the weapons that we know how to forge, with the offensive in all the imaginative ways and the conviction that the social war transcends every border, physical and mental.

LET'S BREAK DOWN THE MEDIA FENCE!
LET'S EXTEND THE BLACK INTERNATIONAL AGAINST EVERY FORM OF AUTHORITY.
Tags: Black International, Chile, International Solidarity, Repression, Riots, Santiago, Social Insurrection
Posted in Autonomy
Friday, October 11th, 2019
· ANTICOLONIAL MARCH 2019 ·
Colonialism has never ended. The neocolonial-capitalist system still wants to silence and to marginalize us. With fascism rising everywhere, time has come to unite and stand together!
The 12th of October marks the "discovery" of America by the Europeans in 1492. It's the founding stone of a big lie that lives on until today in forms of white supremacy, eurocentrism and ignorance. October 12th marks the beginning of the colonial genocides, of the destruction and robbery of precolonial societies, culture and knowledge, of forced christianization, the exploitation of the indigenous peoples, their land and resources, the transatlantic slave trade and the globalization of the a system that is wrecking life on our planet.
Until today October 12th is celebrated as "Columbus Day" and "dia de la raza" (Spanish: "race day") by colonial states. The "heroic achievements" of Columbus are still taught in German schools, while our forests are burning for the profit of multinational corporations and neocolonial regimes. German weapons are exported to war zones to kill people, while people fleeing these wars are left to drown to not enter Europe. This hypocrisy can no longer be tolerated. (more…)
Tags: Anti-Colonialism, Berlin, Demo, Germany
Posted in Autonomy