'Autonomy' Archives
Sunday, May 15th, 2016
A better way to make real and stable peace in Afghanistan
In the same week that David Cameron accused Afghanistan of being 'fantastically corrupt', the UK donated £200 million.
"Why does Cameron continue to prop up the puppet government of Afghanistan and whilst ignoring the grassroots initiatives that are making such a huge difference with limited resources?' says Dr. Sanaul Haq Ahmadzai, the Chairman and Trustee of International Committee for Rehabilitation Aid to Afghanistan (ICRAA). 'ICRAA leads different projects that have helped hundreds of thousands of rural Afghans adopt skills for sustainable agricultural practices that alleviate hunger and provide income for family needs.' (more…)
Tags: Afghanistan, Kabul, Repression, War
Posted in Autonomy
Thursday, May 12th, 2016
The anarchist squats ought to be a thorn for the repression mechanisms, against every dominant expression of the existing system. All things considered, they ought to be thorns against the social norm, against the alienated everyday life of decay that the social norm itself produces.
Regarding the link of dynamics of the people who take action in squats and choose to clash with the above aspects of the dominant complex, we believe that a necessary tool is the coordination of individualities and groups which act within and around the squats, so as to able to form a living organism with direct offensive reflexes. The coordination and the interaction between squats mustn't be determined by the attacks from the state and its mechanisms -official or unofficial- but to form a cell of essential political fermentation and a meeting place of our individual and collective negations and desires. (more…)
Tags: Fuck the Nations - Squat the World, Radio Fragmata, Squatting
Posted in Autonomy
Wednesday, May 11th, 2016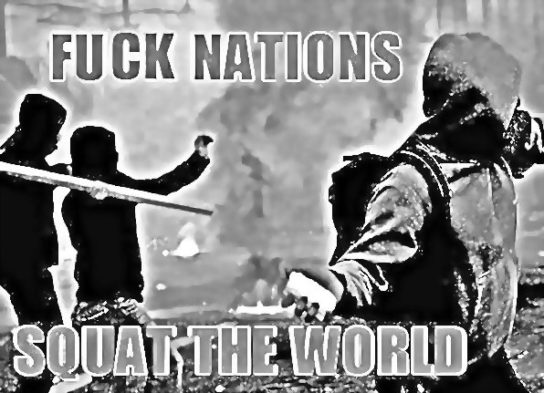 En el contexto de la circulación de debates y propuestas en torno a las okupaciones y espacios antiautoritarios, compartimos algunas reflexiones, experiencias y propuestas en el marco de la campaña "A la mierda las naciones – Okupa el mundo!" propuesta por compas de Grecia [1, 2, 3], buscando propagar la crítica y autocrítica en la lucha contra el poder, a siete años de la muerte del compañero anarquista Mauricio Morales.
A lo largo de los años, no hemos sido pocxs lxs compañerxs que desarrollamos parte importante de nuestra maduración política participando en diversas actividades en espacios autónomos anárquicos/antiautoritarios. Espacios okupados como La Krota, Sacco y Vanzetty, La Idea, y otros centros sociales autónomos fueron claves hace ya varios años para el desarrollo, agudización y propagación de las ideas y prácticas insurreccionales en el contexto local de la ciudad de Santiago. Algunxs de quienes participamos de algunas de las instancias de encuentro, debate y agitación desarrolladas en esos espacios, recordamos tales vivencias como si hubieran sido ayer, teniendo frescos recuerdos de un contexto de efervescencia insurreccional que no pasó desapercibido para el poder y su sociedad. (more…)
Tags: Black December, Chile, Fuck the Nations - Squat the World, Mauricio Morales, Sin Banderas Ni Fronteras, Squatting
Posted in Autonomy
Wednesday, May 11th, 2016
The well-regulated normality of social life within systems of power is not the product of a one-dimensional strategic perception that follows a determined path, but on the contrary it's the totality of many well-thought and tested logics, tactics and practices. It's a fact that power would not be what it is today, had it not been in a constant process of self-evolution covering previous deficiencies and weaknesses in the management of social tolerance of its followers. It is not accidental that there have been and continue to appear entire political and philosophical currents that examine the necessity of power structures within human societies. Through the constant appearance of experiments, studies and dissertations, a series of political and scientific think-tanks arm the hand of power with more and more specialized methods that ensure social tolerance.
»If the initial imperceptible signs of disarray are not combated, then chaos and anarchy will soon prevail.» The above sociological interpretation, which posits the essence of a particular theory, upon which a variety of repressive plannings have been formed, is inextricably connected to the way the enemy handles all possible dangers of destabilization since their birth and in their totality, even before they have flesh and bones. Speaking of the danger of destabilization which may be manifested in subversive radical currents, we could say that the zero-tolerance doctrine aims at their preventive tackling. Different phases of preventive tackling have been noticed. It is observed that during the first phase, with the beginning of a new subversive current that internally acquires a more radical and aggressive logic, repression is upgraded almost instantly and becomes excessively disproportionate in order to stop any further sharpening of the current's offensive characteristics. Those who express this combative logic are met with the ruthless vengeance of the system that does not hesitate to turn against their entire social circle in order to create conditions of generalized fear. (more…)
Tags: Black December, Conspiracy of Cells of Fire, Conspiracy of Cells of Fire : Imprisoned Members Cell, Fuck the Nations - Squat the World, Greece, Informal Anarchist Federation (FAI), International Revolutionary Front, Mauricio Morales, Squatting
Posted in Autonomy
Wednesday, May 11th, 2016
The undertaking of a squat, was, is, and should continue to be a powerful tool in the hands of the comrades surrounding it. This tool is evolving through the time-space continuum, and thus we feel it is necessary to present a couple of historical "points". Squatting, as a stable infrastructure makes its first appearance in Greece, but also in many other countries in and beyond Europe, during the 70"s.
Both in Europe in general, and in Greece in particular, a number of squats that took place over the years, were more than a place used for housing or to accommodate alternative means of entertainment. They were instead a living, breathing political cell which would occasionally take aggressive characteristics. In Barcelona we meet the squat "Can Masdeu" where occupants, in one year faced hard oppression. Merely eleven squatters stood against 100 cops ordered to evacuate the premises, refusing to hand over the squat without a fight. One of the most vigorous movements was also the one in Copenhagen.
During March of '82 and while the squatting movement was growing bigger and bigger, the clash with the authorities grew proportionally as well. This very same year the first violent clash between cops and squatters took place. This act was the beginning of the end of the peaceful resistance against eviction. More squats in Copenhagen were to follow. During June 1986 the town council decided to evacuate the squat "Ryesgate 58" and the squatters began preparing their defenses. What happened next was the biggest clash between squatters and police forces that ever took place. (more…)
Tags: Anarchist Library Teflon, Black December, Continuous Deconstruction, Greece, Insurrectional Association of Theory and Praxis, Insurrectionary Association of Theory and Practice, Papamixelaki squat, Radio Fragmata, Squatting
Posted in Autonomy
Wednesday, May 11th, 2016
It's been about four months since the action campaign of Black December finished. The subversive experience of Black December and the density of anarchist action that developed was a springboard for fermentation and discussions for the reconstruction of anarchist methods in an informal shape. The actions in reference to Black December have continued until today, while cycles of discussions in and out of prisons have reached a number of conclusions, proposals and positions, that have as a common reference point the desire for intensification of our attack on the sites of power.
One part of those discussions was the proposal for an informal anarchist platform that lays the foundations for an informal coordination for diverse anarchist actions, thus enabling them to set in motion autonomous struggle campaigns with our own initiatives and forces, thus producing for ourselves the events and strategies we think necessary for today. A choice that reflects our desire to create centers of autonomous thinking and acting for those who challenge the existing social system. Following the initiative of the comrades from Rethymno, there was the proposal for the informal anarchist platform to be named The Insurrectionary Association of Theory and Practice, a proposal has been accepted by some comrades and is an open and simultaneously informal coordination structure that is still being worked on by those comrades who wish to adhere to it. (more…)
Tags: Black December, Fuck the Nations - Squat the World, Greece, Insurrectionary Association of Theory and Practice, Letter, Nikos Romanos
Posted in Autonomy
Friday, April 29th, 2016
This anarchist counter-information project is an ongoing work in progress; 2016 lightweight redux for mobile phone browsers…
Posted in Autonomy
Wednesday, April 27th, 2016
"The proposal unfolded, the rebellion was generalized, some people undertook to respond to the call, fighters were active and the clock started to move: with different activities ranging from roadblocks, blockades, marches, closing of schools, explosive attacks everywhere, arsons, and other acts. All was called forth by this insurrectionary project, a coupling of theory and practice in action, a convergence between thought, analysis, action and proposals for destruction."
– From a responsibility claim of anonymous comrades in Mexico for three bomb attacks against targets of authority, in the framework of Black June
For us, the month that passed was a testing ground for the informal coordination of anarchist action, at the same time being an experimental attempt for a political coexistence of comrades from different political origins and outlooks, who while maintaining their political autonomy would contribute to the realization of a subversive plan oriented around four key political directions: direct action, diversity of tactics and theories, the desire for a common coordination, and informal organization.
The campaign of Black December was a gathering point for the strategic direction of informal organization and to restart the continuous anarchist uprising in our own territory and internationally. This is why I think it was worthwhile, both for the prospects of enlarging anarchist attack and to look for paths where anarchist practices will meet, so that everyone who participated in this subversive undertaking will not just stay where they are, but will look for the right means to ensure the continuing informal coordination of anarchist action, defining our own coordinates within the social war and thus shaping those conditions that will allow us to strengthen and empower a polymorphic front to diffuse the seed of continuous anarchist insurrection in the metropolises of the world. (more…)
Tags: Analysis, Black December, Greece, Korydallos Prison, Nikos Romanos
Posted in Autonomy
Wednesday, April 27th, 2016
Presentation of Nikos Maziotis:
"Armed Struggle, Revolutionary Movement, and Social Revolution"
Athens Polytechnic, November 2014

[The talk began with various brief greetings to comrades attending the presentation, those of the squat KVOX for organizing the event, a reference by Maziotis to the government preventing him from speaking by phone to a prior meeting, etc. After this presentation, there were also some questions and responses which are not yet translated]…
This presentation deals with the theme, "Armed Struggle, Revolutionary Movement and Social Revolution" and has as its goal to show the clear and undeniable connection of armed struggle with the creation of a revolutionary movement that is a necessary precondition for social revolution, for the overturn of State and Capital.
I also believe that such a discussion is a good opportunity to begin political work that will aim at the creation of a certain form of political structure, that is to say a revolutionary movement that will try to overturn the rule of state and capital in the present-day Greek territory. Our goal as Revolutionary Struggle is the creation of such a revolutionary movement, and we have pursued this with our acts and our words. I believe with these words and acts we have brought political armaments and analysis into the anti-authoritarian space which can be used to build the base of a revolutionary movement. I would underline that a similar presentation in Thessaloniki at Terra Incognita squat at which I spoke, also fueled conversations and efforts to begin political work to form a revolutionary movement. (more…)
Tags: 17 November, Analysis, Athens, ELA (Revolutionary People's Struggle), Greece, Nikos Maziotis, Repression, Revolutionary Struggle
Posted in Autonomy
Friday, April 22nd, 2016
there will be english/german translation if needed at every workshop!
all workshops/talks will take place @ Medienwerkstatt/EKH!
there will be vegan food for donation every day.
Thursday 28.04.2016
Infopoint starts @ 18h
20h Film @ Medienwerkstatt, EKH 2. Stock: "WIR SIND ALLE §278A"
Doku über die Repression gegen TierrechtsaktivistInnen in Österreich 2008 (German with English subtitles) – Film about the repression of 2008 against animal rights activists in Austria
Trailer
22h Bands.
Schattenlicht (Black Metal Punk, Wien)
http://schattenlicht.bandcamp.com/
Human Host Body (Black Metal HC Punk, Koper)
http://humanhostbody.bandcamp.com/
Oaken (Dark Hc Punk, Budapest)
http://oaken.bandcamp.com/
Friday 29.04.2016
Infopoint starts @ 14h
17-19h @ Medienwerkstatt
Der Phönix stieg nicht aus der Asche
Seit einem Jahr sind AnarchistInnen und andere in Tschechien mit der größten Polizeirazzia der letzten Jahre konfrontiert. Die Operation 'Fenix' ist aber nicht nur eine Repressionswelle. Zum ersten Mal haben wir mit einem Hinterhalt der Bullen, Provokation, erfundenem Komplott und historisch zum ersten Mal mit dem Vorwurf des Terrorismus zu kämpfen. Warum passiert das alles gerade jetzt? Ist für die Repression wirklich der am meisten militante Teil der Bewegung verantwortlich und hilft es uns wenn wir uns zurückhalten, oder gibt es auch andere Formen und Wege sich mit der autoritären Macht des Staates auseinander zu setzen? (more…)
Tags: ABC Wien, Austria, Solidarity Event, Vienna
Posted in Autonomy
Thursday, April 21st, 2016
Actividad libre de alcohol y humo
Habrá: Comida vegetariana y vegana
Música en vivo: Yigo dos mil dosis, Deviolencia, Juan trova, En huelga
de arte, Guerrillero oculto
Proyecciones
Feria Libertaria (¡Trae la tuya!)
Rifas y mucho más…
Aporte: $2.000
Fecha: Sábado 30 Abril
Hora: Desde las 18:00 hrs.
Lugar: Casa Volnitza #1629 metro Los Héroes
PARA CONOCER MÁS DE ESTA ACTIVIDAD DEJAMOS UNA RESEÑA DE LO QUE FUE EL 1º CAMPEONATO SOLIDARIO
Esta iniciativa nace como una propuesta para realizar jornadas de solidaridad concreta con la realidad anticarcelaria, pero al margen de lo "festivo" y el uso de alcohol y drogas. Excluyendo lo competitivo, los deportes de combate, para muchxs son una forma de vida, y en este caso se convirtieron en el motor de esta jornada, cuyo eje articulador fue generar reflexión sobre la realidad anticarcelaria y a la vez, solidarizar con los compañeros involucrados en el caso Security, especialmente con el compañero Marcelo Villarroel Sepúlveda. (more…)
Tags: Chile, Martial Arts, Santiago, Solidarity Event
Posted in Autonomy
Sunday, April 10th, 2016
Chaotic Variables
A Theoretical Contribution In Proposal for an Informal Anarchist Platform
1) Disobedience is a virtue
"You are obliged to pretend to respect people and institutions that you consider irrational. You live by fashion in a cowardly era, attached to ethical and social conventions you despise, that you condemn and you know they lack of any background. It is this constant contradiction between your ideas and desires and all the dead formalities and conceited spearheads of a culture that makes you sad, disoriented and unbalanced. In this unbearable struggle you lose every dance for life, all sense of your personality as every moment they oppress, they limit and control the freedom of your strength. This is a poisonous and deadly blow caused by the civilized world."
Octave Mirbeau
We have long since opposed the world of authority and its countless projections and impositions on our lives. We have toed the line with the world of anarchy seeking to find accomplices in the "crime" of anarchist insurrection as a living stance towards the barbarism of modern times.
So far we have attempted to realize smaller and bigger mutinies, always on the principles of self-organization, anti-hierarchy and horizontal structures. Seeking through collective processes to achieve our personal self-education in order to acquire experiences, becoming familiar with anarchist procedures while making our "possessions" more and more forms of struggle, we came to meet each other based on common objectives and aspirations so as to continue wandering on the paths of anarchist action, walked or not up to now. (more…)
Tags: Analysis, Black December, CCF - Metropolitan Violence Cell, Chaotic Variables, Conspiracy of Cells of Fire, Informal Anarchist Federation (FAI), International Revolutionary Front
Posted in Autonomy
Wednesday, April 6th, 2016
Phone call intervention from Korydallos prison isolation basement by imprisoned member of CCF, Christos Tsakalos, during an event to promote the launch of the pamphlet "The Source of Victimization" by Alfredo Cospito. Cospito is jailed in Italy for the FAI armed attack against CEO Roberto Adinolfi of Ansaldo Nucleare.
Good evening comrades (…) I will begin with a phrase I had read somewhere and says "it is at the difficult time of repression, where we prove the level of our consciousness."
Alfredo Cospito's pamphlet "The source of victimization" is not only interesting from a historical perspective, as it describes the situation and degradation of the anarchist movement, after the carnage of Piazza Fontana. It has a special interest because, unfortunately, it is largely reflecting the mentality of victimization that is widespread in the Greek anarchist milieu.
But let's consider things from the beginning …
Speaking of the urban guerrilla in the years after the junta, the focal point was the murder of Christos Kassimis, member of E.L.A. (Epanastatikos Laikos Agonas – Revolutionary People's Struggle) in 1977, in a gunfight with cops at the facilities of the German company A.E.G. in Renti area, during the placement of incendiary bombs. After comes the arrest of Giannis Seriffis, who talks about being framed up by the prosecuting authorities due to his ideas. From 1977 and for many years the vast majority of those arrested either for «terrorist» activity, or conflicts in demonstrations, followed the line of advocacy of the "frame-up". (more…)
Tags: 17 November, Alfredo Cospito, Christos Kassimis, Christos Tsakalos, Christos Tsigaridas, Conspiracy of Cells of Fire, Conspiracy of Cells of Fire : Imprisoned Members Cell, Dimitris Koufodinas, ELA (Revolutionary People's Struggle), Giannis Seriffis, Greece, Karditsa, The Source of Victimization (Zine)
Posted in Autonomy
Tuesday, April 5th, 2016
Call out from Greenhouse Infoshop Project, Philippines.
Email: emmagold_man [at] yahoo [dot] com
greenhouseinfoshop.blogspot.com
Tags: Greenhouse Infoshop, Philippines, Zine
Posted in Autonomy
Monday, March 28th, 2016
We just collectively organized recently a one week event called "Equality Fest" March 6, 2016- March 13, 2016. This event was our solidarity activities in celebration of women's month. There was a book launched/discussion and presentation about Anarcha-Feminists in the Philippines, there were also art exhibition, film screening, skill-sharing/workshops, free market and Food Not Bombs, interpretative dance and gig.
The Anarcha-Feminists in the Philippines Book was made by three entities, Mobile Anarchist School Project who conceptualize the book making project, Die Media who made the research studies, Etniko Bandido Infoshop who print and publish the book in English. (more…)
Tags: Anarcha-Feminists, Anarchist Gatherings, Food Not Bombs, Philippines, Zine
Posted in Autonomy