'Autonomy' Archives
Monday, January 30th, 2012
Nearly one year after the eviction of the neighbouring houseproject Liebig 14, our project Rigaer 94 and the squatbar Kadterschmiede got attacked by cops.
On 28th of January 2012, a demo against a police congress and the urban operations-conference in Berlin took place. At night there was an after-demo
soliparty in Kadterschmiede which is located in Rigaer 94. Before the party had even started, the area was already swarming with cops. Soon the usual quarrel with the cops at our gate to the street began. It is not unusual that they try to get into the yard and cause some trouble. At first, they were held back by our outer gate as always. But then they tried to find other ways into the house, climbing over walls and sneaking through basements. They got through to the front door of Kadterschmiede and started to destroy it as well as the entrance door to the living space of Rigaer 94. (more…)
Tags: Berlin, Fuck the Law, Germany, Repression, Rigaer 94, Rigaerstrasse
Posted in Autonomy
Sunday, January 29th, 2012
Falsified results of parliamentary elections seem to be a serious occasion for many thousands of malcontent people to express their disagreement to authority during really mass demonstrations over Russia. At the same time number of direct actions related with sabotage of state institutions also grows by leaps and bounds…
10 – 13.12.2011 – In the urban districts of Moscow: Donskoy and Novogireevo windows were smashed in the offices of ruling United Russia party. Actions were held by anonymous people.
15.12.2011 – In Yuzhno-Sakhalinsk town unknown freedom fighters have attacked local office of United Russia by fire. (more…)
Tags: Insurrection, Moscow, Russia, United Russia party
Posted in Autonomy
Thursday, December 22nd, 2011
We don't demand anything, we want everything!
People all over the world are taking their protest to the streets fighting for their rights and freedom to overturn the current conditions. But why not here? The German reality is marked by social exclusion and cuts in the supply of basic essentials. (more…)
Tags: Berlin, Fuck the Law, Germany, Insurrection
Posted in Autonomy
Thursday, December 15th, 2011
Here is a brief report on radical acts of social confrontation in Russia since 9th November and until today. Nowadays we are faced with the pre-revolutionary situation of great people's disturbance all over the country after parliamentary elections, where United Russia, the party of the ruling bunch of corrupted bureaucrats and oligarchs, took its "victory" due to massive falsification. We all hope here, that this not only beginning of the end of this semi-authoritarian regime, but also the dawn of people's liberation – libertarian revolutionary struggle. (more…)
Tags: ALF, Black Bloc, Conspiracy of Cells of Fire: Russian Cell, Gazprom, Insurrection, Moscow, Red & Anarchist Terror Section (RATS), Russia, Sabotage, Shelkovo, St. Petersburg, Ufa city, United Russia party
Posted in Autonomy
Thursday, October 27th, 2011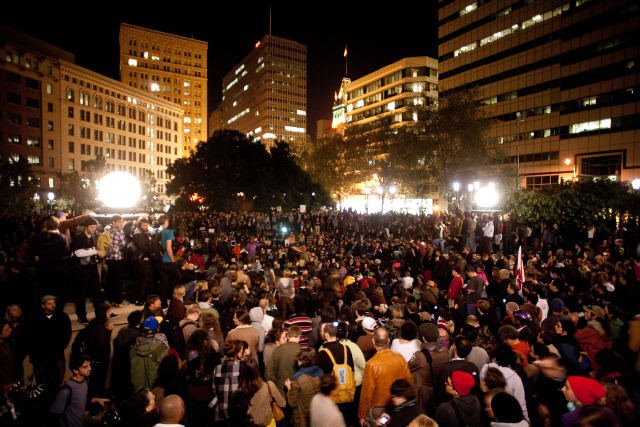 325 receives and transmits : Source
Below is the proposal passed by the Occupy Oakland General Assembly on Wednesday October 26, 2011 in reclaimed Oscar Grant Plaza. 1607 people voted. 1484 voted in favor of the resolution, 77 abstained and 46 voted against it, passing the proposal at 96.9%. The General Assembly operates on a modified consensus process that passes proposals with 90% in favor and with abstaining votes removed from the final count.
PROPOSAL:
We as fellow occupiers of Oscar Grant Plaza propose that on Wednesday November 2, 2011, we liberate Oakland and shut down the 1%.
We propose a city wide general strike and we propose we invite all students to walk out of school. Instead of workers going to work and students going to school, the people will converge on downtown Oakland to shut down the city.
All banks and corporations should close down for the day or we will march on them.
While we are calling for a general strike, we are also calling for much more. People who organize out of their neighborhoods, schools, community organizations, affinity groups, workplaces and families are encouraged to self organize in a way that allows them to participate in shutting down the city in whatever manner they are comfortable with and capable of.
The whole world is watching Oakland. Let's show them what is possible.
The Strike Coordinating Council will begin meeting everyday at 5pm in Oscar Grant Plaza before the daily General Assembly at 7pm. All strike participants are invited.
Stay tuned for much more information and see you next Wednesday.
Since this announcement, social media has been abuzz with calls for a US-wide General Strike and a Global General Strike!
Tags: #Occupy, Economic Crisis, General Strike, Oakland, Occupy Oakland General Assembly, Oscar Grant, Oscar Grant Plaza, USA
Posted in Autonomy
Thursday, October 27th, 2011
On October 8th, at the completion of the campaign 'Keep in motion – Abolish capitalism', over 150 people demonstrated in Bern against the State and the Capital. After more than a month in which various counter-information actions were held about the evils of capitalism, anti-capitalists/anarchists took their criticism to the streets again.
The protest rally flowed calmly, apart from two small incidents. For instance, independent city councilor Jimy Hofer approached a group of about 60 protesters. He first addressed to them verbally, tried to snatch their front banner, but also turned violent against a protester. Only then, pepper spray was used to ward off his attack.
The gathering was scheduled at 16.00 o'clock outside Heiliggeistkirche at Bahnhofplatz. Demonstrators were welcomed, while examples were used to indicate which damages capitalism inflicts on a daily basis. With slogans and fireworks, the demo went through the Altstadt (old town). When the protesters block reached Kornhausplatz, people had a chance to hear about the anarchist struggle for a world without State and Capital. They put up a banner there, which read SCHEISS AUF WAHLKAMPF, WIR WOLLEN KLASSENKAMPF ('Fuck the electioneering; we want class struggle').
In Hirschengraben demonstrators and passers-by got more familiar with the critique on capitalism and its guarantor, the bourgeois State. It also became apparent why reforms will never lead to a substantial improvement in living conditions. The protest march ended in Bahnhofplatz.
This demonstration marked the completion of the anti-capitalist campaign and the ongoing struggle against a system where every day tens of thousands are starving while others accumulate billions via property rights; against a system in which the vast majority is forced to sell their labour-power; against a system where a small minority possesses and determines everything; against a system which goes further without taking account of nature, animals and humans.
For a self-organized society without domination.
For the social revolution!
Source/More info: ak-kampagne.ch via Contra-Info
Tags: Bern, Demo, Switzerland
Posted in Autonomy
Saturday, October 22nd, 2011
Rome, Italy, October 15 2011: anger explodes uncontrollable during a demonstration against the austerity measures imposed by the government to tackle its economic crisis.
The official organizers, inspired by the Spanish movement of the 'Indignados', had called for a 'pacific demonstration' in order to democratically express their dissent. But such an invitation can no longer be accepted: hundreds of angry people, most of them kids in their teens with no connection whatsoever with political groups or organizations, just took to the streets of Rome to destroy the misery of the existent, attack banks and shops, and finally engage in a battle against the police in Piazza San Giovanni.
As far as we know 12 kids were arrested that day, almost all of them underage. Two days later, on October 17, police raided the houses of dozens of anarchists all over Italy in search of 'weapons' supposedly used during the demonstration. The searches, carried out without warrant but relying on the special powers granted by article 41 TULPS (alleged possession of weapons and explosive material), came to no result.
This communiqué of Asilo Occupato from Turin, picked up among many others, offers a beautiful insight into the event. For more info and communiqués see informa-azione.info
A march was held in Rome on 15th October against the new financial measures of the government and the austerity measures adopted to tackle the worn-out spectre of the crisis. In practice people took to the streets to react against the threat of the nth season of tears and blood to the detriment of the poorest, always forced to tighten their belt and to endure daily sacrifice and exploitation in a world full of goods and governed by the interests of the few who can afford to consume.
For the organizers, the sinister caravan of citizenists and Italian 'indignados', it was meant to be a pacific march, a lively but respectful stroll 'to have our say', to express the harmless buzz of opinions timidly and from inside the ranks. A pre-prepared package, a film already seen and whose end was foreseeable, all this inside the balance of a well managed normality. The fair game between power and the recuperators of anger enables the functioning of the desert of real democracy by suffocating the storming of hostile passions.
But this time there was no theatre, the march broke down with the first smashed windows, and the spectacle went up in smoke among the clouds of teargas and the rain of stones.
A chaotic rhythm of destroyed cash machines and shops resounds on Via Cavour, a looted market and cars in pieces, that is to say the expression of a fury which takes aim at random.
To organize oneself in order to hit banks and the provocation of luxury is the first step to invade the streets and knock down the physical places of exploitation, one by one. To know how and when to do it is a question of time, space and a lot of methods to be learned in the practice: to set fire to a car in order to erect a barricade is a different thing than do it in the middle of a march thus endangering the rest of the demonstrators and those who live in the opposite building, which also pushes possible accomplices away. Black hoods and helmets are useful tools to protect oneself and to remain anonymous, but they are not a uniform to show off. Let's leave the logic of military blocks to the press of the regime and to the reports of the police, we are angry proletarians. Today the hatred towards the bosses and the police is not exclusive to militant sects worn out by years of isolation and search for purism, but a reality that enters with force the life of so many.
14th December 2010 in Rome, the battles of Val Susa against the TAV, the revolts in Greece and mass expropriations in London tell us something on the social temperature of the present in which we live, on how endurance has gone out of fashion. We don't give a fuck of demonstrative gestures and allusions to revolt. As a very long winter of pacification seems to finally croak, rebellion doesn't go through symbols, even if the latter are more beautiful and evocative than the zombies of politics, but it goes through actions and practical and efficient instruments. Identities and ideological fetishes catch on exactly because of a historical lack of insurrection, whereas today to pick up the possibility of insurrection means to take the responsibility for raising one's sights.
The battle of Piazza San Giovanni was an occasion to measure oneself against police power, and there the day took its mass breath. There were people of all kinds and ages to face police charges, many unmasked and at their first experience in the streets… nothing was arranged and decided in advance. The strongest and most explosive moment of the demonstration, the one that brought down all plans, stirred the blood and made the atmosphere hot had as its only protagonist the determination to take hold of a piazza and defend it, the uncontrolled and widespread anger.
There is much to learn from this demonstration of courage, displayed mainly by fed up kids without flags, like many of their peers in many other cities of the world. What Black Bloc? Instinct, practical intelligence and sudden reciprocity of intents: to attack a police van, re-launch the teargas and charge the police. The shout is Free Rome. Vandals can do it by themselves.
Organization by little groups, affinities and friendships, precise objectives and agility are common characteristics that make us almost undetectable to the eyes of the enemy. The civil war scenario that resonates from many parts of the world has crashed the faded image of the Spanish protest… the party of the citizens has lost. The call of revolt is much stronger. We won't ever go back… Fuck off!

Asilo Occupato of Via Alessandria 12, Turin.
19-10-11
–
For those who want to write their solidarity to the arrested ones here is the list. Send information to modernize this list.
Ilaria Ciancamerla
c/o Casa di Reclusione di Rebibbia.
Via Bartolo Longo, 72
00156 Roma
Fabrizio Filippi
Robert Scarlet
Stefano Canigliaro
Giovanni Caputi
Giuseppe Ciurleo
Alessandro Venuto
Giovanni Venuto
Lorenzo Giuliani
Valerio Pascali
c/o Casa Circondariale REGINA COELI
via della Lungara, 29
00165 Roma
Tags: Economic Crisis, Insurrection, Italy, Riots, Rome
Posted in Autonomy
Friday, October 21st, 2011
Call for solidarity with autonomous social centre under threat of eviction + demo.
We are people who live in or use the Factory Social Centre, the building on the corner of Cave Street and Portland Square [Bristol]. A company called the PG Group wants to develop the building we are occupying. They plan to turn it into luxury flats, offices, a cafe, an art gallery and a small health centre. Aside from the possible health centre, we don't see their development plans as good for this area. Also, when all other information suggests that the NHS is cutting back on public outpatient nursing, we have doubts about what kind of heath centre it would be and if it will really happen.
We don't want to be moved on and we don't want this building to be developed. We are asking for your support.
We have worked hard since we squatted here a year and a half ago to turn this building into a home and into a space for free activities, creativity and political discussion. All of these things are under threat from this development. They are also threatened by similar developments in many other places.
We don't believe that St Pauls needs more luxury flats and offices. On Portland Square alone there are three buildings full of empty offices. We don't want to be removed in order to create more "beautiful" sterile vacant spaces. We see the PG Group's proposal as part of a process that is changing our city – and St Pauls in particular – by making more places that are only comfortable for people with more money. This process – often called gentrification – pushes up prices and displaces existing residents, destroying the relationships that people have built with their neighbours and their neighbourhood. It leads to even more security cameras and police to stop people gathering in public space. We want this to stop.
The PG Group say that their aim is to "improve the environment of their community and, if possible, to make donations to charity." However, nearly all of their developments are luxury accommodation – which is useful to only a small section of the "community". For example, they developed the flats and serviced apartments on Portland Square. They were also part of the failed onedovelane development, which proposed building the second-highest skyscraper in the UK in St Pauls.
In addition to this, the main aim of the Grant Bradley Trust, the organisation PG give money to, is "the advancement of the Roman Catholic and Christian faith in any part of the world." It is a religious, rather than a charitable, organisation. Despite what they say, the PG Group are a development company like any other – who just use some of their profits to promote their own beliefs.
The PG Group are trying to get us to leave voluntarily by holding out the promise of another building that we could use. So far all they have offered is a shipping container for storage and the use of some meeting rooms. We reject this offer.
We want to make it clear: even if they offered us a suitable building, we do not want to leave. We believe that, in this situation, accepting another building in order to vacate this one for development would be the same as supporting what the PG Group want to do. We do not want to help them promote themselves as ethical and caring as they continue to damage neighbourhoods. We do not agree with their development and we do not intend to cooperate with it.
We are squatting this building. We do not legally own it. However, we believe that buildings should belong to the people who use them and open them up for others to use together, not to those who only want to make money off them. Laws exist to protect the interests of the rich and keep the rest of us shut out. That is why, if we have to, we will defy them. We know that this means that we are likely to face violent eviction but we believe that resistance is essential. We have to take a stand.

We are staying where we are and we call for those who support us to join us in struggle – for this building, for free spaces and against eviction and gentrification.
–

10 October 2011
In the early hours of the Monday and in response to the solidarity call from The Factory, a warning for the The PG Group was left at their offices in Redfield. Their lock was glued and graffiti left on the front door against a forthcoming eviction. Windows would have been smashed if it weren't for a disturbance.
They probably don't care about the vandalism, but we do know they care about the Chairman's precious catholic church nearby (funded by their 'trust'). The PG Group should expect a return visit to their offices soon to have their dated church windows destroyed. After that, the expensive stained glass windows of St Patrick's. Consider last night as a warning of more to come until the threat of eviction is terminated.
We will not wait to defend an eviction… we will go on the attack!
Tags: Bristol, Eviction, Fuck the Church, PG Group, The Factory, UK
Posted in Autonomy
Thursday, August 11th, 2011
In the video above, Darcus Howe, writer and broadcaster, names the 2011 UK riots an 'insurrection of the masses of the people' on the BBC. In this important turn in the discourse on the 2011 riots, Darcus Howe also links these events with those in Port of Spain Trinidad, Syria and other parts of the world. As shown in the link below he refers to the violence as the 'nature of the historical moment'. Darcus Howe, as part of the Mangrove Nine, was acquitted decades ago of trumped up, racially motivated charges of "rioting". The BBC will not repeat this video. (more…)
Tags: Darcus Howe, Fuck the Law, Insurrection, London, Mark Duggan, Police Brutality, Repression, Riots, UK, Videos
Posted in Autonomy, Social Control
Tuesday, July 12th, 2011
325 receives and transmits from a Malaysian comrade :
"… i send this news not because i agree with the objective of this civil liberation organization but more importantly, we are involved in the protest because of its support from ordinary people who are against the repression from authorities and the dictatorship government."
Latest News :
On 9 July, BERSIH (Coalition for Clean and Fair Elections, it is a coalition of leftists, NGOs and activist groups that advocates changes in the elections laws) made a rally which should have been a peaceful protest about electoral reform changes, the authority instead made Kuala Lumpur city into a police state. All road access has been blocked, shops and office buildings entirely been shut down for almost 16 hours. Public transport like trains being stopped in their services almost for every city station. (more…)
Tags: Demo, Kuala Lumpur, Malaysia
Posted in Autonomy
Wednesday, June 29th, 2011
Download: Click for PDF Zine from Dark Matter Publications.
From culmine via this is our job:
May 30 saw the publication of 'The Sun Still Rises', a pamphlet containing a chronology of Conspiracy of Cells of Fire attacks and the following new text by the group:
The Sun Still Rises

Knowledge chooses its project, each project is new and chooses its moments, each moment is new, but simultaneously emerges from the memory of all the moments that existed before

—The Interior of the Absolute
1. The Beginning
The Conspiracy of Cells of Fire Revolutionary Organization didn't begin its activity from out of nowhere. It wasn't as if a straight line had cut through space and time. It was a future crying out from the past. The Conspiracy comprised a collective synthesis, connecting the backgrounds and viewpoints of all who participated in it and drawing valuable conclusions from past experiences of subversive projects and attacks we took part in.
It represented our desire to take a step further, not to climb some ladder of informal hierarchy that fetishizes violence and its methods, but to simply advance, move forward, and explore new perspectives, making the shift from a "bunch of friends" to an organization, from the sporadic to the consistent, from the spontaneous to the strategic. (more…)
Tags: Arson, Christos Tsakalos, Conspiracy of Cells of Fire, Conspiracy of Cells of Fire : Imprisoned Members Cell, Damiano Bolano, Fuck the Law, Gerasimos Tsakalos, Giorgos Nikolopoulos, Giorgos Polydoras, Greece, Haris Hatzimichelakis, Informal Anarchist Federation (FAI), International Revolutionary Front, International Solidarity, Michalis Nikolopoulos, Olga Economidou, Panayiotis Argyrou, Sabotage, The Sun Still Rises
Posted in Autonomy, Cognitive Liberty, Prison Struggle
Monday, May 16th, 2011
It is almost a month. Rumours about (paid) paramilitary who will attack the squatting village of Pandang Raya. They are people hired by Goman Waisa, a conglomerate who have land conflict with the squatting inhabitants. During daily basis the people have been terrorised by the planning of execution by using paid paramilitary to evict the people. This strategy is used as to avoid police participation after a defeat (of the police force) a year a go during the eviction. At that time, the small quantities of Pandang Raya inhabitants were successful in defending their land and attacking the police. (more…)
Tags: Goman Waisa, Indonesia, Pandang Raya, Paramilitaries, Raid, Village Struggle
Posted in Autonomy
Wednesday, May 11th, 2011
From Culmine, translated by War On Society (the text was sent to the Congress but they did not care to share it):
we receive and publish:

* Some Revolutionary Insurrectional Anarchist individuals
Greetings to the First Anarchist Congress of Mexico. We introduce ourselves as individuals who, in sharing the concerns that we explain below, have realized that these concerns are shared by comrades elsewhere who are involved, as we are, in public or open struggle and also in clandestine or insurrectional struggle–this being the reason that we prefer to communicate in writing with the goal of safeguarding our anonymity, not out of cowardice but for our own security. (more…)
Tags: First Anarchist Congress of Mexico, Letter, Mexico, Some Revolutionary Insurrectional Anarchist individuals
Posted in Autonomy
Thursday, May 5th, 2011
May Day 2011 comes on the heels of two general strikes (29S, in September, called for by all the unions, and 27G, in January, called only by the anarchosyndicalist and radical independent unions). These strikes saw the creation of over half a dozen neighborhood assemblies and a periodic coordination between them, as well as other groups organizing at a citywide level. The confrontational barricades and pickets of the minoritarian unions (CNT and CGT) were vindicated, as were the insurrectionary anarchists' tactics of attack and idea of an uncontrolled generalization of the struggle. (more…)
Tags: 1st May, Barcelona, Black Bloc, Catalan Independence, Catalunya, CGT, CNT, CNT-AIT, Patricia Heras
Posted in Autonomy
Wednesday, May 4th, 2011
After the civil unrest following the raid and evictions on Telepathic Heights, the stakes are clearly raised for all parties for any future eviction.
Meanwhile, three more people will appear in Bristol Magistrates Court this morning, including one charged with "Attempted Murder". It is notable that many of those charged with serious offences have been of 'minors' – i.e. those under the age of 17. It seems the young and naive will bear the brunt of the polices' judicial revenge. (more…)
Tags: Bristol, Classics Freeshop, Emporium, Eviction, Fuck the Law, Stokes Croft, UK
Posted in Autonomy