'Autonomy' Archives
Thursday, January 2nd, 2020
via Noticias de la Guerra Sociale:
[Reportes redactados y difundidos por redes sociales]
Santiago de Chile
9 de diciembre
53vo Día de Revuelta Social
¡EL AMOR POR LA LUCHA ES NUESTRA ENERGIA!
En la Plaza de la Dignidad se junta cada vez menos gente. Hoy no somos miles, apenas somos cientos. A pesar de esto la conflictividad no disminuye, el amor por la lucha y la sed de venganza son incombustibles.
El monumento a Baquedano está intervenido con lienzos en contra los abusos en del SENAME, bellísimas arpilleras y costuras rebeldes. También hay algunos chemamüll Mapuche.
Hasta allí llegó una columna que caminó 500 kilómetros desde la ciudad de Concepción, se van abriendo paso entre aplausos y en sus ojos se nota la decisión de seguir avanzando, los esbirros que tenían copado el sitio son quienes retroceden.
Al poco rato llega una caravana de vehículos blindados policiales, son recibidos por lxs encapuchadxs con una lluvia de bombas incendiarias y piedras.
Hermanxs de la primera línea relatan que el viernes un manifestante término con fractura craneal y hemorragia interna al ser golpeado directamente con una bomba lacrimógena en su cabeza, está grave y hospitalizado. Comienza la acampanda de la "Mesa Social" afuera de la Corte Suprema.
Encapuchadxs realizan una bulliciosa protesta dentro de un Mall contra el consumismo navideño. (more…)
Tags: Chile, Noticias de la Guerra Social, Santiago, Social Insurrection
Posted in Autonomy
Thursday, December 26th, 2019
Parte II
Ya ha pasado más de un mes desde que difundimos la primera parte de este texto compartiendo información y reflexiones anárquicas sobre el contexto chileno desde el inicio del llamado "estallido social" desatado el día 18 de octubre. El anterior abordaba hasta la víspera de la gran manifestación en el centro de la ciudad anunciada para el día viernes 25 de octubre.
Desde ese día hasta ahora han ocurrido muchos sucesos que podrían ser expuestos de manera detallada, sin embargo hemos seleccionado ciertos elementos y reflexiones que nos parecen relevantes para difundir, sabiendo que otrxs compañerxs han estado también aportando a al registro y la circulación de información sobre lo que está ocurriendo en estas tierras en revuelta.
Esperamos que estas palabras que lanzamos hacia nuestrxs compañerxs de todas partes puedan nuevamente contribuir a propagar una vez más experiencias y reflexiones que puedan ser esparcidas en los más diversos idiomas y latitudes donde se expresa la anarquía:
1. EL INTENTO FALLIDO DE PACIFICAR LA REVUELTA
Con más de 1,5 millones de personas en el centro de la ciudad de Santiago, la autoconvocada "marcha más grande de la historia" concentró el día viernes 25 de octubre a toda la diversidad de personas en lucha.
Con una prácticamente inexistente participación de partidos políticos de izquierda y sin ningún tipo de capacidad de amenaza desde grupos fascistas, todas las formas de manifestación se desarrollaron hasta altas horas de la noche a pesar de la restricción del toque de queda, incluyendo una vez más intensos disturbios y enfrentamientos con la represión en el centro y las periferias de Santiago y otras ciudades.
Mientras la represión hacía su trabajo propagando e intensificando sus formas de violencia, desde el gobierno y los medios de comunicación se intentó imponer la idea que esta marcha sería la culminación de un proceso en el que la gente instaló sus demandas y que ya era hora de "volver a la paz". Los canales de televisón culminaron esa noche las transmisiones conjuntas iniciadas el 18 de octubre y, luego de la campaña de lavado de imagen sobre los militares, los días posteriores el gobierno retiró a las tropas de las calles. Luego, los días sábado 26 y domingo 27 de octubre, se decretó el fin del toque de queda en Santiago otras ciudades del país.
(more…)
Tags: Analysis, Chile, Repression, Riots, Santiago, Social Insurrection
Posted in Autonomy
Thursday, December 26th, 2019
It's been six years since our anarchic comrade fell from the bullets fired by a security guard during an attempt to expropriate a Bank on December 11, 2013.
From that day we began to write the lines of memories that have allowed the life of the comrade to last in anarchic actions remembering the various methods that our comrade used as a weapon against power, from participating in musical projects, libraries, drawing to taking part in the direct actions.
Today we know that his actions and memories are claimed beyond the close circles that shared his life with him throughout the years, which is a positive sign that confronts all forgetfulness and regret.
"Pelao Angry" is a comrade that we lack. Maybe he would be with us in the midst of the current revolt, fighting the interests of power in a thousand ways. What we do know is that around the world his name resonates in barricades, books and the most varied initiatives of anarchic practice.
Six years after his death in action, our option remains to keep our memory on a war footing against all authority.
AGAINST FORGETFULNESS AND REPENTANCE
SEBASTIAN "ANGRY" OVERSLUIJ PRESENT!
Chile. December 2019
Tags: Chile, International Solidarity, Sebastián Oversluij Seguel
Posted in Autonomy
Thursday, December 19th, 2019
What, When and Where?
Father Frost Against – festival (formerly Father Frost Against Putin) is a cultural and political festival designed to stimulate critical thought and reflection, and to work out new activist strategies, with a focus on developments in Russia and the post-Soviet space. The festival has been organised since 2014, and the 7th edition will take place in various locations in Helsinki, Finland, on 3 – 5 January 2020 and is organized by local activists with active support and participation from individuals and groups from Russia and the post-Soviet space.

Main Aims of the Festival
Redefine social and political fields, through information exchange with successful projects and strategic planning.
Creating a space for networking and connecting with like-minded people.
Involving new participants and guests in the festival program.
Developing a new language to indicate current and relevant issues.
Who are we?
We are Studio 4.413 /a laboratory of alternative discourse and intersectional kinship based in St. Petersburg, created to shift art and activist communities. Studio 4.413 includes artists, human rights activists and independent media representatives from Russia and the post-Soviet space.
https://www.facebook.com/studio4413/ (more…)
Tags: Dictatorship, Festival Father Frost against Putin, Finland, International Solidarity, Russia, Solidarity Event
Posted in Autonomy
Tuesday, December 17th, 2019
بەکوردى بۆ بڵاو کردنەوە [ku]
"From Baghdad to Beirut, we shall continue. No Sunni, no Shia…" [ar]
The Iraqi government is made up of all bourgeois factions in Iraq, and it is accepted by regional forces and the world bourgeoisie, but the proletariat tried to bring it down…
The "Green Zone" in Baghdad is a centre of the world's capitalism; the proletariat tried to occupy it and lost a lot of lives for it…
The port of Basra is a global corridor for oil exports and international trade and the proletariat blocked it, and tried to control it.
The Iraqi police, security forces, special forces and military forces are forces of global capitalism (with the participation of Shia, Sunni, Christian, Kurdish, and Turkmen bourgeoisie, with a large numbers of regional and international forces, including troops of America and Europe, Turkey, Iran, etc.), but the proletariat attacked them, their centres and detachments in the streets, and as many as 650 proletarians have been killed by them and more than 20 thousand wounded (this is not to mention the number of abducted and imprisoned…).
The proletariat in all rebellious areas of Iraq burned down the headquarters of the political parties (religious and national without exception), they burned down the houses of members of parliament and State officials and they also attacked security and police stations, media, judicial institutions and the Ministry of Justice, newspapers and television stations… By doing this, the proletariat attacked the whole State.
According to the prime minister Adel Abd al-Mahdi, this movement destroyed the national economy (capitalism) in all its aspects. The proletariat in its struggle attacked without exception everything, any symbol, any person, any base attached to the history of the authority and repression including military, diplomatic institutions, trade centres and secret services, internal as well as external. All the attacks on the repressive forces of Pasdaran in the city of Karbala are not really anti-Iranian as the media said, but it is a part of the class action against the repressive forces and centres in all their forms just like the attack on the Green Zone and the other places. (more…)
Tags: Anti-Militarism, Baghdad, Basra, Beirut, Iran, Iraq, Israel, Karbala, Lebanon, Middle East, Repression, Social Insurrection, Turkey, War
Posted in Autonomy
Tuesday, December 10th, 2019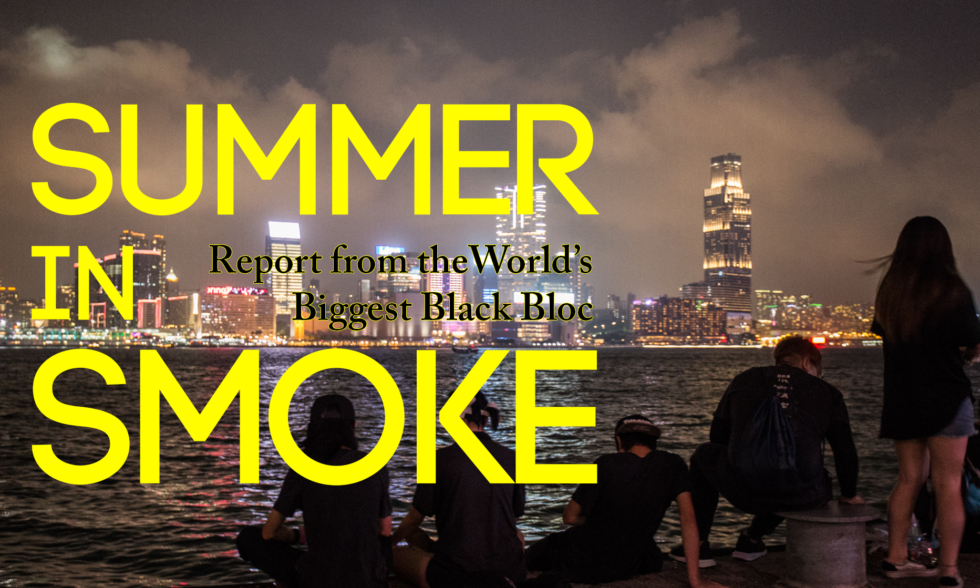 The following article was submitted to Chuang by Vitalist International. It is an account of events in Hong Kong over the summer and early fall of 2019, much of it from a firsthand perspective. We provided minor edits and designed the layout, but otherwise reproduce the piece here in more or less its original form. While the main thrust of the article is in agreement with our own views of events in Hong Kong, the piece is an intake and the opinions expressed here belong to its authors. At the bottom, we've included a gallery (provided by the authors) of 70+ posters, memes, graffiti and other graphics used in the movement.
für Sandra in liebendem Angedenken
by Vitalist International
It was only a matter of time before it happened. The protesters and the cops both knew it. On October 1st, a teenager was shot point-blank in the chest by police. The bullet missed his heart by approximately three centimeters.
Thousands of Hong Kongers gathered the next evening at a playground to fold paper cranes and wish the young protester a speedy recovery. They held banners saying "stop shooting our children!" and used the flashlights on their smartphones as torches to light up the night. In the center of the playground, a thousand origami cranes spelled out "Hong Kongers, Add oil!", a Chinese expression which has come to define the movement, meaning roughly: don't stop, keep going, add fuel to the fire. Within an hour, the protesters were setting up barricades in the streets and throwing molotovs at the nearest police headquarters.
The movement that began as a protest against a proposed extradition agreement with China has now entered its fourth month of unrest, with no end in sight. The bill — now withdrawn — would have granted the Chinese State unprecedented authority to extradite dissidents, criminals, and refugees to be processed in the shadowy court system of the mainland. Coming on the heels of 2012's Moral and National Education Law and 2014's Electoral Reform Bill,[i] this amendment was only the latest attempt at slowly dismantling the region's tenuous political arrangement of "One Country, Two Systems." With the movement rapidly evolving into widespread resistance against Chinese control, and the Hong Kong government declaring a State of Emergency, the situation has reached a political stalemate, with violence escalating on both sides. (more…)
Tags: Analysis, Arson, Black Bloc, China, Dictatorship, Hong Kong, How to make Molotovs, Intelligent Surveillance, International Solidarity, Letter, Repression, Revolution, Riots, Sabotage, Social Insurrection, Surveillance, Xinjiang
Posted in Autonomy
Tuesday, December 10th, 2019
+ Coordinated Attacks on 30 State and Capitalist Targets in Athens on Anniversary of Greek Insurrection
Here is a short report from last weekend in Athens, where a lot of things happened. On one hand the ultimatum of the government ended, according to which all squatters should leave the buildings until December 5th, and on December 6th the anniversary of the death of Alexis, who was shot by a cop in Exarchia in 2008 at the age of 15.
Originally published by Indymedia DE. Translated by Enough 14.
So we started on Thursday, December 5th with a demo of about 3000 people, all in black, many masked, helmets, wooden clubs, gas masks, the usual program. The demo went a round through the northern city centre with very loud shouts, among other things "All Greece hates the police" or "war against war", as a synonym for the fact that we are in a state of war, which now can only be answered with militancy. The demo passed the parliament, there were 63 Riot-Cops with gas masks standing around relatively bored, and it would have been easy for the demo to cause some trouble. But the demo remained peaceful, moved on to Exarcheia and simply dissolved there. Parallel to the demo, some people prepared a nice answer to the ultimatum: Instead of evacuating all buildings as demanded (in the greater Athens area alone that would be at least 46), 15 new buildings were symbolically occupied, one for each ultimatum day. Banners were placed and the situation of vacancy was pointed out, especially to migrants to use these buildings, with the support of the movement. Both the demonstration and the "house liberation" were kept silent by mainstream media, which is why the population barely noticed anything. (In the greater Athens area, by the way, countless buildings are currently empty!) (more…)
Tags: Alexis Grigoropoulos, Athens, Demo, Exarchia, Greece, International Solidarity, Squatting
Posted in Autonomy
Sunday, December 8th, 2019
ANTI-REPRESSIVE LIVE
"We're not going back to normality, because normality was the problem"
Santiago-Chile
Aamatas (thrash crust grind),Thessaloniki
Toxic minds (D-beat metal punk),Thessaloniki
Karkinoma (punk), Kastoria
Aishos (hc punk), Kastoria
Krampa (punk), Kastoria
Friday 13 December 10:OO p.m
Aristotles' University of Thessaloniki Technical School's Foyer
+ political poster's exhibition
+ books, stickers, brochures
+ distros, patches, t-shirts etc..
Revenues will be given to imprisoned anarchists in Greece and Italy
ANARCHIST SQUAT NADIR
This is our facebook event
https://www.facebook.com/events/3462890090451876/
Tags: Greece, Nadir Squat, Solidarity Event, Thessaloniki
Posted in Autonomy
Sunday, December 8th, 2019
—To Joaquín García Chanks and Marcelo Villarroel Sepúlveda, comrades and co-conspirators.
"For I am the sworn poet of all the intrepid rebels of the entire world,
And whoever comes with me leaves peace and routine behind,
And you play to lose your life every moment."
Walt Whitman, To a frustrated European revolutionary (1856), Leaves of Grass.
"… where there is danger, what grows saves us."
Friedrich Hölderlin, Patmos.
A month and six days after the insurrection began, Anarchy is still alive in the Chilean region. It is an unprecedented event in Chile and Latin America. It has been the kairos of Anarchy: the emancipatory moment that occurs in the relevant time and place, the bold incarnation of a pronounced denial of the State and of all authority.
The echo of the old anarchic slogan "Neither God nor State nor Patriarchy" rumbled throughout the southern geography and has made hearts vibrate from Cape Horn to the banks of the Sama and Camarones rivers.
It is evident that in their daily subversive work, the insurrectionary anarchism of the informalist tendency, maximized their potentialities and also explored their difficulties and their own limits, using ephemeral junctions – mutating from one place to another – that allowed them (via conflict and various contingencies) to sketch out the chromatic possibilities of their theoretical-practical background and, encourage unmanageable disobedience, concentrating specifically on individual actions and / or small affinity groups aimed at attack and expropriation.
However, dynamite was missing. Diesel and gasoline failed. The attack was spared. There was a lack of expropriations. The headquarters of ALL political parties were not demolished. No prisons or madhouses were assaulted. We lashed out at the symbols but missed the target. A gigantic bonfire is still pending for the hundreds of flags that are seen on the marches (including the red and black ones, because ALL the flags are full of blood and shit). This shortage has allowed the power of denial to divert to be "triumphant", instead of injecting the conflict with life and going beyond the institutional songs that already threaten to impose the peace of the grave. (more…)
Tags: Analysis, Chile, Gustavo Rodriguez, Letter, Revolution, Riots, Santiago, Social Insurrection
Posted in Autonomy
Thursday, December 5th, 2019
To Joaquín García Chanks and Marcelo Villarroel Sepúlveda, comrades and co-conspirators.

"… every revolutionary opinion draws its strength from the secret conviction that nothing can be changed."
George Orwell, The Road to Wigan Pier.
"Alicia: How long does it last, forever?
White Rabbit: Sometimes just for a moment."
Lewis Carroll, Alice in Wonderland.
The discontent are the new starting point of the impetuous popular protests that run through the geography of the globe. Hong Kong, France, Algeria, Iraq, Haiti, Lebanon, Catalonia, Ecuador, Bolivia and Chile, are the lavish protagonists of the wave of massive urban revolts that shakes the world.
While it is true that these profuse protests have very particular triggers that explain them (specifically Hong Kong and Catalonia, with their independentist rallies), it would be naive to think that this accumulated rage is disconnected. The increase in the costs of goods and services, coupled with austerity – with its consequent loss of jobs and unequal economic survival as global growth slows down – are the common denominator of most of these mobilizations.
However, it is undeniable that these protests also share another great backdrop that far exceeds the economic analysis and that very conveniently is not addressed in the means of mass domestication and intentionally escapes the analysis of political scientists and apologists of domination: anti-government convulsion, a tiredness against those who govern and, against all political parties, whatever their ideological color. A feature that withholds the absence of leadership and / or leaders and facilitates the ephemeral realization of Anarchy. (more…)
Tags: Analysis, Chile, Gustavo Rodriguez, Letter, Riots, Santiago
Posted in Autonomy
Sunday, November 24th, 2019
The Anarchist Union of Iran and Afghanistan believes that the Islamic Republic of Iran's regime will not hesitate to massacre millions of Iranians, like it has done in Syria and Iraq as well as in Iran these these last few days. Therefore, the Anarchist Union of Iran and Afghanistan is prepared to declare that it will cooperate with all Kurdish, Arab and Baloch armed opposition forces. With respect to the widespread repression of defenseless people in Iran, we must be able to provide them with the right tools to defend themselves, before there are more dead and the people's movement has been permanently suppressed. Therefore the need to form an armed revolutionary front to support and defend the people against the Islamic regime's executioners is urgent and necessary. If it is possible to transport weapons to people inside Iran, you should not hesitate for a moment to prevent more people from being bled and buried. The duty of the revolutionary and radical opposition outside of Iran is to provide logistical and strategic support to the struggles and resistance of the people inside Iran
Anarchist Union of Iran and Afghanistan
آدرس و اسامی صفحات مرتبط با اتحادیه آنارشیستهای ایران و افغانستان
Tags: Afghanistan, International Solidarity, Iran, Repression, Social Insurrection, War
Posted in Autonomy
Sunday, November 24th, 2019
WE ARE BAD AND WE WILL BE WORSE: WE ARE THEIR WORST NIGHTMARE!
Urgent Call to Anarchic Action
Next Monday 25 marks the International Day for the Elimination of the Violence against Women and we will not stay at home. We will go out with all our anti-systemic rage and we hope to spread the rage back to the sectors numb from the so-called "feminist movement."
We will not allow the Mexican State to rape and kill us while converting this day in an official act and we presume his Fourth Transformation as the end of
Patriarchy. Nor will we tolerate the police presence or allow them to reporters and journalists take pictures or videos of our faces: the press aims and the system shoots!
In his morning circus the pejeganso has decreed "the end of machismo in Mexico" and has ordered his subordinate Sheimbaum to declare the Alert for Gender Violence in City.
If the feathered peje thinks that by appointing ministers in the SCJN and doing statements grabs us, the asshole's wrong. As we have expressed before: we are aware of the presence in the national palace of a misogynist and sexist fascist, pro-life, ultraconservative and evangelicalist to which the left has allied in its constant opportunism to "take power" at all costs.
WE ARE NOT FOOLED BY THEM! (more…)
Tags: Anarcha-Feminists, F.B.I. (Féminas Brujas e Insurreccionalistas), Mexico, Mexico City
Posted in Autonomy
Wednesday, November 20th, 2019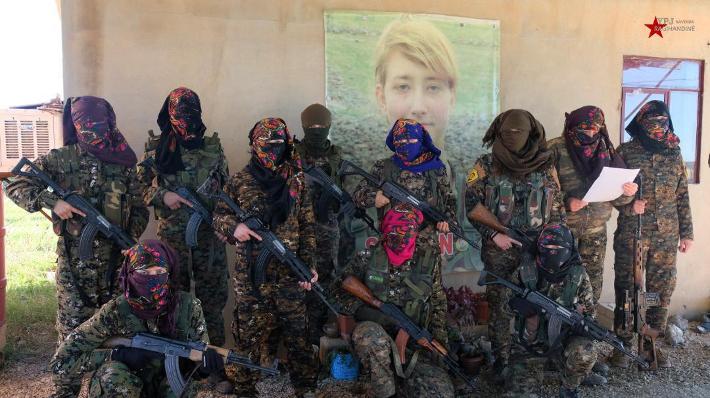 نامه ای از جانب یک آنارشیست انترناسیونالیست در روژاوا
Translation to Persian: Hasse Golkar
via barrikade:
Comrades,
I think it is important now that our voices of Rojava, out of the heart of that battle, are being heard. A fight for the life, for an existence in dignity, for real democracy and for the freedom of all women. I want to tell how the resistance of Serekaniye went on, how the beginning was, how the end was and also what happened in between. Serekaniye right now is in the hands of jihadist groups that are being supported by Turkey, upon approval by the United States. At a time they said there would be a five-day firearm rest…. we didn't believe it for one second. And that's how it was – the attacks didn't stop, maybe they've been reduced, but they continued attacking us with heavy artillery, bombings and airplanes. When there are bombings, there is not much that can be done; hide behind a tree and hope, that they didn't see you running or that they found your place.
Those five days of supposed firearm rest actually have been decisive for the United States and Turkey, to redefine the conflict, to realign the situation of war, confrontation and resistance against our forced withdrawal that no one expected. No one could believe it, after 11 days of resistance, beautiful and very hard at the same time. Leaving the city. The Turkish invasion of Serekaniye did start some days before, 8th of October, with a bombing of our military post that hasn't been answered, for not to unleash what happened later anyway. It was an attempt of the friends to protect the people and the society. But the next day, about 3 to 4 pm, another bombing of a post of the YPG took place, where 5 friends have fallen, and since then they bombed the whole border. (more…)
Tags: Islamic State in Iraq and Syria (ISIS), Kurdish Struggle, Kurdistan, Letter, People's Defence Units (Y.P.G.), Rojava, Serekaniye, Syria, Til Temir, Turkey, War, YPG International
Posted in Autonomy
Wednesday, November 20th, 2019
News, photos and videos from Greece.

1. D.K. – Public denouncement for my abduction and detention by the anti-terrorist police on 9/11/2019 –
https://athens.indymedia.org/post/1601137/
***

2. M.S. – Public account of the operation by the state terrorist agency
and my arrest – https://athens.indymedia.org/post/1601146/
***

3. Debrief from the solidarity actions with the insurrection in Chile –
https://athens.indymedia.org/post/1600817/
***

4. Co-ordination of anarchist/anti-authoritarian/autonomous squatted places and collectives inside the universities: Videos from the participation in two demos in solidarity with the squatted place of ASOEE
Video from the demo of 14/11/2019:

Video from the demo of 15/11/2019:

(more…)
Tags: Arson, Athens, Demo, Eviction, Exarchia, Greece, Molotovs, Patras, Repression, Riot, Sabotage, Thessaloniki, Video
Posted in Autonomy
Thursday, November 14th, 2019
The past few weeks have seen an intensification of the Nea Demokratia government's efforts to subdue the Greek anarchist movement and crush initiatives that offer alternatives to prison society. In particular, the anarchist neighbourhood of Exarchia in Athens has been a focal point for its aggression. A rough chronology of this repression as well as actions of solidarity and resistance taken by comrades in Athens is listed below.
The current rumour is that the State wants to evict 'all squats' by 17th November. Another rumour puts the deadline at 6th December. Both are significant dates in the history of the Greek anarchist movement, which are marked by annual riots. What 'all squats' means is not entirely clear. What is clear from the past few weeks however, is that attacks have been made on squats both inside and outside Exarchia, and as well as in cities in other parts of the country.
Evictions of migrant housing squats
The State's first focus for attack on occupied spaces has targetted the numerous squats that offered alternative housing to the dire state-run camps for migrants. These were self-managed spaces inhabited by migrants, anarchists and anti-authoritarians, often of considerable size. They were largely concentrated in Exarchia. (more…)
Tags: Athens, Eviction, Exarchia, Greece, Migrant Struggle, Repression, Squatting
Posted in Autonomy