'Autonomy' Archives
Monday, November 13th, 2017
They call it "Dangerzone"* – but it is just an ungovernable neigbourhood
Greetings from Berlin to Athens
We, individuals and groups from the Rigaer Street, welcome the initiative, to start a discussion about an insurrection and fill it with experiences from the past, current theories and practical possibilities. This is how we understood the call for the Insurrection Festival in Athens.
In the program, we discovered several aspects, that we in the Nordkiez of Friedrichshain are engaged in. There is no anarchist, anti authoritarian or left radical movement in Berlin, there is just a scene. The dullness of the majority of a fascist society, makes it complicated to get moving. In order to destroy overall power structures, we need to search for the confrontation in our local communities. A concentration of people, ideas and structures working against the state, are necessary to be able to protect oneself from outside aggression and be able to actually develop. (more…)
Tags: Athens, Berlin, Germany, Rigaer 94, Rigaerstrasse
Posted in Autonomy
Tuesday, October 24th, 2017
No to State, No to war. Yes for self-administration and the Social revolution
Immediate call to all our comrades Anarchists and Libertarians wherever they are
A direct and special call to our comrades Anarchists and Libertarians Arabic-speaking
No to State, No to war. Yes for self-administration and the Social revolution
For years and years we, anarchists and libertarians in Iraqi "Kurdistan", Europe and other countries all our publicities and our slogan have been about Yes for self-administration in everywhere and for all the communities, but No to State.
We raised our voice against the Kurdistan Regional Government (KRG) and its very recent scenario of referendum on "independent Kurdish State". We are very sure the other anarchists among Arab, Turkish, Assyrian and others had the same attitude. We also believe the same attitude from our anarchist comrades throughout the world to say no to State, authority, nationalism and to be against the nationalist and against pro-fascist war. (more…)
Tags: Anti-War, Civil War, International Solidarity, Iraq, Kurdish-Speaking Anarchist Forum (KAF), Kurdistan, Revolution, Syria, Turkey, War
Posted in Autonomy
Tuesday, October 24th, 2017
Hello,
Some anarchists groups in Exarcheia, Athens, are organizing the 1st Insurrection Festival. The date is November 12, 13, 14. We would appreciate your cooperation to spread the news.
https://insurrectionfestival.noblogs.org/
In solidarity
RdF
–
Insurrection is the time when a collective body is uprising. Not a collective body with a common identity or ideology but driven by common actions against authority.
Insurrection is the violent entrance of the invisible into the central political scene.
Insurrection is fed from poverty to despair, from rage to need of empowerment and dignity from the social base.
At the end, insurrection is the practical doubt of domination's structures and any regime. The negation of their omnipotence. If for some of us insurrection must lead to social revolution, or in another way must be a constant situation, the participation this moment should be our common ground.
We are calling this open assembly on to co-organize the First Insurrection Festival. It will be structured around four mains axes :
Political theory
Movement-collective statements
Practices-training
Cultural manifestations
Tags: Anarchist Gathering, Athens, Exarchia, Greece, Insurrection, Rosa de Foc Squat, Social Insurrection, Solidarity Event
Posted in Autonomy
Tuesday, October 24th, 2017
Dear all,
Episode number 5 (10/2017) of "B(A)D NEWS – Angry voices from around the world", a monthly news program from the international network of anarchist and antiauthoritarian radios, consisting of short news segments from different parts of the world, is now online.
Length: 1:15 h
You'll find the audio here.
Content:
* 98fm: Laws, actions and repression in Greece
* A-Radio Berlin: The Anarchist Days in Dresden, Germany
* Radio Fragmata: Struggles in Greece
* 105fm: Immigration struggles, gender violence and other topics from Lesvos, Greece
* The Final Straw: Interview on the case of Hermann Bell in the USA
* Bilda Kedjor: Antifa action in Gothenburg, Sweden
* Radio Kurruf: Mapuche hungerstrike and repression in Chile
* Dissident Island: DSEI arms fair in London and October Revolution 1917
* Frequenz A: Update about repression and solidarity related to the protests against G20 in Hamburg
Other audios from A-Radio Berlin in English (or Spanish) here.
Or visit the new anarchist 24/7 online stream from the Channel Zero
Network: http://channelzeronetwork.com/
Enjoy!

A-Radio Berlin
Tags: Anarchist Radio, Anarchistisches Radio Berlin, Chile, DSEi, G20, Germany, Greece, Hermann Bell, Mapuche, Sweden, UK, USA
Posted in Autonomy
Thursday, September 28th, 2017
Dear all,
This audio is based on material from Voces de la Disidencia.
Alfredo Tralcal Coche, Pablo Trangol Galindo, Benito Trangol Galindo and Ariel Trangol Galindo are imprisoned precisely in the jail in Temuco, Chile, since July 9th of 2016, accused of setting a church on fire with only one piece of evidence against them: the statement of a witness without a face who claims to have seen a truck similar to that of Lonko Alfredo Tralcal Coche near the fire.
After one year deprived of their liberty, without evidence against them, without a set sentence or a reasonable date of trial, on July 7th of 2017, the comuneros decided to begin an indefinite hunger strike with the following demands: 1) fair trial within a reasonable date; 2) no to the use of the antiterrorist law 18314; 3) no to the use of witnesses without faces; 4) liberty under article 140; 5) repeal of the cautionary measure of preventative prison.
You'll find the audio (to listen online or download in different sizes) here.
Length: 3 min
You can find other English and Spanish language audios here:
http://aradio.blogsport.de/englishcastellano/
Tags: Anarchistisches Radio Berlin, Chile, Indigenous Struggle, Mapuche
Posted in Autonomy
Tuesday, September 26th, 2017
WE CAN STILL BE WORSE
Reflections and considerations on the month following the disappearance of Santiago Maldonado
On August 1st, members of the Pu Lof Mapuche community in resistance in the province Cushamen barricaded National Route 40, along with allies in solidarity. They cut off traffic in solidarity against the legal proceedings confronting el Lonko Facundo Jones Huala (for the second time). Minutes later, cars and trucks arrived carrying about thirty border police armed with rifles. The peñis (Mapuches) began throwing rocks, responding to the presence of the bastard forces of order. The Gendarmerie advances to the shots, burning the precarious houses and belongings of the Lof, forcing the occupiers to retreat across a river. Santiago Maldonado ("Lechuga" or "el Brujo") fell behind the rest. Some of the inhabitants of the Lof saw that the Gendarmerie grabbed Santiago; others testified as to hearing the police say they "got one."
Afterwards, images and testimony began to circulate about how Santiago was missing, and that it seemed the Gendarmerie had taken him away in a "unimog" all-terrain military vehicle. The authorities were silent through this whole process.
On Friday, August 4, various anarchists and individuals in solidarity entered the seat of government in Chubut province, demanding Santiago's return. The place was ripe for destruction. Computers, notebooks, windows, and decorations were all viciously destroyed, and fliers and graffiti were left behind referring to the repression in Cushamen. (more…)
Tags: Argentina, Buenos Aires, Dictatorship, Indigenous Struggle, Mapuche, Police Brutality, Repression, Santiago Maldonado
Posted in Autonomy
Monday, September 18th, 2017
INVITACIÓN AL 6TO ENCUENTRO DEL LIBRO Y LA PROPAGANDA ANARQUISTA DE SANTIAGO 2017
A todo quien quiera leer estas palabras:
Pensamos que como individuos que se posicionan desde una postura anárquica y revolucionaria, la nunca suficiente pero siempre irreductible difusión de herramientas para nuestra liberación debe continuar construyendo caminos cada vez más anchos dando a conocer imaginarios y perspectivas de diversos tiempos y lugares. Imaginarios donde podamos contrastar nuestras propias experiencias portando esas ideas y herramientas prácticas al terreno donde se pueda probar su coraje en nuestras vidas individuales y colectivas.
Tanto en este territorio que habitamos como en el resto del mundo corren días cada vez más difíciles para quienes tenemos que vender nuestros cuerpos y mentes a la acumulación de capital. Los índices de contaminación de todo tipo se hacen más difíciles de esconder para las grandes empresas y sus absurdas campañas de ahorro, mientras siguen su curso proyectos mega devastadores como el IIRSA o el MAPA. La precarización de todos los aspectos de nuestras vidas se evidencia a través de síntomas como depresión, frustración, ansiedad, rabia y otros que sentimos cada vez más seguido al vivir para gustos de los poderosos. (more…)
Tags: Anarchist Gathering, Chile, Santiago
Posted in Autonomy
Wednesday, September 13th, 2017
New counter-information site 'Tormentas de Fogo', translating news and articles from Spanish, Portuguese and English:
Letter from anarchist prisoner Marcelo Villarroel Sepúlveda – Chile.
–
COMUNICADO PARA DIFUSÃO DE "BEM-VINDO AO INFERNO: TEXTOS SOBRE A INSURREIÇÃO CONTRA A CÚPULA DO G20 HAMBURGO, 2017"
Essa publicação reúne algumas ofensivas anárquicas dentro e fora das cadeias, contra a desprezível reunião dos vinte chefes de estado mais poderosos do mundo.
Algumas palavras de provocação… Não tão somente…
A energia caótica mantém a chama da anarquia queimando. As ações transcritas nessas linhas são recebidas por nós calorosamente. Todavia estas práticas não se encerram apenas na nossa memória, mas encontram solo fértil em nossas mentes e corações. Portanto não se trata de contemplar o passado, mas vivê-lo intensamente durante o presente.
Uma cronologia para continuar…
A visão transmitida é bastante nítida: nós não esperaremos pela próxima cúpula. Essa publicação celebra a rebelião, procurando manter pulsante a paixão demolidora pela total liberdade.
Da leitura… Até a cumplicidade…

Tormentas de Fogo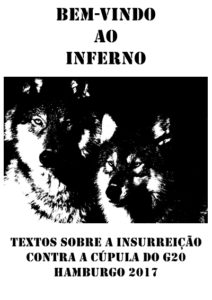 Tags: Counter-info, G20, Hamburg, Marcelo Villarroel Sepúlveda, PDF, Tormentas de Fogo, Zine
Posted in Autonomy
Wednesday, September 13th, 2017
A month ago in Hamburg, Germany, a G20 summit was beginning, and with it mass protests against it, with demands for a more 'human' running of capitalism, up to the total destruction of the system in order to build a more ethical world where there would be a place and respect for all, where there would be no repression or hierarchy, where the earth would be protected and the insatiable thirst for empty benefits on which this society is based would disappear from our values and life goals.
You can read about what happened during the 3 days of the summit and the demonstrations in many websites, including this blog, if you look in the corresponding posts (starting from the month of July, for those who are curious); and as I couldn't go to Hamburg (and I'm sorry about that) for reasons that are irrelevant here, I won't comment on what happened or go into detail. The comrades who were there have talked about that and continue to do so.
I'd like to talk about a particular aspect of those demonstrations, which I think occurs too often in this kind of context, and which seems a serious problem, at least to me, and one that annoys me. It's what is known as the 'tyranny of the image'. (more…)
Tags: Analysis, G20, Germany, Hamburg
Posted in Autonomy
Friday, August 25th, 2017
Cronaca Sovversiva…
A 90 años de la ejecución de Sacco y Vanzetti
En EE.UU, un 23 de agosto de 1927, hace exactamente 90 años, morían en
la silla eléctrica, Nicola Sacco y Bartolomeo Vanzetti, dos inmigrantes
italianos, solidarios, anárquicos de acción. Tras un largo y extenuante
proceso judicial de 7 años, fueron condenados a muerte acusados de robo
y homicidio contra un importante empresario.
La detención, juicio, apelaciones, revisiones y condena, concentraron el
interés de las diferentes colectividades anárquicas del mundo, en
multiformes gestos de solidaridad, las más hermosas expresiones del
apoyo y la fuerza común se hicieron presentes. Nadie quedó indiferente y
había una urgencia por manifestar la solidaridad, tratando de rescatar a
los compañeros del engranaje asesino del Estado.
La solidaridad como una praxis real y concreta supo manifestarse en este
largo proceso, aún con todo en contra, con las mayores adversidades y
necesidades, gracias al aporte, la voluntad y el compromiso de lxs
compañerxs anárquicxs. (more…)
Tags: Chile, CSO Sacco and Vanzetti, Sacco and Vanzetti, Zine
Posted in Autonomy
Wednesday, August 23rd, 2017
Anarchist and revolutionary must be ready for revolution to happen in every moment, especially now, when social and political protest all around the world are arising more and more often. Moreover, the possibility of global catastrophes and cataclysms is always present, and saving ourselves along with continuing our struggle in that case should always be in our agenda.
To write this article, we adopted the experience of people's struggle in Ukrainian Maydan, successes and failures of recent anti-governmental protests in Belarus and Russia and analyzed the capacities and repressive tactics of police and intelligence in our country in last years. Though this tips were written first of all for comrades from above-mentioned countries, they may be useful for anarchists in any part of the world.
Note: for publishing this article, our site www.pramen.io was officially labeled as "extremist" by the Central district court, and blocked in Belarus (only accessible via Tor or VPN).
https://pramen.io/en/2017/08/14-tips-on-how-to-get-ready-for-the-revolutionary-situation/
Tags: Analysis, Belarus, Insurrection, Revolution, Riots, Social Insurrection, Ukraine
Posted in Autonomy
Monday, August 14th, 2017
Update: The campaign for Anzi ended early because insurance came through for a lot of the cost. The money collected so far will go towards paying for the hospital room, food, X-rays, rehabilitation and travel expenses for her family and (hopefully not) future surgeries. Anzi spent approximately ten hours in surgery last week and received a total of 2 plates in her arm as well as pins to piece her elbow back together. The doctor said it was a fairly complicated surgery partially because of the time gap while waiting for funding.
Unfortunately, tragedy has struck again in our community in Indonesia. Our friend Anzi Matta was in a motorcycle accident on Wednesday 26 July. Her left arm is severely broken in several places and she desperately needs surgery to repair it. The estimated cost is about 20 million rupiah, approximately $1,500 USD. That is a year's salary or more here. She needs this surgery urgently and as quickly as possible to save her arm. She will also require physical therapy to regain mobility. We are fundraising here as well, but we need all the help we can get. (more…)
Tags: Anzi Matta, Indonesia, International Solidarity, Yogyakarta
Posted in Autonomy
Tuesday, August 1st, 2017
"Expropiar nuestra historia al poder. Arrancarle lo que le gustaría
guardar bajo silencio y alimentarnos con ello. Hacerla existir, no
seguir desa¬rraigados, no seguir viniendo de ninguna parte. Saber que
otros estaban ahí antes de nosotrxs. Saber aprender de ello, aprovechar
reflexiones, experien¬cias, autocríticas, escisiones… Esto es también
una tarea de un movimiento revolucionario que se enfrenta al poder que
quisiera vernos aisladxs sin pa¬sado (o entonces abatidos por la
historias de los vencidos)."
El sábado 27 de mayo nos tomamos la plaza nuevamen¬te, la tomamos con la
convicción de que la memoria no es palabra muerta, por el contrario, es
la práctica de poner en movimiento re¬cuerdos cargados de historia y
compromiso.
Hace 8 años que el compañero Mauricio nos dejó en una ex¬plosiva
madrugada de mayo, hoy evocamos la consecuencia de vida del Punky Mauri
para volver a encarnarla en nosotrxs, en ustedes, en nuestras
determinaciones. (more…)
Tags: Chile, Mauricio Morales
Posted in Autonomy
Monday, July 24th, 2017
G20 in Hamburg: These were days of revolt
During the days of the summit of the G20, thousands of people flooded the streets of Hamburg with their anger about the cops` violence and the world that they protect. Already during the week before, there was no uncertainty around the cops' will to confront every sign of protest or resistance with zero tolerance. During the demo on Thursday evening, they made their position clear once again, attacking the front of the demo from the first minute it started. The cops obviously and viciously embraced the possibility of potentially even lethal injuries, when they pushed and kettled the front block of the demo into a very narrow, canyon-like part of the Hafenstraße, bordered on the sides by brick walls. They caused panic, hitting, kicking, pepper-spraying, firing tear gas and shooting water canons from the front and the sides. Many people sought to flee over the walls on the sides, a lot of people got hurt – but you could also see impressive moments of solidarity, people helping each other up the wall, whilst others attacked the cops from above and brave and calm front rows defended the demo from the cops attacks, taking a serious beating.
(more…)
Tags: Analysis, G20, Germany, Hamburg, Riots
Posted in Autonomy
Friday, July 21st, 2017
As an international housing squat we think solidarity is our weapon, and as we all know weapons have categories, from handguns to nuclear bombs. Revolutionary solidarity doesn't have boundaries and can only benefit the struggle. We are already starting to try our theories in practice about this.
International solidarity means bringing and taking ideas from one place to another, placing priorities and supporting the place that needs our help the most. Help is not only texts, supplies and solidarity demonstrations in our territory, but also our physical presence there. Working with the people, learning their language and their culture. Basic ingredients if we want to be effective and helpful, because every battle ground is different. (more…)
Tags: France, Greece, Rosa de Foc Squat, ZAD
Posted in Autonomy