'Autonomy' Archives
Tuesday, March 1st, 2016
TEV-DEM: AKP and its gangs attack Rojava
Monday, February 29, 2016 1:15 PM
AMUDE – ANF
Democratic Society Movement (TEV-DEM) issued a written statement on the 25 separate attacks ISIS gangs carried out on Girê Spî from Turkey and Raqqa on February 27.
TEV-DEM announced its positive approach to the ceasefire in Syria and invited everyone to support the ceasefire.
In its statement, TEV-DEM highlighted the AKP's aggressive policies and stated the following:
''SDF forces composed of Kurdish, Arab and Turkmen peoples resisted the attacks of the AKP and its gangs targeting Efrîn and Şehba, and succeeded in liberating the region of Shaddadi. AKP and its gangs began to attack Girê Spî, the symbol of shared life and sisterhood, in order to end people's solidarity.
ISIS gangs' attacks on Girê Spî and Silûk took place on February 27. Some of the gangs entered Rojava from Turkey and others infiltrated from Raqqa. Turkish armed forces began to shell YPG positions right after the gangs began their assault. The gangs used the regions that were previously occupied by Turkish soldiers. YPG, Asayish, and SDF forces successfully resisted the gang's attacks on Girê Spî, and the few remaining clashes continue to the south of the town.'' (more…)
Tags: Islamic State in Iraq and Syria (ISIS), Kurdistan, People's Defence Units (Y.P.G.), Rojava, Syria, Turkey, War
Posted in Autonomy
Monday, February 29th, 2016
Smash Facebook+Telephone – use Tails and Jabber/OTR
To avoid more repression from the police – think about your communication! The pigs get many informations through the unnecessary use of telephone and Facebook. Try Tails https://tails.boum.org/news/index.en.html , it is the most safe way of communication and internet using.
Tails is a live system that aims to preserve your privacy and anonymity. It helps you to use the Internet anonymously and circumvent censorship almost anywhere you go and on any computer but leaving no trace unless you ask it to explicitly.
It is a complete operating system designed to be used from a DVD, USB stick, or SD card independently of the computer's original operating system. It is Free Software and based on Debian GNU/Linux. (more…)
Posted in Autonomy
Saturday, February 27th, 2016


via insurrection news
Since September 2015, Red Aid Belgium have been raising money in support of the International Freedom Battalion. The money is being used to purchase Celox Gauze haemostatic wound dressings that are designed to control major haemorrhage including life-threatening bleeding from arterial injuries. They are simple and effective, stopping major bleeding with three minutes of compression. Without these types of dressings over 60% of those injured with gunshot wounds bleed to death before they are able to be treated.
Since the end of February about € 3,500 has been collected. Donations can still be made via bank transfer: IBAN: BE09 0016 1210 6957 – BIC : GEBA BE BB – Note: "Rojava" or directly online HERE
The call
At the heart of the Middle-East, peoples of Rojava (Syrian Kurdistan) have risen up against reactionary forces oppressing the region since decades. After setting free Rojava from Daesh, the Rojava inhabitants and the many foreign revolutionaries who came to support them are worrying the American imperialists and NATO as well as the reactionary and fascist regimes from the Middle-East : Turkey, Saudi Arabia and Iran. All of them are now intervening in the region with bombings and interference. By doing so, they are reproducing the same strategies that created many Islamist groups such as the Daesh, Al Qaeda or Al Nusra. These groups are golems who escaped the control of the capitalist countries who gave them birth.
The enemies of the people have great difficulty ending the struggle for liberation that peoples of Rojava started to set, even by using their usual weapons : deadly bombings, shelling civilians, mass detentions of revolutionary militants, permanent attacks against the people's guerrillas and capitalist hagglings. This struggle is going on in Rojava, in Kurdistan and in the whole Middle-East, as the armed women of Rojava are now the worst nightmare of the Islamists. (more…)
Tags: International Freedom Battalion, International Solidarity, Islamic State in Iraq and Syria (ISIS), Kurdistan, Rojava, Syria, War
Posted in Autonomy
Saturday, February 27th, 2016
Con la simple y clara intención de hacer prevalecer la memoria combativa a un año de la caída de Javier Recabarren hacemos el llamado a agitar por su memoria, desatando las ideas y prácticas que nos mueven invitando a avanzar en un continuo de lucha junto a nuestros/as muertos/as.
Quizás muchos no saben quien fue Javier, para ellos/as y para quien se interese aportaremos un poco con su vida. Javier tenía 11 años, pese a ser pequeño era parte de la lucha por la liberación animal y participaba abiertamente en instancias anárquicas/antiautoritarias.
Javier al igual que muchos/as era parte de la lucha callejera, esa que había dejado como legado un 2011 (y siguientes años) de fuego en las calles, de constantes focos de disturbios que surgían al calor de las marchas a las que los/as anarquistas se sumaban para aprovechar la instancia para propagar la revuelta y el ataque descontrolado contra cada símbolo de dominio y las policías en todas su modalidades. (more…)
Tags: Chile, International Solidarity, Javier Recabarren
Posted in Autonomy
Thursday, February 18th, 2016
PDF: 8 March Invitation

"We, women from KJA, will be commemorating the traditional İnternational
Women's Day of Struggle and Solidarity with series of activities and action
between March 1st and 8th. Last year we organized various events and activities
in 240 different district and towns. With the growing resistance and struggle we
will commemorate 8th of March with even more enthusiasm."
Tags: KJA - Congress of Free Women, Kurdistan, PDF, Rojava, Syria, Turkey
Posted in Autonomy
Thursday, February 18th, 2016
Dedicated to YPS&YPS-Jin
(more info: https://en.wikipedia.org/wiki/Civil_Protection_Units)
The footage comes mostly from fights in Sur neighbourhood of Amed (Diyarbakir) that took place in January.
Tags: Amed (Diyarbakir), Kurdistan, Turkey, War, YPS (Civil Defense Units)
Posted in Autonomy
Monday, February 15th, 2016
La Solidaria is an autonomous social center that opened it's doors in 2012. The building was occupied in order to serve as a tool to help practice our own autonomy and the development of the social struggle. Near the end of October last year we received a letter of eviction urging us to abandon the building. Just as it had happened in 2013 it'll be difficult for them to beat us.
We have defended and we shall defend this place, not just as a physical building, but as headquarters to codes and principles opossed to the relationships set by the State and Capital. It's used to power another type of relationships based on solidarity, self-management, horizontality and direct action. We consider ourselves to be part of the social conflict, part of a bigger project to transform our current reality. To end this world run by money and create one based on freedom and solidarity.
The press is already running errands to the State and the speculators who bought the house, they're preparing the terrain for the eviction. We find the project in crucial moments, throughout the last week of February the final decisions will be made about the eviction. It is for this reason that we call for a week of actions in cooperation with this space, a week of solidarity against the eviction of La Solidaria.
Every hit reaffirms our way and make us stronger! To the threats of eviction: More resistance! More action! Solidarity knows no boundaries. Keep their hands out of our social centers!

Assembly of the autonomous social center La Solidaria.
lasolidaria[at]mail[dot]com
Tags: International Solidarity, La Solidaria (CSO), Montevideo, Squatting, Uruguay
Posted in Autonomy
Saturday, January 30th, 2016
Tags: Argeş & Berfin, Kurdistan, Turkey, War
Posted in Autonomy
Saturday, January 30th, 2016
An Anthem of YDG-H (Patriotic Revolutionary Youth Movement) in North Kurdistan.
Song for YDGK (Patriotic Revolutionary Young Women's Movement) in North Kurdistan.
Tags: Kurdistan, Turkey, YDG-H (Patriotic Revolutionary Youth Movement) - Kurdish, YDGK (Patriotic Revolutionary Young Women's Movement)
Posted in Autonomy
Friday, January 29th, 2016
As the viciousness of capitalism engulfs ever more of us, our yearnings for change are approaching desperation. The system's current leader, Barack Obama, has shown us that the only change we can believe in is what we ourselves create.
To do that, we need to know what is possible in our times and what isn't. The bitter probability is that none of us will see a society in which we'd actually want to live. Even the youngest of us will most likely have to endure an increasingly unpleasant form of capitalism. Despite its recurring crises, this system is still too strong, too adaptable, and has too many supporters in all classes for it to be overthrown any time soon. We're probably not going to be the ones to create a new society.
But we can now lay the groundwork for that, first by exposing the hoax that liberal reforms will lead to basic changes. People need to see that the purpose of liberalism is to defuse discontent with promises of the future and thus prevent mass opposition from coalescing. It diverts potentially revolutionary energy into superficial dead ends. Bernie Sanders' "long game" campaign is really only a game similar to that of his reformist predecessor, Dennis Kucinich, designed to keep us in the "big tent" of the Democratic Party. Capitalism, although resilient, is willing to change only in ways that shore it up, so before anything truly different can be built, we have to bring it down. (more…)
Tags: Analysis, USA, William T. Hathaway
Posted in Autonomy
Monday, January 25th, 2016
PDF: KJA – Lists of civilian deaths, arrests, curfews, and security zones
Please spread & repost.
Tags: KJA - Congress of Free Women, Kurdistan, Repression, Turkey, War
Posted in Autonomy
Sunday, January 24th, 2016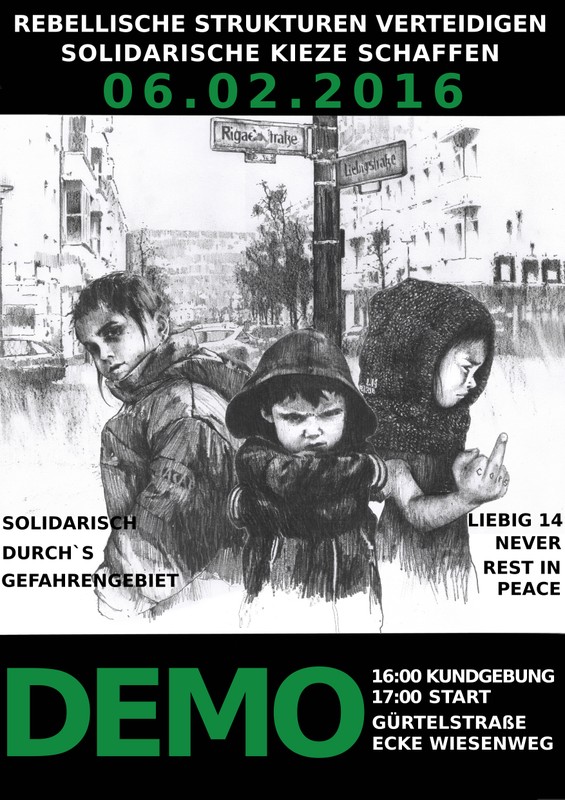 After the major offensive on Rigaer 94 by 500 cops, SEK, a K-9 unit and a helicopter, the northKiez of Friedrichshain is still under siege. There are constant controls all around Rigaerstraße and the streets are patrolled by massive swathes of cops.
We take the attack on the night of 13.01.2016 on Rigaer 94 and the assault on Liebig34 on the same evening as an attack on all of us! It is an affront to all of us that resist, organise, plan, act and network every day; against all those that cannot pay their rents anymore and get displaced.
To the cops and politicians speculation to be able to force us into capitulation and resignation by repression we respond: Forget it! We will not yield a centimeter! Now more than ever!
We are calling everyone, to go out on the streets with us on February 6th to fight against 'danger zones', police terror and displacement.
Call to action:
Defend rebellious structures, create neighbourhoods of solidarity!

Saturday 6th February 2016 | Berlin
Gathering at 16:00 in front of Wagenplatz Rummelplatz, Gürtelstrasse 26
Demonstration at 17:00 (be on time!)
Tags: Berlin, Demo, Fuck the Police, Germany, Liebig 14, Liebig34/XB, Rigaer 94
Posted in Autonomy
Saturday, January 23rd, 2016

Video received from KJA – Congress of Free Women, 'Nekuje' (Don't Kill).
PDF: KJA – 'Nekuje', Children killed by Turkish security forces
PDF: KJA – Destruction of our People's Graveyards
PDF: KJA – Report on the conflict process, political situation and women in Kurdistan

Please spread & repost.
Tags: KJA - Congress of Free Women, Kurdistan, Repression, Turkey, War
Posted in Autonomy
Tuesday, January 19th, 2016
Here is a quick overview of some armed attacks and social turbulence in Japan over the past few years. There must be many things missing, but for the sake that this news below doesn't make it through the translation and information void, and to spread black anarchy, the following could be interesting reading…

14 January 2016, Okinawa – 380 demonstrators blockade police outside the site of a proposed new U.S. military base. The United States aims to relocate Futenma U.S. base in Okinawa to Henoko Bay, Nago, which is bitterly contested by locals and environmentalists. 50,000 U.S. service personnel and their families are based in Japan. The United States have never ended their occupation since the horrific atomic bombings of Hiroshima and Nagasaki and subsequent invasion at the end of World War 2. Many people in Japan and especially Okinawa, where the bulk of U.S. troops are based, resent their presence and want them to leave. Many people in Japan are against the expansion of Japan's Self-Defence forces and increasingly militarist and security-orientated policies. (more…)
Tags: Anti-Militarist, Anti-Nuclear, Fukushima, Japan, Kurōkyō (Revolutionary Workers), Okinawa, Osaka, Revolutionary Army (Japan), Rocket attack, Tokyo
Posted in Autonomy
Friday, January 15th, 2016


Thursday, January 14, 2016 4:10 PM
QAMISHLO – ANF
Internationalist combatants fighting in the ranks of YPG/YPJ (People's/Women's Defense Units) have released a statement saluting the self-rule resistance in Bakur (North) Kurdistan. Revolutionaries called upon the youths to join the resistance alongside the YPS (Civil Defense Units) and guerrilla forces.
The press conference by internationalist combatants was held at the border between Qamislo city of Rojava and Nusaybin town of Bakur Kurdistan. The statement in Kurdish, Spanish, German and English also called upon youths worldwide to support the Kurdistan revolution.
The press release by revolutionaries from Germany, France and Spain is as follows;
"We are revolutionaries from all over the world who have come to Kurdistan out of their own free will to join the struggle for liberation.
We are living in a time of constant emergency. While at the heart of the Leviathan the enemy continues to numb, stupefy and enslave the people in the most thorough and wicked way, the fringes are lost in war. Today the oppression of 500 years of capitalism lives on in countless forms.
The rulers know no limits when it comes to securing their wealth and pursuing their interests. If we look at all the news of a single day it is easy to simply drown in despair. And that is exactly the point. We are to believe that there is no alternative, that the system we live in is the only option. When the soviet union collapsed it was said that we are at "the end of history". But now, 25 years later, we see once more that capitalism isn't and never has been able to solve our problems. On the contrary, every so-called solution has only multiplied the existing problems.
The system thrives on oppression. The oppressors need us. They cannot exist without us, but we can without them. Slavery, war and sorrow, loneliness and despair are neither fate nor coincidence, they are inevitable characteristics of a capitalist society. It is therefore our most urgent duty to organize against it. As much as they try to overwhelm our conscience and plant their truth in our hearts – we will not be deceived any longer. The alternative exists, right in front of our eyes.
For more than 40 years the resistance of the PKK against the occupiers, most notably the Turkish state, has never faltered. The PKK fight for freedom and autonomy, not just for Kurds but for all peoples of the Middle East. 4 years ago the fire caught in the western part of Kurdistan called Rojava, which was then liberated from the Syrian occupation. Rojava's people self-organized, leading to a full-scale social revolution. Everywhere they founded councils and communes for local administration, and cooperatives as basis for a new economy. The historical resistance that was put up to defend the revolution, the fight of the guerilla; liberation of women, radical democracy and ecology as foundation of an alternative society – these are our hopes in the 21st century. We draw courage and belief from the revolution in Kurdistan.
The situation right now is very critical. The war in Northern Kurdistan, the part occupied by Turkey, has been raging for half a year. The attack on the guerrilla-controlled territories by the Turkish occupation forces on 24th of July was answered by the people by declarations of Democratic Autonomy in many areas in Northern Kurdistan. They built up communes and local councils, just like in Rojava. Led by the YDGH and YDGK youth and young women's movement the people organized their self-defense and erected barricades in their neighborhoods. The Turkish state saw this as a threat to its authority that had for the last years merely existed symbolically in the Kurdish regions and attacked with uninhibited brutality.
For months now the people, most notably the revolutionary youth, have been resisting against the second-biggest army of NATO. Heavy fighting continues in the cities of Cizîre, Silopya, Nisêbîn, Kerboran, Şirnex, Gever and the Sûr and Farqîn neighborhoods of Amed.
During the winter months the snow limits very much the movement of the guerrilla. This is why the enemy does everything in his power to break the will of the people before spring. In the 90ies the state burned down thousands of villages to separate the population from the guerrilla and force the people to become refugees. Today they attempt the very same, attacking civilians with tanks, helicopters and heavy artillery.
Everyday there is news of children, youths and whole families massacred by state forces. The state has send thousands of its best troops and heavy weaponry into the Kurdish regions to quell the revolutionary insurrection. The occupation forces have decreed curfews in all Kurdish cities, cut off water and electricity and keep spreading anti-Kurdish propaganda while heavily censoring all Turkish media outlets. But despite all this the people have stood up to all intimidation attempts and fight everyday with unwavering courage and conviction in the streets of north Kurdistan. Recently the civil defense units YPS, modeled after the Rojavan YPG, have been built up to support this resistance.
We congratulate the creation of the YPS and send our warmest greetings and respect to the YDGH. Many of our comrades have fallen in this struggle. Their memory gives us strength and their sacrifice will not have been in vain. We will carry on the flame of revolution with all our heart and mind. Our place is here, side by side with our comrades, fighting for a free Kurdistan and Middle East.
We call on all revolutionaries worldwide – join the resistance. This is not the time to sit at home and ponder what might be. We are building and defending the future now. We call for resistance and solidarity. Rise against the imperialist forces. Attack the institutions of the Turkish state all over the world. Come to Kurdistan and join the forces of YPJ, YPS and the guerrilla!"
Tags: Amed (Diyarbakir), Bakur, Diyarbakır, Islamic State in Iraq and Syria (ISIS), Kurdistan, Middle East, People's Defence Units (Y.P.G.), PKK (Kurdish People's Party), Rojava, Syria, Turkey, Women's Defense Units (YPJ), YPS (Civil Defense Units)
Posted in Autonomy