'Autonomy' Archives
Saturday, January 30th, 2016
Tags: Argeş & Berfin, Kurdistan, Turkey, War
Posted in Autonomy
Saturday, January 30th, 2016
An Anthem of YDG-H (Patriotic Revolutionary Youth Movement) in North Kurdistan.
Song for YDGK (Patriotic Revolutionary Young Women's Movement) in North Kurdistan.
Tags: Kurdistan, Turkey, YDG-H (Patriotic Revolutionary Youth Movement) - Kurdish, YDGK (Patriotic Revolutionary Young Women's Movement)
Posted in Autonomy
Friday, January 29th, 2016
As the viciousness of capitalism engulfs ever more of us, our yearnings for change are approaching desperation. The system's current leader, Barack Obama, has shown us that the only change we can believe in is what we ourselves create.
To do that, we need to know what is possible in our times and what isn't. The bitter probability is that none of us will see a society in which we'd actually want to live. Even the youngest of us will most likely have to endure an increasingly unpleasant form of capitalism. Despite its recurring crises, this system is still too strong, too adaptable, and has too many supporters in all classes for it to be overthrown any time soon. We're probably not going to be the ones to create a new society.
But we can now lay the groundwork for that, first by exposing the hoax that liberal reforms will lead to basic changes. People need to see that the purpose of liberalism is to defuse discontent with promises of the future and thus prevent mass opposition from coalescing. It diverts potentially revolutionary energy into superficial dead ends. Bernie Sanders' "long game" campaign is really only a game similar to that of his reformist predecessor, Dennis Kucinich, designed to keep us in the "big tent" of the Democratic Party. Capitalism, although resilient, is willing to change only in ways that shore it up, so before anything truly different can be built, we have to bring it down. (more…)
Tags: Analysis, USA, William T. Hathaway
Posted in Autonomy
Monday, January 25th, 2016
PDF: KJA – Lists of civilian deaths, arrests, curfews, and security zones
Please spread & repost.
Tags: KJA - Congress of Free Women, Kurdistan, Repression, Turkey, War
Posted in Autonomy
Sunday, January 24th, 2016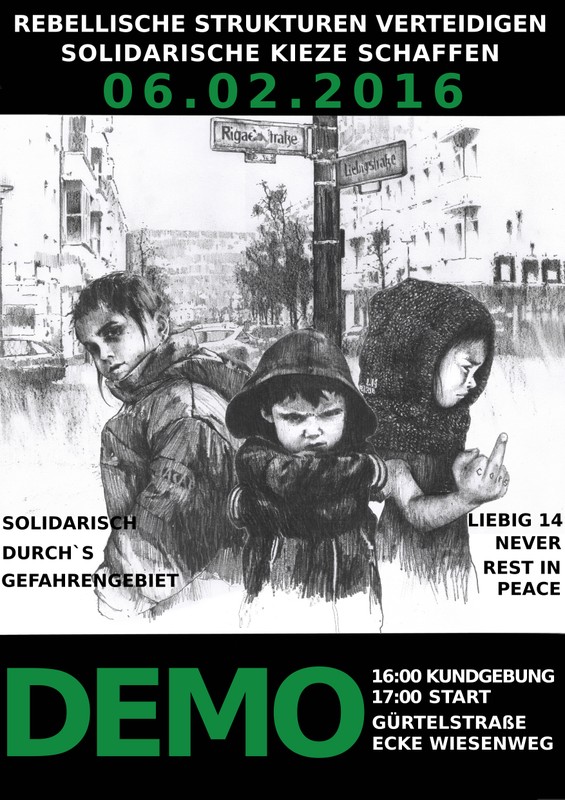 After the major offensive on Rigaer 94 by 500 cops, SEK, a K-9 unit and a helicopter, the northKiez of Friedrichshain is still under siege. There are constant controls all around Rigaerstraße and the streets are patrolled by massive swathes of cops.
We take the attack on the night of 13.01.2016 on Rigaer 94 and the assault on Liebig34 on the same evening as an attack on all of us! It is an affront to all of us that resist, organise, plan, act and network every day; against all those that cannot pay their rents anymore and get displaced.
To the cops and politicians speculation to be able to force us into capitulation and resignation by repression we respond: Forget it! We will not yield a centimeter! Now more than ever!
We are calling everyone, to go out on the streets with us on February 6th to fight against 'danger zones', police terror and displacement.
Call to action:
Defend rebellious structures, create neighbourhoods of solidarity!

Saturday 6th February 2016 | Berlin
Gathering at 16:00 in front of Wagenplatz Rummelplatz, Gürtelstrasse 26
Demonstration at 17:00 (be on time!)
Tags: Berlin, Demo, Fuck the Police, Germany, Liebig 14, Liebig34/XB, Rigaer 94
Posted in Autonomy
Saturday, January 23rd, 2016

Video received from KJA – Congress of Free Women, 'Nekuje' (Don't Kill).
PDF: KJA – 'Nekuje', Children killed by Turkish security forces
PDF: KJA – Destruction of our People's Graveyards
PDF: KJA – Report on the conflict process, political situation and women in Kurdistan

Please spread & repost.
Tags: KJA - Congress of Free Women, Kurdistan, Repression, Turkey, War
Posted in Autonomy
Tuesday, January 19th, 2016
Here is a quick overview of some armed attacks and social turbulence in Japan over the past few years. There must be many things missing, but for the sake that this news below doesn't make it through the translation and information void, and to spread black anarchy, the following could be interesting reading…

14 January 2016, Okinawa – 380 demonstrators blockade police outside the site of a proposed new U.S. military base. The United States aims to relocate Futenma U.S. base in Okinawa to Henoko Bay, Nago, which is bitterly contested by locals and environmentalists. 50,000 U.S. service personnel and their families are based in Japan. The United States have never ended their occupation since the horrific atomic bombings of Hiroshima and Nagasaki and subsequent invasion at the end of World War 2. Many people in Japan and especially Okinawa, where the bulk of U.S. troops are based, resent their presence and want them to leave. Many people in Japan are against the expansion of Japan's Self-Defence forces and increasingly militarist and security-orientated policies. (more…)
Tags: Anti-Militarist, Anti-Nuclear, Fukushima, Japan, Kurōkyō (Revolutionary Workers), Okinawa, Osaka, Revolutionary Army (Japan), Rocket attack, Tokyo
Posted in Autonomy
Friday, January 15th, 2016


Thursday, January 14, 2016 4:10 PM
QAMISHLO – ANF
Internationalist combatants fighting in the ranks of YPG/YPJ (People's/Women's Defense Units) have released a statement saluting the self-rule resistance in Bakur (North) Kurdistan. Revolutionaries called upon the youths to join the resistance alongside the YPS (Civil Defense Units) and guerrilla forces.
The press conference by internationalist combatants was held at the border between Qamislo city of Rojava and Nusaybin town of Bakur Kurdistan. The statement in Kurdish, Spanish, German and English also called upon youths worldwide to support the Kurdistan revolution.
The press release by revolutionaries from Germany, France and Spain is as follows;
"We are revolutionaries from all over the world who have come to Kurdistan out of their own free will to join the struggle for liberation.
We are living in a time of constant emergency. While at the heart of the Leviathan the enemy continues to numb, stupefy and enslave the people in the most thorough and wicked way, the fringes are lost in war. Today the oppression of 500 years of capitalism lives on in countless forms.
The rulers know no limits when it comes to securing their wealth and pursuing their interests. If we look at all the news of a single day it is easy to simply drown in despair. And that is exactly the point. We are to believe that there is no alternative, that the system we live in is the only option. When the soviet union collapsed it was said that we are at "the end of history". But now, 25 years later, we see once more that capitalism isn't and never has been able to solve our problems. On the contrary, every so-called solution has only multiplied the existing problems.
The system thrives on oppression. The oppressors need us. They cannot exist without us, but we can without them. Slavery, war and sorrow, loneliness and despair are neither fate nor coincidence, they are inevitable characteristics of a capitalist society. It is therefore our most urgent duty to organize against it. As much as they try to overwhelm our conscience and plant their truth in our hearts – we will not be deceived any longer. The alternative exists, right in front of our eyes.
For more than 40 years the resistance of the PKK against the occupiers, most notably the Turkish state, has never faltered. The PKK fight for freedom and autonomy, not just for Kurds but for all peoples of the Middle East. 4 years ago the fire caught in the western part of Kurdistan called Rojava, which was then liberated from the Syrian occupation. Rojava's people self-organized, leading to a full-scale social revolution. Everywhere they founded councils and communes for local administration, and cooperatives as basis for a new economy. The historical resistance that was put up to defend the revolution, the fight of the guerilla; liberation of women, radical democracy and ecology as foundation of an alternative society – these are our hopes in the 21st century. We draw courage and belief from the revolution in Kurdistan.
The situation right now is very critical. The war in Northern Kurdistan, the part occupied by Turkey, has been raging for half a year. The attack on the guerrilla-controlled territories by the Turkish occupation forces on 24th of July was answered by the people by declarations of Democratic Autonomy in many areas in Northern Kurdistan. They built up communes and local councils, just like in Rojava. Led by the YDGH and YDGK youth and young women's movement the people organized their self-defense and erected barricades in their neighborhoods. The Turkish state saw this as a threat to its authority that had for the last years merely existed symbolically in the Kurdish regions and attacked with uninhibited brutality.
For months now the people, most notably the revolutionary youth, have been resisting against the second-biggest army of NATO. Heavy fighting continues in the cities of Cizîre, Silopya, Nisêbîn, Kerboran, Şirnex, Gever and the Sûr and Farqîn neighborhoods of Amed.
During the winter months the snow limits very much the movement of the guerrilla. This is why the enemy does everything in his power to break the will of the people before spring. In the 90ies the state burned down thousands of villages to separate the population from the guerrilla and force the people to become refugees. Today they attempt the very same, attacking civilians with tanks, helicopters and heavy artillery.
Everyday there is news of children, youths and whole families massacred by state forces. The state has send thousands of its best troops and heavy weaponry into the Kurdish regions to quell the revolutionary insurrection. The occupation forces have decreed curfews in all Kurdish cities, cut off water and electricity and keep spreading anti-Kurdish propaganda while heavily censoring all Turkish media outlets. But despite all this the people have stood up to all intimidation attempts and fight everyday with unwavering courage and conviction in the streets of north Kurdistan. Recently the civil defense units YPS, modeled after the Rojavan YPG, have been built up to support this resistance.
We congratulate the creation of the YPS and send our warmest greetings and respect to the YDGH. Many of our comrades have fallen in this struggle. Their memory gives us strength and their sacrifice will not have been in vain. We will carry on the flame of revolution with all our heart and mind. Our place is here, side by side with our comrades, fighting for a free Kurdistan and Middle East.
We call on all revolutionaries worldwide – join the resistance. This is not the time to sit at home and ponder what might be. We are building and defending the future now. We call for resistance and solidarity. Rise against the imperialist forces. Attack the institutions of the Turkish state all over the world. Come to Kurdistan and join the forces of YPJ, YPS and the guerrilla!"
Tags: Amed (Diyarbakir), Bakur, Diyarbakır, Islamic State in Iraq and Syria (ISIS), Kurdistan, Middle East, People's Defence Units (Y.P.G.), PKK (Kurdish People's Party), Rojava, Syria, Turkey, Women's Defense Units (YPJ), YPS (Civil Defense Units)
Posted in Autonomy
Friday, January 15th, 2016


For dignity, solidarity, freedom – American fighters of Lions of Rojava.
Death to the terrorists of Islamic-fascism – Total liberation.
Tags: Islamic State in Iraq and Syria (ISIS), Kurdistan, Lions of Rojava, People's Defence Units (Y.P.G.), Rojava, Syria, Turkey, War
Posted in Autonomy
Saturday, January 2nd, 2016
El proyecto Instinto Salvaje, partió como un espacio de
contrainformación anarquista, nihilista y antiautoritario, apostamos por
la anarquía aquí y ahora. Apostamos por el ataque a toda forma de
dominación y en sus más variadas formas, en este caso con la información
respecto a las acciones, al conocimiento y al proceso de autoeducación
como antagonistas a todo forma de construcción societal que desarrolla
un nuevo Estado de dominación.
Apostamos por la desconstrucción y construcción de conocimiento de
manera colectiva con compañerxs afines y personas ajenas a nuestro
posicionamiento. El abanico de posicionamientos y visiones de la idea
anarquista es muy amplia, por lo cual pensamos que es necesario dar pie
a la discusión y no convertirnos en autómatas o meros reproductores de
discursos y acciones basadas en una afinidad del fetichismo de una
figura antiautoritaria o la pólvora. (more…)
Tags: Counter-info, Instinto Salvaje
Posted in Autonomy
Wednesday, December 30th, 2015
From the Committee of Diplomacy – Yekitiya Star:
Yekitiya Star, the women`s organization in Rojava (West-Kurdistan, North-Syria) which aims to build a democratic, ecological society which is based on the principle of freedom of gender calls for international solidarity with the Kurdish population who are in a situation of civil war and face a situation of massacre by the Turkish authorities.
The Kurdish people in Rojava built up a democratic, autonomous self-government as an answer to the atrocities of the BAAZ- Regime and faced atrocious attacks of ISIS and the regime, but managed to build up and defend this alternative. The Kurdish population in Turkey (North-Kurdistan) after seeing this experience and after been confronted by a factual state of war by the Turkish state have announced self-rule in response to the AKP government that denies the presence of a Kurdish question and attacks their struggle for freedom, noting that the resolution of democratic autonomy is the answer of Kurdish people against the Turkish state's lack of solution. It is the answer against the state's repression and aggravated isolation imposed on Abdullah Ocalan. As a reaction on the calling of democratic autonomy, the Turkish authorities answered with a situation of civil war. It put the cities in the Kurdish region in Turkey under siege and attacks the cities and the civil population everyday with tanks and other heavy weapons. In this past month alone, severe clashes took place in many Kurdish cities such as Silopi, Lice, Nuseybin, Şemdinli, Silvan, Yüksekova, Amed, Kerboran and Cizre, where state forces have targeted the civilian population. Hundreds of civilians especially women, children and young people have been killed. The cities are left in a situation without water, electricity and telephone. Teachers have been put on leave, schools have been closed. More as 200.000 persons out of this region have fled.
The Turkish state now resorts to a displacement policy which forms the basis of attacks in Sur and other Kurdish areas. The policy of evacuation of villages during the 90's is now being put into practice in cities. This is an emigration assault aiming a cultural genocide, a method executed by perpetrators of massacres throughout history. The Turkish state is conducting an onslaught against the existence of the Kurdish people by forcing them to emigration.
At the same time the Turkish state attacks democratic forces and independent media. It does everything to distort the truth. At the same the European states don`t raise their voices, let Turkey without a complaint and with their support, massacre hundreds of civilians. This is not a war of the Turkish state against the PKK, it is a war against the Kurdish people who strive for democracy, freedom, plurality and the freedom of women and the Turkish state which want to build up a nationalistic, Sunnite, Islamic, patriarchal state. This is a war especially against women.
In this way, we call especially women and women`s organizations and all democrats to support the people in North-Kurdistan in their legitimate struggle. Nobody should look away in the killing of hundreds of civilians. The war in Kurdistan and in Syria has long been an international war. Every force is playing a part, for their own interests.
We call the people, especially women not to look anyway any longer, take stances and support. Only with support of the people and with coming out of the truth, a real peace in Kurdistan is possible. The democratic autonomous administrations in Rojava and North-Kurdistan are a hope for peace, democracy and freedom of women in the Middle-East.

Committee for Diplomacy of Yekitiya Star in Rojava
Tags: Islamic State in Iraq and Syria (ISIS), Repression, Rojava, Syria, Turkey, War, YJA Star (Free Women's Troops)
Posted in Autonomy
Friday, December 25th, 2015
FROM CHILE, FROM BLACK ANARCHY, SHARING SOME EXPERIENCES.
Since the democratic state dismantled and wiped out the leftist armed
struggle organizations which continued operating once the dictatorship
ended in the early 90s, there have been the ideas and practices of
horizontality and direct action from revolutionary autonomous
environments and related to anarchy – and also the Mapuche resistance,
which have positioned themselves as protagonists of radical struggle
against Capital, the State and authority in Chile.
We have decided to be involved with strength, conviction and engagement to
fight against all forms of authority. Some of us have previously gone
through various practices and anti-capitalist speeches, but it has been
the practice and reflections emanating which have led us to consider
ourselves as anarchic individuals, denying every "ism" and claiming the
anti-authoritarian character of anarchy as the essence of the struggle
against domination.
We have forged our struggle's identity going through a path that is drawn
both from our own experience and other comrades' in different times and
places. In this journey we do not deny even a small part, but on the
contrary, we think each step is a part of a radical but always
unfinished learning process that interests us to put into dialogue with
other related comrades around the world. And we know very well what we
do not want, neither leaders nor vanguard organizations or specialists;
neither bourgeois nor popular power. (more…)
Tags: Black December, Chile, Letter, Mapuche, Mauricio Morales, Santiago, Sin Banderas Ni Fronteras
Posted in Autonomy
Tuesday, December 22nd, 2015
Dear Sir/Madam,
We are women who have come together as the Women's Freedom Assembly (KÖM)
in order to create a common language regarding all aspects of women's
struggle for freedom, to intervene and collectively demonstrate presence in
all spheres of life, to be a party and take active role in the peace and
negotiation process in Turkey. At this moment,
The war in Turkey is intensifying; people, all living beings and history
is being destroyed!
As the State becomes more and more ISIS-like, the peoples' resistance
resembles Kobanê!

In the Kurdish towns/provinces of Hakkari, Dargeçit, Sur, Nusaybin, Silopi
and Cizre, the State:
· Has removed all doctors' leaves and permissions, calling all
medical equipment personnel to be prepared,
· Has emptied out student dormitories, placing security forces
within them instead of students, (more…)
Tags: International Solidarity, KÖM (Women's Freedom Assembly), Kubani, Kurdistan, Repression, Rojava, Syria, Turkey, War
Posted in Autonomy
Monday, December 14th, 2015
Diciembre Negro/Angry presente!: A dos años desde que un guerrero pasó a
ser estrella negra iluminando las noches de la anarquía.
Hace dos años, el 11 de diciembre de 2013, el compañero Sebastián Angry
Oversluij fue abatido por las balas de un defensor del capital mientras
intentaba expropiar un banco. Con el corazón lleno de recuerdos en este
Diciembre Negro queremos nuevamente compartir algunos sentires y
reflexiones sobre la muerte y la memoria.
No es fácil asumir la muerte de un compañerx. Pero todo continua!
Nuestra lucha a muerte con el poder la vivimos como una guerra, pero en
ella cada compañerx es valiosx y no podemos normalizar la pérdida de
seres irreemplazables que asumieron la lucha anárquica como camino de
vida. Vidas como las nuestras, con ideas como las nuestras, con
prácticas como las nuestras. Por eso es para nosotrxs inevitable
preguntarnos a nosotrxs mismos cada día ¿Qué hicimos hoy en relación a
nuestrx compañerx muertx? ¿Sacamos alguna propaganda o llevamos su
nombre y las ideas que nos conectan a las calles? (more…)
Tags: Alexis Grigoropoulos, Black December, Chile, Mauricio Morales, Sebastián Oversluij Seguel, Sin Banderas Ni Fronteras
Posted in Autonomy
Saturday, December 12th, 2015
Dos años ya sin el compa Angry. Dos años sin compartir palabras, experiencias, discrepancias, sonrisas, abrazos y complicidades en revuelta.
Ese 11 de diciembre algunxs se enteraron por el noticiario del mediodía, otrxs por la llamada de un/unx compa cercanx. Algunxs estaban reunidxs planificando alguna acción y lloraron abrazadxs, otrxs estaban en medio de sus actividades cotidianas y lo hicieron solxs y en silencio.
Ya son dos años y la partida de un/unx compañerx nunca es algo que termine de doler, pero en la guerra contínua contra el poder hemos aprendido el significado de la memoria insurrecta: recordar a nuestrxs compañerxs muertxs no solo desde el dolor sino que ante todo desde el fuego imperecedero de la vida en revuelta de un/x enemigx declaradx de la dominación.
Hoy del compa Angry nos quedan sus acciones, sus ideas y posiciones de vida y de lucha contra toda autoridad, plasmadas en canciones, dibujos, entrevistas, poemas y acciones. Junto a esto, no olvidamos ni silenciamos el hecho de que el compañero fue abatido empuñando un arma en medio de una expropiación bancaria.
Hemos estado actualizando nuestro blog con aportes de compañerxs que envían textos, afiches, transcripciones de canciones y otras cosas. Éste funciona como archivo, registro y memoria en torno al compañero. Continuaremos actualizándolo con gestos de memoria y combate ocurridos durante 2015, reiterando la invitación a que lxs compañerxs nos envíen sus aporten para que todxs seamos partícipes de esta construcción de memoria antiautoritaria, insurrecta e iconoclasta que cobra real sentido cuando continuamos la lucha que nos hermana con nuestrxs compas muertxs, presxs y clandestinxs.

¡Nunca de rodillas!
¡La revuelta germina, la insurrección nunca termina!
http://nuncaderodillasblog.wordpress.com/
nuncaderodillas@riseup.net
Tags: Black December, Chile, Sebastián Oversluij Seguel
Posted in Autonomy