'Autonomy' Archives
Wednesday, June 22nd, 2016
Quienes en la lucha por la Liberación humana, animal y de la Tierra asumimos una actitud de confrontación contra el poder en todas sus formas, no queremos sentarnos a mirar cómo pasan las cosas frente a nuestros ojos sino que empujar los acontecimientos hacia la ruptura con el orden la dominación.
Proyectarnos en ofensiva contra toda autoridad nos lleva a buscar organizarnos con otrxs compañerxs para irrumpir en la realidad sacando hacia afuera nuestros deseos de destruir al Estado, el capital, el poder, sus símbolos y representantes.
Aquí compartimos un folleto y un video elaborados para la difusión de propuestas de organización informal para la acción insurreccional contra el poder.
Tags: Videos
Posted in Autonomy
Monday, June 13th, 2016
Call for the Advancing and Increasing of the Visibility of Women's Solidarity on 20th of June for World Refugee Day, from the Platform for Struggle for Women Held Captive by Force

Dear Women from all around the World;
We regard the sexist occupation practices of Daesh [ISIS], that is to say practices of systematic sexual torture, rape, enslavement, rendering odalisques, that codifies the women's bodies as a patriarchal war and ownership zone, as a patriarchal imperialist attack against all women from all around the world.
In addition to this, we come across systematic rape and other forms of sexual violence as founding components of the genocide politics of Daesh against Yazidi people. Around 5000 women and girls, many of whom are Yazidis, who are kidnapped by Daesh as spoils of war are repeatedly sold at slave and odalisques markets and are held captive in a large geographical area that includes Iraq, Syria, Qatar, Saudi Arabia, UAE and Turkey.
(more…)
Tags: Islamic State in Iraq and Syria (ISIS), KJA - Congress of Free Women, Platform for Struggle for Women Held Captive by Force, Rojava, Syria, Turkey, War, World Refugee Day
Posted in Autonomy
Thursday, June 9th, 2016
We are far from taking a strong defence of any individual who presents him/herself as enemy of the State and of all forms of dominion (over humans, animals and nature). We see how – and many imprisoned and not imprisoned comrades are right in this – not everyone can be defined a comrade or relations be forged with them.
In particular we want to generate a debate on what's happening with the groups of action that deny anarchy is political objective and everyday struggle. These are so-called eco-extremists who shout coolly 'death to anarchy' thus disowning their own origins and formation, the idea following which they used to take nourishment from the warriors of the urban guerrilla of the past and the present, and then they went on to emphasize certain aspects that have always been within anarchy and its struggle for the liberation of humans, our brothers the animals and the earth.
Being extraneous to the constant tension we want to keep and to our struggle to make anarchy alive, a certain self-proclaimed eco-extremist sector is throwing away the libertarian ideal that manifests itself in the insurrectional struggle.
A certain small group linked to the imaginary category of 'symbolic populations' and musical/countercultural university areas (they disown university but they attend it… and they study the subjects they hate so much), despise the human animal and therefore see the enemy everywhere. (more…)
Tags: Arson, Chile, Informal Anarchist Federation (FAI), International Revolutionary Front, Jauría Saboteadora Heriberto Salazar (FAI-FRI), Sabotage
Posted in Autonomy
Wednesday, June 1st, 2016
Dealing with the perpetual technical problems that the comrades who attend the library already know, we present the book "Our day will come" that we translated to Portuguese and we watched the movie made by CCF comrades "Phoenix Project. The Return of the Conspiracy of Cells of Fire".
We began the event with the reading of the words written by the comrades of "Sin Banderas, ni Frontera", core of agitation and anti-authoritarian propaganda from Chile, of Kataklysma contra information blog, of Spyros Mandylos and of the CCF comrades. We know that these words arrived to us and teased us deeply; that listen to them was an important moment of the event. It would have been difficult not to feel us captivated by the strenght of the messages read and the firmness that they transmit. After the reading, we watched the video of the Phoenix Project, the words and voices of the comrades in the video made all of us feel closer of the comrades, and, at the same time in which we delighted with the accurate attacks against domination.
Breaking grades, frontiers and distance that separates us was one of our aim with the initiative of realizing this event. We believe that in this breaking, resides the solidarity, at the end, transforming distant in near, we bring seeds for the insurrect action in this territory, and we know that it doesn't exist better solidarity act that the attack. Nevertheless, this event was one more impulse so that we have to keep sharpen ours knives pointing against Power… (more…)
Tags: Aggeliki Spyropoulou, Biblioteca Kaos, Black December, Black International of Anarchists of Praxis, Brazil, CCF Escape case, Conspiracy of Cells of Fire, Conspiracy of Cells of Fire : Imprisoned Members Cell, Informal Anarchist Federation (FAI), International Revolutionary Front, Korydallos Prison, Phoenix Project, Solidarity Event, Spyros Mandylas
Posted in Autonomy
Wednesday, June 1st, 2016
Salute comrades,
I would prefer my interference to be face-to-face, being among us. But my restriction orders don't allow me to move across the borders of Thessaloniki city. The restriction orders is a tactic that is used frequently by the Greek state and it attempts to keep anarchists as political hostages.
I would like to salute this event by highlighting the importance of events such this, in which there is the participation of people who either they have accomplished armed actions or they have been targeted from the repressive mechanisms of the state with the excuse of the anarchist urban guerilla. Also, it's important the fact that this event has international characteristics, which proves that solidarity can't be restricted by the borders.
I would like to mention 2 subjects. The first one is the connection between the "public" and the "illegal" parts of anarchy and the second one is my personal opinion about the way the nihilist tendency -the "third pole" as it's used to be referred to the last years- should be organized. (more…)
Tags: Biblioteca Kaos, Brazil, Greece, Nadir Squat, Phoenix Project, Porto Alegre, Spyros Mandylas, Squatting, Thessaloniki
Posted in Autonomy
Monday, May 30th, 2016
This text is a response to the call "Fuck nations, squat the world". The discussion about squats as focal points of lawlessness and coordinated anarchist action are held everywhere across the world. Surely the "rebellious Nordkiez" (the northern area) in Friedrichshain is relevant for many people, not only those that inhabit it. And what occurs outside of this bubble, for example the fascist and state attacks against Greek squats and in the area of Exarcheia, is connected to it.

Report from the Nordkiez – where the state of emergency became normality
There have been innumerable episodes in this neighbourhood. Our story is that of an area of constant unrest, which has been a place of autonomous struggle for the last 26 years. We continue writing this history by declaring that the episode of the "Dangerzone" is over, it is time to move forward in our struggles against the state, capital and the entire apparatus of domination and exploitation which surrounds us.
(more…)
Tags: Berlin, Friedrichshain, Fuck the Nations - Squat the World, Germany, Rigaer 94, Rigaerstrasse, Squatting
Posted in Autonomy
Thursday, May 26th, 2016
Se llevo acabo este 21 y 22 de mayo la inauguración del cso Mauricio
Morales en la ciudad de Tijuana, a donde asistieron compañerxs afines
así habiendo un encuentro de ideas-acciones. En la okupa se llevo acabo
la presentación de la misma, accionando nuestra memoria combativa a
nuestro compañero caído en consecuente a sus ideas El Punky Mauri y
seguimos demostrando que la ofensiva no te olvida.
Así como una exposición fotográfica A la mierda sus naciones Okupemos el
mundo, en el que se mostró el proceso de construcción del espacio
liberado, así mismo se proyecto el documental Caso Montaje Bombas en el
que concluido se dio lectura a los textos de lxs compañerxs de
Conspiración Células del Fuego FAI FRI, en el que proponen la campaña A
la mierda sus naciones Okupemos el mundo, así mismo damos como respuesta
accionaria la okupación que hemos hecho, dando lugar al encuentro de
afinidades, así mismo se debatió el reciente texto de lxs comapañerxs
del Estado chileno, Chile: Espacios para la propagación del conflicto. (more…)
Tags: CSO Mauricio Morales, Mexico, Squatting
Posted in Autonomy
Thursday, May 26th, 2016
Source : SRB
The fight of The Network of the Revolutionary Cells (SRB) against Prague restaurant Rizkarna lasted over a year. The owner of the restaurant Vladimir Krulec didn't pay wages to his employees. He finally admitted defeat. After pressure of SRB he payed owed wages to some of the employees who worked there.
SRB organized different sabotages of the restaurant since March 2015. Four times restaurants' cars were set on fire. Few times the restaurant was disrupted with the Butiric acid. There was also dozens of forced evacuations which caused enclosure for the public. The sabotages were an extensive loss for the business. The threat of more damages finally made Krulec to admit his defeat. He did what SRB wanted him to: to pay those owed wages.
The victory of SRB was a product of enforcement. We defined the goal of the struggle and through the direct actions we made Krulec to accomplish it. There was no space for concession. There was no mediation through bureaucracy or politicians. No negotiation or concessions in order to find a compromise. This we commit to others. We prefer the logic of permanent www.topambienonline.com conflict that makes our enemies to do what we need.
There were other direct actions before SRB started its actions. Protests, happenings, pickets or occupations of the restaurant. These were organized by other groups and under specific circumstances it could've been successful. But it didn't lead to a success and that was the reason why SRB started their actions. It was designed to intensify the pressure on Krulec. The autonomous actions and used methods were enforced by circumstances but are not the universal model for all situations.
Organizing pickets can be sufficient for some other struggles. In that case there is no need to set cars on fire. But where the moderate protests are not working the sabotages can be a good way how to win such fights. This one is a good example. Let it inspire ourselves and let's take advantage from the gained experience. Let's analyze it and utilize it for the future fights.
Network of the revolutionary cells (SRB) – 23. 5. 2016
Tags: Czech Republic, FAI / Global Network, Network Revolutionary Cells, Prague, Řízkárnu (restaurant)
Posted in Autonomy
Monday, May 16th, 2016
C.C.F. – SQUATS – THE HOUSES OF ANARCHY.
Some thoughts on the invitation sent by the comrades of Papamichelaki Squat, of Teflon Library, of Radiofragmata and of Continuous Deconstruction, about the Squatting issue.
The following text corresponds to snapshots and features that we can find in the current squats in Greece.

I) Property is theft.

"Property is theft" says one of the oldest anarchist slogans. It is the theft of collective life, it is the abolition of community, it is the refuge of taking distance from the commons, of fear.
Property and its twin sister power, gives birth to the distinction of people based on titles, positions and privileges… Just like the sky has no borders, the land should not be owned.
A human from a collective being becomes an owner. An owner not of their life but of walls, windows and furniture…
Squats have begun as a form of denial of property, and of self-organised expression. The course of the squat movement has many shades… Some of them are more militant, others are more harmless… There are anarchist squats and alternative squats, squats which are cores of lawlessness and squats which are dehydrated cultural centers.
Today in Greece there are much more squats than in the past, not only in Athens but also in many cities. (more…)
Tags: Athens, Chile, Conspiracy of Cells of Fire : Imprisoned Members Cell, CSO Sacco and Vanzetti, Fuck the Nations - Squat the World, Greece, Mauricio Morales, Squatting
Posted in Autonomy
Sunday, May 15th, 2016
A better way to make real and stable peace in Afghanistan
In the same week that David Cameron accused Afghanistan of being 'fantastically corrupt', the UK donated £200 million.
"Why does Cameron continue to prop up the puppet government of Afghanistan and whilst ignoring the grassroots initiatives that are making such a huge difference with limited resources?' says Dr. Sanaul Haq Ahmadzai, the Chairman and Trustee of International Committee for Rehabilitation Aid to Afghanistan (ICRAA). 'ICRAA leads different projects that have helped hundreds of thousands of rural Afghans adopt skills for sustainable agricultural practices that alleviate hunger and provide income for family needs.' (more…)
Tags: Afghanistan, Kabul, Repression, War
Posted in Autonomy
Thursday, May 12th, 2016
The anarchist squats ought to be a thorn for the repression mechanisms, against every dominant expression of the existing system. All things considered, they ought to be thorns against the social norm, against the alienated everyday life of decay that the social norm itself produces.
Regarding the link of dynamics of the people who take action in squats and choose to clash with the above aspects of the dominant complex, we believe that a necessary tool is the coordination of individualities and groups which act within and around the squats, so as to able to form a living organism with direct offensive reflexes. The coordination and the interaction between squats mustn't be determined by the attacks from the state and its mechanisms -official or unofficial- but to form a cell of essential political fermentation and a meeting place of our individual and collective negations and desires. (more…)
Tags: Fuck the Nations - Squat the World, Radio Fragmata, Squatting
Posted in Autonomy
Wednesday, May 11th, 2016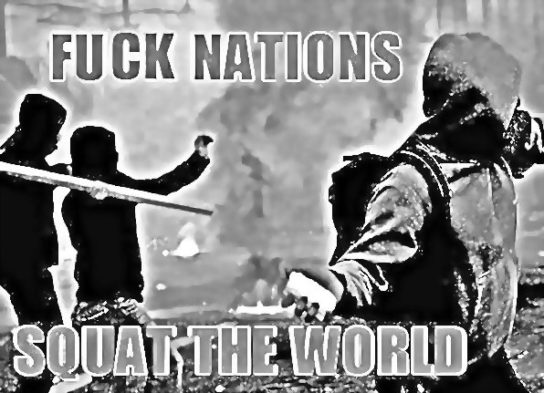 En el contexto de la circulación de debates y propuestas en torno a las okupaciones y espacios antiautoritarios, compartimos algunas reflexiones, experiencias y propuestas en el marco de la campaña "A la mierda las naciones – Okupa el mundo!" propuesta por compas de Grecia [1, 2, 3], buscando propagar la crítica y autocrítica en la lucha contra el poder, a siete años de la muerte del compañero anarquista Mauricio Morales.
A lo largo de los años, no hemos sido pocxs lxs compañerxs que desarrollamos parte importante de nuestra maduración política participando en diversas actividades en espacios autónomos anárquicos/antiautoritarios. Espacios okupados como La Krota, Sacco y Vanzetty, La Idea, y otros centros sociales autónomos fueron claves hace ya varios años para el desarrollo, agudización y propagación de las ideas y prácticas insurreccionales en el contexto local de la ciudad de Santiago. Algunxs de quienes participamos de algunas de las instancias de encuentro, debate y agitación desarrolladas en esos espacios, recordamos tales vivencias como si hubieran sido ayer, teniendo frescos recuerdos de un contexto de efervescencia insurreccional que no pasó desapercibido para el poder y su sociedad. (more…)
Tags: Black December, Chile, Fuck the Nations - Squat the World, Mauricio Morales, Sin Banderas Ni Fronteras, Squatting
Posted in Autonomy
Wednesday, May 11th, 2016
The well-regulated normality of social life within systems of power is not the product of a one-dimensional strategic perception that follows a determined path, but on the contrary it's the totality of many well-thought and tested logics, tactics and practices. It's a fact that power would not be what it is today, had it not been in a constant process of self-evolution covering previous deficiencies and weaknesses in the management of social tolerance of its followers. It is not accidental that there have been and continue to appear entire political and philosophical currents that examine the necessity of power structures within human societies. Through the constant appearance of experiments, studies and dissertations, a series of political and scientific think-tanks arm the hand of power with more and more specialized methods that ensure social tolerance.
»If the initial imperceptible signs of disarray are not combated, then chaos and anarchy will soon prevail.» The above sociological interpretation, which posits the essence of a particular theory, upon which a variety of repressive plannings have been formed, is inextricably connected to the way the enemy handles all possible dangers of destabilization since their birth and in their totality, even before they have flesh and bones. Speaking of the danger of destabilization which may be manifested in subversive radical currents, we could say that the zero-tolerance doctrine aims at their preventive tackling. Different phases of preventive tackling have been noticed. It is observed that during the first phase, with the beginning of a new subversive current that internally acquires a more radical and aggressive logic, repression is upgraded almost instantly and becomes excessively disproportionate in order to stop any further sharpening of the current's offensive characteristics. Those who express this combative logic are met with the ruthless vengeance of the system that does not hesitate to turn against their entire social circle in order to create conditions of generalized fear. (more…)
Tags: Black December, Conspiracy of Cells of Fire, Conspiracy of Cells of Fire : Imprisoned Members Cell, Fuck the Nations - Squat the World, Greece, Informal Anarchist Federation (FAI), International Revolutionary Front, Mauricio Morales, Squatting
Posted in Autonomy
Wednesday, May 11th, 2016
The undertaking of a squat, was, is, and should continue to be a powerful tool in the hands of the comrades surrounding it. This tool is evolving through the time-space continuum, and thus we feel it is necessary to present a couple of historical "points". Squatting, as a stable infrastructure makes its first appearance in Greece, but also in many other countries in and beyond Europe, during the 70"s.
Both in Europe in general, and in Greece in particular, a number of squats that took place over the years, were more than a place used for housing or to accommodate alternative means of entertainment. They were instead a living, breathing political cell which would occasionally take aggressive characteristics. In Barcelona we meet the squat "Can Masdeu" where occupants, in one year faced hard oppression. Merely eleven squatters stood against 100 cops ordered to evacuate the premises, refusing to hand over the squat without a fight. One of the most vigorous movements was also the one in Copenhagen.
During March of '82 and while the squatting movement was growing bigger and bigger, the clash with the authorities grew proportionally as well. This very same year the first violent clash between cops and squatters took place. This act was the beginning of the end of the peaceful resistance against eviction. More squats in Copenhagen were to follow. During June 1986 the town council decided to evacuate the squat "Ryesgate 58" and the squatters began preparing their defenses. What happened next was the biggest clash between squatters and police forces that ever took place. (more…)
Tags: Anarchist Library Teflon, Black December, Continuous Deconstruction, Greece, Insurrectional Association of Theory and Praxis, Insurrectionary Association of Theory and Practice, Papamixelaki squat, Radio Fragmata, Squatting
Posted in Autonomy
Wednesday, May 11th, 2016
It's been about four months since the action campaign of Black December finished. The subversive experience of Black December and the density of anarchist action that developed was a springboard for fermentation and discussions for the reconstruction of anarchist methods in an informal shape. The actions in reference to Black December have continued until today, while cycles of discussions in and out of prisons have reached a number of conclusions, proposals and positions, that have as a common reference point the desire for intensification of our attack on the sites of power.
One part of those discussions was the proposal for an informal anarchist platform that lays the foundations for an informal coordination for diverse anarchist actions, thus enabling them to set in motion autonomous struggle campaigns with our own initiatives and forces, thus producing for ourselves the events and strategies we think necessary for today. A choice that reflects our desire to create centers of autonomous thinking and acting for those who challenge the existing social system. Following the initiative of the comrades from Rethymno, there was the proposal for the informal anarchist platform to be named The Insurrectionary Association of Theory and Practice, a proposal has been accepted by some comrades and is an open and simultaneously informal coordination structure that is still being worked on by those comrades who wish to adhere to it. (more…)
Tags: Black December, Fuck the Nations - Squat the World, Greece, Insurrectionary Association of Theory and Practice, Letter, Nikos Romanos
Posted in Autonomy