'Direct Action' Archives
Monday, June 29th, 2020
Saturday afternoon around 3pm (27.06) a van belonging to a homophobic foundation, that goes around the city of Warsaw spreading hatespeech (like announcing the supposed link between sexual education, homosexuality and child-abuse) got stopped by a group of queer rebels and anarchist friends in front of squatted autonomous social center in the very center of the city. The crew of that van got verbally and physically attacked and the van got redecorated, rid of numberplates, mirrors and windows got painted, the hateful banners got ripped and tires got stabbed. On a side of the van stop bullshit was written. Some bystanders tried to play heroes and got in the fights with rebels and fast realized that it wasn't a good idea. One comrade got wounded. Spontaneous action took place in broad daylight in the very center of the city next to the police station, showing that the time of fear and defensive has passed.
The police was lazy that day and have arrived on the spot too late (the cop shop is around 100 m away).
The State and the right wing psychopaths have lunched their anti LGBTQ+ offensive after catholic church child-sexual abuses gain some publicity in the country. In doing so, they are trying to divert the attention away from the priests and use the momentum to push forward their fascist ideologies trying to make link in people's minds that homosexuality equals paedophilia and sexual education is responsible for both, therefore targeting sexual education and LGBTQ+ folks. Since few years there has been an increase in the queerphobic attacks on individuals, groups and events like pride-demos.
The van of that foundation got attacked already several times throughout the city, this time it could be treated as a sort of spontaneous birthday gift for the squatted social center was celebrating it's 9th anniversary.
Pictures and the description of that event was published on a Stop Bzdurom organization website (Stop Bullshit), which targets queerphobic propaganda.
Tags: Poland, Queer, Sabotage, Warsaw
Posted in Direct Action
Thursday, June 25th, 2020
EN | Genoa, Italy: Incendiary Attack Against a Police Vehicle Depot in Marassi
I danni della globalizzazione sono arrivati anche in occidente e ci siamo trovati a farne I conti direttamente. La reazione non è stata certo in una prospettiva di soluzione delle cause, bensì un ulteriore passo veloce verso il progresso ed un intensificarsi del dominio tecno-scientifico, della trasformazione e del rapido adeguamento delle logiche di autoritarismo e profitto.
Anche in tempi di pandemia il governo ha garantito gli affari delle case farmaceutiche e dei signori della guerra. Attraverso le politiche capitaliste gli Stati hanno continuato la produzione industriale a scapito dei lavoratori e le operazioni militari a scapito di intere popolazioni.
Anche nel porto di Genova hanno continuato a transitare navi cariche di carri armati e altri armamenti, dirette verso gli Emirati Arabi.
Lo Stato ha chiarito quali sono I suoi interessi, molto lontani dai reali bisogni degli individui, ed in continuità con la politica tecno-industriale:
imposizione di tecnologie nocive come il 5G e controllo sociale di massa (realizzato con la militarizzazione dei territori, l'accellerazione tecnologica e l'utilizzo di vari mezzi come droni, GPS, motoscafi, elicotteri e vari progetti "smart"). (more…)
Tags: Arson, Genoa, International Solidarity, Italy, Operation Bialystok, Operation Prometeo, Operation Scripta Manent, Sabotage
Posted in Direct Action
Wednesday, June 24th, 2020
Three weeks ago a 4G/3G mobile phone tower was torched. We did this as a response of pure hostility to the technoindustrial nightmare we are living in.
Like a vengeful wraith, we placed our enchanted incendiary devises in the cables connecting the tower to the leviathanic network. We howled to the moon when we lit the fuses and cursed the civilisation for all eternity. Only by fire can the technoindustrial leviathan be exorcised. Minutes later the cables were engulfed by a raging fire making the tower loose its connection to cyberspace. In the sudden silence when mobile phone calls and internet connections became emptiness, only the devouring fire could be heard.
Only darkness brings us to the place where we feel at home. The bright industrial lights that make the city shine burnes our eyes and clouds our hearts. But the cybernetic silence we caused with our fire to the tower made our bodies feel alive and joy filling our hearts.
Today everything is back to normality except the burnt cables and the silenced tower. Programmers and bosses are waging the next assault on our beloved darkness. 5G towers are now live in Malmö, Gothenburg and Stockholm. The next level of Levathianic control are rolled out in front of our eyes. The slaves of the society are applauding their incarceration.
We wish that the totality of civilisation was engulfed in flames. Burnt to ashes darkness would finally flourish. In every step our foot touch the concrete and asphalt we put a curse on Leviathan. In every step our foot touch earth and soil and plants and roots we sing our joy for the dark and the wild.
We know that a future without Leviathan never will come but this doesn't stop us from dreaming of its death. It never stops us from conjuring incendiary devices burning its rotting body. It never stops us from cursing its shining armour and techno industrial light. Kill kill kill is all that Leviathan can say. Burn burn burn is our response.
Little cursing and conjuring lovers of darkness
FAI/ELF
Tags: Arson, Earth Liberation Front, Informal Anarchist Federation (FAI), Malmo, Sabotage, Sweden
Posted in Direct Action
Saturday, June 13th, 2020
On June 11, international day of solidarity with anarchist prisoners, as a small act against policing and imprisonment we cut wires of nine security cameras in a concentrated area. We want to remind prisoners that they are with us in the struggle against white supremacy and police.
Let's keep things conflictual, forever fuck cops, towards a world with no prisons!
(A)
Tags: Fuck the Police, June 11th Solidarity, Philadelphia, Racism, Sabotage, USA
Posted in Direct Action
Friday, June 12th, 2020
On the night of June 10, 2020 the building of Criminal Investigations Department (Kyiv, 25, Naberezhne highway) was attacked by petrol bomb.
The other day appalling news came from Kagarlyk, Ukraine, where on the night of May 24, police officers assaulted and raped a woman who had been summoned as a witness. The details – policemen put a gas mask on a woman, handcuffed her and shot from their duty weapons above her head – flashed around the nation.
Same kind of news come from the other side of the Dnepr river, where police officers who killed a five-year-old boy in Pereiaslav-Khmelnytskyi were released from prison on bail.
Since the beginning of this quarantine the police flooded the streets of Kyiv. Control and police pressure have increased, unwarranted and unjustified inspections have become more frequent. Like the conduct of the police in Kyiv's Podol: stop-and-search inspections of passersby under false pretenses, solicitation of bribes, beatings in police stations.
These episodes are merely details of the big puzzle. "Police reforms" remain a complete waste of time, because police is an instrument of violence in the hands of the State. It is criminal per se, all misdeeds of its personnel – simply extreme manifestations of monopoly on violence.
Through our action, we slap the police in the face. We appeal to the society and to every person to join in this endeavour, to not remain indifferent, to organize themselves and to resist actively. People from Minneapolis, USA are setting an example for us – in response to the racist killing of a black man by beastly policeman, they started a real street war against state oppressors and sadists in uniform.
Society can protect itself from both the crime and the police. This requires determination, mutual assistance and self-organization – developing institutions of self-government and peoples militia.
We encourage everyone to act so all atrocities of the police and the State do not remain unpunished!
We're calling to arms!
Brave Ones
–
UPDATE: Ukranian mass-media and the police confirmed that the attack on the Criminal Investigations Department of Kyiv had taken place on the night of June 10, 2020. There are reports that fire destroyed at least one office in the building, a few more are badly damaged. Some journalists have managed to "connect" the attack with Pavel Sheremet murder case.
Video from "Kyiv Operative" shows Kyiv firefighters putting out a fire in Criminal Investigations Department building, which was attacked by anarchists.
–
Tags: Arson, Fuck the Police, George Floyd, International Solidarity, Kiev, Molotovs, Police Bastards, Sabotage, Ukraine
Posted in Direct Action
Wednesday, June 10th, 2020
Smash the police state!
Vienna. In the night from June 7th to June 8th two cop cars were attacked, flambéed and devitrifyed.
It was a pleasure to demolish these cars.
For us this was an action against repression and harassment.
Against the constant fear of violence by the agents of the state.
Against racist motivated violence and murder.
For us this is an action against the daily swallowing of this reality, against the constant fear.
This time we stroke back. May the act empower us and everyone else in our struggles!
We don't want the cops and we don't need them – neither in our city nor anywhere else.
Cops don't serve our society. They aren't our friends. They are not neutral because they serve the ruling order, capitalism and the ones who own the goods. Armed with the monopoly of violence they have the right to chase everyone who can't or won't obey: the homeless, the youth, punks, people without papers, refugees, migrants, activists, addicts, revolutionaries, …
Examples for the just mentioned institutionalized violence are many – e.g. the climate strikes 2019 (where copes tried to drive over the head of an activist) or the just happened racist murder of George Floyd in the USA.
The biggest thefts are made by rich entrepreneurs, states, banks, housing agencies, mass-farming companies and renters. The ones who get imprisoned are folks who tried to find a way out of their situations.
The cruel violence is started daily by police, military, prisons and border regimes who are legitimized by the state to keep the current local and global hierarchy in place. On the other hand people who act in solidarity with each other, who fight for freedom, for climate protection, against exploitation and oppression are being surveilled and chased as terrorists.
We are sick of being oppressed and harassed and maybe the absence of these cars will prevent some actions from the police!
Corona made once more clear the circumstances under which we are living. The ones who were hit the strongest by the measurements are those who already suffered under "normal circumstances". Folks had to work even more over-hours, couldn't pay their rent, got stuck at borders, lost their jobs, got locked up in mass-quarantine or got harassed from cops in parks. This new-gained power was instantly misused against everybody randomly. This is nothing new. It is never safe to be alone with cops!
Everyone has their reasons.
There is no such thing as a good cop.
Let's solve our problems ourselves instead of calling the police.

For a life in freedom – for a society without police and their cars.
– Folks who randomly met, kept 1 m distance and were all wearing face masks.
Tags: Arson, Austria, Fuck the Police, George Floyd, Sabotage, Solidarity Action, Vienna
Posted in Direct Action
Tuesday, June 9th, 2020
EN | Fires and Riots Across Mexico Against Police Repression
Reporte anarquista de lo que ocurre en México en estos momentos con movilizaciones antipolicia.
Asesinato de Giovanni y protestas en Guadalajara (4 de Junio)
Haciendo suma al clima internacional ocasionado no solo por la pandemia, sino a una crisis sistemática y civilizatoria que utiliza el covid-19 como pretexto para recrudecer la dominación social, y a solo unas semanas de la conmoción por las revueltas estadounidenses provocadas por el asesinato del afroamericano George Floyd a manos de policías supremacistas, se difunde por las redes uno de los tantos casos de violencia policial a los que estamos acostumbrados en México. Se trata de un video que muestra la detención de Giovanni López, un albañil que fue golpeado y asesinado por policía mientras se encontraba sentado en la calle sin portar cubre bocas, en el municipio de Ixtlahuacán de los Membrillos en Jalisco, el 4 de mayo del 2020. El jueves 4 de junio el centro de Guadalajara se vuelve escenario de una ardiente protesta que terminó con dos patrullas incendiadas, pintas en las paredes, destrucción de propiedad gubernamental. La policía atacó con gases lacrimógenos a las multitudes y la jornada terminó con más de una veintena de detenidxs. La opinión pública ciudadana saltó de indignación cuando uno de lxs manifestantes, embozado roció con gasolina a un policía motorizado y le prendió fuego con un encendedor.
Hay que aclarar que el gobierno de Jalisco, decidió optar por medidas policiaco-administrativas contra la población so pretexto de cuidar a la ciudadanía; esto se va sumando a un clima de militarización camuflada como optimización de los cuerpos policiacos en todo el país. (more…)
Tags: Fuck the Police, Guadalajara, Mexico, Mexico City, Repression, Riots, Veracruz
Posted in Direct Action
Tuesday, June 9th, 2020
We published Joe Biden's, a few senators and a few congress persons home address and home phones.
Link:
Leaked info:
No Justice No Peace
Comrades, until we can once again gaze upon the flaming buildings of the enemy.
The day will come when the crash of this world will dance to the rhythms of our attack.
For the trumpets of anarchist war to sound again!
Because it was worth a try

WE ASK FOR NOTHING – WE WANT EVERYTHING
FIRE TO THE METROPOLITAN CEMETERIES
NO TRUCE WITH PRISON-SOCIETY
Stay safe and strong… Our day will come!
–
Presidential Candidate
firstname lastname homeadd2 homeadd1 homezip homecity homephone homefax
Joe Biden Suite 2000 1105 North Market Street 19801 Wilmington 302-573-6345
302-573-6351
Senators
firstname lastname homephone homefax homeadd2 homeadd1 homezip homecity
Tammy Baldwin 608-258-9800 608-258-9808 Suite 405 10 East Doty Street 53703
Madison
Roy Blunt 417-889-1800 417-889-4915 2740-B East Sunshine 65804
Springfield
Sherrod Brown 440-934-5100 440-934-5145 5201 Abbe Road 44035 Elyria
Richard Burr 336-631-5125 336-725-4493 2000 West First Street 508 Piedmont
Plaza Two 27104 Winston-Salem
Benjamin Cardin 410-433-8886 410-433-2110 Suite 230 600 Wynhurst Avenue 21210
Baltimore
Congress Persons
firstname lastname homeadd2 homeadd1 homezip homecity homephone homefax
Robert Aderholt 1710 Alabama Avenue 247 Carl Elliott Building 35501 Jasper
205-221-2310 205-221-9035
Michael Bilirakis Suite 1600 1100 Cleveland Street 33755 Clearwater
727-441-3721 727-442-8180
Sanford Bishop 235 Roosevelt Avenue, Suite 114 Albany Towers 31701 Albany
229-439-8067 229-436-2099
Earl Blumenauer Suite 115 729 Northeast Oregon Street 97232 Portland
503-231-2300 503-230-5413
Kevin Brady Suite 304 200 River Pointe Drive 77304 Conroe 936-441-5700
936-441-5757
Steve Chabot 441 Vine Street 3003 Carew Tower 45202 Cincinnati 513-684-2723
513-421-8722
Danny Davis Suite 130 3333 West Arthington 60624 Chicago 773-533-7520
773-533-7530
Peter DeFazio Suite 400 151 West Seventh Avenue 97401 Eugene 541-465-6732
541-465-6458
Diana Degette Suite 202 600 Grant Street 80203 Denver 303-844-4988 303-844-4996
Rosa DeLauro 59 Elm Street 6510 New Haven 203-562-3718 203-772-2260
Lloyd Doggett 300 East Eighth Street 763 Federal Building 78701 Austin
512-916-5921 512-916-5108
Mike Doyle 11 Duff Road 15235 Pittsburgh 412-241-6055 412-241-6820
Eliot Engel 3655 Johnson Avenue 10463 Bronx 718-796-9700
Anna Eshoo 698 Emerson Street 94301 Palo Alto 650-323-2984 650-323-3498
Kay Granger Suite 407 1701 River Run Road 76107 Fort Worth 817-338-0909
817-335-5852
Mark Green 700 East Walnut Street 54301 Green Bay 920-437-1954
920-437-1978
Steny Hoyer Suite 310 6500 Cherrywood Lane 20770 Greenbelt 301-474-0119
301-474-4697
Tags: Hacking, Joe Biden, teh internets, USA
Posted in Direct Action
Tuesday, June 2nd, 2020
[Noticias de la Guerra Social]
El 1 de mayo del 2020 en el sector de Nogales, región de Valparaíso un fuerte estruendo sacude el sector cerca de la pasarela Santa Isabel, en pleno toque de queda.
Esta explosión destruye el ducto de agua que alimenta la minera Anglo Americana, saboteando las labores de la minera.
Tras la detonación no existieron detenidos y aun cuando no se encontraron panfletos, tiempo después el grupo "Escuadrones Revolucionarios Autónomos" revindicaron el hecho.
La intendencia y la empresa se querellaron contra quienes resultaron responsables.
Comunicado nuevo grupo de Guerrilla Urbana y atribución de colocación de artefactos explosivos y enfrentamientos armados.
(Sacado desde redes sociales)
1 ″La incansable lucha del Oprimido"
El decadente sistema capitalista da sus últimos manotazos de ahogado y en todo el mundo se cae a pedazos el espejismo que ilusiono a millones con prosperidad y progreso. Muy lejos de eso las grandes mayorías vivimos agobiadas por deudas, con pensiones de miseria y en trabajos precarizados , imposibilitados de pagar por salud, por educación, por vivienda. Necesidades de primer orden que hoy se nos niegan. Y mientras el gigante se ahoga, va destruyendo todo a su paso. Hace oídos sordos de la ciencia, de los designios de nuestras culturas ancestrales y le importa un carajo el medio ambiente y la vida, con tal de seguir acumulando papel billete y ganancias. Es evidente y bien lo saben las comunidades que hoy están luchando por el agua, que la sequía no es por la escasez de esta, sino por el robo indiscriminado de multinacionales que se apropian de este vital elemento, abasteciendo a faenas minera, forestales, a la agricultura oligárquica de exportación, en desmedro del campesinado independiente y de nuestras comunidades y poblaciones. Pero no solo nos privan del agua para beber, lavarnos las manos, cocinar. Nos privan de la belleza de ver un rio correr, de bañarnos con nuestros hijos, de contemplar y posar la mirada en esos lugares donde nuestros abuelos se asentaron, y en donde hoy solo vemos polvo. Por eso y mucho más nos levantamos como una guerrilla urbano-rural y nos atribuimos los ataques explosivos perpetrados el pasado primero de mayo contra Anglo American en el Melón, y contra dos torres de alta tensión en la región de Atacama. También la recuperación de dinamita en el polvorin de la Empresa Nacional de Explosivos en la región de Antofagasta y el ataque armado fusil contra fusil en la población Pudahuel, en la ciudad de Melipilla. Policías asesinos y civiles fascistoides, verdugos y complices de la dictadura de Sebastian Piñera, La justicia sera la popular.
Pueblo Chileno la revuelta de Octubre no ha concluido. Nuestros muertxs, mutiladxs, violadxs y asesinadxs no han sido olvidados. Reivindicamos a la Nación Mapuche y como hermanos abrazamos juntos el Weychan . Somos el refuerzo de esa gloriosa Primera Linea que nos mostró que la barricada cierra la calle, pero abre los caminos.
Territorios a activarse
Escuadrones Revolucionarios Autónomos
Mayo 2020
Tags: Anglo-American Mining, Chile, Mapuche, Sabotage, Valparaiso
Posted in Direct Action
Monday, June 1st, 2020
Responsibility claim received, raw dump of email addresses, username and passwords from .state.mn.us:
"fuck capitalism the state and especially fuck cops. civilization needs to burn"
https:/ghostbin.co/paste/v8a2j/raw
Tags: George Floyd, Hacking, Minnesota, teh internets, USA
Posted in Direct Action
Sunday, May 31st, 2020
Tags: Bristol, Fuck the Police, George Floyd, Graff, Graffiti, International Solidarity, Police Brutality, Racism, UK, USA
Posted in Direct Action
Wednesday, May 27th, 2020
We are seldom compelled to claim the ways we choose to attack. We are not specialists, nor anarchists isolated from the acts of sabotage and theft that we know occur daily by employees within the Amazon monster. We generally prefer our actions to be just another strike amongst the many, adding to the already existent chorus of rage and discontent. As the crisis deepens and the feelings of isolation and helplessness appear to be sinking in, it is important to remember that one way of regaining agency in our lives is through attack and disruption.
It is not only the corona virus that is making our lives unbearable, but even more so, it is our continued daily lives under capitalism and state control. Amazon and other tech companies are exploiting the virus, accumulating unheard- of profits and pushing their nightmare tech world. Amazon claims to provide a safe future for society all the while continuing to put its lowest paid employees in danger of infection, biding their time until they can eliminate those positions completely and replace them with automation and robots.
Along with all these reasons, we chose to sneak into one of Amazon's parking areas and slash the tires of eight delivery vans – for the sheer pleasure of feeling alive and for the continuation of resistance during a confusing time. We know this is just one drop in a vast sea, but to quote a fallen comrade, "Always remember that 'every storm begins with a single raindrop.' And try to be that raindrop yourself."
In solidarity with the striking Amazon workers!
For ourselves and towards an eternal mayday for all of us!
– Lorenzo Orsetti Anarchist Brigade in North Carolina
Tags: Amazon (Company), North Carolina, Sabotage, Solidarity Action, USA
Posted in Direct Action
Monday, May 11th, 2020
Like last year, the autonomous MayDay was full of surprises! And these surprises have caught the cops off guard and we are happy about that!
It started in the night from 30.04. to 01.05. with a demonstration in the Ölberg district, accompanied by fireworks and other great lights and (sound) effects. On our way through the Elberfelder Nordstadt some neighbours at their windows celebrated with us that the 1st of May has begun. So we were able to start the day in good spirits with strike two under difficult conditions. Already with the first strike last year we could catch the cops on the wrong foot and thus trick the cop apparatus. From that point on, we managed to break through the de facto suspension of the right to demonstrate for a short time. At least for a short period of time we were able to make the darkness glow.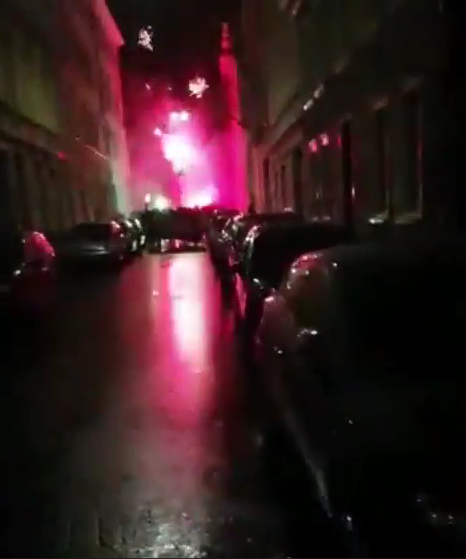 Tags: 1st May, Demo, Germany, International Solidarity, Mayday, Wuppertal
Posted in Direct Action
Sunday, May 10th, 2020
Real Estate Agent Evicts Traitorous Competitor (naarm/melbourne – so-called australia)
Late on the night of 4th May 2020, we Barry Plant Preston, evicted our rival real estate agents Jellis Craig Brunswick from their tenant-loving premises.
We smashed all their windows as retribution for their weak and sympathetic approach to the disgusting and dirty renters of Melbourne.
Evicting tenants and threatening them with crippling debt, is as far as Jellis Craig has gone, and we say that this is not enough!!
Only when every miserable renter is living in the streets and we are spitting in their filthy beggars cups, will we be happy.
We have taken this direct action to remind all real estate agents to not go easy on these shelter-slaves who are opportunistically taking advantage of the so-called corona virus, which we at Barry Plant Preston prefer to refer to as the free loaders disease.
Towards a world of greater authoritarianism, slavery and exploitation,
Barry Plant Preston
Tags: Australia, Barry Plant Preston (Real Estate), Jellis Craig Brunswick (Real Estate), Melbourne, Sabotage, Solidarity Action, Vandalism
Posted in Direct Action
Tuesday, May 5th, 2020
"As for me, I have chosen: I will be on the side of crime. And I will help the children, not to win back access to your houses, your factories, your schools, your
laws and sacraments, but to destroy them." Jean Genet
As the realities of school and rent vanish at our backs we find ourselves unleashed into a world of urgency and play. The ubiquity of masks transforms even delayed grocery trips into hunting expeditions guided by howls of distress.
It is not naive to claim that we are the one's we have been waiting for and emerge from quarantine to lay siege to the colony. Surviving Covid-19 and attacking at the heart of the plague-making machine calls for lots of affinity groups, shared risk thresholds and games to sharpen our claws. It is not enough to someday 'burn a prison to the ground' when new forms of captivity are being engineered to rise from it's ashes as we speak, disguised as clinics, hospitals, shelters…
So just like that, we descended on Heartland Alliance's driveway, slashed six tires, and disabled three vehicles.
(A)
Tags: Chicago, Heartland Alliance, Illinois, Sabotage, USA
Posted in Direct Action