'Direct Action' Archives
Thursday, January 16th, 2020
13.01.2020: The Şehit Sorxwin Roboskî and the Şehit Soro Amed Revenge Units carried out actions against factories in Başakşehir, Istanbul that supply clothing and equipment to the Turkish military. The Revenge Units issued a written statement explaining their actions that took place on January 11th, 2020:
"On January 11th, our members organized an action against a factory that makes military clothing for the occupying Turkish army. The factory is located in the PİK Dökümcüler Industrial Estate in the Başakşehir district of Istanbul. 8 minibuses owned by the factory were destroyed as a result of this action. At the same time as this action was carried out, members of our unit also sabotaged a factory on another block located in the same industrial estate. This factory manufactures equipment for military vehicles belonging to the occupying Turkish army. (more…)
Tags: Anti-Militarism, Arson, International Solidarity, Istanbul, Kurdish Struggle, Kurdistan, Revenge Units, Rojava, Sabotage, Turkey
Posted in Direct Action
Thursday, January 16th, 2020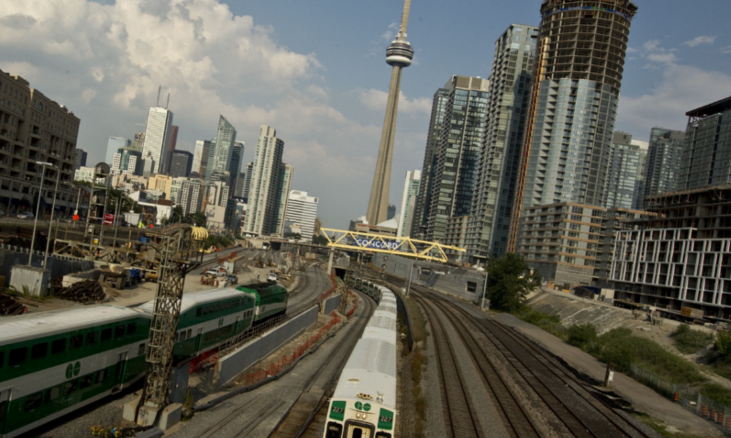 Anonymous submission to North Shore Counter-Info:
This weekend in Toronto, inspired by the actions of Wet'suwet'en land defenders and a recent callout for rail disruptions, some anarchists took to the rails to add our contribution to the building momentum of demonstrations, blockades, and acts of sabotage taking place across Turtle Island.
We debated writing this because, due to a lack of experience and the location we picked, we really couldn't be sure that our attempt at sabotage succeeded. Ultimately, we wanted to share our message of solidarity and commitment to this struggle, and our own reflections and knowledge gained in this first attempt.
Previous posts on this site [1, 2] provide a great starting point for the how-to's of this kind of mission. We picked a site in proximity to a rail junction and used copper wire to mimic a train on the tracks, (hopefully!) halting any rail traffic until the disruption was cleared away. Since we didn't have any jumper cables, which provide a more dependable connection, we quickly scrubbed our connection points with steel wool to make sure there was no rust impeding the connection. (more…)
Tags: Anti-pipelines, Canada, Sabotage, Solidarity Action, Toronto, Wet'suwet'en
Posted in Direct Action
Sunday, January 12th, 2020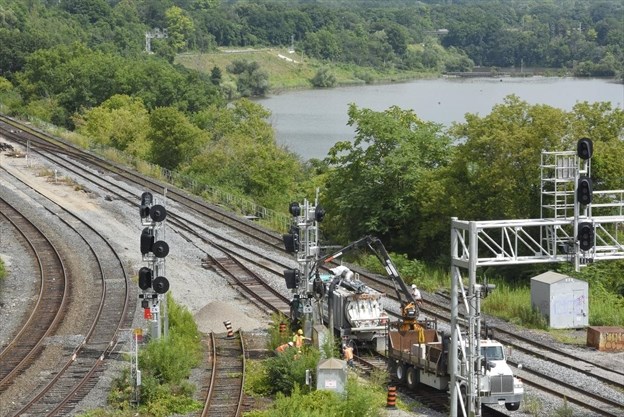 Anonymous submission to North Shore. Callout for rail disruption is here.
A decade ago, in a move that has inspired many, Wet'suwet'en people reoccupied their unceded territories as a way to begun healing and ensuring the land is protected in the ways she needs to sustain Wet'suwet'en people's lives, practices, and continued existence in their traditional territories.
A year ago, the RCMP violently invaded those territories to provide access for industry.
One week ago, the Canadian State criminalized Anuk' nu'at'en – Wet'suwet'en hereditary law – by granting an injunction which criminalizes Indigenous people and their allies should they protect the Yintah from the destructive forces of industry.
We honour these anniversaries with a giant fuck you to the State.
Early this morning, settlers responded to calls of action coming from multiple Wet'suwet'en house groups after they bravely evicted industry from their unceded territories, as well as a call to action for settlers by settlers.
As one small way of pushing back against the colonial violence being enacted by our government we simultaneously disrupted three natural CN and CP railway bottlenecks at strategic locations with the intention and impact of shutting down all rail traffic going in and out of so-called Hamilton. We did this by using copper wires and jumper cables attached to fishplate wires as a way to interfere with the block circuits – see a video here (opens with TOR). The method is safe, easy, relatively low risk, and widely replicable.
CN rail has been and will continue to ship out pipe to storage yards in preparation of construction and have vast, isolated stretches of infrastructure. The first installations of rail had deep, lasting impacts on the colonization of Turtle Island and targeting it today directly effects so-called canada's economy.
While these actions will only serve as a temporary disruption, we hope it sends a strong message: Respecting Indigenous sovereignty – anywhere on Turtle Island – is not optional. We will not be passive.
We hope others throughout Turtle Island – especially settlers – will join us in ensuring this is only the beginning, and make the Coastal GasLink pipeline untenable to both industry and the state in every way they can.
Tags: Anti-pipelines, Canada, Coastal GasLink (Pipeline), Hamilton, Indigenous Struggle, Sabotage, Solidarity Action, Wet'suwet'en
Posted in Direct Action
Sunday, January 12th, 2020
A todxs
Asumimos la autoria de la bomba en el cuartel de la 2ª Compañía del 45º Batallón de la brutal Policía Militar del Estado de São Paulo – PMESP en la calle General Carneiro, la noche del 18-12-2019, en el centro de la ciudad de São Paulo, cercano del Pateo do Collegio (el sitio de fundación de la ciudad), una instalación navideña del banco Santander y un puesto de la también brutal Guardia Civil Metropolitana – GCM a la que también queríamos atacar. Utilizamos una bomba de ruido hecha de una pequeña botella de refresco conteniendo 11 trozos de vidrio puntiagudos para dañar a los policías cercanos.
Fue una represalia por la masacre de Paraisópolis, planificada y fríamente ejecutada el 12-12-2019 por la PMESP y su jefe João Doria, el gobernador fascista de São Paulo, como parte de la guerra contra lxs negrxs y lxs pobres promovida por el estado brasileño. En lugar de enfrentarse a narcotraficantes armados y violentos que les pagan sobornos, la PMESP asesinó a 9 jóvenes indefensxs en una fiesta callejera bajo la aprobación de la extrema derecha. Sus representantes en la política burguesa, como los diputados fascistas Capitán Conte Lopes y Sargento Fahur, diputados provincial y federal de los estados de Sao Paulo y Paraná, respectivamente, celebraron la masacre y dijeron que habrá otros. Doria prometió en 12-2018 que bajo su mando la policía "mataría" y cumplió. (more…)
Tags: Arson, Brazil, Cells of Opposition to the System (NOS), Sabotage, São Paulo
Posted in Direct Action
Wednesday, January 8th, 2020
On the 6th of January, we chose to open a banner amidst the crossroad of Liebig and Rigaer Strasse and attack a police car in order to show our solidarity with the threatened house projects in Berlin and the evicted squats in Athens.
The banner says: "Solidarity with Squats in Greece – Revenge 4 Koukaki Eviction".
When it was installed across the street, a patrol car arrived and was attacked with stones by the backup team and forced to flee.
There are some similar conditions for the anarchist movement in Berlin and Athens, for example the aim of the government to eliminate us and take our neighborhoods and occupied spaces. Despite the differences between the movement in Germany and Greece, the enemy is the same. The smell of garbage in uniforms is the same, the barriers of the prison is the same. Ultimately, the goal of these two states are the same, to eliminate the resistance of the fighting anarchist movements.
(more…)
Tags: Athens, Banner drop, Berlin, Eviction, Germany, Liebig 14, Liebig34/XB, Rigaer 94, Rigaerstrasse, Solidarity Action, Squatting
Posted in Direct Action
Tuesday, January 7th, 2020
ES: Reino Unido: Acciones Solidarias en Bristol
FR: Bristol (UK) : Sabotage, subversion et solidarité
Many who were driving home for Christmas (or on their relentless commute for the 9-5) will have been dazzled by the 2 huge LED adverts that light up the motorway (and the night sky beyond) in Bristol. Bored of the false dreams and fairy lights, we damaged the billboards by attacking the main mechanisms in the back of the glittery display. We also smashed a computer console that is part of the spectacle.
Lots of people decorated with tinsel and trees… but we redecorated another billboard, this time by BT (British Telecom). Their new campaign reads "Open for Business: Not Attack". We said: "Open to attack on all shit businesses! Anarchy!".
While the country distracts itself with thoughts of a 'Happy New Year', and zombies wander the streets addicted to their smart phones… we prefer a more direct way to communicate. The Christmas period just means more isolation and time locked in cells for most prisoners.. Even when people are unlocked, they have to pay way more than the normal rate to make phone calls. BT make a huge profit from their prison contract and have the monopoly on all phones in UK prisons.
This action is a small nod to all those inside during this time of year… especially Kevan Thakrar and the Park Bench 3.
Fire to the prisons!
Tags: Bristol, BT (British Telecom), Kevan Thakrar, Park Bench 3, Sabotage, Solidarity Action, UK, Vandalism
Posted in Direct Action
Sunday, January 5th, 2020
USA
More Than 25 Cities Light Up the Night Against Prisons & Migrant Detention Camps
Sacramento, CA: NYE Noise Demo Report Back
Omaha, NE: Report Back from NYE Noise Demo
Fort Lauderdale, FL: Report Back from NYE Noise Demo
Baldwin, MI: Noise Demo Rallies Against Geo Group's Notorious Detention Camp
Elsewhere
New Year's Light Show for the Prisoners of the Quebec City Detention Center (Canada)
Update from the gathering outside the hellhole of P. Ralli on New Year's Eve (Athens, Greece)
via It's Going Down, PHL AntiCap, Athens IMC and MTL Counter-info.
Tags: Anti-Prison, Canada, Demo, International Solidarity, New Year, USA
Posted in Direct Action
Saturday, January 4th, 2020
Originally published by Barrikade Info. Translated by Enough 14.
On the night of New Year's Eve on December 31, 2019, about 200 people took to the streets of Bern under the motto "Remain ungovernable – no law will stop us". It was a first attempt to organize a New Year's Eve demonstration in Bern. We wanted to make consistently and from the beginning of the new year clear that a new police law cannot intimidate us. Regarding the demo we would like to draw a self-critical conclusion. For example, fireworks were partly handled negligently. We also wanted a colourful and varied appearance, which we tried to achieve with colourful masks.
We marched through Bern in a solemn and militant mood. Numerous actions set further accents to the demo. A review of the year was shown on Bundesplatz. In addition, numerous signposts to the prison were put up. These were supplemented with information texts on various repressive events. On the Waisenhausplatz, where we also started the new year, we made a longer stop. There we remembered "Kilu" who lost his life at the Waisenhaus police station. We also drew attention to the unknown persons who died in the prison system. (more…)
Tags: Bern, Demo, New Year, Solidarity Action, Switzerland
Posted in Direct Action
Thursday, January 2nd, 2020
ES: Diciembre Negro
FR: Décembre Noir
Black December
"Black December" is now 10 years old and Mauricio Morales was the detonator.
Do you remember? They haven't stopped, those ideas and practices that rose (in)surged from the collective desire proposed by multiple anarchic individuals who put it to the test.
Indeed, the struggle is an essay that claims its execution and that must be experienced through practice to understand all the potentials that it offers us. Theorisations that are not tested in practice will always remain unknown.
We have verified (in/with praxis) that determination (individual will) can generate common moments and framesworks of collective struggle through active propositions. The problems in the (at least in what is committed as the F.A.I.–F.R.I.) project begins when it's own postulates proposed by this informal organization model are ignored. They are:
1 – Seditious solidarity.
2 – Anarchic campaigns.
3 – Communication between groups and related individuals.
We know that the informal organization (also called T.I.A. in Latin America) at an international level (with or without acronyms) has its limitations, especially when the various insurgent tendencies are inclined to dispute discursively between themselves instead of complementing each other, both in the theoretical as in the practical.
Total liberation does not mean alienation or fratricidal alienation or competition among the active groups.
Who in one way or another rejoices in the end of "obrerismo mendicante", which delegated all activism to obsolete organizations in the era of technological capital. We see in the years of the new anarchism of praxis that appeals are of no use for ourselves.
It is not a reflection of what it says. Be what is said and say what is done, it is what makes the verb meaningful and gives weight to the word.
I once read somewhere about: "Language creates a reality and reality creates a language… ".
This they have understood (even better than us) those Italian inquisitors and hence their fixation with public debates and what everyone wrote.
[Operation] "Ardire" (because it is bold to talk about what we dream), "Scripta Manent" (because the written word endures) and thus all the repression of this last decade has been limited to prosecuting all that is desired, everything written or said and aimed at all sabotage carried out by anarchists.
Unfortunately, what is written as much as it remains (if not assumed so in the first instance) does not alter material reality… and, unfortunately, interpretive juggling either. Or put another way: the chemical formula of the tritolo is not tritolo.*
We are already getting used to repeating slogans ("Fight Week", "Black December", etc.) without worrying and worrying about the most important: our affinity groups and practical organization.
A – Procure material and economic means.
B – Carry out anarchic campaigns and do not start a new proposal until the previous one is terminated.
Only acting as one hand will each finger have power and sense.
I do not question other groups of the "Anarchist Galaxy" but, only and exclusively, those that are inspired by the F.A.I./F.R.I./C.C.F. to act.
Our power can only be in the sum of action groups that act coordinated on all three points.
We must recognize that the legacy (both theoretical and practical) of the subversive project F.A.I.-F.R.I.-C.C.F., is here to stay.
In addition, both "Black International Editions", and "Black International of Praxis" continue their editorials and mutual knowledge.

For Black December!
For conscious and organized action!
Long live anarchy!
Long live the companions in war!

Gabriel Pombo Da Silva,
Last days of the year 2019.
*Trinitrotoluene – TNT
Tags: Black December, Black International, Black International of Anarchists of Praxis, Conspiracy of Cells of Fire, Gabriel Pombo da Silva, Informal Anarchist Federation (FAI), International Revolutionary Front, Letter, Mauricio Morales, Operation Ardire, Operation Scripta Manent
Posted in Direct Action
Thursday, January 2nd, 2020
1/1/2019
Last night we held a solidarity action at the women's prison in Nieuwersluis at midnight. In solidarity with all prisoners held by the state.
Contact could be made with people inside the prison. Then fireworks were lit.
Against all prisons and the world that needs them!

Some anarchists
Pictures see: https://www.indymedia.nl/node/47229
Tags: Netherlands, New Year, Nieuwersluis (Prison for Women), Solidarity Action
Posted in Direct Action
Monday, December 30th, 2019
The genocide in Syrian territory since the invasion of the fascist Turkish state, with the agreement and complicity of the international community, continues. Day by day hundreds of civilians find themselves on the agonizing receiving end of the bombings and attacks carried out Erdogan's fascist army and ISIS's reemerging Islamist terrorism. For 2.5 months the revolutionary forces of rebel militias intensify defensive confrontation with every means against the imperialist international monopolies, which attempt to occupy the Syrian territories, displacing thousands of civilians with their military operations.
The NATO summit in London at the beginning of December ended with a pervasive sense of unity and an exchange of guarantees between the member states, despite superficial disagreements over the fascist Turkish state's invasion of Syria. The constant arrests and interrogations of militants in various states on suspicion of supporting the Kurdish rebels are proof of this. The latest anti-terrorist operation in the UK against the family environment of a YPG volunteer has led to his father being arrested on charges of supporting a terrorist organization.
The fascist Turkish state builds rivalry in the areas of security and energy in the eastern Mediterranean as it chooses to seal the alliance with Libya on the same day as the slaughterer of the Palestinians, Netanyahu is in Athens for the trilateral agreement between Greece, Cyprus and Israel for the EastMed pipeline. They also called for NATO's support, demanding that alliance members officially declare the YPG and the YPJ as terrorist organizations. A prime example is Erdogan's message to the Greek government amid transnational shocks and destabilization in relations between the two states on the basis of the disputed agreement with Libya: power relations and instability can change for the benefit of the Greek state with the precondition that the YPG/YPJ and DHKP-C Kurdish and Turkish fighters are extradited as terrorists. (more…)
Tags: Arson, Car Burning, Greece, International Solidarity, Islamic State in Iraq and Syria (ISIS), NATO, People's Defence Units (Y.P.G.), Revolutionary Solidarity Commando Haukur Hilmarsson, Rojava, Sabotage, Syria, Thessaloniki, Turkey, War, YPJ (Women's Protection Unit)
Posted in Direct Action
Sunday, December 29th, 2019
From A2day:
Anarchist sites report that in recent months in Donetsk and Kiev region base stations (aka towers) of mobile operators were attacked 4 times. Behind the attacks are mostly anarchists.
The first attack was to blow up the base station of the Phoenix operator. Then it was reported that two Lifecell towers were set on fire. December 10, 2019 it was reported about the arson of the mobile base station "Vodafone Ukraine".
For example, when attacking the Lifecell communication towers, anarchists claimed that the main reason for the attack was solidarity with the Democratic Federation of North and East Syria (Rojava), the struggle of the Kurdish people for liberation from the Turkish occupation.
Wishing to give intensity to these attacks, we, a cell of the Informal Anarchist Federation, set fire to another cell communication base station in Kiev. Unlike the aforementioned attacks, our motives and view of the targets under attack are different. We suggest taking a broader look at the topic of communication towers.
Mobile operators are eager to capture as many subscribers as possible. This is a fact. There are three main operators in Ukraine: "Kyivstar", "Vodafone Ukraine", Lifecell. These companies do anything to place their mobile antennas everywhere, to get more money and control. They do not care what we think about it. But the most important thing is that the operators cooperate perfectly with the police, leaking them all the data of their subscribers. Each mobile operator receives more than 20,000 court orders annually for temporary access to things and documents.
(more…)
Tags: Anti-technology, Arson, Black December, FAI Cell "Misha Zhlobitsky", Informal Anarchist Federation (FAI), International Solidarity, Kiev, Kyivstar, Lifecell, Misha Zhlobitsky, Rojava, Sabotage, Smartphones, Surveillance, Ukraine, Vodafone
Posted in Direct Action
Thursday, December 26th, 2019
Anarchists claimed responsibility for incendiary attacks on a parking lot for luxury yachts, a security company vehicle, a café owned by a New Democracy politician, and the home of a police reporter.
The following is their statement:
Our lives are flooded with the ultimatums and the dictates of their state, capital and their culture.
In the workplaces, we need to sell our labor power to survive, the bosses' ultimatums are the voice of capitalist development at all costs. The voice of neoliberal expansionism, the voice of the murderous intentions of the employer who cripples our bodies with intensified timetables, the abolition of Sunday holidays, uninsured labor, inadequate security measures, layoffs and extortion.
In our schools, the dictates of the state and of capital are the voices of discipline in the barbarity of our times, the telling of the treacherous history of submission to the powerful, the voices of nationalism and intolerance, the erasure of the memory of each moment of social war. Their aim is to create a new generation of disciplined slaves, always eager to enter the line of capitalist production without consciousness of their role. Without a trace of substantive knowledge of the history of the struggles and uprisings against states and their powers. Accepting their peaceful coexistence with those responsible for poverty and wars. Acknowledging that the struggle is futile and capitalism is the winner of history.
(more…)
Tags: Arson, Athens, Exarchia, Greece, Hunger Strike, Kostas Sakkas, Sabotage
Posted in Direct Action
Saturday, December 21st, 2019
FR: Bristol (UK) : Sabotage chez l'entreprise d'armements Babcock
The war machine is in operation 24/7. Despite the night shift at Babcock in Long Ashton, we snuck over the fence and damaged a fuel tank that forms part of their heating system.
Babcock are the second biggest contractor to the Ministry of Defence in the UK. They have 4 premises in Bristol alone. They specialise in the navy and nuclear industries. We hope our small act will show how many different ways it is possible to resist, without voting!
This "prison island" will continue whoever is prime minister. We reject all politicians and have only contempt for those who buy their lies and cheap promises.
To those who forget the many aspects of control and repression used in the social war, and buy into Labour's hype by focusing only on the National Health Service… we laugh at you in the darkness, and angrily ask…. Do you remember Iraq?
Solidarity with those on the streets in the Green Zone in Baghdad, and belated greetings to everyone who rebelled on the International Day of Action for Rojava 14th December.
Tags: Anti-Militarism, Babcock (Arms Company), Bristol, International Solidarity, Iraq, Rojava, Sabotage, UK, Vandalism
Posted in Direct Action
Thursday, December 19th, 2019
November 29th
42nd Social Revolt Day
LONG LIVE IRREDUCTIBLE ENEMIES OF POWER!
"We are facing a powerful and implacable enemy, who does not respect anything or anyone. He doesn't respect the lives of human beings, he doesn't respect our heroes." The phrase is repeated again and again by the President of the Republic, this time at an early graduation of police.
FEAR is one of the most powerful weapons of power, so it continues to encourage a climate of paranoia to demobilize and divide the oppressed.
The State redoubled its efforts to approve its "Anti-hooded Law." Piñera points to Anarchists, Barras Bravas [organized supporters of football teams] and drug traffickers as a coordinated trident that unleash violence.
The media plan is to exacerbate the coverage of looting of small stores. The capitalist press launches a powerful emotional charge to delegitimize the Social Revolt.
There is an obvious complicity (by action or omission) between the police, home owners and traffickers, individuals without codes who are not interested in those who are harmed by their actions.
Undoubtedly, private property is part of what we want to destroy, but today our objectives are full of strategic symbolism. If the attack on any premises needs explanation, it is not symbolic enough.
A provisional solution would be "self-defense committees," but our inexperience and ineffectiveness in these practices allow the "yellow vests" to begin to arm themselves with an undeniable fascist affinity. Let the militia return to the street! It is the speech repeated by the lovers of the neoliberal system, although in their pockets the bills have always shone by their absence. (more…)
Tags: Alexis Grigoropoulos, Analysis, Anti-Authoritarian, Chile, Concepción, Copiapo, Dictatorship, Macul, Police Brutality, Repression, Riots, Santiago, Social Insurrection, Yungay
Posted in Direct Action