'Direct Action' Archives
Wednesday, September 16th, 2020
via: Sans Nom
At around 4am during the night of Thursday September 10, in Otley Road, Bradford (West Yorkshire), a pylon topped with a 5G antenna was set on fire. The fire lit at the foot of the pylon rose right to the summit, destroying everything along the way.
The next day. Given the structural damage to the pylon, it had to be cut in three and disassembled. At least 90 mobile phone antennas have been sabotaged [in the UK] since April and the last period of lockdown, often by fire, according to official figures.
As has now become customary in some countries, vultures and State parrots immediately jumped on the hypothesis of conspiratorial opponents to 5G, while this attack is anonymous and there are plenty of other reasons for taking on this kind of telecommunication structure.
These devices contribute to alienation and the alimentation of this techno-scientific world, that empties our existence and perfects the exercise of power through control. Against all viruses, including that of the technological pandemic, fire is in any case a good remedy. Next!
[summary from the English press, 11 September 2020]
Translated by Act for freedom now!
Tags: 5G, Arson, Bradford, Sabotage, UK
Posted in Direct Action
Monday, September 14th, 2020
ES | Barcelona, España: Adjudicación de atentado incendiario contra antena telefónica
FR | Barcelone (Espagne) : Incendie d'une antenne-relais
Technological domination is a giant with feet of clay. All it takes is a little bit of determination and caution to make it wobble. On the night of August 31st we set fire to a mobile phone antenna in El Prat de Llobregat (Barcelona).
Solidarity and complicity with all those who walk with their heads held high, both inside and outside the prisons.
And long live anarchy!
Tags: Arson, Barcelona, Catalonia, Catalunya, Sabotage, Spain
Posted in Direct Action
Friday, September 11th, 2020
Desde los inicios de lo que hoy conocemos como dominio y civilización, la cosificación y explotación de lo salvaje ha reducido la vida a simples productos y servicios, y por lo tanto, necesita que estos sean movilizados y dirigidos hacia y dentro de las grandes urbes, siguiendo con esto las trayectorias trazadas por los artífices del modelo económico imperante en los distintos períodos de la historia conocida.
El transporte de la mercancía ha resultado ser desde entonces un órgano vital para el Poder y sus propósitos de control sobre los territorios que hoy denominan ciudades. La organización y la forma en que se rige el ritmo de la vida en estos lugares, responde solo a los intereses y el beneficio de unos pocos orquestadores de este sistema de consumo y muerte.
Las máquinas que día a día recorren las innumerables carreteras y calles transportando mercancía humana, son igualmente incinerables que las que transportan mercancías extraídas de la tierra. Ambos tipos cotidianamente mueven a través de las innumerables carreteras y calles, tanto en el Wallmapu como en $antiago, lo que llaman "recursos"; unos producto de la explotación de la tierra, otras para la explotación humana. Así es como se mantiene el flujo de la devastación de la tierra, y así se mantiene el flujo de la devastación de nuestras vidas. (more…)
Tags: Arson, Black September, Chile, Claudia López, Francisco Solar, Jhonny Cariqueo, Joaquín García Chanks, José Huenante, Juan Aliste Vega, Macarena Valdés, Marcelo Villarroel Sepúlveda, Monica Caballero, RED (Ex-Transantiago Bus Company), RP Global (Company), Sabotage, San Miguel, Santiago, Transantiago, Wallmapu
Posted in Direct Action
Sunday, September 6th, 2020
"Bread, Salt, Land and Freedom" can be heard in the streets of all Belarus at present. Everywhere people and our friends have been streaming onto the streets since August 9th. Unusual for a country where activists disappear, are tortured or draconian prison sentences are supposed to suppress any thought of another world. But the population is looking for alternatives and our companions are right in the middle of it:
"We should not forget that anarchists are against not only this presidential election, but against any president in general. The Belarusian people have long known that power corrupts everyone. Lukashenko may be replaced by an opposition politician, who will keep power in the country and continue repression against his own population. We must rise up not to get a new president, but to live without presidents. Decentralization of power should be a key factor in the transition from dictatorship to a free society."
Pramen
While the madman from Belarus, self-proclaimed president, congratulates his murderous cop units and symbolically walks through Minsk with a Kalashnikov, the strikes and attacks on these units continue. The fear must be deep-seated of losing power, so he had the Internet turned off, sent the military to fight the demos and his whole family ran through the streets with weapons.
In Berlin, too, we follow the events and were inspired by the attack on the Belarusian embassy in Paris.
We send our greetings and strength to our anarchist friends and all the other rebels in the streets, following the call for international solidarity:
"Support from the outside inspires not only the hearts of anarchists, but also the hearts of everyone on the street."
For this reason we threw stones and paint bottles at the Belarusian embassy near Treptower Park during the night of August 27. We crossed their disgusting emblem at the gate with an A in a circle.
For a upheaval of the circumstances – until anarchy!
Fear turned into rage, rage into victory!
To all our comrades in revolt, courage, hold on!
(Translation from http://zf2r4nfwx66apco4.onion/node/1598520077610523)
Video: https://streamable.com/gepr2qv
Tags: Belarus, Berlin, Germany, International Solidarity, Sabotage, Solidarity Action
Posted in Direct Action
Thursday, August 27th, 2020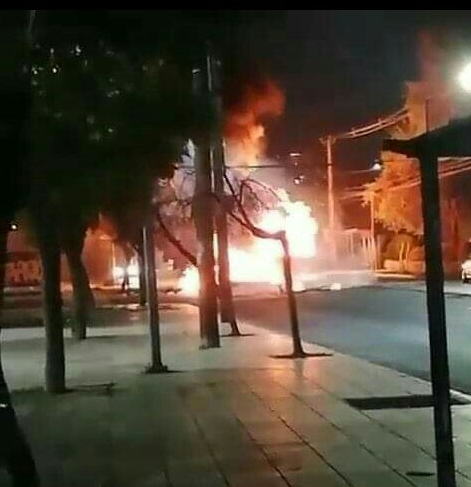 The context of fear and submission to the pandemic that has been so well capitalized on by states around the world, especially the one that the "Chilean" state is trying to subjugate us with. And one month after the arrest of Mónica Caballero and Francisco Solar.
Different anarchic individuals organized themselves in advance to give a little taste of the incendiary sabotage during the commemoration of the murder of the land fighter Maca Valdés in the emblematic and historical town of Simón Bolívar and the fighters Erick Rodríguez and Iván Palacios.
At 21:30 we intercepted a caterpillar bus from route 402 of the modern fleet of the wealthy and fascist company Metbus. It came without people because it was the last route. We got the driver off the bus – not before he had taken all his things out – and reminded him that this was not against him but against his bosses. We gave him money to pay for a taxi to his house and set the machine on fire to the sound of the shouts of joy and adrenaline from the people who were demonstrating. (more…)
Tags: Arson, Chile, Francisco Solar, Monica Caballero, Sabotage, Santiago, Transantiago
Posted in Direct Action
Wednesday, August 26th, 2020
After the savage shooting of Jacob Blake by police in Kenosha, Winsconsin, solidarity demos took place in United States, including the city of Philadelphia:
The Solidarity with Kenosha, WI demo was more impressive than usual. People met up, discussed the plan, and started promptly. Escalation started right away and continued as a group of over 45 people marched through the streets chanting and smashing windows of banks, business and developments. There was a surprising amount of destruction. One of the most impressive things though, was the strong collective intelligence. There was good communication, barricading, and improvisation. People were decisive about both sticking to the plan and being flexible. Folks caught and lost a police tail and dispersed smoothly due to barricades and quick decision making all the while staying level headed and tight in stressful moments.
We really appreciate everyone who showed up and their energy! The more we do this, the better we get!
Also here's two things we think we could get better at: Staying in the streets, not on the sidewalks and covering up better (this includes eyebrows, bangs, tattoos etc.) 🙂
Solidarity with trash workers and the recent storm leaving us ample debris.
Solidarity with anarchist prisoners, Kenosha Wisconsin, and everyone consistently turning up and inspiring us.
Black Lives Matter
RIP George Floyd
Get better Jacob Blake.
The only way to end police brutality is to end police.
"We will destroy, laughing
We will commune, laughing
We will get free, laughing"
– The 3rd Annual Summer of Rage
Tags: #BlackLivesMatter, Demo, Kenosha, Philadelphia, Police Brutality, Racism, Solidarity Action, USA
Posted in Direct Action
Sunday, August 2nd, 2020
PT | Porto Alegre, Brasil: Barricada incendiária e faixas ao amanhecer em solidariedade com Mônica e Francisco
Porto Alegre. Burning barricade and banners at dawn in solidarity with Mônica and Francisco. In front of the enemy: Indomitable!!!
Since last Friday, July 24th, we have felt the imprisonment of two anarchists Mônica Caballero and Francisco Solar, known enemies of the State and of domination. They spent years arrested first in Chile for the Bombs Case, and then in Spain, more than 4 years kidnapped, accused of attacking a basilica, a Catholic church. And today, they are kidnapped again by the Chilean state accused of sending two explosive packages, one against a police station famous for leading repression and the other against former Interior Minister Rodrigo Hinzpeter, an old repressor and boss of sending the bullets from his office, what some would call the intellectual author of the crimes of the Chilean state. They are also accused of being responsible for two explosive devices left in the building of a luxury real estate company, Tánica. (more…)
Tags: Brazil, Burning Barricades, Francisco Solar, International Solidarity, Monica Caballero, Porto Alegre, Solidarity Action
Posted in Direct Action
Thursday, July 30th, 2020
"5G NETWORK HARMFUL TO HEALTH AND THE PLANET. STOP 5G!"
We learn from the press of the regime that between the end of June and the middle of July 2020 a blackout occurred in Cremona which left much of the city in the dark; in another episode a telephone exchange would have caught fire: some writings against 5G were found near the place of the fire.
via: roundrobin.info
Translated by Act for freedom now!
Tags: 5G, Anti-technology, Arson, Cremona, Italy, Sabotage
Posted in Direct Action
Saturday, July 25th, 2020
In the night of July 23rd we sprayed slogans in solidarity to the squats Liebig34 and Rigaer94 in Berlin on the LIDL supermarket in Neos Cosmos / Athens. After we destroyed all windows with hammers.
Every eviction has its price. This is a message do all those responsible for the aggressive gentrification of many European cities, which always goes on with the eviction of squats, the state terror against the radical movement and the rising of rents. We noticed the eviction thread against Liebig34 in Berlin and the attack by so called owners and their companies together with the cops against Rigaer94. With the eviction of Dervenion56 in Exarchia the government of ND continues its operations against the combative and solidarity resistance, which we always will be – with squats or without.
One of many answers to an evicted squat is the destruction of a consumer symbol the capitalist system offers to the inmates of the prisons called the Metropolis. To support the struggle of our comrades in Berlin we found a German company, but it can be also real estate agencies or luxury cars or tourism.
The LIDL supermarket chain was targeted already some time ago in Germany because of its bad working conditions for their employees. This action is an offering of solidarity to this aggressive campaign against the working conditions in LIDL WORLDWIDE. 8 to 10 hours per day with a fake smile for pity money, sitting in front of hundreds of products, in a cashier, becoming a robot which just counts and counts. Or lifting big weights destroying your back. Why all these? What is the role of supermarkets ?
Supermarket are big financial mechanisms which seem very innocent to the majority of the people. The truth is, they are not.
Colonilization
Supermarket are colonizing the economies of local societies in all the earth. All the small markets, grocery stores and other kind of shops are shutting down whenever a new supermarket is opening. There is no need for a new supermarket in most of the areas, its just matter of expanding and absorbing. Also, is reducing the use of local products and producers. Slowly slowly, the residents of an area are becoming workers, mainly women, of this industry, losing all their independence (even in liberal terms)
Anti-ecological
The opening of chain supermarkets, local or multinational, is also increasing importing of products. This is happening because the production companies are
exploiting people in a cheaper way in other countries, or because they make better offers to a multinational company because of the massive consumption. What is happening at the end is a big consumption of petrol by the ships to transfer products all around the world. The paradox of capitalism, the fact that a product from 2000 miles far is cheaper than the local, is killing faster the nature.
Food Control
All these brings us to the bigger problem. Supermarkets are the greatest tool for multinational food companies to takeover all of our nutrition process. We eat shit, we don't produce anything, we need money to buy everything, we need to work for them for ever to be able to buy them and cure our selves from the sickness their food is creating
Do we smash supermarket?
Yes we do. But we have to know that most of the people will not understand why. So we must do more propaganda against this mechanism. And for sure it is better to smash without people being inside. Our target is to spread fear to the side of the bosses not to the side of the random population. But if somebody break a supermarket with people inside without putting someone in danger, its okay, we can overpass it.
Solidarity to Liebig34 and Rigaer 94
We hit the German interests in solidarity with the resistance in the German controlled territory
Solidarity to Dervenion 56 and all the evicted and the still resisting squats in Greece
Support to the workers that suffer in the food and product industry worldwide
(source https://athens.indymedia.org/post/1606472/)
+
As a note, we place a link here for a poster we made years ago, concerning supermarkets, one of the core nodes of 'everyday life' – Against Society & Culture
Tags: Athens, Dervenion 56, Greece, International Solidarity, Lidl (Supermarket), Liebig34/XB, Rigaer 94
Posted in Direct Action
Saturday, July 25th, 2020
[Con barricadas amanece el Gran Concepción por la libertad de los presos políticos mapuche y no mapuche.]
Received and translated on 23.07.2020:
Today, July 14, 2020, as part of a day of protest for the release of Mapuche and non-Mapuche political prisoners, roadblocks were reported in Hualpen, Lorenzo Arenas, Chiguayante and Talcahuano.
The following communiqué is about these events:
Today, Tuesday July 14, various individuals from the Bio Bio region dominated by the Chilean state, have decided to interrupt the depressing capitalist daily life, through simultaneous propaganda actions, to break the media siege and in combative solidarity with all those who have taken the decision to confront the bourgeois state in the city as well as in the countryside, in Chile and throughout the world. (more…)
Tags: Burning Barricades, Chile, Indigenous Struggle, Mapuche, Santiago
Posted in Direct Action
Monday, July 20th, 2020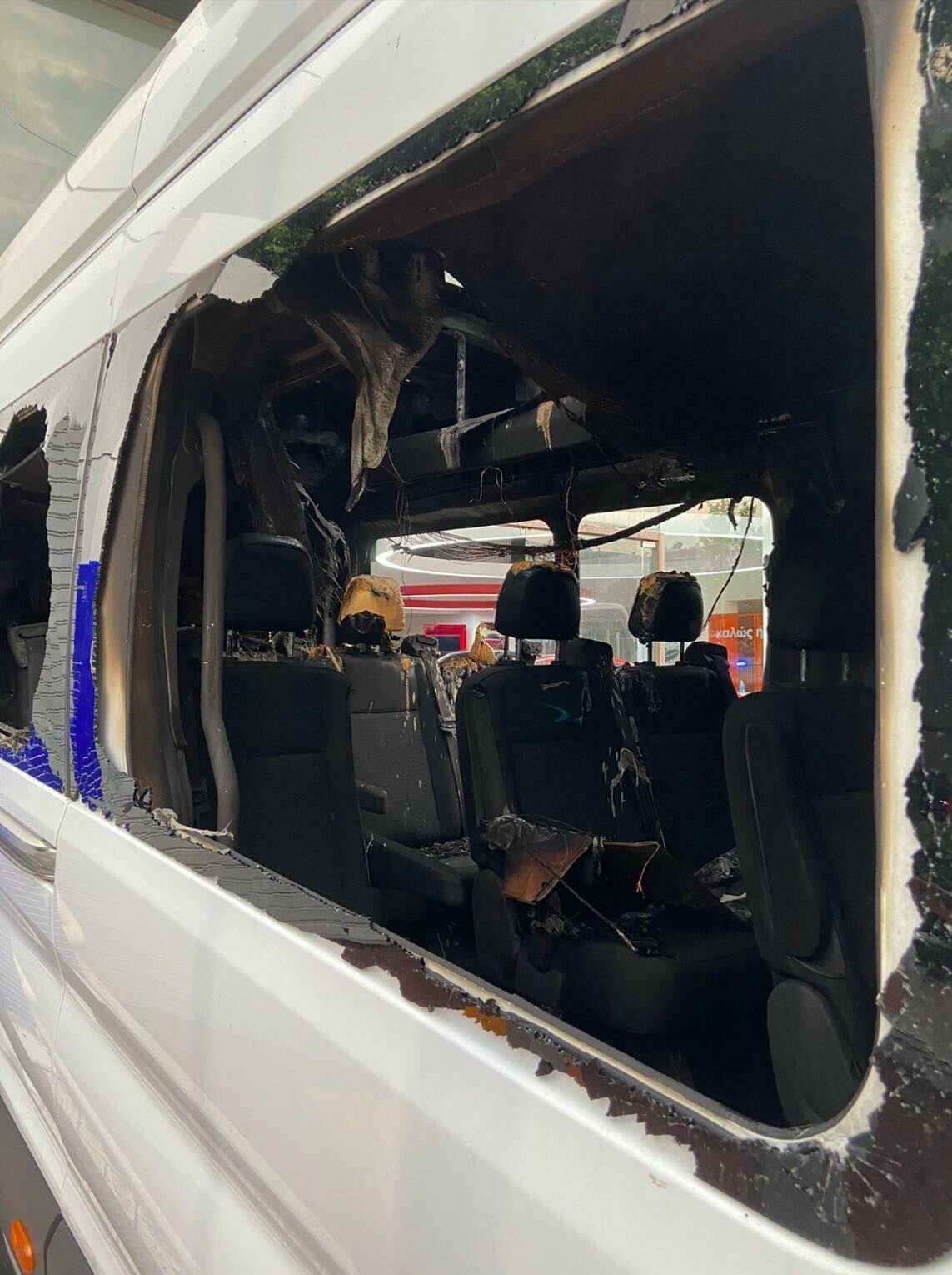 Besieged bodies among the concrete, between the cameras eyes, crossing daily life with careful but daring steps, moved by an ethic forged by negations.
We are folks that woke up from the social lethargy, having as weapon our solidarity to the fighting individuals towards the world. We want to be the crack that will join the others, destroying a system that represents injustice and "deadly injuries".
So, at the night of 7/7/2020, we chose to plant four incendiary devices to the Ford car dealership of Sfakianakis company, resulting to three burnt-down vehicles and a destroyed showcase. Our target was totally not random, as this specific company equips the state apparatus with vehicles, and also the moment of our attack coincides the uprising in USA, the homeland of Ford.
By that we choose to be the aroma of night-flower that bungs the nostrils of the decay, and we want this smell to break every authoritarian nose, to close every mouth that pukes shit, to cut every hand that points at our bodies full of racism, homophobia and sexism.
Carmine Night-Flowers
Tags: Arson, Athens, Ford, Greece, International Solidarity, Sabotage
Posted in Direct Action
Tuesday, July 14th, 2020
Solidarity means attack – no eviction remains without response
Today (10/7/2020), as a first response to the raid and evictions in the front building of Rigaer94, we attacked a branch of the Berliner Sparkasse in Lichtenberg with stones and destroyed the windows.
The raid and eviction are the beginning of the planned elimination of various projects in the coming months. In addition to an attack on one of our spaces, yesterday's raid concerned the extension of the siege in the northern district of Friedrichshshain and the attempt to prepare the framework for the eviction of Liebig34. This will not remain without consequences. With our action we call for
decentralized actions against their plans. We do not want to wait for Day X, the phase of evictions has already begun and we must give a strong, collective response on the streets.
In doing so, we are joining the call of the Koukaki Squats in Athens in order to enter into dialogue with the comrades there who are facing similar challenges. The evacuation of Dervenion56 in Exarchia was the occasion for this international call [1]. (more…)
Tags: Berlin, Dervenion 56, Germany, International Solidarity, Liebig34/XB, Rigaer 94, Sabotage, Solidarity Action, Sparkasse Bank
Posted in Direct Action
Saturday, July 11th, 2020
– Athens, Greece: We call for a solidarity gathering with those arrested at the demo on 9/7/20 against the new law for the prohibition of demonstrations
– Ashes to Aspiring Oligarchies, Tuesday 8 /7 & Thursday 9/7
9 July 2020, Athens, Greece: Proposed by a self-proclaimed socialist Minister of Public Order (Michalis Chrisohoidis), taking part in a right wing government (New Democracy), assisted by the votes of the self-proclaimed socialist party (KINAL), the Greek Parliament approved a junta-inspired bill on Thursday imposing new restrictions to quash and destroy the right to protest, a right integral to the so-called democracies, eg. under the provisions of the new law you will be arrested for joining a protest that hasn't been authorized by the police. For dozens of years across the world, this has been called a Police State or a Dictatorship but then again the Greek governing party's name is "New Democracy", which probably means the same, when someone feels the need to affix the word "New" to the political theory of "Democracy" that has been solidified for more than 2.500 years.
As a result, thousands of people marched through central Athens denouncing the new law, and managed to approach in great numbers the Greek parliament at Syntagma Square, during the discussion of the bill. The sight of hundreds of policemen that flooded the area around the parliament, during such a sensitive topic of protest, aggravated things and soon the protest turned in to a riot, making the atmosphere unbearable to breath, while the riot police "bombarded" the area with asphyxiating gas grenades.
After a decade long financial crisis, Greece is expected to suffer a new major recession this year due to the impact of the pandemic. The new law that was passed yesterday seems to aim exactly towards what's coming. The strong reaction of the greek society, for all the money that were thrown away by the Greek government and Athens mayor (Kostas Mpakogiannis) during the quarantine and what followed. It's no wonder that the Greek government chose to hire thousands of new policemen, rather than nurses and doctors during the COVID-19 pandemic. But, then again, as it was aforementioned the governing party's name is "New Democracy"…
+ Nea Demokratia – Greece's Right Wing Political Party in the UK: A Profile
Tags: Athens, Greece, Nea Demokratia (Right Wing Party), Repression, Riots
Posted in Direct Action
Monday, June 29th, 2020
Saturday afternoon around 3pm (27.06) a van belonging to a homophobic foundation, that goes around the city of Warsaw spreading hatespeech (like announcing the supposed link between sexual education, homosexuality and child-abuse) got stopped by a group of queer rebels and anarchist friends in front of squatted autonomous social center in the very center of the city. The crew of that van got verbally and physically attacked and the van got redecorated, rid of numberplates, mirrors and windows got painted, the hateful banners got ripped and tires got stabbed. On a side of the van stop bullshit was written. Some bystanders tried to play heroes and got in the fights with rebels and fast realized that it wasn't a good idea. One comrade got wounded. Spontaneous action took place in broad daylight in the very center of the city next to the police station, showing that the time of fear and defensive has passed.
The police was lazy that day and have arrived on the spot too late (the cop shop is around 100 m away).
The State and the right wing psychopaths have lunched their anti LGBTQ+ offensive after catholic church child-sexual abuses gain some publicity in the country. In doing so, they are trying to divert the attention away from the priests and use the momentum to push forward their fascist ideologies trying to make link in people's minds that homosexuality equals paedophilia and sexual education is responsible for both, therefore targeting sexual education and LGBTQ+ folks. Since few years there has been an increase in the queerphobic attacks on individuals, groups and events like pride-demos.
The van of that foundation got attacked already several times throughout the city, this time it could be treated as a sort of spontaneous birthday gift for the squatted social center was celebrating it's 9th anniversary.
Pictures and the description of that event was published on a Stop Bzdurom organization website (Stop Bullshit), which targets queerphobic propaganda.
Tags: Poland, Queer, Sabotage, Warsaw
Posted in Direct Action
Thursday, June 25th, 2020
EN | Genoa, Italy: Incendiary Attack Against a Police Vehicle Depot in Marassi
I danni della globalizzazione sono arrivati anche in occidente e ci siamo trovati a farne I conti direttamente. La reazione non è stata certo in una prospettiva di soluzione delle cause, bensì un ulteriore passo veloce verso il progresso ed un intensificarsi del dominio tecno-scientifico, della trasformazione e del rapido adeguamento delle logiche di autoritarismo e profitto.
Anche in tempi di pandemia il governo ha garantito gli affari delle case farmaceutiche e dei signori della guerra. Attraverso le politiche capitaliste gli Stati hanno continuato la produzione industriale a scapito dei lavoratori e le operazioni militari a scapito di intere popolazioni.
Anche nel porto di Genova hanno continuato a transitare navi cariche di carri armati e altri armamenti, dirette verso gli Emirati Arabi.
Lo Stato ha chiarito quali sono I suoi interessi, molto lontani dai reali bisogni degli individui, ed in continuità con la politica tecno-industriale:
imposizione di tecnologie nocive come il 5G e controllo sociale di massa (realizzato con la militarizzazione dei territori, l'accellerazione tecnologica e l'utilizzo di vari mezzi come droni, GPS, motoscafi, elicotteri e vari progetti "smart"). (more…)
Tags: Arson, Genoa, International Solidarity, Italy, Operation Bialystok, Operation Prometeo, Operation Scripta Manent, Sabotage
Posted in Direct Action