'Direct Action' Archives
Tuesday, June 25th, 2019
We hate prisons, many of our comrades are held in them, some are tortured, and prisons are at the heart of enforcing the established order. Vinci builds prisons, this vehicle belonged to them, so we wanted to set it on fire. So the train of thought that led to the destruction of the road construction vehicle on June 24 was actually quite simple.
(more…)
Tags: Arson, Eurovia-Vinci, Germany, International Solidarity, Leipzig, Sabotage, Solidarity Action, Vinci
Posted in Direct Action
Monday, June 24th, 2019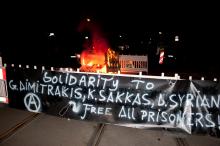 From the urban desert of the danger zone in Friedrichshain we send a signal of our solidarity to Yiannis Dimitrakis, Kostas Sakkas and Dimitra Syrianou. On Monday morning, June 24, we erected a burning barricade on Weidenweg (Street near Rigaer and Liebig) together with a fixed banner (see text on picture). We were waiting with stones to welcome the first patrol car but they needed time to mass up strong forces to enter the area of Rigaer Straße, and we disappeared safe.
(more…)
Tags: Berlin, Burning Barricades, Dimitra Syrianou, Germany, Giannis Dimitrakis, International Solidarity, Kostas Sakkas, Rigaerstrasse, Solidarity Action
Posted in Direct Action
Friday, June 21st, 2019
For June 11 – Solidarity for long term anarchist prisoners
Just outside the city limits of Bristol tucked away in the dark is a poultry farm (Ivy Farm) owned by P&S Mitchell LTD. Located in Whitchurch Lane, Dundry, the birds never see the light of day. Despite the CCTV, the grain silo and broiler house were both spray-painted with the words "Animal Prison".
A new McDonalds restaurant that is not welcome is being built in Fishponds Road, but maybe the "Burger Off!" posters in local's front windows isn't enough. Graffiti was sprayed inside the building site – "McWork Prison".
Vinney Green, hidden in Emersons Green on the edge of Bristol is a special secure detention unit for 10-17 year old "dangerous kids". The unit holds up to 24 detainees. A large hole was cut in the perimeter fence and then the next inner security fence was broken through by bending back the bars, causing a second human size gap. Then the prison buildings themselves were sprayed with the words "Child Prison", "Screws Work Here".
Solidarity to Brian Vaillancourt who is serving a 9 year sentence in the USA for an arson of a McDonalds. To the imprisoned comrades in Italy who are fighting from inside the cells on hunger strike. To the 3 comrades arrested for bank robbery in Thessaloniki, Greece. To Lisa held in Spain. For all the imprisoned anarchists around the world.
Freedom for everyone!

Eco-anarchist vandals – FAI/IRF
Tags: Brian Vaillancourt, Bristol, Eco-anarchist vandals - FAI/IRF, Fuck McDonalds, Graffiti, International Solidarity, Ivy Farm (Poultry), June 11th Solidarity, Lisa, McDonalds Corporation, Paint attack, Solidarity Action, UK, Vandalism, Vinney Green
Posted in Direct Action
Friday, June 7th, 2019
Con esta acción reivindicamos a nuestro compañero Mauricio Morales, quien murió al decidir atacar al sistema dominante a través de la acción directa: Nos adjudicamos la colocación de un artefacto incendiario en el sector de Lo Ovalle.
Nuestra acción resulta luego de afinar nuestras ideas y convicciones, elegimos organizarnos para vandalizar un transporte (que representa el capitalismo industrial). (more…)
Tags: Banda incendiaria Punky Mauri, Chile, International Solidarity, Mauricio Morales, San Miguel, Santiago
Posted in Direct Action
Monday, June 3rd, 2019
SAN FRANCISCO, EE.UU.: ANARQUISTAS ATACAN EL CONSULADO DE INDONESIA CON BOMBAS DE PINTURA CONTRA LA REPRESIÓN DEL PRIMERO DE MAYO
On June 1, a modest mob of 20+ anarchists in San Francisco carried out an attack in solidarity with our comrades in so-called Indonesia where 600+ anarchists were arrested this May Day. We threw 60 paintbombs and heavily tagged the Indonesian Consulate with circle-(A)s to send a message to the Indonesian government that despite the distance between us and our comrades, the State is not safe and will always be attacked.
The actions of the Indonesian comrades, simple gestures of paint on walls, resonated with us. In the afterimages of their act, and in their call for solidarity, we recognized friends across the dying ocean. Even more than expressing our contempt for the Indonesian State, we want to convey our love to the comrades struggling within and against its false borders. Ferocity and Strength to those facing repression and those on the run. (more…)
Tags: California, Indonesia, International Solidarity, Paint attack, Paint bombs, Sabotage, San Francisco, Solidarity Action, USA, Vandalism
Posted in Direct Action
Saturday, June 1st, 2019
"Burn all prisons, with or without walls!" – The call for a Subversive May, as an extension of the proposal for an Anarchist May 1st in Berlin, is understood by us as a call to extend the attack on different levels. We agree with the idea not to confine ourselves to one day but to constantly and unpredictably attack the functioning of existing society and prove that its security is an illusion.
The apparatus of power includes not only the murderers of the State, but also the mercenaries of the private security companies. Securitas vehicles once parked undisturbed in the GESOBAG housing estate where they act as security guards to prevent the intervention of cops during conflicts with tenants or tensions with the property management. Securitas is also engaged in surveillance work in prisons and public spaces worldwide. (more…)
Tags: Alfredo Cospito, Anahi Salcedo, Arson, Berlin, Dimitris Koufodinas, Dimitris Koufontinas, Germany, Informal Anarchist Federation (FAI), International Revolutionary Front, International Solidarity, Mauricio Morales, Securitas
Posted in Direct Action
Saturday, June 1st, 2019
[Hunger Strike By Prisoner Dimitris Koufontinas Ends in Success – AMW]
Athens, Greece: Responsibility Claim for the Arson Attack against Eurobank branch
We were taught that everything is commodity, everything can be exchanged. We didn't understand the small print of history: that we are commodity too; working power that is exchanged with peanuts, prayers and curses, and a daily reverence to alienation, to the shattering of every human dignity. We referred to the wage slavery as our highest value and intention. We didn't feel the waves of history carving our skin, we didn't feel the razor blades of political economy chiseling our motion.
We 've shown discipline to our times' teachings, which are nothing more than the dominant narrative that wants us producing and consuming machines, that wants for itself the monopoly of the decision about what is included and what is excluded by its normativity. A dominant narrative by a dominant world that leaves its bloody marks on us everyday, fracturing the individual, feeding it with oppression and neuroses, killing every desire for experimentation and vitality and replacing them with miserable micro-rivalries and intrigue, disguising the emptiness. (more…)
Tags: 17 November, Anahi Salcedo, Arson, Athens, Dimitris Koufodinas, Dimitris Koufontinas, Greece, International Solidarity, Mauricio Morales, Revolutionary Solidarity, Sabotage
Posted in Direct Action
Friday, May 24th, 2019
Source of translation + pictures : https://athens.indymedia.org/post/1597841/
Tourism grows like flowers in the spring, security cameras appear like leaves to protect the peaceful citizens. Everything must be clear, beautiful and in developmental path. The appearance of the city should fit into the list of Aegean Airlines. Tourists do not need a lot, some chain stores and hipster coffeeshops, a good guide to explaining which places to avoid, and something that fits into the "authentic Greek experience". We look forward to the next group of tourists who will take a selfie around the Acropolis.At the same time, our neighborhood degrades slowly. People who can not respond to the increase of rent price are either forced to find another home to stay or are forced to comply with the new rules. At the same time, investors are exacerbating the situation as they buy old houses, which are being demolished and, in their place, they are building luxurious housing estates. Apartments renovated for short-term rent (AIRBNB) as well as public spaces and parks are privatized reducing free and open spaces. The game is as old as the same city is listening to the name of private property . The rule is also simple: whoever does not own, will pay, whoever does not pay will be expelled. People who are not part of the capitalist machine, little illegal sellers and homeless people, illegal graffiti and political posters, life in general, and things that can not be sold will disappear. We know very well that nothing will be given to us because we do not belong to the owners' side. We know that we do not even fit into this suffocating capitalist context, nor do we want to keep up with the logic of bosses and investors. That is why we are fighting against their expansionist and developmental plans.On Tuesday 9/04, we visited a boutique (as they call it) of luxury apartments, which is in its final stage of implementation, on Kolokotroni street between Koukaki and Petralona. Kolokotroni Street is a street with several old or abandoned houses, and it seems that the crows of the construction company from Glyfada have put it in the goal. During our visit, we put a banner that read: "RICH PEOPLE GET BACK TO YOUR SUBURBS, HOUSING IS NOR A LIFESTYLE NEITHER A PRODUCT, IT'S A NEED (A)", we throw paint on the freshly painted walls and advertisements of the company, write slogans and open holes or even completely tear apart interior walls. Nevertheless, investors insist on forcing us to a second visit and today they have put cameras thinking that we will stop.
OUTSIDE THE INVESTORS FROM OUR NEIGHBORHOOD AGAINST AIRBNB AND LUXURY APARTMENTS NO ATTACK TOWARDS OUR LIFE WILL STAY WITHOUT ANSWER IF WE DON'T GET ORGANIZED IN ALL NEIGHBOURHOODS, OUR CITIES WILL BECOME MODERN PRISONS
Tags: Athens, Gentrification, Greece, Sabotage
Posted in Direct Action
Wednesday, May 15th, 2019
FUEGO, INCENDIO Y MEMORIA POR MAURICIO MORALES

"No retrocedemos: estamos aquí. No intentamos: podemos. No mendigamos: robamos. No borramos: quemamos.
No esperamos: ardemos de impaciencia… La Conspiración nunca será arrestada, porque no se trata simplemente
de una organización sino de un flujo de ideas, y a las ideas no se les puede detener… "
CCF. Sección Ilegal
La noche del 12 de mayo nos agrupamos para llevar a cabo nuestro cometido. Recordar a diez años de su partida al compañero Anarquista Mauricio Morales, quien muere tras la inesperada activación del artefacto explosivo que transportaba la madrugada del 22 de mayo del 2009.Este artefacto tenia como único objetivo, la escuela de gendarmeria de Chile.
Respondiendo y contribuyendo al llamado internacional de acción y propaganda en memoria de Mauricio Morales… (more…)
Tags: Arson, Chile, International Solidarity, Mauricio Morales, Sabotage, Santiago
Posted in Direct Action
Wednesday, May 15th, 2019
Wednesday 8, Black May.
We installed two explosive devices in the building of the Service of Internal Taxes (SII), located at 281 General del Canto Street, Providencia.
In the face of progress and development, materialized today in projects such as TPP-11 and the APEC Summit, we recognize the need to lift different forms of organization, betting on the proliferation of links, spaces and networks that converge in attack and resistance.
With this action we remember the anarchists Mauricio Morales and Zoé Aveilla, who risked everything for a world free of domination.
MEMORY, HONOR AND COMBAT!
LONG LIVE ANARCHY!
Tags: Arson, Chile, International Solidarity, Mauricio Morales, Providencia, Sabotage, Santiago, Service of Internal Taxes (SII), Zoé Aveilla
Posted in Direct Action
Tuesday, May 14th, 2019

OUR THEORY: communication through PRACTICE. Attack 2
(orginal: https://de.indymedia.org/node/32606)
… The battles against Amazon or Google sites: Rightfully, attacks against the infrastructure of the almost daily mentioned "technological attack" are carried out with a certain regularity. Often the criticism is directed against the always as more extensive perceived surveillance that seems to prevent us increasingly from becoming rebellious.
To counter this, the nightly action becomes a little more thoughtful, secret or even technically sophisticated each time. In the claims of responsibility it is written for the thousandth time why it is legitimate to attack x,y,z, or why an event a has now been followed by action b, as we also did in the first part of this series (https://actforfree.nostate.net/?p=33432). (more…)
Tags: Arson, Berlin, Germany, Sabotage, Wisag
Posted in Direct Action
Saturday, May 11th, 2019
On the weekend of 28th and 29th of April, 2 ATMs were burned in Vienna (Austria) as a message of solidarity with the comrade Lisa, who is imprisoned at the moment in Barcelona. She was charged for robbing a bank in Germany.
We don't want to live in a capitalist world, in which consumption and property are forming the center of being.
An action to strengthen ourselves, so we will never stop attacking these realities in all places – against the domination of capitalism and state, against prison and all other forms of incarceration and oppression
– for sticking together and for freedom!
Tags: Arson, ATM Burned, Austria, International Solidarity, Lisa, Sabotage, Solidarity Action, Vienna
Posted in Direct Action
Saturday, May 11th, 2019
On a night in May, 2 banks, Bank of Ireland and an AIB were vandalized in South Dublin. Slogans of "HOMES FOR ALL", "BURN THE BANKS", and "CLASS WAR" spray painted on windows and walls. Also 4 ATM's were glued up, how this was done was by using cardboard the same thickness, width, and half the length of an ATM card, inserted into the card slot and then super glue poured in. (more…)
Tags: Dublin, Ireland, Sabotage
Posted in Direct Action
Tuesday, May 7th, 2019
Late Saturday evening, May 4, we committed an attack with stones against the store front of the office from Sebastian Schlüsselburg, member of the Committee on Justice and Secret Service, parliamentarian of "Die Linke" in the district of Berlin-Lichtenberg. Most of its windows were smashed.
This is our direct answer to the latest events for which these political representatives of pure social-darwinism hold responsibility. To be mentioned first is the voting in the parliament of the district (BVV) Lichtenberg for the plans of construction of the stupid waterpark in the Rummelsburg Bay, which is another project for the city of the rich and tourists. This includes the eviction of homeless people, who squatted an area in the bay with their tents. It is clearly visible what role the leftist parties play in this process. After their usual approaches towards the resistance, finally ALL of them voted for the construction. (more…)
Tags: Berlin, Germany, Sabotage, Solidarity Action, Squatting
Posted in Direct Action
Monday, May 6th, 2019
[Noticias de la Guerra Social]
El 18 de abril de 1989 los jóvenes Ivan Palacios (19) y Erick Rodriguez (20) tras participar activamente en un grupo de acción y resistencia a la dictadura que se encontraba infiltrado desde sus comienzos, se disponen a colocar una carga explosiva en un transformador de luz ubicado en Avenida San Pablo con Radal, en las cercanías de la población Simon Bolivar.
La acción estaba avisada a efectivos de la CNI (Central Nacional de Inteligencia) quienes prepararon una emboscada donde acribillaron a ambos jóvenes miristas.
Desde entonces en la población Simón Bolívar se recuerda esa fecha con actividades, velatones, manifestaciones y enfrentamientos con la policía. (more…)
Tags: Arson, Chile, Coordinadora Informal-Grupúsculo Iconoclasta, Sabotage, Santiago, Solidarity Action
Posted in Direct Action