'Direct Action' Archives
Thursday, February 28th, 2019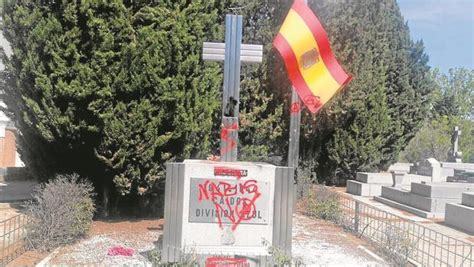 Last Friday, February 8, we vandalized the monument to the División Azul in the Almudena cemetery in Madrid. There are reasons to do it any day, but this date we chose with pleasure because the next day the fascists paid homage and on Sunday an amalgam of rancid ultra-Catholics, fascists, geriatics, neo-Nazis and various imbeciles walked with their anachronistic and disgusting symbols for a few streets in Madrid.
We carry the historical memory in our hearts. In the invisible scars that have left us with centuries of oppression. In our ideology and our practices. In our incessant search for freedom. We do not need governments or laws that change symbols for others. We will always have fun staining the dirty symbols of the authorities, whether they represent democracy or fascist dictatorships.
Death to the State and Long Live Anarchy!
Tags: División Azul, Madrid, Sabotage, Spain, Vandalism
Posted in Direct Action
Sunday, February 17th, 2019
Communique received on 02/01/2019:

It's obvious that techno-industrial progress is advancing and with it the impact on nature is becoming stronger and more irreversible…
We won't take a reformist and conformist attitude in the face of this situation, now less than ever as the 'ecologist' struggle has been absorbed by governmental institutions and platform groups, which prepared the ground for a new form of irrational consumerism, depicted as 'ecological', 'green'… (sic) so as to allow companies to make profits at the cost of the destruction of the planet and all the beings who inhabit it… as hypocritical happiness and tranquillity dominated the end of the year festivities, we preferred to prepare and carry out an attack with an explosive device at dawn on 1st January, against a Ford Gimsa car showroom situated in Mexico-Texcoco Carretera in Reyes a la Paz, which caused damage to the façade and to some cars that were parked there… with this action we express solidarity with the comrades on the run in this territory under surveillance and with the Argentinian comrades who are been subjected to a wave of repression following an explosion; this attack is also part of a coordination of attacks in several areas of the country and responds to a call for agitation and attack.
Earth Liberation Front – Anti-Civilization Cell
–
roundrobin.info/
Translated from Italian by act for freedom now!
Tags: Earth Liberation Front, Earth Liberation Front – Anti-Civilization Cell, Mexico, Sabotage
Posted in Direct Action
Friday, February 1st, 2019
What does the lair of a procurer do at Heraklion avenue, uh?
IT'S ON FIRE!
At the dawn of Thursday 20/12/2018 an unpleasant surprise roiled the whole family of Aggelos Giannakopoulos, boss of "Horiatiko" and "Attica Bakeries" baker's shops, at the family apartment building of 29 Heraklion Avenue in Ano Patisia. Three of the family's cars were wrapped in flames, the front was damaged and the windows of the ground floor were broken. The forementioned dorm is the same building where, years ago, Giannakopoulos bros were imprisoning, blackmailing and prostituting women from the Eastern Bloc, in their owned lap-dancing clubs, at private appointments, as well as in sleazy "bars" all over Greece.
Police stories…
In the summer of 2007, cops, prosecutors and Department of Financial Crime auditors bust in the said block of flats. In the press, information is leaked that Angelos Giannakopoulos is the head of an international trafficking network. The pimps with the synergy of employment agencies in Eastern European countries were bringing women, withholding their credentials, and selling their bodies to punters. Despite the "coordinated" operation, the two Giannakopoulos brothers get away, while dozens of smaller fish are captured, among them the name of retired cop Konstantinos Kyrou being exposed. The network's profits were laundered in dozens of "legal" bakeries and shops of Giannakopoulos bros and with the facility of an off-shore company. In addition, those wanted are accused of trafficking of minor and adult women, abduction, injuries, drug trafficking, forgery and money laundering. The next act of the drama is played sixteen months later in November 2008 when a second police operation for the activities of Giannakopoulos is conducted, in cooperation with Interpol (as well as the first time). (more…)
Tags: "Sophia Perovskaya" Cell, Angelos Giannakopoulos, Arson, Athens, Greece, Sabotage, Sex Trafficking
Posted in Direct Action
Monday, January 28th, 2019


"All power to the Kurdish people fighting for their autonomy and liberation."
Ikarus Gang Solidarity. East Borneo, Balikpapan.
Tags: Indonesia, International Solidarity, Kurdish Struggle, Rojava, Syria
Posted in Direct Action
Monday, January 28th, 2019
During new years eve in Leipzig, eastern Germany, the night of excess was used to initiate an attack on a target that, up until then, deemed itself as heavily protected and untouchable. Every year for the first half hour of the new year, the
big cities in are covered in thick layers of fog and smog, never ending noises of explosions and masses of people who take over the sidewalks and community spaces to get a good look at the fireworks. The attackers goal was the federal court and the state prosecution. This institution figuratively and literally represents the central organ of the judiciary, this state and its democratic society.
200 meters away from the federal court, a burning barricade blocked the crossroad, so that the group could carry out the attack on the federal court and the neighbouring fraternity Corps Lusatia without any disturbances. Stones broke
through the windows of the fraternity house and paint balls were thrown at the facade. The mobile cameras of the court house were sprayed followed by people jumping the fence and trying to break through the security glass. Fire was set to the front door and the window frame, sadly the insides of the building were left undamaged. In front of the court, another barricade was set ablaze, cars were smashed and burned. The whole street was covered in smoke, released from the
cartridges of the attackers.
A choreography, which led saxonies attorney general to believe in a high level of professionalism behind the attack. He was very quick to announce a new level of left radical violence. Not only did the delinquents attack the state, but the whole society. Nothing that actually hasn't been heard before.
Around the new year, several attacks against state property were carried out. For example the arson attack against the district court in Berlin-Wedding and the district court and the district attorneys office in Hamburg in the last week of December 2018. In the first weeks of January there were attacks on the Court Building in the south of Germany, Stuttgart and some days later in Freiburg and against the Court in Göttingen, as an attack against deportations and the racist law regime.

Let's continue to target these institutions.
As long as we walk these streets we will try to burn down every court, that people get dragged in front of every day!
Tags: Arson, Germany, Leipzig, Sabotage
Posted in Direct Action
Monday, January 28th, 2019
1) Colocación de artefacto simulado en bus del transantiago + Revindicacion y reflexión de la Columna Insurreccional "Ira y Complot" – FAI/FRI Núcleos Antagónicos de la Nueva Guerrilla Urbana.
2) Artefactos explosivos descativados contra banco Estado en Vitacura + Revindicacion de "Amigos de la polvora- Núcleos Antagónicos de la Nueva Guerrilla Urbana"
Tags: Chile, Informal Anarchist Federation (FAI), International Revolutionary Front, Núcleos Antagónicos de la Nueva Guerrilla Urbana, Santiago
Posted in Direct Action
Wednesday, January 9th, 2019
Columns of smoke escaping from the roofs of the rich district of Elbchaussee, helicopters turning in the sky. By far, that was what let some early-bird residents guess that something was going on, perhaps beyond the statements of the riot police and secret services. A crowd of hooded people pursued their goal of publicizing their vision of things, destroying both in a targeted and blind manner a tiny part of this world of prosperity.
A wonderful sign. A street of cars in flames, souls completely helpless absolutely not wanting to understand why they had just been the victim of this useless violence. We have a great mark of respect for the risk that people had been ready to take.
After all, it already seemed to appear on the radar of all the intelligence services, before the summit, that the limits of the city were going to be surpassed. A moment of offensive demonstration, whose character has only rarely been achieved in this country.
Since 18 December, five comrades from Frankfurt, Offenbach and from France have been going before the higher regional court of Hamburg. They are accused of having been part of this ride. The relevant items are films and video material that the cops have analysed in detail . They claim to be able to identify people in a cohort of hooded individuals dressed all in black. (more…)
Tags: Arson, Berlin, G20, Germany, KONE, Sabotage
Posted in Direct Action
Tuesday, January 8th, 2019
On the last day of the year we slashed the tires of two cop cars parked outside their precinct. This attack was carried out in revenge, specifically for the police brutality against anarchists in Philly this summer, and in general for all the indignities, small and large, that police cause every time they do their jobs.
This attack taught us the importance of patience and determination.
It warms our hearts to see the police also being attacked in Portland, even though we disagree with some of the goals we read in the most recent claims because we don't think there's any justice to be found in the system. We hope the comrades
mean themselves when they speak of continuing "until something serious is done", it's obvious to us that the city and liberal campus they paint are not with us. We think it's up to us to seek our own revenge.
The dead are with us in memory and through our actions.
Fuck the police!
Tags: Black December, Philadelphia, Sabotage, USA
Posted in Direct Action
Tuesday, January 8th, 2019
Responsibility claim for the arson attack against the Courthouse in Wedding
Europe-wide raids and house-searches. Arrests and extraditions. Informers and denunciations. The joyous chaos of the summit days and the confirmation of the loss of control forces the State to react. The reactions are noticeably more hostile than they have been for many years. Direct attacks against us and our structures are the reply of the rulers. The intensification of the persecution, the will to punish and the depoliticization of our ideas and actions are promoted.
What is forgotten within this logic is that we are united by political fragments like small parts of a puzzle – be it events, trains of thought that are happening in other cities or suddenly appearing in texts – and also by the reduction of the accomplices that are to be removed from the common table. We don't have to know the people who are on the streets with us. Through our sometimes unspoken ideas, we feel connected to each other and by meeting together in the streets, we act together, so that these ideas are not just dreamed of in a vacuum.
The enemy's current attempts to condemn the few who have resisted the many cannot be left unanswered by our side. (more…)
Tags: Arson, Berlin, G20, Germany, Sabotage
Posted in Direct Action
Sunday, December 30th, 2018
Black December means action and memory, and, like any initiative of direct attack, it comes to life and continues when there is a will to go from words to deed – to break with the normality of the capitalist social routine and the comfort of civic life.
Always prepared for action, we liberate ourselves from the consumerist fever and the behavioral patterns imposed by the social order with its end of year traditions. And so, with planning, cunning and certain precautions, the anarchist attack never stops.
That's why at dawn on December 28th we set fire to a truck in the city of Santiago, in a suburb of the so-called 'middle class'. The action was reported by the media and now we can confirm: it wasn't a short circuit, it was an intentional fire wrought by anarchic hands during the middle of the night in the streets of their disgusting city.
Setting fire to a truck is attacking the mega-machines and structures that contribute to the devastation of the Earth, it is setting fire to the ideas of progress and civilization, it is our contribution to the ongoing agitation against the IIRSA-COSIPLAN project and the construction of thousands of kilometers of roads that destroy eco-systems to facilitate the transit of trucks full of merchandise and accelerate the advance of the city that contaminates our life. (more…)
Tags: Arson, Black December, Chile, Incendiaries Complicit in Sabotage – Informal Anarchist Federation / International Revolutionary Front (FAI-FRI), Informal Anarchist Federation (FAI), International Revolutionary Front, International Solidarity, Santiago
Posted in Direct Action
Friday, December 28th, 2018
Diciembre Negro significa memoria y acción y, como toda iniciativa de ataque directo, cobra vida y continuidad cuando hay voluntades que pasan de las palabras a los hechos para romper con la normalidad de la rutina social capitalista y con la comodidad de la vida ciudadana.
Siempre dispuestxs a la acción, nos liberamos de la fiebre consumista y de las pautas de comportamiento impuestas por el orden social y sus tradiciones de fin de año, así, con planificación, astucia y ciertas precauciones el ataque anarquista no se detiene.
Por eso la madrugada del 28 de diciembre prendimos fuego a un camión en la ciudad de Santiago, en una comuna de la llamada "clase media". El hecho fue reportado por la prensa y ahora les confirmamos: no fue un cortocircuito, fue un incendio intencional forjado por manos anárquicas en medio de la noche entre las calles de su asquerosa ciudad.
Incendiar un camión es atacar las mega-máquinas y estructuras que contribuyen a la devastación de la Tierra, es prender fuego a la idea de progreso y civilización, es nuestra contribución a la agitación contra el proyecto IIRSA-COSIPLAN y la construcción de miles de kilómetros de carreteras que destruyen eco-sistemas para facilitar el tránsito de camiones llenos de mercancías y acelerar el avance de la urbe que contamina nuestra vida. (more…)
Tags: Arson, Black December, Car Burning, Chile, IIRSA (Initiative for the Integration of the Regional Infrastructure of South America), Informal Anarchist Federation (FAI), International Revolutionary Front, International Solidarity, Santiago
Posted in Direct Action
Friday, December 28th, 2018
In the night of 30th November at 8pm, as the neighbourhood of Sant Andreu (Barcelona) was in the middle of a celebration and patrols were going around, a cash machine of Deutsche Bank was happily burning.
A piece of writing, 'prisoners of war'.
An individual action.
Coherent consequence of my anarchist orientation.
Let the flames lighten up my comrades' nights, even if only with a simple smile.
To the prisoners of war in the Spanish peninsula. Onwards, comrades!
To the Italians persecuted in the operations panico and scripta manent.
To Paska, a comrade on hunger strike since 5th November. Strength to you, comrade!
To Anahi, in coma following an attack in Argentina. Resist, comrade!
To Hugo and Marcos, rebels and avengers. Onwards!
To Juan Aliste. Irreducible!
To the Greek and Chilean warriors.
To Lisa, I'm waiting for you with a complicit smile.
To all the coherent and consequent individuals. Let's continue the struggle!
To the compas in Madrid.
Let M.I.L. cash machines burn!
roundrobin.info
Translated from Italian by act for freedom now!
Tags: Arson, ATM Burned, Barcelona, Catalunya, International Solidarity, Sabotage, Spain
Posted in Direct Action
Wednesday, December 26th, 2018
IT – Italia: Attaccato Istituto Italiano di Tecnologia
(12/24/2018)
In the early hours of December 24th we attacked the Italian Institute of Technology (IIT).
H24 [security company] surveillance at the receptions and private security in the car were not a good deterrent; we were determined to attack you and we did it! The IIT is the flagship of the Italian state and is a foundation for technological development and national policies in favor of science and technology. It works to strengthen the markets and policies of looting and devastation every day committed by capital and government.
It carries out neuroscience studies, "brain technologies" and genetic research for the manipulation of living things. Active in nanotechnology, conducting research on nanomaterials and their use, as well as on the development of materials for converting and storing energy, which today's production system needs in huge quantities to maintain the speed of the mad rush of progress.
In addition to iCub, in the field of robotics and artificial intelligence, they perfect robots for industrial production.
In the service of capital and the police state that assures it, they are engaged in the creation of systems of "computer vision" for systems useful for identification and social control. (more…)
Tags: Anti-technology, Artificial Intelligence (AI), Genoa, Informal Anarchist Federation (FAI), International Revolutionary Front, Italy, Nanotechnology, Sabotage
Posted in Direct Action
Wednesday, December 26th, 2018
In the early hours of Christmas morning, Santa visited De Roma Art Glass. But Santa didn't leave any presents, instead he super glued the locks.
De Roma Art Glass is owned by the most notorious neo-nazi in Minneapolis, Julius De Roma.
No holiday cheer for fascists.
Solidarity with all those fighting fascism and authority worldwide!
Tags: Anti-Fascism, De Roma Art Glass, Julius De Roma, Minneapolis, Neo-Nazis, Sabotage, USA
Posted in Direct Action
Saturday, December 22nd, 2018
Happy Holidays Motherfuckers!
We don't know how to do Christmas. What do you give the greedy scrooges that already take everything? Instead of a goose, we gave gift cards up and glued into ATMs and locks.
*Sung to the tune of Twelve Days of Christmas*
1 parking meter, 1 racist Starbucks, 1 Illegal Tacos
2 OCF cafes, 3 Citibike kiosks
5 realty offices, 110 ATMs
—
Except this wasn't over 12 days it was in 1 night. This shit was fun and easy.
Here's some things to consider if you want to try this at home.
-Plan and dress for the weather.
-Set high goals.
-Watch each other's backs.
-Invite more people to participate with you.
-If using cardboard instead of gift cards don't drop it in a puddle.
-ATMs have high quality cameras, cover up well.
-Bring extra supplies in case an opportunity arises.
-Don't blow up your spot, look jolly not grinchy.
-Many small groups can cover more ground than one big group.
-For information on sabotaging ATMs read these communiques.
https://phlanticap.noblogs.org/atm-attacks/
https://itsgoingdown.org/striking-back-banks-portland/
On Mikhail, on Alexis, on PZS, on Sebastian!
Solidarity with people facing repression near and far!
Solidarity with the Vaughn 17!
Ten years since the insurrection in Greece!
For a Black December!
'Tis the season of rage!
Ghosts of No Christmas Future
Coordinated Cells of Grinches
War on Christmas
Ugly Christmas Sweater Moms
Tags: Black December, Philadelphia, Sabotage, USA, Vandalism
Posted in Direct Action