'Direct Action' Archives
Saturday, September 28th, 2019
Moving bowed clock-hands walk around the grey metropolises. From grave to grave. From cell to cell. From apathy to apathy. From door to door. Doors also bowed, bent over, condemned to collapse if they don't see the clock-hands passing by at the right time. And time swallows the clock-hands, like the numbers that they were showing were something unimportant and conventional, like the only important thing was always just to walk around bowed. Some clock-hands broke off, and, for these ones, each pacified day is one more death for one of their aspects.
That's why they take their bodies all together and mill around the streets that smother them since their childhood. The enemy is there, inside fortresses that ensure the dominant order and normality. One of
these fortresses, the Zografou Police Station, was chosen to be targeted and attacked with incendiary devices at the dawn of this 14th of September. (more…)
Tags: Arson, Athens, Greece, Sabotage
Posted in Direct Action
Saturday, September 28th, 2019
On Sunday September 15, we attacked with stones and hammers:
New Democracy offices in: Painakos street, St. Eleftherios Petridou Street, Ano Glyfada Athanatou Street, Sunny street Marinou Antipa, Brahami street of Aghios Demetriou, Daphne street of Vouliagmeni, Thukididou street.
The bank branches: National road in Chalandri Zenonos street, National in Byron Formionos street, National road to Alimos Thoukididou street, National road in Glyfada Vouliagmeni street, Piraeus Corfu Street in Kypseli.
As long as the new power-holders, their media parrots, the cop-unionists smell the tale of "exile of Exarcheia" and "lawlessness," we perceive only a symbolism of the pursuit of universal doctrine and law.
More cops, fewer rights, fewer voices calling for and shouting, disappearing anything and anyone that spoils the showcase of tourism, "investment," the neoliberal vision of the free movement of goods. And what Exarcheia symbolizes, the uprisings in the city over the last 11 years (though we could go back further) are no good for businesses, they don't fit into the Airbnb metropolis they are seeking.
But as for them, Exarcheia (and their police occupation) express a symbolism of "fighting lawlessness," so too for us, they have the function of a symbolism of moments started for our attempts to invade the sky.
Although (most of) us live elsewhere, we have our political roots. In our neighborhoods, in our workplaces, in our schools, in the moving structures we have set up in our living spaces.
The "battle of the exiles" is not for us a "rebellious play ground" but part of a more comprehensive struggle that fights with self-organized unions, anti-fascist neighborhoods, local struggles…
In this symbolism of Exarcheia is all that the power wants to suppress.
And all that we want to disperse.
Occupations and living structures are spaces of struggle and freedom.
You will bleed to get them.
Comrades for the diffusion of Exarcheia
Original publication, 18th September 2019:
https://athens.indymedia.org/post/1600040/
Tags: Athens, Greece, Sabotage
Posted in Direct Action
Saturday, September 28th, 2019
Today morning 27 Sept, around 02:30 the neighbourhood of Exarchia was listening to the voice of 5 bullets, which came from the street of Char. Trikoupi to attack the military check point of MAT [Riot unit] at this street. The results of the armed attack are not clear yet, but we suppose that there were not killed or injured cops.
This is a warning for those who militarized and occupied our neighborhood, since an army is in our neighborhood, so the answer also should be in an armed way; what we are doing is return the violence that already we have received. The real terrorists are states, not us as a social resistance movement.
Unfortunately, a part of our movement is bringing the resistance to a peaceful way of struggle, which is unacceptable, because in our opinion a pacifist resistance movement is a dead resistance movement, so we think the violence and especially armed violence is necessary against all these attacks that we have received from the state.
Revolutionary anarchist armed strugglers (GANA)
27/9
Tags: Athens, Attentat, Exarchia, Greece, Revolutionary anarchist armed strugglers (GANA)
Posted in Direct Action
Thursday, September 26th, 2019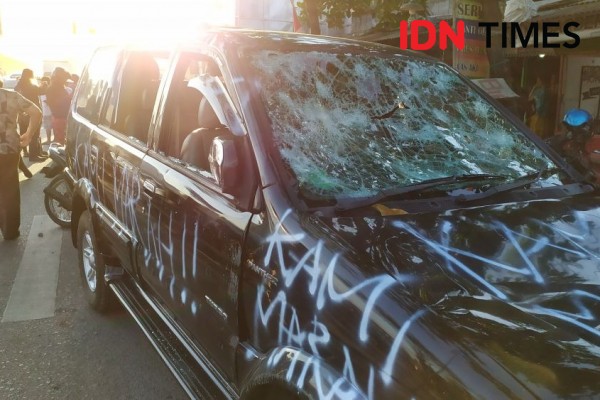 A demonstration outside Hasanuddin University (Unhas) I, Makassar Perintis Independence Street, took place as a series of demonstrations of community and student alliances of various regions. During the end of the demo today, comrades stopped two official state cars, brought the drivers out and trashed the vehicles. According to corporate media 19 people were arrested in the nearby area in a police round-up.
At September, 26, 2019, two cars of the Forestry Service South-Sulawesi Province (Makassar-Indonesia) had been damaged, by breaking all the windshields and then turning it in the middle of the road.
Here is the communique from that action:
1. We are angry because the country along with the Army and Police violently chased, evicted, fired, and killed our brothers in Papua, Kulon Progo, Urut Sewu, Bara barayya and Polongbangkeng.
2. We are angry because the government continues to attack us with torturous rules.
3. We are angry because the capitalists continually try to destroy our lives, destroy nature, burn forests, heap the oceans, destroy mountains, displace the living space of each species, build artificial buildings, to control what we should and should not consume.
4. We are angry because the media are preaching everything that is not important, eliminating cases of murder until the slaughter and continuing to work with the authorities to destroy the struggle of our combatants who fight for a better life.
5. There is no compromise for rulers and capitalists.
Below are link/news about that action:
https://nasional.tempo.co/read/1252801/unjuk-rasa-di-makassar-rusuh-massa-merusak-mobil-pelat-merah/full&view=ok
https://sulsel.idntimes.com/news/sulsel/aanpranata/unjuk-rasa-di-depan-unhas-dua-mobil-dinas-dirusak/full
Tags: Demo, Indonesia, Makassar, Riots, Sabotage, Sulawesi
Posted in Direct Action
Tuesday, September 24th, 2019
Many people talk about the climate, they talk about the weather. Those who want to seem radical criticize the media icons that criticize those who govern.
Many people talk about arriving later this month. There are also those who rediscover the virtues of the people. And who are looking forward to weekly appointments with this famous "people".
Many people talk.
We thought that the urgency, today as always, is to act. Act in small groups or alone, following our ideas and not the mood of the masses. The urgency of the attack.
Identify the enemy: like yesterday and like tomorrow, states, capital and every authority.
On the night of last Tuesday [September 17, 2019] we set fire to a car with a diplomatic plate and a big Porsche of a rich man, on avenue Marcel Proust.
We wanted to send a wink to the Italian anarchists convicted for the "Scripta Manent" operation; it has been three years since you were locked up. We don't forget you!
A thought also for the three Germans arrested on a southern highway during the G7.
A thought for the Hamburg comrades.
[Taken and translated from attaque.noblogs.org].
Tags: Arson, Car Burning, France, International Solidarity, Paris, Sabotage
Posted in Direct Action
Saturday, September 21st, 2019
A regional headquarters of New Democracy (ND), Greek Prime Minister Kyriakos Mitsotakis, was attacked at dawn on Thursday (12⁄09) with an explosive device, in another incident of these characteristics in just two weeks.
Tenants from a neighboring building alerted the fire department. The attack caused extensive property damage. So far, no group has taken responsibility for the offensive.
"This is the second attack on ND's offices in a few days, this time in Pefki, it's a continuous attack on democracy."
From: Agência de Notícias Anarquistas, AMW
Tags: Athens, Greece, Insurrection, Pefki, Sabotage
Posted in Direct Action
Wednesday, September 18th, 2019
Chillán, Chile: An explosive device at the headquarters of the Chilean police was deactivated a few hours before the arrival of President Piñera (August 20, 2019)
During the early hours of August 20, 2019, in Chillán, a suspicious object attracted the attention of the security device implemented pending the visit of President Sebastián Piñera.
Outside the main investigative barracks of the PDI ("Policía de Investigaciones de Chile", which together with the Carabineros de Chile is one of the two police bodies of the Chilean State), located in Vega de Saldías, and which borders a police headquarters located in the center of Chillán, an explosive device was deposited without initially arousing suspicion. (more…)
Tags: Attentat, Chile, Chillán, Santiago
Posted in Direct Action
Tuesday, September 3rd, 2019
On September 2nd, we attacked the Greek embassy in New York City, smashing the front window and tagging the entrance with a circle-A.
This action was in solidarity with the anarchists and refugees in Exarcheia, where the fascist Greek state has begun evicting squats and sending immigrants to concentration camps. So far, at least four squats have been evicted and 143 people arrested by the pigs, brutally ripping people from their homes under orders from the extreme right-wing New Democracy party.
Let's not forget it is the American imperialist pigs, along with the British and French colonizers, that have brutally exploited and occupied parts of the Middle East and Africa, carving away borders with blood and making way for puppet regimes and despots forcing millions to flee their homes. (more…)
Tags: Exarchia, Greece, International Solidarity, International Week for Anarchist Prisoners, New York, Sabotage, Solidarity Action, USA
Posted in Direct Action
Saturday, August 31st, 2019
Anonymous report, from Stop the cull (click here for video from the action [warning – Facebook]):
During the night of 19th August we visited a partridge shoot of the outskirts of Gloucester and liberated what we believe to be around 5,000 partridges, destined to be shot imminently. After weeks of surveillance of the rearing sheds, we waited until two weeks before the start of the killing season to release them. This was both to ensure that the birds were old enough to survive and to cause maximum economic damage. Our aim is to close this shoot down for good.
Due to the proximity of the farm buildings and the gamekeeper's house, we built a barricade on the track so if the keeper came out in his vehicle we'd have time to escape should the noise of the fleeing birds wake anyone. We then opened each pen in turn by cutting the zip ties that held the fence panels together and the plastic netted roof before herding the thousands of captives into the surrounding maize and wheat fields.
We will dismantle this industry pen by pen, shoot by shoot.
Until all birds fly free.
Animal Liberation Front
via Bite Back.
Tags: ALF, Animal Liberation, Animal Liberation Front, Gloucester, UK
Posted in Direct Action
Thursday, August 29th, 2019
(FR) Vienne, Autriche : Incendie d'une antenne d'autoroute en solidarité avec les trois du banc public de Hambourg
(IT) Vienna, Austria: Le nostre inclinazioni dannose si stanno consolidando
We learned with rage that our comrades of Hamburg known as "the park bench three", are in prison on remand. The fact that two of them are charged with "harmful inclinations" doesn't surprise us. Always, those who rebel against the prevailing order are condemned as "parasites".
Our comrades are clearly accused of attempted arson as they were arrested in possession of incendiaries in this Hamburg park. It should be clear to everyone that this is yet another repressive blow against the anti-G20 rebels and their world, also concerning the arrest on the day of the anniversary of the riots. (more…)
Tags: Arson, Austria, G20, Hamburg, International Solidarity, Park Bench 3, Sabotage, Solidarity Action, Vienna
Posted in Direct Action
Thursday, August 22nd, 2019
Makassar, Indonesia, August 21st, 2019: Dozens of Makassar citizens took direct action (blocking the road) in front of the Hasanuddin University to convey solidarity with West Papuans who received racist acts and violence from the military, police and ultra-nationalist civil militias.
As for what is written on the banner:
MAKASSAR CITIZENS SOLIDARITY FOR PAPUA

1. STOP TORTURING PAPUANS RIGHT NOW!
2. PAPUANS ARE FREE TO CHOOSE THEIR OWN WAY (TO FREEDOM)
3. TNI (Indonesian Armed Forces), POLRI (Indonesian Police Force) AND FASCIST CIVIL MILITIAS, STOP YOUR RACIST ACTS, YOU DICK SHIT!
via Anarchists Worldwide.
Tags: Demo, Indonesia, International Solidarity, Makassar, Police Brutality, Racism, Repression, Solidarity Action, West Papua, West Papua Independence
Posted in Direct Action
Thursday, August 22nd, 2019
21.08.19: On Monday night, we set fire to several construction vehicles on the grounds of the Zwickau Marienthal Prison construction site. An excavator was burned out completely, the other four excavators and a front end loader were damaged by our fire and made partially unusable. We would like to dedicate this action especially to Loic, the Park Bench 3 and the Basel 18. They are missing from our side.
In Zwickau-Marienthal, construction work on a joint new prison complex for the states of Saxony and Thuringia began recently. At the beginning of 2020, a 6 meter high wall will surround the 10ha area. The concrete complex, which is to be completed by 2024, will then hold 820 people within its walls. In its workshops more than two-thirds of the prisoners will be forced to work. (more…)
Tags: Anti-Prison, Arson, Germany, International Week for Anarchist Prisoners, Prison Industrial Complex, Prison Labour, Sabotage, Saxony, Thomas Meyer Falk
Posted in Direct Action
Wednesday, August 21st, 2019
Recently received translations of two separate actions from earlier this year to highlight anarcha-feminist and anti-sexist struggle.
Athens, Greece: Antisexist scoutings in Exarchia
In response to the misogynistic culture of Exarcheia and the recent incidents of rape, sexual harassment and gendered violence in the streets of the area, we decided to show those who would have us live in fear that they are the ones with a reason to be afraid. On the night of the 10th of March we went on an antisexist scouting without the presence of cis men chanting slogans and demonstrating our ability to fight back.
On the night of the 15th of March we went on a second antisexist scouting by femmes in response to the misogynistic culture of Exarcheia and the recent incidents of rape, sexual harassment and gendered violence in the streets of the area. This time even more comrades participated in the intevention. We will continue being present in the street and we will be more and more. (more…)
Tags: Anarcha-Feminists, Athens, Corfu, Crete, Exarchia, Graff, Graffiti, Greece, Paint attack, Petralona, Sexism, Vandalism
Posted in Direct Action
Wednesday, August 21st, 2019
To everyone
We assume responsibility for the following actions in the city of São Paulo on July 2019:
– 2 noise bombs in a trash can in a bathroom of the luxurious Bourbon Shopping complex, on Avenida Francisco Matarazzo 1785, in the Perdizes neighborhood, west of São Paulo, on Sunday 14-07-2019, in retaliation for the presence in this shopping center of the Riachuelo and Yuny corporations, owned by the fascist magnates Flávio Rocha and José Yunes. Manifesto in www.pastebin.com/QMZe6tWZ [removed link]
– Doxxing attack against EMERSON MIGUEL PETRIV and MATHEUS VINICCIUS RIBEIRO PETRIV, aka Boca Abierta and Boca Abierta Junior, respectively father and son and federal and provincial deputies of the PROS party for the state of Paraná and supporters of fascist Jair Bolsonaro. Manifesto at www.pastebin.com/nbmaukWF [removed link]
The month of August 2019 will be crucial for the Brazilian people, since the fascist government Jair Bolsonaro intends to approve the criminal "reform" of the pension plan of the Chicago Boy Paulo Guedes and national and international bankers in the middle of a increasing escalation of state terrorism against social militants and opponents of the Bolsonaro dictatorship. Recent police raids in union meetings and murders of opponents such as the leader of the Waiapi indigenous people by Bolsonaro's thugs support strong responses. (more…)
Tags: Brazil, Cells of Opposition to the System (NOS), Hacking, Noise-bomb, São Paulo
Posted in Direct Action
Wednesday, August 21st, 2019
Against "smart cities", against green capitalism, against gentrification, against cities. Against the architecture of consumption, against the commodification of all ways of life, against property. Against peace, against the absence of tension, against democracy, Against authority. The night of July 26-27 we set fire to two rental bikes in the area of Moncloa (Madrid).
May the heat of the fire and our hugs reach the Park Bench 3 and those like them.
For conflict, for anarchy.
William Van Spronsen Spontaneous Night Group
Tags: Arson, Madrid, Sabotage, Spain, Vandalism, William Van Spronsen Spontaneous Night Group
Posted in Direct Action