'Direct Action' Archives
Sunday, October 14th, 2018
12/10/18, New York City: Anarchist cell smashes windows of ruling political party club building and sprayed slogans to co-incide with an event organised by them with the fascist Gavin McInness, co-founder of Vice Media and founder of Proud-Boys (American far-right group). Locks were also glued and digital keypad destroyed. No-one was arrested.
Tonight, we put the Republican Party on notice, in defiance to the policy of mass misery they have championed. The US government has established concentration camps around the country for Latino people, shamelessly murders black people, and continues its war machine that has slaughtered Muslim people with impunity for decades. The so-called "Land of the Free" leads the world in incarceration rates per capita, all the while profiteering in the new plantation within the prison walls.
While these atrocities persist unabated, the Metropolitan Republican Club chose to invite a hipster-fascist clown to dance for them, content to revel in their treachery against humanity. The Republican Party, joined by their spineless partners-in-crime, The Democrats, institute a policy of domestic and foreign terror felt the world over. Our attack is merely a beginning. We are not passive, we are not civil, and we will not apologize. Those of good conscience and clear mind know this state of oppression cannot remain. The US fascist political system is one of the most savage institutions in history and we will combat it relentlessly until all are free of American barbarism.
–The Korryn Gaines Anarchist Attack Cell
Tags: Anti-Fascism, Antifa, Gavin McInness, New York, Racism, Republican Party, Sabotage, USA, Vandalism
Posted in Direct Action
Friday, October 12th, 2018
We are a group consisting of autonomous individuals who carried out some poster bombing and vandalism actions against Bank of Indonesia, ATMs, police posts, the Digulist roundabout, the West Kalimantan governor's office and several other highly visible locations in Pontianak City. We carried out these actions as a response to the meeting between Global Capitalist organizations the World Bank Group and the International Monetary Fund that is being held in Bali from October 8-14, 2018.
These spontaneous actions we carried out express our uncompromising rejection of a normal life full of daily submission. These actions are a manifestation of our hatred, anxiety and and anger against a system that requires us to accept a society where we have no control over our own lives. Their meeting is a clear sign that Global Capitalism has improved it's position in controlling daily life with various disgusting economic schemes and investments.
For us there are two options: taking action or remaining silent – and we will never choose the second option. Passively watching or reading the news about the IMF-WBG meeting, that is not an option for us. If we take a deeper look, we can see that all aspects in this world relate to economics, and yes, they are the people who are behind all of this bullshit.
Here is a sentence that is appropriate for all those groups and individuals who condemn our actions as immoral and irrational acts: There is no system or morality that can hold us back when we reach the peak of our anger.
And another thing you should know: you are all under their control. You just don't realize that the concept of good / bad morality that you follow is what allows them to achieve their goals. You are all their obedient tools.

We are what you call Utopianists. We are Anarchists!
Tags: Bali, Counter-Summit, Indonesia, International Monetary Fund (IMF), Pontianak City, Sabotage, Vandalism, World Bank Group
Posted in Direct Action
Wednesday, October 10th, 2018
Repressions and prisons have become part of our lives, as well as of lives of all those recalcitrant comrades who prefer to conduct an offensive struggle against the state and capital, attacking all manifestations of power and destroy the oppressive order. More and more often in the course of this struggle, we hear calls from all corners of the world for solidarity with repressed and imprisoned like-minded people, we hear stories how yet another one of us was put behind bars, beaten, tortured or even killed , and also hear how this or that infrastructure of anarchists was destroyed, plundered, how this or that initiative suffered from raids from punitive groups of the Ministry of Internal Affairs (MVD).
The authorities, like a hundred years ago, are trying to stop us. Today, like yesterday, we are opposed by the guardians of the state structures that were trained and endowed with the "legal right" or in simple words — state dogs loyal to their masters and interested in maintaining the status quo, repressing anarchists and other unruly people. (more…)
Tags: Andrei Chernov, Arman Sagynbaev, Arson, Dmitry Pchelintsev, Ilya Romanov, Ilya Romanov anarchist cell / FAI–IRF, Ilya Shakursky, Informal Anarchist Federation (FAI), International Revolutionary Front, International Solidarity, July Boyarshinov, Kiev, Maxim Ivankin, Mikhail Kulkov, Oleksandr Kolchenko, Sabotage, Sergey Romanov, Ukraine, Vasily Kuksov, Victor Filinkov, Yevgeny Karakashev
Posted in Direct Action
Wednesday, October 10th, 2018
On the night of Wednesday to Thursday, October 4th, a car belonging to Bouygues was torched on rue Laurier in the 17th arrondissement of Paris. Bouygues is well known for their involvement in prison construction.
We are sending these smoke signals to Krem, the last one to face charges for the burnt cop car case, to be incarcerated and subjected to the prison administration. Do not forget about him!
May this small incendiary gesture give strength and courage to the anarchists tortured and imprisoned in Russia, as well as the Basel 18 who will go to trial at the end of October for a wild and vicious stroll one evening in June 2016.

Freedom for all!!

Source

Tags: Arson, Bouygues, France, Krem, Paris, Sabotage, Solidarity Action
Posted in Direct Action
Wednesday, October 10th, 2018
08.10.18: Tonight, we set fire to a dozen Eiffage vehicles and construction machines because this company plays a fundamental role in our prison society.
Eiffage is involved in the producing spaces of constraint and control. They put their claws on most devices within the large invisible cage we live in. Schools, workplaces, housing, courts, hospitals (psychiatric and other), retirement homes, barracks, stadiums and public spaces are all bars that keep us in capitivity.
But if Eiffage is the object or our hatred and vengeful action, it is also, and above all, because they provide the material structure necessary for the punishment industry: prisons, detention centers and juvenile correctional facilities.
The government's new 'prison plan' will soon add 7000 more places to the hell of penitentiary survival.
Proud to appear as a specialist, Eiffage will still make some profitable business. Furiously opposed to all prisons, last night we let them know that we have declared war.
We welcome all the attacks against the mechanics of confinement.
We admire the insubordination that bursts from inside the jails: refusals to return from exercise, hunger strikes, cell destruction, attacks against guards and escapes.
We salute the revolts on the 'outside' such as the recent arson attacks against the vehicles of prison guards and the SPIP (French Prison Services).
Also located in this relative exterior- but for how much longer? -We try to remain on the offensive against all who plan, produce and administer prisons.
To all the mutineers,
Rage and courage to destroy our cages!

Foxes
Tags: Anti-Prison, Arson, Eiffage, France, Isère, Sabotage, Saint-Martin-d'Hères
Posted in Direct Action
Thursday, September 27th, 2018
Tired of being silent, tired of seeing systematic violence every day through racism, sexism and waged labor that take place in society, whose essential values are authority and profit. Sick of exploitation we see all political parties as main responsible, as they repress freedom with the state, reformist and repressive apparatus (TV, the mass-media, associations, the army, the civil protection, etc.) The state and capital are the biggest criminals, they even violate their own laws, they steal through taxes, they kill through wars and waged labor, rejections of migrants' boats in the sea, concentration camps for immigrants in Europe and Africa, they contaminate irreversibly men, animals and the entire planet, all for their profit and power.
Let's not forget the hypocritical complicity of society made of citizens who pretend not to see the horrors of present and past racism and nationalism. This acceptance is the pillar of totalitarianism and democracy: in the course of time the authority based on indifference, fear, apathy was able to create Gulags and nazi concentration camps, and today the concentration camps in Libya and outside our homes. It's history that repeats itself. (more…)
Tags: Haris Hatzimihelakis, Haris Hatzimihelakis cell/Black International (1881-2018), Informal Anarchist Federation (FAI), Insurrection, International Solidarity, Italy, Social War, Treviso
Posted in Direct Action
Thursday, September 27th, 2018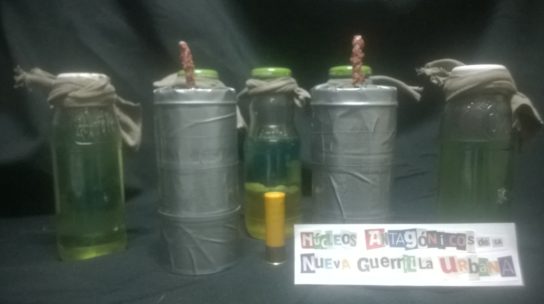 Santiago, 11 de Septiembre 2018
"Hemos decidido rebelarnos frente a esta realidad de mierda, que sin duda nada tiene que ver con nosotros. Pasan los años, y una pregunta me da vuelta en la cabeza. ¿Será siempre así? ¿Es que no tenemos derecho a una vida digna y alegre? ¿Todos los días serán iguales?
Nos cansamos de aplanar esquinas. De estudiar sin saber para qué. De tener que sacarse la cresta por un pedazo de pan. Nos cansamos de ver prostitutas de 11 años y que nos inunden con el Mapocho para salvar a Providencia. Estamos cabreados de los milicos asesinos, de pacos locos y prepotentes, de gerentes ladrones. (…) Queremos ser personas, vivir nuestra juventud. (…) Que no quede ningún asesinato, tortura o atropello sin justicia".
–Movimiento Juvenil Lautaro
El 11 de Septiembre es un hito, marca una antes y un después, lo queramos o no. El 11 de Septiembre ricxs y poderosxs de Chile golpearon la mesa e hicieron prevalecer sus privilegios. El proyecto legalista de la Unidad Popular y también expresiones más radicalizadas de la lucha, vieron notoriamente mermadas sus fuerzas para combatir lo que se avecinaba, de esta manera terminaron siendo aplastados por la bota militar. La derrota fue instalada. Los deseos y las ansias de libertad no pueden ser defendidos solo con buenas intenciones, esto lo aprendimos del dolor que conlleva una lección como esta.
La sociedad chilena fue quirúrgicamente modificada entre decretos, leyes, toques de queda, detenidxs desaparecidxs, muertxs (en falsos y reales enfrentamientos), montajes que avalaban el actuar dictatorial, torturadxs (humilladxs, violadxs, o llevadxs al extremo en simulaciones de fusilamiento), presxs políticxs, exiliadxs, entre otros tantos hechos cuya descripción se vuelve una pesadilla. No obstante y pese a ello, el 11 de Septiembre es una fecha de memoria y de no resignación a los sueños por una vida mejor. (more…)
Tags: Black September, Chile, Informal Anarchist Federation (FAI), Insurrection, International Revolutionary Front, Núcleos Antagónicos de la Nueva Guerrilla Urbana, Santiago, Social War
Posted in Direct Action
Thursday, September 27th, 2018
Erdogan – the stray dog from the Bosporus – will come to Berlin on September 29 and become a terrorist legitimized through the German state government. The warmongers and fascists will meet to resolve further deals on the "refugee issue". While the arms industry pops bottles and the Federal Republic of Germany grants arms exports into the billions, innumerable people are dying in this war. This is the reason for us to disturb, sabotage, and attack this state visit. Not all of us are facing this destruction deedless. Our signs of rage and resistance reached as well our international comrades, who will fight with us on the day the fascist is coming to Germany. Shoulder to shoulder against fascism! Down with Erdogan and his fascist collaborateurs! For freedom! (more…)
Tags: Afrin, Germany, International Solidarity, Kurdish Struggle, Rojava, Sabotage, Syria, Turkey
Posted in Direct Action
Thursday, September 27th, 2018
During the International Week of Solidarity with Anarchist Prisoners more than a dozen ATMs in different neighborhoods of Madrid were sabotaged. The tools for these types of sabotage and simple and easy: hammers and sprays.
We understand solidarity as a continuity of the struggle that has led to our compañerxs being held in the prisons of the State. Anarchist solidarity is much more than just a written word or doing assistance work with the prisoners. This solidarity is materialized via attacks against the structures of capitalism and State, and seeks to deepen the conflict through direct action.
Down with the walls of the prisons. Long live anarchy.
For the compañerxs hit by Operation Scripta Manent!
For the compañerxs facing repression following the Hamburg G20 summit!
For the Indonesian anarchists prosecuted after May 1st!
For Lisa and all the anarchist prisoners!
Anarchists
Tags: G20, International Week for Anarchist Prisoners, Madrid, Operation Scripta Manent, Sabotage, Spain
Posted in Direct Action
Thursday, September 27th, 2018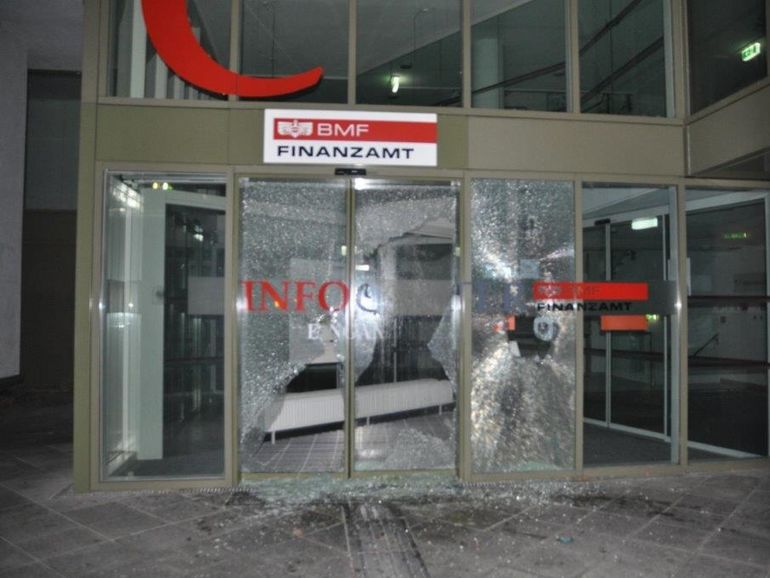 During the night from Sunday to Monday we attacked BIG (Federal Real Estate Company) with fire and paint. They are responsible for building the prison in Puch. We attacked the Hypo bank with paint. They are the symbol of Black / Blue corruption and the speculation policies of the ÖVP (Austrian People's Party) and FPÖ (Freedom Party of Austria). At the Tax Office we smashed windows and threw stink bombs, because we attack the State.
These actions took place in Salzburg on the 16th of September because a few days later the Austrian government is hosting an EU summit meeting to increase security and to introduce surveillance measures that will target migrants from the Middle East.
We shit on the demonstrations where the participants will be filmed, monitored and criminalized. We do not play by the rules of the powerful.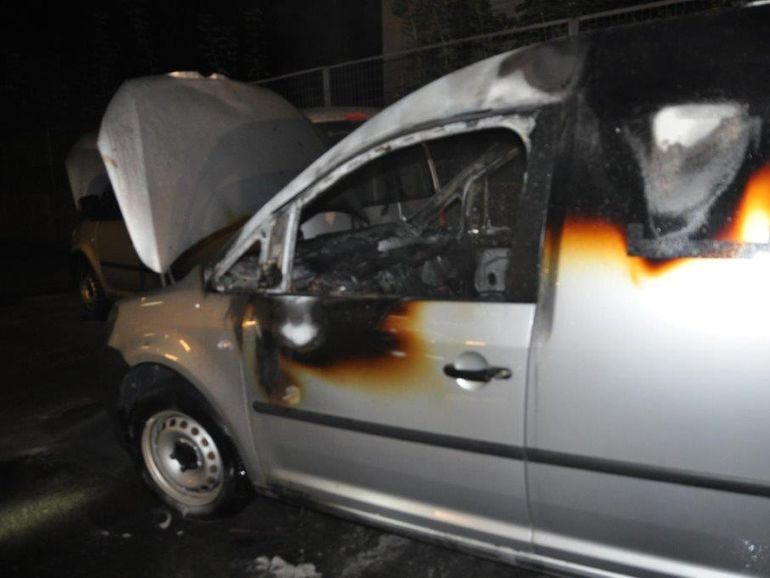 Tags: Arson, Austria, BIG (Federal Real Estate Company), FPÖ (Freedom Party of Austria), Hypo Bank, ÖVP (Austrian People's Party), Sabotage, Salzburg
Posted in Direct Action
Saturday, September 22nd, 2018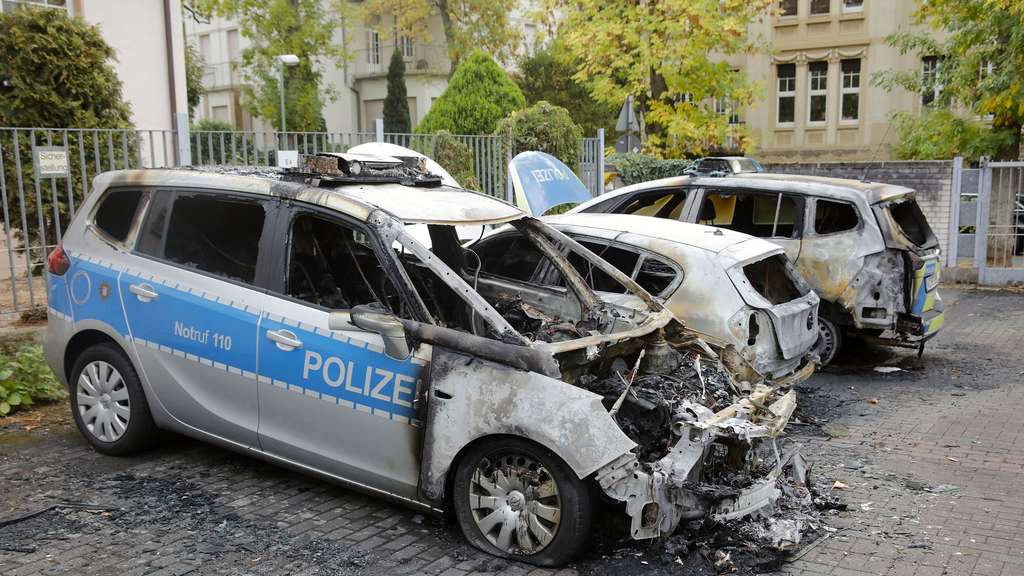 IT: Offenbach, Germania – Incediate auto della polizia contro la repressione e in solidarietà alla resistenza di Hambach
Yes, this is an attack against the police. This is an attack against the state power that the police represent. This is an attack against a regulatory power that for many people means daily humiliation, violence and exclusion.
In Offenbach, many people hate the police. On the night of the 13th to the 14th of September 2018 we torched some cop cars in the parking lot of the cop station in Offenbach am Main.
The letter claiming responsibility which was also sent to the media:
The best way to explain what we do is that everyone can understand the image of burning cop cars.
Yes, this is an attack against the police. This is an attack against the state power that the police represent. This is an attack against a regulatory power that for many people means daily humiliation, violence and exclusion.
In Offenbach, many people hate the police. (more…)
Tags: Arson, Frankfurt, Germany, Hambach Forest, Offenbach, Sabotage
Posted in Direct Action
Sunday, September 2nd, 2018
With this we take responsibility for the incendiary device we placed in front of the building of the German Society for Foreign Politics (DGAP) in Drake-/Rauchstraße (Tiergarten) in the night of 21.8.18.
13 litres of a petrol-oil-mixture shall be the beginning of putting an end to the undisturbed and fearless existence of the DGAP as a political advisor of the German war society.
Since the beginning of this year increased attacks against the war industry, their profiteers and financiers take and took place over all the German controlled territory. We join these attacks and let the fire speak from our side. War starts here! War on the war!
War starts here, in the halls of politics. War starts everywhere, where people throw away their empathy, to profit from the globalized misery. In the war-industry, the thinktanks of science, in the faceless administration of bureaucracy, in the form of uniformed slaves, who receive and obey orders in rank and file. War starts between human beings, when concurrence and aspiration to power reigns over solidarity and the free development of the individual.
German Security – Profit through war
Through the choice of the DGAP as the target of our incendiary device we declare the ideological architects of German-European hegemonic politics, the scientists and forerunners of a security paradigm which works with as well as alongside of warmongers and in this way are our enemies. What they declare about security is not ours. Their foreign policy is a policy of order. And their order needs tanks against uprisings and frigates against inflatable dinghies, it builds fences against the suppressed and works continuously to extend their ongoing misery. (more…)
Tags: Arson, Berlin, G20, Germany, International Solidarity, Kurdish Struggle, Rojava, Sabotage, Solidarity Action
Posted in Direct Action
Saturday, August 25th, 2018
[Noticias de la Guerra Social]
Durante la mañana del 22 de agosto 2018, un doble atentado incendiario sacudió a la red de metro interrumpiendo su servicio justo antes de su horario de apertura, retrasando todo el servicio. A las 6:20hrs cerca de la estación Santa Julia de la Línea 4-A, un neumático encendido habría sido lanzado a las vías del tren subterráneo, desde una pasarela, consiguiendo inhabilitar el servicio. En paralelo cerca de las 6:45hrs en la estación Los Presidentes, Línea 4 también un neumático en llamas habría sido arrojado desde una pasarela, saturando el servicio. (more…)
Tags: Arson, Chile, Sabotage, Santiago
Posted in Direct Action
Friday, August 17th, 2018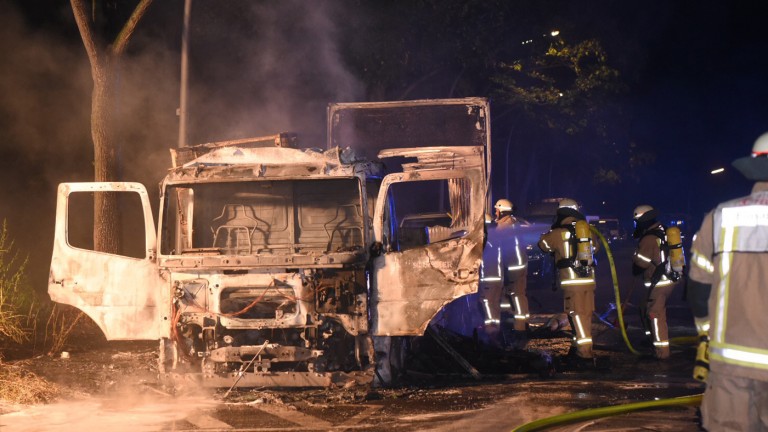 Berlin – Enemy supply lines attacked
We burned a truck of DB Schenker in the night to August 8th in Berlin-Wedding. When Erdogan arrives in Berlin on September 28. / 29., he will find our hostility here. Who rolls out the red carpet for the fascist Erdogan – X Day – is supposed to feel the ashes of the burning city in the nose.
Already since the year 2000, the ESG Elektronicsystem- and Logistics company runs together with its partner Schenker Germany AG (DB Schenker) the headquarters of logistics – called ZEBEL – of the German Armed Forces (Bundeswehr) in Kassel. From this hub with 17.000 square metres occurs the supply of civil partner companies and military repair workshops, which maintain Bundeswehr systems and vehicles. The transport of war material has most priority for DB Schenker. With it, the subsidiary company of Deutsche Bahn is responsible for the logistics and supply with NATO equipment to the Turkish Army in their war against the Kurdish areas. (more…)
Tags: Arson, Deutsche Bahn, G20, International Solidarity, Kurdish Struggle, Sabotage
Posted in Direct Action
Monday, August 13th, 2018
Una noche de julio: los automovilistas de la autopista Acceso Sur vieron inflamarse dos bolas de fuego que se expandieron ante sus ojos. Nuestros artefactos incendiarios funcionaron como estaba previsto, cortando el tránsito unos instantes en la principal vía de comunicación construída por el proyecto IIRSA-COSIPLAN en la zona centro de Chile, destinada al tránsito de mercancias hacia/desde el sur del país.
Madrugada del 01 de agosto: una lluvia de fuego se deja caer sobre una automotora ubicada a un costado de la autopista Vespucio Sur Express. Las bombas incendiarias que arrojamos cayeron como material piroclástico sobre los automóviles en venta.
Porque incendiando las calles saboteamos los canales nerviosos del flujo mercantil.
Porque atacando automotoras dañamos las máquinas que circulan por el cemento destruyendo el planeta como una plaga asesina. Así llevamos el incendio hasta las propias vitrinas donde se pone en venta la mercancía automotriz junto al sueño ciudadano del progreso sobre cuatro ruedas. (more…)
Tags: Arson, Chile, Grupo de conductas anti-sociales "Claudia López", IIRSA (Initiative for the Integration of the Regional Infrastructure of South America), International Solidarity, Sabotage, Santiago
Posted in Direct Action