'Direct Action' Archives
Wednesday, August 21st, 2019
For three weeks already the offensive of the United Revolutionary Movement of the Peoples HBDH (Turkish: Halkların Birleşik Devrim Hareketi) continues unabated. For weeks now the fascist AKP-MHP regime and its supporters in the whole of Turkey and the occupied Northern Kurdistan have been shaken by endless fire and bomb attacks of the militias and guerrilla forces of the revolutionary alliance.
The United Revolutionary Movement of Peoples was founded on March 12, 2016 and is the front organization of various revolutionary, socialist and communist parties and organizations of Turkey and Kurdistan. In the HBDH the Kurdish Freedom Movement in leadership of the Kurdistan Workers Party PKK unites with the revolutionary left of Turkey to a common front in the struggle against AKP-MHP fascism, for the liberation of the occupied Kurdistan and the establishment of a socialist Turkey.
Simultaneously with the renewed rise of the threats of Turkish fascism against the Democratic Federation of Northeast Syria, the militias and guerrilla units started a new offensive in the heart of Turkish colonialism. In the following some of the past actions are summarized:

Declaration of 30 June
On the 29.06 at 16.00 o'clock, in the district Datca of Muğla, Palamutbükü, a sabotage action against a television station was accomplished. The United Revenge Militia of the Peoples confessed to the action with which a television station was met, which legitimizes fascism with its propaganda of lies. Tourists from home and abroad were warned against using Turkey as a holiday destination. Nobody should travel to the areas used by AKP-MHP fascism as the main source of financing for war and massacres.

Declaration of 02 July
In a statement signed with United Revenge Militia of Peoples, the group confessed to a sabotage action against the Grand Efe Hotel and surrounding hotels in the Özdere region in the Menderes district of Izmir. Two hotels had to be evacuated as a result of the action. The group threatened with further attacks against tourist destinations and called on domestic and foreign tourists to stay away. Otherwise they would have to face the reality and pain of the dirty war. The group called on the oppressed, workers, women and youth to stand against fascism. (more…)
Tags: Anti-Fascism, Arson, Attentat, Insurrection, International Solidarity, Kurdistan, PKK (Kurdish People's Party), Rojava, Sabotage, Social War, Turkey, United Revolutionary Movement of Peoples (HBDH), War
Posted in Direct Action
Wednesday, August 21st, 2019
WE ARE BAD AND WE COULD BE WORSE: WE ARE YOUR WORST NIGHTMARE!
"Provocation" and "Illegality" is all action not executed by the State that exceeds its laws and regulations; that's why the authorities insist on presenting the anarchist war against the system of domination as a "provocation" that seeks to unleash repression. But reality teaches us that repression is here now and is practiced by power on a daily basis either veiled or brutally.
The State continues to exercise the monopoly of violence and is only willing to share it with the groups of so-called "organised crime" with whom they share the same DNA, proving that there is nothing new in your Fourth Transformation. As we have always said: they are the same misogynist dogs now with a rose-coloured collar. Finally, anti-system rage has managed to spread fury to broad fractions of the so-called "feminist movement", sadly asleep until yesterday afternoon. They have finally understood that pacifism is the most active accomplice of patriarchal power and domination. (more…)
Tags: Anarcha-Feminists, F.B.I. (Féminas Brujas e Insurreccionalistas), Mexico, Mexico City
Posted in Direct Action
Wednesday, August 21st, 2019


On the 25th of July, 2019, a parcel bomb was delivered to Police Station 54 in Huechuraba, Santiago. The parcel was opened and successfully detonated, causing material destruction to the police station and hospitalizing 5 police officers. On the same day, a second parcel bomb was intercepted before it could be opened at the headquarters of Quinenco SA, one of the holding companies through which Chile's richest family controls the Bank of Chile. A police and State-generated media frenzy soon ensued with much speculation regarding the identity of the senders of the explosive packages. Now, an anarchist cell calling themselves SEDITIOUS ACCOMPLICES / FRACTION FOR REVENGE have issued a communique claiming responsibility for both attacks in which they stated that they were specifically targeting two individuals- Carabineros Major Manuel Guzmán at Police Station 54 in Huechuraba and former Minister of the Interior Rodrigo Hinzpeter who now works at Quinenco SA. Below is an English translation of the original communique that was posted on Contra Info….
OPERATION FOR THE EXPANSION OF HOSTILITIES AGAINST THE EXECUTIONERS
We claim responsibility for the two parcels composed of black gunpowder and dynamite addressed to Rodrigo Hinzpeter and Carabineros Chief Manuel Guzmán at Police Station 54 in Huechuraba.
We took all the necessary security measures to ensure that the devices only exploded in the hands of the persons targeted by our action. Our enemies are clear to us, we are not seeking to harm or injure random people. While we know that we all are part of the operation of dominion, we recognize that there are degrees of responsibility and the recipients of our explosive parcels have decisive roles in both the management and accumulation of capital and in State control and repression. (more…)
Tags: Attentat, Chile, International Solidarity, Letter Bomb, Santiago, Seditious Accomplices / Fraction for Revenge, Solidarity Action
Posted in Direct Action
Wednesday, August 21st, 2019
CCTV Burnt and Advertising Attacked in Bristol, on the 30th July.
A new LED advertising screen by the M32 motorway in Bristol tells us to "Be On It"… Well, we are!!! The screen was damaged using sling shots. Advertisers want people to focus their attention on shitty corporate messaging instead of concentrating on their driving. We are "on it", and we are not excited by the products, upgrades ,and the boring lifestyles and aspirations they are selling… We desire damage and destruction… and dream of sabotage.
CCTV was also burnt out at Gaunts Ham Park (a day centre for homeless people in Lawrence Hill). The wiring was destroyed in an expression of rage against the surveillance state that increasingly targets those who do not conform. Using a long pole, and a firelighter attached to a clothes peg, this act was "begging" to be done! More and more people are marginalised, and the housing crisis in Bristol is one aspect of the social war which we are all part of…..
Solidarity with all those resisting it! Especially to: 'Der Drei Von Der Parkbank' in Hamburg, and those imprisoned as part of 'Operation Panico'.

Anti-Social Angry Vagrants
Tags: Arson, Bristol, CCTV, Sabotage, Solidarity Action, Surveillance, UK
Posted in Direct Action
Wednesday, August 21st, 2019
Comrades erected flaming barricades made of tires in Santiago, Chile, in protest and in memory of murdered anarchist Carlo Giuliani, who was shot dead by police on July 20th, 2001 in Genoa, Italy during anti-G8 protests.
23-year-old anarchist Carlo Giuliani was killed by Mario Placanica, a cop, during the clashes that broke out after the police attacks in the afternoon. Images show Giuliani throwing a fire extinguisher at a police vehicle before he was shot and then run over twice by the Land Rover during clashes with police forces.

Carlo Guiliani, never forgive, never forget! Fight back!
Tags: Burning Barricades, Carlo Giuliani, Chile, International Solidarity, Santiago
Posted in Direct Action
Wednesday, August 21st, 2019
Communiqué received together with the photos on 08/16/2019:
I. Street fight in confluence with the new urban guerrilla
As groups, we use revolutionary violence to make visible the obvious contradictions that the systemic and changing operation of capital implies, depending on the State that legitimizes it as the social order of the day.
Each gear justifies the next and is consolidated as a structure under the protection of a judicial apparatus that condemns many to misery, softens abuses and violations of priests condemned to a life of confinement in palaces, and forgives tax crimes within the reach of 1% of Chilean citizens that conserve 26.5% of the wealth; an executive power in charge of justifying and accelerating the measures that favor the wealthy and thirsty group of tyranny that is on duty; a legislative power in charge of discussing among its caste the daily evolution of millions of people… and always protecting their privileged status in power. (more…)
Tags: Antagonist Cells of the New Urban Guerrilla, Antagonistic Nuclei of the New Urban Guerrilla, Arson, Attentat, Chile, Chilectra, Erick Rodríguez, Forces for the Overflow of Civilization, Heather Heyer, Herminia Concha, Insurrectional Column "Ira and Complot" - FAI / FRI, Iván Palacios, Javier Recabarren, Juan Aliste Vega, Karr-kai cell / Antagonist Cores of the New Urban Guerrilla, Kevin Garrido, Marcelo Villarroel Sepúlveda, Michele Angiolillo, Mikhail Zhlobitsky, Sabotage, Santiago, Santiago Maldonado, Sebastián Oversluij, Sebastián Oversluij Seguel, Transantiago
Posted in Direct Action
Tuesday, June 25th, 2019
We hate prisons, many of our comrades are held in them, some are tortured, and prisons are at the heart of enforcing the established order. Vinci builds prisons, this vehicle belonged to them, so we wanted to set it on fire. So the train of thought that led to the destruction of the road construction vehicle on June 24 was actually quite simple.
(more…)
Tags: Arson, Eurovia-Vinci, Germany, International Solidarity, Leipzig, Sabotage, Solidarity Action, Vinci
Posted in Direct Action
Monday, June 24th, 2019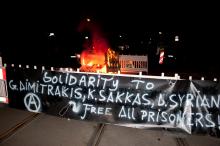 From the urban desert of the danger zone in Friedrichshain we send a signal of our solidarity to Yiannis Dimitrakis, Kostas Sakkas and Dimitra Syrianou. On Monday morning, June 24, we erected a burning barricade on Weidenweg (Street near Rigaer and Liebig) together with a fixed banner (see text on picture). We were waiting with stones to welcome the first patrol car but they needed time to mass up strong forces to enter the area of Rigaer Straße, and we disappeared safe.
(more…)
Tags: Berlin, Burning Barricades, Dimitra Syrianou, Germany, Giannis Dimitrakis, International Solidarity, Kostas Sakkas, Rigaerstrasse, Solidarity Action
Posted in Direct Action
Friday, June 21st, 2019
For June 11 – Solidarity for long term anarchist prisoners
Just outside the city limits of Bristol tucked away in the dark is a poultry farm (Ivy Farm) owned by P&S Mitchell LTD. Located in Whitchurch Lane, Dundry, the birds never see the light of day. Despite the CCTV, the grain silo and broiler house were both spray-painted with the words "Animal Prison".
A new McDonalds restaurant that is not welcome is being built in Fishponds Road, but maybe the "Burger Off!" posters in local's front windows isn't enough. Graffiti was sprayed inside the building site – "McWork Prison".
Vinney Green, hidden in Emersons Green on the edge of Bristol is a special secure detention unit for 10-17 year old "dangerous kids". The unit holds up to 24 detainees. A large hole was cut in the perimeter fence and then the next inner security fence was broken through by bending back the bars, causing a second human size gap. Then the prison buildings themselves were sprayed with the words "Child Prison", "Screws Work Here".
Solidarity to Brian Vaillancourt who is serving a 9 year sentence in the USA for an arson of a McDonalds. To the imprisoned comrades in Italy who are fighting from inside the cells on hunger strike. To the 3 comrades arrested for bank robbery in Thessaloniki, Greece. To Lisa held in Spain. For all the imprisoned anarchists around the world.
Freedom for everyone!

Eco-anarchist vandals – FAI/IRF
Tags: Brian Vaillancourt, Bristol, Eco-anarchist vandals - FAI/IRF, Fuck McDonalds, Graffiti, International Solidarity, Ivy Farm (Poultry), June 11th Solidarity, Lisa, McDonalds Corporation, Paint attack, Solidarity Action, UK, Vandalism, Vinney Green
Posted in Direct Action
Friday, June 7th, 2019
Con esta acción reivindicamos a nuestro compañero Mauricio Morales, quien murió al decidir atacar al sistema dominante a través de la acción directa: Nos adjudicamos la colocación de un artefacto incendiario en el sector de Lo Ovalle.
Nuestra acción resulta luego de afinar nuestras ideas y convicciones, elegimos organizarnos para vandalizar un transporte (que representa el capitalismo industrial). (more…)
Tags: Banda incendiaria Punky Mauri, Chile, International Solidarity, Mauricio Morales, San Miguel, Santiago
Posted in Direct Action
Monday, June 3rd, 2019
SAN FRANCISCO, EE.UU.: ANARQUISTAS ATACAN EL CONSULADO DE INDONESIA CON BOMBAS DE PINTURA CONTRA LA REPRESIÓN DEL PRIMERO DE MAYO
On June 1, a modest mob of 20+ anarchists in San Francisco carried out an attack in solidarity with our comrades in so-called Indonesia where 600+ anarchists were arrested this May Day. We threw 60 paintbombs and heavily tagged the Indonesian Consulate with circle-(A)s to send a message to the Indonesian government that despite the distance between us and our comrades, the State is not safe and will always be attacked.
The actions of the Indonesian comrades, simple gestures of paint on walls, resonated with us. In the afterimages of their act, and in their call for solidarity, we recognized friends across the dying ocean. Even more than expressing our contempt for the Indonesian State, we want to convey our love to the comrades struggling within and against its false borders. Ferocity and Strength to those facing repression and those on the run. (more…)
Tags: California, Indonesia, International Solidarity, Paint attack, Paint bombs, Sabotage, San Francisco, Solidarity Action, USA, Vandalism
Posted in Direct Action
Saturday, June 1st, 2019
"Burn all prisons, with or without walls!" – The call for a Subversive May, as an extension of the proposal for an Anarchist May 1st in Berlin, is understood by us as a call to extend the attack on different levels. We agree with the idea not to confine ourselves to one day but to constantly and unpredictably attack the functioning of existing society and prove that its security is an illusion.
The apparatus of power includes not only the murderers of the State, but also the mercenaries of the private security companies. Securitas vehicles once parked undisturbed in the GESOBAG housing estate where they act as security guards to prevent the intervention of cops during conflicts with tenants or tensions with the property management. Securitas is also engaged in surveillance work in prisons and public spaces worldwide. (more…)
Tags: Alfredo Cospito, Anahi Salcedo, Arson, Berlin, Dimitris Koufodinas, Dimitris Koufontinas, Germany, Informal Anarchist Federation (FAI), International Revolutionary Front, International Solidarity, Mauricio Morales, Securitas
Posted in Direct Action
Saturday, June 1st, 2019
[Hunger Strike By Prisoner Dimitris Koufontinas Ends in Success – AMW]
Athens, Greece: Responsibility Claim for the Arson Attack against Eurobank branch
We were taught that everything is commodity, everything can be exchanged. We didn't understand the small print of history: that we are commodity too; working power that is exchanged with peanuts, prayers and curses, and a daily reverence to alienation, to the shattering of every human dignity. We referred to the wage slavery as our highest value and intention. We didn't feel the waves of history carving our skin, we didn't feel the razor blades of political economy chiseling our motion.
We 've shown discipline to our times' teachings, which are nothing more than the dominant narrative that wants us producing and consuming machines, that wants for itself the monopoly of the decision about what is included and what is excluded by its normativity. A dominant narrative by a dominant world that leaves its bloody marks on us everyday, fracturing the individual, feeding it with oppression and neuroses, killing every desire for experimentation and vitality and replacing them with miserable micro-rivalries and intrigue, disguising the emptiness. (more…)
Tags: 17 November, Anahi Salcedo, Arson, Athens, Dimitris Koufodinas, Dimitris Koufontinas, Greece, International Solidarity, Mauricio Morales, Revolutionary Solidarity, Sabotage
Posted in Direct Action
Friday, May 24th, 2019
Source of translation + pictures : https://athens.indymedia.org/post/1597841/
Tourism grows like flowers in the spring, security cameras appear like leaves to protect the peaceful citizens. Everything must be clear, beautiful and in developmental path. The appearance of the city should fit into the list of Aegean Airlines. Tourists do not need a lot, some chain stores and hipster coffeeshops, a good guide to explaining which places to avoid, and something that fits into the "authentic Greek experience". We look forward to the next group of tourists who will take a selfie around the Acropolis.At the same time, our neighborhood degrades slowly. People who can not respond to the increase of rent price are either forced to find another home to stay or are forced to comply with the new rules. At the same time, investors are exacerbating the situation as they buy old houses, which are being demolished and, in their place, they are building luxurious housing estates. Apartments renovated for short-term rent (AIRBNB) as well as public spaces and parks are privatized reducing free and open spaces. The game is as old as the same city is listening to the name of private property . The rule is also simple: whoever does not own, will pay, whoever does not pay will be expelled. People who are not part of the capitalist machine, little illegal sellers and homeless people, illegal graffiti and political posters, life in general, and things that can not be sold will disappear. We know very well that nothing will be given to us because we do not belong to the owners' side. We know that we do not even fit into this suffocating capitalist context, nor do we want to keep up with the logic of bosses and investors. That is why we are fighting against their expansionist and developmental plans.On Tuesday 9/04, we visited a boutique (as they call it) of luxury apartments, which is in its final stage of implementation, on Kolokotroni street between Koukaki and Petralona. Kolokotroni Street is a street with several old or abandoned houses, and it seems that the crows of the construction company from Glyfada have put it in the goal. During our visit, we put a banner that read: "RICH PEOPLE GET BACK TO YOUR SUBURBS, HOUSING IS NOR A LIFESTYLE NEITHER A PRODUCT, IT'S A NEED (A)", we throw paint on the freshly painted walls and advertisements of the company, write slogans and open holes or even completely tear apart interior walls. Nevertheless, investors insist on forcing us to a second visit and today they have put cameras thinking that we will stop.
OUTSIDE THE INVESTORS FROM OUR NEIGHBORHOOD AGAINST AIRBNB AND LUXURY APARTMENTS NO ATTACK TOWARDS OUR LIFE WILL STAY WITHOUT ANSWER IF WE DON'T GET ORGANIZED IN ALL NEIGHBOURHOODS, OUR CITIES WILL BECOME MODERN PRISONS
Tags: Athens, Gentrification, Greece, Sabotage
Posted in Direct Action
Wednesday, May 15th, 2019
FUEGO, INCENDIO Y MEMORIA POR MAURICIO MORALES

"No retrocedemos: estamos aquí. No intentamos: podemos. No mendigamos: robamos. No borramos: quemamos.
No esperamos: ardemos de impaciencia… La Conspiración nunca será arrestada, porque no se trata simplemente
de una organización sino de un flujo de ideas, y a las ideas no se les puede detener… "
CCF. Sección Ilegal
La noche del 12 de mayo nos agrupamos para llevar a cabo nuestro cometido. Recordar a diez años de su partida al compañero Anarquista Mauricio Morales, quien muere tras la inesperada activación del artefacto explosivo que transportaba la madrugada del 22 de mayo del 2009.Este artefacto tenia como único objetivo, la escuela de gendarmeria de Chile.
Respondiendo y contribuyendo al llamado internacional de acción y propaganda en memoria de Mauricio Morales… (more…)
Tags: Arson, Chile, International Solidarity, Mauricio Morales, Sabotage, Santiago
Posted in Direct Action